JUNE2016 UPDATE: 3rd visit, in-season Portuguese squid sliced into 3 very thin layers, stacked and nigiri. This is awesome. Katsuo tataki in tomato ponzu; and reflecting the season, house-made white peach ice cream with wakamomo.
APRIL2016 UPDATE: On 2nd visit, I tried more of his vegetables, sheer brilliance. His miso black cod is legit as well. It is a lighter marinade than at Nobu, served with pickled rhubarbs, the fish is flaky, oily and shimmers in the light. Stunner.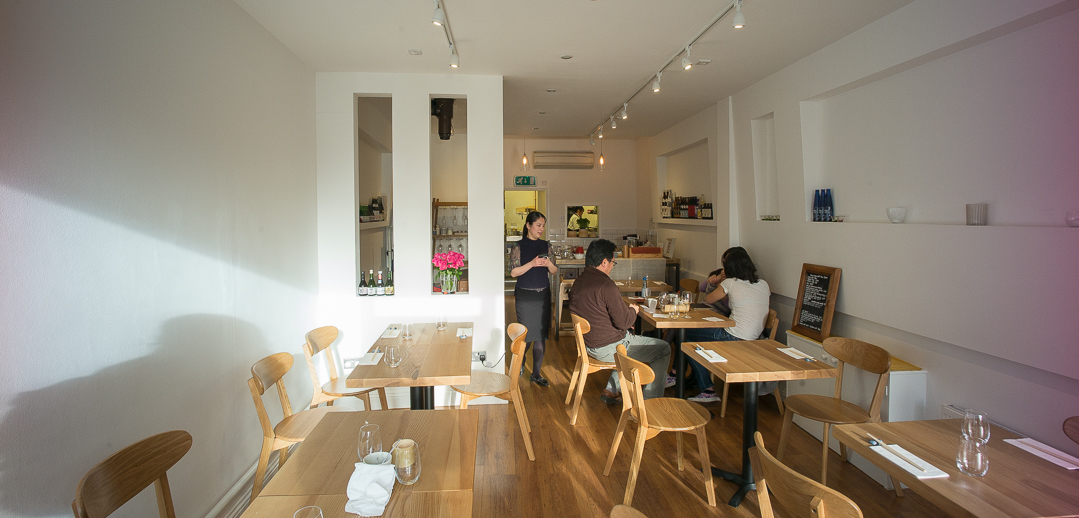 I have a soft spot for independent outfits and have been in secret mourning ever since the Takagis left London. I fell in love with so many meals at Shiori's original Euston spot. Akihiro Horikoshi's little Parisian table (not only because he was the long time fish guy at l'Ambroisie) also excites me and I think there's something quite precious with going small. You're much closer to the Chef's personality as they do almost all the cooking for their guests, sometimes single-handedly.
And so that's why I am indebted to Christian Cecchi for pointing me in the direction of this wonderful little outfit in Wimbledon. It opened in December last year by Mr Nobuhisa Takahashi, Chef and Mrs Yuko Takahashi who handles front of house. On this visit, Takahashi san had one other helper in his kitchen to tend to his tiny 20-25 cover restaurant. Super fresh decor, white plaster walls, wood floors and furniture, and an opening in the back that affords a glimpse into his kitchen.
Hailing from Kisarazu, Chiba, where his mother also had an Izakaya, Takahashi san trained as a cook straight out of school with a local ryotei before becoming a long time alumni of Nobu. He spent 14 years with the group in Tokyo, then Berkeley Street and eventually ending up as head sushi chef for Nobu Cape Town. He had a couple of stints with Sacca in Ibiza and Koji here in London, before finally opening his own shop. Nobu alumni are plenty good in London, the other Takahashi san is already urban legend with Sushi Tetsu; Chiba san's Dinings continues to enthrall after a decade in their tiny Harcourt Street location.
Takahashi isn't a sushi-ya and is closer to the latter, an Izakaya with Mediterranean influences, inevitably with flashes of his old master's cuisine, so you can order classics like black cod miso for half the money as compared to Park Lane. Though the smart menu does also offer a small selection of sushi and sashimi, the real excitement is with the cooked food, mainstays and seasonal: hot, cold and vegetables, with classic things such as nasu dengaku, aubergine miso. Fitting in the new Spring. He also offers Omakase, 6 to 8 courses at two price points £38 and £65, the latter of which buys you premium black cod and wagyu (on this visit, Joshu was on offer) as the respective fish and meat courses.
We went for a long family lunch last Sunday, where they open all day from 12 to 9, offering their full menu, lunch sets and also udon on sundays only. It is normally open for dinner only from Tuesdays to Saturdays. My brother and better half had champagne bellinis with baby peach, I had a bottle of Asahi.
Grilled okura with two-green dressing, £4.50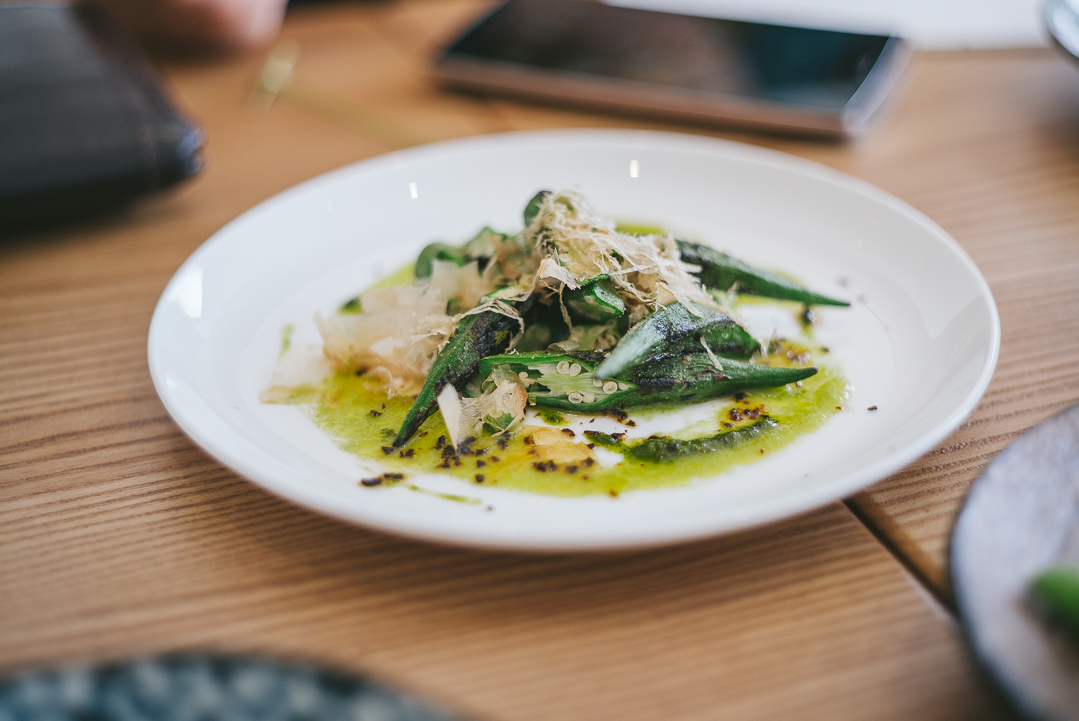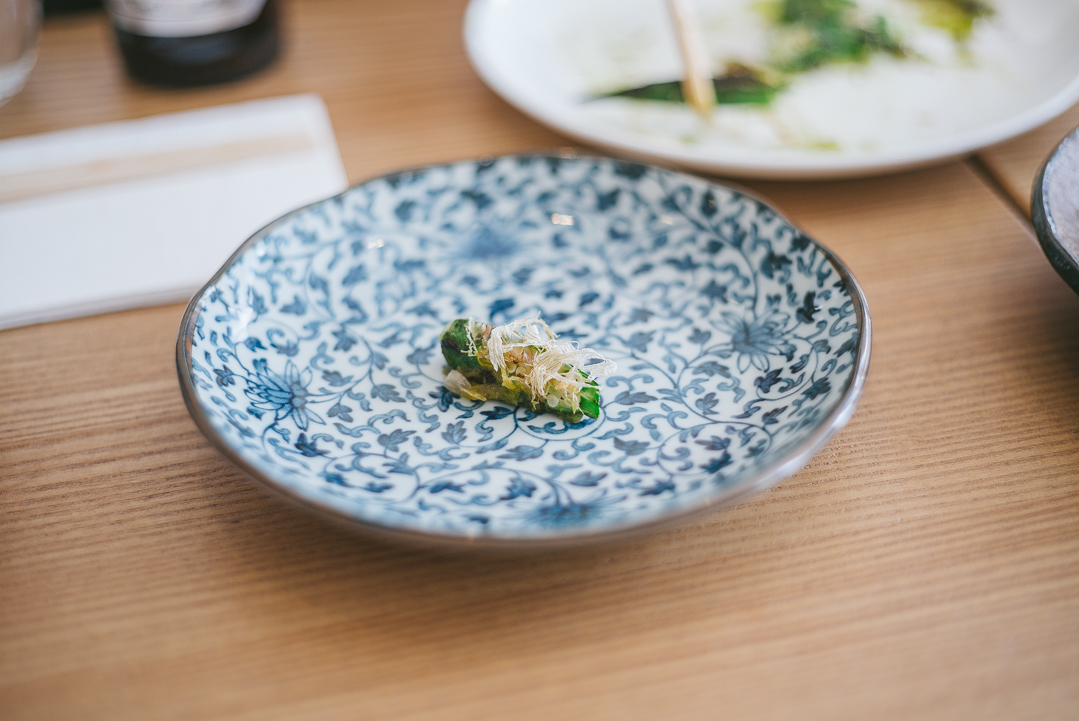 Check the china. Pretty. Billowing bonito flakes to compliment the just browned off ladyfingers. This 'two-green' sauce is delicious, spicy and zesty, with a sort of juiced, unfiltered texture, to accompany the natural slithering stickiness of okra. Jalopeno maybe? Nice start.
Scallop carpaccio, yuzu salsa, £10.50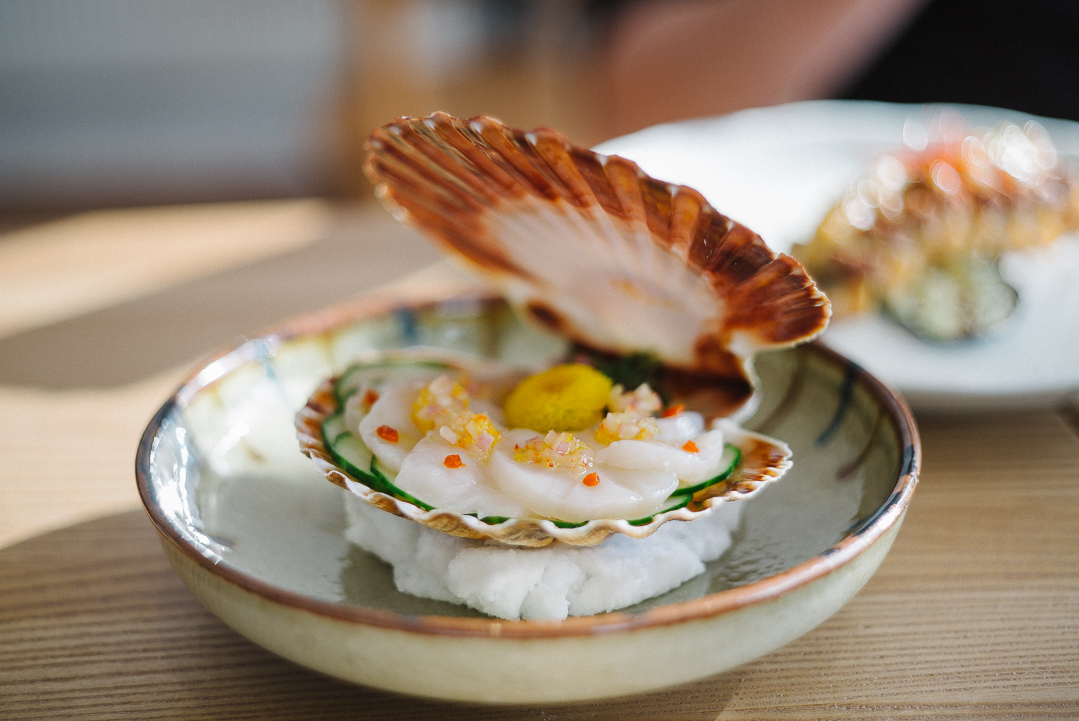 I love what he's done here, he's accentuated the scallop's natural purity with this citrus freshness, yuzu, finely diced onion, cucumber and I think something bitter-sweet like pomelo.
Sunday Sashimi lunch set, £18.80
with edamame, miso soup, steam rice and green tea ice cream.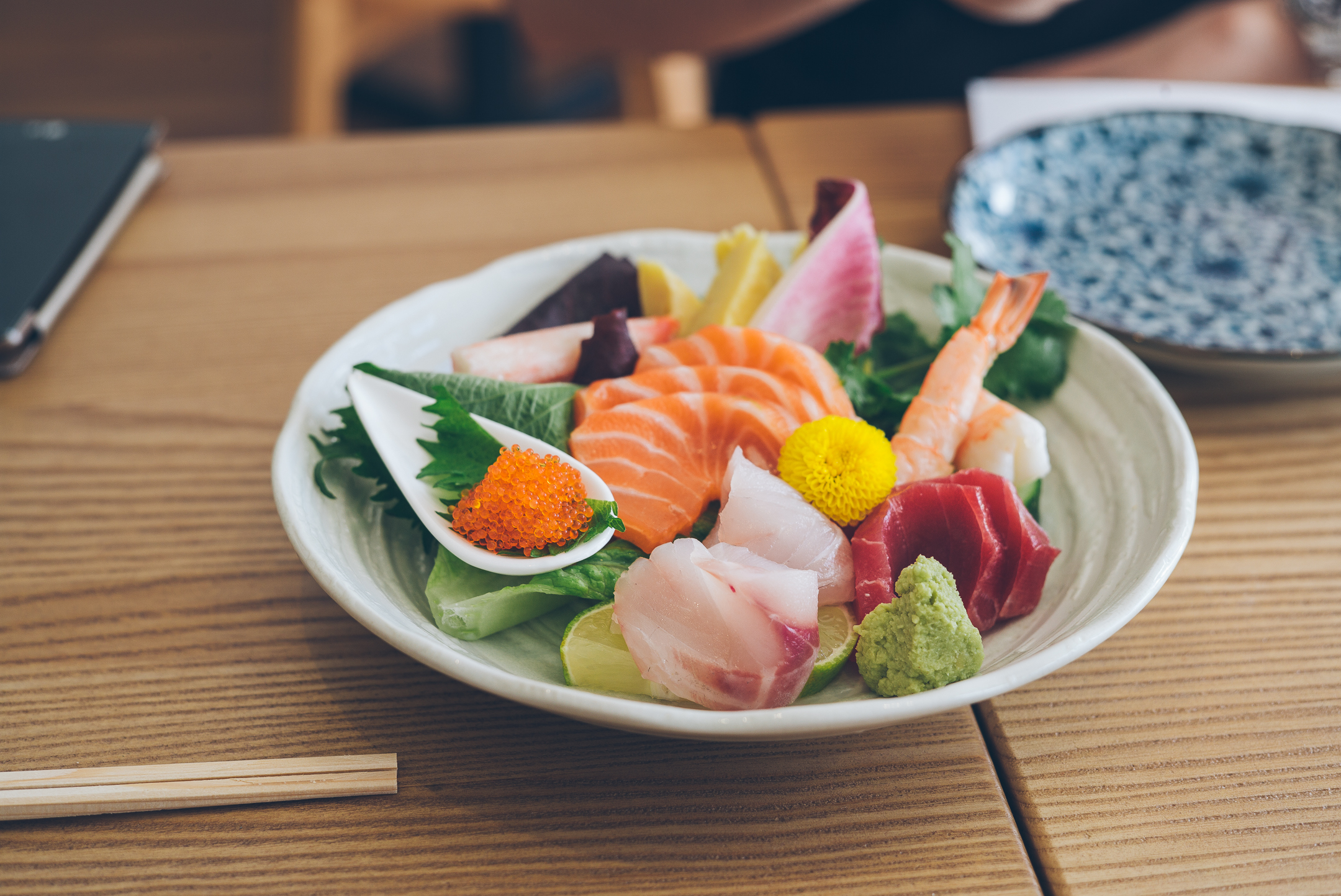 What is this shoyu he's served? Punchy salt and flavour of strong fermented beans.
A modest, beautiful sashimi plate, decorated with a chrysanthemum flower in full bloom. It's the pretty picture of Spring. Salmon, sea bream (I'm guessing because I had the grilled head as well), tuna loin, cooked prawn, king crab leg, tamago, a spoonful of tobiko, lime, shiso leaves, lettuce.
The fish quality is good, at a guess Atari-ya supplied, or at least as good as Atari-ya level. Good selection of clean tasting fish. I cannot detect any prolonged ageing going on, but the fish is handled well and smells fragrant. I did not ask and also did not see his toro on this occasion. His knifing is definitely a showcase, cut hira-zukiri, against the grain and trimming away all the sinews. The sashimi is consistent and smooth. The Scotch farmed salmon was very good on this visit, it was so naturally oily and melting smooth. Excellent value at £18.80 with the sides and pudding thrown in as well.
Dragon Maki, £10.50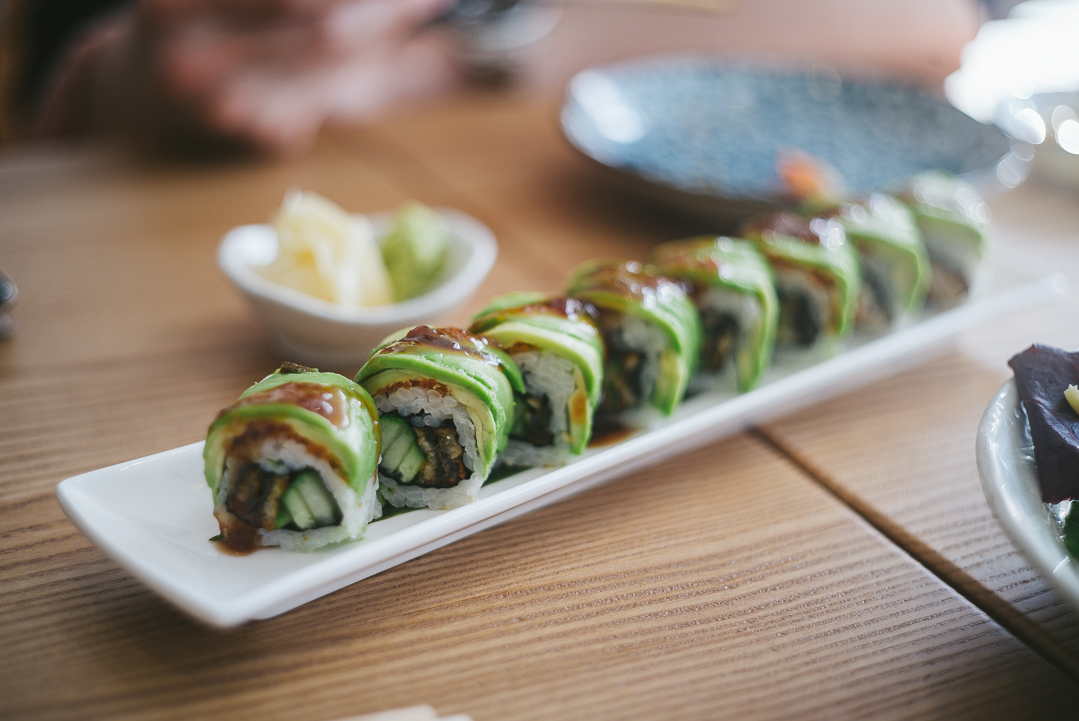 I'm quite certain he's either warmed up the avocado or cut with a hot knife. It's just slowly melting onto what appears to be a thin layer of tobiko. This 'clean' fatty sensation to pair with the sweet sauce he's drizzled on top, makes for a delicious combo with the unagi and cucumber. Good.
Wagyu Gunkan, Two for £8.50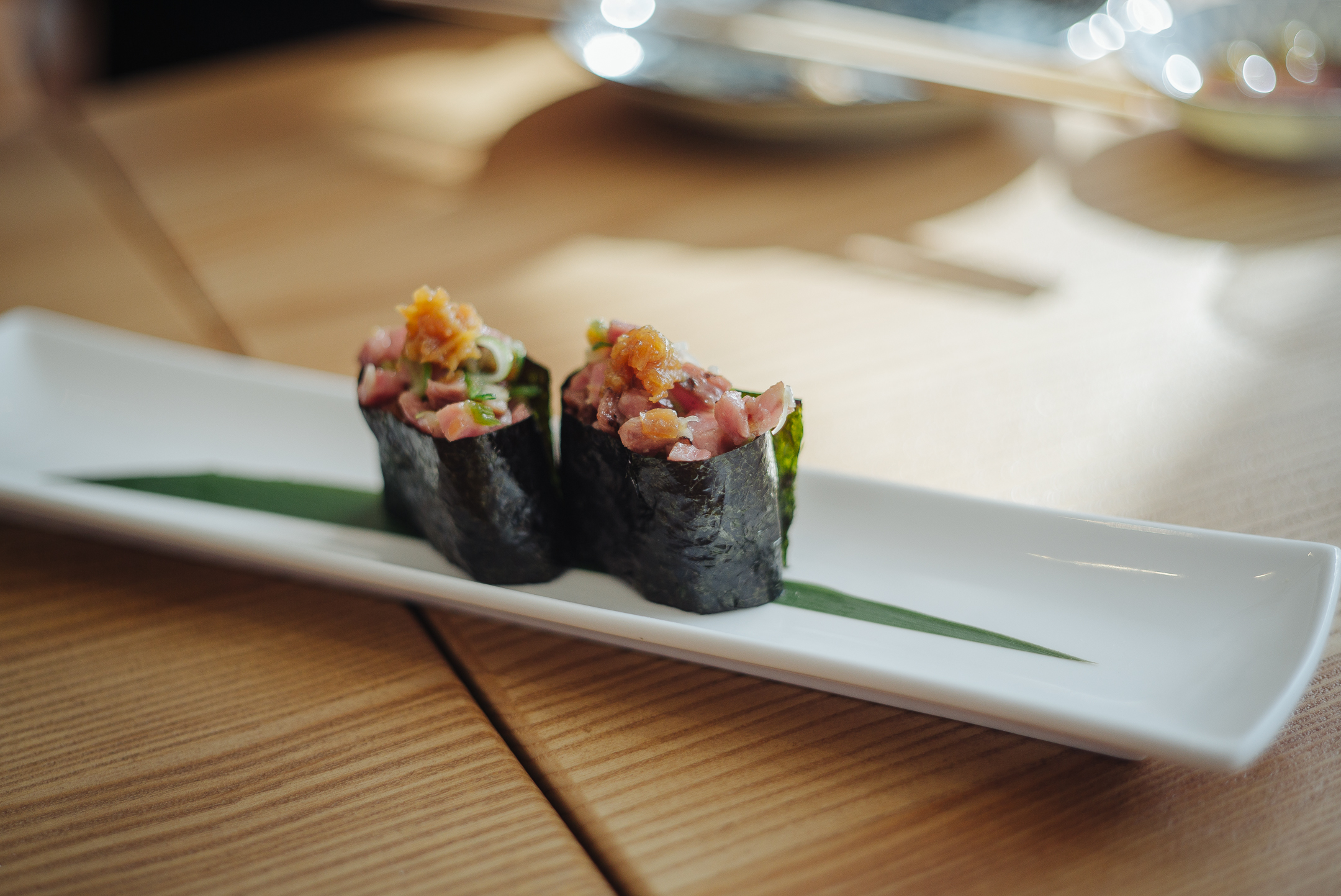 The wagyu is Joshu, which you can also readily purchase at Japan Centre, and similarly used at their ramen shop, Shoryu for their excellent kushiyaki.
Diced like tartare, I think he has gently blow-torched it, some browned bits and some raw, whatever the case, the fat has certainly been tempered and has just a kiss of smoke. The sauce is excellent, it just blew my mind as I knocked it back, and I forgot to make any mental notes. I just remember the balance, sweet, salty, mild spice, natural fatty beef. Perfect umami. No extra soy required. Order this on your visit. Very good.
Tai kabuto yaki yuzu oroshi ponzu, £8.20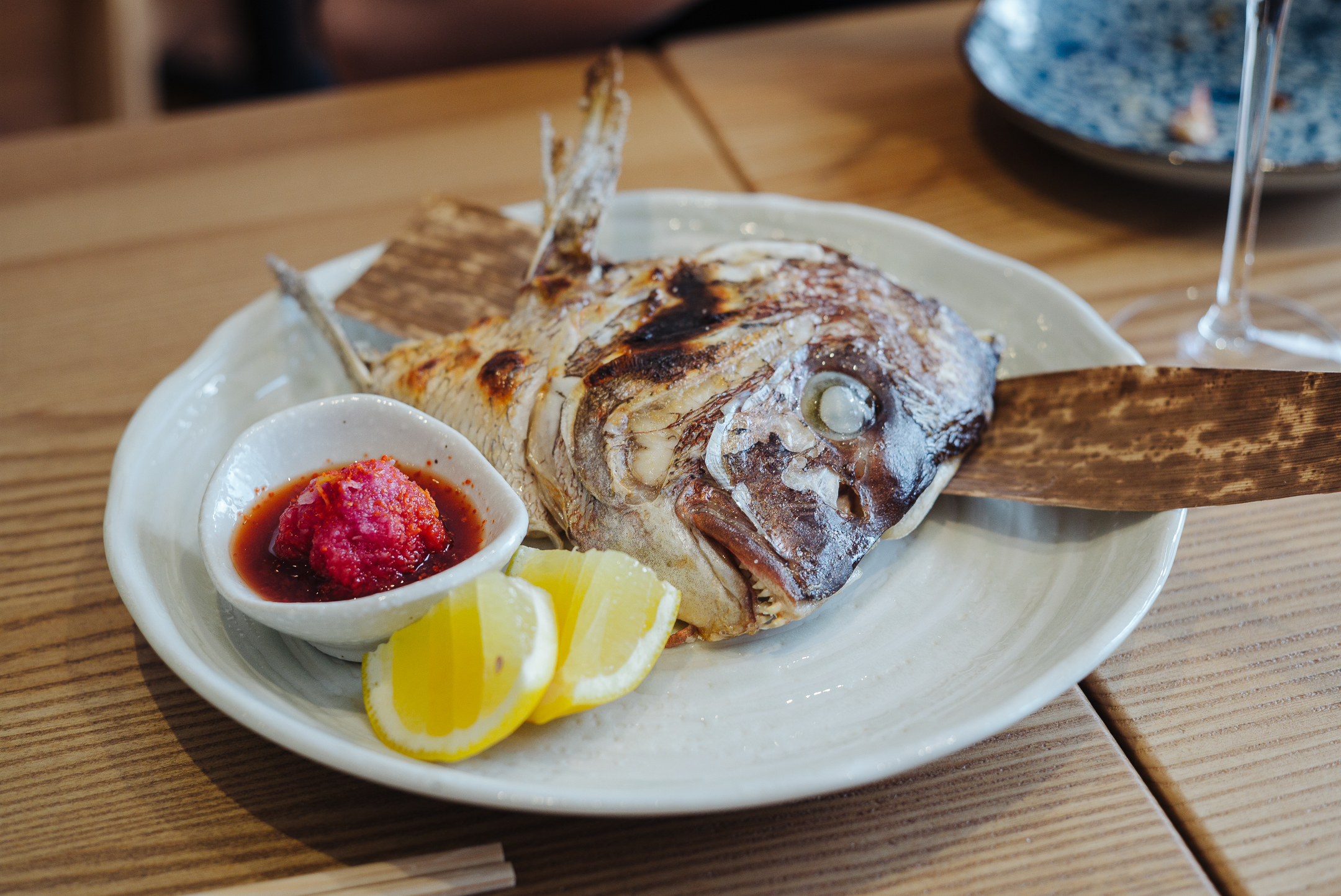 One cross-section of the sea bream head off the hibachi, grilled a pointe, cheek and collar still juicy and slightly gelatinous. From the look of the still-clear eye even after grilling, this is good fish. The star however is that ponzu sauce – it's so fresh! Sweet, sour, salty, spicy, citrus flavours, and with the daikon as a vehicle for texture and root flavour. I'd also love to know where he sources his lemons. We sucked on it, and it's sweet, candied even, more orange than lemon. Colours being spread onto the canvas of Tai. The fish's best bits are all here folks. Good.
Crispy pork belly with aubergine miso, £12.00
with steamed rice, £3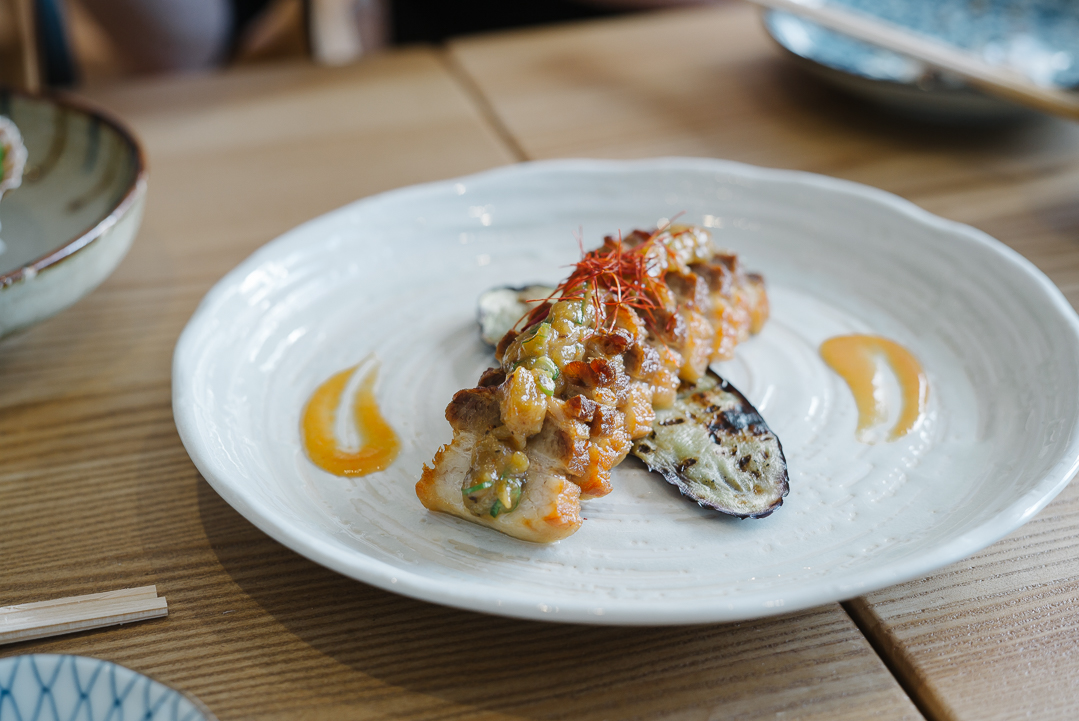 The rice is served warm, but we noticed that the bowl has been evenly heated to a slightly higher temperature. Small attention to detail, but a nice touch.
The belly is perfectly crispy and retains just the right amount of fat, which melts upon entry. The star once again is the sauce. Here, I surmise it is aubergine that's grilled with miso and scooped out to make the sauce, hence the flattened skin at the base of the pork. Garnished with saffron. It is thick and gloopy and packs a rich punch of flavour to pair with the natural fattiness of the Berkshire pork. This and a spoonful of rice. Fabulous cooking.
Curry pork udon (Sunday Lunch), £12.50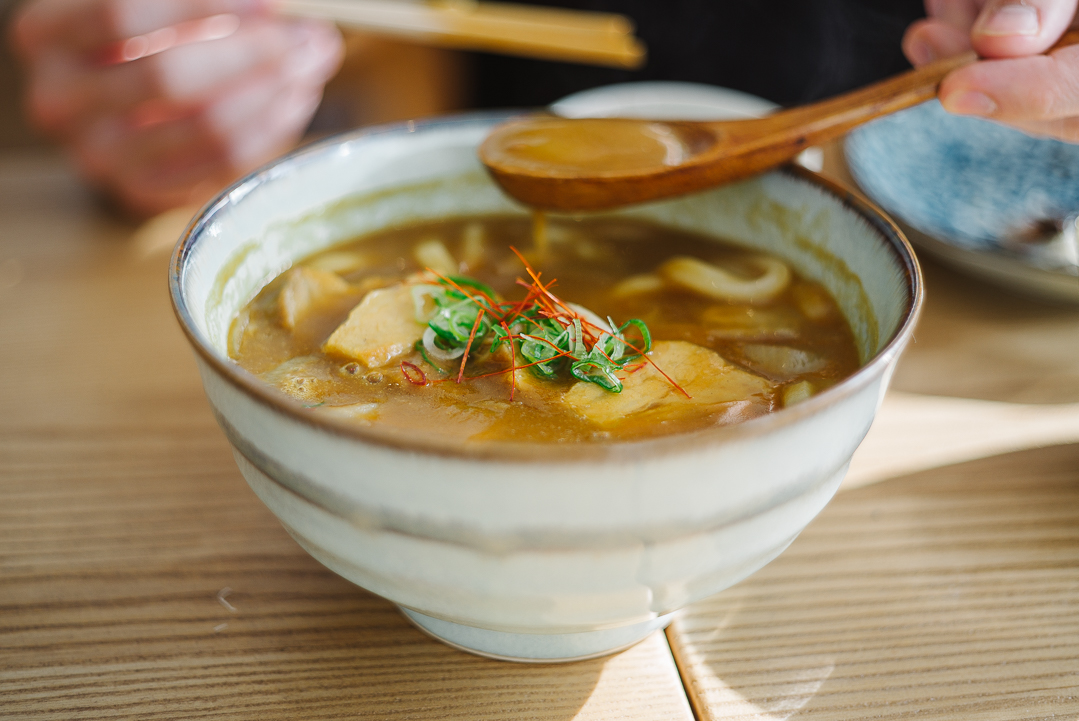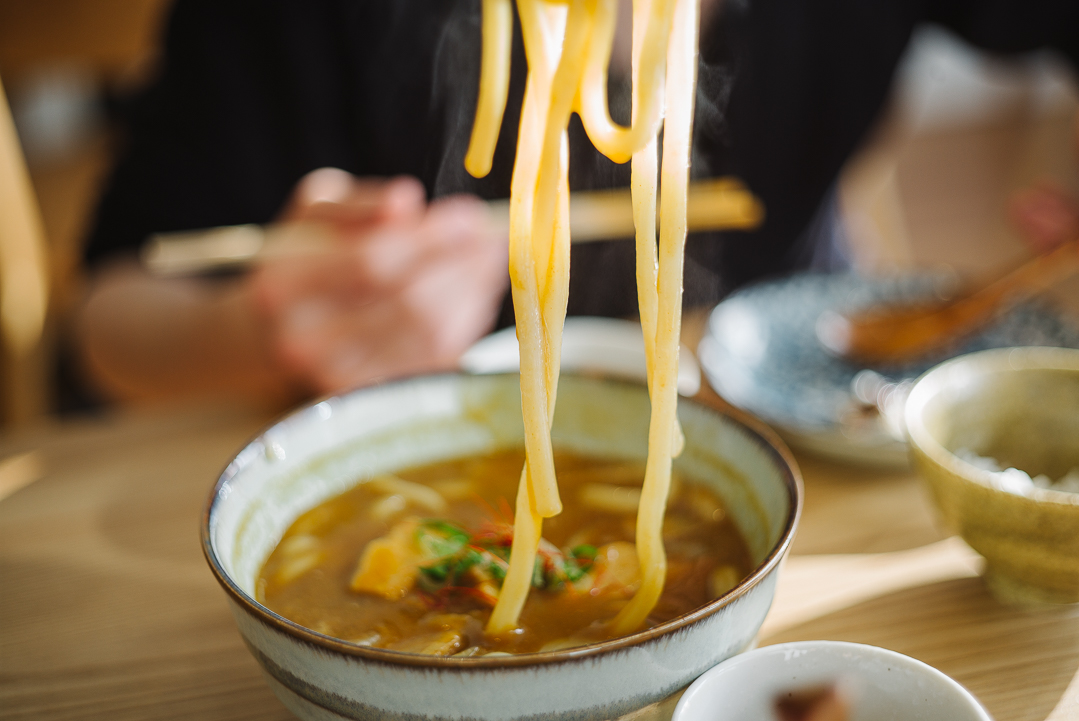 The same pork belly also finds its way in this bowl of udon. Four or five thick slices. The curry sauce is quite soupy and I think some stock has been added to enhance its flavour. It's good. I didn't ask if they pulled the noodles on Sunday mornings, but it's got the springs, silken and fresh. This took us back to our childhood days of slurping lao shu fen back home. Good.
Shrimp Tempura, £9.80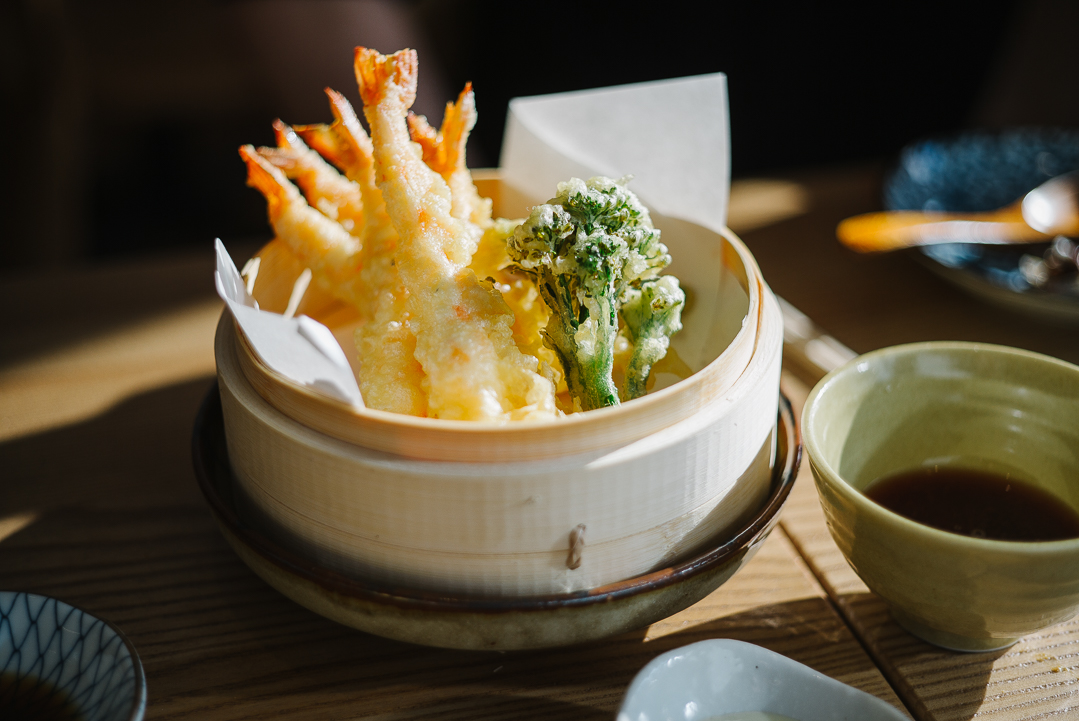 Grated daikon is pre stirred in the dipping sauce – another nice touch. Pretty fleshy prawns and decent tempura batter, it smells good, clean in fact, maybe using clean oil.
Sweet potato creme brulee, £4.50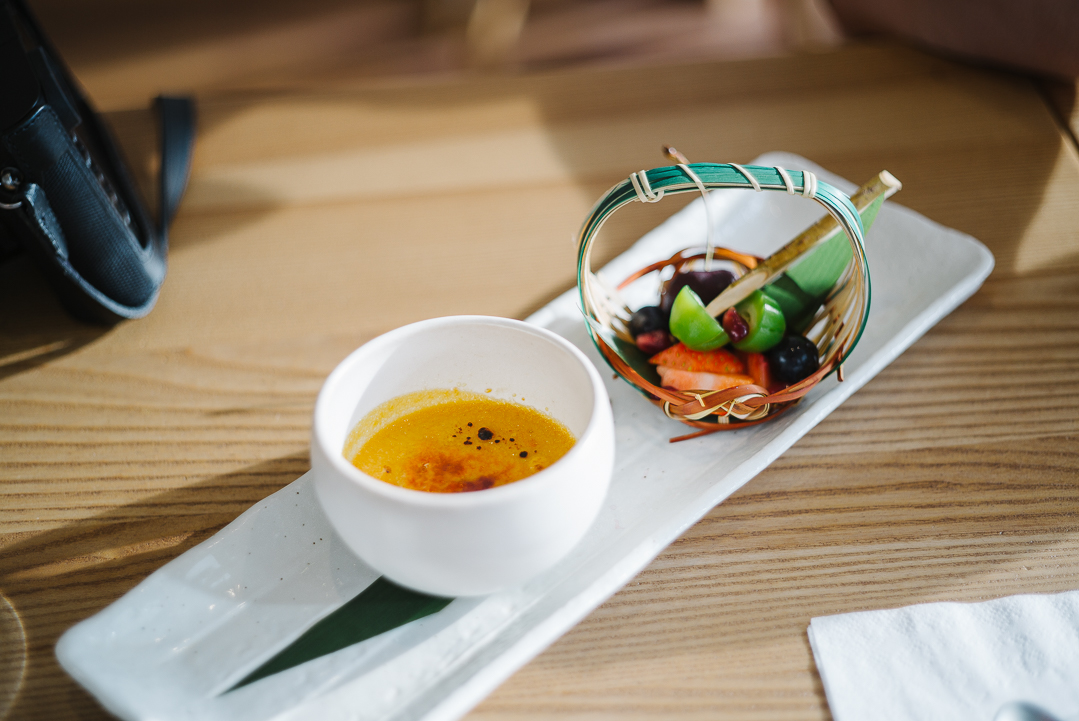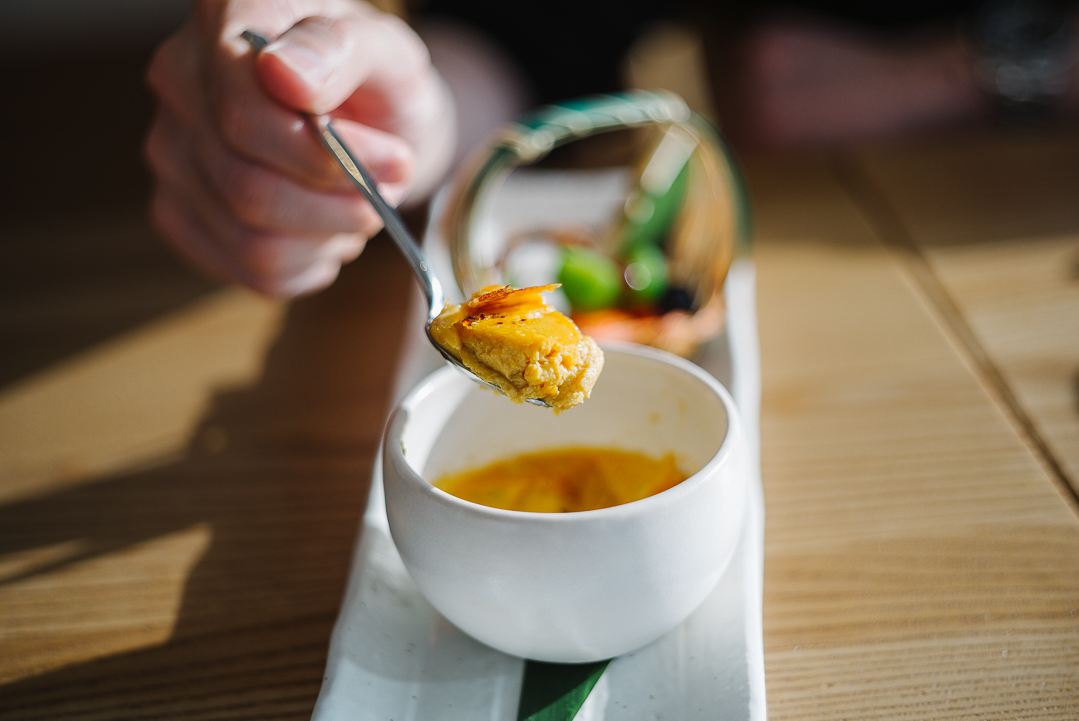 Interesting, I was expecting to find rendered sweet potato at the bottom of the ramekin, but instead pleasantly surprised he's made the custard with the vegetable.
The texture is grainy and completely expresses the natural sweetness of sweet potato. I am intrigued by these green baby peaches, crunchy texture and rather like a more interesting olive. Good pudding.
Green tea ice cream, £2.50 per scoop (we had 2 of the matcha and 1 sesame)
The ice cream is made in-house of course, and the matcha is just perfect. Not overly sweet, just the purity of green tea, textured like a sorbet. Instead, they offer a small pot of caramel syrup to sweeten to taste, which is also surprising in quality. We looked inside the pot and saw the black sugar granules stuck to the bottom of the pot, perhaps indicating that they've made the syrup in house too.
We paid £145.68 for three people, including all food, 1 extra rice (£3), 2 bellinis (£8.90 each) and 1 asahi (£3.90). Just under £50 per person.
Nourishing and wholesome, executed with a lightness of touch. The cooking sure is refreshing and above all has that rare beast of balance. It isn't just the quality of the fish or meat, but also his use of vegetables and fruit that makes Takahashi san's cooking feel complete and accomplished. My palate was clean after the meal, an indicator that I had savoured good cooking by somebody who understands it well. I would love to sit here every Sunday afternoon and feel privileged to have Yuko san bring us plate after plate of food until the kitchen ran out of ingredients or patience. If they would have us that is. I did not peruse the wine and sake list, but I will save that for my future visits.
Takahashi is a true gem and well worth the trek. There is still the elusive Endo san to reveal his project but for now anyway, this is the best new Japanese restaurant in London I've visited this year.
Details
Takahashi
Japanese Mediterranean
Tue-Sat dinner; Sun all day
£40pp lunch, £70pp dinner
228 Merton Road SW19 1EQ
Tel : 020 8540 3041
Tube: South Wimbledon or 5 min bus (No.57/93/131/219) from Wimbledon Station