Happy 5 years to Mikael, Aurelie and team. Since last fall, Hedone have re-jigged their seating plan, shrinking to 22 covers to concentrate their output. There is minimal change to the interiors, but the roomier feel between tables suits better I think.
So I took in a carte blanche from mid-July 2016, this being the fifth meal with Mikael at the pass. The first during grouse season in 2011. Today Hedone is a permanent fixture in gastronomy, already gifted chefs have passed through these kitchens, deploying their own interpretations of Mikael's philosophy elsewhere with great effect. I think of two, the first is Chris Johns (during his time at Antidote) with his beautiful butter poached fish, perfectly moist suckling pork belly and his take on slow cooked scallop in shell. I spent much of 2014 eating at Antidote upstairs. The other is Tom Kemble, and if you read me, you'll be half-annoyed by the number of times I post about Bonhams. I love his cooking. Tom has the same passion as Mikael, and expresses it through his love for vegetables and seafood, with a gentle hand to amplify the subtleties of natural flavour. Tom's turbot a la nacre is honed to a joy.
This is testament to Mikael as a chef and mentor, The walking encyclopedia of nouvelle cuisine. Some of that knowledge is now internet history, you'd have to access Gastroville via a wayback machine, or wait for a book. The once other half that is Gastromondiale is still live and remains an exciting read (and often re-read) for me.
As some of you know, I started out bemused with Hedone, the cooking was so severe that I felt it was strangled by the immensity of respecting produce alone. I didn't like that first meal, emphasizing my 'feelings' is important because culture, upbringing, exposure, personal preference, contributes to how you feel about a meal, which at times, has nothing to do with the quality of food. Looking back to beginning days, he was probably cooking for himself than for a wider audience. Of course I've always respected Mikael's ability and knowledge. Gastronomy is a subject matter, and after 8 years blogging I still feel like a child. Still learning to distinguish personal preference from skill and still nervous about mis-identifying things in my blogposts. I read what I can get my hands on, but nothing replaces first hand experience.
This is why I return year on year, for education and that I cannot travel to eat as often due to commitments. And I must say that each visit has been an improvement over the last. If his work could be seen on canvas, then it is brush strokes each subsequently applied with greater intent, then painted over totally. And again. And again, until it arrives. The vision has always been there – even the greatest take time – but now I think this craftsman's powers have caught up. And where Hedone is today is so much more than where it began.
His eye and love for and ability to procure the best produce obviously remains his greatest asset, but it is Mikael's dedication (maybe even obsession) to continually tweak his food, that today has taken the limelight and given Hedone clear identity. Some dishes were so good that they stormed into that rarefied territory of deliciousness, and are probably perfect.
At the start, he sent out the bevy of canapes & amuses, some familiar and some new. His quick-poached oyster served with a sweet foam is now perfect. I remember the granny smith version, today with sorrel and strawberry as ice cream – sweet and herbaceous – it is better than that. The umami flan, one of his earliest dishes, now enters 'XL' mode. I've always felt Mikael already makes Europe's best chawanmushis, but he has improved even upon that. The texture of the parmesan custard is seamless, exquisitely smooth and has all the sharp saltiness of parmesan. Topped with an umami jelly that is made from elements that are effectively nature's umami bombs – kombu dashi with katsuobushi, freshened with some yuzu and naturally thickened with chia seeds. A masterful touch that is practical and adds visual flair.
As for the new, we are introduced to 'inverted' sushi – topped with a slice of smoked trout over a crisped nori casing with a rice foam piped inside. The foam is served warm and is like a mash of creamy rice, it melts in the mouth and he has manage to spin the joy of Edo-mae with creative application of modern technique. The nearly unexplainable singular yet complex feelings of great sushi, its there. This opening sequence is remarkable, it rolls like otsumami from a high end Edo-mae dinner. He could easily extend this to a full meal – a 21 bite salute to umami.
Entrees started with a glimpse of the season, fresh cut Sicilian datterini, peach, rocket and a balsamic reduction – a salad of those special summer cherry tomatoes, so sweet that it could work equally as a pudding.
Then the meal shifts gears.
A glacial and ultra delicate dish of Devon crab claw, so divine and replete with natural flavour, intensified by the pure punch of consomme made from the shells of velvet crabs (landed in Scotland and also in Dorset, but eaten more by Spain and rarely in Britain). It doesn't stop there, the smoothest dollops of hazlenut mayo – smooth an understatement as this is the very classic definition of luxury – and it eats more like a whipped hazlenut butter or even cream, redolent somewhat of a luxed up peanut butter. Hundreds of grams must have been crushed to create this fragrance – it's so nutty and it combines to raise the flavour of crab to such heights… into the stars. Macédoine of granny smith gifts the palate acidity, freshness and respite. I can't think of having eaten a better dish of crab. It is absolutely special. For this dish alone, Mikael Jonsson deserves another macaron.
Slow-cooked scallop in-shell were to follow, another that has seen tweaks over the last couple of years, then to a fillet of St Pierre, cut from a medium sized fish, gently cooked in steam until the gelatinous skin is just separated from the precious flesh. Seafood finishes with Scotch langoustine tail, a large but not the largest tail sitting in a thai green curry emulsion that nods to Pascal Barbot, with courgettes, a coral sauce from blue lobsters and fresh almonds – another sign of Summer.
Two meats sent us down the homestretch. The first was Noire de bigorre suckling pig, rack and belly, slow roasted until pink and I hear that he now bypasses Desyoner to source from source. It was very good pork of course, but for Hedone standards, execution was just a touch off, compared to the same dish I had last year.
The pièce de résistance was squab pigeon, roasted crown and confit leg with cherries, chard, offal sauce and Australian winter blacks. Without seeing the dish, you would think straight up delicate flavour from the young French bird, but there is chef's labour here to intensify flavour. The offal is that of clam, Palourde or French clams if I heard right. This brings a marine funk, giving the bird a rich bitterness, not unlike double boiled soup from abalone. The truffle, peeled and served cut into 'nuggets' (I don't know the cookery term), a first for me like this, and yes a revelation; It adds texture and umami in a unique manner. It crumbles and the aroma spikes the flavour of pigeon like depth charges. The flavour of wood, deep, almost bloody, yet obviously retaining tenderness of squab, there is clarity and certain complexity, in fact, I've never been served a more intriguing pigeon dish as this. The proof that Mikael's cooking has matured to occupy a higher realm.
Was the food incredibly well made? Yes, in some respects, it has improved to the point where some are near perfect and pure expressions of a particular ingredient (crab). Did I like it all? No. Though this rub applies to me personally and it is that I find Mikael's meat dishes, especially where game and offal are involved, to be quite challenging. His lievre a royale is a sterling dish, but two bites are more than my faint little heart can take.
Would I have preferred to also savour blue lobster tail, live abalones and aged simmenthal rib eyes served crousti blue? Yes. For sure. Those are things that appeal to me. But that is the beauty of seasons and the quest of the best – you can't always get them when you want them.
Before we close out, there is the matter of pudding.
Our palates are firstly wiped clean with a reminder of his beautiful citrus variation. Except today it is made with in-season woodland strawberries and coconut, a strawberry scented sugar tuile, this together with fresh cut strawberries reminds me of Passard's berlingots recipe. And then, the vanilla mille feuille. The true pièce de résistance. The creme patissiere and the ethereally fine pastry work ….Speechless. I pay Aurelie the highest compliment I can think of at the time : This is better than Arpege's. This is the best I've ever savoured.
There are no menus now. It is a blank card in the same way Astrance is a surprise, and so obsessed with cooking only with the best products, and cooking them in the best ways. In the same way as Astrance, Hedone's surprise taster menu is heavy on proteins, all cooked to intensify flavour. This as a long play menu can be overwhelming, but you do have a choice for shorter. A standard taster is £85, carte blanche runs £125, weekend lunch is £45. In all circumstances, you have to trust Mikael to serve you tasty 'leftovers', as he jokes.
We sat for the carte blanche, and shared a bottle of prem cru white burg between 3. 2013 Chassagne Montrachet, La Maltroie, Bernard Moreau (£152, approx 3x). Not my pick, I prefer Pugliny side, softer wines, but this was good. Quite lush and fuller in body as you expect of Chassagne, with honey-toast butter nose and a lively freshness with clear citrus on the palate.
We paid £623.64 in total, 3 tasters, 1 bottle, coffee, still water and service.
The once most avid restaurant admirers, are now the admired. This is the dream, a hard slog, but he must feel a great sense of accomplishment. Mikael is headed for 2 stars. If you have a hobby of searching out certain ingredients, there is a good chance you will find them here. Because we're in Britain, it's not always possible to round up objectively best ingredients. But as you know from other produce obsessed chefs in London, such as Ishii san, people like Kernow sashimi (with some ice on the boat) are demonstrating to us that seafood from Cornish waters can be equal to those landed on the other side of the channel in Bretagne. But maybe not Oma blacks in winter, or Rishiri uni (and kelp). Nobody eats normally like this and that is to say you should be looking for gastronomic ideals when you visit Hedone. Go there and proclaim your ultimate loves. Omelette from a Parisi. No other. Cosnet poultry. You want it. Aged Turbot. Let's have that. Hound him (don't do that, ask gently) and I think he will reward with you, along with a few other surprises. A revisit to Sportsman beckons and I will try my next table with Bruno Verjus as well.
PS: See below for pictures and (more) detailed blow by blows of the 2016 meal. I have also included the 2015 February carte blanche below that, so you can see how it has progressed.
(My blog is a scalable design. If pics are too big, reduce the width of your browser and it will scale down)
Details
Hedone
Modern Euro
Lunch : Fri – Sat £45 + drinks + service
Dinner : Tue – Sat £85 or £125 + drinks + service
301-303 Chiswick High Road W44HH
Tube : Chiswick Park
Time of meal: Mid-July, 2016. Carte Blanche.
14 bites in total. 5 canapes + 9 plates
Canapes 1: Foie gras, button mushroom and meyer lemon meringue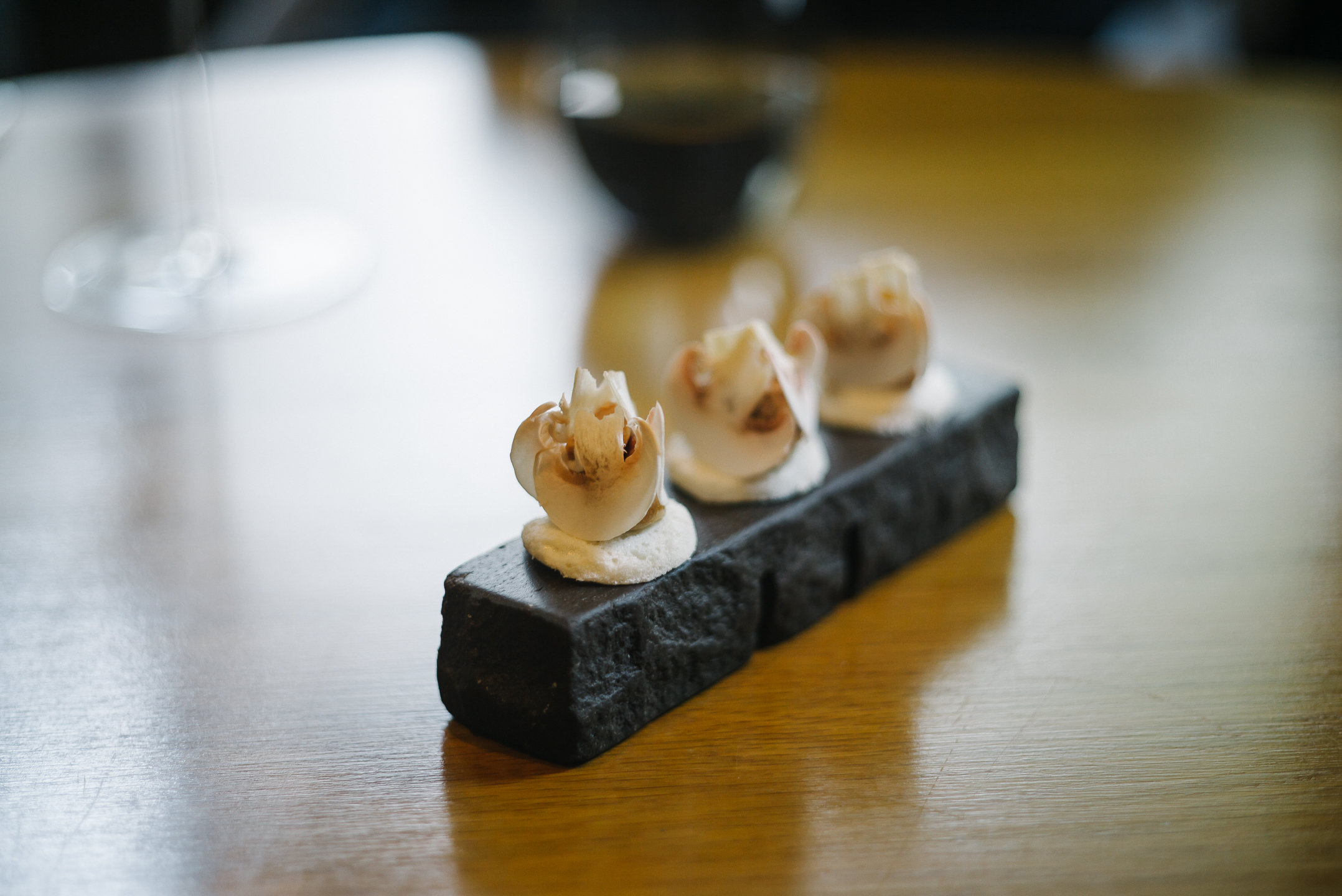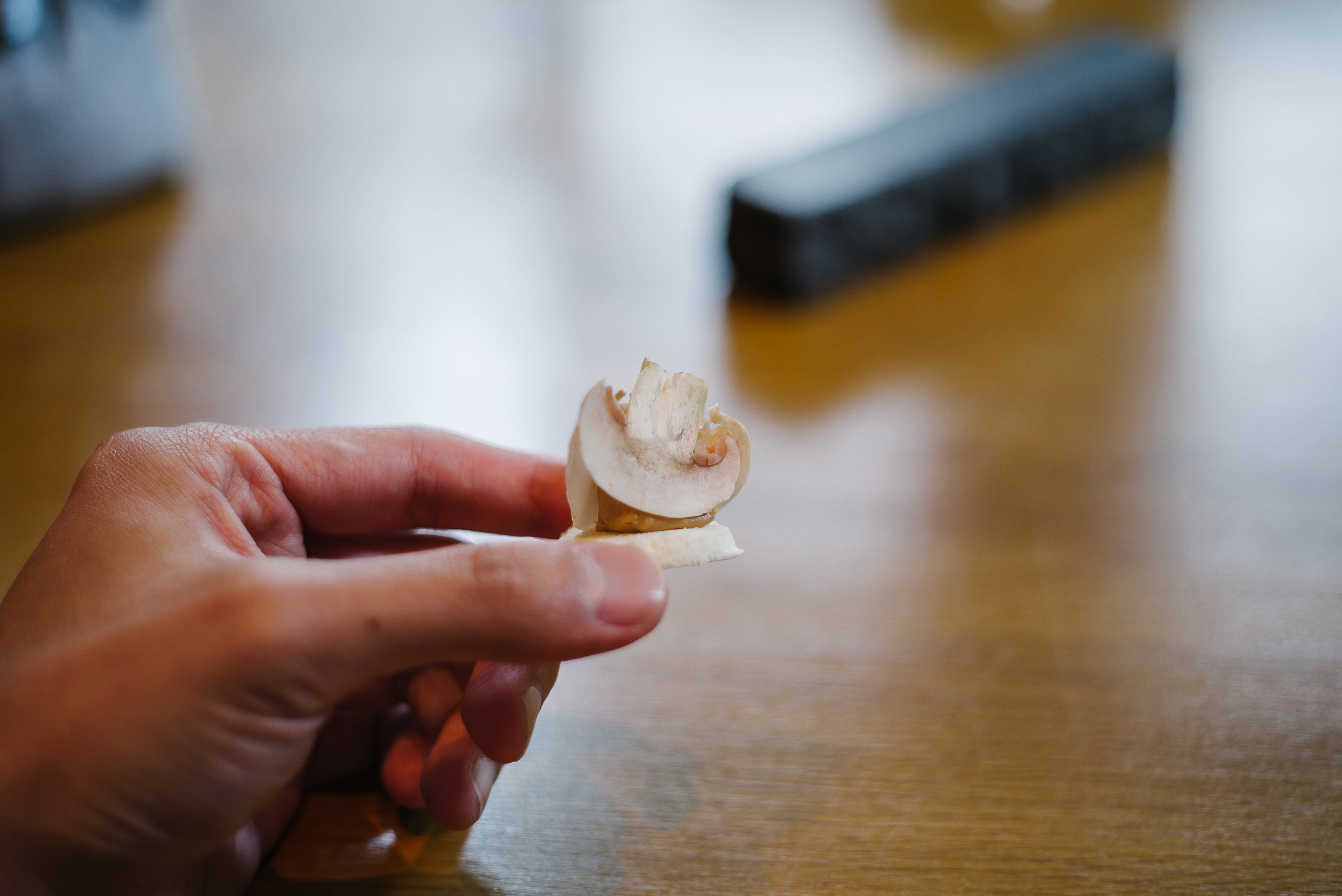 A delightful start, and a homage to a certain verjus marinated modern classic, to borrow Tom Kemble's term. If either of you make a full adaptation of the "mille feuille" on brik, I won't walk, I'll run to the restaurant.
Canapes 2: Nicoise salad cornetto
The Hedone classic with chopped tuna tartare. Oily, creamy beauty.
Canapes 3: 'Inverted' sushi of smoked trout, nori, rice foam and kinome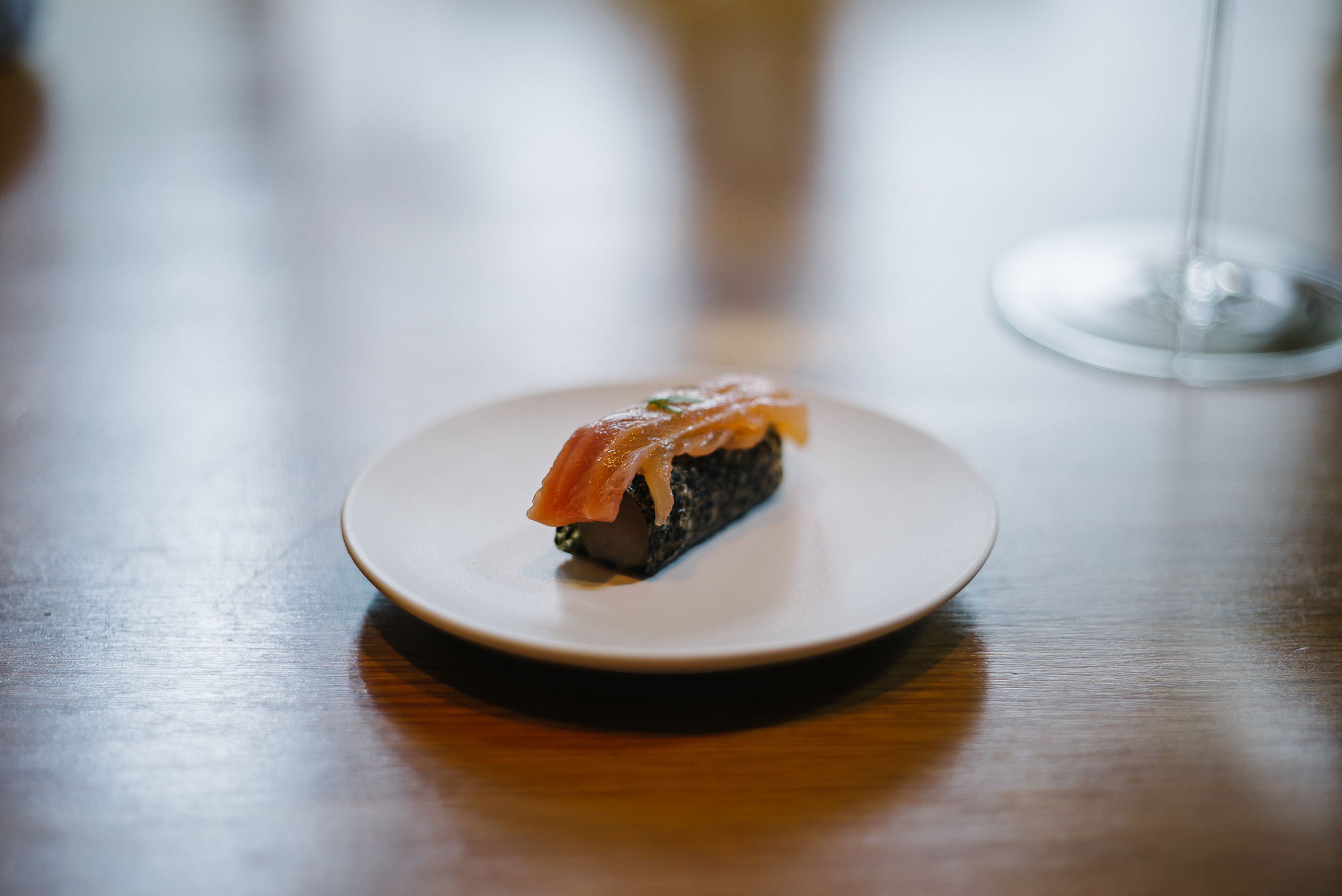 This is wow, the rice foam is incredible. Served warm and is like a mash made from rice. Melts on impact, and may be better than actual sushi.
Canapes/Amuse 4: Porthilly rock oyster, oyster leaf, sorrel cream, sorrel and strawberry ice cream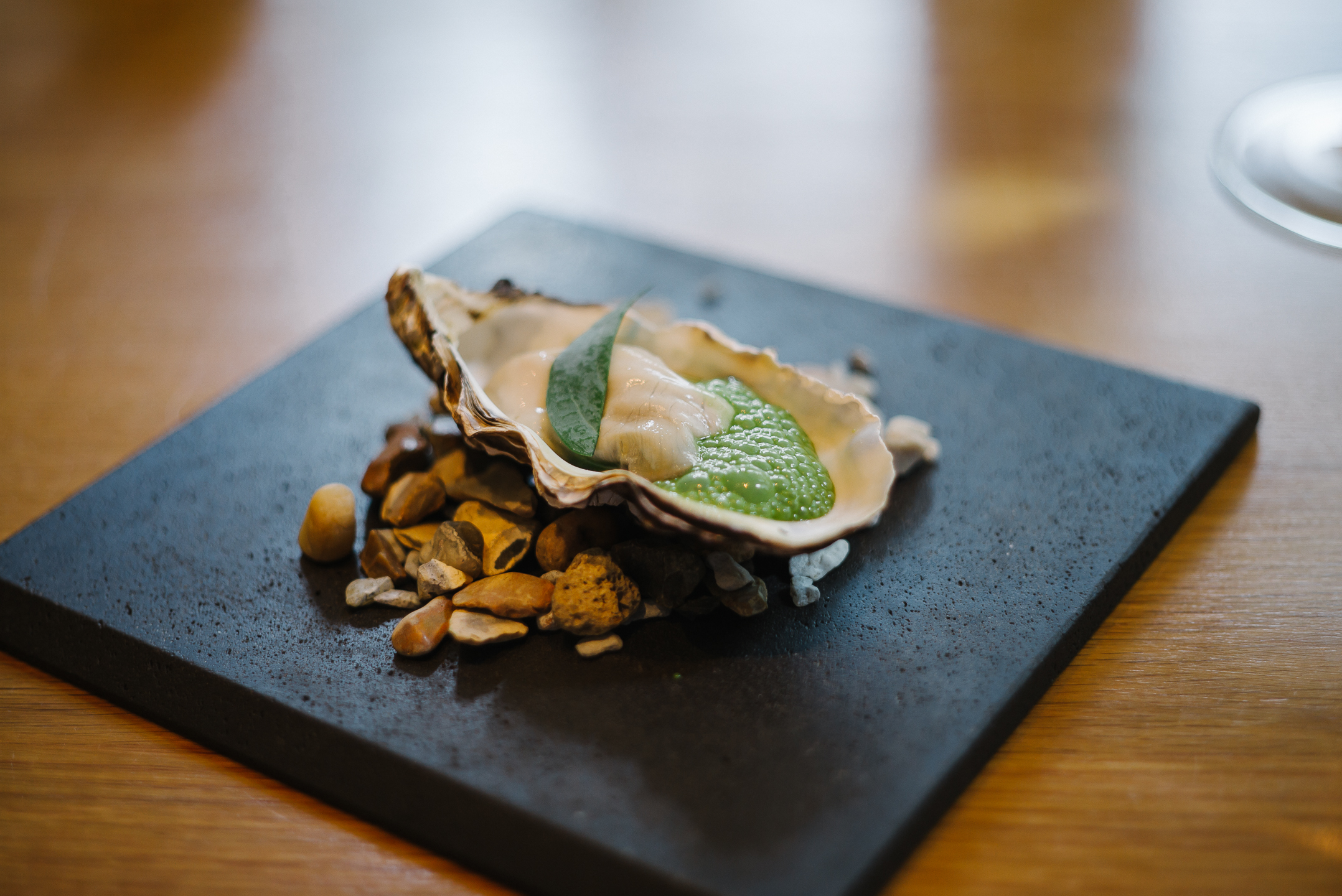 Here's one that has upgraded itself even though it's always been great. This is better than the apple version. Herb laced sweetness of strawberries beautiful with the brine of the just poached oyster. If I recall correctly, the quick-poaching is done with whole un-shucked oysters in water until the shell pops and that is when it is ready. The setting locks in the brine and you end up with a slightly firmer texture.
Canapes/Amuse 5: Parmesan custard, kombu dashi with katsuobushi, yuzu and chia seeds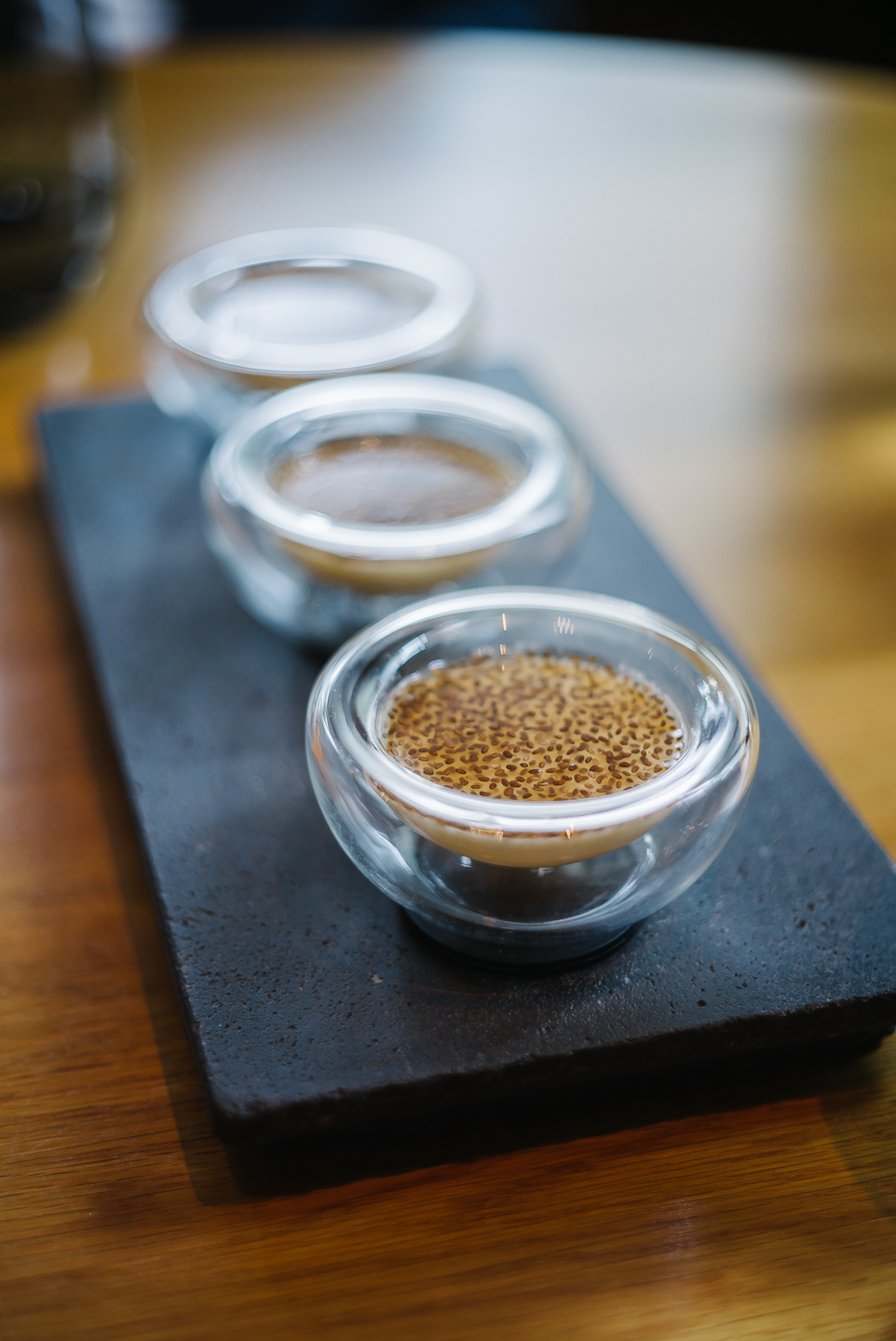 The jelly is hanging on the surface due to the natural thickening qualities of chia seeds. This is Mikael's umami flan XL. Always thought Mikael makes Europe's best chawanmushis, had seaweed and cucumber variations in past, I didn't think it needed improvement but it is another that is even better today.
-Bread and Butter-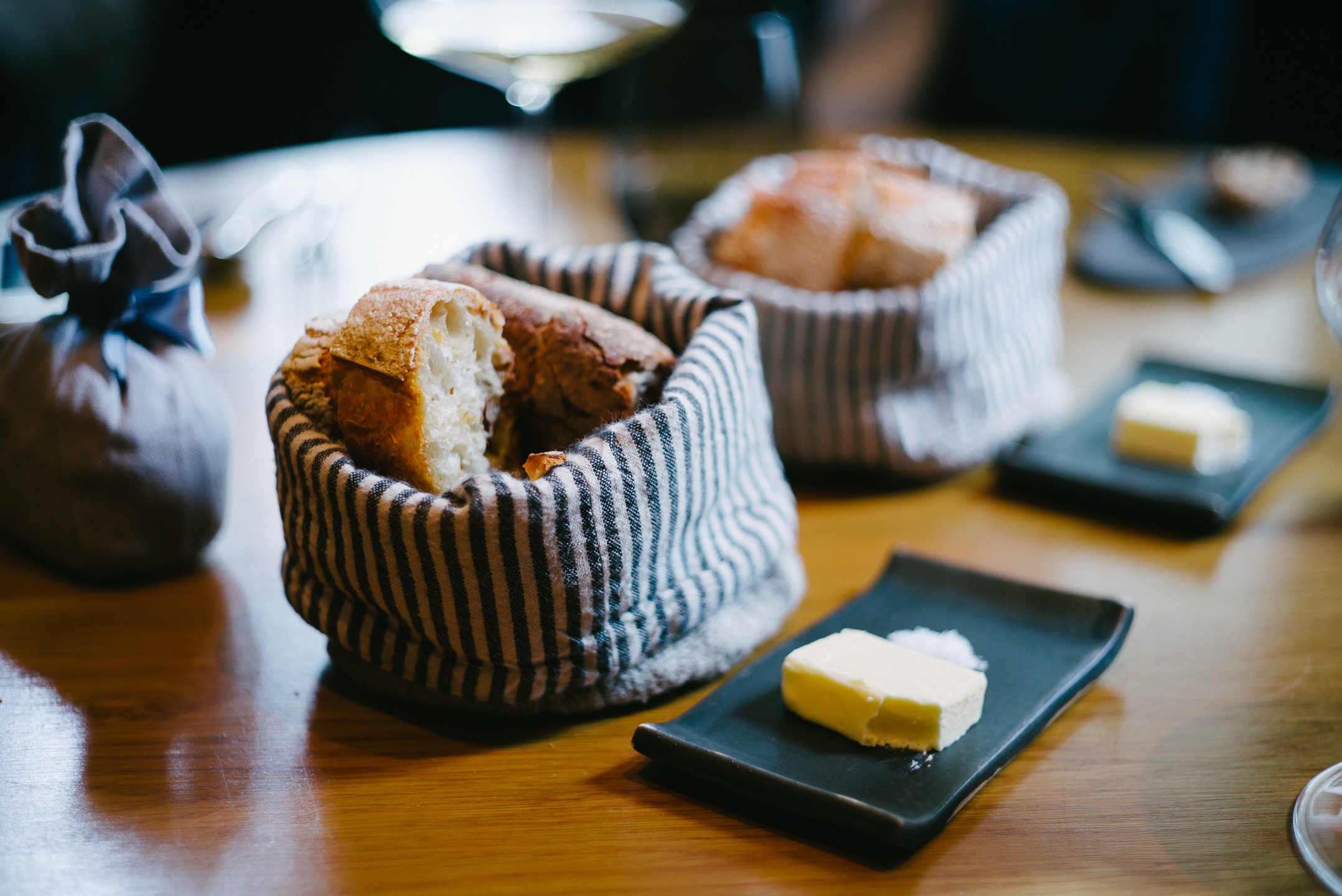 Of course the bread, the best in the Capital, but also the unpasteurised butter. Bordier if not mistaken.
1. Datterini, peach ice cream, balsamic reduction, rocket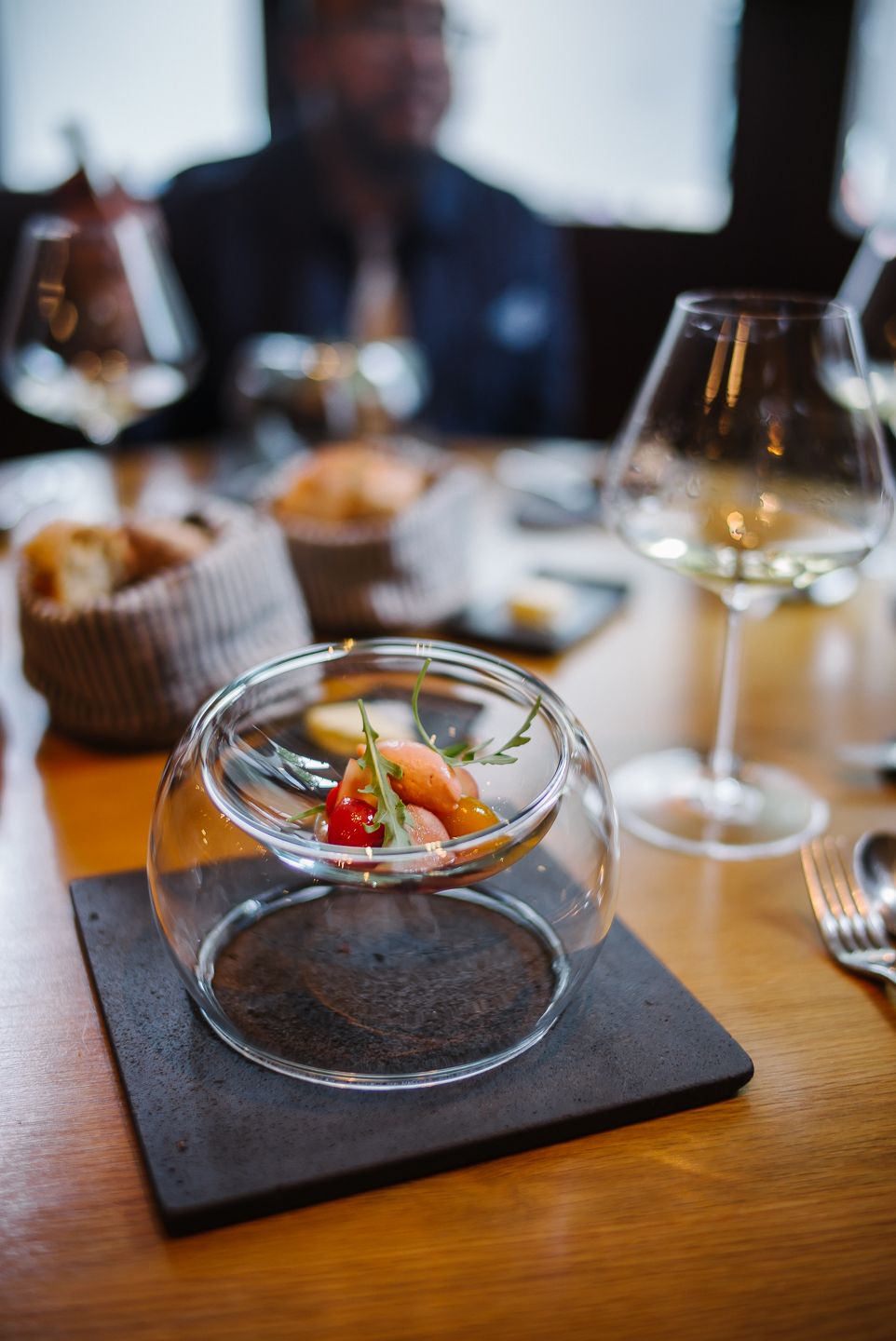 Sure cherry sweet. Could also pass as pudding. I would have loved to have seen the Passardian gazpacho with Orleans ice cream too, but maybe another time.
2. Devon crab claw, granny smith macédoine, velvet crab consomme and hazlenut mayo
This is one of those that has pushed into another territory altogether. I do not think I've had such a pure expression of crab, delicate delicate Devon crab claw, precious textures, the superb consomme intensifying the attack of natural flavour like a briny punch with the best aroma of crab. So delicious. The hazlenut is luxury smooth, texture is more like a seamless whipped hazlenut butter, adding this rich nutty fragrance that somehow brings out all the qualities of crab. How many hundreds of grams used to make this I wonder.
Apple brings acidity and freshness. Feel free to correct me, velvet crab is commonly landed in Scotland (but also Dorset coast line)and Spain is a big fan of these little buggers. I saw them at Clove Club but generally they are not so commonly seen in restaurants in Britain. I digress. This has it all. Incredible dish. If you love crab, you shouldn't miss this.
3. Isle of Mull scallop, in its shell, coral sauce and its own juice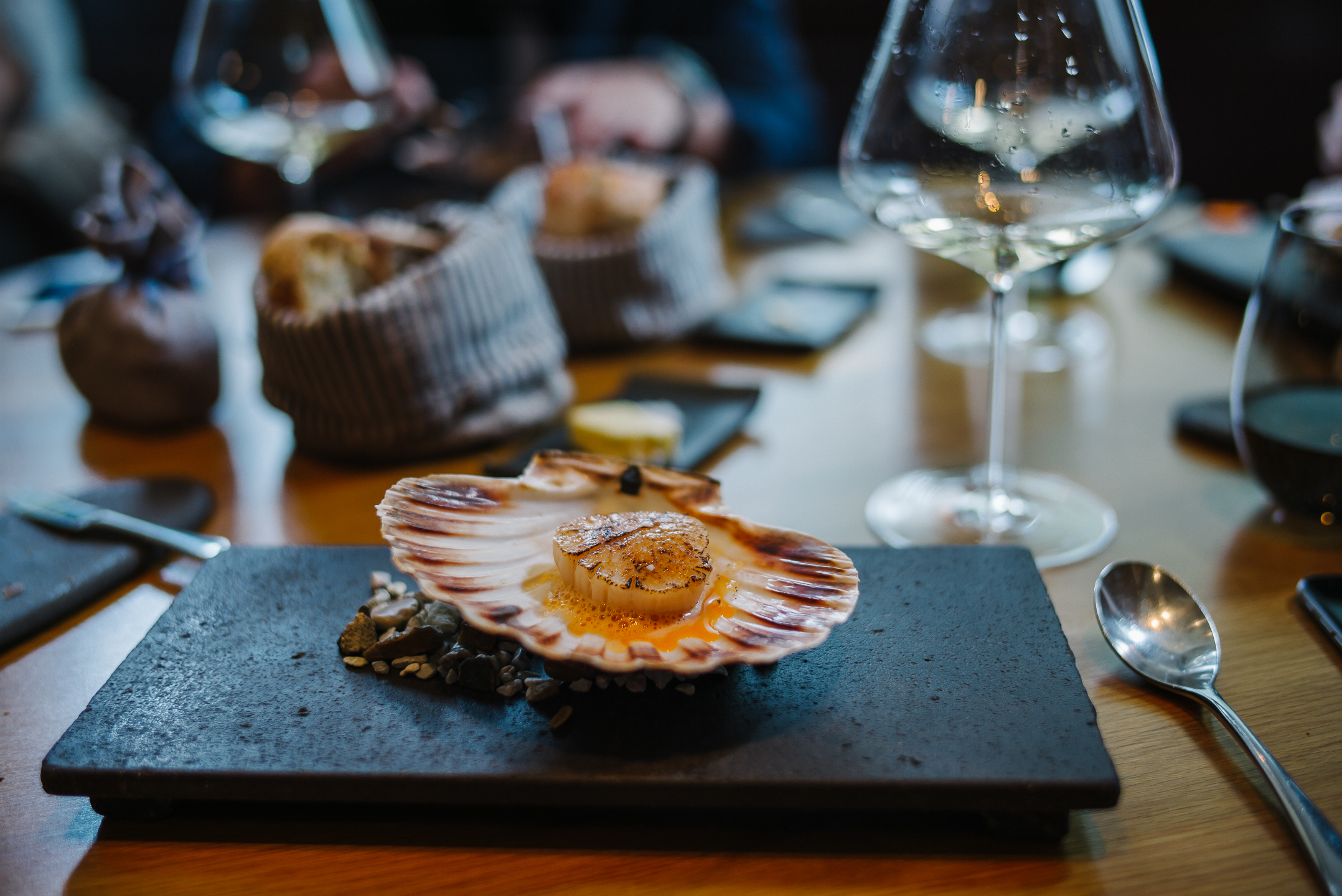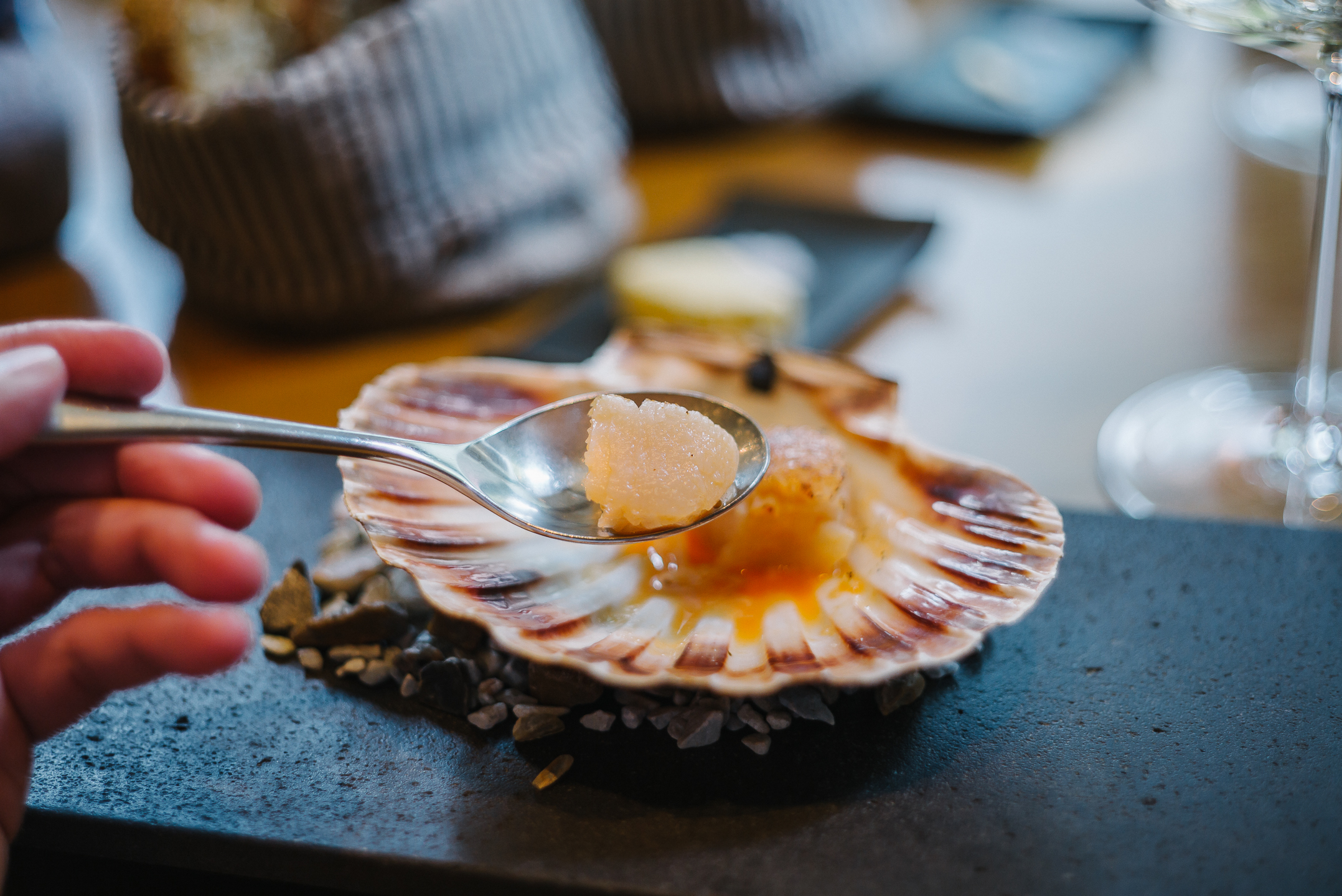 Another tweak, I think, from last year's version (scroll down to see). A la minute, cooked in shell, in steam oven and Mikael says to a centre of 42degC. Top is torched and the sauce is made from its own coral and juices. The middle retains more of the raw textures, and not totally soft or nearly too soft compared to last year's. It gives this sensation of custard. Indeed, you only need a spoon.
What the cooking does do is intensify the brine & natural shellfish flavour, almost like upping its umami, and this reminds me of Conpoy, or Chinese dried scallops. You know you smell that stuff when you are cherry picking with the shop keeper. I forget how last year's version was cooked, was it 6hrs over even lower heat or 20mins? This year's is 7-8min right? It's an improvement over the previous iteration nonetheless and an interesting way to slow cook scallop. My personal liking is as sashimi and throbbing.
4. John Dory, artichoke and rockfish ragout, fresh seaweed.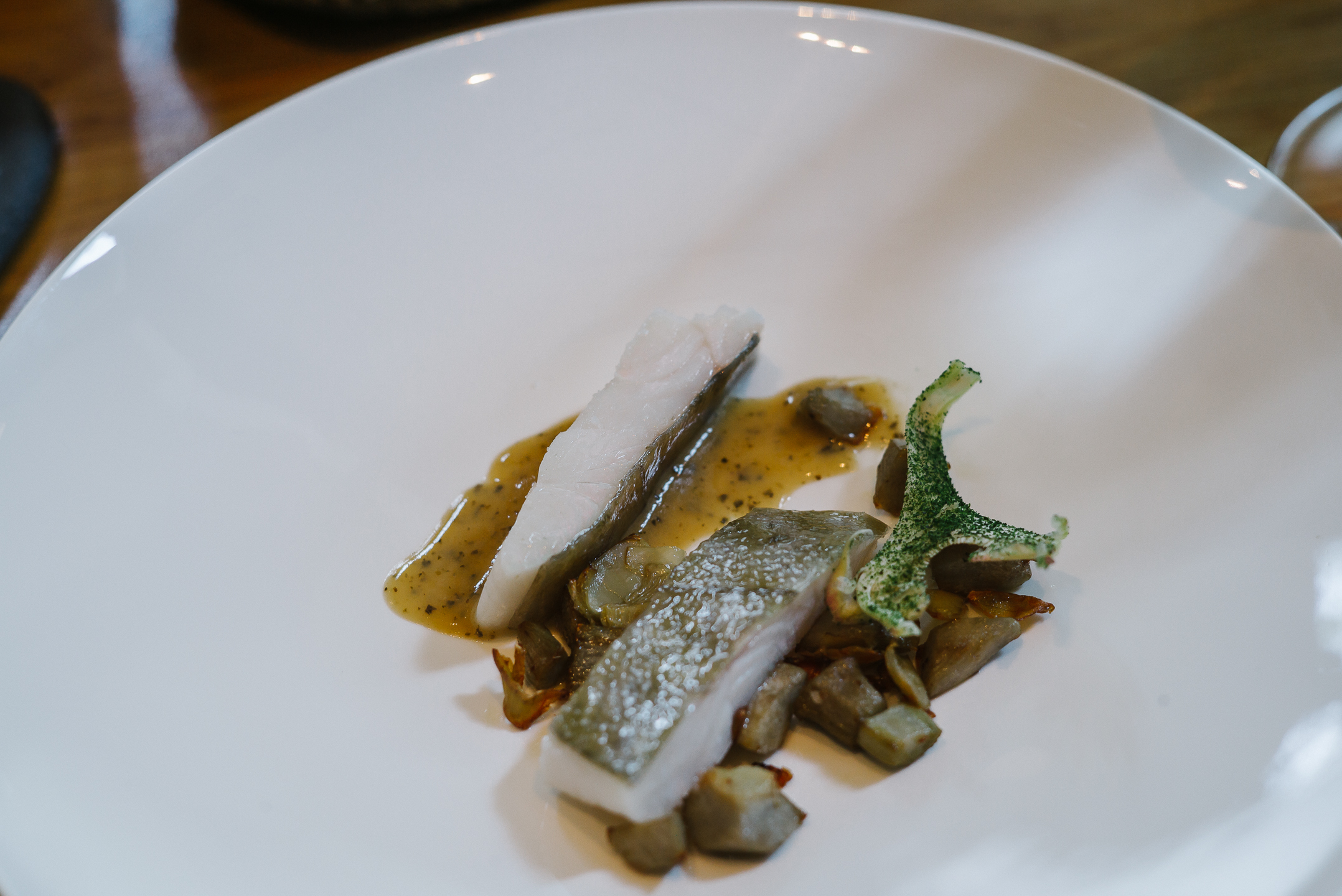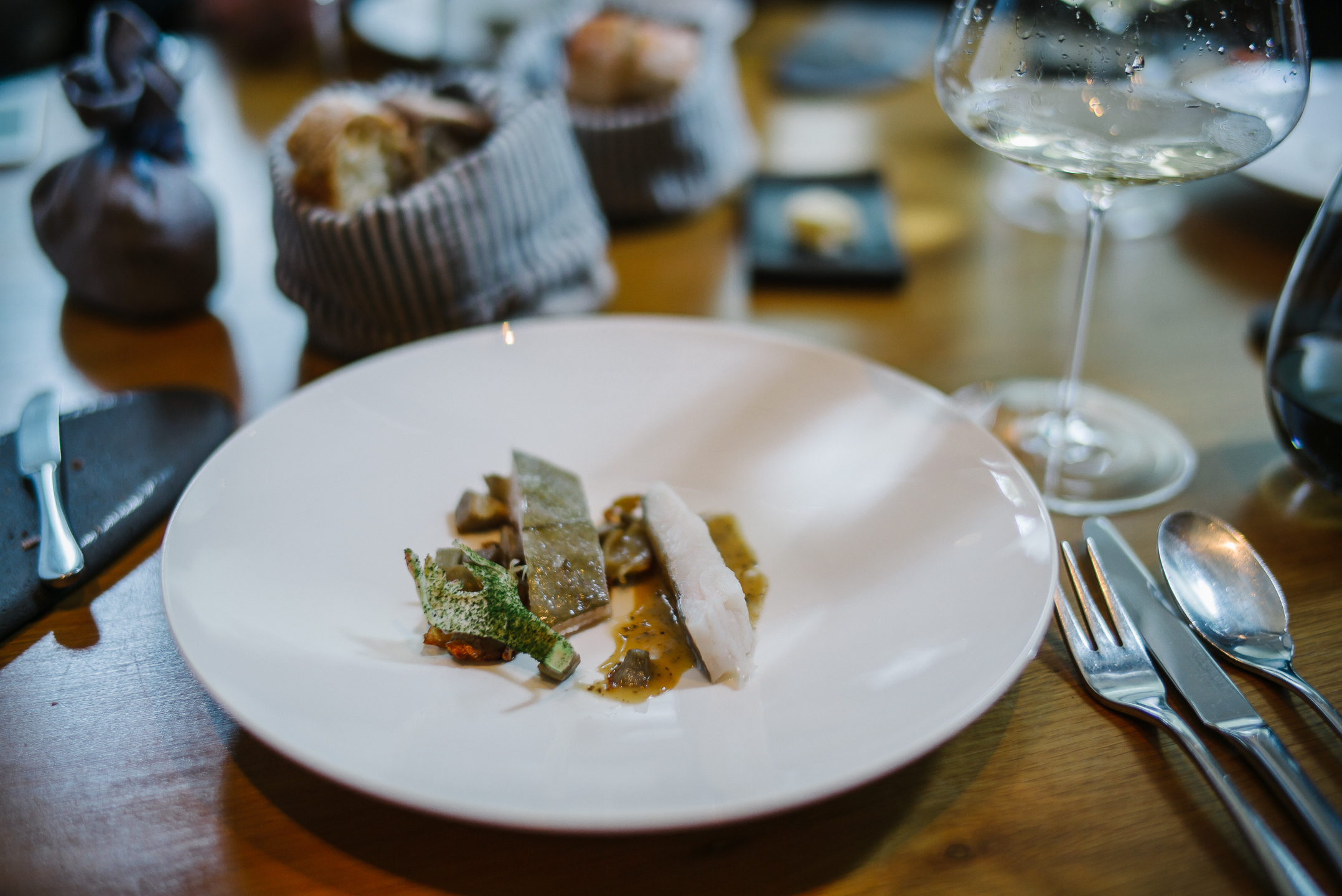 We love a nice steamed fish, this is the Cantonese genes vibrating here. This St Pierre is a 1.5kg catch, medium sized and is lifted off the bone and cooked in the steam oven to a centre temperature of 49degC. Mikael let us know that this is the temperature when the skin is just separated from the flesh, but not denatured by higher heat.
It has a glimmer of a la nacre, it is fabulous piece, very close, just off that high of most outrageous quality. This is nature and luck rather than execution. As for that, it is beautifully steamed, still gelatinous and so flaky it is nearly addictive.
My family loves steamed fish whole, cooked to just under, to 'hot-raw' bones. We didn't ever encounter perfectly steamed fish often, maybe countable on both hands. We enjoy simply with soya, oil and spring onion, but I greatly appreciate this ragu. It is interesting.
The mandolin slice plus what appears to be fresh seaweed shavings is visually intriguing. It elevates this dish somehow, even though it seems to do more with plating than taste.
Steam ovens all the rage with the better half's family, but my dad thinks steaming his precious garoupas need be done in a wok with water and bamboo steamers. Same difference I think. This dish would convince him that there is quality fish, outside of the family of garoupa.
5. Scotch langoustine tail, thai curry emulsion, blue lobster coral sauce, courgette and fresh almond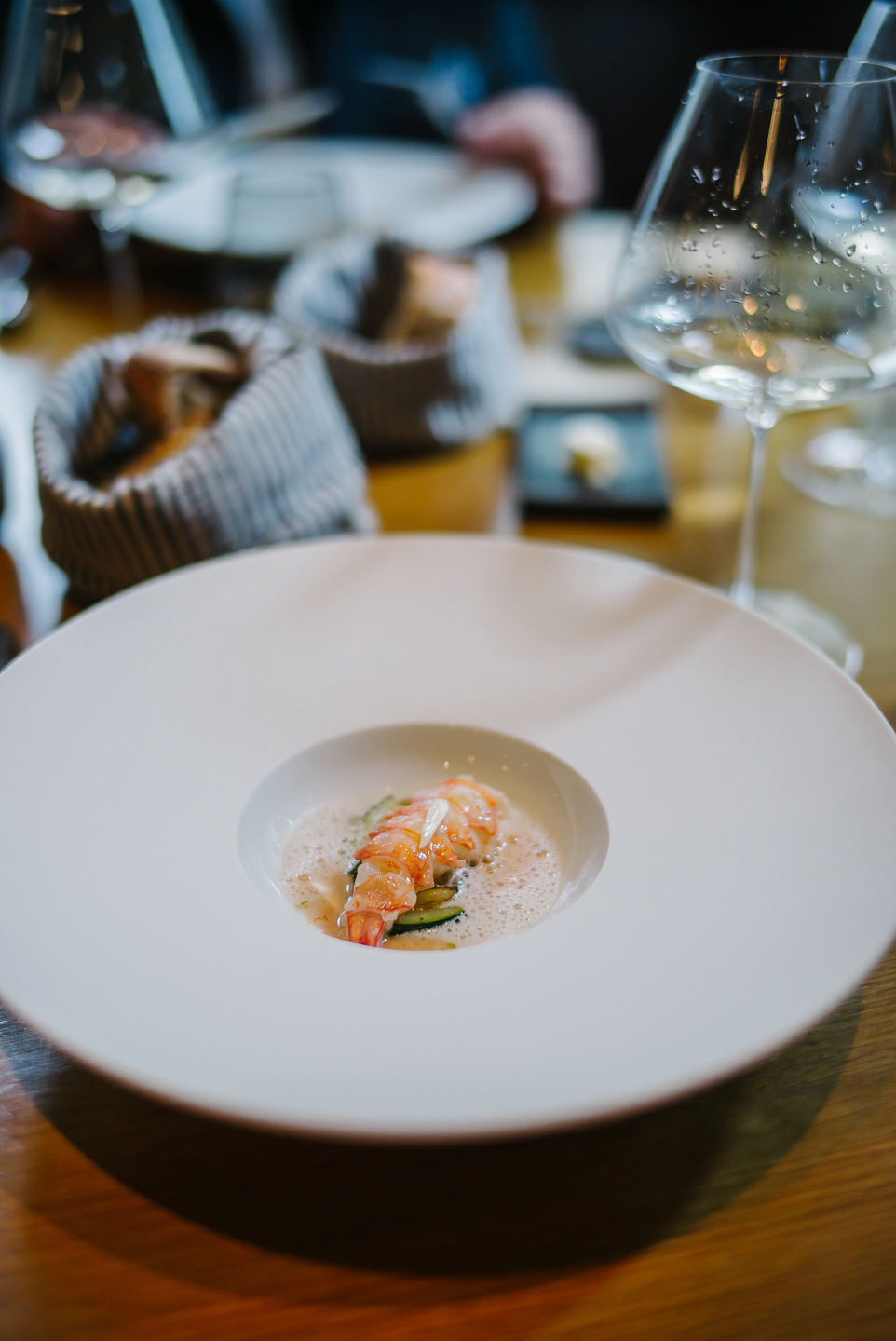 This has Pascal Barbot written all over it. The sauce is beautiful, soft and creamy, just the scent of thai curry, I like that he has not over-seasoned it, the salt is well-judge and needs no starch at all. I also like that there is little or no citrus in this, Barbot puts too much acidity in his versions and in this regard, this is better made than Astrance.
For execution of the lango, I would have preferred a dry pan and cooked to mi-cuit. This was just a little over, but also not enough, as texture was a little mushy and not taut, for my tastes.
6. Noire de bigorre suckling pig rack and belly, artichoke glazed in wild garlic and miso, date puree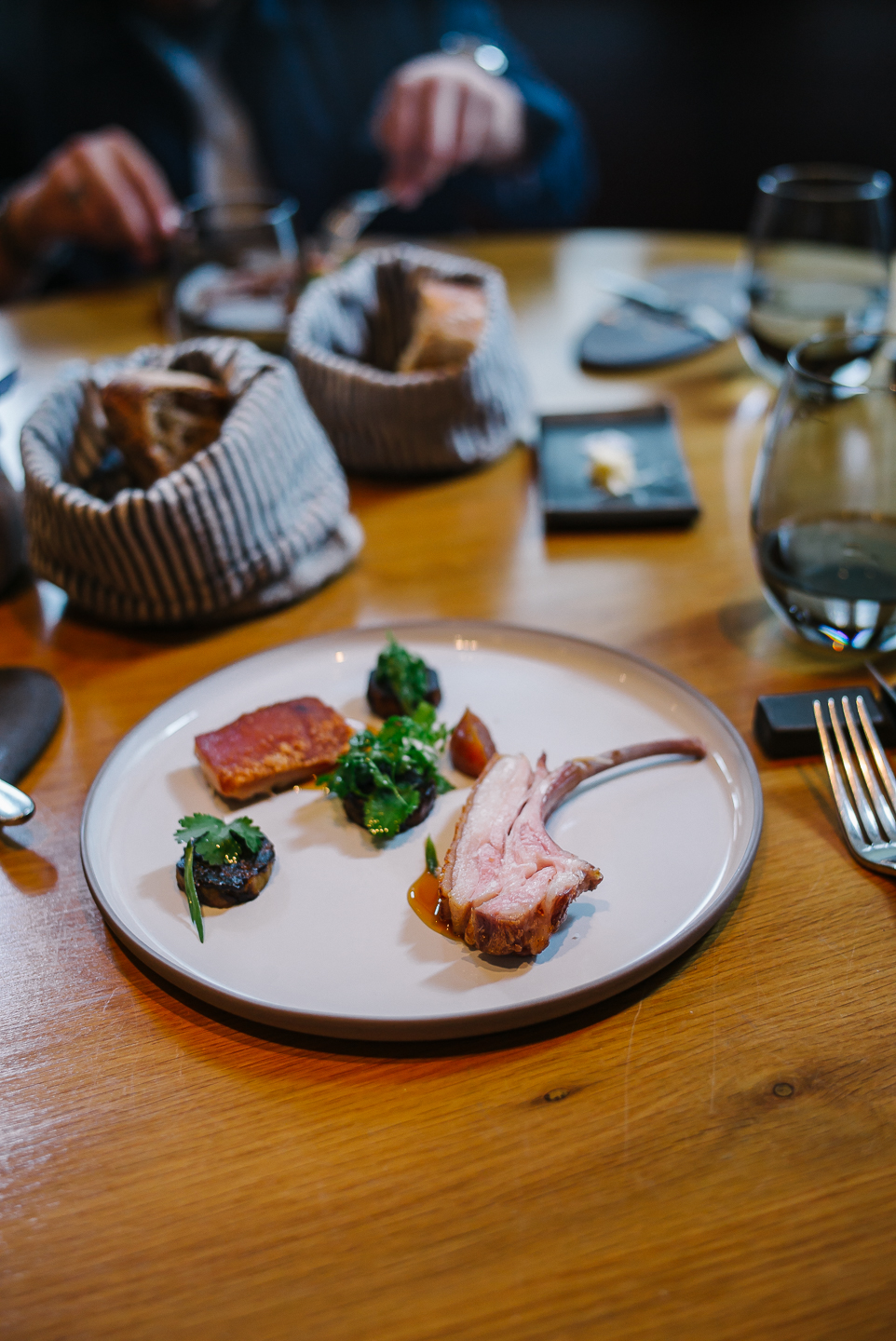 The glazed artichokes are flavour bombs, natural seasoning. It is good, but by Hedone standards, I think execution is just a touch off. Last year's rack was better (scroll down). Maybe spent a few minutes too long or maybe temperature was a couple degrees too high. Don't know. The belly just missing that peak succulence. I think of Spanish suckling pig, also my mind wanders to Hong Kong where some of the Four Season Heens make some luxurious roast pork belly. Zi Yat Heen comes to mind in recent memory.
7. Roast squab pigeon breast and confit leg, cherry, offal sauce, chard, Australian winter black truffle 'nuggets'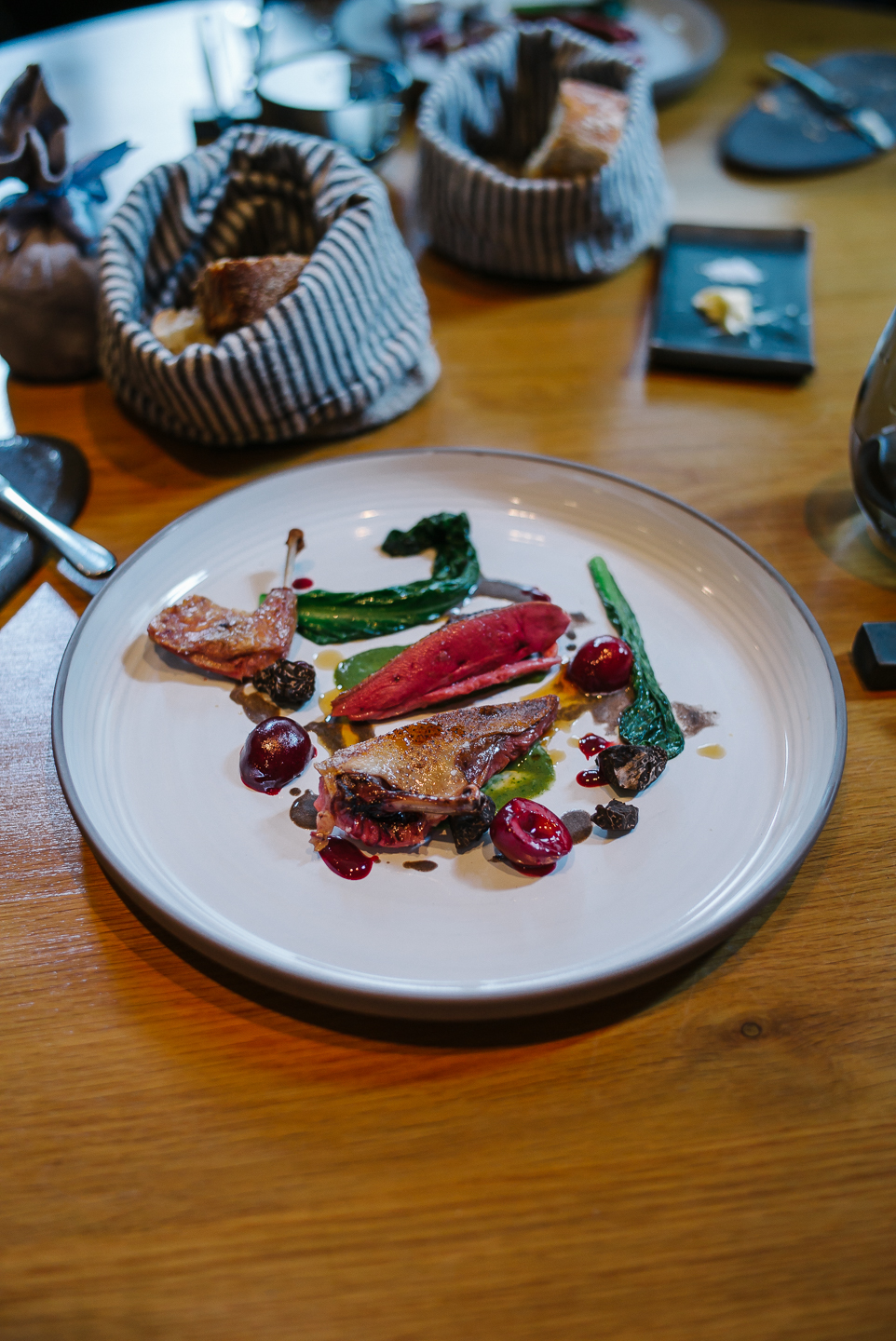 At least I think it's chard.
So here you see the plate – might I add – 5 years in the business plus better staff has resulted in beautiful plating.
On the description, you would think straight up delicate flavour from the young French bird, but the master chef's labour here are hidden in the offal sauce and the truffle and how this enhances the bird's flavour.
Firstly the truffle, peeled and served cut into 'nuggets' (I don't know the cookery term), as opposed to thin slices from mandolin. This is the first time I've eaten truffle like this, and yes, revelation, it adds both texture and also umami in a unique manner. It crumbles in a very distinct way and the truffle aroma released in this manner enhances flavour of pigeon like the setting off of depth charges on your palate, pushing the flavour into older pigeon region, rather than that of a young one.
Offal this time, is not from pigeon, rather it offal of clam, Palourde or French clams if I heard right. This adds a kind of marine funk that plays like a extended finish to the pigeon flavour, an intensity that is bitter saline, mineral even and it reminds me much of stock or simply the finish you achieve from a double boiled soup of abalone. The flavour of wood, the tenderness of squab, there is clarity but also certain complexity, in fact, I've never been served a more intriguing pigeon dish as this. The proof that Mikael's cooking has matured to occupy a higher realm.
But as I pointed up in the write-up above, I find the flavours too rich and almost too 'bloody'. Though it is several notches of intensity below his lievre a royale, this is still too much for me to take. My preference in fact, is the natural mellow flavour of the squab.
8. Pre-dessert. Gariguettes, fresh, foam, sorbet, coconut & lime meringue, tuile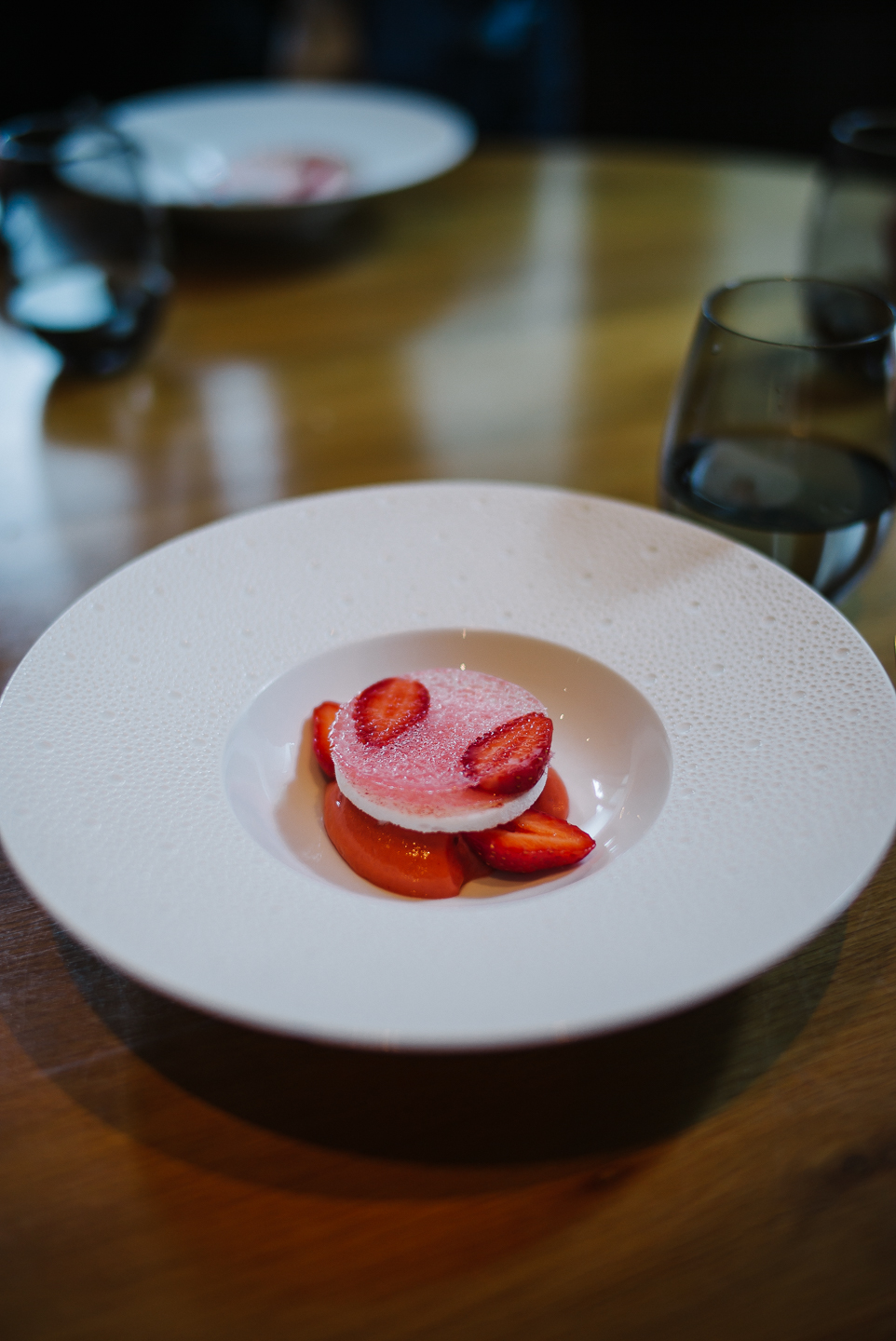 His citrus variation is perfect, but this seasonal reflection is a celebration. The freshness of the coconut and lime meringue is like morning dew, with a texture so light, it is like foam-meringue or even a light marshmallow.
The strawberry pith in contact with the sugar tuile is the best part. I think of the berlingots recipe from Passard. Fresh-candied at same time, the crunch of the sugar. A simple pleasure. Fabulous.
9. Vanilla millefieulle, balsamic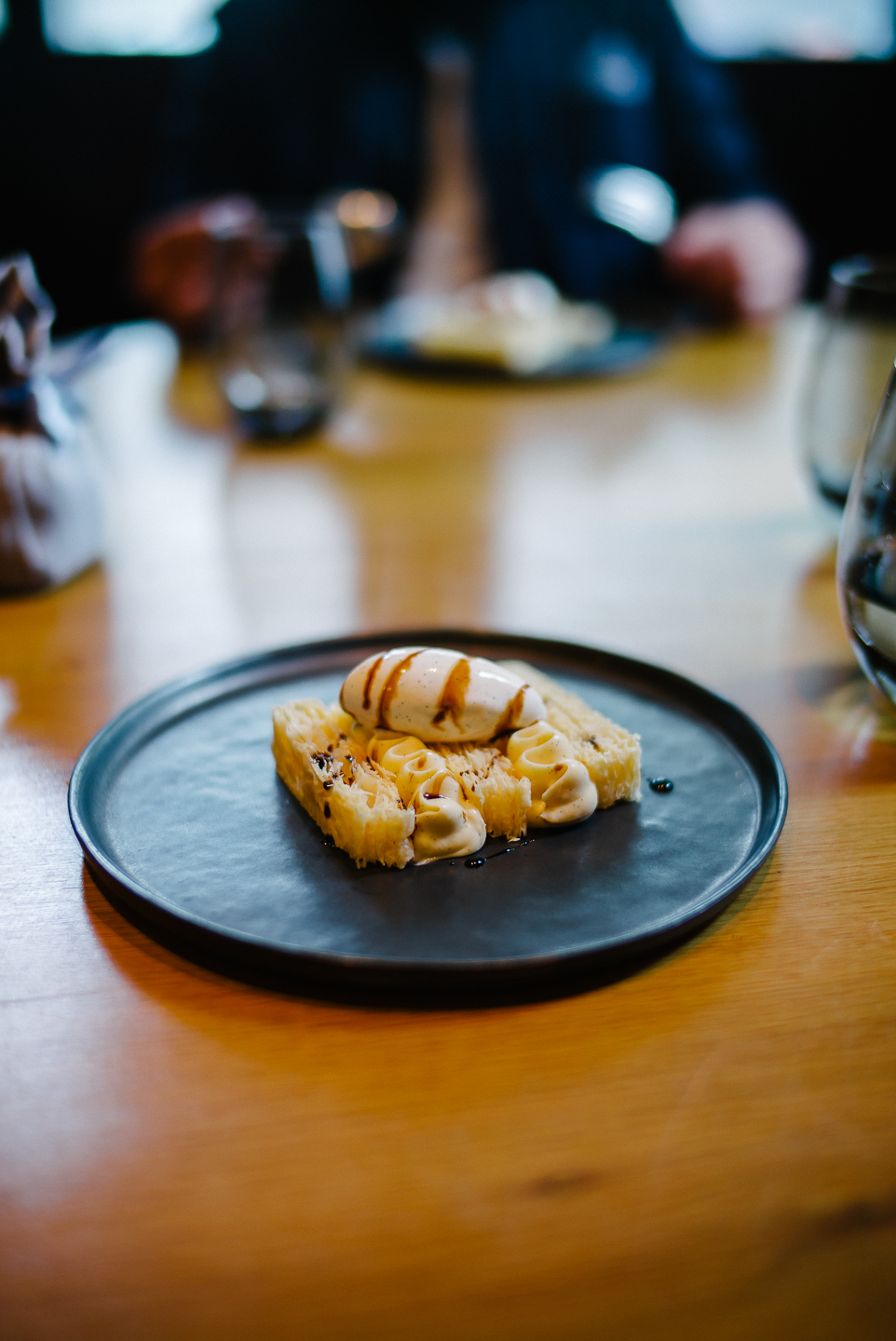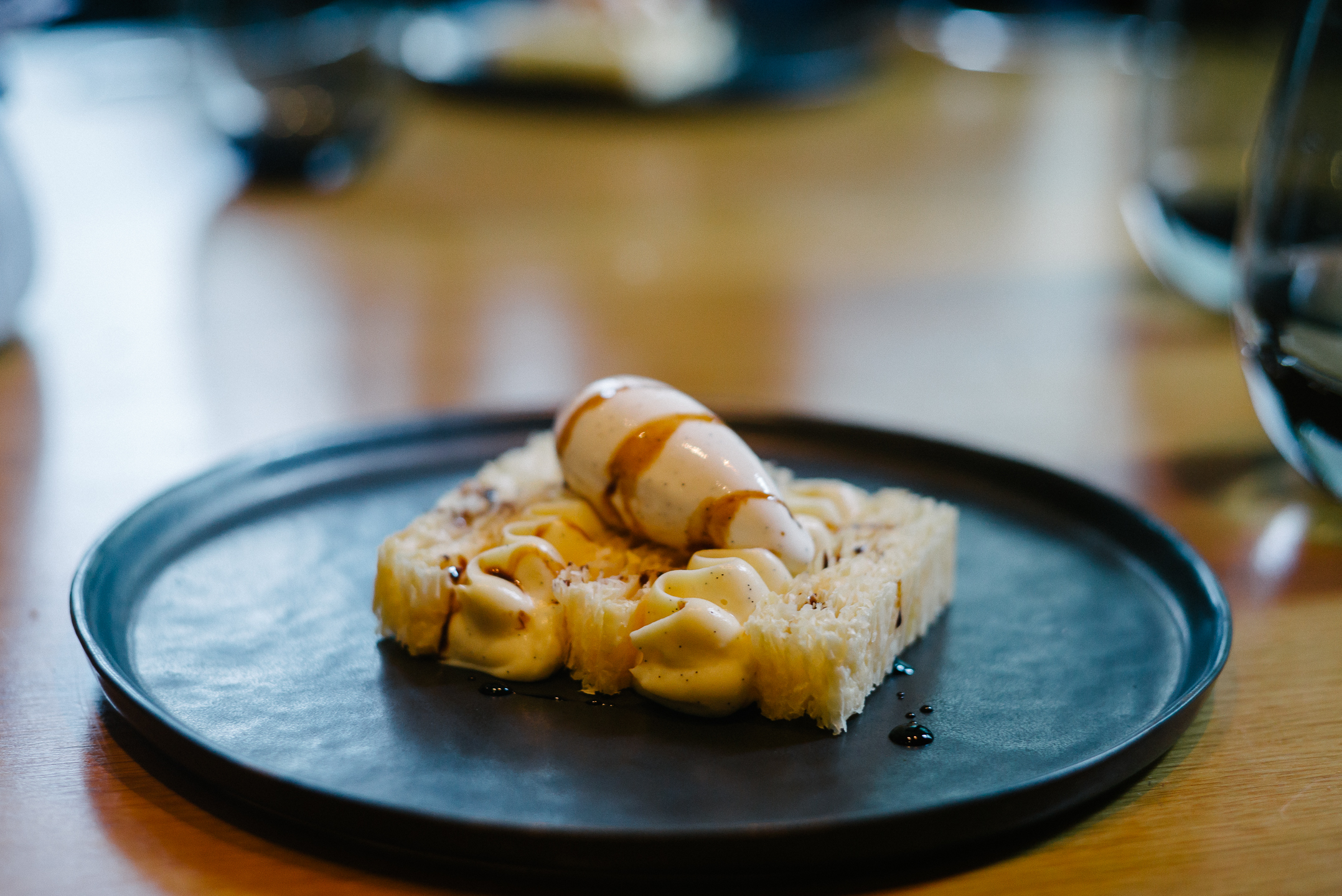 Not that I can tell the difference but the creme pattiserie is made with Mexican vanilla, whilst the ice cream is Tahitian. Balsamic for abit of acidity and balance.
The creme pat is… perfect. It's so creamy and eggy, sweet, it's perfect. As for the pastry work, well you can see it for yourself. Ethereal and so light and nearly hollow that I wonder how it is even possible. And yet, when you crack into it, it snaps as millefieulle, it is strong yet delicate. I'm blown away by this. This is next level work.
As I mentioned earlier, this is better than Arpege's millefieulle. Even by Paris standards, I think this is up there. I mean I have not been to Genin, but certainly in restaurants, this is hard to top. This is the best millefieulle I've ever had. One for the benchmarks.
—-
Time of meal: CNY, February 2015. Carte Blanche.
11 bites in total. 3 canapes + 8 plates
Canapes 1: Dorset crab, avocado, pistachio cream and dill foam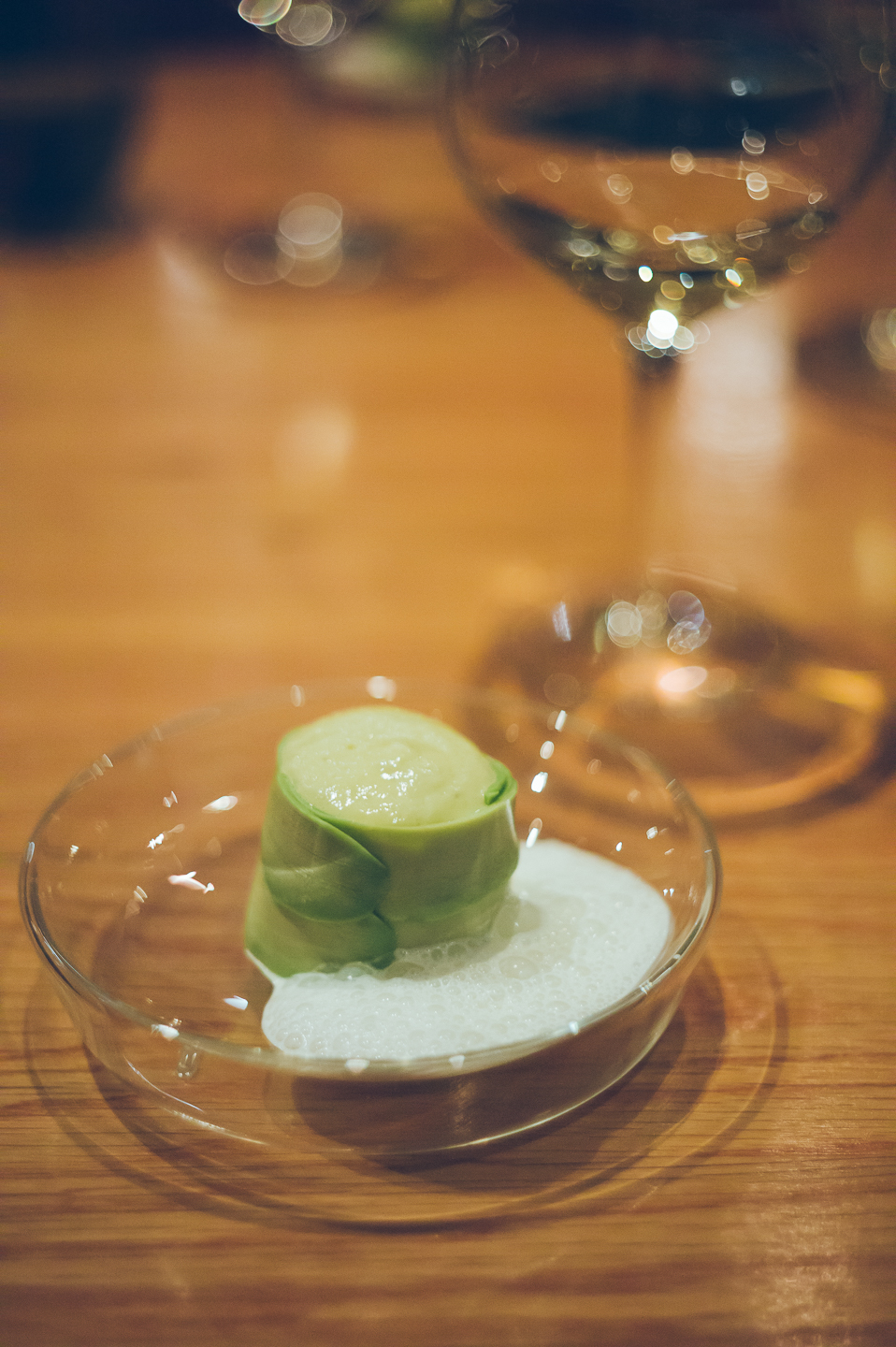 Canapes 2: Monkfish & chips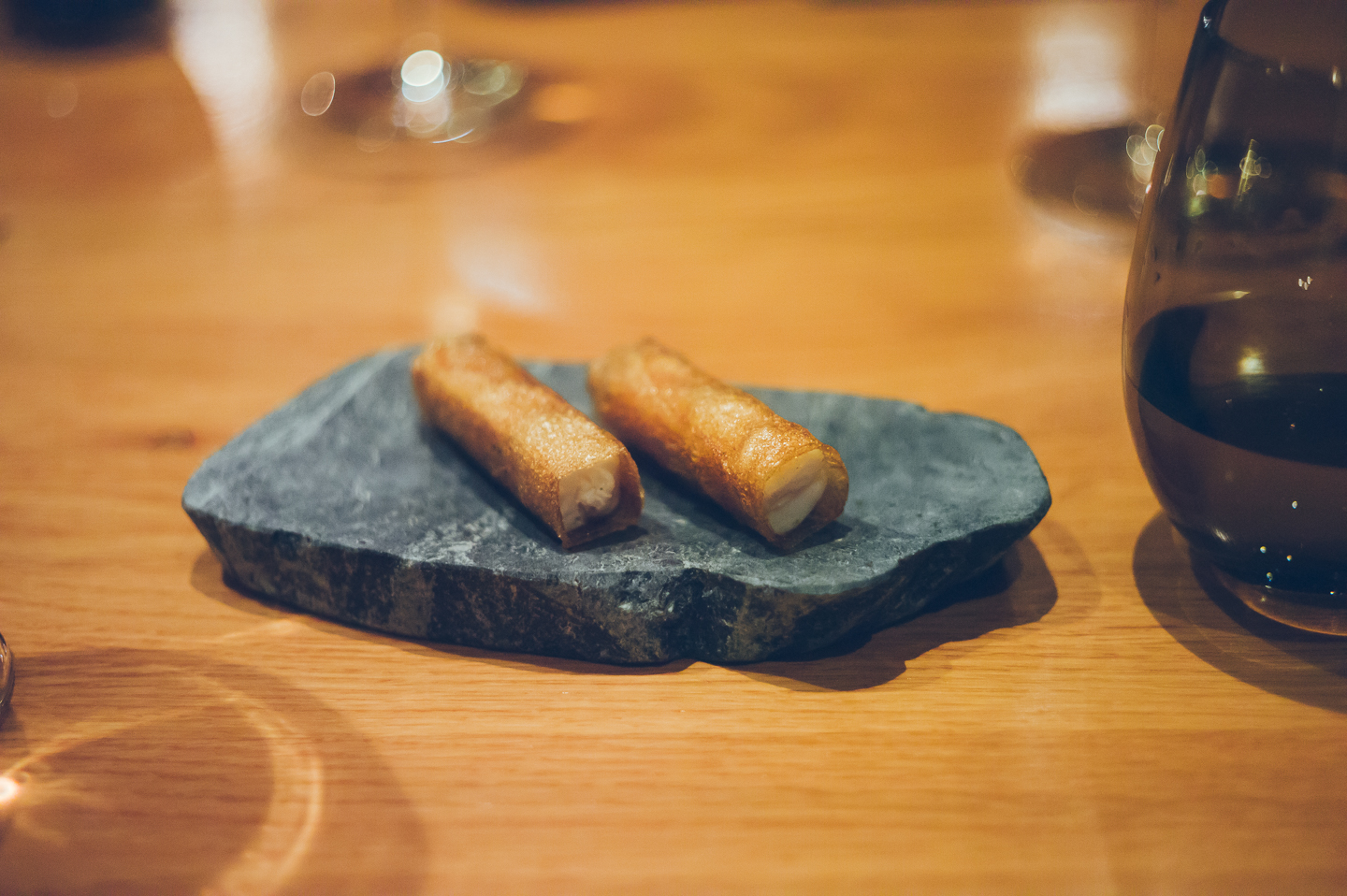 Canapes 3: Umami flan, cucumber and cheese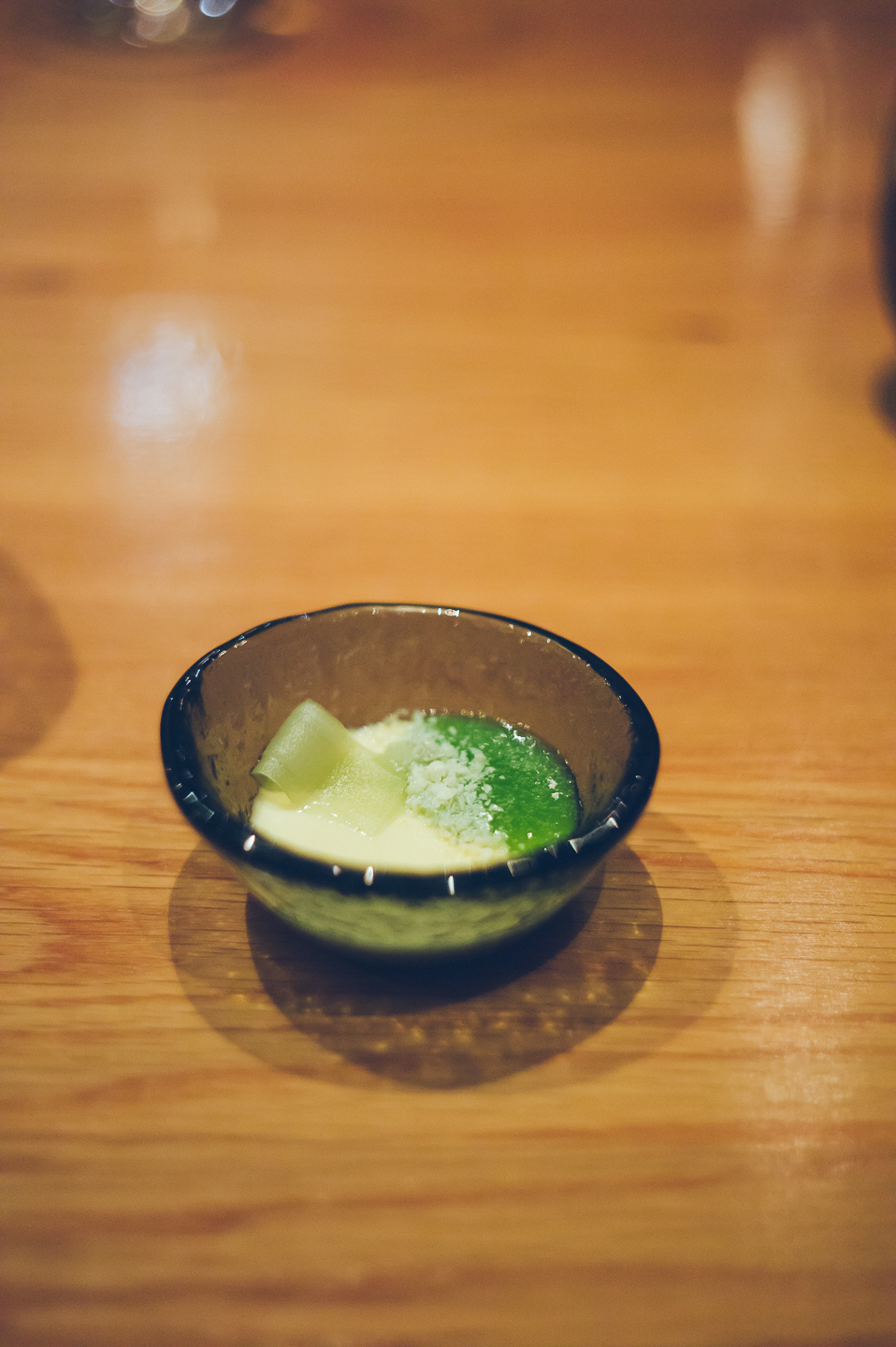 1. Scotch hand dived scallop, dashi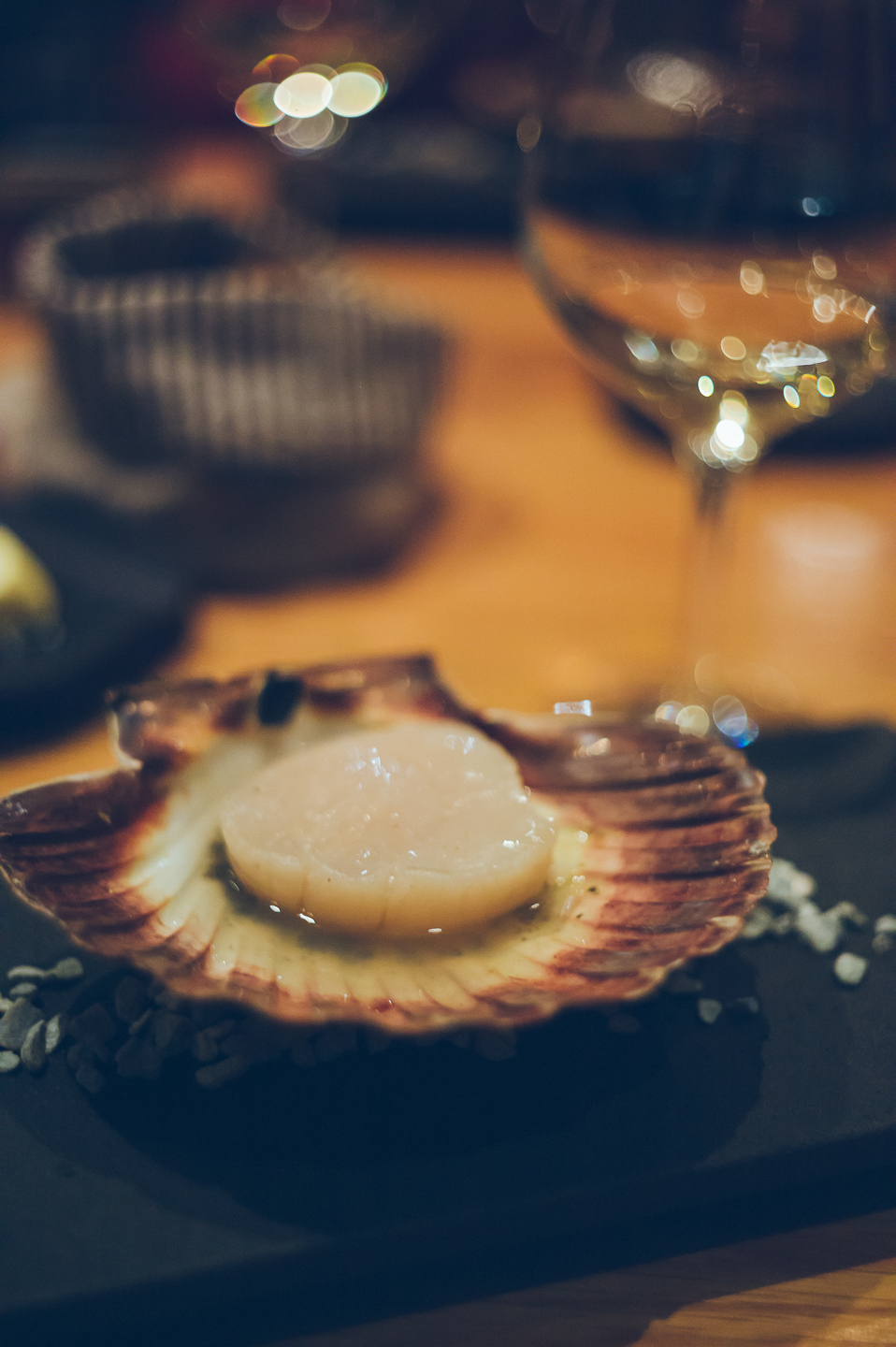 2. Seabass, dill and cauliflower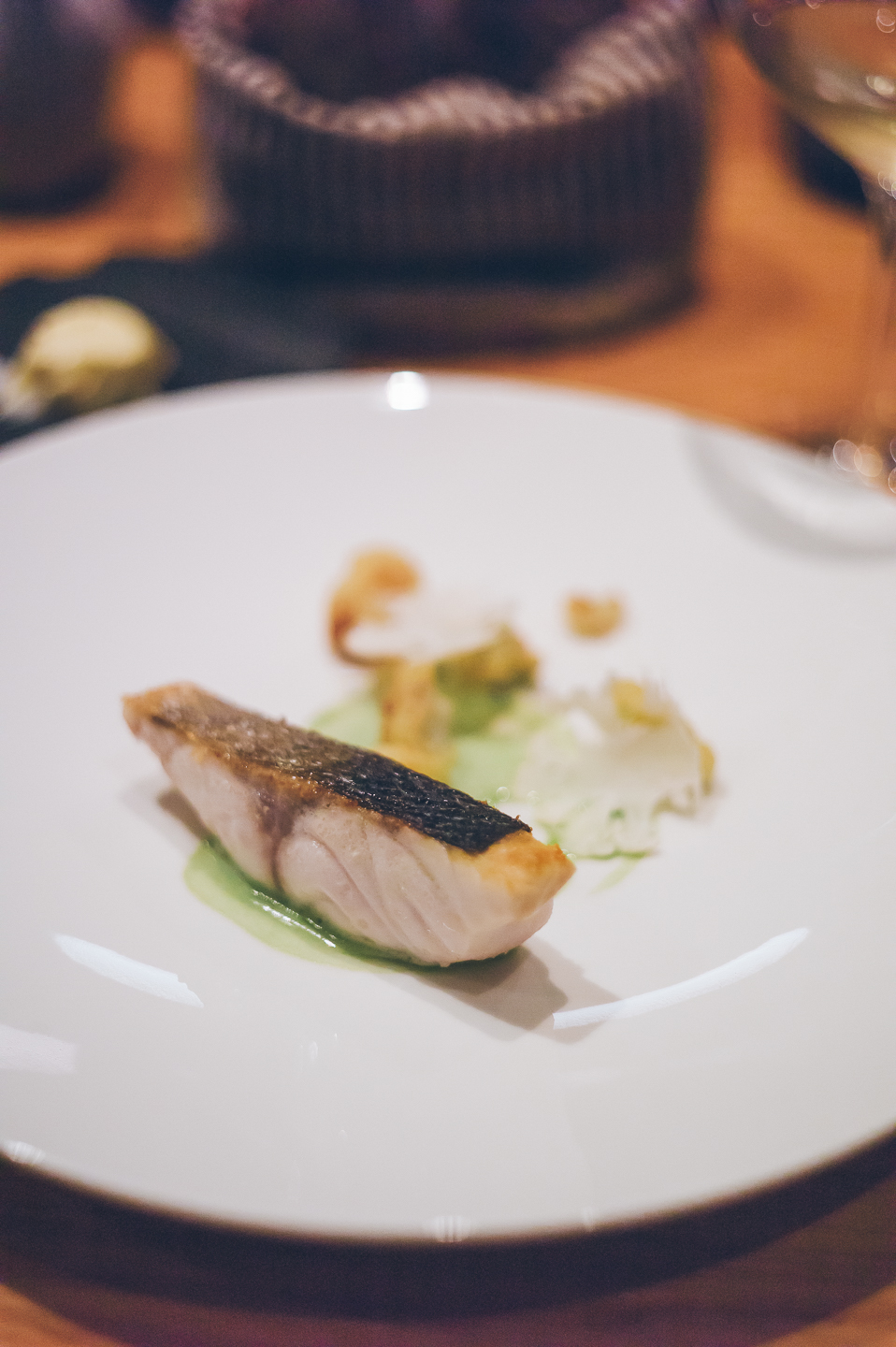 3. Liquid parmesan ravioli, guanciale, onion consomme and mild horseradish foam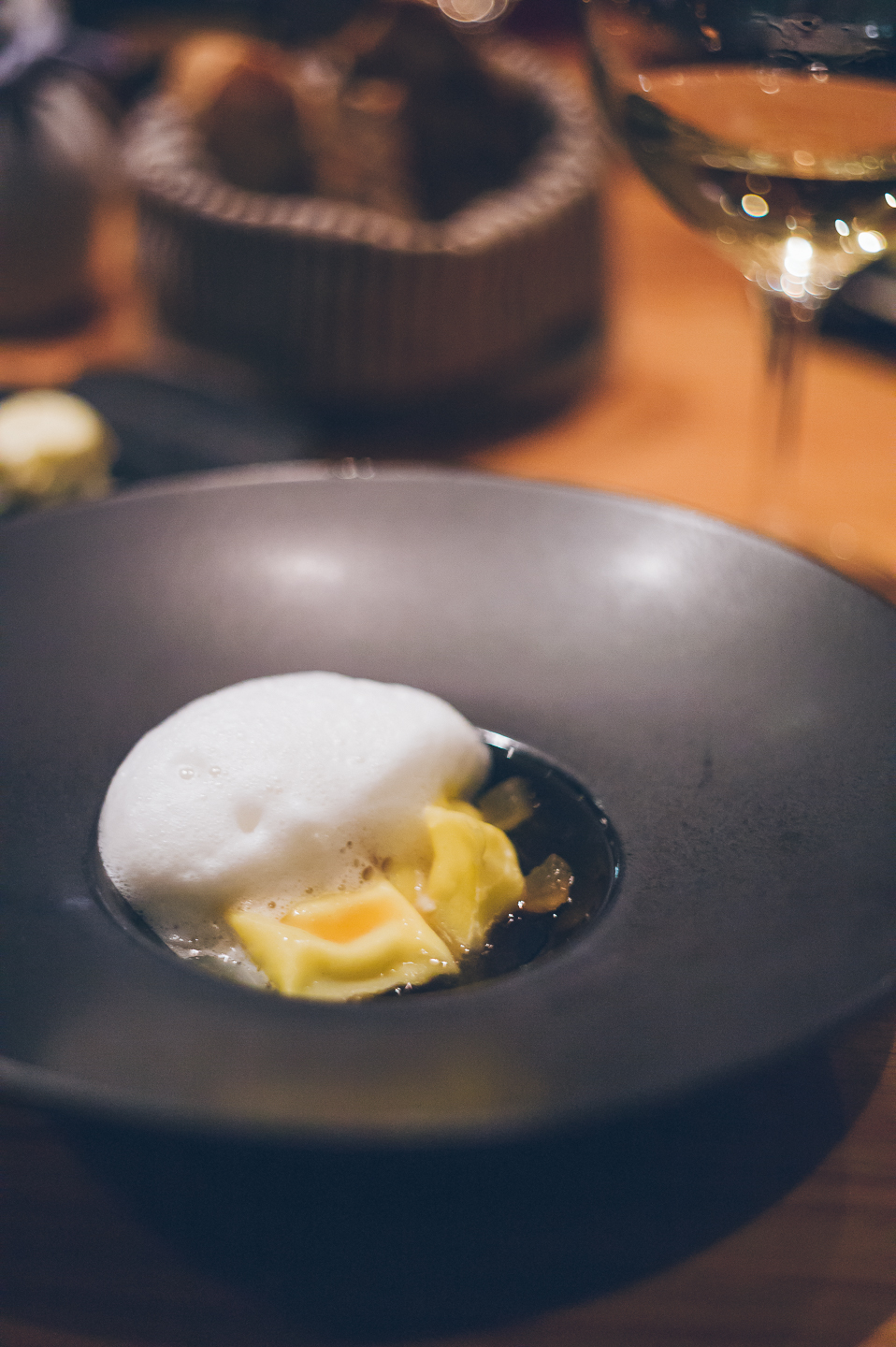 This. What a dish. It will be missed.
4. Foie gras, smoked eel, rhubarb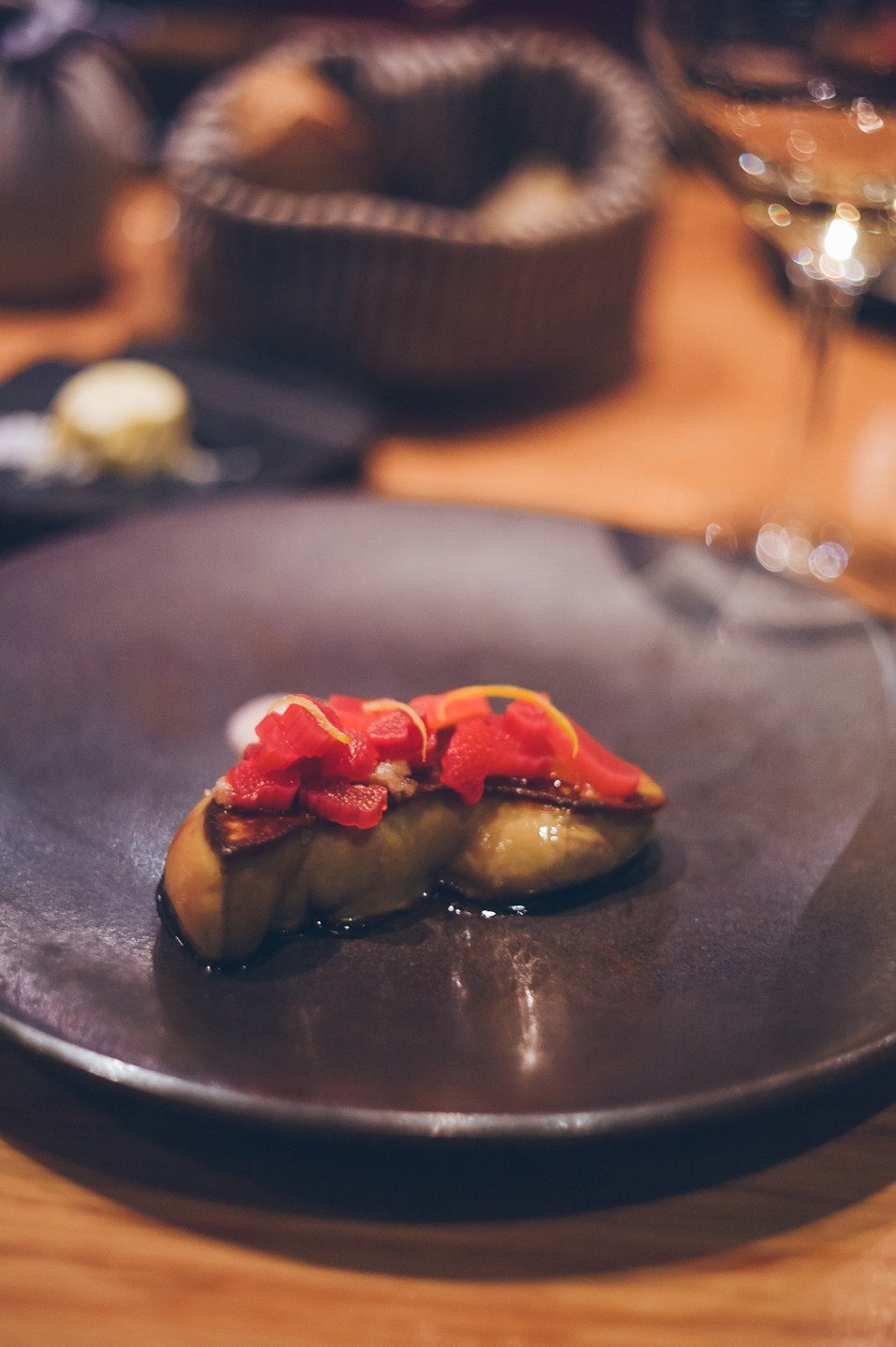 5. Noire de bigorre suckling pork rack, cevenne onion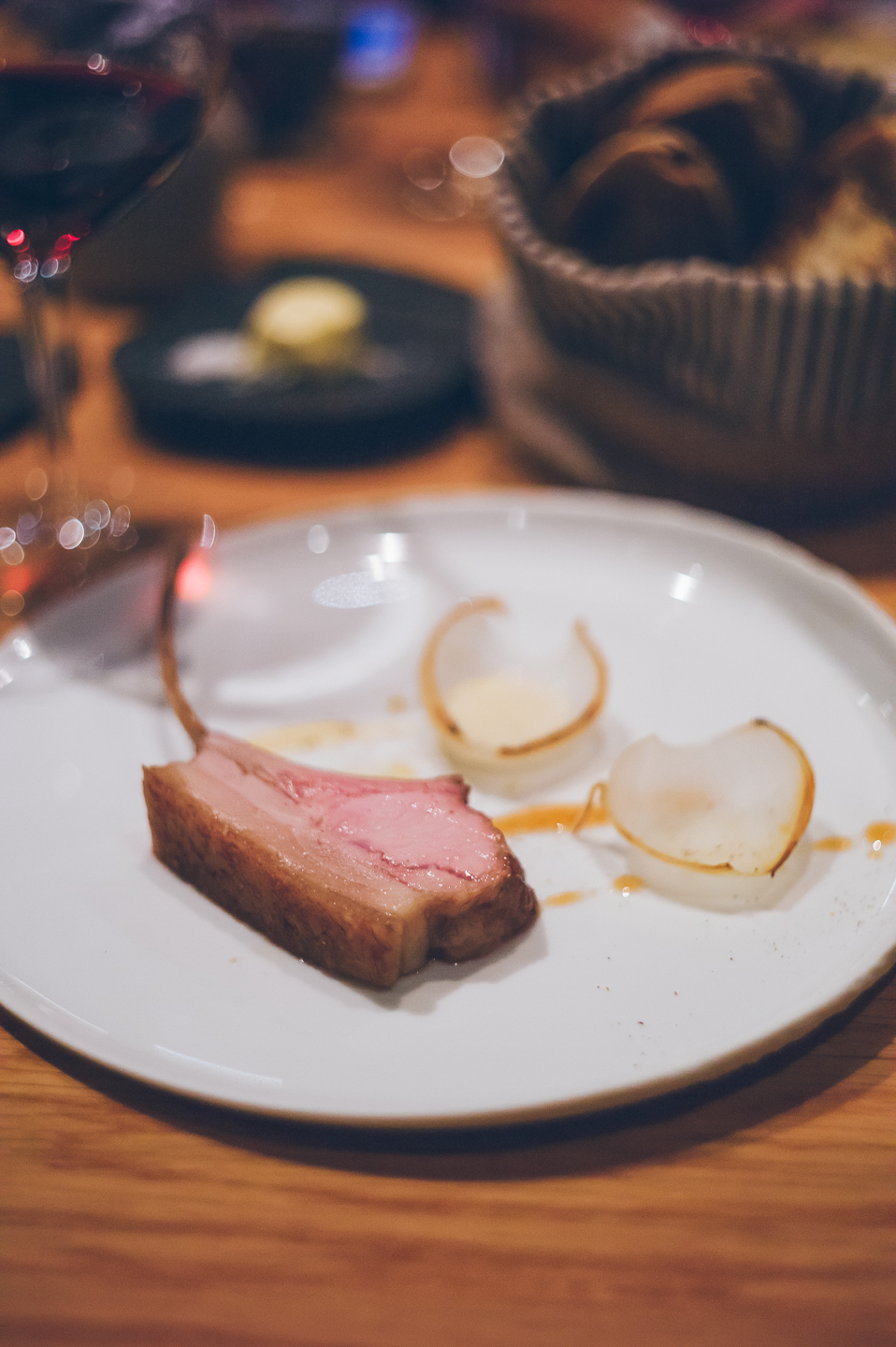 The colour. Nice pork.
6. Loin of venison, heritage carrots, cinnamon, basil.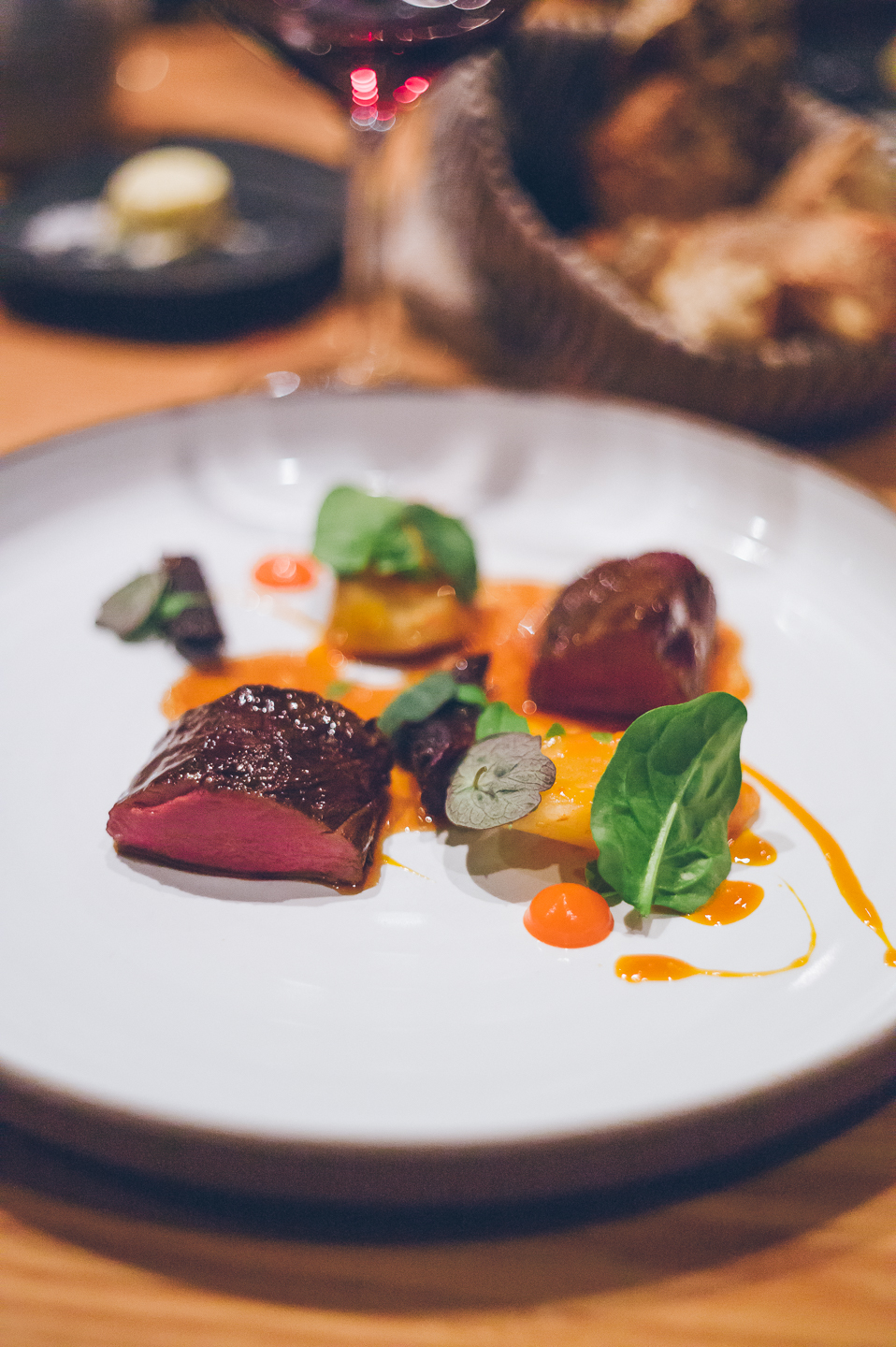 7. Pre-dessert. Citrus variation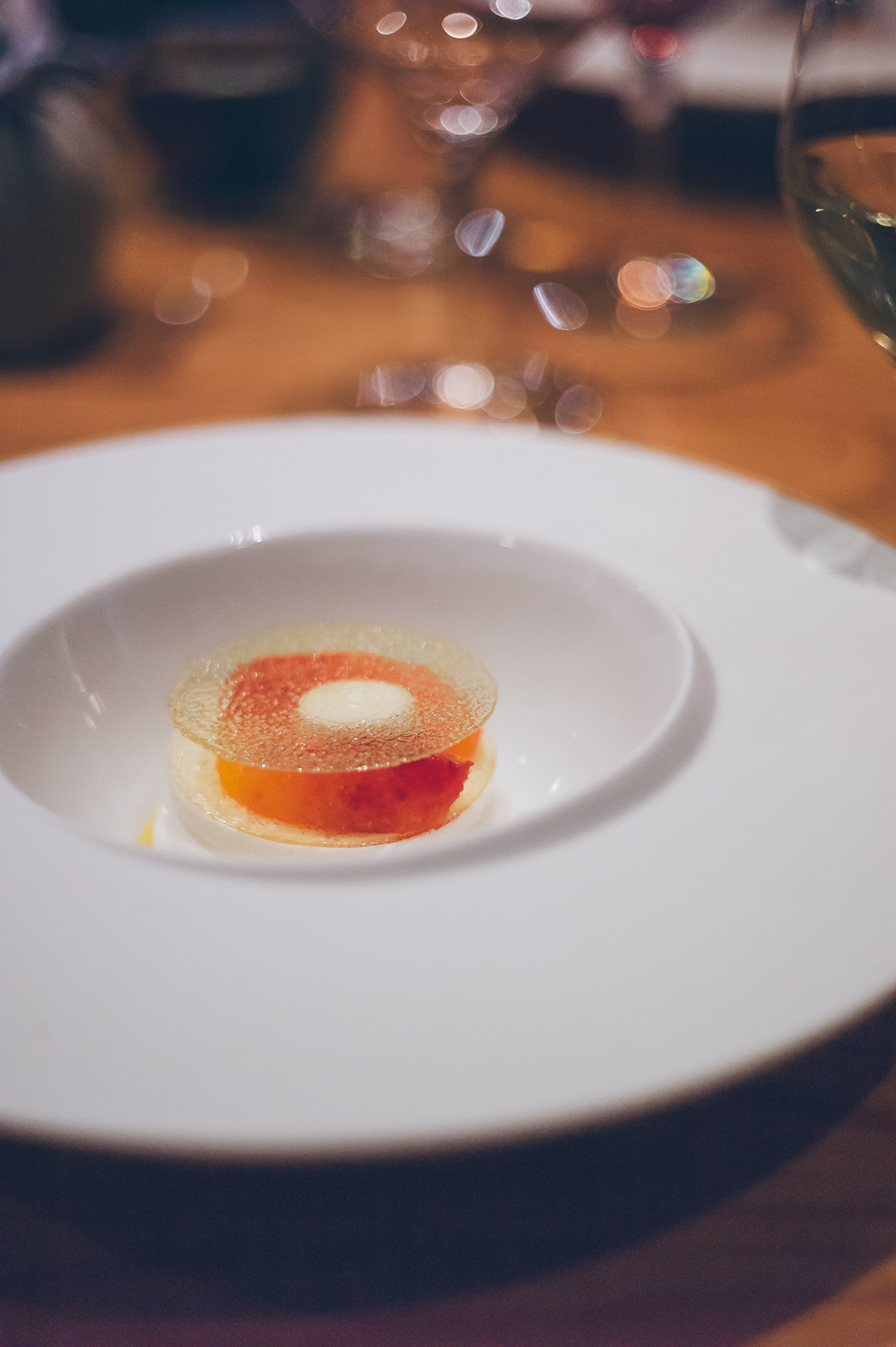 8. Warm chocolate mousse, raspberry powder, madagascar vanilla ice cream