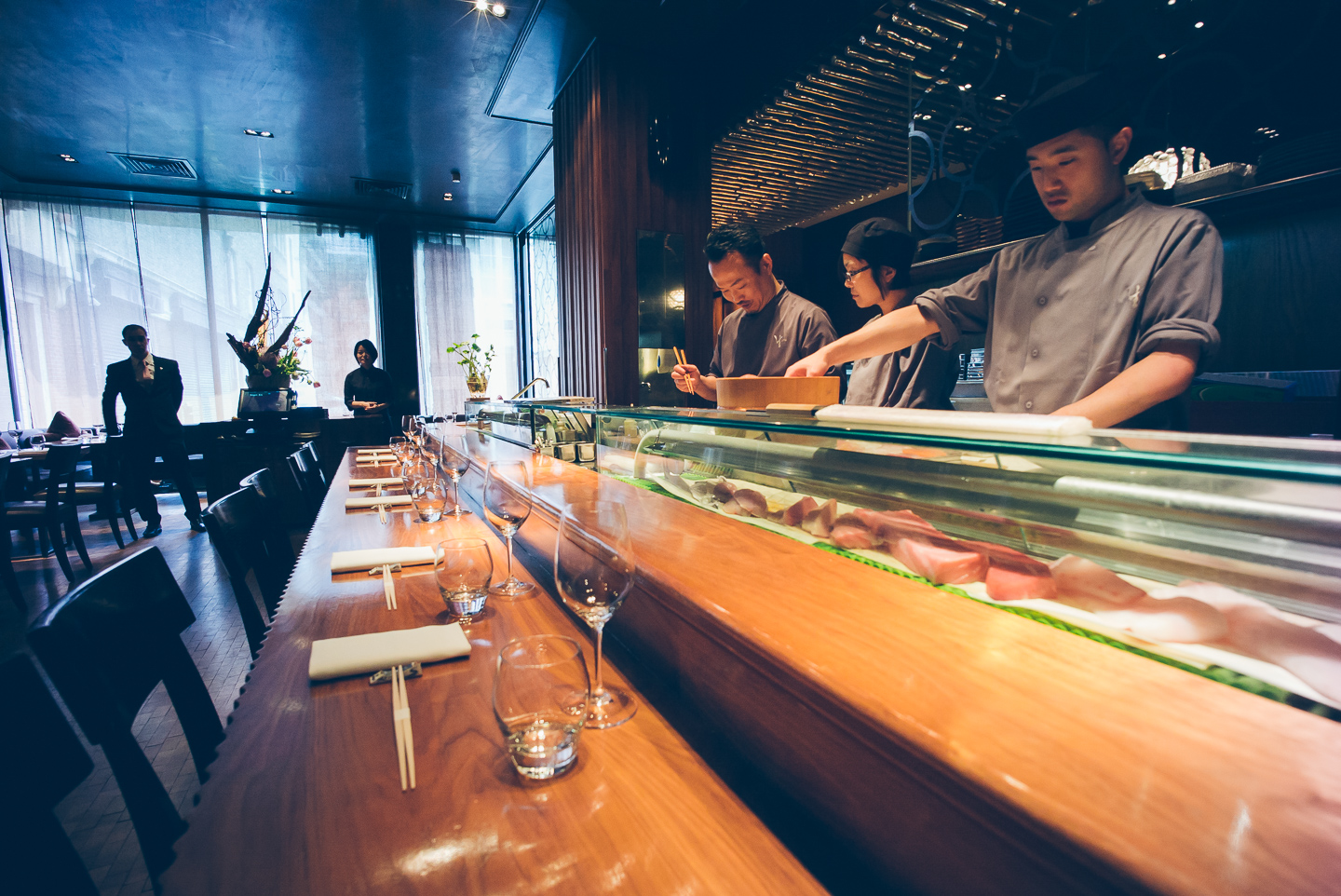 Some cook for a living, others live to cook and then there are the true craftsmen who work with their hearts and hands, molding their wares into expressions of their being. You may have read the several interviews of Yoshinori Ishii (perhaps also his own thoughts, well worth if you haven't) across the webz and so you will know his love for fishing and his respect for the seafaring kind. He's also a dab hand at ceramics and indeed at Umu, you eat from pottery which Chef has made himself. Ishii san is the kind of guy who is in total harmony with his surroundings, he has an admiration for nature and something tells me that his work is his way of life. Going local is not new of course, eating the seasons is entirely natural and the very essence of Kyoto Kaiseiki, if not of Japanese cooking itself.
Immediately after graduating from high school in Saitama in 1989, he began his cookery training at Osaka Abeno Tsuji, then spent 8 years with Kitcho in Kyoto learning superlative Kaiseiki executed to the highest standards. After that he cooked for the Japanese embassy in Switzerland and then at Moritomo in NYC, he was the Omakase point-man and there he began his vision of his cuisine – cooking with local fish, handled with care.
Fast forward to September 2015, Ishii san is popping champagne to celebrate a second michelin star, this comes five years after joining up with Umu in 2010. A Japanese restaurant outside the motherland with two stars is quite the feat and Ishii san's win can be summed up with a most important technique which he introduced to Cornish fishermen who supply his restaurant : Ikejime.
Ikejime is a way for killing fish more humanely, principally because it affords a swift death and reduces the stress from conventional methods which let it slowly fade away, thereby degrading taste. Ikejime is fast, taking only a few minutes to stem blood flow at head and tail, then to push a needle down the spinal column to severe all nerves. The fish is then bled out in a bucket of icy water, which can take hours depending on size.
The more literal term is Spinal Cord Destruction (SCD) and some think it is a myth. Once you taste it however, you realise there is something to this age old Japanese method, the flesh is firmer and cleaner in taste as it is untainted by lactic acid production (from stress) and therefore the riga phase is also much gentler for ikejime fish. Since it is thoroughly bled, the flesh will look better and smell more fragrant (or at least of no fishiness). Selection and handling aside, ikejime is the reason why fish in Japan is so bafflingly good.
It is important to say that his daily catch is typically landed in the wee hours either in Cornwall or Algarve and can be delivered to the restaurant (and to other produce obsessed London chefs) in time for lunch. Ishii san will pay a premium (reportedly +50%) for ikejime fish.
Ishii san taught the technique to folks such as Kernowsashimi and 3 or so years on, ikejime is catching on with the Cornish fishing industry. An awakening of sorts, indirectly benefitting the wider restaurant trade in London and the rest of Britain.
Beyond a revolution in the treatment of local fish, Ishii san has framed Umu's entire menu around using as much local produce as possible. For instance, as you come through the stealthy automatic door activated with a touch panel, you smell and see fresh wasabi being grated behind the counter. Umu uses wasabi grown in Hampshire, Britains' first and only wasabi growers, as well as sourcing vegetables from a Japanese farmer, Nama Yasai farm in Sussex. A true practice of Kyoto cuisine fully attuned to local produce.
I visited on Saturday lunch, mid May 2016. The full kaiseiki can be had for £155, but I'm not so interested in the ceremony for this meal, as I had my mind set on specific things from the ALC. I glanced at the lunch menu which I think is very good valued, however since Ishii san was in the house during this visit, I did not hesitate. Sashimi will have to be Omakase. I entrust this plate to Ishii san.
Sashimi, Omakase, £60 (Market Price)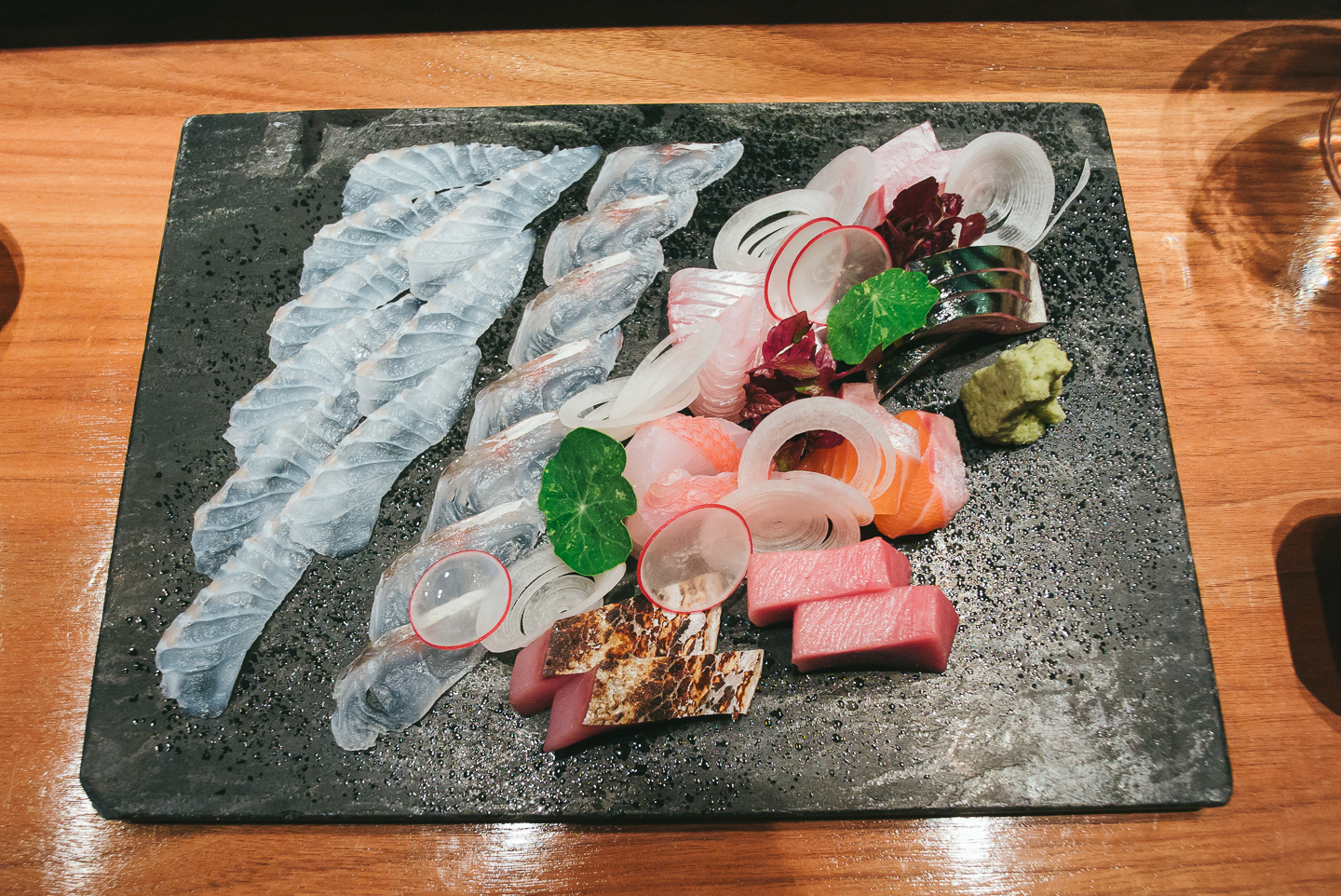 The main reason to visit Umu and luckily market price is "only" £60, not 3 figures… A glimpse into the current progress of Ishii san's collab with Cornish and Algarve fishermen. As explained by Ishii san, roughly 10 boats in Cornwall can do ikejime (on the boat), but not always as weather can be unpredictable and prevent this from happening.
Today's plate is Cornish and Portuguese fish, arranged in four columns. All wild and Ikejime, except for the chu-toro (bottom right) which is farmed Maltese bluefin. Basically this is the limit of the European market, and wild is a rare sight in European waters in summer. Ikejime is only emerging, whilst it is the norm over in Japan. Ishii san's project is great for Europe but Japan of course has the heritage, the superior supply chain and sheer ingredient quality over there is unmatched.
We are eating Kyoto-style rather than Edo-mae, so the point of ikejime sashimi is to attain firmer, a little crunchy, texture, which is clearly the result. Highlights were the Cornish Turbot (Column 1) and Cornish Streaked Gurnard (Column 2), this a rare catch in itself, which has started appearing in the Cornish coast in recent times. Cut usuzukuri, it is a showcase of Ishii san's knife skills. Check the colour – no blood, clean and clear. No smell. The turbot is plump and pure, nearly jelly-like. As for the gurnard, well, you wouldn't believe the humble fish could taste so special. There is stony minerality, something quite different from common gurnard which I tend to think of as having an oily meatiness with a taste of mud. I've read that gurnards groan.
Of the Portuguese catch, I enjoyed the stone bass and liked the kinmedai most – if I close my eyes, it's like the flesh of young coconut. I also should mention the delicious Scotch salmon, deliciously fatty indeed.
Admirable work indeed, Ishii san.
Take a look at the glimmering skin of the Cornish Mackerel, photo above. My god, it was amazing. No flame, no cure, just naked. Purity in flavour and delicious fattiness. I believe it. We have good mackerel in Britain, and already there are London chefs yielding their own successful variations of shime saba (eg: 9th, Clove, Bonhams).
Cornish squid, exmoor caviar, £36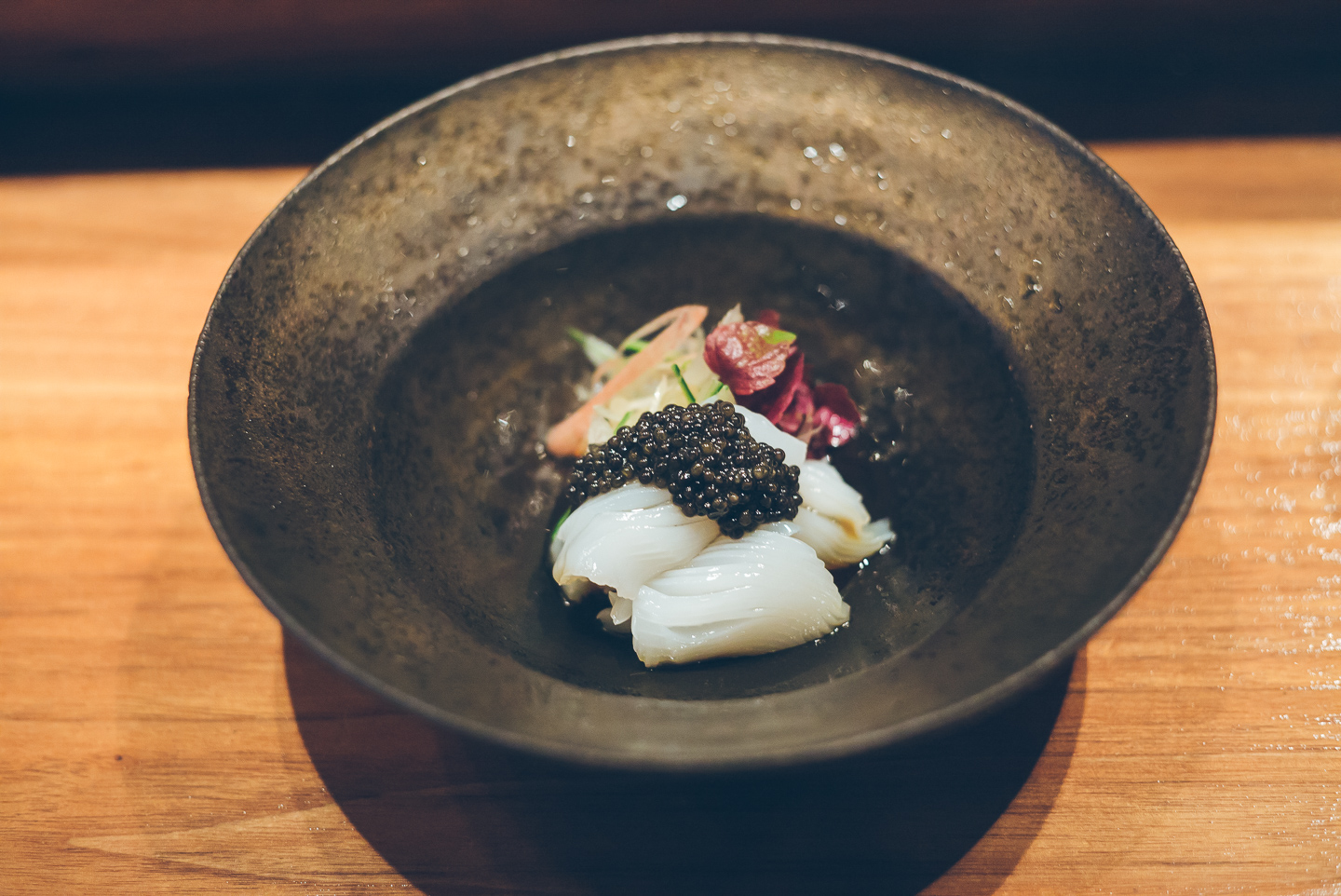 I also greatly enjoyed this squid. My waiter was doing the hard sell and he was right. It was totally in-season for sure and must be plentiful in Cornish waters right now. Incredible quality and excellent knife work, a multitude of scores on the flesh to create a texture that is quite something else. Almost like taffy, with a slight crunch followed by this milky sweetness. The Exmoor caviar indeed a quality product, that has found its way onto other London restaurants too, each a tiny pearl of bursting sweet and salty. Entire is bathed in a light and sweet broth with ginger and soya.
This meal was mid May, if you go to Umu anytime this month after reading this, ask them if this is in season. If it is super peak time, don't miss it. It will change your mind about the limits of quality squid landed in this country.
Wild Eel from Northern Ireland, Kabayaki, £32
with a standard bowl of steamed rice, £8 (yes, it really was..)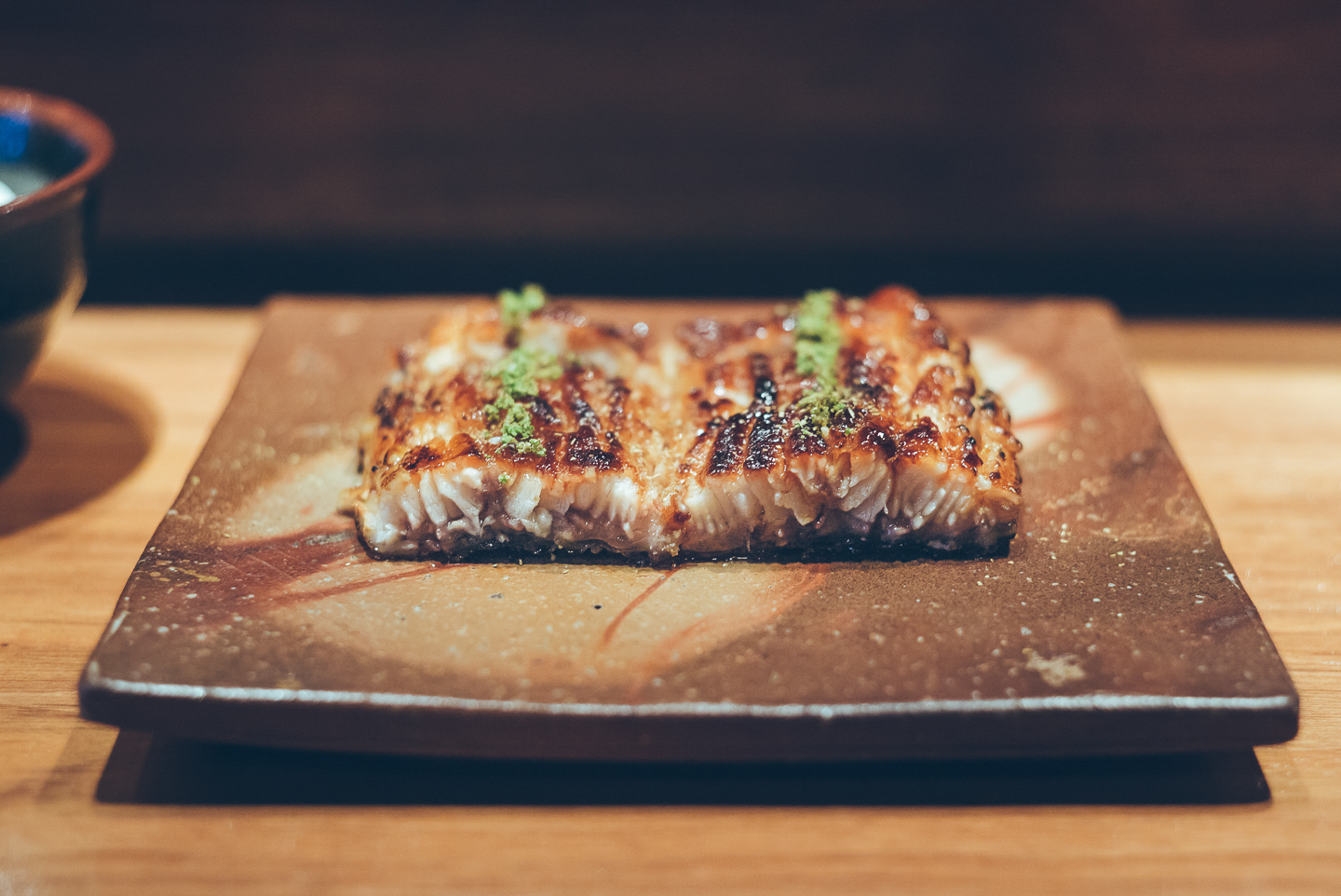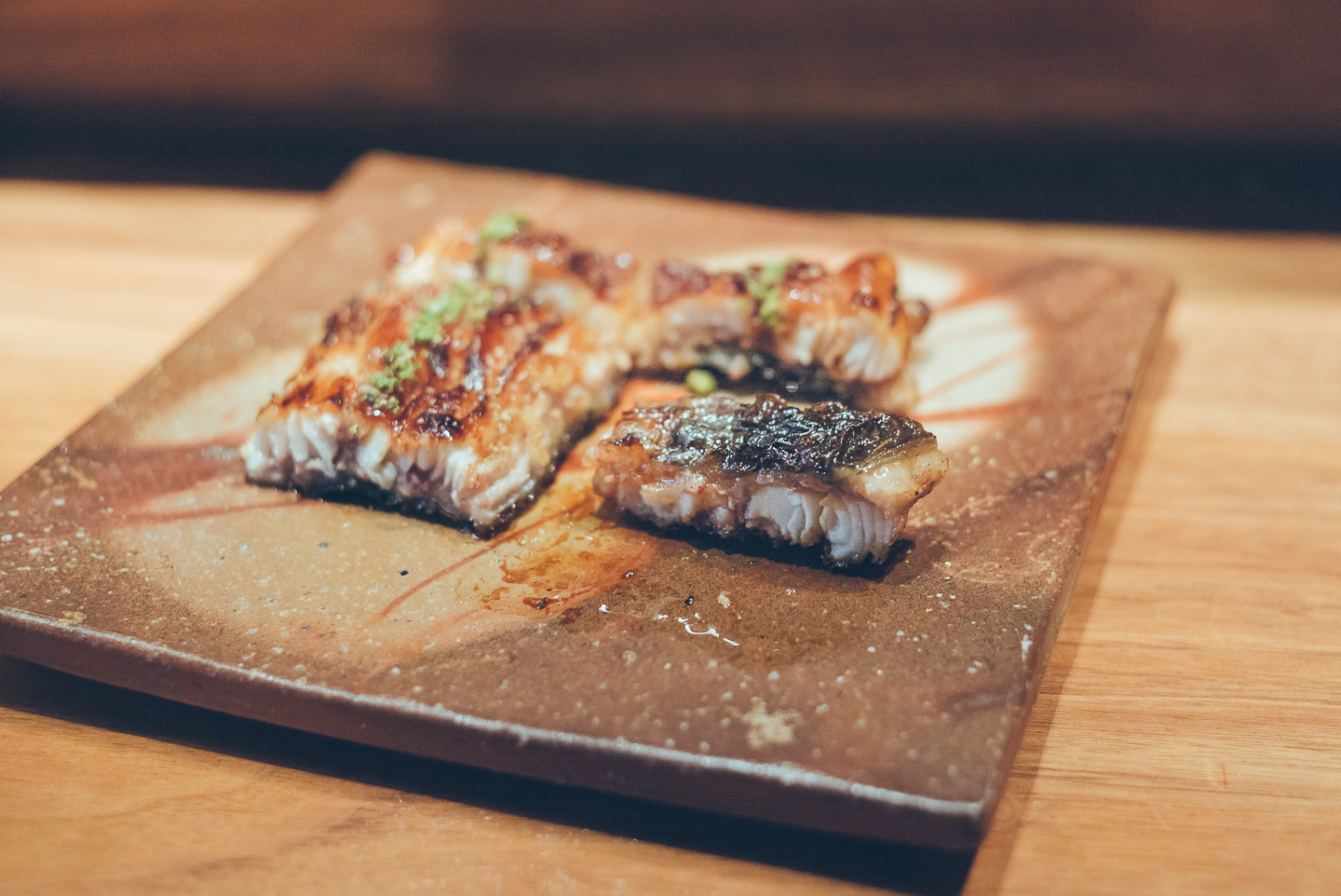 The other main reason to visit Umu, especially as Summer approaches. This should be freshwater eel swimming in Lough Neagh, but you will have to confirm this during your visit. Served skin side down. Grilled over binchotan, multiple dips in sweet soya sauce has resulted in skin that is a lacquered caramel armour, nearly a crackling even.
The eel is of great quality, such thick girth, I had trouble shoving it in. Fatty, oily and full in flavour, aromatic like clarified butter and the taste of smoke from the bincho. You can see the incredible density, also how the flakes fan out.
I've hardly eaten enough unagi during my stay in Kyoto, nor ever been to Lake Hamana, but I can at least say that this pulls up memories of Kaneyo. Great unagi comes at a price to the tune of £32 (my wallet still hurting from the £8 rice), so that effectively makes this a £40 una-don but I cannot fault the quality. It would be a challenge to find better unagi in London, if not Europe.
—
I paid £176.63 for 3 plates of food (£131), 1 bowl of rice (£8), 1 glass of Chablis (£16), coffee (£5) and service. Ishii san pays a premium for the fish, and so that means you do as well. Still, nothing (in the world?) is more expensive than Araki san's proposition.
But don't let the price above put you off as there are reasonable set lunches that hover the £25-£45 mark that include chirashi, noodles and bentoes. It really shouldn't be Ichigo Ichie from the punter end, as long as Ishii san is still in charge, you can trust him to reward you with the best of season.
Good food is often about respect and care which you can usually taste on the plate. There's that at Umu. I think Mr Ishii is doing something admirable and entirely laudable. This isn't imported Kyoto air and water, the terroir is very much British, Ishii san has applied his considerable skill set to draw out the best of what he has to work with. And make no mistake about it, Ishii san is truly a great chef, he knows more than a thing or two about making delicious food.
He has pushed beyond the limits of what was possible in Britain, and I think this breakthrough is progressing very well in 2016. Here however is the rub, the wide gap between where London is right now, at the dawn of something, compared with Japan which has been doing it for centuries. Umu is great by London standards, but a trip to Japan will open your eyes to the sheer range of great ingredients and what is possible when it is handled by those with even greater obsession. There the standards are exacting, every bowl of ramen I ate there better than the best in London, any half-decent ryokan will lay mind-blowing feasts for breakfast and the katsu you know is unmatched. At the higher end, everything is usually Perfection, my not-so-trained palate finds it a challenge to discern quality differences.
On the other hand, I am heartened to see progress like this in Britain, in my very humble opinion, this is one part of larger momentum that paves the way for the industry to up its game. After the instagrammable concept brigade dies down, these are the things that will endure. Well I hope anyway. For this reason, Ishii san is a key chef and he makes Umu an important restaurant in London to follow.
Details
Umu
Kyoto-ish
£40pp Set Lunch ; Kaiseiki £155pp + drinks + service
14 – 16 Bruton Place, W1J 6LX
Tel : 020 7499 8881
Tube : Green Park