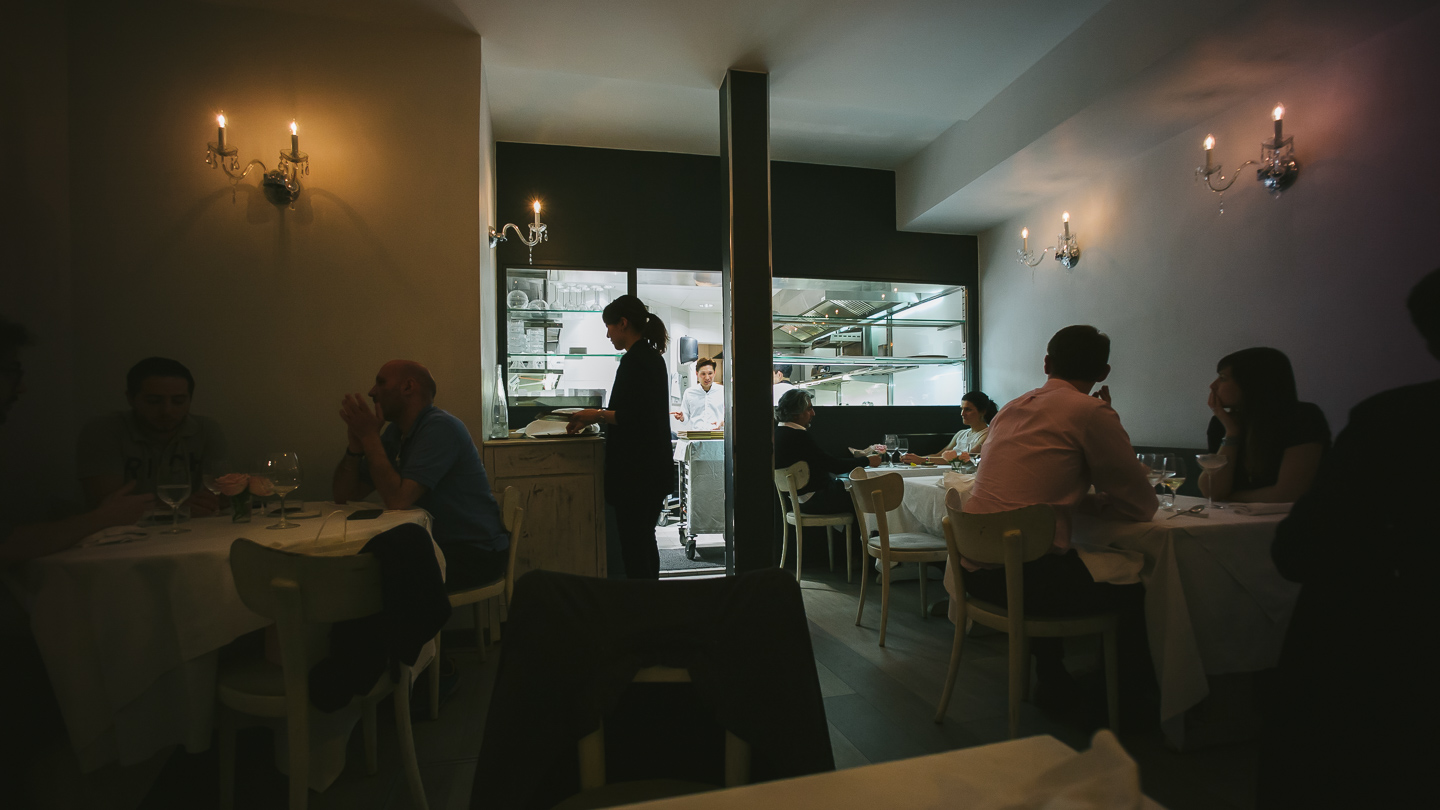 If you are romantic like me, then you also will appreciate the poetic nature of this restaurant's being and start by asking what is Summer Snow? It could be unfinished haiku, but pay attention to the restaurant's signage, not unlike Astrance, and you will see the outline of a flower emerge. To be precise, it is a white rose with a soft nose that blooms in the summer and hence, Neige d'été.
The restaurant's colours are nearly entirely white, but look deeper and you will see shades of grey and silver and this decor lives in the subtle gradations which get overlooked, especially in our current times which demand intense visuals with screeching look-at-me vibrance. The shape of the restaurant has been provided for by Atelier-ES, Eiji Kikkawa and Shinku Noda, whose works thrive in minimalism and the duo have also provided designs for other Japanese Parisian restaurants such as JIN, Aida and Pages.
And what a marvel it is see the blossoming of so many beautiful Parisian restaurants run by Japanese chefs who have infused their craft – picked up in famous French kitchens – with naturalistic sensibilities from their upbringing. They are not all the same of course even though I have elected to describe generalities, but like many things, the wheels have been turning for a long time and others (Oliver Strand at NYT) have already taken note of this current generation of chefs. From A.T to Kei's tour-de-force salad, Passage 53 to Clown Bar, Okiyama san's katsu sando at Abri to Horikoshi san's little Table in the left bank. Collectively they've turned on the style in Paris and I admit I feel a jot of yearning that I cannot be over there more often and resort to licking my screen admiring the output.
The restaurant is passing two years and its chef-patron is Mr Hideki Nishi. Together with his wife, Nirei Nishi leading front of house, they opened Neige d'été to full bloom in the summer of 2014 and have fashioned a cuisine that is as deliciously minimal as the decor, to the delight of Parisian and international gastro-hunters alike. He was blessed by the bib with a star in this year's guide (as well as No.100 on OAD Europe), though whispers of his perfect cooking suggest that he could be worth more than that. Nishi san hails from Matsusaka and first came to Paris in 1998 where he joined Taillevent. After a year there, he followed Philippe Legendre to the George V and spent 15 years in those kitchens (cooking fish if not mistaken) before he decided to do his own thing in the 15th arrondissement.
The food is firmly French, Nishi san has achieved his acclaimed perfection by working with the best of France's land and sea. Some relationships I imagine are carried on from his days at the V, fish are mainly Breton, from Jego based in Etel, blue lobsters specifically landed by Vincent Doucet, vegetables sourced from Annie Bertin (Astrance again), meat and poultry from Metzger butchers.
He only lays on taster menus, for lunch, 4 for €45 and for dinner 6 for €80. I visited on a Tuesday in early June for dinner and was only given the 6 course menu. I was not shown this longer 7 course degaustation, which has those elusive Breton blues, and is supposed to come with a significant price hike up to €120/130, and I wonder if the longest menu is a weekend thing.
On this visit, I had a choice of mains, the default being pigeon and the other two choices being Rack of iberico (for two) or Simmental fillet, each came with a €15 supplement per person. We were a table of 3, so therefore the perfect trio to opt for both pork and beef.
0.1 Hors d'oeuvres : Foie gras crisp; duck breast & plum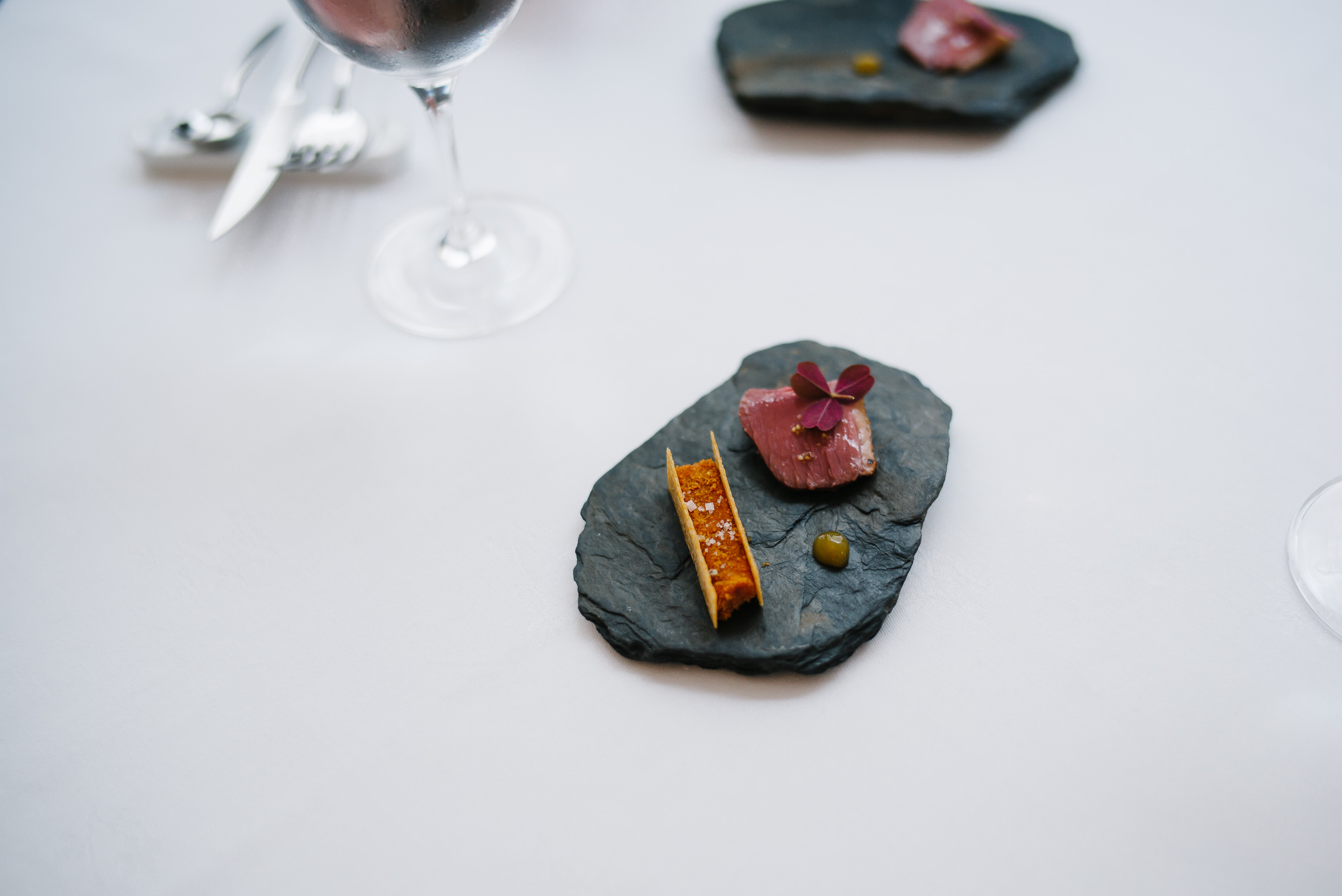 The meal began with delicious snacks, well seasoned and saliva inducing, the battered foie a reminder of Bonhams, where Tom is also a fan of Nishi san's beautiful restaurant.
0.2 Amuse : Roast abalone, shimeji, shittake, red shiso, samphire and langoustine consomme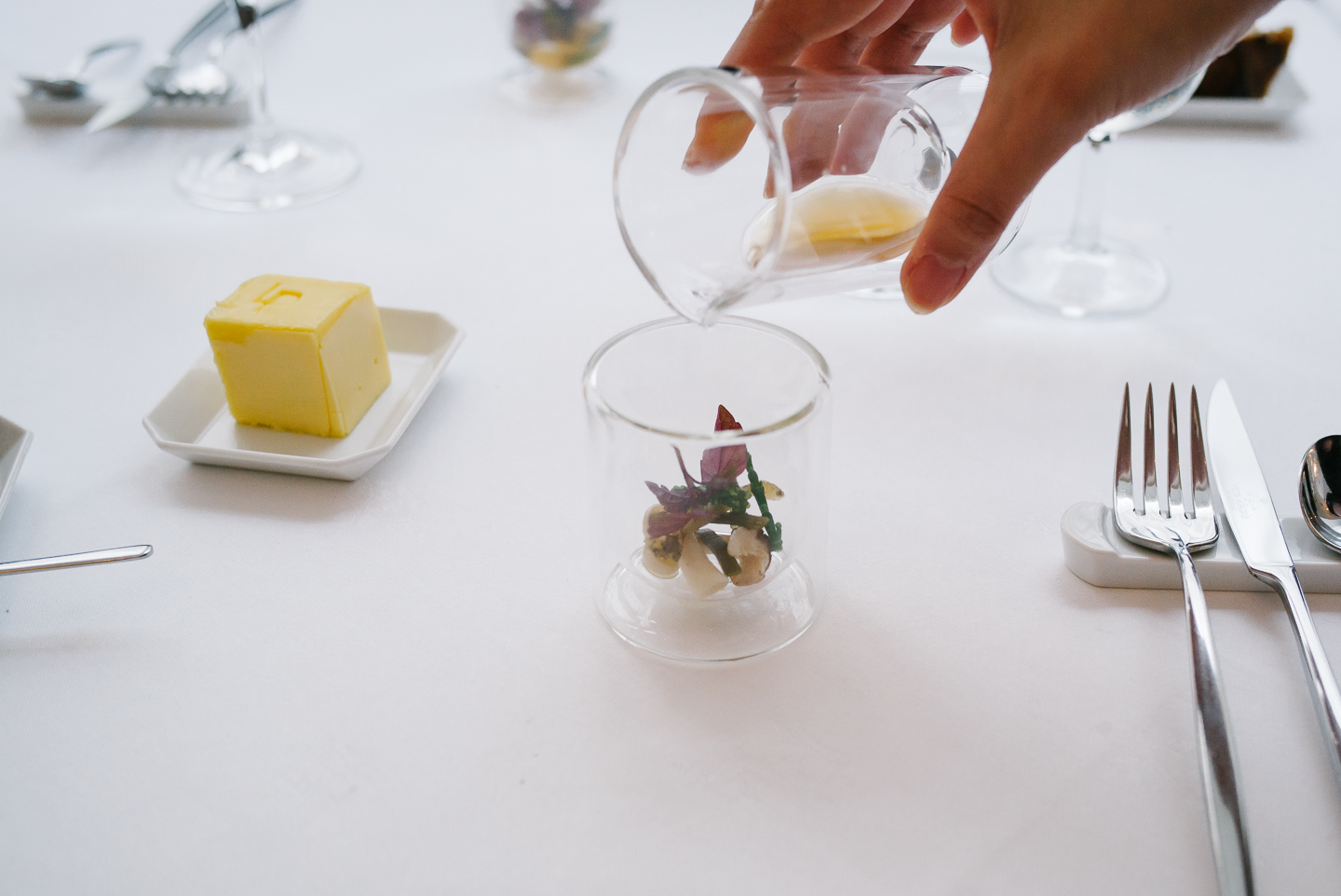 A little parcel of pure gold. The umami of mushroom, slithering slivers of abalone melding with the essence of liquid shells for a mini-flavour bomb. A lot of work in a teaspoon full that I wished was a full entree.
-Bread and Butter-
The eagle-eyed amongst you will have spotted the unpasturised Brittany butter from Le Ponclet made by David Akpamagbo and named after Ponclet izella where the farm of David's grandparents was sited. This butter is made from the milk of cows which are of crusty old Celtic breeds and the taste is said to change with the seasons. In the Summer, it is incredibly creamy and smooth but also very lively and acidic, nearly too 'fresh' for my tastes. I prefer Bordier still.
They do not make bread in-house and their usual supplier is nearby Geoffrey Pichard. On this visit, the bread came from Kayser as Pichard were closed on that day.
1. Belly of Albacore tuna from the Mediterranean, white sturgeon caviar
with Kuheiji 50 sake (€10/gls)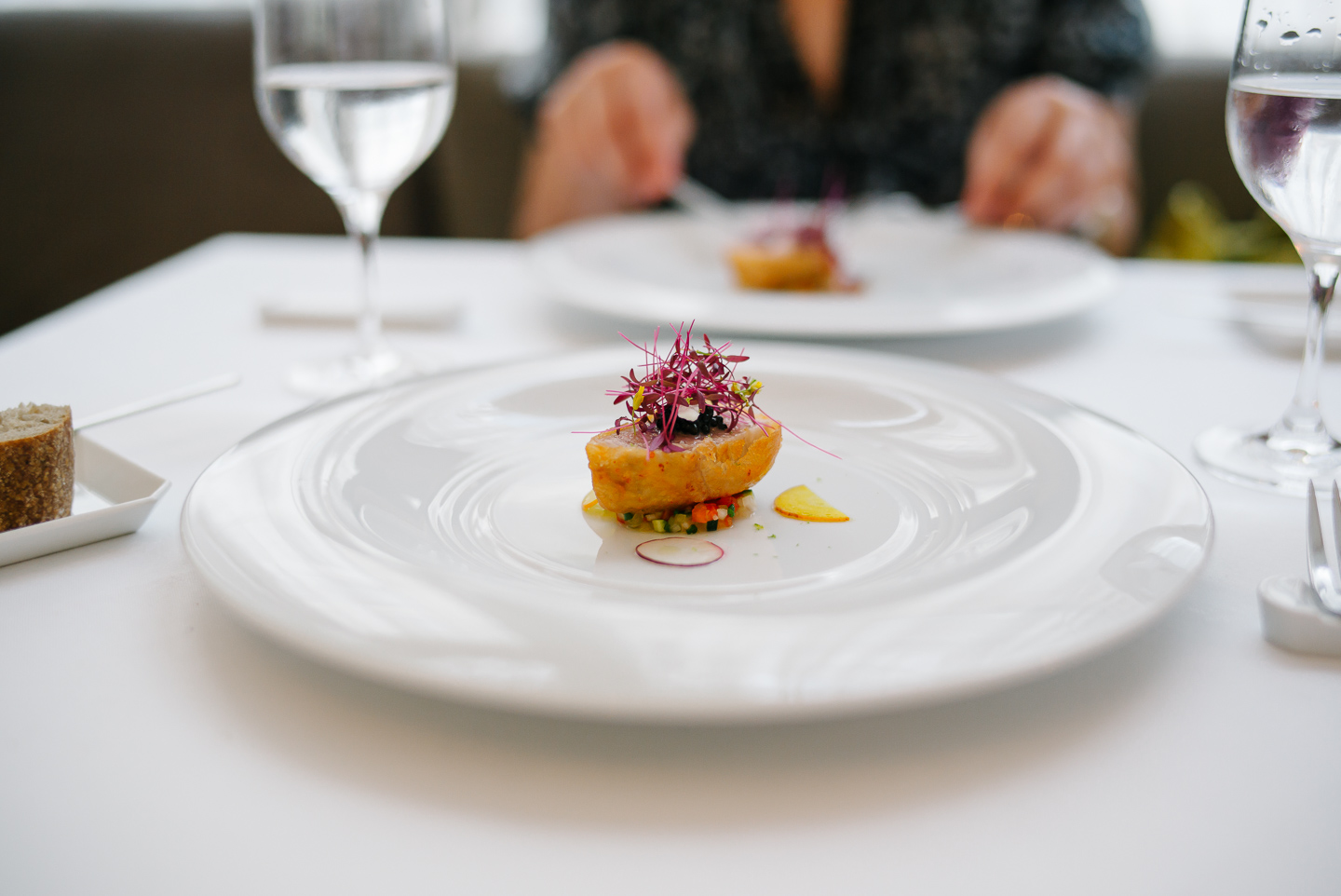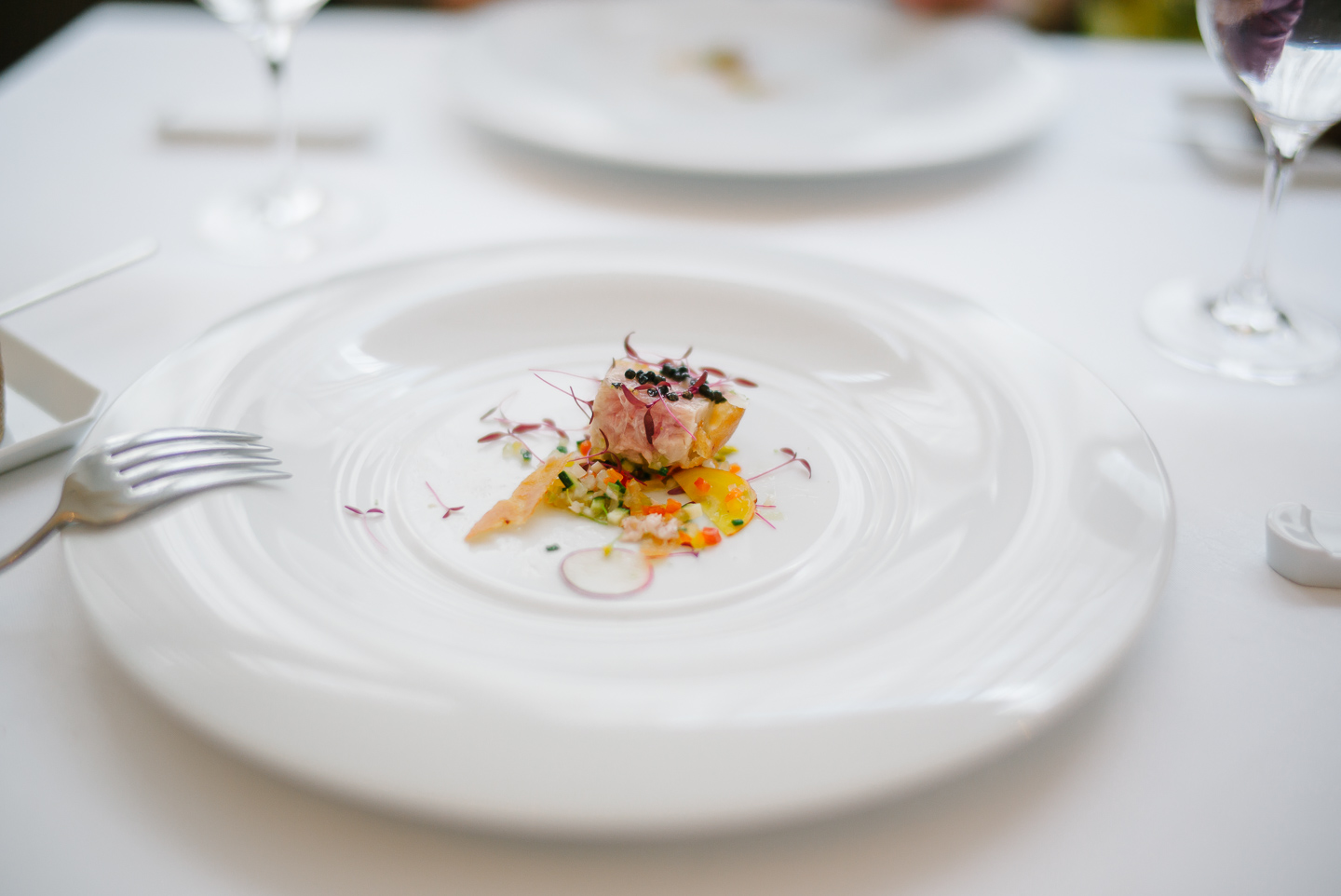 The first appetizer is white tuna belly, rather than Spanish bluefin which as I discover from Ishii san over at Umu, they are a rare sight during the Summer.
(And apparently the new trend, to serve a half of something, cut in half)
The fried batter is a mere encasing, inside the fish seems just sweated out until the oily unctuousness of its fat is just melted. It's nearly like a fried meatloaf made from tuna belly. Salt from the caviar, and shooting acidity from a vinaigrette create tension and balance. Nice, clean start.
The sake is an interesting one, it is somewhat unique to see vintage on the label for sake. This was from 2015 and presumably bottled this year. A junmai daiginjo, rice milled to 50%. I refrain from making notes except to say that it was good.
2. Cromesquis of veal sweetbread, pan-fried Brittany langoustine tail, Asparagus from Landes, broad beans, chorizo
This dish highlights Nishi san's confidence and also his style. Care and respect is observed, everything in perfect proportions, cooked (and not) to the right degree, ingredients well chosen and in tip top condition. I thought the sweetbread was so delicious. Thick batter, fried until powdery, seasoning tastes of white pepper and salt, a burst of creamy centre.
After the foie tart at Astrance, this was the best thing I ate during this trip. So clean, so pure.
3. Pan-fried turbot, seafood tagliolini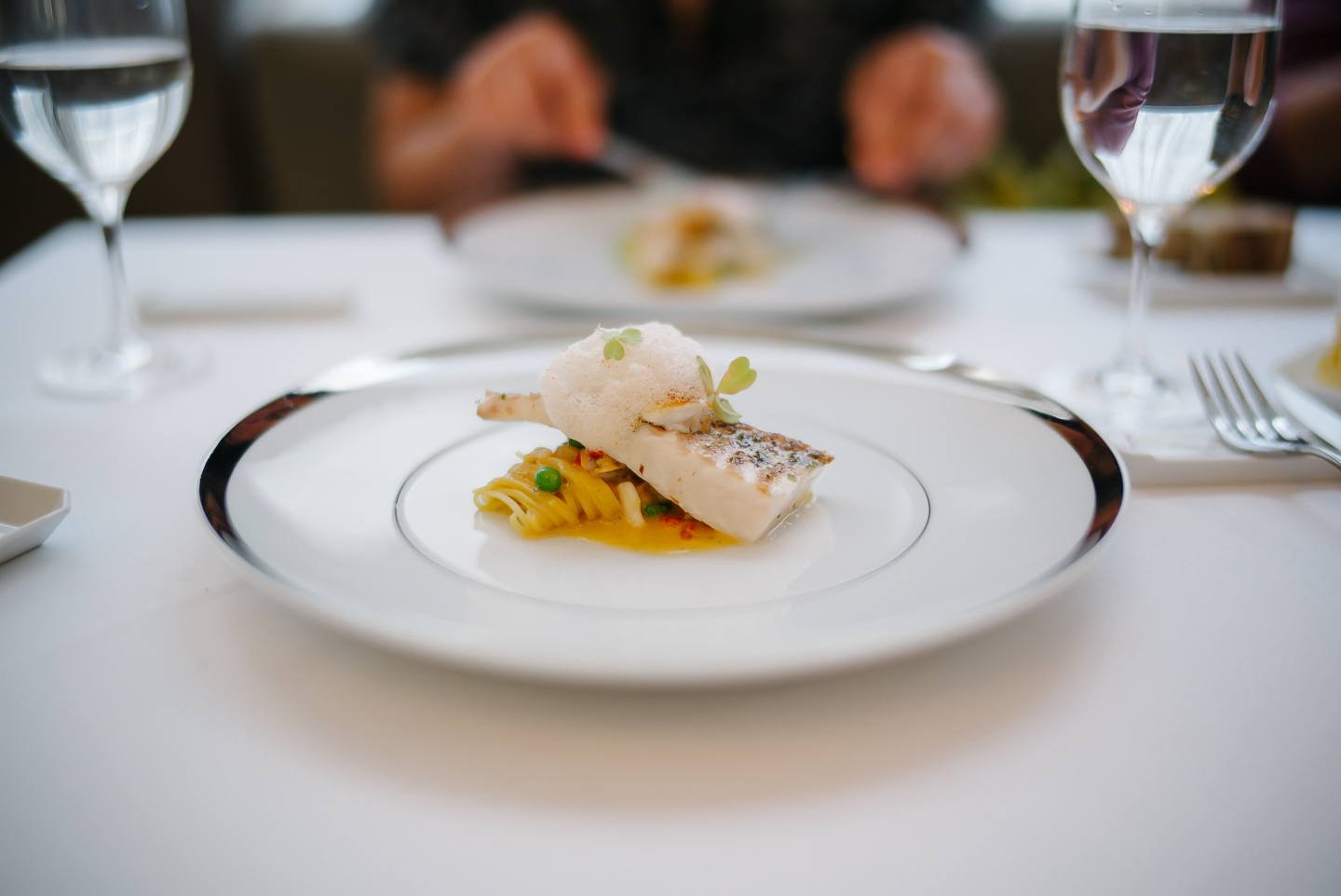 With engawa hiding underneath the foam. They included fin in each of the 3 plates at the table. The best bits. Cooked well though I can't tell if this was cooked bone-in. From the way it is cut, it seems to indicate that it was lifted from a whole fish. If you are close to the restaurant, you will be able to tell me.
The foam is sauce Américaine, made from the shell of shellfish, I hazard langoustine from the previous course. I loved the pasta, you can taste & smell the full aroma of butter here, along with chopped razor clam, clams , spheres of sweet peas and some red chilli. This is a success, clarity and just very simply delicious.
4a. Grilled chateaubriand of German simmenthal beef (4 weeks dry-aged), façon Rossini, sauce périgueux (+ €15 supplement)
with 2013 Cote-Rotie Champin le Seigneur, JM Gerin (€13/gls)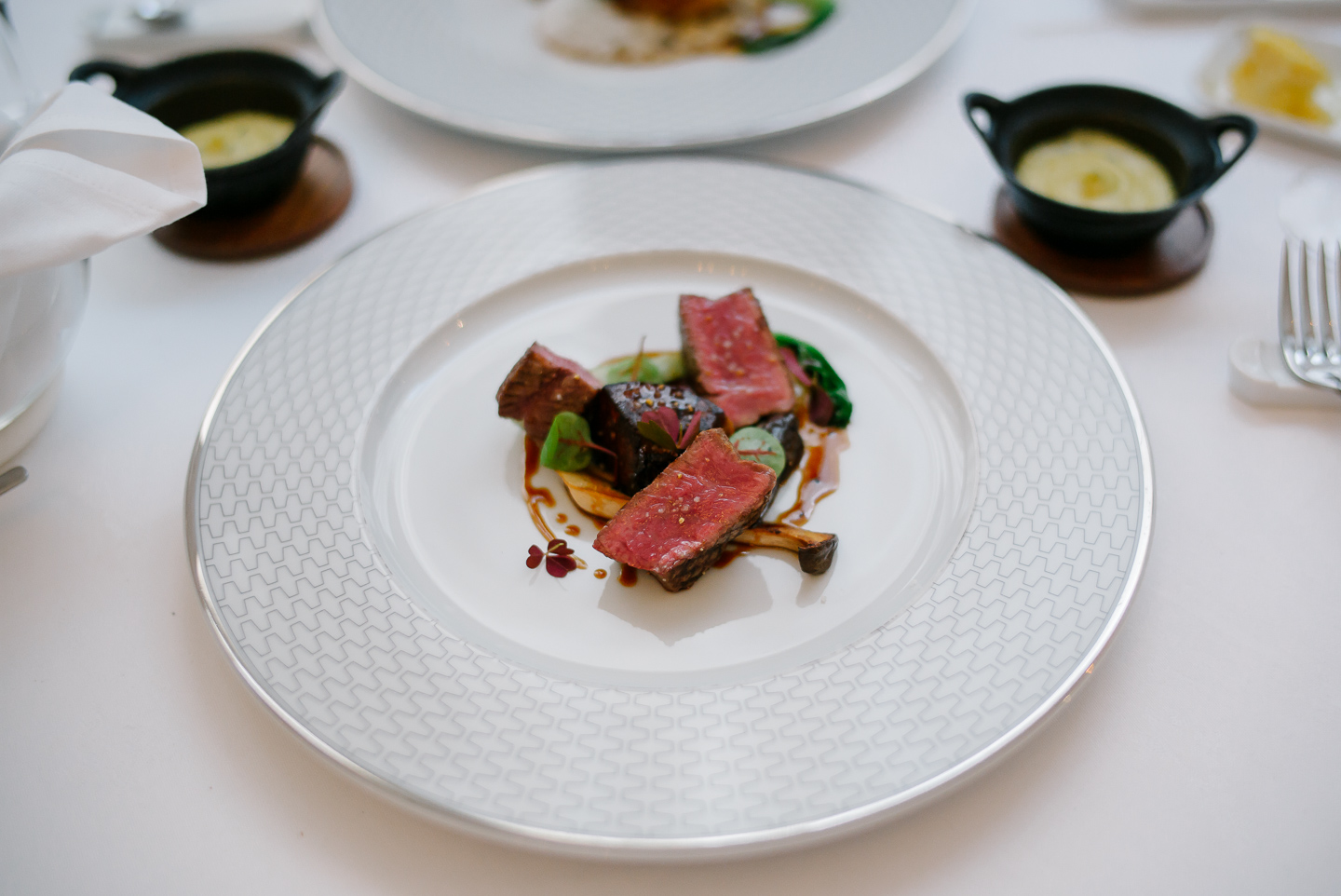 With thin and crispy gaufrette potatoes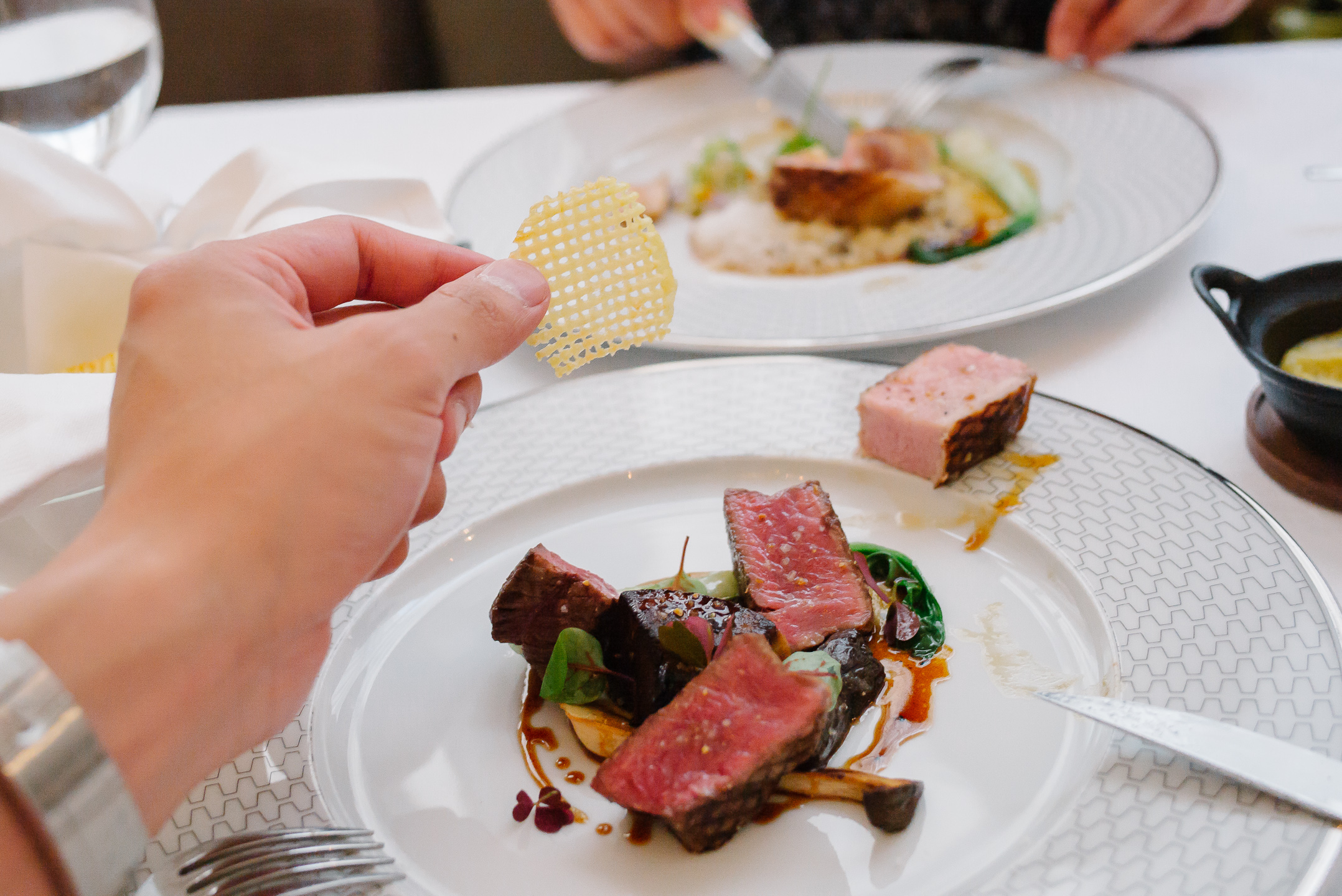 A reboot of the classic recipe sans toast and an unadulterated beauty. The fillet was grilled to a perfect medium rare in my book, foie provided all the fat and flavour, and I thought the sauce made it come alive. I forget to ask if he had used leftover winter truffles (canned?) or if indeed they were summer blacks, whatever the case, it was what made the beef sing.
The Rhone red smelled of beautiful brulee plums and lavander. On the palate, it is juicy ripe black fruit, a little bloody but fresh, alive with peppery sizzles and a sticky tannic finish.
4b. Rack of Iberico pork grilled over binchotan (+ €15 supplement)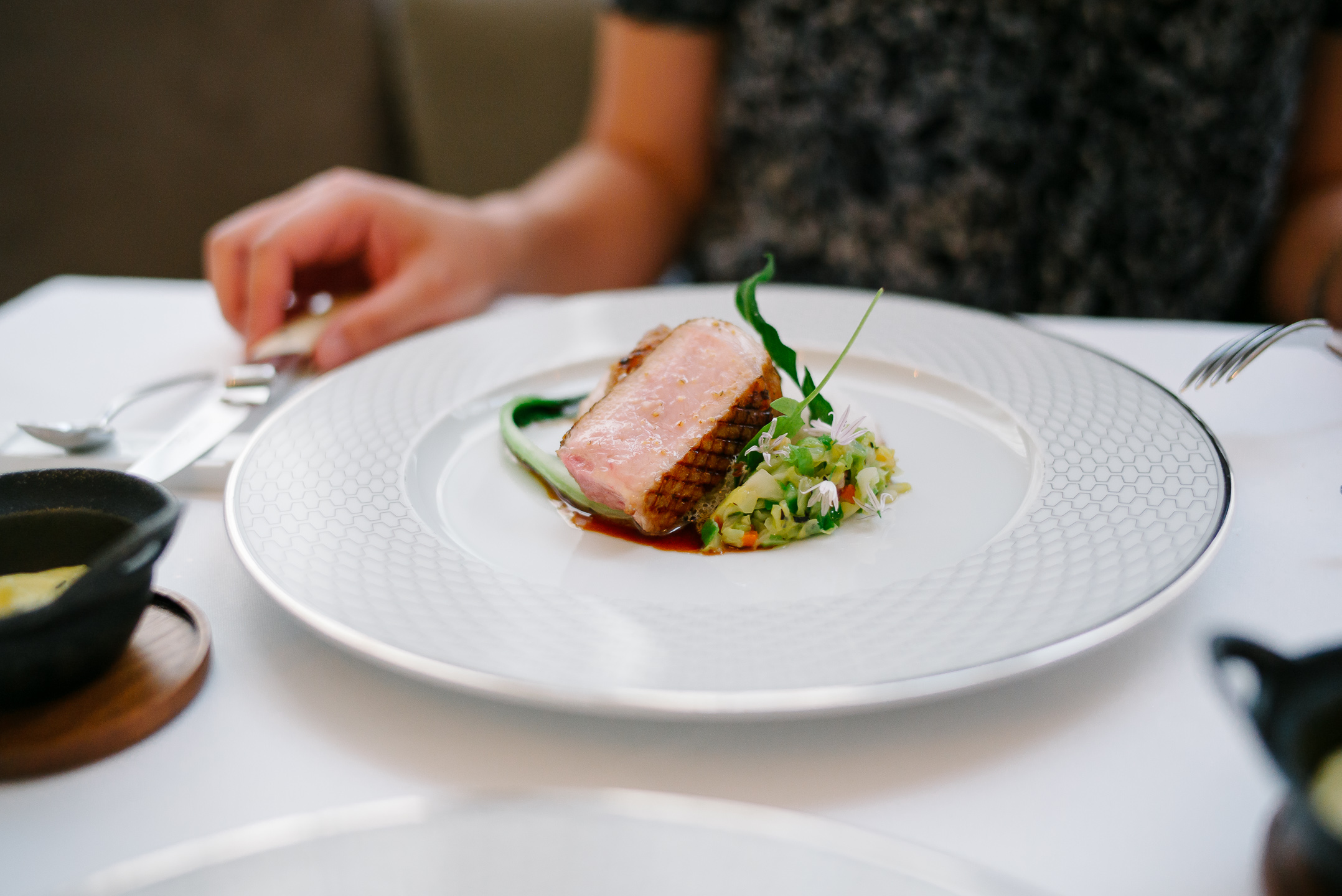 This. It was perfect, there are no words.
Although I will say that it was served with a risotto, creamy and strongly scented, perfumed even which we found an odd combo with the pork. So too were the mash, incredibly well-made, super smooth, however its flavour was almost too pure, with a milkiness, verging on vanilla, that I found also to be too perfumed. That aside, my god, pork heaven.
5. Gariguette strawberries, basil parfait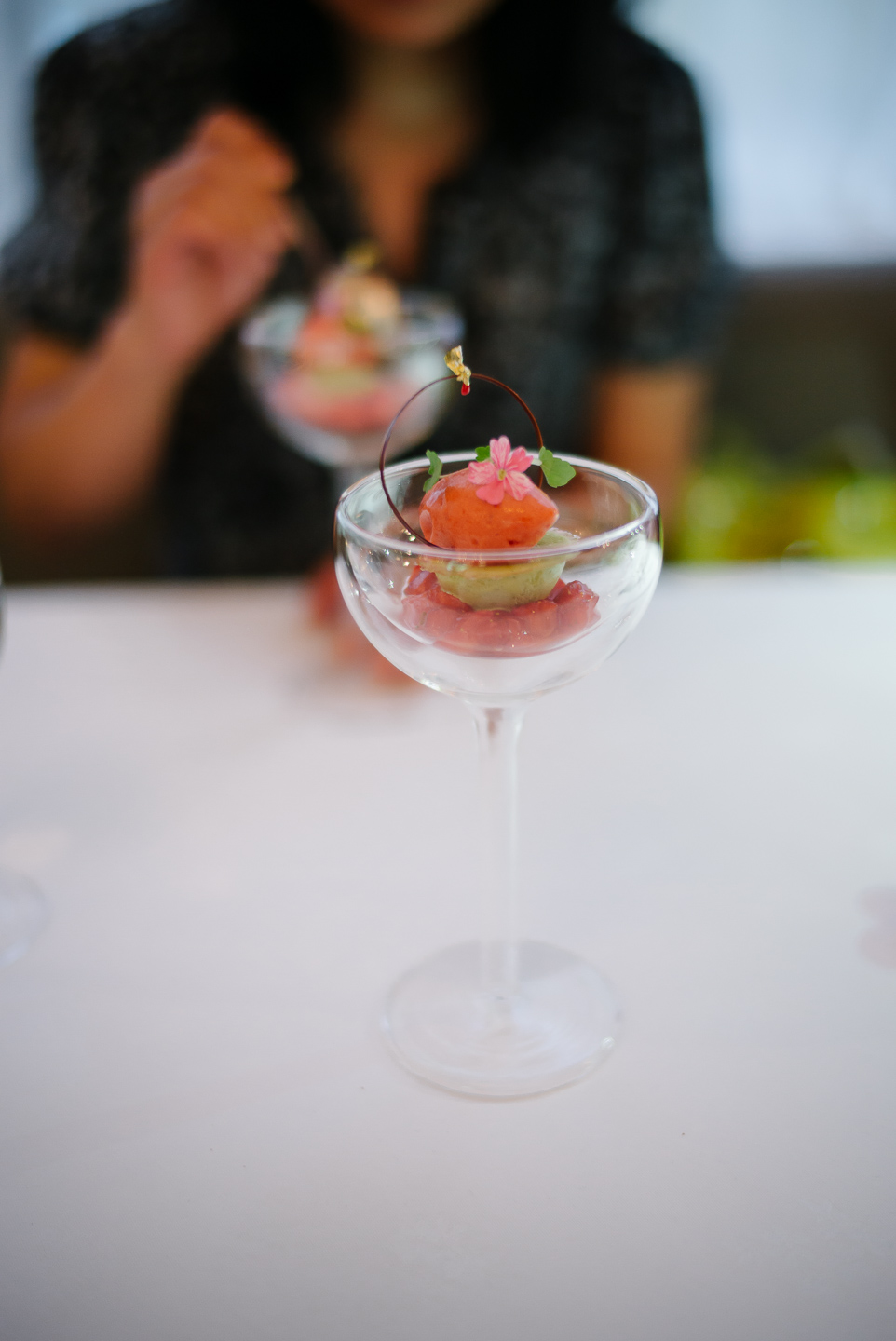 Those garriguttes just the sweetest things. They smell amazing. Basil for balance.
6. Tartlet of caramel and milk chocolate with vanilla ice cream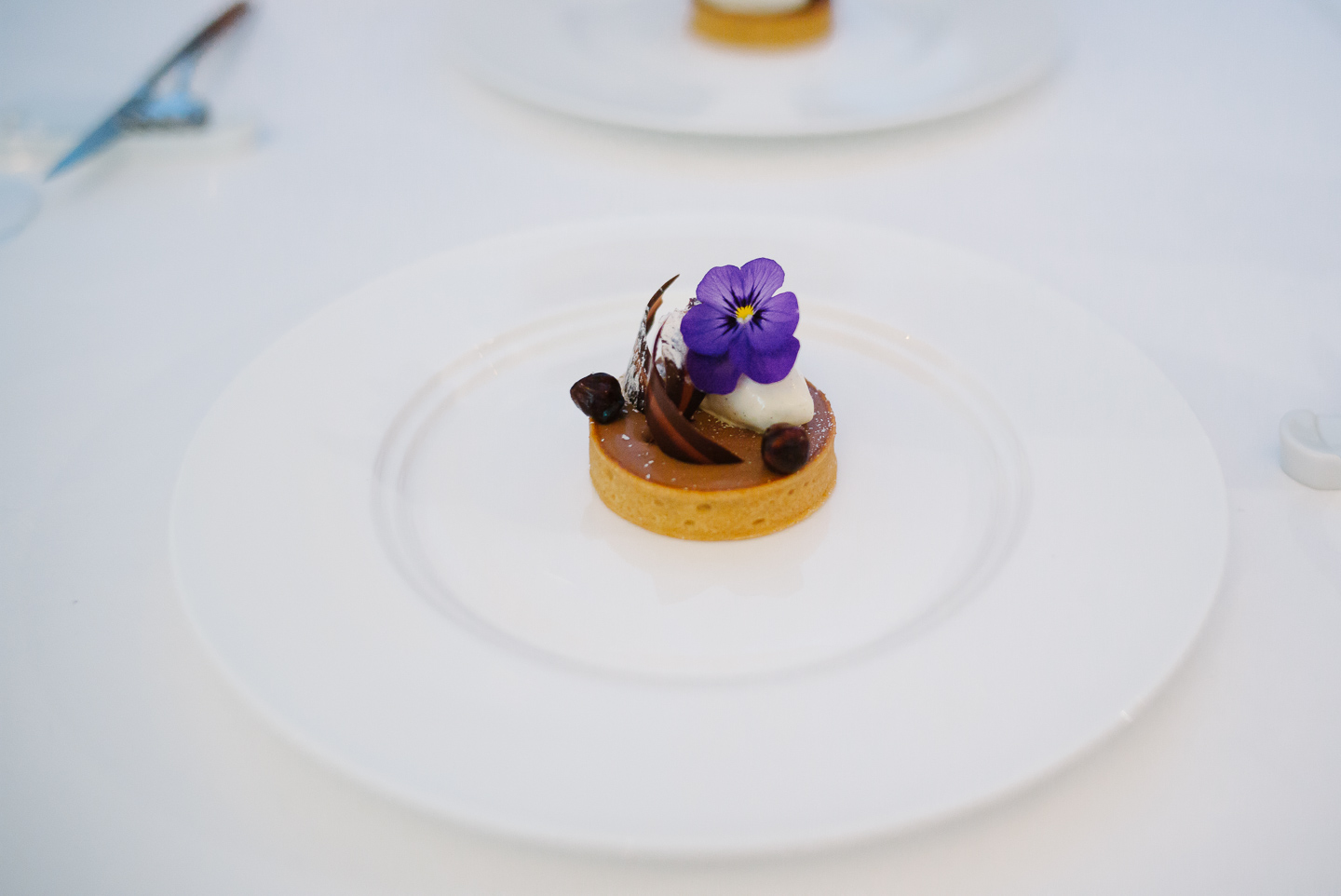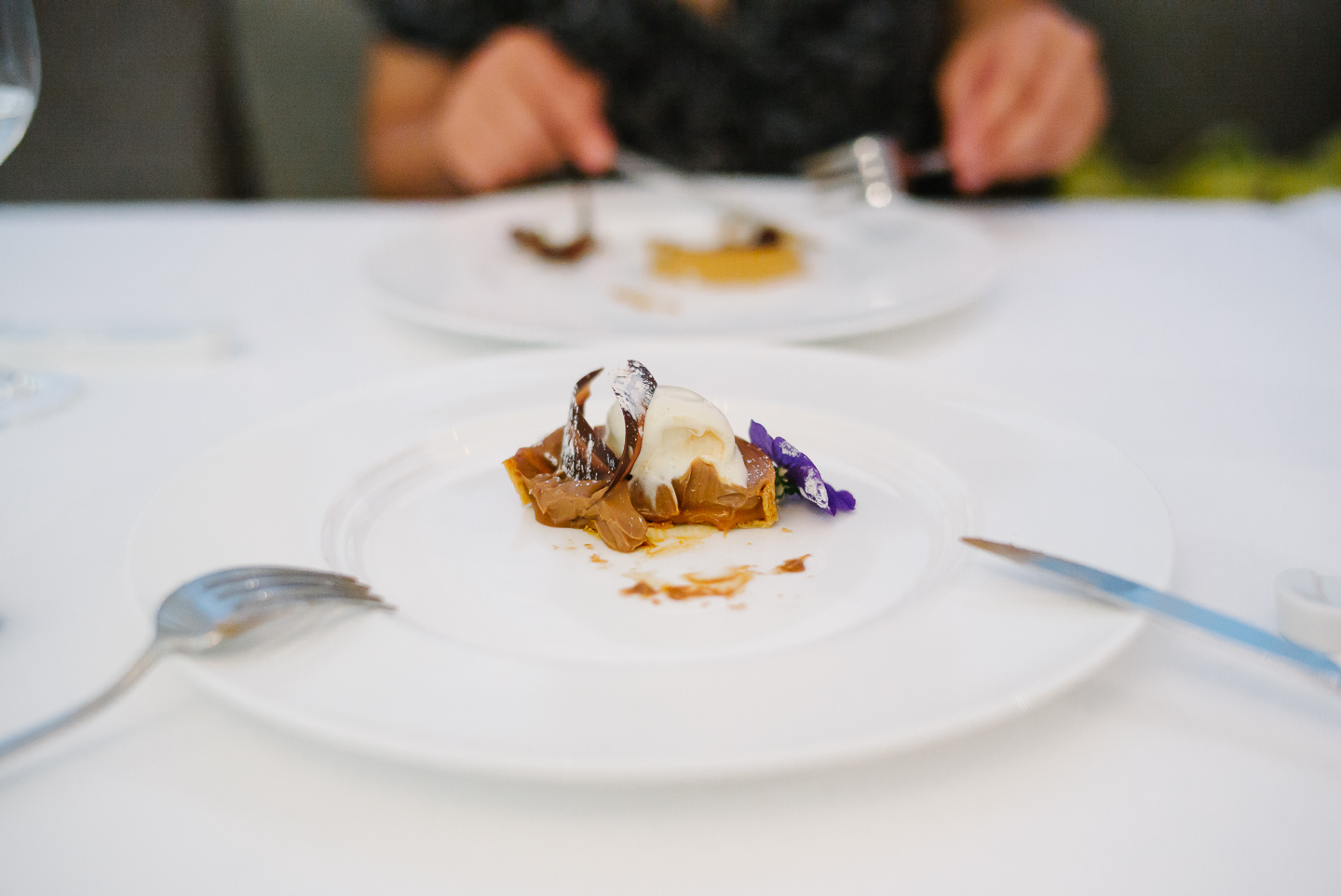 The texture of the filling is just the right consistency of scoopable sweetness, in a delicately pliable crust. Really the filling was wonderfully done, it is that pure flavour of gooey chocolate, without the over-richness, followed by the crunch of salt to temper it all. A sweet finish.
We paid €331 in total, 3 menus, 2 glasses of wine, 2 coffees.
What a restaurant this is. Execution, technique, to me it is perfect, in fact almost too perfect that it is clinical. To that end, it makes Neige d'été feel more like a French restaurant in Tokyo, rather than a Parisian restaurant run by an all Japanese crew. And it is precisely this feeling of refined minimalism that is a residual reminder of Japan, the idea that luxury is stripped down to the essentials, precious and fine, exacting but also not, a straight line from a free hand, honed from years of practice. It's a sort of beauty you know, elegant, smart and subtle, it's like looking at Alex Katz paintings. They are deliciously simple, hiding layers of deceptive emotion. It does not struggle to challenge or push boundaries, it just lives confidently in the moment of clarity, hiding its little twists of genius in conventional goodness.
The only thing I would say is that they should rid themselves of the laminate wood floors and return to the polished concrete. Naked. It's a better look.
Nishi san personally welcomes every diner to the restaurant and he also sends them home with a handshake and a goodbye goodie-bag of lemon pound cake for breakfast, at the front door. Classy fella and classy cuisine. Indeed, I had it for breakfast the next day and it was a beautiful bake, light and airy, with a buttery mouthfeel.
Now as I write it up, I itch to return to Paris, not for Arpege or Cinq but for this. I'm so jealous of Paris, I wish this was ours in London, I am swooning over it, but it is not. It belongs to Paris. The restaurant is an instant favourite and easily one of the most pleasing meals in recent memory. You need not worry about rating things or work out exotic combinations, the brilliance of Nishi san's cooking is utter straight-up deliciousness. Today. Right now. Classic feelings, rebooted. In my opinion one of the best on either side of the channel. If you find yourself over there, go here.
Details
Neige d'été
French
€45 Lunch + drinks
€80/€130 Dinner + drinks
12, rue de l'Amiral Roussin Paris
Tel : +33 1 42 73 66 66