March 2016 Update: I have visited The Ninth another 4 times, and this is quickly becoming one of my favourite restaurants this year. The cooking is assured, and the menu is well-priced, especially during lunch. Some more pictures over on my instagram -> Flamed mackerel, Salt beef cheeks, Stuffed quail.
—-
Original post from 20 Jan 2016.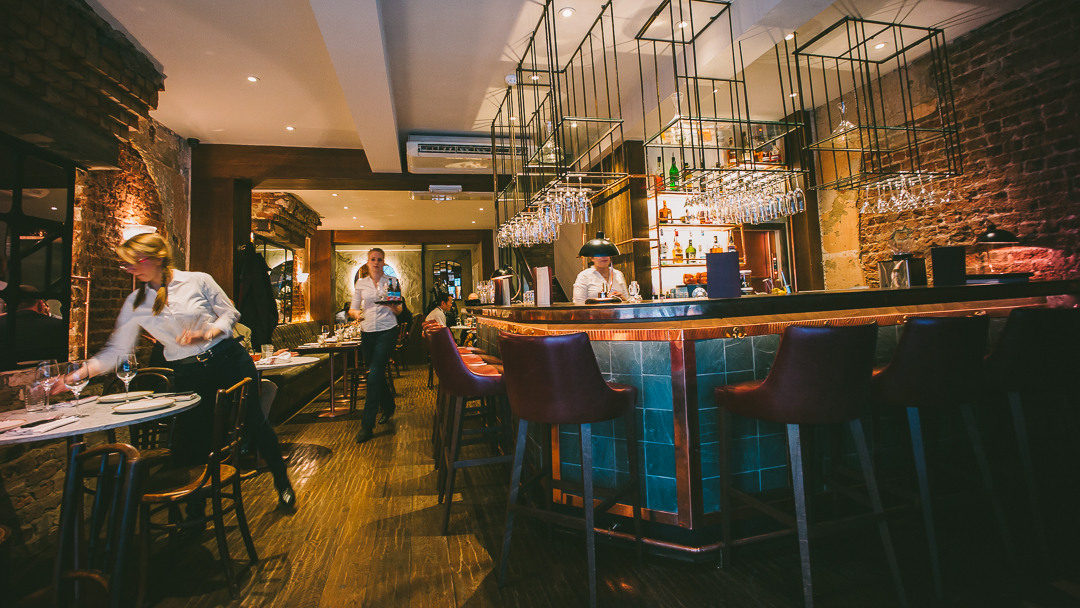 This is Jun Tanaka's first solo project and the ninth kitchen he's worked in. At his eighth, he spent almost a decade at the helm of Pearl until 2012 and has always been well-regarded for his talents. On his way there, Jun has worked for many of London's legendary chefs including the Rouxs, Nico Lanedis, MPW, Eric Chavot and Phillip Howard. More than ample classical training with London's true institutions.
I am a chemical engineer in daylight (and restaurant admirer), so it was pleasant to read the origins of how he came to apprentice at Le Gav, on his father's advice.
Nizuni (was Koba owned, which I thought was decent) used to occupy this site, going by the exposed brick walls, nearly all of the old sushi restaurant has been stripped away. Marble tables, dark leather banquettes, dark wood floors, copper accents take its place. It's got the broody thing going, a comfortable space. I admit I've never been to Pearl, but I do have a friend who loved it and so I took him with me for a Friday lunch.
Unlike Pearl, Jun's first restaurant is casual to allow more sociable ways to break bread. The cuisine is French-Mediterranean and the menu is heavily sectioned, but there is more to the sharing angle. Look a little deeper and the silhouette of a brasserie menu emerges, so you don't have to share if you don't want to. But if you do, each plate is actually large enough to let it happen properly. Suits my family just fine. Solid pricing, in fact the ALC looks just under-priced for 2016: £8-£10 starters, £18 mains, £6.50 puddings. Clearly well-thought through.
There is also a lunch-only set menu with 8 or so plates (as explained to me) which are smaller than the ALC options, priced at 2 plates for £17 and 3 for £21.
They allow you to mix and match from the set lunch and ALC for an all-communal meal, so that's what we did. However, we did (accidentally) order a 4th plate off the set lunch menu and ended up with a bigger bill than expected, so it is worth paying some attention to the pricing structure:
2 = £17 (£8.5/plate)
3 = £21 (£7/plate)
—
4 = £34 (17 + 17) (£8.5/plate)
5 = £38 (17 + 21) (£7.6/plate)
6 = £42 (21 + 21) (£7/plate)
To maximise value from the set lunch, go up in multiples of 3. The 4th plate costs £13 (£34 minus £21).
House smoked salmon, crème fraîche (set lunch)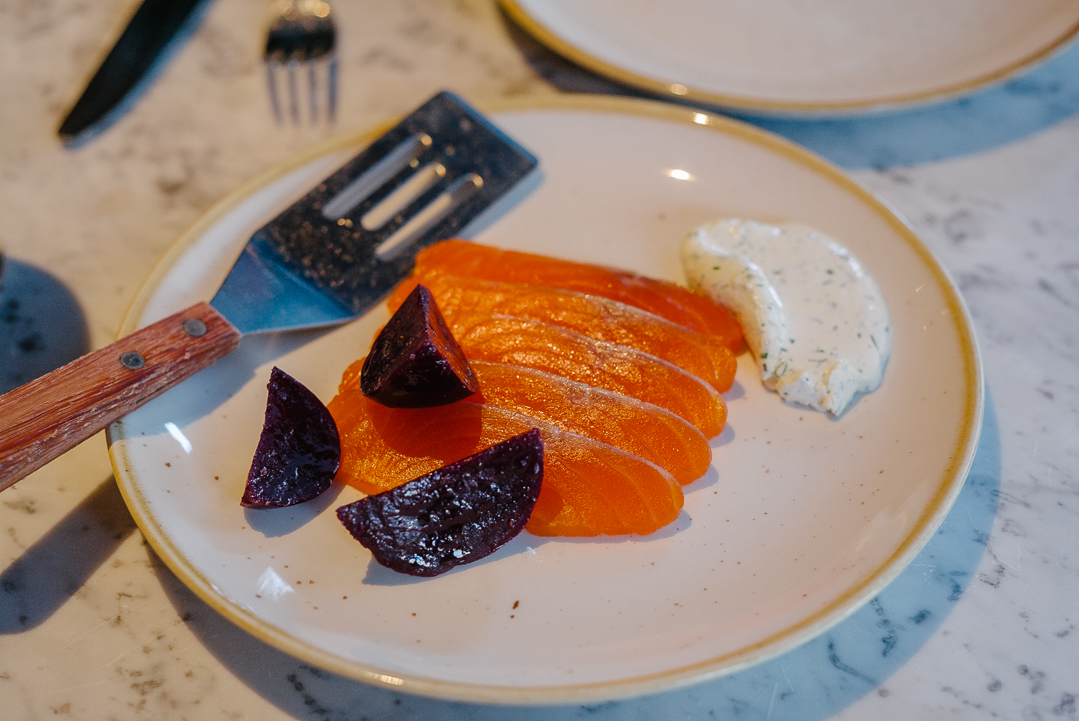 Thick sliced (but not quite Tsar), lightly cured and gently smoked. The texture has a very appealing firmness and nice acidity giving a sense of freshness. It wouldn't be out of place if served in a respectable sushi-ya. May even give Hederman a run for its money. Good.
(I found a recipe by Jun here)
Freshly baked pitta, oregano and sea salt, £2.50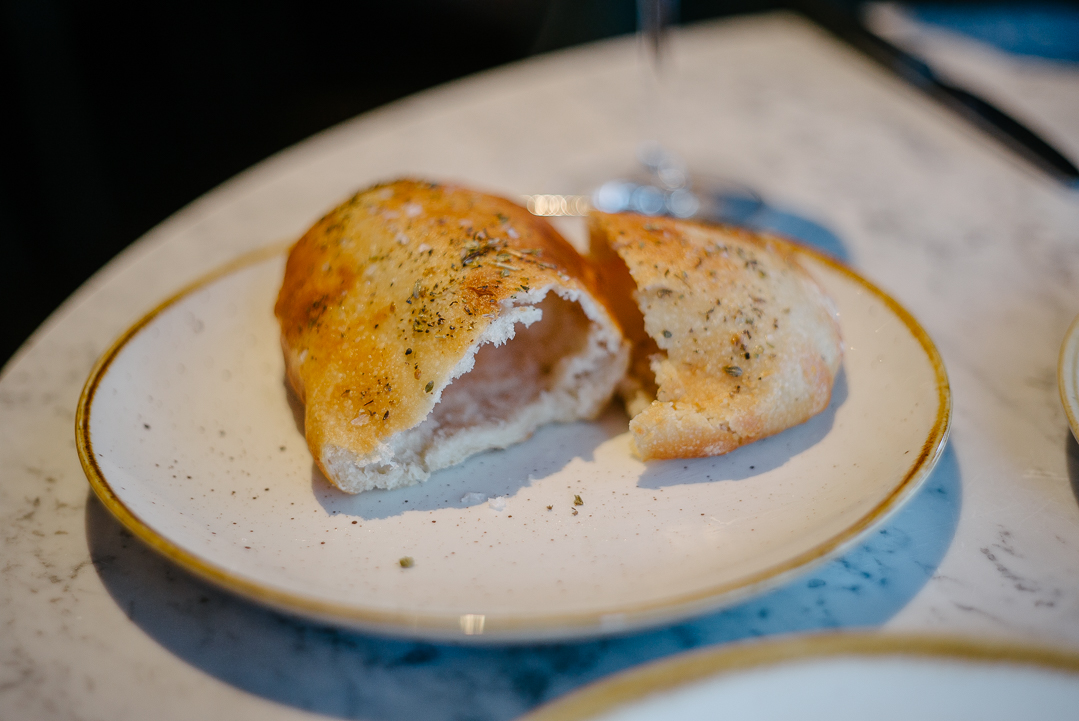 Freshly baked indeed and puffed up pocket. Tear it open and indulge in the steam that rushes up to you. It smells wonderful. Really good bread.
Ossobuco tortellini and bone marrow £8.00
The many IGs of this dish are what prompted me to visit The Ninth. Check out the folding – its a healthy navel isn't it? Would fit right into a decent Trattoria in Bologna.
The veal (shank cooked with bone-marrow intact I gather if going by classic recipe) is slow-braised, then pulled and densely packed into each tortellino. That pasta sure is gorgeous, I love that it's so al dente, thick, doughy and chewy. There is a rich malty flavour (and that sauce), almost chocolate like, it's entirely appetizing and totally delicious. It's more shui mai than in brodo. The sprinkle of bone marrow and parsley (which I interpret as gremolata) completes the recipe.
On paper, it sounds rich and wintry but Chef has managed a lightened version using the tortellini as its medium. This sense of freshness. I loved it. Special dish.
Cod brandade and egg yolk raviolo (set lunch)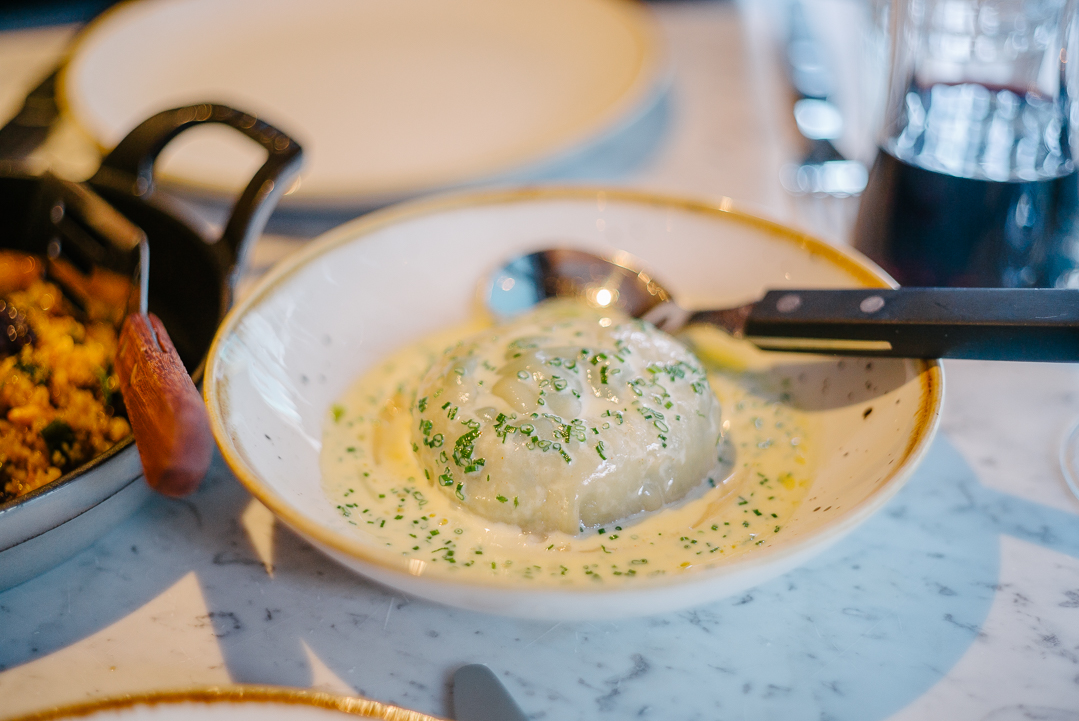 Continuing the theme of wrapping pasta around classic recipes, this is raviolo with a proper brandade with chunky pieces of (salt?) cod. Textures were tender and gelatinous, perhaps due to the pasta. Nice. The sauce (with leeks I think) is rich but not viscous, like milk, and surprisingly light. It reminds me of the wonderful crab raviolo at Medlar.
Grilled lamb, couscous salad (set lunch)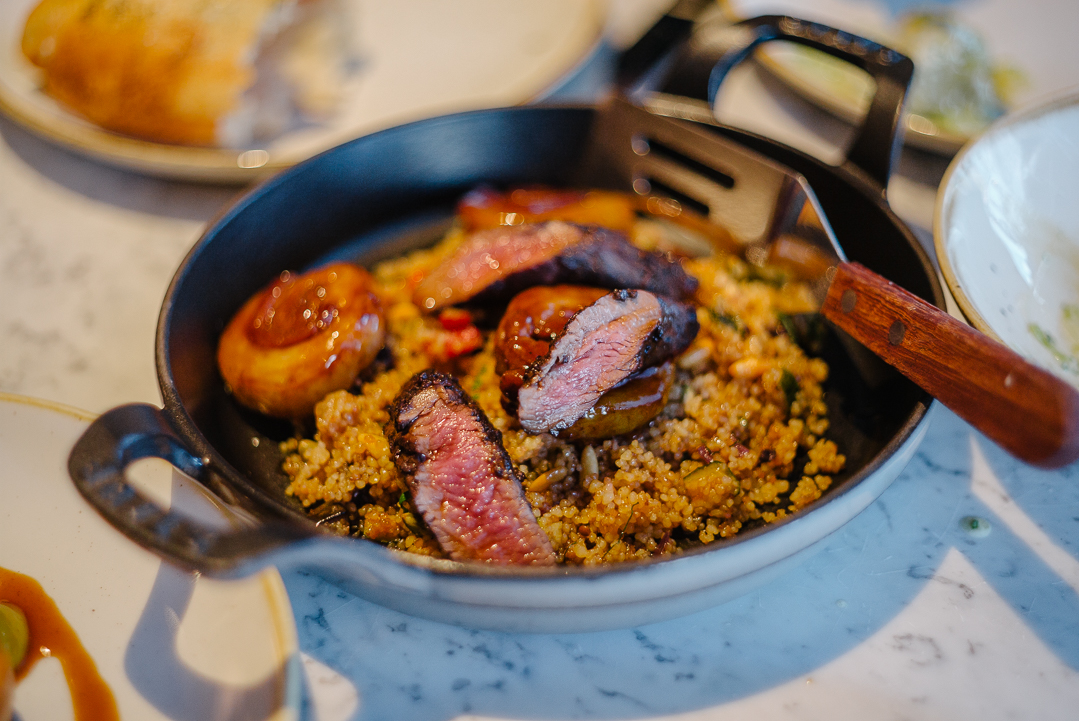 The Mediterranean intent. Great cous-cous, served piping hot, steaming with aromas. The lamb is cooked to a perfect medium to medium rare, but the best bits are the rolled up fatty lamb fat. Charred on the outside and the fat is melting on the inside, gorgeous, deep fat flavour. It reminds me of Pitt Cue's rolled pork belly (Can't wait for their re-opening next month). All the flavour is in the fat after all (…and Paleo). It's a great recipe, a pleasant surprise to find this on the set lunch menu. Chef's got his game face on and this is hard work to win the lunch crowd. I respect that. This is added value.
Whole roast quail, smoked bacon, foie gras, lardo and grapes, £13.50
Stuffed (i think), the whole bird is pan-roasted and then served cut in half. Good bird with clean flavours and has taken up all that flavour from the lardons & foie. Yet again cooked well, medium to medium rare, retaining all the natural textures and inherent juices. The genius was in this stuffing, this jolt of flavour to season the quail. The sauce, like a glaze bring it all together, with some acidity from the grapes to lift the palate.
I just thought the entire composition of flavours went well, alternating between sweet, salty, a pinch of sour. Good overall textures, slippery and juicy. Incredibly satisfying polishing off the thigh bone in the end. Beautiful cooking. Ultimate comfort food.
Lemon Tart (set lunch)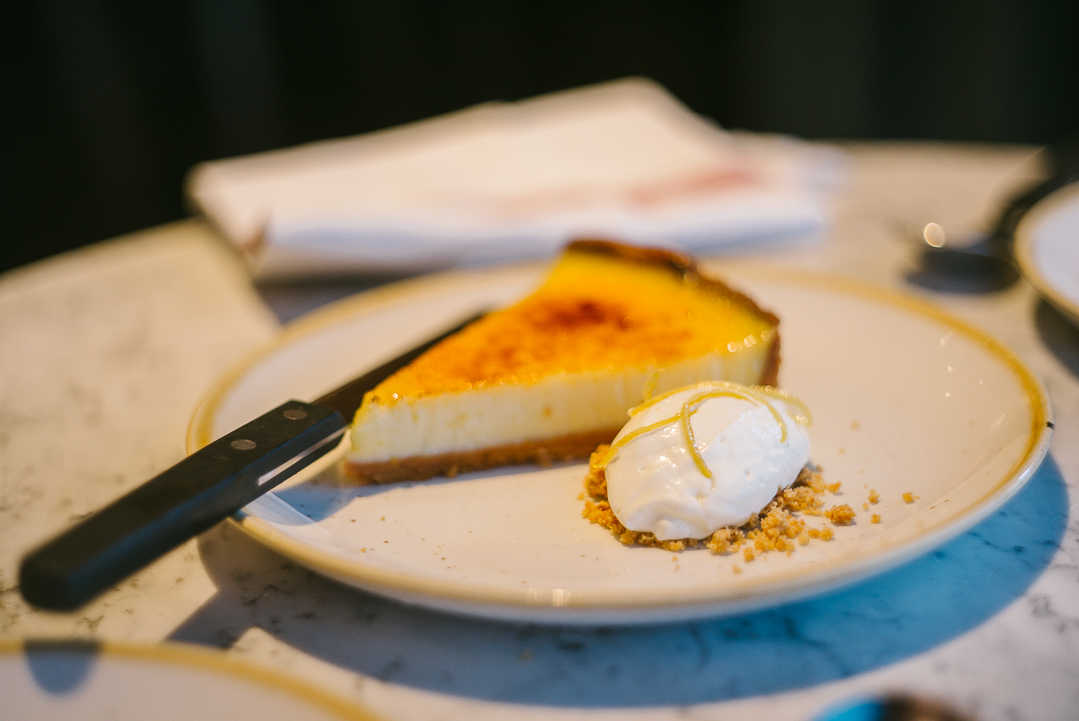 Classic. Spot on crust and zest lemon custard. Nothing overpowers. A beauty.
Pain Perdu, vanilla ice cream, £6.50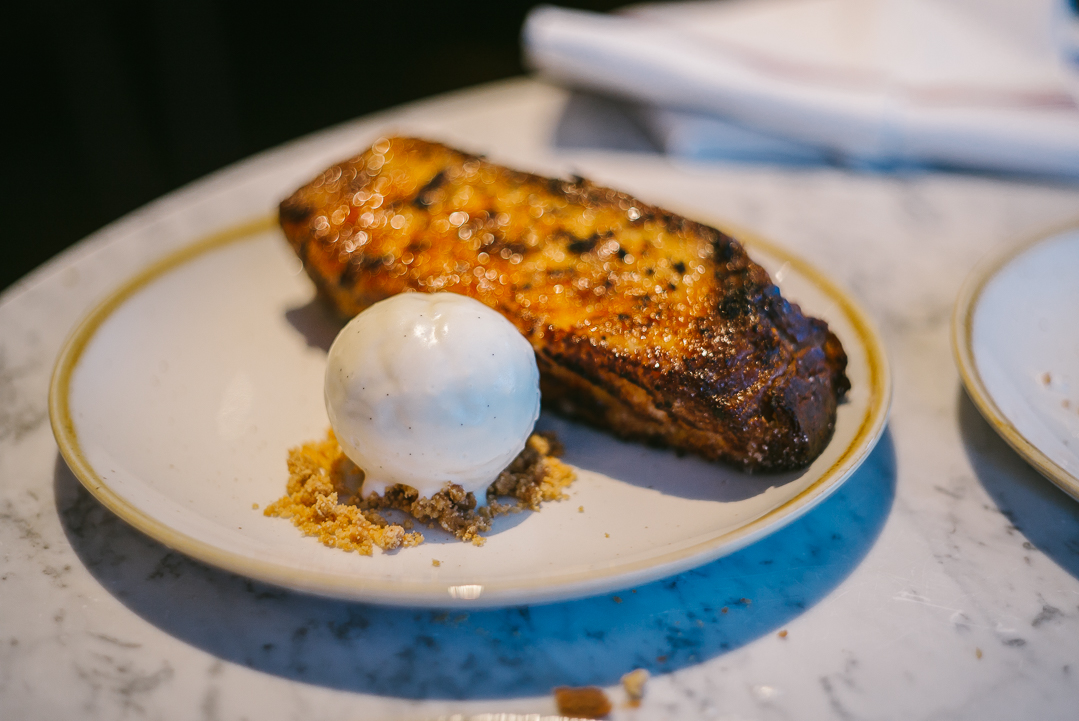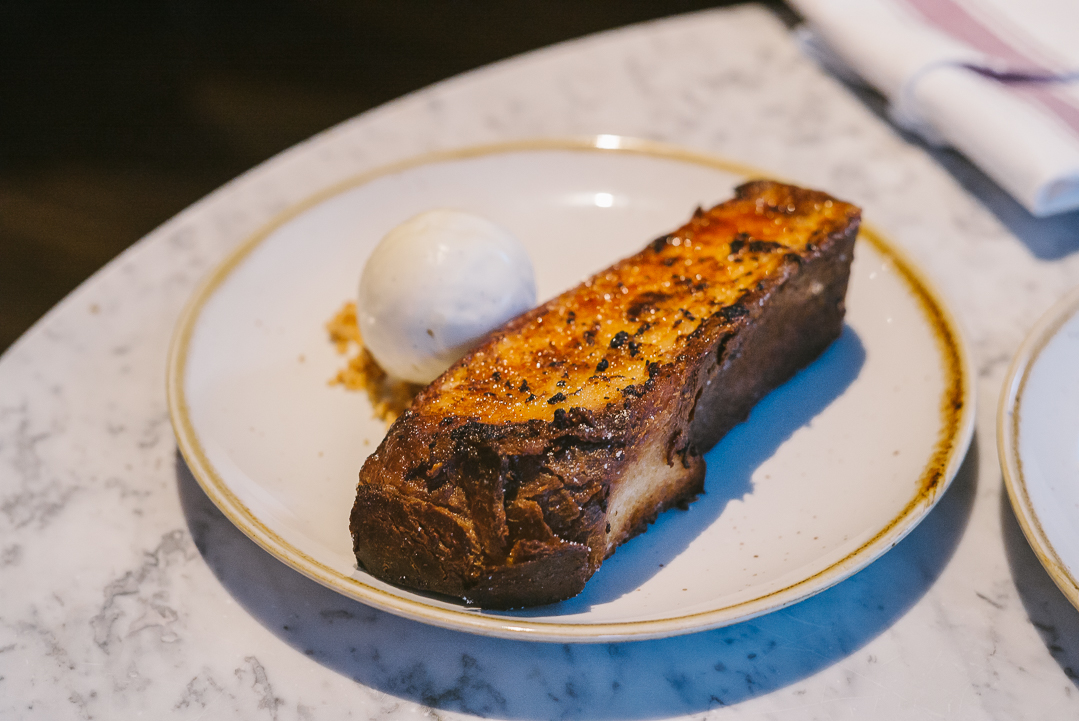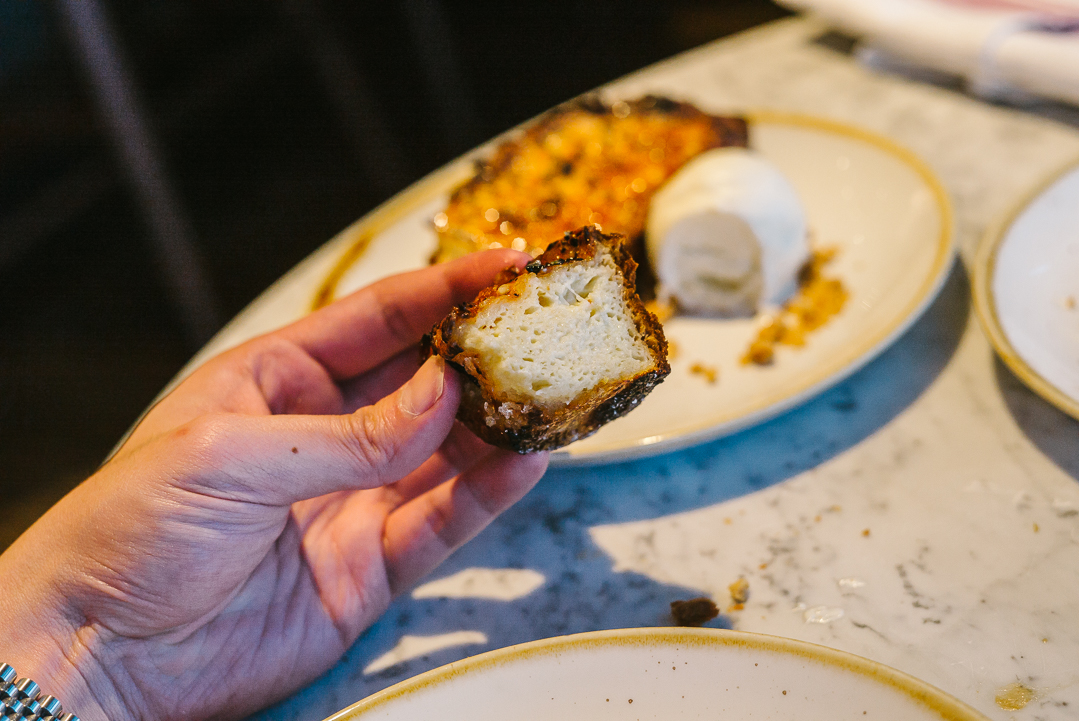 This is how French toast ought to be. The insides were more egg custard than bread, the smell of charred sugar plus the creamy vanilla ice cream – Stunner.
I know it's just bread, but I still appreciate the large portion. Now this is something you can actually share. Dice it up, finger food.
I haven't tried Shackfuyu's french toast, which I'm sure lives up to its hype, but I loved this and would be hard to beat.
All food plus a carafe of decent Chianti Colli Aretini by Droandi, the bill was £96.19 for two. Just under £50/head. Could have been £40/head if we skipped the 4th plate of lemon tart. This is still excellent value. You're likely to pay more at Social, Palomar and Noble Rot and get less food.
A Corton-Charlemagne and a (hot year) Lynch-Bages tops their short wine list. Burgundy and Claret. Steady Old World choices, within three figures. He could easily expand it to compete with Social wine, but I'll make that case in another post.
This declassification to casual dining is not new in London, likely driven by the zeitgeist, but I think the Ninth offers much more than the average diffusion outpost. Jun Tanaka has poured his best talents into this restaurant and the resulting recipes, easy and classic, are gorgeous. There's this theme of apparent richness in flavour, but the execution is such that dishes feel light and refreshing.
Look deeper and you spot even more value like no corkage for BYO on Mondays and 15% loyalty lunch card for neighbouring businesses. I know you guys in the trade like your BYO dinners at Medlar, you should consider the Ninth too.
Jun Tanaka's 9th; An ode to the joys of dining. Go try it.
The Details
The Ninth
£35pp Lunch, £60pp Dinner
French-Mediterranean
22 Charlotte Street W1T 2NB
Tel : 020 3019 0880
Tube : Goodge Street or (finally re-opened!) Tottenham Court Road
(PS: Let's play Where's Jun in top photo)