*DEC2017 Update : Narikura is bib gourmand in the 2017 Michelin guide for Tokyo.
I caught up with my old boss in Tokyo last week and he told us about the Japanese fondness for shortening names. For instance the omnipresent corner shop Family Mart is locally referred to as Famima, Toshiba short for Tokyo Shibaura, Remote controller (rimoto kontorora) to rimokon and katsu being the Japanese abbreviation for cutlet.
Ton Katsu (トン カツ) or Pork Cutlet shares a semblance with schnitzels though it is likely the localised adaptation of (beef) steaks, swapped out for pork when it arrived in Japan in the 19th century. An example of several instances of food cross-pollinating into different parts of the world throughout history (Ramen from Chinese noodles (la-mian) being another).
Through my tourist eyes, Japanese culture is one that values intensification, refinement and total dedication to one's craft. Specialists. Experts. Mastery. And perhaps most of all, consensus. True for things at nearly all levels such as ramen, sushi (or karate), with everything heavily codified and ranked, so the manifestation of rigorous honing of craft is apparent. Level up innit.
This makes life somewhat easy for gastro-tourists such as you and I searching out for ultimate expressions of very specific things -in this case, bread-crumb (panko) deep-fried pork- and here is where I introduce Tabelog as the epitome of crowd-sourced food opinion done right. A reflection of their civility as a culture, I suppose, and so quite unlike the clown-fest that is Tripadvisor.
If you've come this far, then you will likely have been blooded first at Maisen, then to a food hall (say Katsukara Takashimaya in my case) and likely Bugatumi, to replicate the David Chang feelings. The Bib regards Katsuzen (in Ginza) as the only tonkatsu restaurant worthy of a *, perhaps because it offers a dressy multi-course version of the humble everyman meal.
Tabelog's top dogs (in Tokyo) however are Narikura and Tonta, coincidentally (or not) located within a stone's throw from each other in Takadanobaba, Tokyo.
Tonkatsu (and Steak) restaurants typically offer two types of cuts, so as a minimum, you should recognise these words when presented with a Japanese menu:
ヒレ Hire = Fillet/Tenderloin, Leaner
ロース 'Rosu' = Loin/Sirloin, Fattier
豚 Buta = Pig/Pork
カツ Katsu = Cutlet
And go with the sets. They typically come as a full meal, rice, soup, pickles, sauce, sesame seeds with pestle and mortar.
There you go. Now you know what to order.
NARIKURA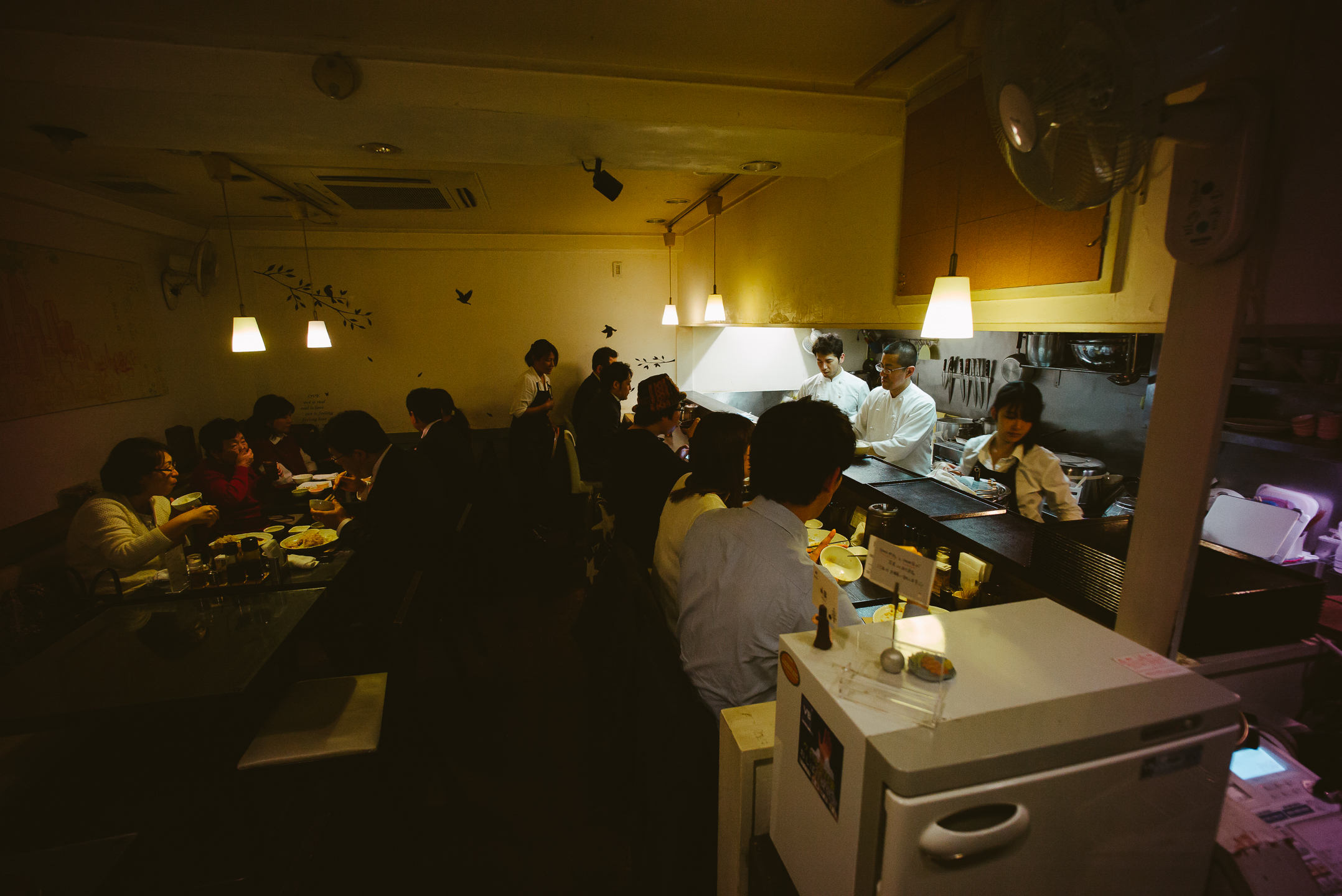 Narikura's chef is Seizo Mitani (far right corner in picture above), helming his humble basement restaurant for six years running. Tabelog's current top choice for tonkatsu is no reservations and so you should expect to queue for about an hour when you visit.
However, you should be aware that you can book out the entire restaurant (15-20covers at a guess), and so the first night I attempted a visit (on a Tuesday), they were doing a booking-only night. I thought I hit jackpot with a queue-less entrance only to be turned away – oh the tourist fantasies of mine. The following night, I showed up at 7pm and got in an hour later.
Also this place smells of brine, pork and scraps, and so if you trust aroma as an indicator of quality, this has bags of it. Think of your favourite chip shop. Fragrant isn't it?
Ordering
The menus are written in Japanese only, but the staff do a good job explaining everything in English, when they present the menus to you as you queue. You'll have no problem ordering here.
The Standard menu (photo) offers Rosu / Hire sets by weight, starting from 130g / 100 g (1600yen) up to 250g / 200 g (2950yen).
Mitani san's 'signature' is the 3cm 250g Rosu cutlet (2920yen).
In addition to the standard menu, they also offer a selection of specialty pork, with a step up in pricing. Starting at 2250yen and up to 3900yen for the same referenced weights. I recommend you order from these menus. From what I can gather, they offer 3 types, but selection changes depending on time of year/availability. During my visit, the following were available:
1. Kuro buta 黒豚. Black Pork from Kagoshima (menu)
These pigs are descended from English Berkshires and feature quite regularly in many tonkatsu restaurants. They are prized for tenderness and obviously also for its fat content. Ironically, Berkshire pork doesn't enjoy quite the same mystique over here in London restaurants. Instead we access European fatty breeds such as (French) Basque Kintoa, Hungarian Mangalitza (or in Pitt Cue case, via Cornwall) and of course the Iberico (5J if you can get your hands on it), which for me is the top of the tree.
2. Iwanaka buta 岩中豚. Rock Pork from Iwate (menu)
This is an interesting one, the pride of Iwate are certified as SPF (specific pathogen free) and is perhaps an indication of the farming program and particularly the swine's diet. I'm not sure of breed, they appear to be ginger pigs, but my google translate powers decline beyond this, so maybe you can tell me.
3. Yukimuro-Jukusei buta 雪室熟成豚 – Snow aging pig from Niigata (menu)
Yes it is. Niigata lies on the Northwest coast on Honshu, but is quite abit far from Hokkaido. It snows 1/5 of the time, so I'm not quite sure where the 'snow' part comes from. From this website, the snow-ageing conditions are 0 – 5 degC and high humidity up to 95%, which says to me that this is wet ageing method (i.e, not a dry cold room) to achieve both tenderisation and concentration of flavour (or amino acids).i do wonder how this differs from simply slinging meat in a fridge. I would suppose this is similar to ageing fish, and given the high humid levels, ageing time is measured in days rather than weeks.
What we ate
Top to bottom:
Kagoshima Kuro buta, Hire 100g. Set for 2250yen
Yukimuro-Jukusei buta, Rosu 130g. Cutlet only for 2050yen
Iwanaka buta, Hire 100g. Set for 2250yen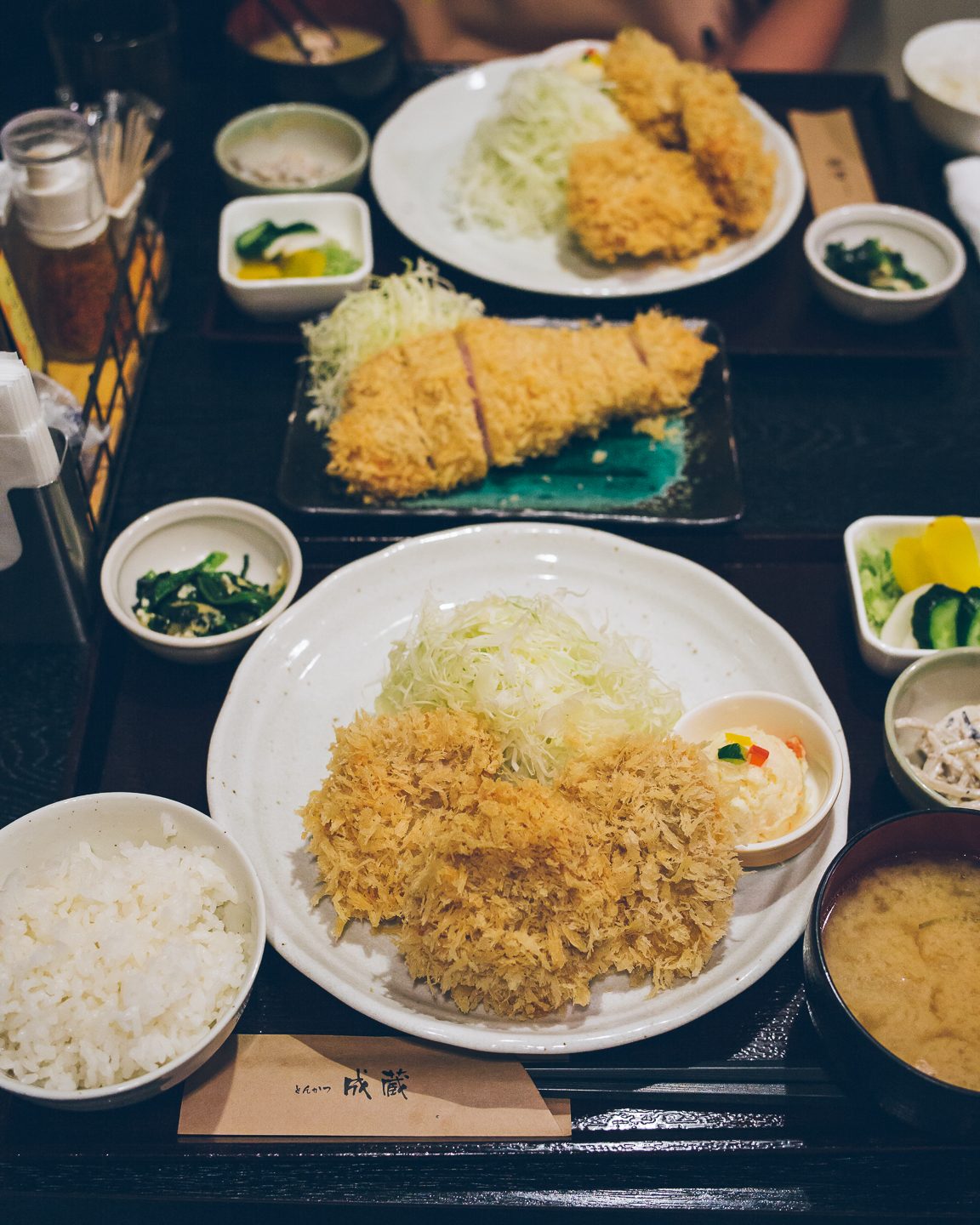 Yikimruo-Jukusei buta sirloin (ro-su) close-up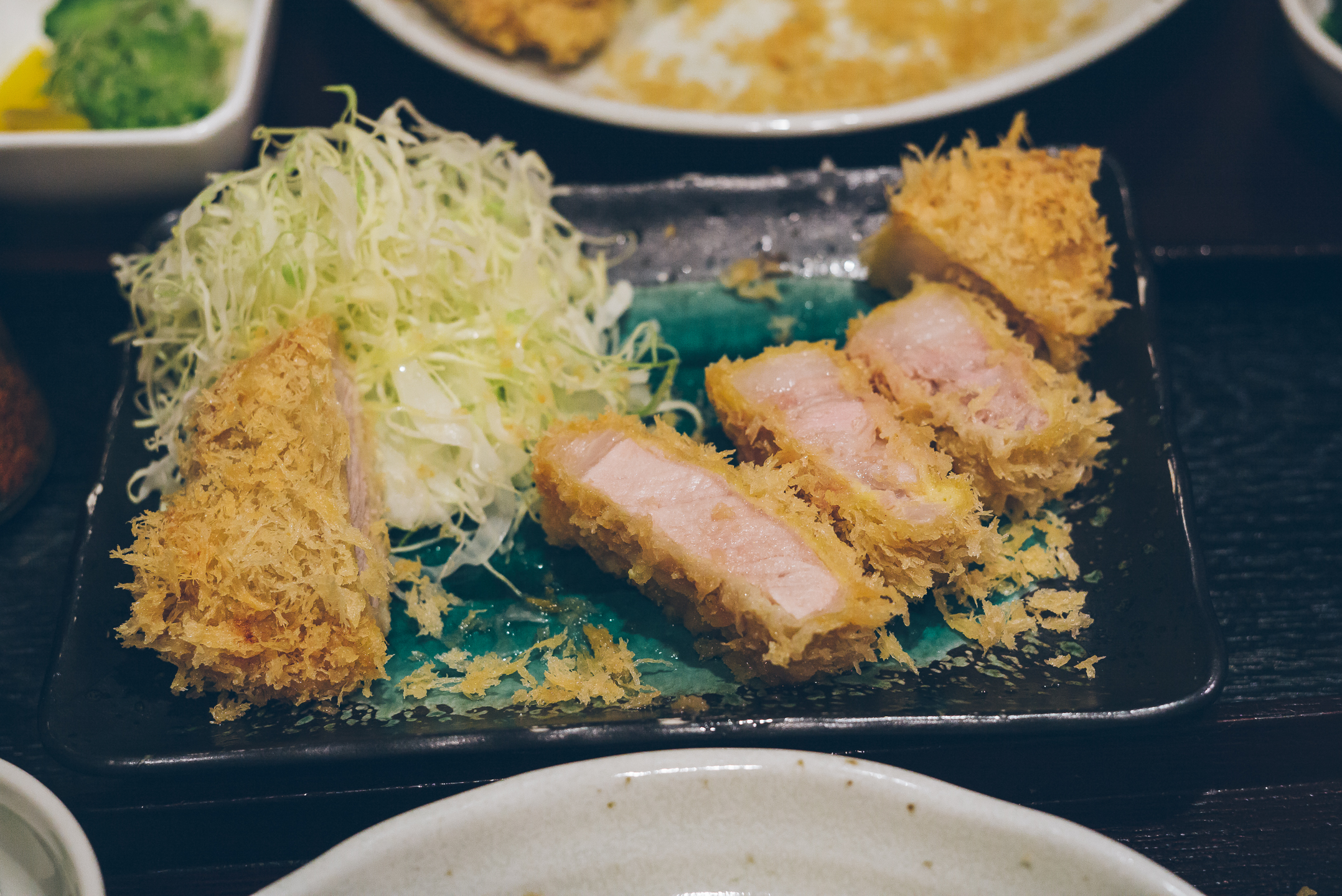 Iwanaka buta tenderloin (hi-re) close-up
Sauce comes in a bottle on the side. No pestle in sight.
Portions look bigger than expected, and only chopsticks were supplied. The first thing I noticed is how fantastic it all smelled. Fried pork heaven this is. When you take your first bite, the lack of cutlery makes sense – my god, all 3 were astonishingly soft. You don't need a knife to cut at all. The fillet medallions were so tender, that your chopsticks go straight through it.
They must have brined the meat prior to frying (the entire place smells of salted pork and batter), the softness is akin to slow cooked pork either a roast or or perhaps like pork cooked down in a soup.
It's incredible and its the type of thing that changes your perception of what is possible with fried pork. I could not objectively separate the breeds in terms of flavour differences from a single sitting. Mostly because I was awestruck by how tender it all was. The mind boggles, as I don't think I've ever come across pork quite so tender before.
And the quality of the pork sure is top drawer and whilst fatty, the marbling is better distributed (rather than lumps) and therefore doesn't dribble like say Kintoa or Mangalitza does, in both cases, the oil levels are just too high, especially the latter with its relatively low temperature melting fat. Analogous to beef marbling, the distribution of fat plays a part in the eating experience, without tendons or grain getting in the way. I can only assume that Mitani san prizes his produce in the same way say Kawamura san does his wagyu.
If there is a negative, it is that the panko crust is pretty full on and almost too oily. With such strong flavoured pork, you're almost wondering if a lighter batter would pair better here. Then again, it would negate the decadent nature of the whole experience.
For all these reasons, I felt that the Narikura experience is best enjoyed as hire.
Details
Narikura 成蔵
Tonkatsu Restaurant
Basement, 1-32-11 Takadanobaba, Tokyo
Lunch and Dinner: Mon 月, Tue 火, Wed 水, Fri 金, Sat 土
Tel : +81 3 6380 3823 (Reservations on some Tuesdays (火), call to check)
Train : Takadanobaba (JR Yamanote line or Tokyo Metro Tozai line)
TONTA
Another small restaurant, but with a more comfortable space. Tonta is a bib gourmand, aside from that scant detail, I can find little background information of this restaurant, which appears to have spent a lifetime becoming part of this neighbourhood. I can only assume that the gentlemen is the chef owner. He spoke to no one, spending the entirely of the service keeping both his eyes on his pork bubbling away behind the counter. A consummate professional. Maybe you can tell me his name.
Ordering
It has an English menu, offering Rosu/Hire sets in two price points. Standard sets for 1550yen/1650yen and Special sets for 2160yen/2260yen.
Only one kind of pork is used here as I was told from Gunma prefecture. This then leads me to speculate that it is Joshu. Therefore, I think the difference in the two price points is down to weight and quality of pickles.
They also offer side dishes on a specials board. We ate fried oysters with the same brilliant panko batter during this meal.
What we ate
Standard hire set, 1650yen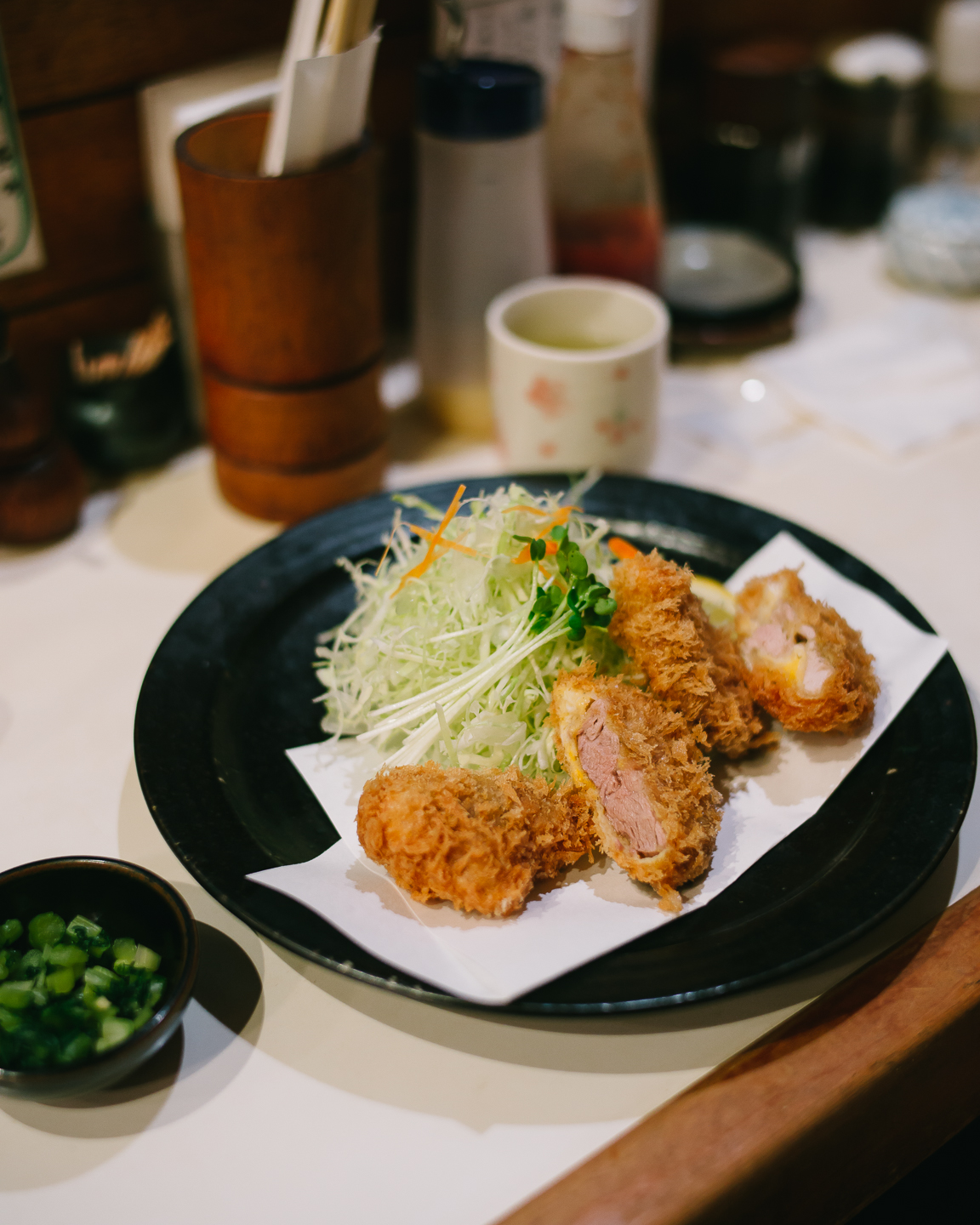 Special rosu set, 2160yen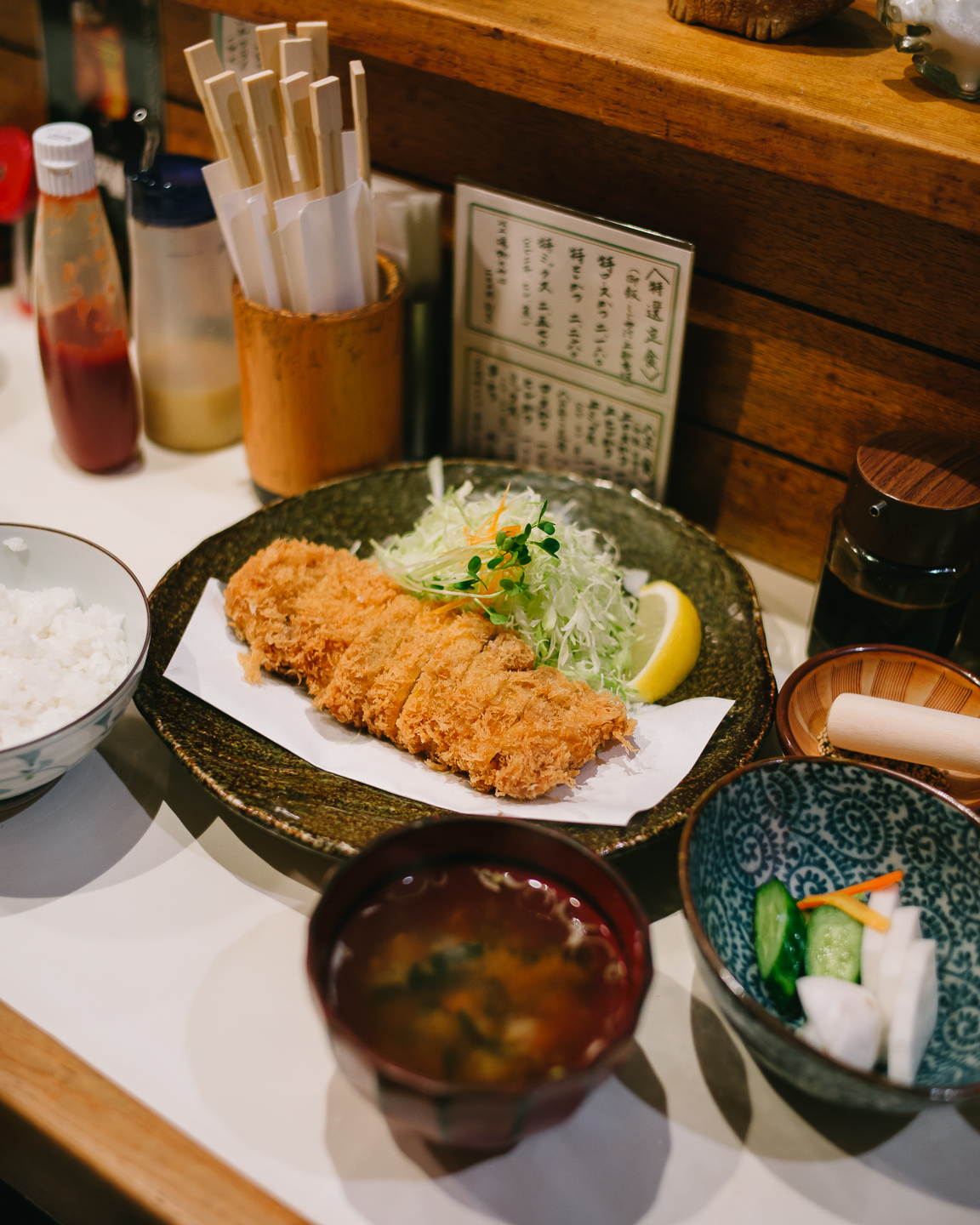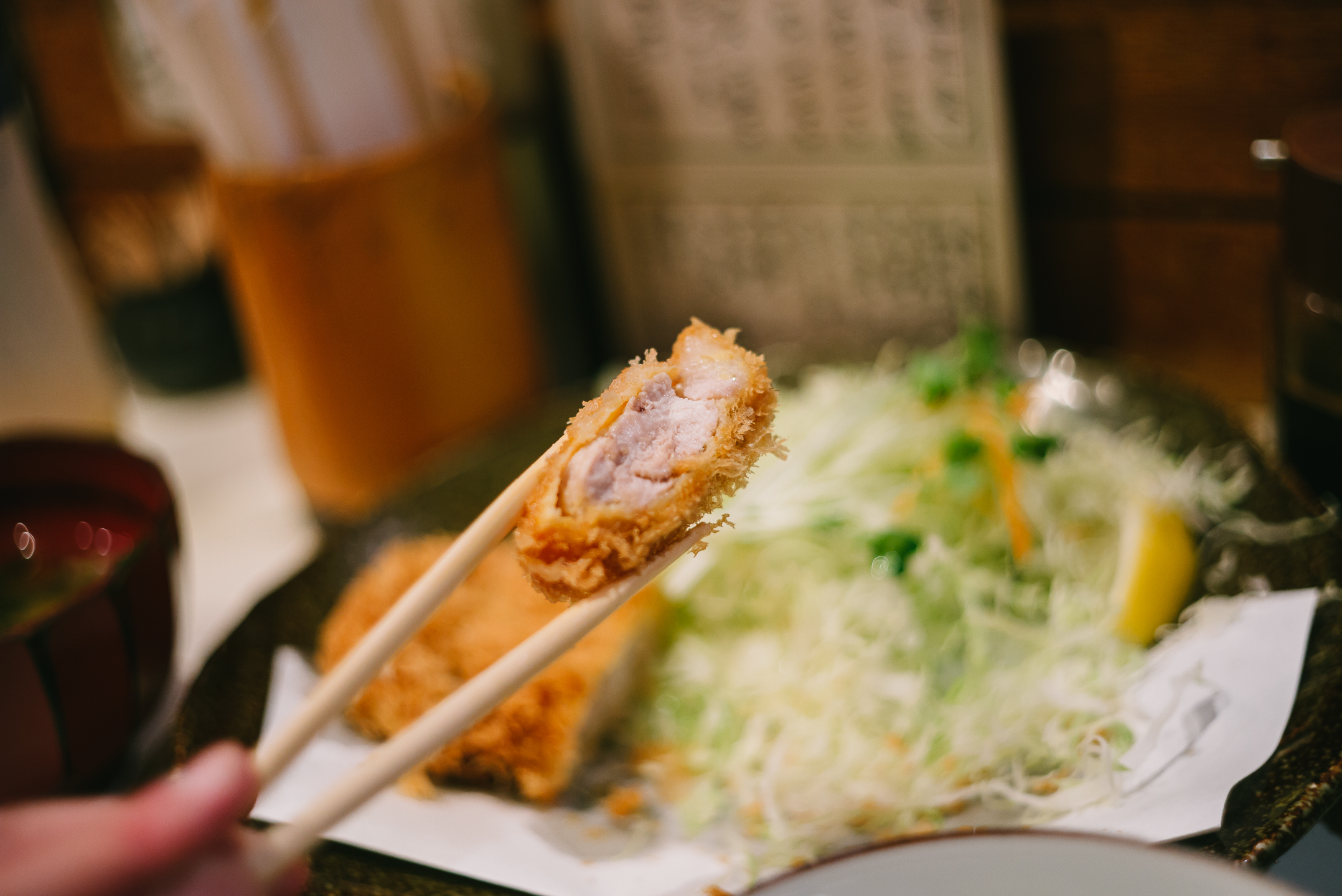 With sesame seeds in pestle and mortar, and sauce in bottle. Indeed this also is tonkatsu worthy of its reputation.
The consensus is that Tonta's crust is the superior of the pair, and I am likely to agree. It is crispy, incredibly light, not oily and absolutely appetising. I surmise that it is down to the rather generous egg wash underneath the panko that imbues it with this satisfactory savoury quality.
As for pork, I thought it was of good quality, the flavour is pure, with good fat distribution. This which would line-up with my guess of Joshu pork. While it isn't as tender as Narikura's wares, it is still luxury soft and the type of thing that will reset your tonkatsu bar regardless.
For me, Tonta is all about the rosu.
Details
Tonta とん太
Tonkatsu Restaurant
Lunch : Tue 火, Wed 水, Fri 金
Dinner : Tue 火 to Sat 土
3-17-8 Takada Toshima, Tokyo
Tel : +81 3 6380 3823 (No Reservations)
Train : Takadanobaba (JR Yamanote line or Tokyo Metro Tozai line)
If you had to pick only one…
…don't! Go to both. Both are streets ahead of Maisen and both are excellent.
Even though both are doing the same fundamental meal, they could not be more different from one another. The innovation -if you will- are all in the subtleties.
It takes more than just quality meat to produce such excitement and I do think there is craft involved here. Both fry at low temperatures a la minute and this means they take the time to make your meal. The results are peaks that have only each other as peers.
Unless you rock up to queue for first sitting at 1030am, you are unlikely to feel the cooking times, as they start frying your order while you queue and so timed that you start eating the moment you sit down.
Ok fine. I choose Narikura because what he is doing with his pork is worthy of attention. I just wished it wasn't a cramped basement. Tonta has better ambiance.
So there it is. These are my personal best Tonkatsus in memory. There are others in the field, Manger (Osaka), Maruichi, Taiyou, Katsuzen, but for now, this is my benchmark. 💯 % worth the queue and absolutely better than whatever else I've had before. If you visit Tokyo and you love fried meat – do not miss either.
—
PS: For another view, check out Eric's excellent account of both.