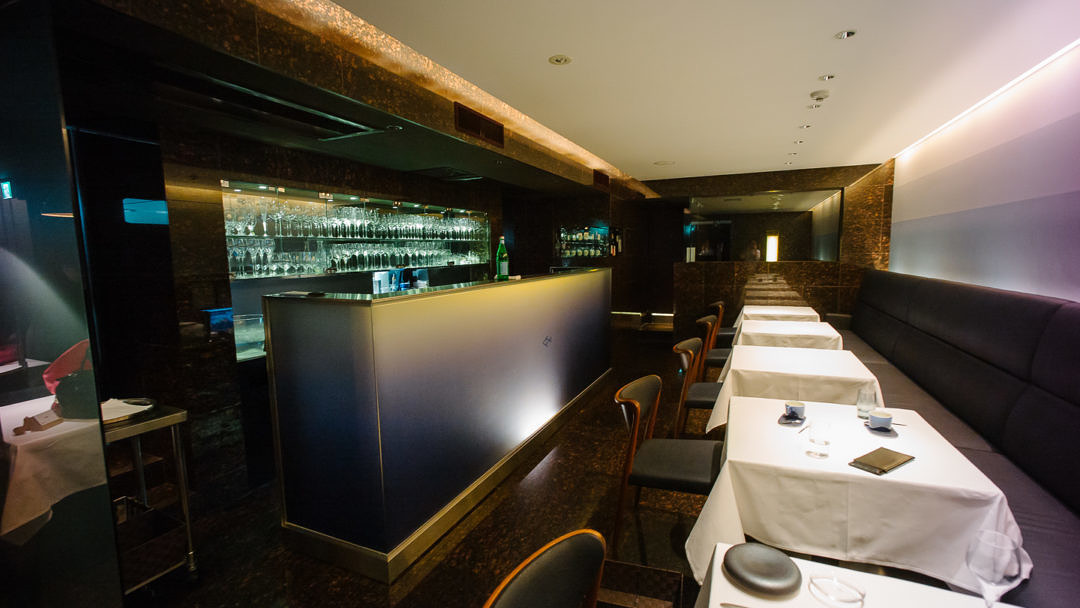 I love Paris' Japanese-run French restaurants (chiefly Neige d'ete), a melding of two heavyweight cuisines which seem perfect together. Both heavily codified, both with schools of gastronomy that seek a similar sort of perfection, in terms of product selection and cooking technique to draw out luxury in terms of soft texture and max taste. This cross pollination is something that people love; Just look at the success The Ledbury is having, modernising classic cuisine with Japanese techniques (cue cured mackerel/shime saba).
For this year's trip to Tokyo, I was keen on Quintessence for this reason – French technique using Japanese terroir – but as it turns out, a table at Shuzo Kishida's three star temple is even harder to come by than at L'Astrance, where he was once sous-chef to the great Pascal Barbot – the original master of Modern French with (albeit a myriad of) Asian influences. A quick glance at Tabelog (Tokyo, in 2016) reveals why this is, as Kishida san is at the summit of this (fairly dependable) ranking system. No small feat.
So I surfed around Robbie Swinnerton's pieces to find an alternative and that's where I stumbled upon Abysse being heralded as one of Tokyo's latest bright and shiny things. Swift googling took me subsequently to Robbie's 2015 highlights and then to Melody's take, as seen on her delicious blog Miss.Neverfull. This was enough convincing to book a table.
Opened in Spring '15 by Chef-owner Kotaro Meguro, just entering his thirties and is already loaded with a bag of tricks that earned him a star within 10 months of opening. An impressive feat, if you still keep faith with the red guide that is. It reminds me of a certain Kemble san, who did just the same, in the same timeframe, over here in London.
You should be aware that Abysse focuses on seafood, so you will finish on fish as the piece de resistance, instead of red meat. This appeals to me (as I love seafood) and seems logical in a country renown for its catch.
The young Chef has quite the background, starting out in Marseille at Gerald Passedat's three starred Le Petit Nice (a stunning coastal location, overlooking the roadstead, Rade d'Endoume), and then to work on Kishida san's fish station at Quintessence. This training would come to shape his current style of cuisine.
His restaurant is only wee, 16 covers in a windowless rectagular shaft, sleekly designed and lit, reflecting the restaurant's association with the deep blue sea. A contrast to the clean residential neighbhourhood it is sited in. I thought he picked an odd location, upon deeper reading, it turns out Meguro san had taken over what was once Florilege (itself a relatively new and hyped up sensation), now up sticks to the other side of Gaien-Mae station.
Like Quintessence, the Abysse menu is carte-blanche. 6 courses during lunch for ¥4500 and 9 for ¥9000 during dinner. We visited for lunch on a Tuesday in Mid November.
0. Amuse: Flan, Spanish Foie gras, mushroom and oyster foam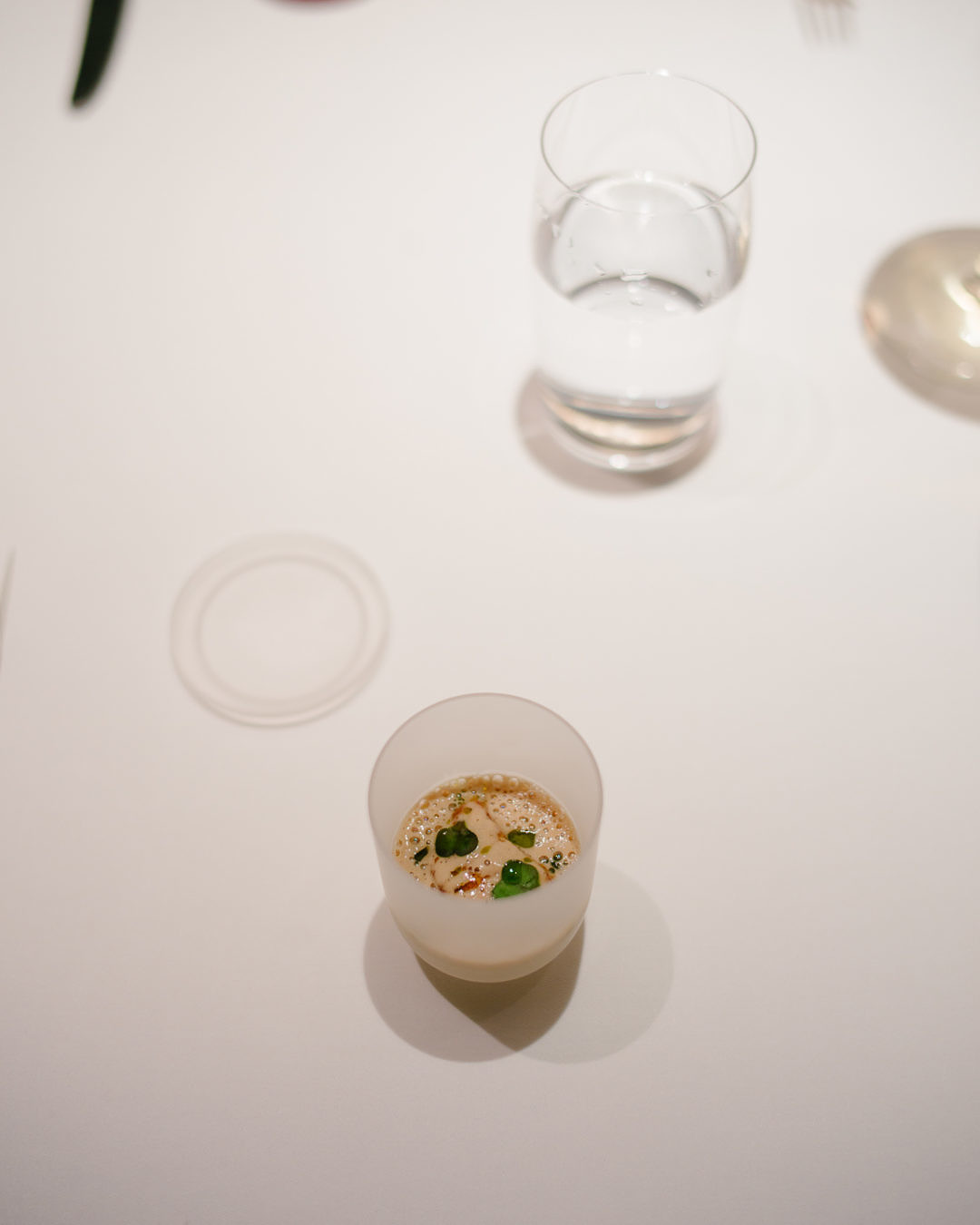 We began proceedings with a rich dose of umami. A chawanmushi so to speak with a wedge of foie. Served piping hot, full flavours of mushroom and parmesan, lightened with a clear line of minerality, presumably from the brine of oysters tipped in. Good start.
-Bread-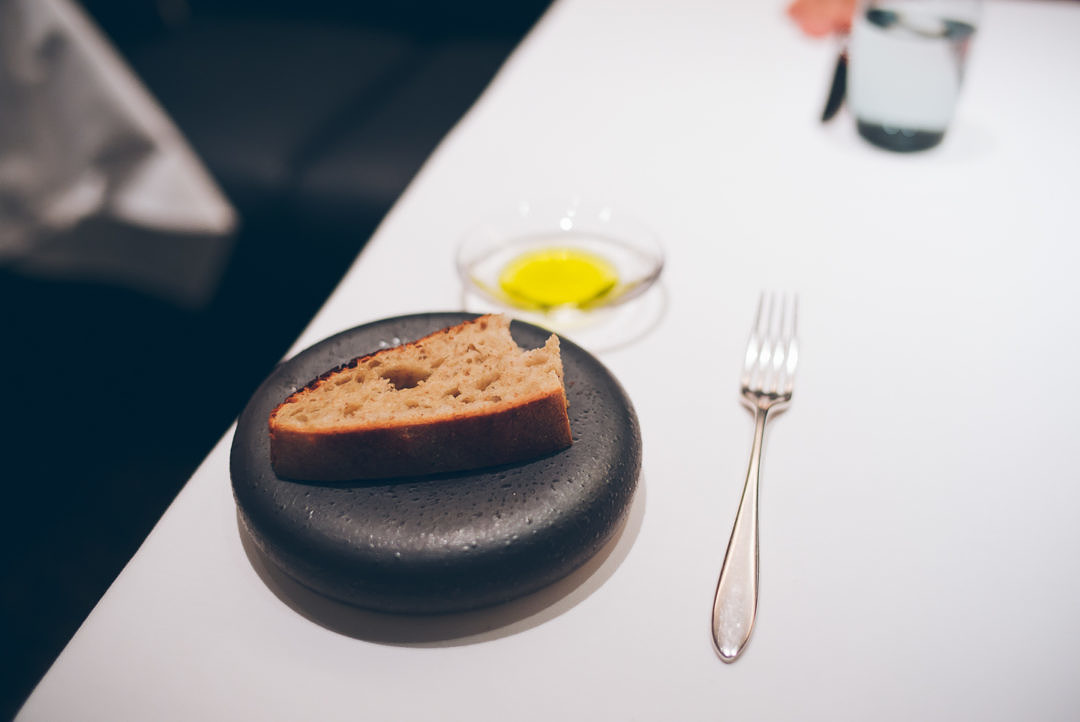 A sourdough, served with olive oil. No butter in sight.
The bread is bought-in from Comète, a bakery located in Azabujuban, which itself only opened in the Summer of 2016. For soudough, it is unusually soft and sweet, akin to a sponge cake, with a fine bubbly texture, crusty only on the top with a soft bottom.
You ought to know this boulangerie, as its owner Kenji Kobayashi had spent 6 years with Du Pain et Des Idées in Paris, and therefore you can expect to see derivatives of the famous escargot at his bakery, albeit with Hokkaido terroir.
1. Entree. Crab in turnip leaf oil and vegetable broth, Russian oscietra caviar, fromage blanc and white turnips.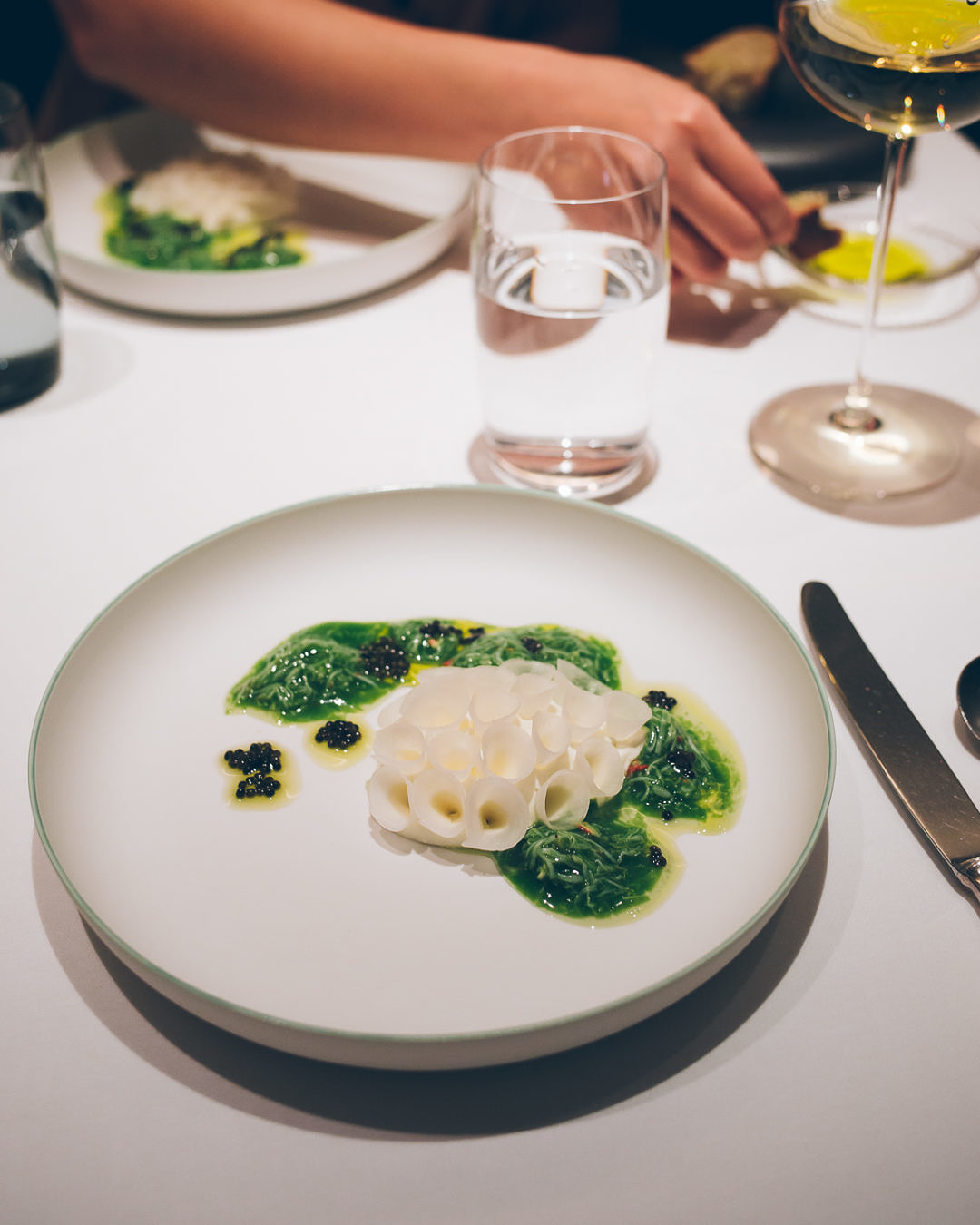 Check the chlorophyll retention. Ace work. I also taste fairly large sprinkles of sea salt over the crab, working in tandem with the caviar to provide seasoning.
The cold blanc manger has a light flavour of souring goats milk, freshness and with lively acidity, tempered by the earth of the crunchy raw turnips. This was a foil to the warm umami side of the dish – the caviar, salt, brine and veg stock.
It is dangerously close to the edges of out there, but the Chef has quite the palate and I think has accurately balanced this souring element with the umami. For me this is quite unique, in terms of flavour pairings, and one that has been pulled off well.
And it's pretty to look at too.
Wine 1 : 99 Chassagne-Montrachet 1er cru, Louis Latour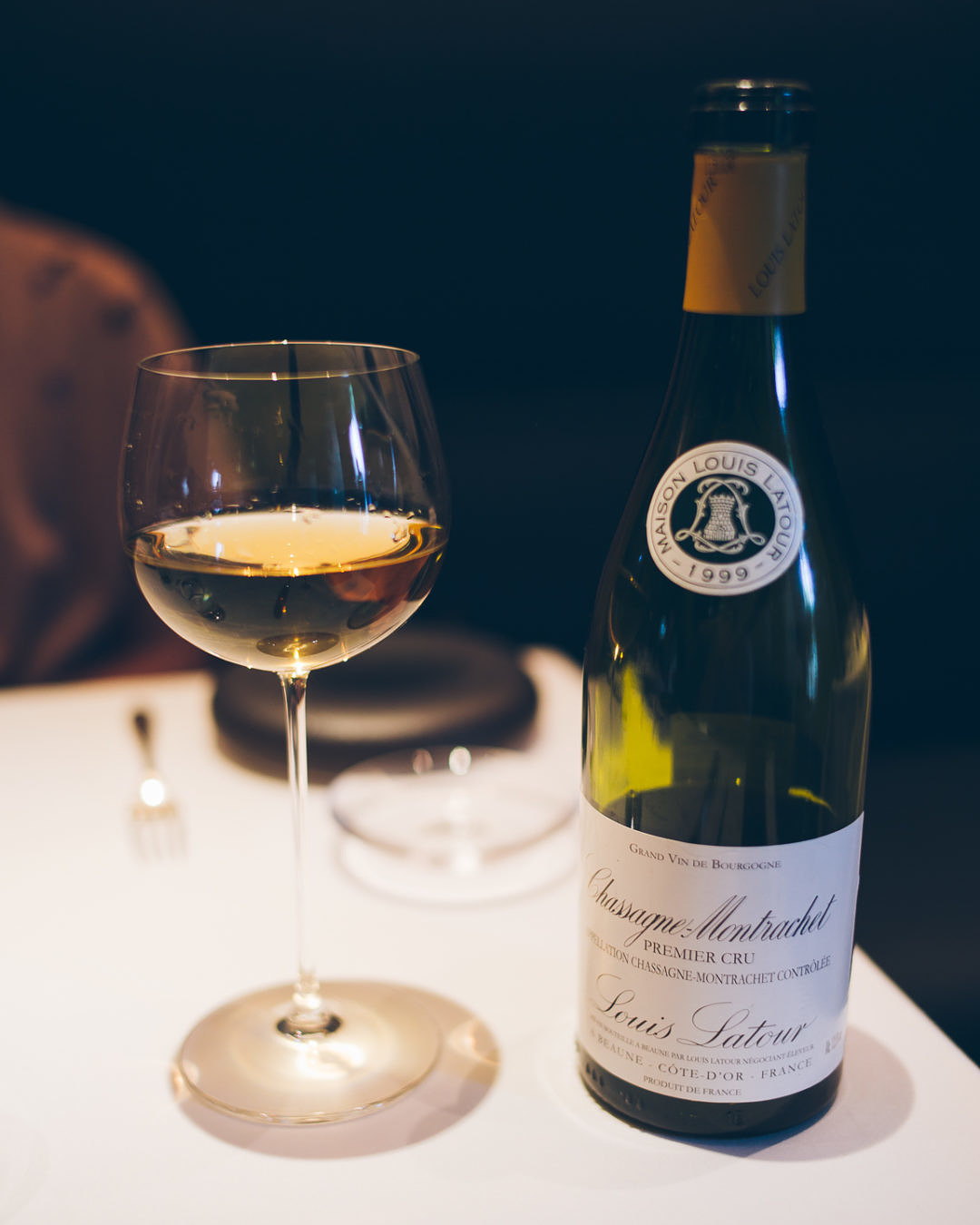 Blended parcels of premium cru level I think, hence the non specific label. I don't usually drink from this negociant label (Somm's pick), so was really surprised by how good this was.
If colour was ever an indication of quality, here a striking amber glow. Absolutely singing. Age has imbued it with secondary notes of slight sherry. A pure crytalline mouthful and a long dry finish, spicy caramel, perhaps something of a Speyside.
2. Entree. Sautéed Shirako and king oyster mushrooms, with crushed (roasted?) hazelnuts on a thin and crispy deep fried toast.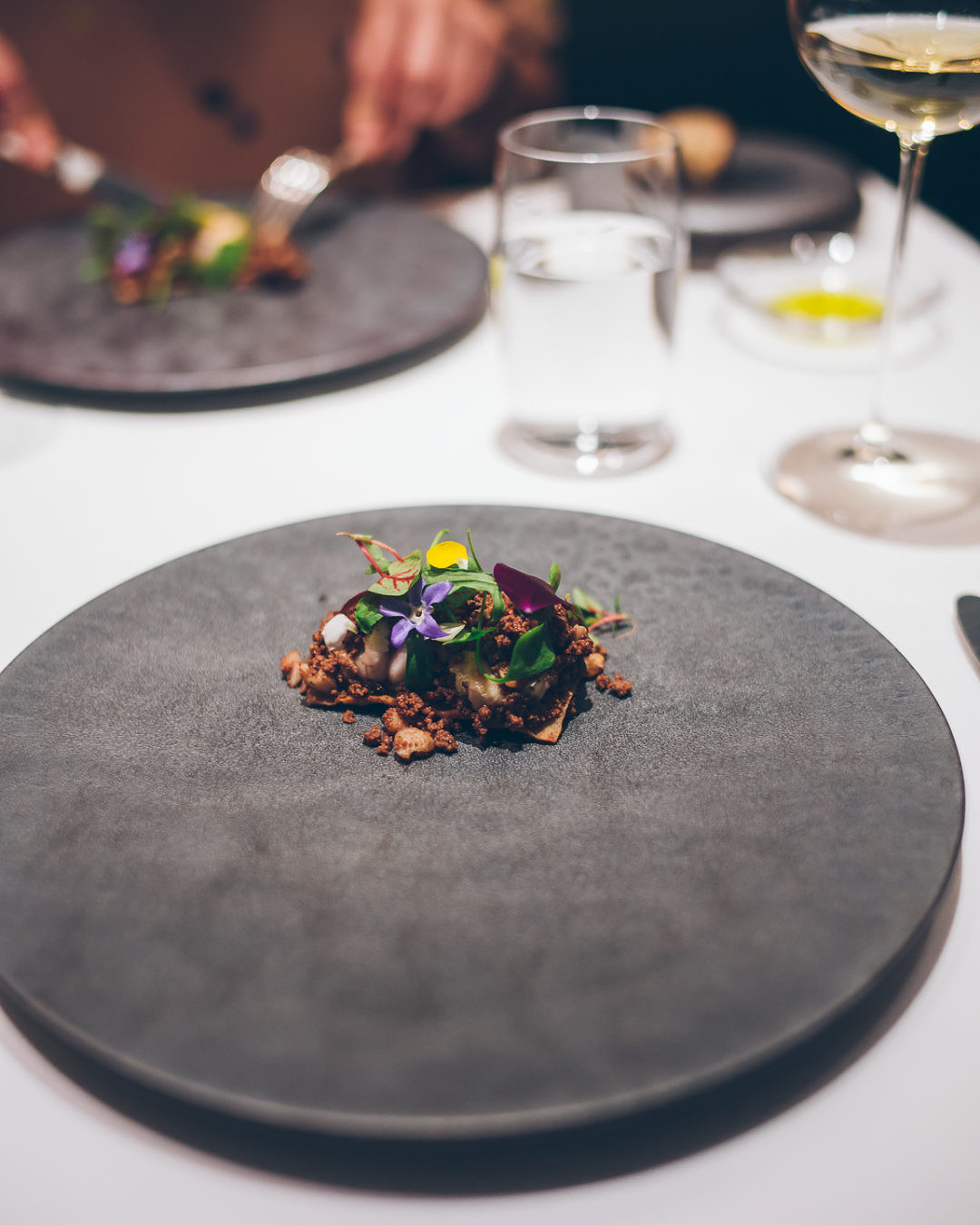 Cod milt. This finger food on a plate plays out like deep fried prawn toast, topped with a cross between brain and foie. The 'burst' (forgive the pun) of sweet creamy flavour was absolutely delicious. The Chef's labour here is the choice pairing with hazlenut, as this enhanced sweetness, fragrance and given the dish texture.
3. Soupe de poisson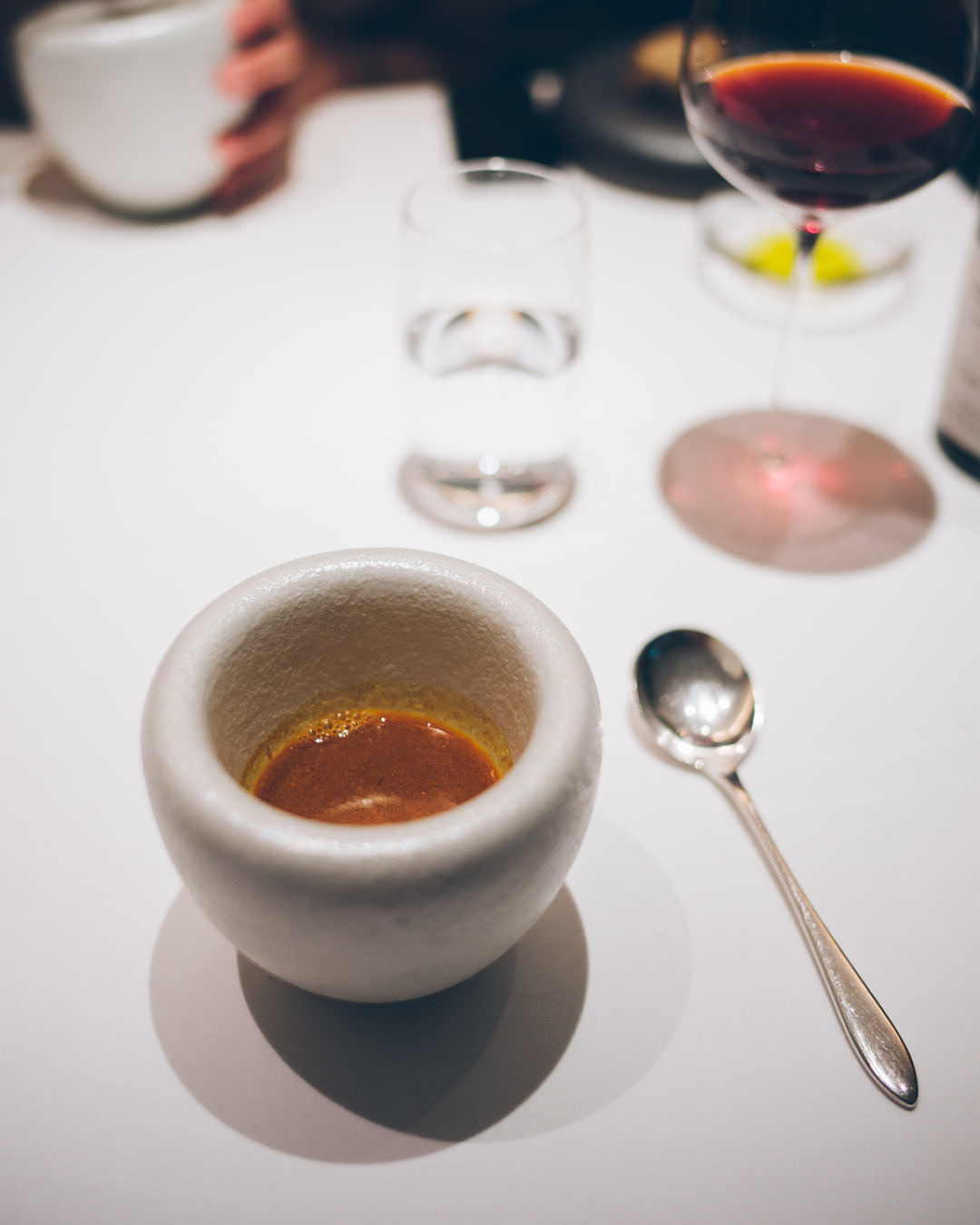 The young Chef's signature dish. Essentially a bouillabaisse and a sterling one. Lobster bisque plus stock from 7 other fish (not revealed to me) presumably pressed into a sieve. There is enough slippage allowance to create a texture of fine grain and an occasional flake of fish here and there. Mmmm… the smell of saffron, the fragrance – intoxicating.
You slurp a lively, pulsating array of flavours, amongst other things I tasted the zest of orange, aniseed, cayenne to accompany the sheer depth of the fish stock itself. We asked for another bowl (500yen supplement), it was that good. Superb in fact. I can see why Meguro san is proud of this one. It is soup deserving of Grand cru status.
Wine 2: 2014 Fleur de Cinsault, La Barthassade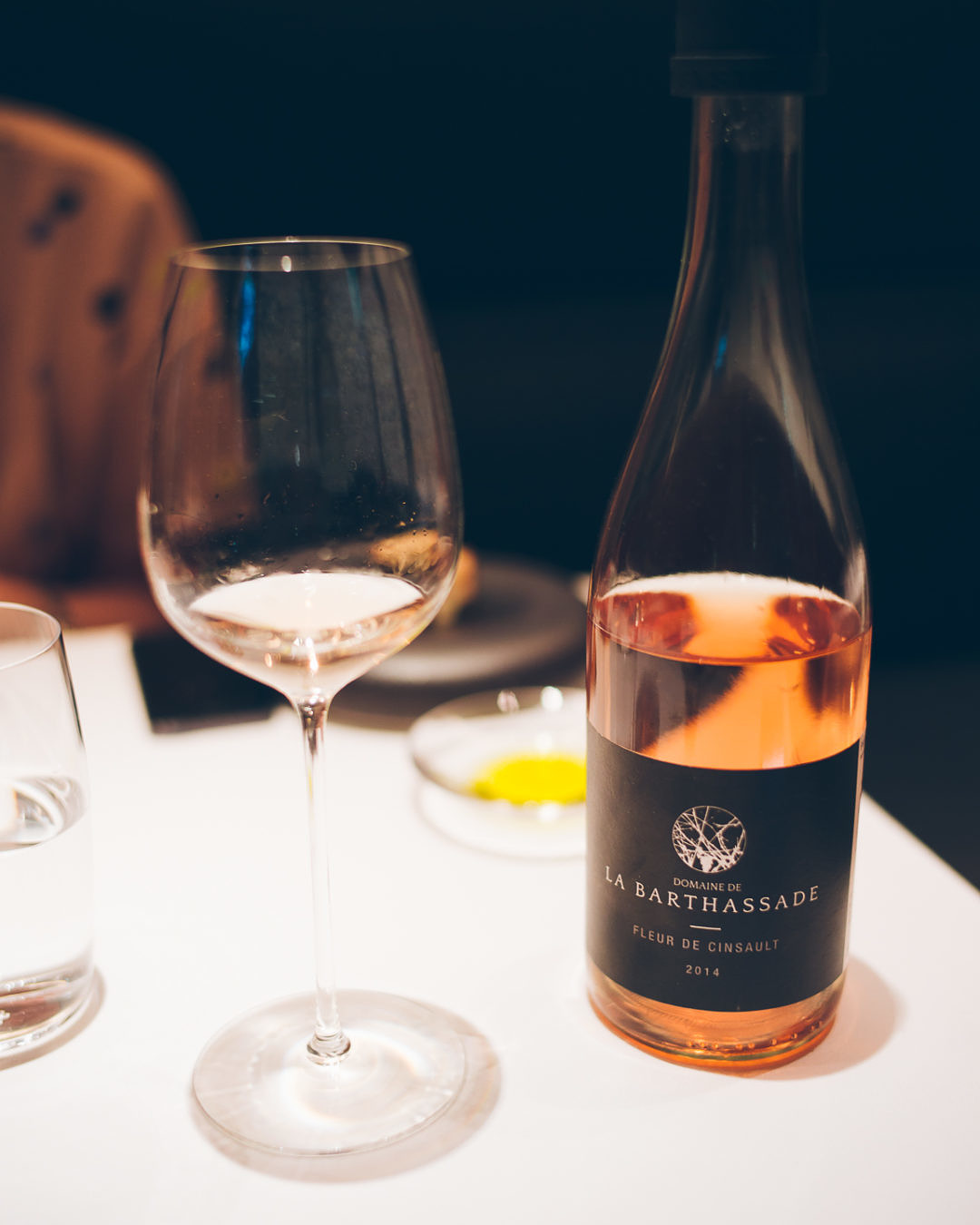 Paired with this soft wine, clear and subtle, with pretty acidity, that served to balance out the richness of the soup.
4. Poisson. Sawara/Spanish Mackerel, apple oil, celery oil, cider foam.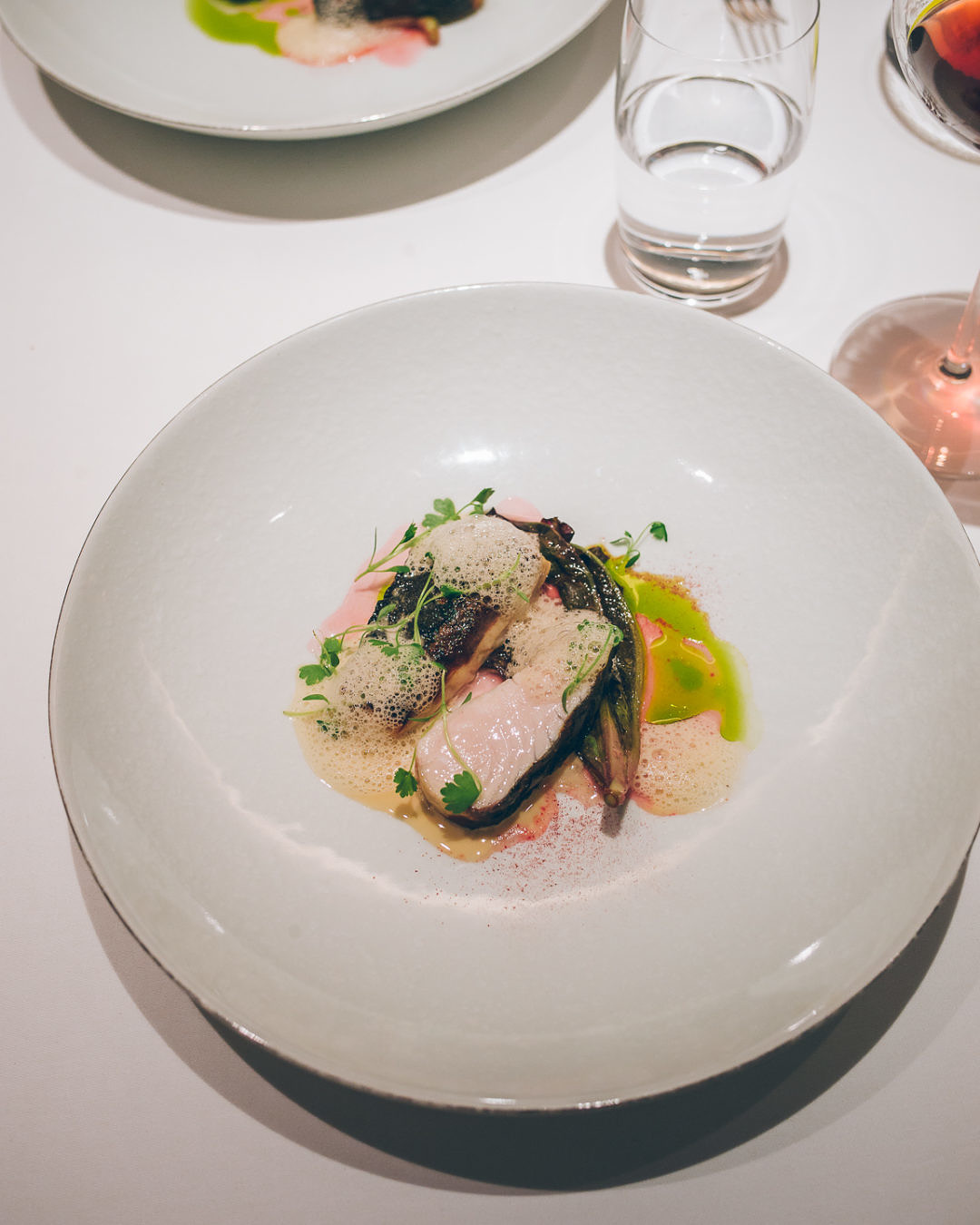 Really in awe of it – just a touch pink in the centre yet also evenly cooked throughout. I would not say that I have come across a piece of fish that looks quite like this before. Marvellous precision cooking. My best guess is this starts off in the (steam) oven, low and slow, then it is finished under the salamander to crisp up the skin, and thus the rather severe carbonisation. The fish is well seasoned, I assume dry cure process to firm up.
Or, there may well be more steps and temperatures involved in the oven, given the Quintessence training. For instance the skin is totally blackened, so it could well be 'flashed' in a super-hot oven to caramalised before gradually raising the core temperature to an even 60degC.
This has got it all – full maillard reaction in its smoky caramelised skin (and thus sealed-in contrast) and a carefully coaxed centre timed precisely to the right temperature. The 'pink' fleshed fish seems to me is a challenge to roast and I think it has been respectfully handled to retain all of the fish's (marginal) natural moisture.
A clever ingredient work up of a sweet red apple oil (jus?reduction?), a perky cider foam and a fragrance of celery leads to a lightly pickled celery flavour (almost like Mei chai) as a contrast to the fish. In other words, much needed acidity to cut the fat of the fish.
I find this dish to be highly impressive. My reference points for fish cookery in London are Tom Kemble and Mikael Jonsson, and dare I say, this is better than any fish I've had from the pair. And from a relatively humble fish too. I'm curious what he can do with a firm white fish – Hirame/Turbot a la nacre perhaps.
A masterclass of fish cookery on show.
Wine 3: 2000 Clos de la Vigne au Saint, Corton (GC), Louis Latour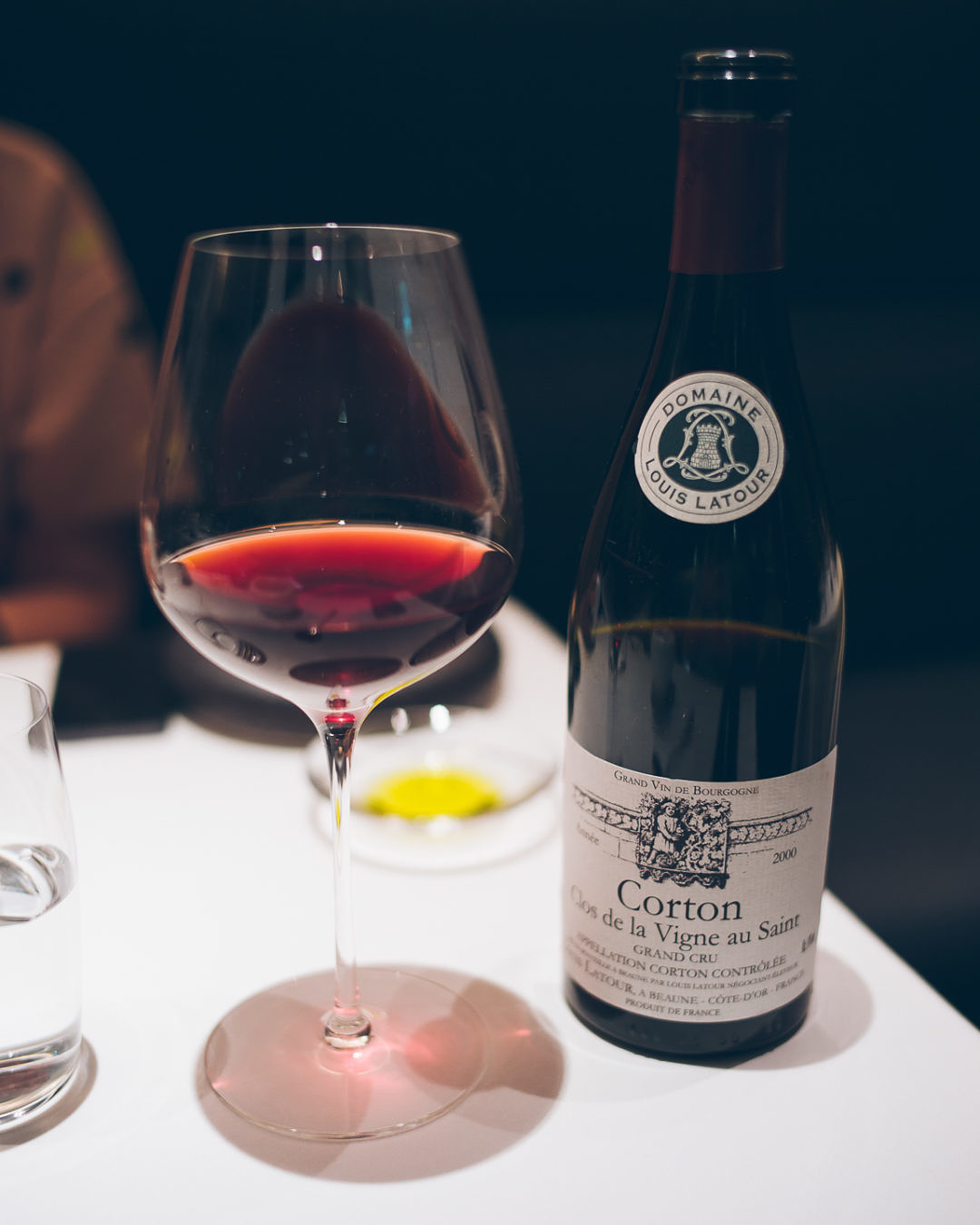 Another Louis Latour, this time a Grand Cru and totally showing its breed. Fully developed on the palate, ultra soft and smooth mouthful with jammy dark fruits, long and balanced, all the way down. On the nose, it is a scented pepper, oak and more black fruit. Have to say, I'm impressed. I didn't expect to drink this much quality from this negociant.
5. Dessert. Niigata black figs, Breton biscuit and a french cheese blue.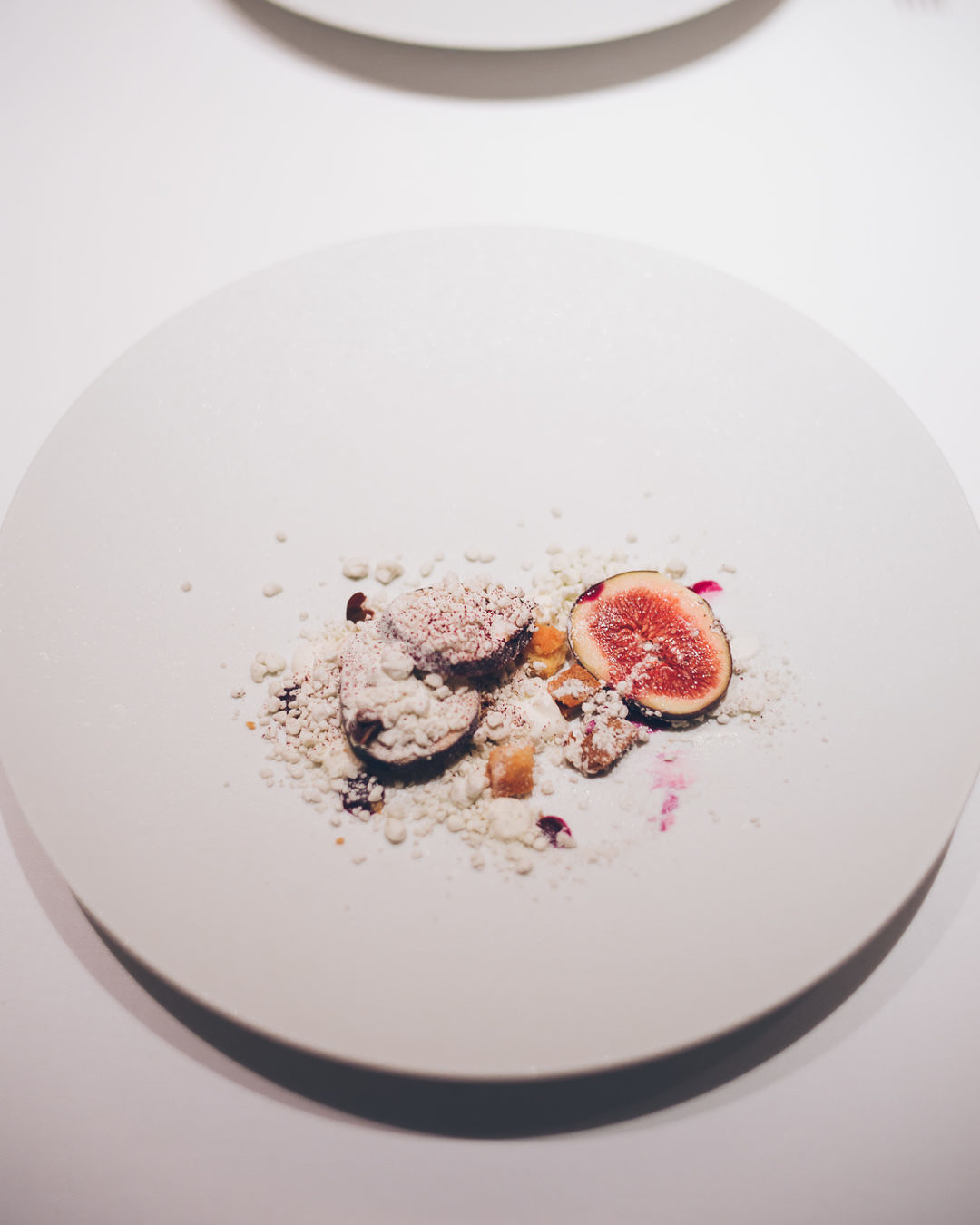 Essential a smashed up cheese cake and crumble. The cheese, I surmise is frozen and powdered, and is mild in flavour. Perhaps because of the cold temperature, it affects a pure mouthfeel. My first with Japanese figs, rather bright and clean in flavour. Not bad. Pudding may not be Meguro san's strong point just yet.
Mignardises and coffee. White chocolate, pineapple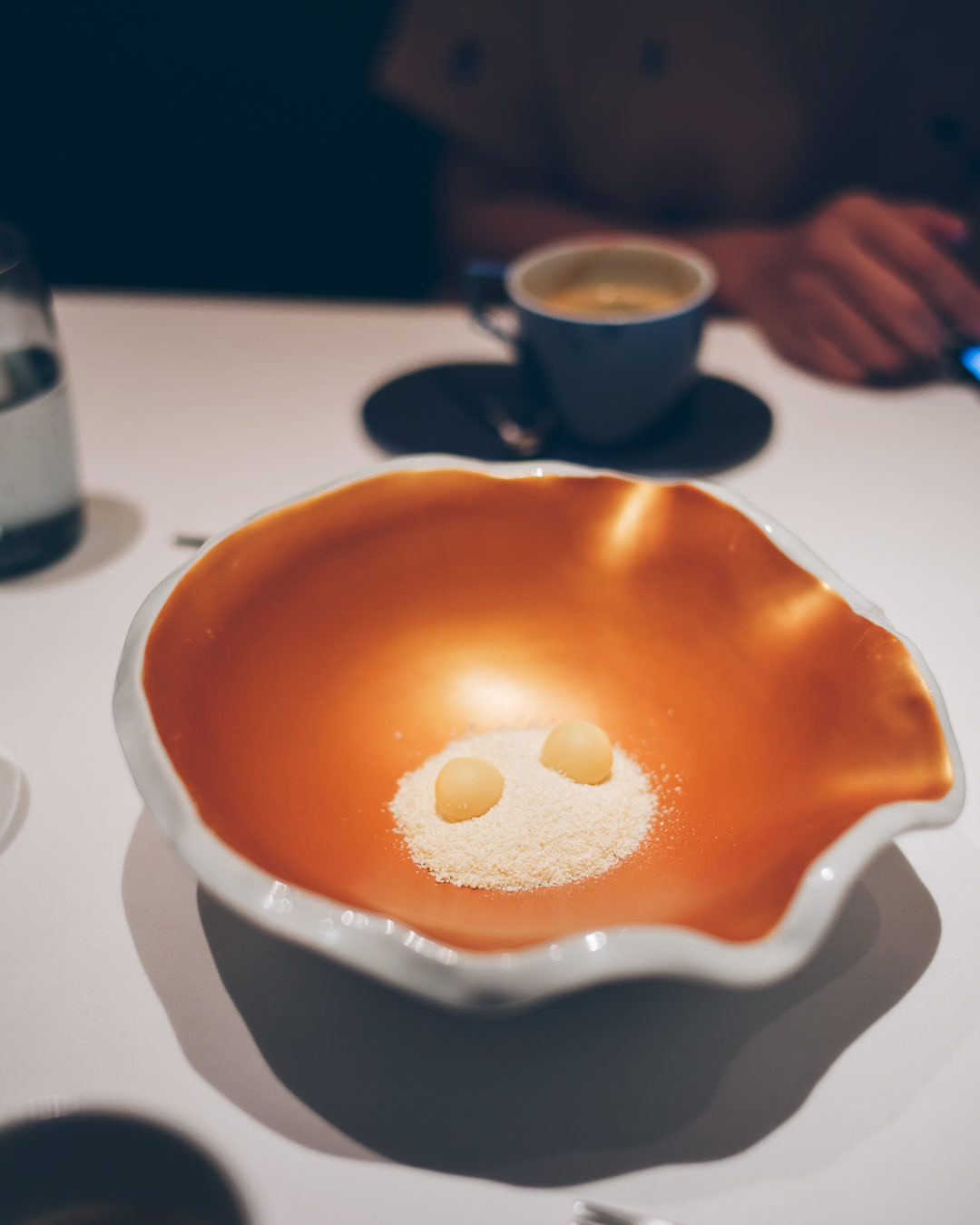 Nibble on powdered white chocolate while you slurp your brew.
We paid ¥16040 (£127) in total, lunch for 2. This is incredible QPR, serious value for top drawer food.
I can definitely see the Barbot lineage passed down through Kishida san and showing up on the plate at Abysse. The cuisine is very contemporary French with an awful lot of precision technical cookery that takes full advantage of its Japanese mise en place. In fact Meguro san's execution is so on-point, I'd go as far as to say that he is close to 2 stars (by UK Bib standards).
And there is also a fair bit of innovation going, some seemingly novel pairings (to me), to enhance taste, rather than pairing for sake of shock value. Mind you, I've yet to visit Quintessence, so this meal is perhaps telling how impressive Kishida san is as a Chef, given what he has imparted to one from his former brigade. Or it could be a case of the keen student becoming the master. Strong fundamentals and healthy risk taking. A determined cuisine that to me already has an identity.
Overall an impressive meal. The most impressive meal from this year's trip to Japan. Kotaru Meguro – another Chef to closely monitor going forward.
Details
Abysse アビス
Modern French
Everyday except Wednesday
Lunch 6 for ¥4500 + service + drinks
Dinner 9 for ¥9000 + service + drinks
AOYAMA TMI 1F, 4-9-9, Minami-Aoyama, Minato, Tokyo
Tel : +81-3-6804-3846
Metro : Gaien-Mae / Omote-sando