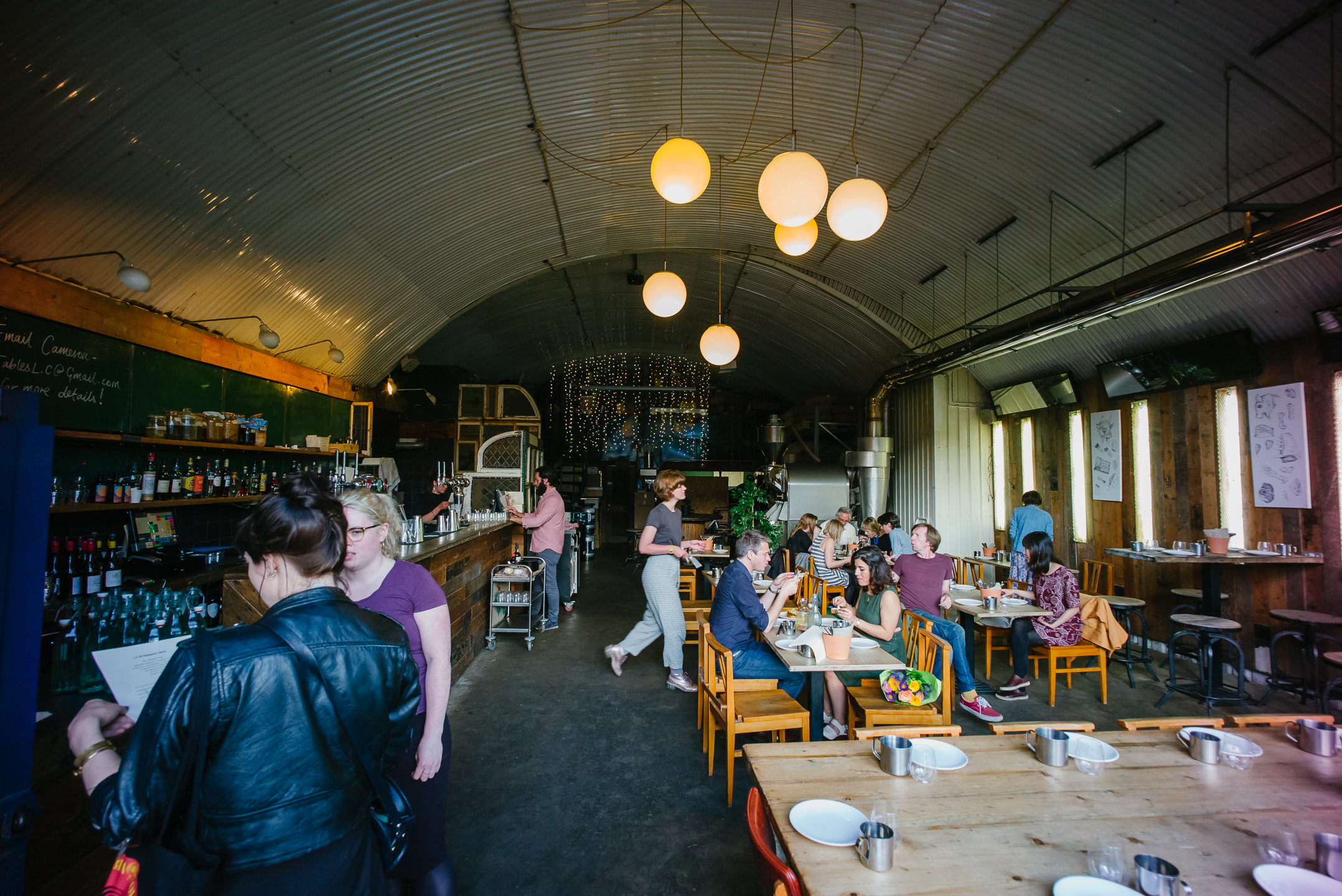 Climpson's Arch has been fertile ground for future restaurateurs to prototype their business model before meeting the embrace of their investors-to-be. And you are clearly responding to these delicious propositions, voting with your wallets, what with the soaring success of its alumni including Dave Pynt's Burnt Enz (now Burnt Ends in Singapore, with a spot on that list which shall remained unnamed), Tomos Parry (now at Kitty Fishers) and fresh this year and runaway success, Som Saa.
This arch plays like theatre to a rotation of residencies and latest as of October '15, it has hosted Portuguese dinners that have enthralled you loveable Instagrammers, gleefully clogging up my feed. This is my first visit and you know what, I cannot help but join you.
But first let's start by admiring the theatre, taking the form of a corrugated steel roof, shaped onto the railway arch under which this restaurant sits. It's bigger than the photos suggest and it goes deep inside to where (I assume) Climpson's roastery is located in the rear. I think now is the perfect time to visit, they push open the double fronted doors to the elements, letting the air, the rays and whaffs from the outdoor kitchen in. Out there is where you will find main man Leandro Carreira and his chef-lieutenant Julian Goh.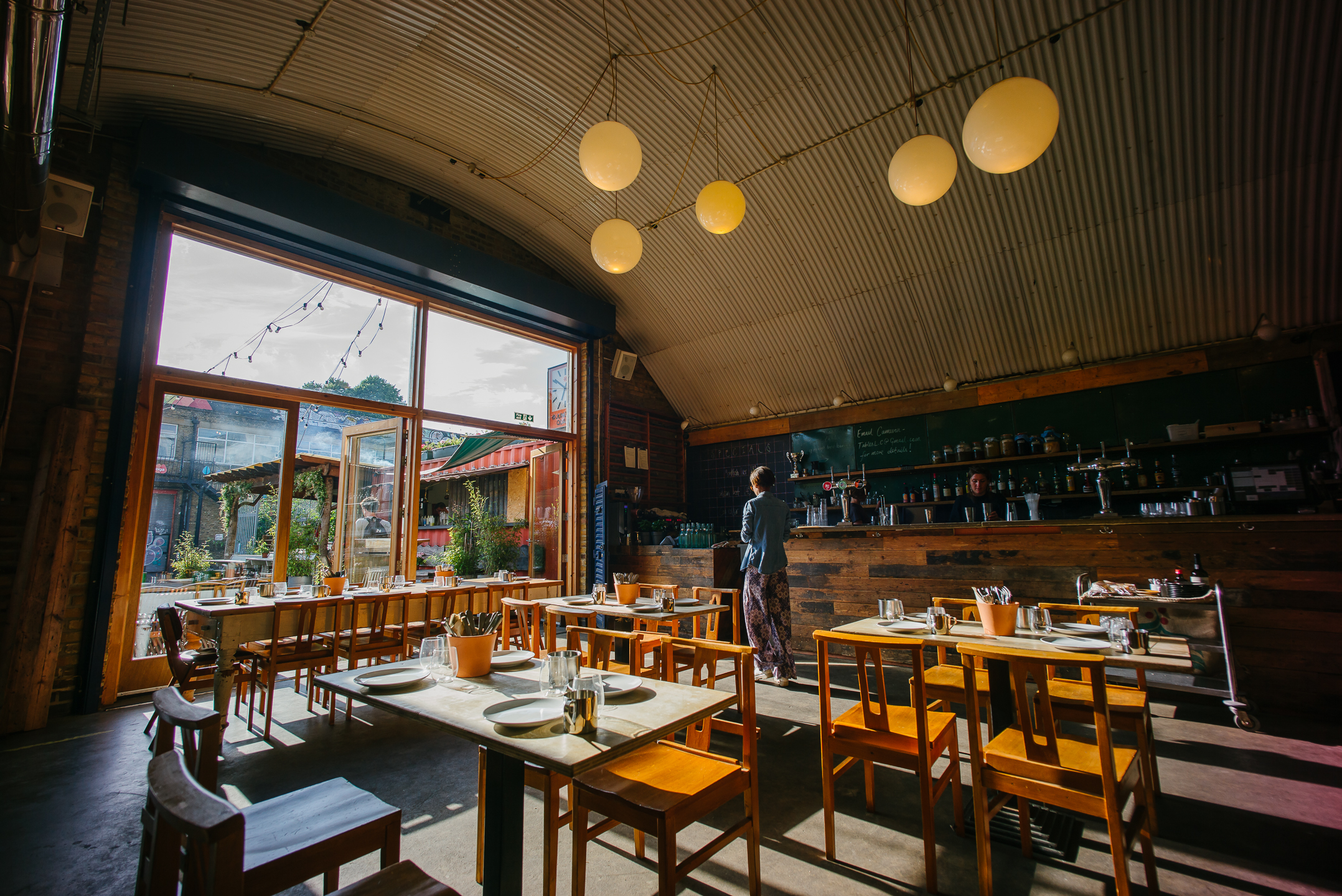 The Leiria native has a glowing past with Mugaritz and Viajante on his CV as well as guest spots with James Lowe and blackboard takeovers at Koya before it closed its doors last year.
My exposure to Portuguese cuisine starts from one restaurant cum cafe cum deli cum patisserie in Vauxhall and ends in a Taberna in the Spitafields Market, and so this is all a bit new to me. We do however love our seafood and Leo's menu is a reflection of his coastal upbringing. Cooking food of his roots cold and in coal, with all manner of fermenting, salting, smoking and simply on the grill.
Front of house is choreographed by sommelier Cameron Dewar, whom you will instantly recognise from his impressively feral James Howlett style beard. He was recently with Burnt Ends and if my googler sleuthing is correct, Cameron is ex-Viajante and has also spent time with Medlar, one of my favs in town.
Cameron has curated a mostly Portuguese wine list, save for the odd French red, though he is pouring German Riesling throughout July. From plastic tumblers, I drank a glass of 2012 Shafer Frohlich Troken (£6.5/125ml) that was lively like sourdough, mineral and high in citrus. I followed with a Portuguese orange wine, 2015 Agronvinaz 'Luminosco' (£6/125ml), also effervescent and so fresh, peaches and apricot, with a peppery finish. The better half is dry this month, so she had a house-made lemon cordial that was sweet.
Rose shrimp with chervil oil £6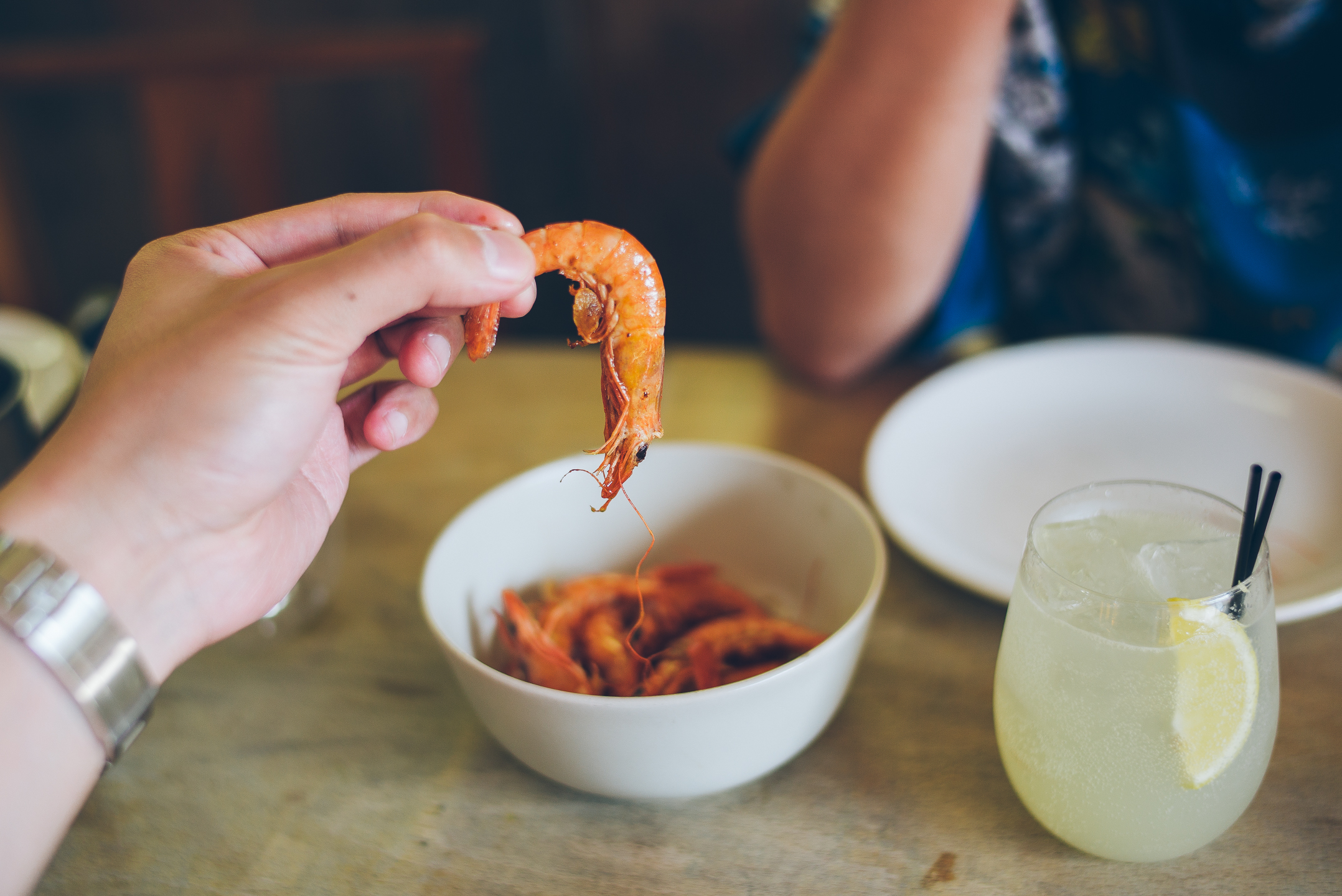 We start here with these tiny beauties, sweating and hot in garlic and brown butter. It's crunchy and a delicate delight which you can eat whole, shells on. We leave only the oils in the bowl.
Scallop, skirts and roe £10.5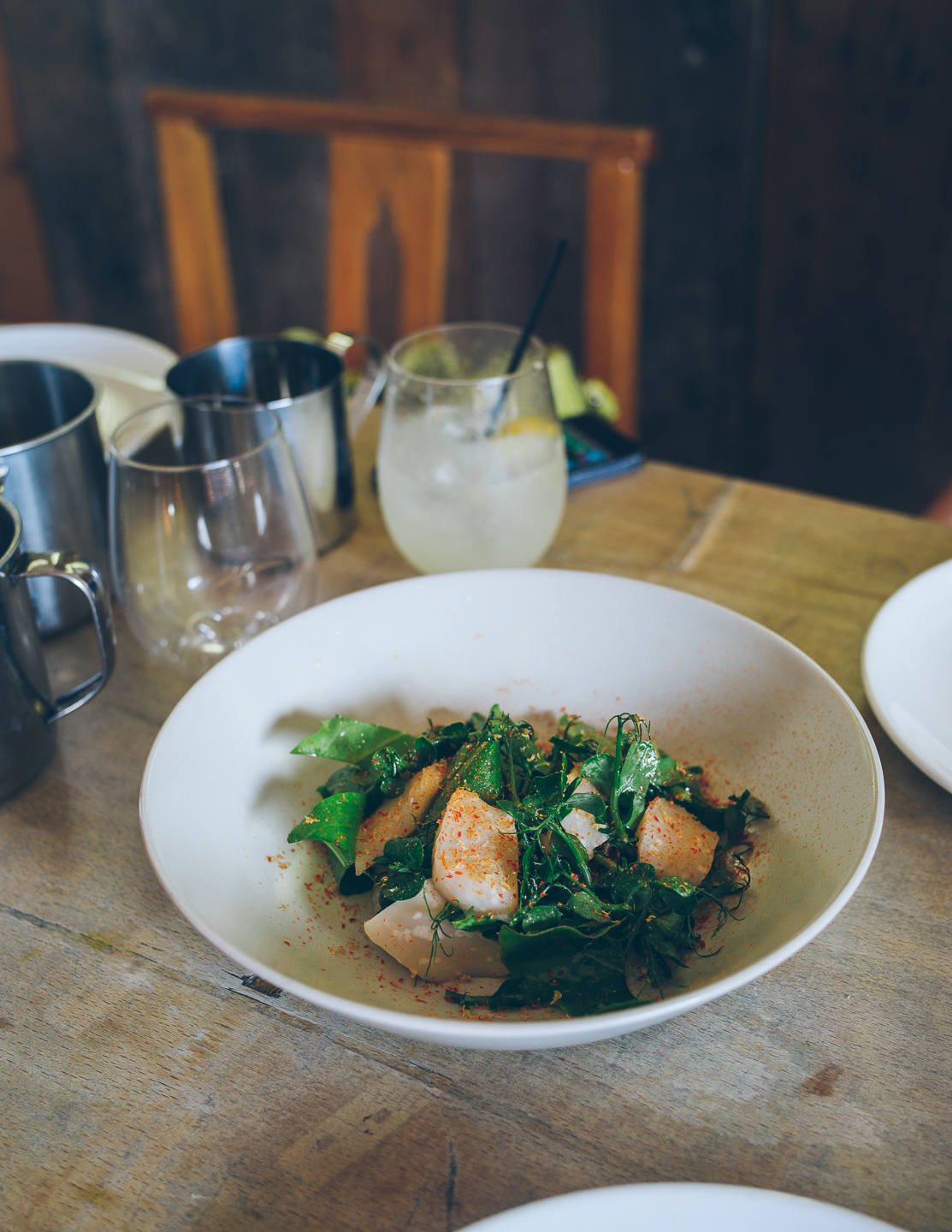 Scallops tasting as if its raw qualities are enhanced by oil and salt. Its skirts crispy like crackling and roe dehydrated and shaved. This was beautiful and a kind of two-tone flavour of saline and bitter zest. Focussed and tasty and simply so!
Pickled potato salad with cod £9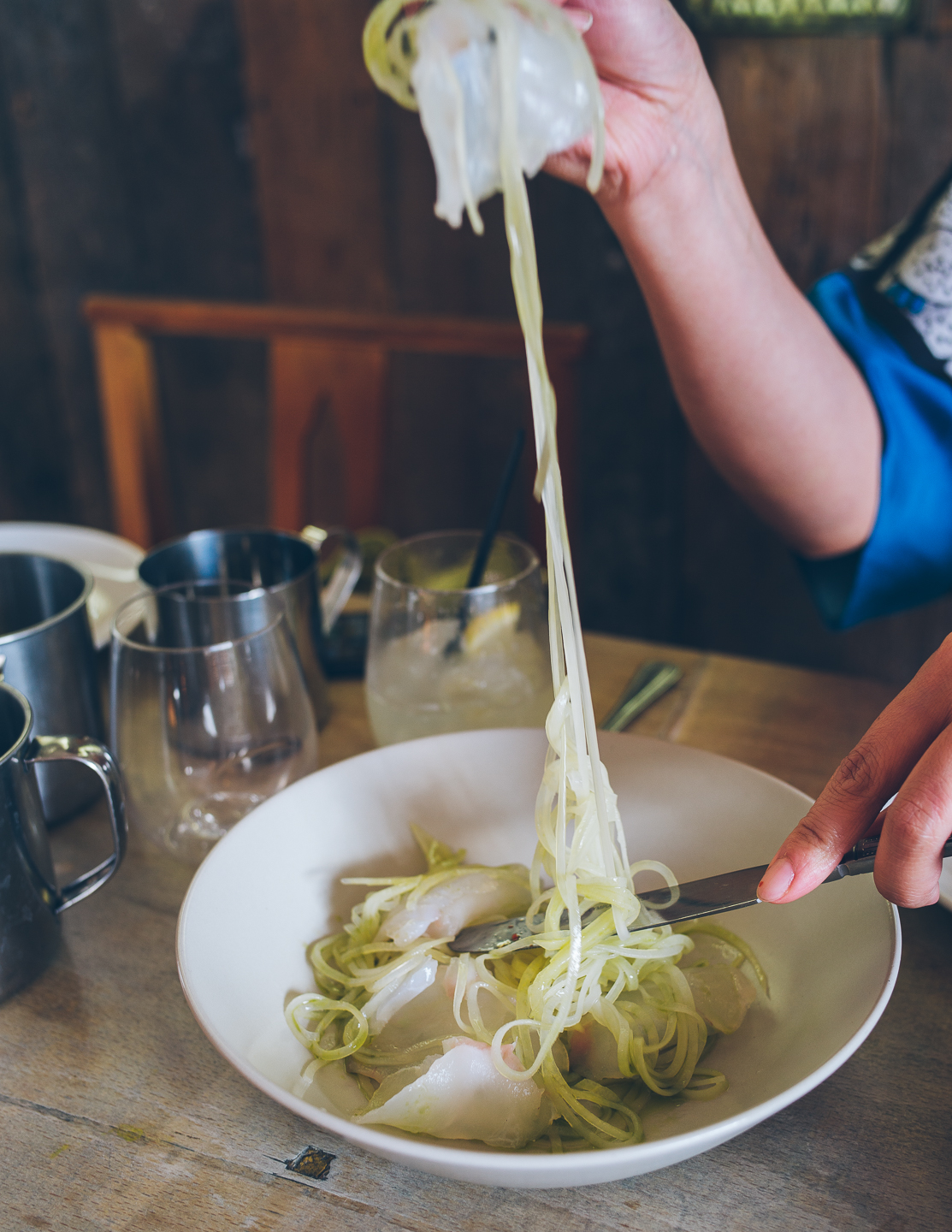 The bacahlau is a beauty, as the scallop, these marinated raw textures with fully seasoned tastes, is entirely appealing. I wonder about Japanese influences.
I love what he's done with the julienne, it's like bowl of raw potato spaghetti. The pickling juices includes coriander oil, but it's so sweet and acidic that it reminds me of Taiwanese pickled green mango. Sweet with tinge of zest. Interesting. If there is one criticism, then it is that there's probably just a touch too much sweetness and could do with more salt. Otherwise, I love it. Freshness.
Horse mackerel a Braz, with costal herbs £13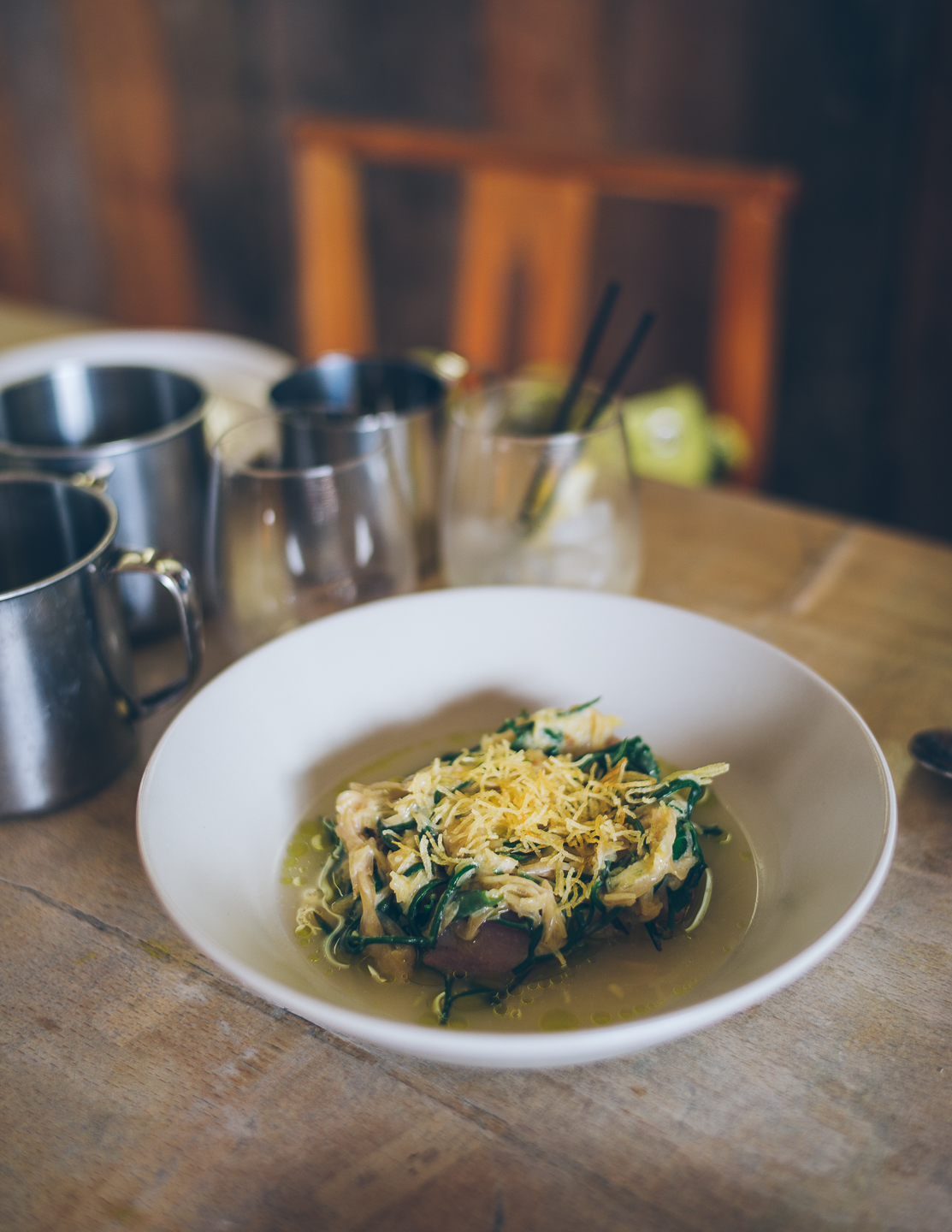 And sea purslane and served steamy warm. Aji confit (at low temp), so texture is super soft and well seasoned. Have to admit I'm a first timer with a bras, but it sure is reminiscent of comfort food. It's the chopped and fried shallots and potatoes in a steamy broth, like what goes on noodle soup or porridge or even banh cuon. This was a wow for me. Loved it.
Cod collar £8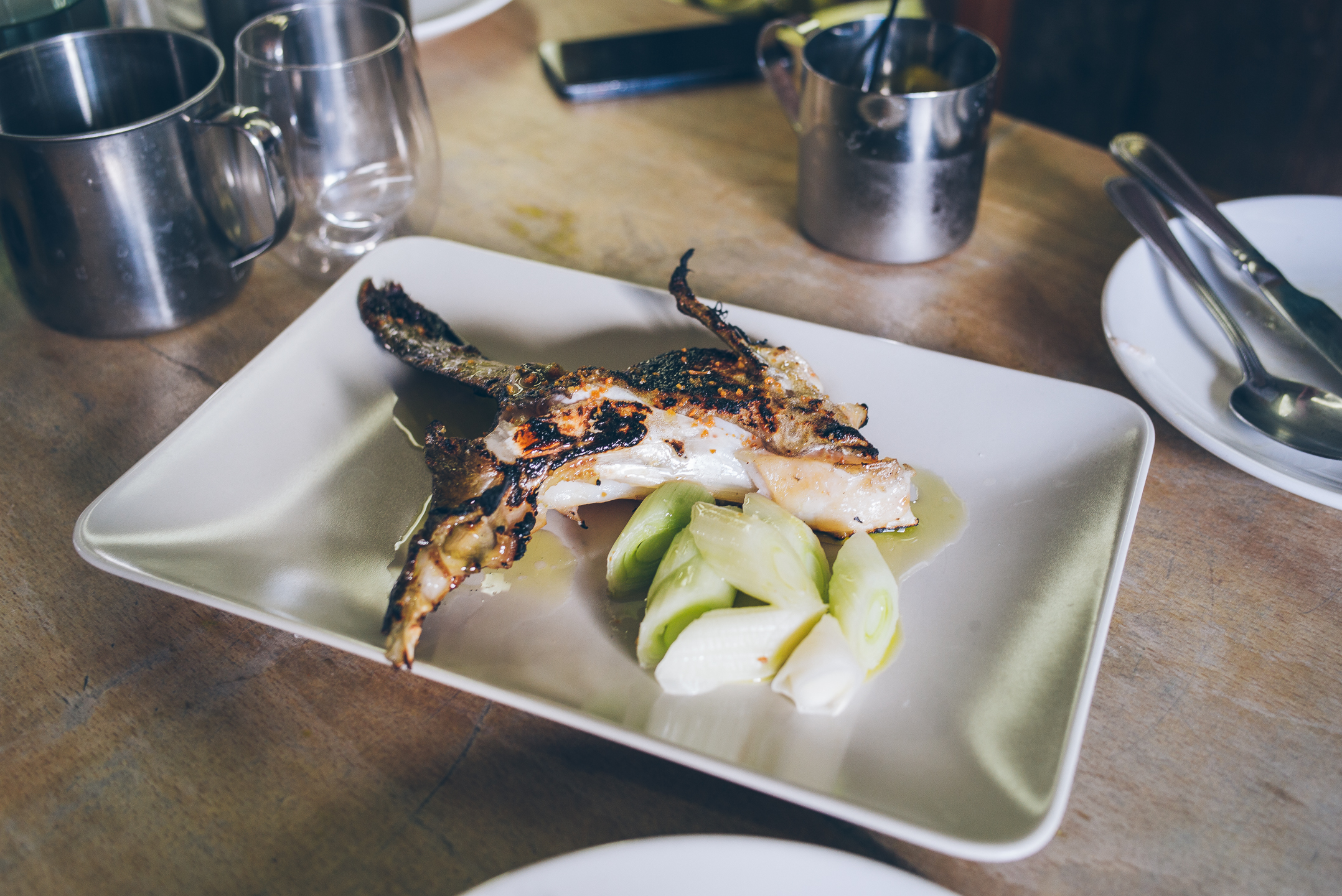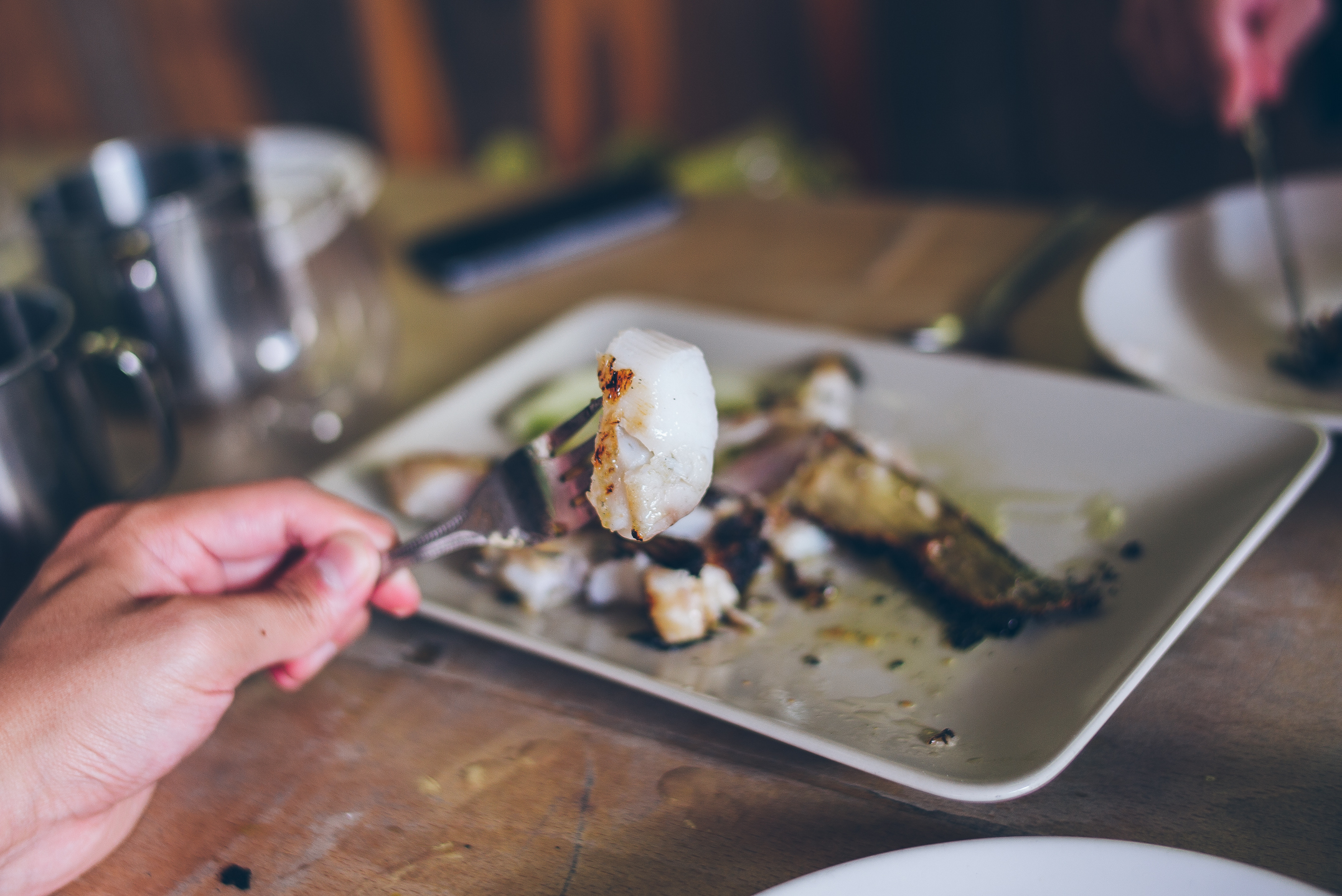 Brought to the table by Leo. Muscular, meaty and gelatinous. Check the grill skills – cooked just perfectly under with a slight translucency. This is beautiful bacahlau right here.
Bisaro pork ribs with esparregado £14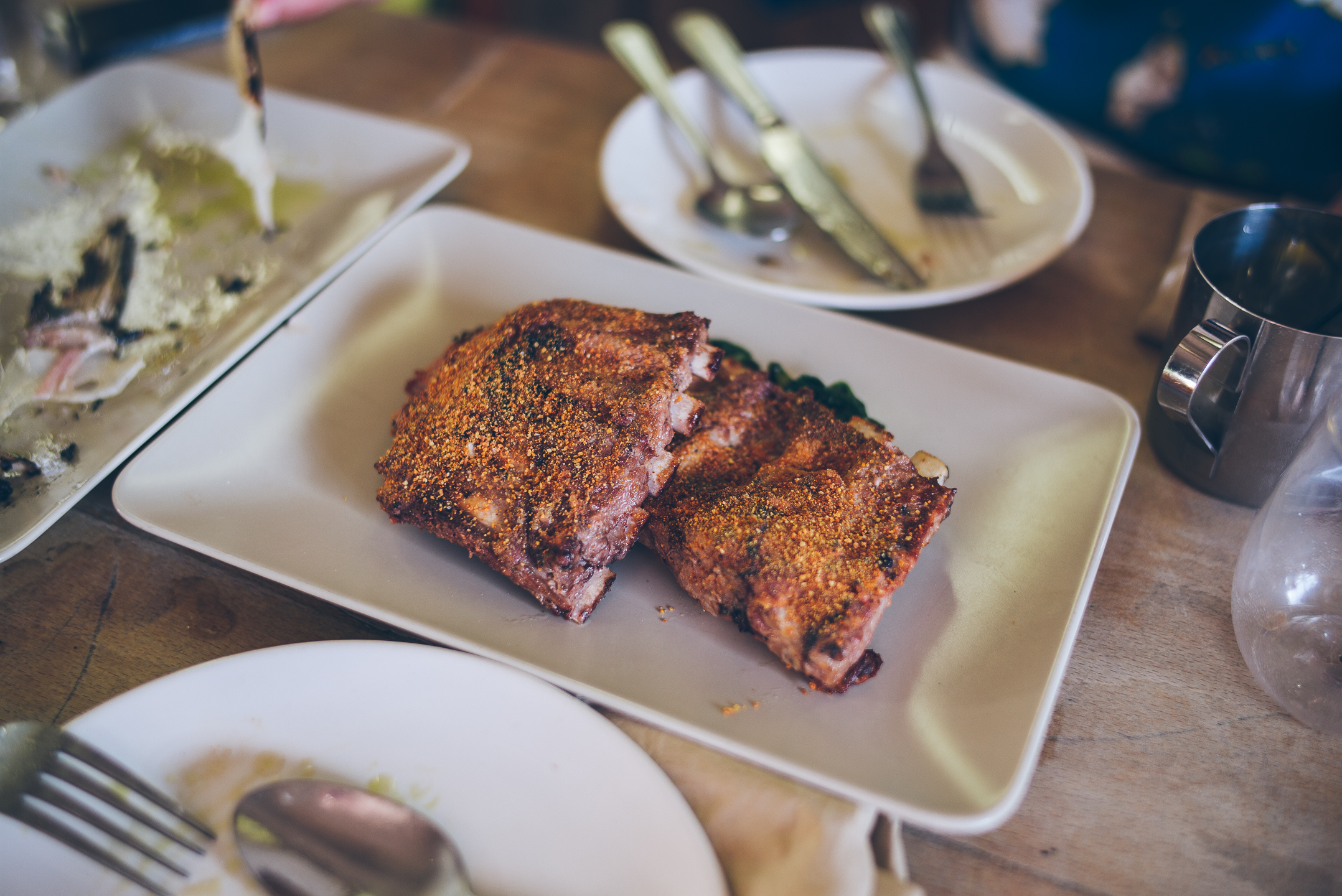 Presented to us by Julian. With a lemony salty crust. This Portuguese breed sure has wild flavour – funky nutty! Cooked to beautiful Eyre bros pink, I made sure to clean all the meat off the bones. Need to come back for a bifana one day.
Grilled soaked brioche with sour caramel and hazelnuts £5.5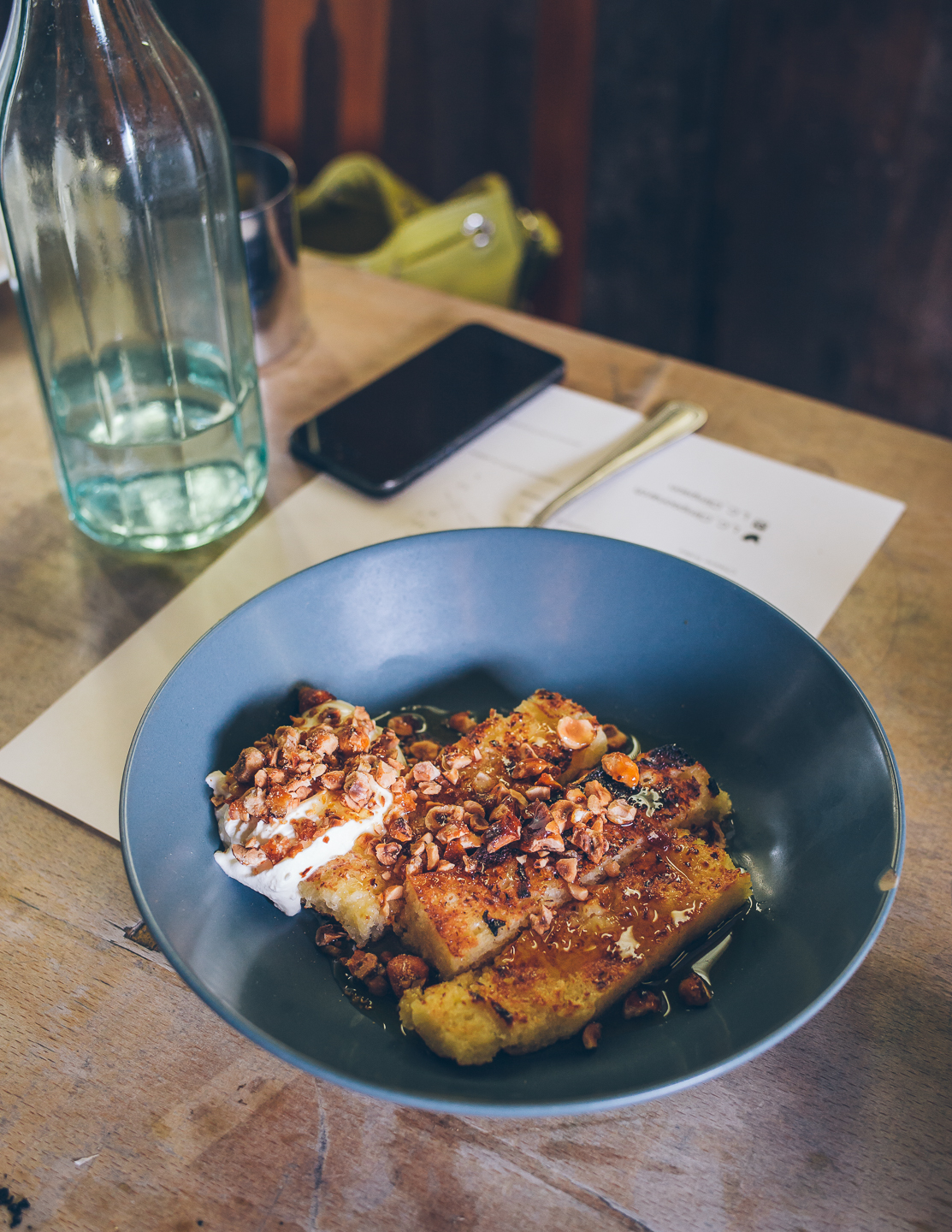 The only pudding on offer (alongside a Portuguese cheese trolley) and nothing lost in this excellent version of Rabanadas, grilled bread that's drenched in sweet juices.
It was only apt that we finished with two cups of obligatory filter, at the site of a roastery. I however forgot to ask where the beans were from nor filter method and didn't take detailed notes of this good brew.
We paid £97 in total for all food, 2 glass of wine, 1 lemonade, 2 filter coffees and service (at our discretion).
The only thing missing is the smell of sand and the sound of breaking waves to complete this excellent warehouse-cafe atmosphere coupled with the distilled brilliance of this chef's seafood cookery. Leo is an assured talent and he's turning out effortlessly delicious comfort food with low profile flair. Really quite exciting and well worth a trek to catch him before he moves on. I'll update this post later this month as I'm keen to visit again.
And so, I'd like to give my advanced well-wishes to Leo and team in their post-Arch endeavours. If you have stumbled into this post in 2017, I can see him picking up awards for his bricks and mortar by then. Collectively we may have Brexitted, but those of us who remain still believe as life goes on. So dear investor while you ponder upon Britain's future, consider taking in your next weekend lunch here.
Details
L.C. at Climpson's Arch [Residency till Winter 2016]
Modern Portuguese
£35pp + drinks + service
Dinner : Thurs – Sun, 6pm onwards
Lunch : Sat – Sun, 12pm – 430pm
Arch 374 Helmsley Place, Hackney E8 3SB
Transport : Tube to Bethnal Green + Bus 26