24OCT16 UPDATE: I visited a 2nd time for dinner, and yes, love this brasserie. Classic and fantastic value for money considering the kitchen's ability. For 2nd meal, scroll past the initial review for notes and pictures.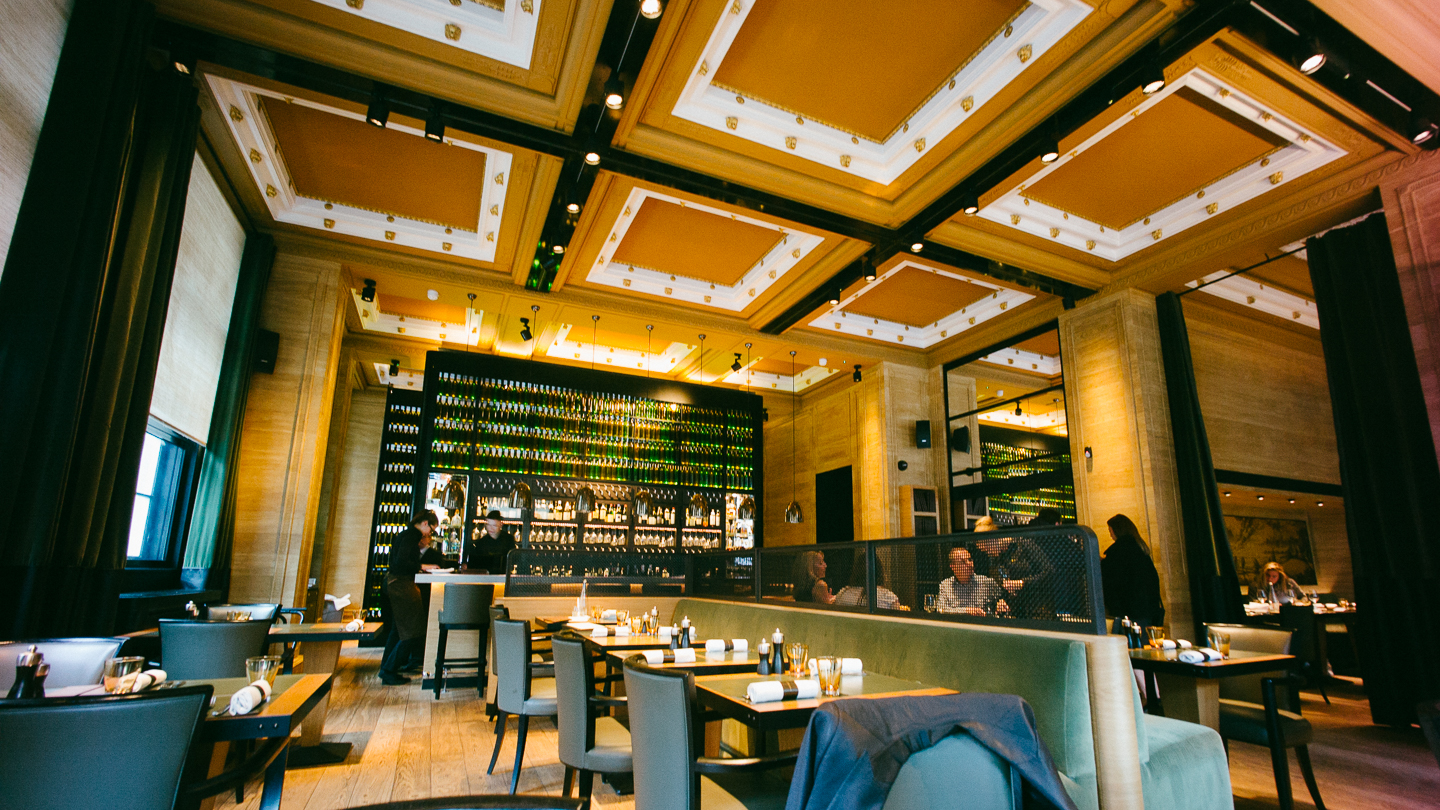 Taillevent is a revered institution in Paris opened by André Vrinat in 1946. It achieved 3 star status in 1973 and held on to them until 2007, when the bib decided it was time to drop them to **. Many legendary Chefs have passed through Taillevent's brigade in all this time, including the likes of Philippe Legendre, as well as Hideki Nishi, now lighting it up with his own Parisian outfit, Neige d'été. Over the years, the restaurant and its operations stayed with subsequent generations of the Vrinat family, until 2011, when they sold the business to the Gardinier brothers who happen to also own Chateau Phelan Segur, a claret. It's a cru bourgeois with classed neighbours Montrose (2nd) and Calon-Segur (3rd), in St-Estephe and for obvious reasons, this wine is on Les 110's menu too.
Ask around and you'll find that Taillevent's deep history has resulted in a fine cellar full of grail bottles which are modestly priced, sometimes (wayyyy) below current market value and so if you (can afford to) have a Rousseau addiction, well, you'll likely have already been. It's still on my bucket list alongside Tour d'Argent, Plaza Athenee, and it seems even more precious as classic technique fades further into history with each new iteration of the iPhone.
Les 110 is a much more modest affair compared to Honten, this being a brasserie offering a pairing of 110 wines BTG (hence the name). It is Taillivent's London replication of its diffussion restaurant, also in Paris and shares the same concept and name (though it was formerly L'Angle du Faubourg before being renamed to Les 110 in 2012).
I've split this post into two sections below. Scroll past the wine bit if you're interested in the meal.
WINES
There is reason for the 110 wines BTG and that is that they have offered a 'pre-paired' list to go with each and every dish on the menu. Each dish is paired with matching wines in 4 price points, offered as 125ml or 70ml pours.
I've made it sound more confusing than it actually is, so I will use an example off their starters menu to better illustrate it. Prices below are for the 125ml pours, and I have done some research to present you with approximate mark-ups (x) :
Cornish crab rémoulade, dill and fennel (Recreation of a famous dish from the main Taillevent!)
< £8 Category : 2014 Cote Roannaise, Sérol, £7 (3x)
< £14 Category : 2013 Anjou Blanc 'A Francoise', Boudignon, £13 (4x)
< £20 Category : Laurent Perrier Brut NV, £14 (2.3x)
> £20 Baller : 2009 Chablis 'Montee de Tonnerre', Raveneau, £28 (1.8 – 2.2x)
If you've struggled with somms, this type of wine menu effectively removes that interaction. Otoh, if you've always relied on the comfort of one, the sommelier here, Christopher Lecoufle is a capable chap and will help you find the right plonk.
Based on just quick spot-checks, I generally found the mark-ups in the lower categories veer between 3 to 4x mark-up for 125mls, and gets more variable for the 70ml as it dips under the £5 mark, at which point, restaurant running costs probably dominate the pricing.
And so it seems the '< £20' category is the sweet-spot in terms of quality v mark-ups, at 2-3x, which is competitive in London terms, if you care about these things. The food+wine menus are all online.
At the top end, there are some beauties BTG and undoubtedly from Coravin (for still wines). From the current season, examples include Selosse Initial (£20.5/70ml), 99 Chambertin from Trapet (£35/70ml), 06 Coche-dury Meursault(£40/70ml). Though if you are playing in this field, you already know there are some mind-bogglers in there, such as a 09 Pauillac by Latour for £46/125ml. It is a fantastic 3rd wine from the great chateau, I know this vintage well and pay about £60 a bottle retail. For this BTG price, I'd expect to see Les Forts instead.
However the 2006 Leflaive Chevy-Mont (£41/70ml), by far my favourite white burgundy, is priced close to parity with retail, as this particular GC from Pugliny side generally hovers the £400 mark/bottle. Only The Square during Phil Howard days, offered better value in town. And this really is proper wine as I muse about it occasionally. 10 years is enough time in the bottle. Restaurant takes the pre-mox hit. This is better than buying retail. If you can, and have something to celebrate, you should.
FOOD
I saw the new autumn menu go up last friday and was very impressed with the substance, so I decided on the hoof to turn up in the afternoon for lunch (i.e. restaurant not full up for friday lunch). Some proper ingredients and yet prices look more like 2006. It seems like these guys are pretty committed about making London a success. Scallops and Cornish crab starters priced at £14; mains include grouse at £19 and lobster for £28 (as you'll see below).
I should mention Chef here, Raphael Grima, who has spent time in Gerard Besson, Roland Durand, Rostang as well as Les 110 Paris under its Chef Emile Cotte. When it opened last year Robert Panek was in charge, but now appears to have moved on.
For this meal, I picked two pre-selected wine pairings from < £14 category, at 70ml pours.
Langoustines ravioli with basil and citrus butter £12
and 2011 Saint Romain, Giboulot, £6.5/70ml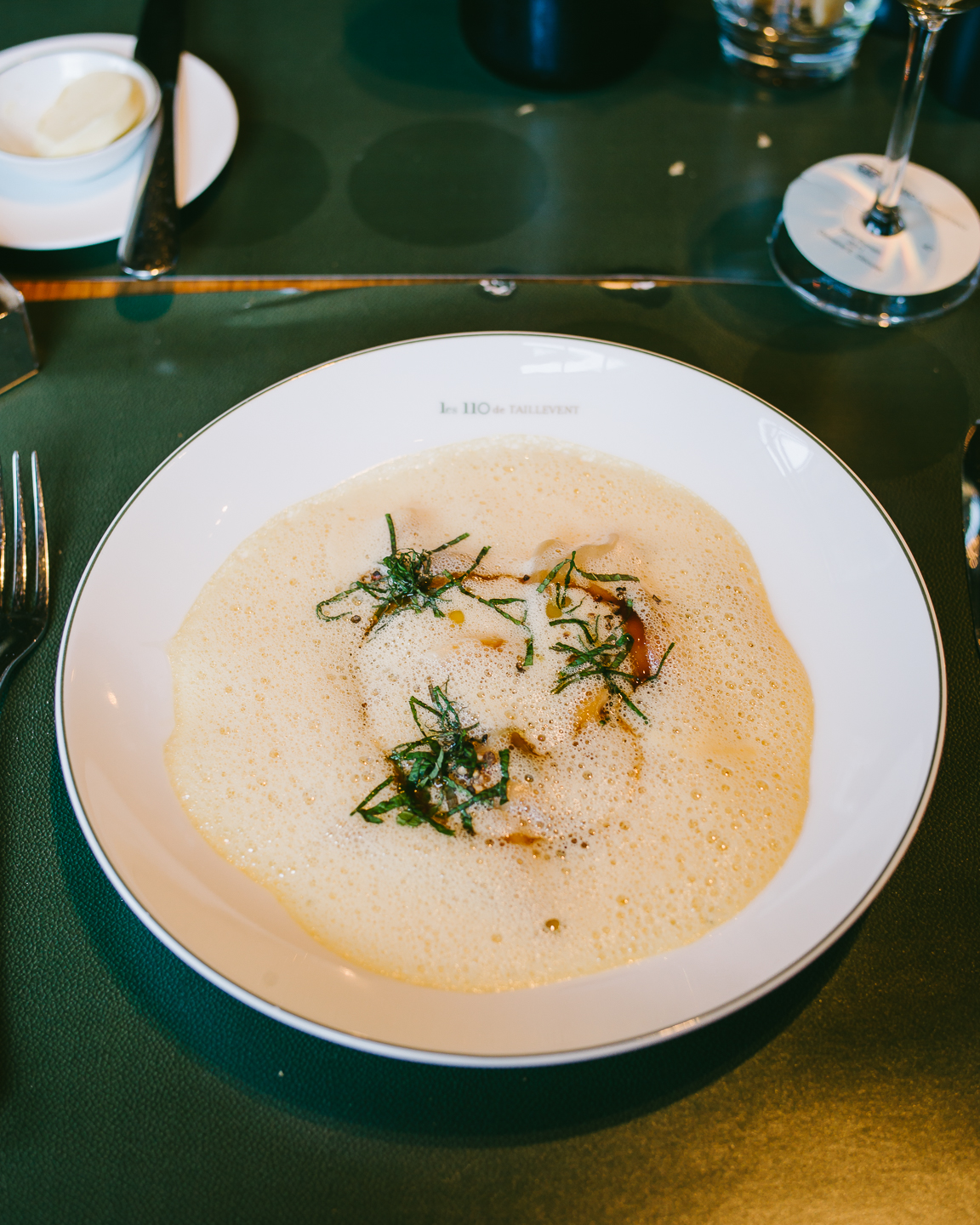 With a frothy bisque, likely with stock from shells – it smells wonderfully fragrant, the taste is spot-on, creamy briny sweetness, it is done correctly and well. The filling is a mince (perhaps binded with egg whites?), rather than full tails and explains the pricing. I get it, it's a business, but nevertheless, the ravioli is well-made and the kitchen has worked hard to turn out a light and lango infused soup.
Lobster in 'two times', £28
with french fries, £4
and Ruinart NV, £5.5/70ml
This lobster was delivered across two plates. It looks like an entire tail and one claw, prepared a la minute. I can't believe how good valued this is (and it is a live Breton blue), and I very nearly wanted to keep it a secret.
The first plate : Roasted tail with tarragon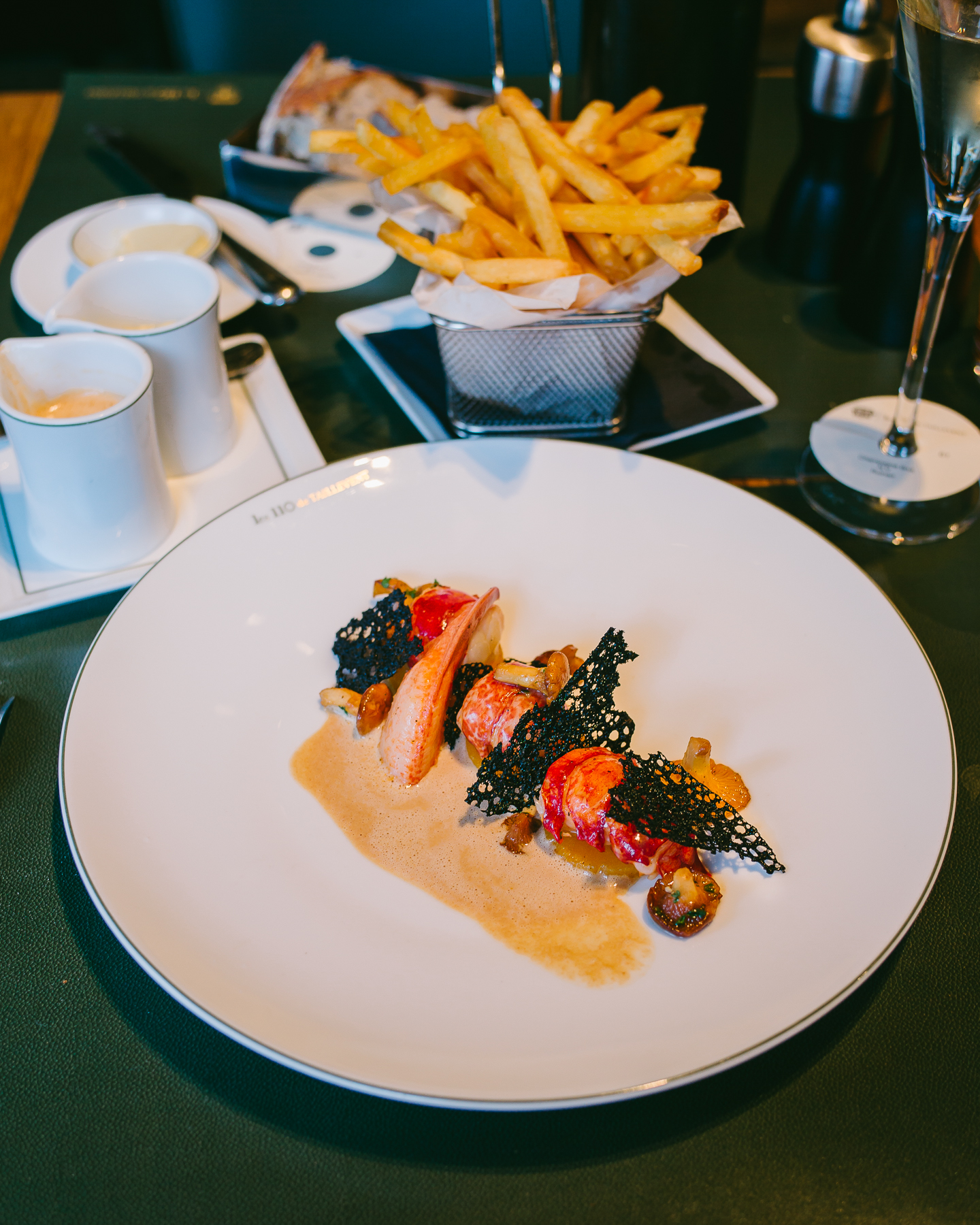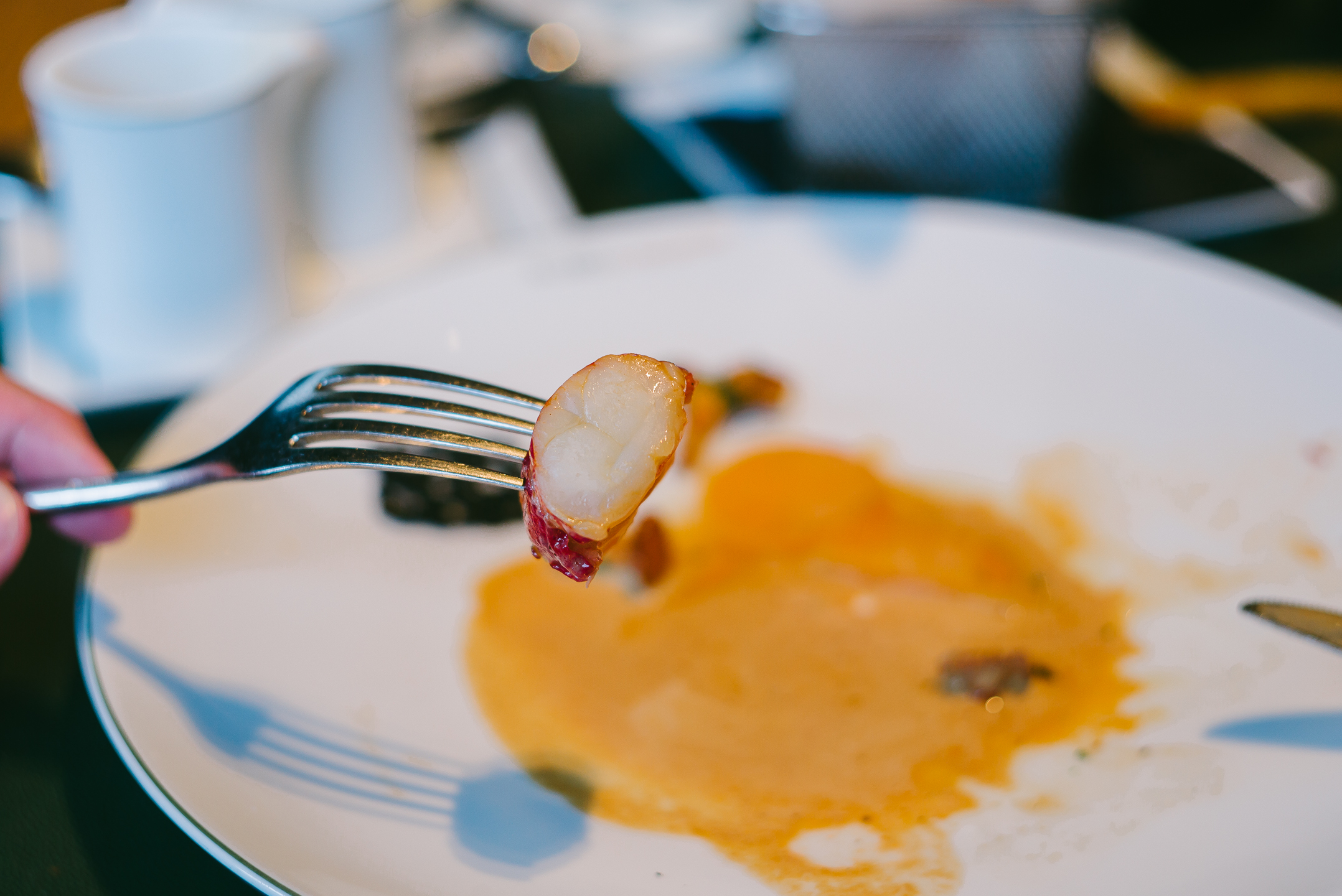 Tail, claw, girolles, tarragon, golden beetroot, all work well to reflect the season we are now in. This black tuile which may be mushroom or perhaps even black garlic, I can't be sure except to say it was as good as the parmesan tuiles at Ledbury.
As you can see, the tail is very well timed to a touch of translucency (mi-cuit right?). A firm texture (which leads me to guess Scotch Blues) with its natural sweetness, deliciously concentrated. It looks roasted in shell then basted with butter to give it a shine. Lobsters aren't difficult things to cook, but it does take quite some skill to execute it at just the right temperature. I can only think of a handful in London who would respect this noble crustacean like so. Good Chef.
The sauce (served in a pot on side) is creamy and sweet, most likely with coral tipped in here. Just delicious.
The second plate : Ravioli of knuckle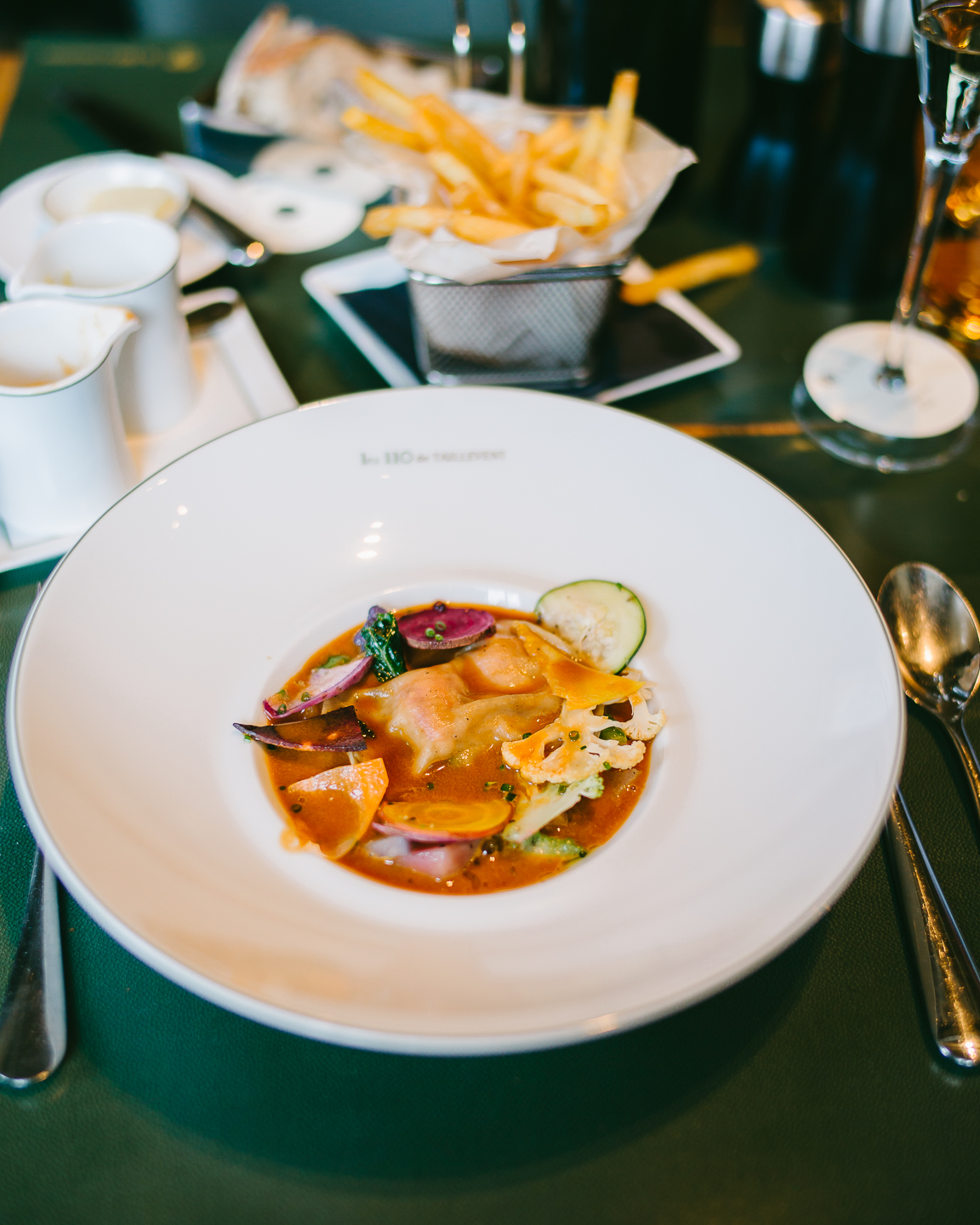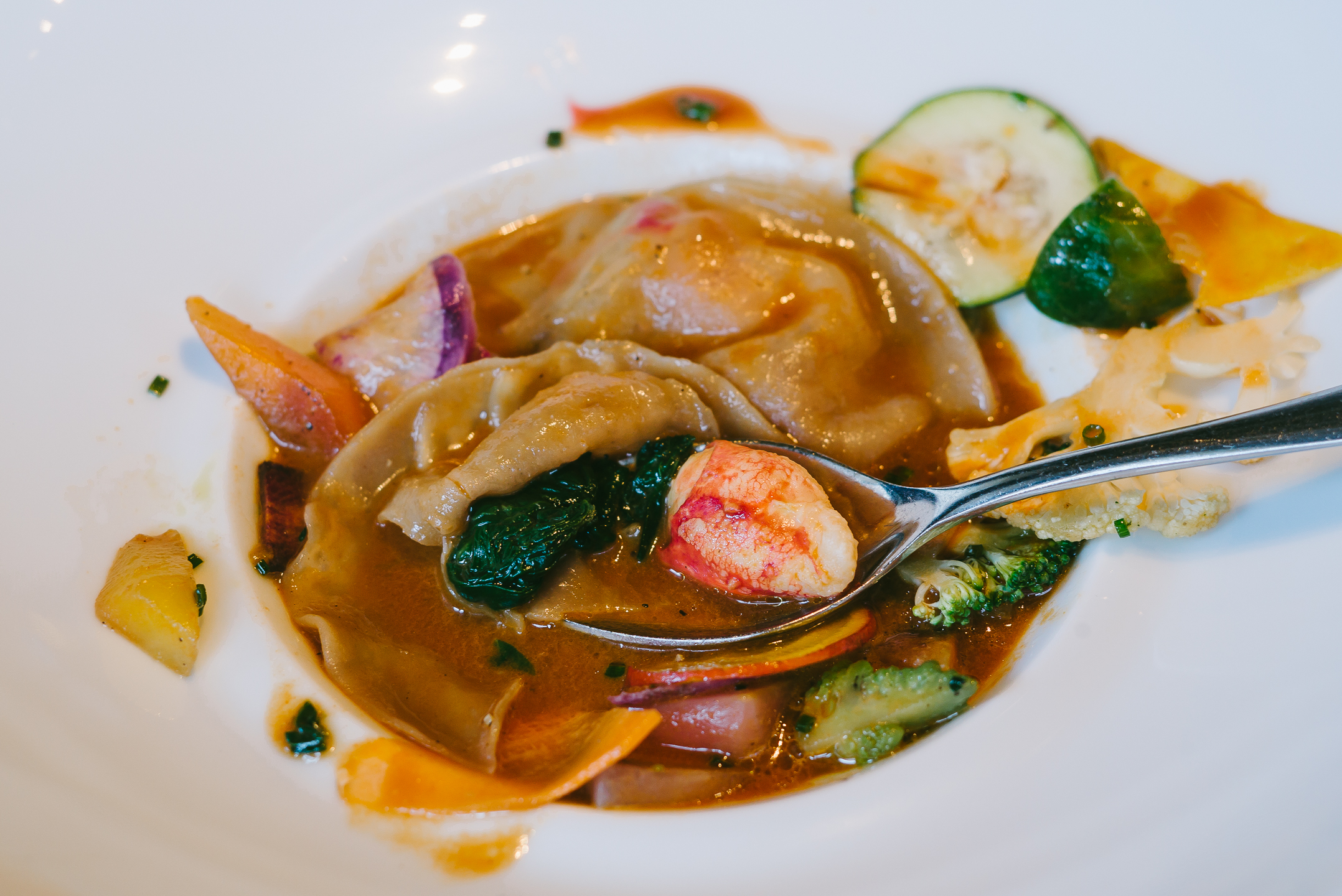 The main course that keeps giving. Like an epilogue to the main event, everything beyond this point are bonus points and you feel the restaurant going the extra mile. All lobster dishes should be done like this.
Two ravioli parcels, each filled with a knuckle and spinach. The pasta looks like buckwheat and cooked al dente. A veg medley of carrots, courgettes, beetroot, onions, cauliflower, broccoli accompany it. The sauce is poured at the table. It is peppery and sharper, more stock in this one, and undoubtedly with whiffs of saffron, and therefore I'll say a bouillabaisse sauce. Delicious.
I asked and they told me these are live Breton blues (!) which makes sense as it tallies with the firm texture.
I also asked them to make a béarnaise to order (for the extra crispy chips, possibly double fried) and they delivered.
Hats off to Chef, very strong dish(es) ?? and a fantastic main course. I love lobster and I certainly enjoyed this very much. Already booked in again for this while it lasts.
Calamansi lemon, passion fruit, meringue, shortbread, tequila & lime sorbet £9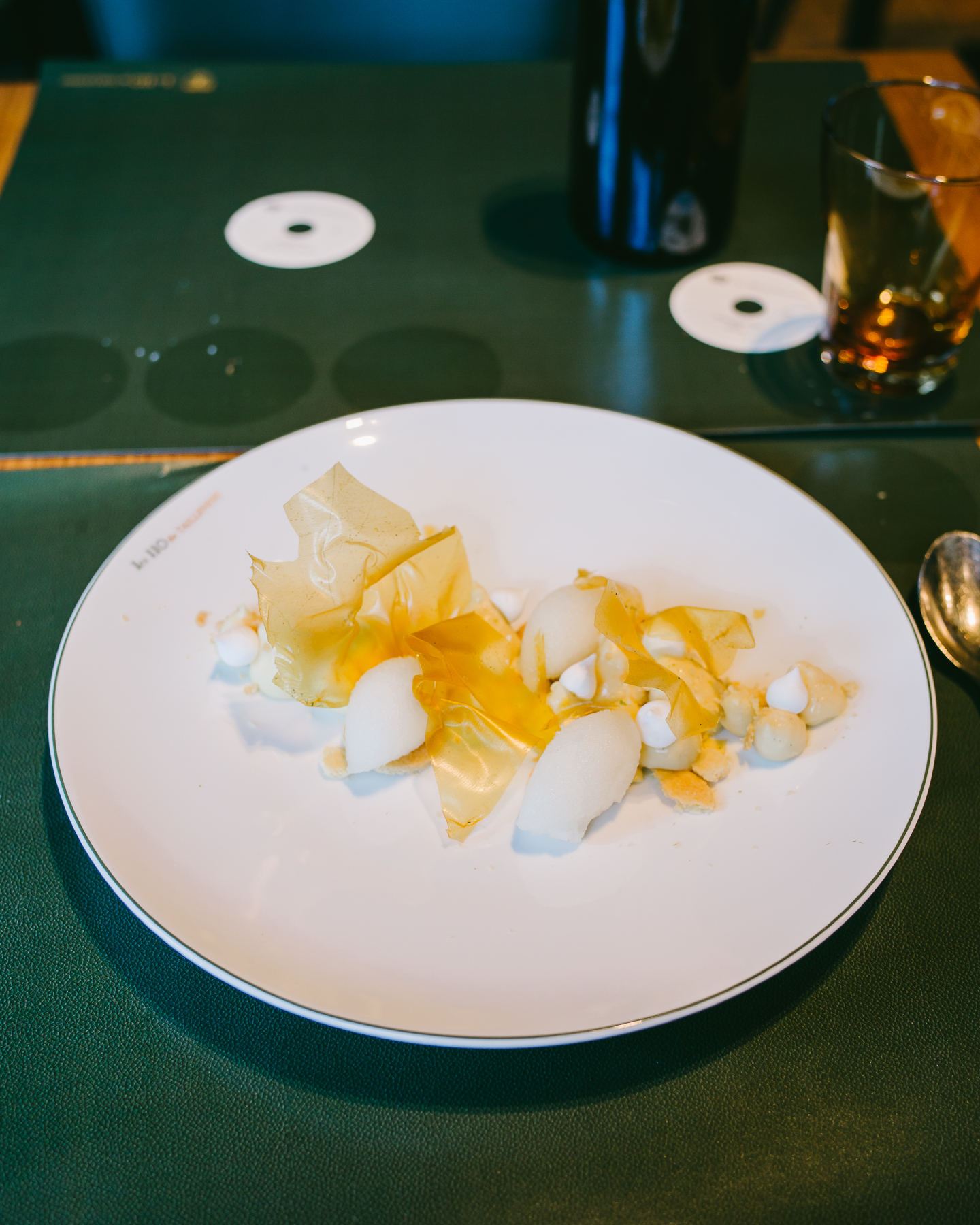 Those quenelles aren't foams, they are solid sorbets – made from tequila & lime. Presumably passion fruit has gone into the thin gelatin sheets. The lemons go into the creme pat and shortbread and meringue kisses for texture. Sweetness and acidity all around. I don't know his/her name but there's a proper pastry chef here ??
I paid £76.50 for all food, 2 glasses, 1 coffee and service.
In the recent past (and present), there have been a few London outposts opened by famous chefs from the continent that are half-baked, lazy efforts which are nothing more than thinly-veined cash cows trading on reputation. Les 110 isn't one of those, and I find there is something compelling on offer here. At this price point, the food is ambitious and the cooking is turned out with considerable skill.
As I mentioned earlier, Taillevent appear to be working hard (I think they have retained Des McDonald as a consultant) to make their mark in London after 1 year in town. Everywhere I look, service, the swish room (ex-Coutts bank), the pricing, the brilliance of the food, all of it is in a good place. There are even famous dishes carried over from the main Taillevent restaurant such as the crab remoulade for £14, significantly less than at the ** temple. Also, whole turbot served with classic beurre blanc. Finally a serious puddings menu that is undoubtedly looked after by a capable pastry chef.
There is a lot more here than the modest brasserie image which the restaurant has elected to market itself on. Perhaps this is a smart move as it means the atmosphere is an easy-going and therefore enjoyable one. All the more admirable as it makes it free from the trappings of hype and trends. If they keep up the consistency, people will notice, and I for one will certainly go about turning myself into a regular here.
Details
Les 110 de Taiilevent
French
ALC £35 – 60 + drinks + service
Set Lunch 2 for £20 + drinks + service
Mon – Sat (Saturday lunch closed)
16 Cavendish Square W1G 9DD
Tel : 020 3141 6016
Tube : Oxford Circus / Bond Street
—
2nd Meal from 13th October 2016
Cornish crab rémoulade, dill and fennel, £14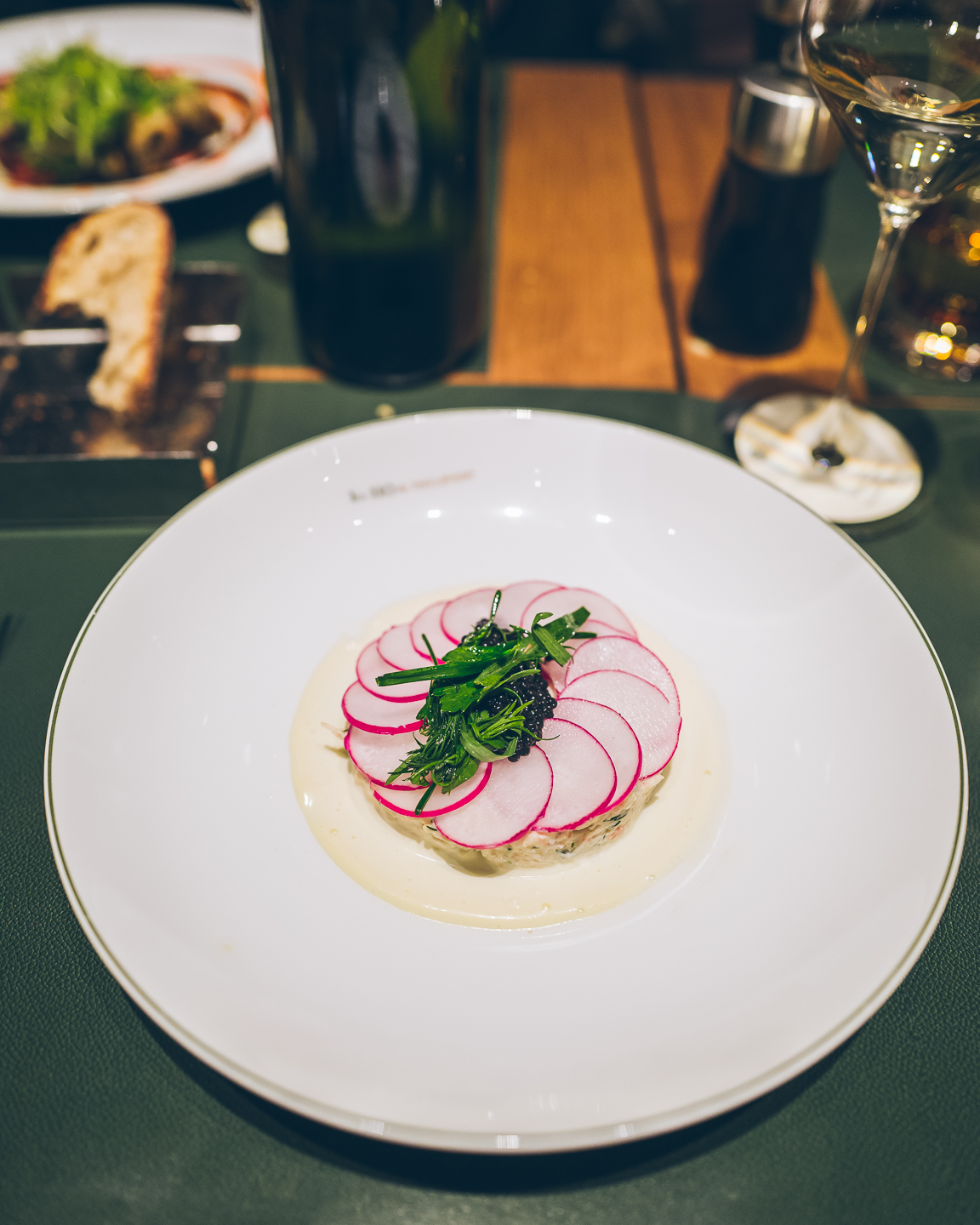 Surf and Turf. Veal rump, langoustines, market vegetables, lobster bisque, £24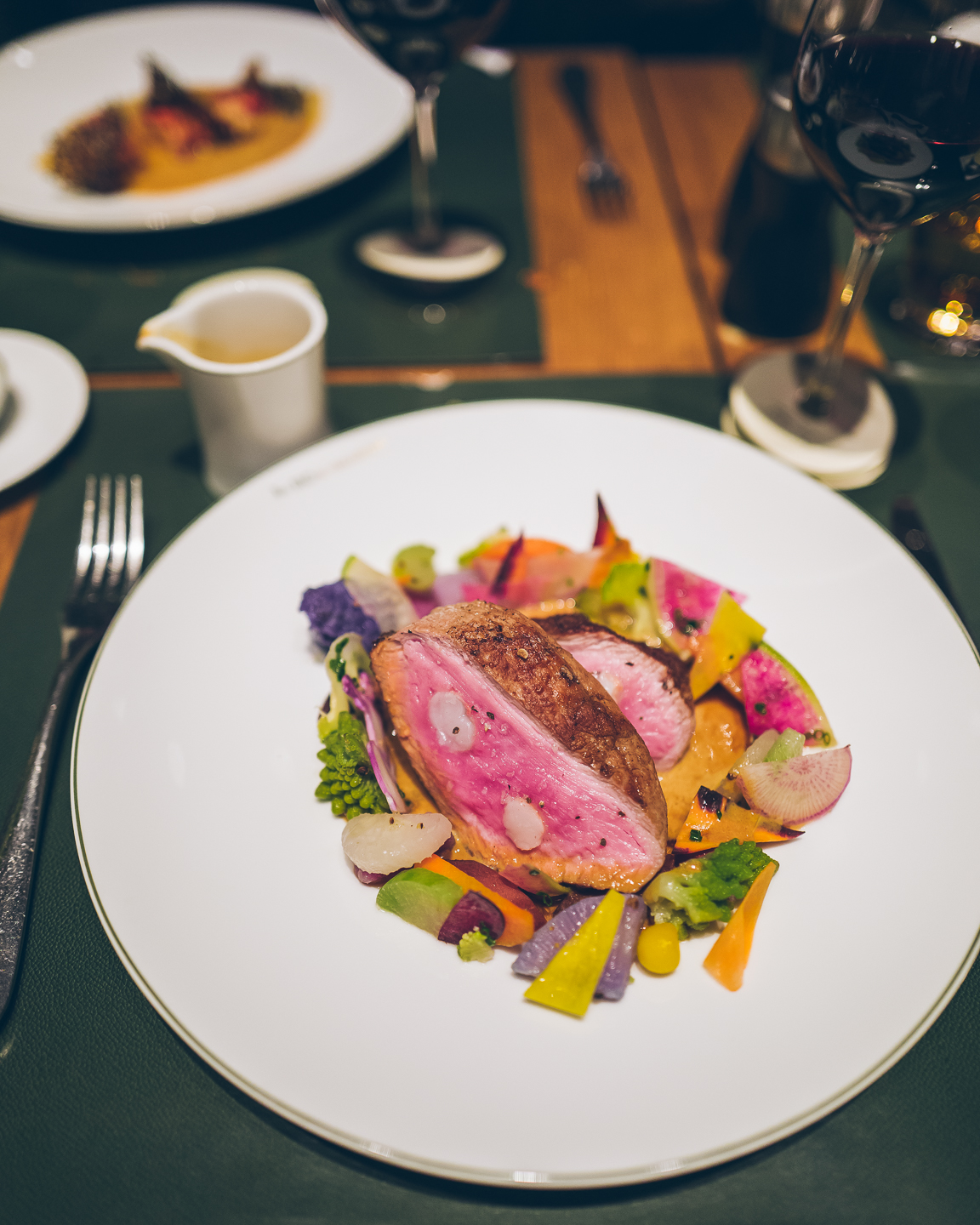 Impressive work. Full langoustine tails inserted to a veal rump and both roasted to tender and juicy medium rare. Served with lobster bisque and market vegs including romanesco amongst others.
Remembering our childhood, £9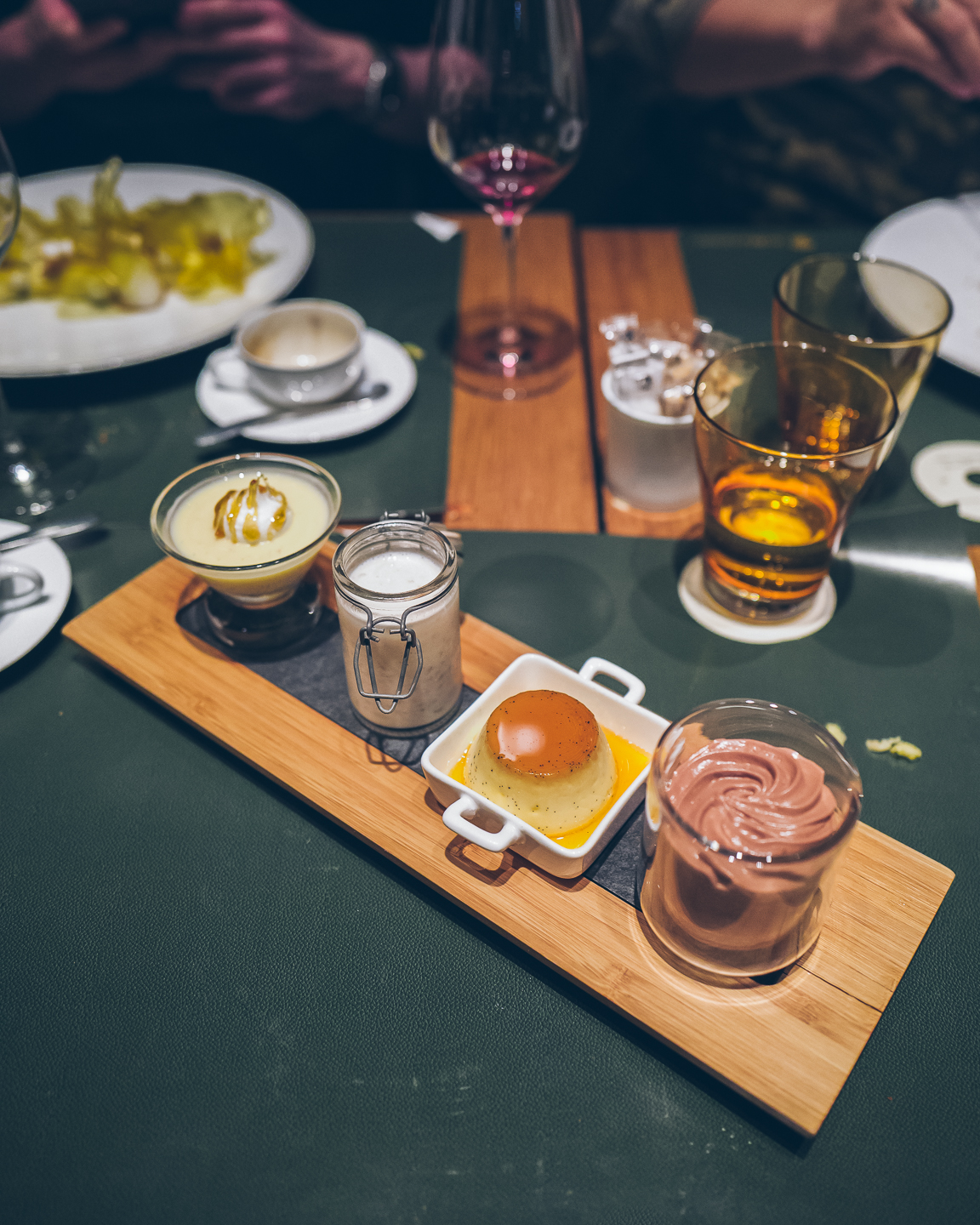 L-R floating island, rice pudding, creme caramel and chocolate mousse.
It really shows the skill of the pastry section here, strong fundamentals as each is made properly and to a solid recipe that tastes great. The creme caramel and rice pudding for me is near perfect. And only for £9! Quality and quantity.
We were a table of 5 for this 2nd visit, so I made sure to order different things. Every pudding was great. If your first time, you should get the warm chocolate mousse, it is different from the one included above and you will be a little surprised how good it really is.