Phil Howard is very present on my mind these days. He's one of my favourite chefs and he's very close to opening at has opened Elystan Street (the old Tom Aikens site). Last I checked, he remains a stakeholder in his protege's celebrated West London restaurant.
Sometimes I still think of The Ledbury as the little brother to The Square (Platts-Martin and similar decor afterall). Of course it isn't as the Australian chef's gutsy showcase of English terroir has been the very fabric of the Ledbury for a long time now.
Consistency and quality seasonal ingredients (not limited to the six kinds of British venison) springs to mind when I think of Brett's cuisine. Perhaps for this reason, it's a challenge finding someone – off and online restaurant admirers included – who didn't enjoy a meal there.
Of the internationally known bunch of destination restaurants including Dinner, Clove, Hedone, Hospital Road, Ledbury is likely London's most famous. Or at least the one most people book into, judging by how hard it is to score a table. They are consistently full two months in advance. There was a time when it wasn't hot like now, even though Brett's been cooking off the charts since his sous chef days at The Square (and in Sydney for Liam Tomlin, if you consider his route to Phil's kitchen).
With Phil and Nigel in the support structure, Brett opened the Ledbury in 2005, taking only a year to win his first star (in 2006). True mass appeal probably didn't begin rolling until that second star arrived in 2010. Then the national awards. OFM. 65 on the OAD, and today as Britain's highest entry (that's how I read it) on that other list. Not to mention the Ex-Ledbury guys like Isaac Mchale and Stevie Williams (post Harwood) who are soaring in their own right. Solid mentoring hey? And he's still only 37!
I remember my first visit, vividly so, salt crust ash baked celeraic followed by Roe deer in hay – a brilliant meal in 2009. It was a year when the red guide dubbed it an espoir or 'rising star' (do they still do these things?), which eventually materialised when they promoted the restaurant the following year. I went back again shortly after and ate another top meal, and at that point in my blogging life, thought Ledbury's place at the very apex of London gastronomy was well-deserved.
It's been five years since my last visit and so I was keen on what's changed. Thanks to Instagram's location tagging powers, Kian's post in March and these continual murmurs of a simmering third, it has fueled my curiosity. I wonder how much closer Brett is to breaching the highest levels.
It's always a pleasure to know that Chef is at the pass for your visit. Rather admirably, Brett still regularly pulls most of the 13 weekly shifts at a restaurant that is open every day of the week. Brett's current head chef is Greg Austin.
I met with Kian and Mark for a long Friday lunch. Kian very kindly BYO-ed the wines ( + 1 bottle from the wine list ) , and here's a note to myself to reciprocate in a couple of weeks. Somehow we survived 4 bottles between 3. Looking after our table were Jeremy and sommelier Anna. FOH was slick, reserved-attentive without breathing down your neck.
We stayed long enough to witness the smooth transition of one table being turned (yes, they do). Done with such dexterity, the kind you associate with Formula 1 tire change-outs rather than a starch & iron. Nearly a lost art in today's world of share-me-on-naked-tables. These guys are pros alright.
We do the tasting menu on Friday afternoon, 19th August 2016, a week on from the glorious twelfth. A good time to visit given Brett's love of shooting. I have slotted the wine notes between the food.
Canapes
Smoked mussels (puree) and laverbread crisp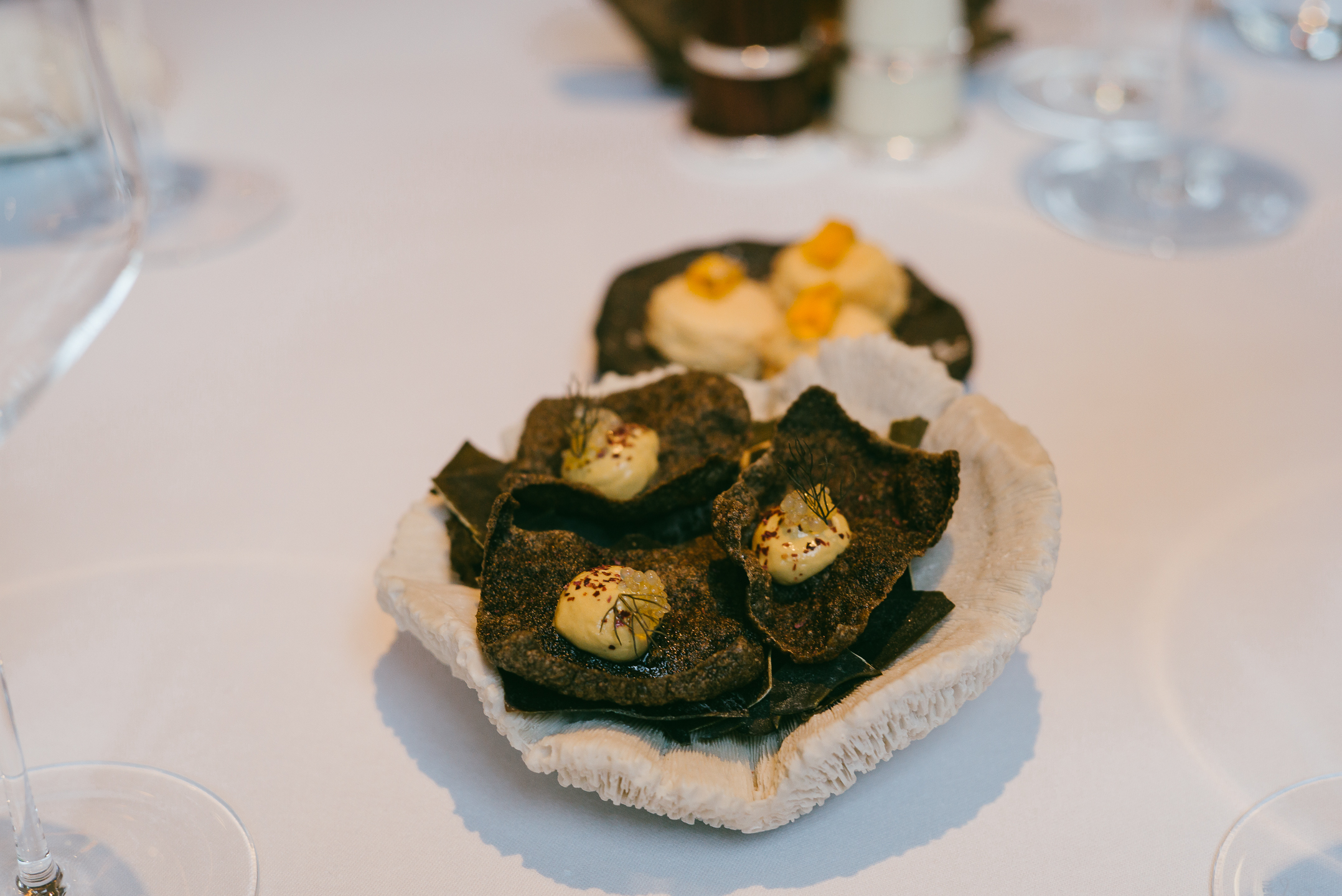 Guinea fowl (and foie parfait) puff and mead jelly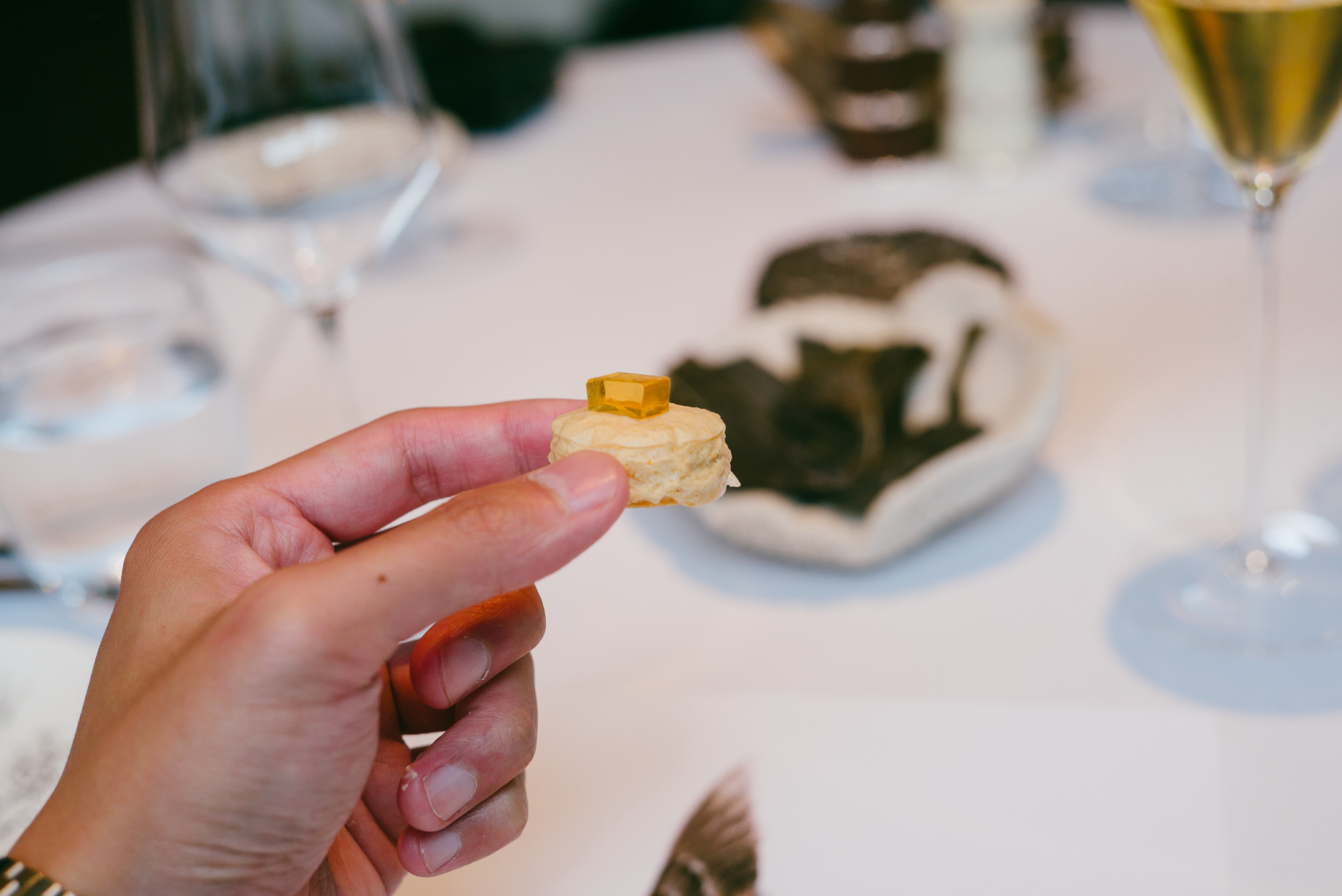 Warm Muntjac and mustard fruit dumpling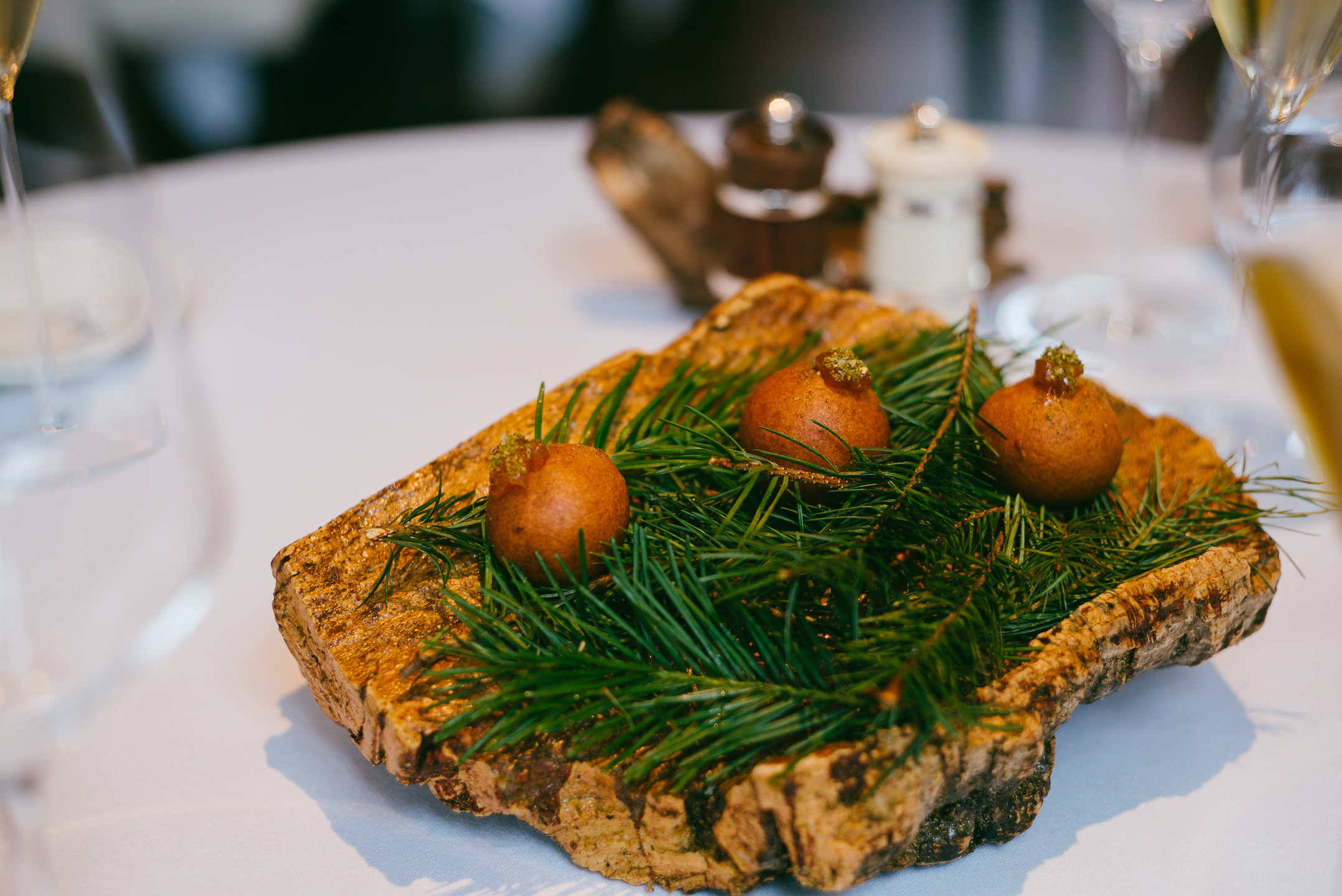 All 3 canapes were top stuff. Flexing their muscles right from the start, you can see how this kitchen is a well-oiled machine. It's impressive. The guinea fowl and foie, a creamy centre in an exceedingly airy puff pastry with an acidic honey jelly to round things out. Muntjac – the only venison during this visit – was excellent, chunky, richly flavoured flossed meat, deep fried with a pickled sweet jelly to keep things alive. Whichever end of the deer it is from, it's gorgeous.
NV Version Originale, Jacques Selosse BdB
A treat from Kian. From the nose, you can sense the step up from Initiale, it's a cornicopia, yeast and biscuits, smoke and white fruit and it seems to keep going and going. On the palate, it hits you then softens like a fruit mousse and a touch of nuttiness that gives it just an extra edge. I think Substance is the one made from a solera. This is very juicy champagne but there is also a line of elegance and restraint. What's that saying? Inside a velvet glove or something like that? Dangerous fizz. I drank more than I should.
—
1. Tomatoes, lobster oil and mustard sorbet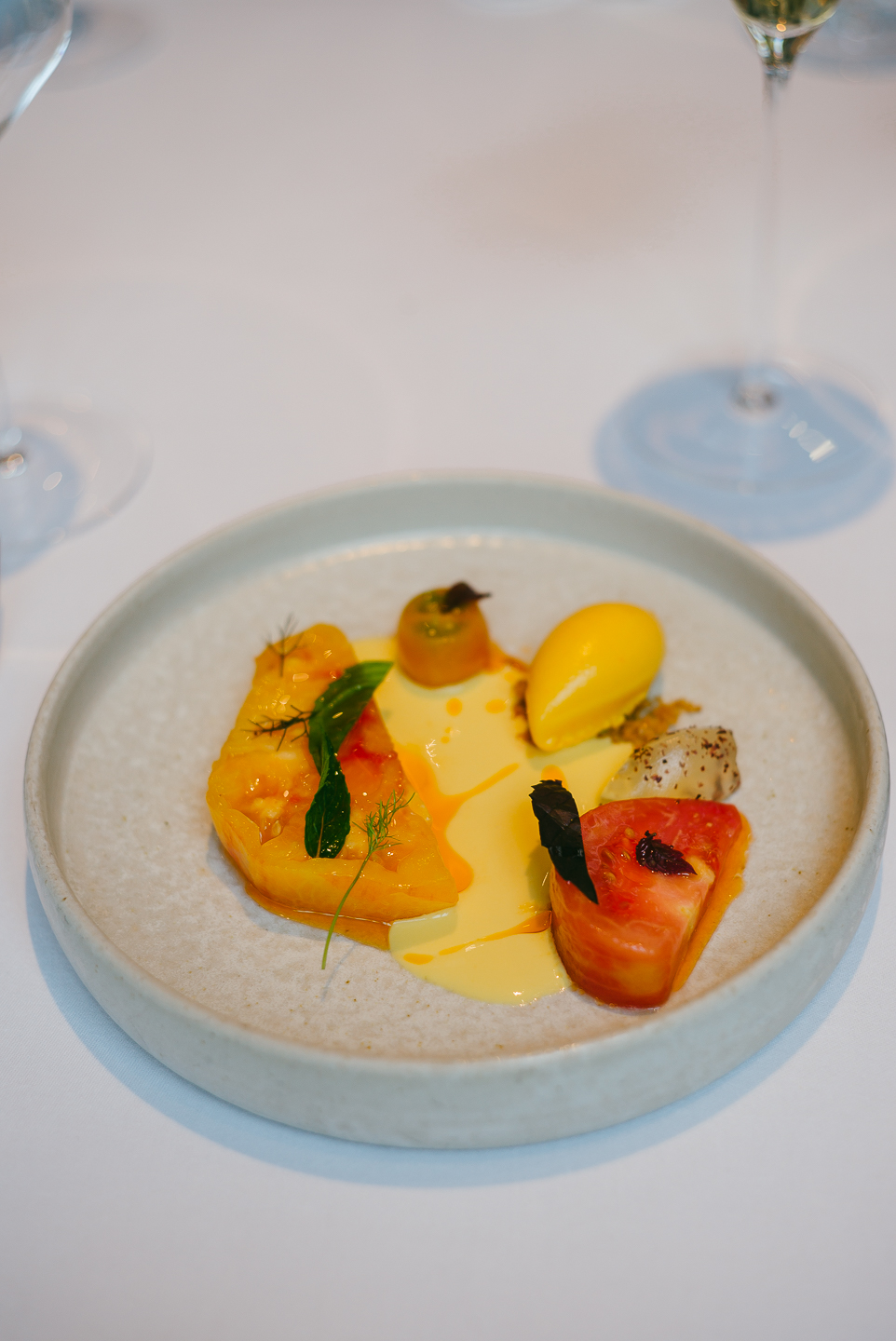 A drizzle of gazpacho, I surmise, made from the yellow beef tomatoes. A celebration of the Summer. It's a fresh start and makes me think of steakhouse tomatoes. Luger and Nestor. The cool mustard ice cream is great, tomatoes are so meaty and umami filled, a sprinkle of salt and shellfish infused oil, all you need to tease out flavours.
2. Fresh Hazlenuts, green beans, blood peach and grated foie gras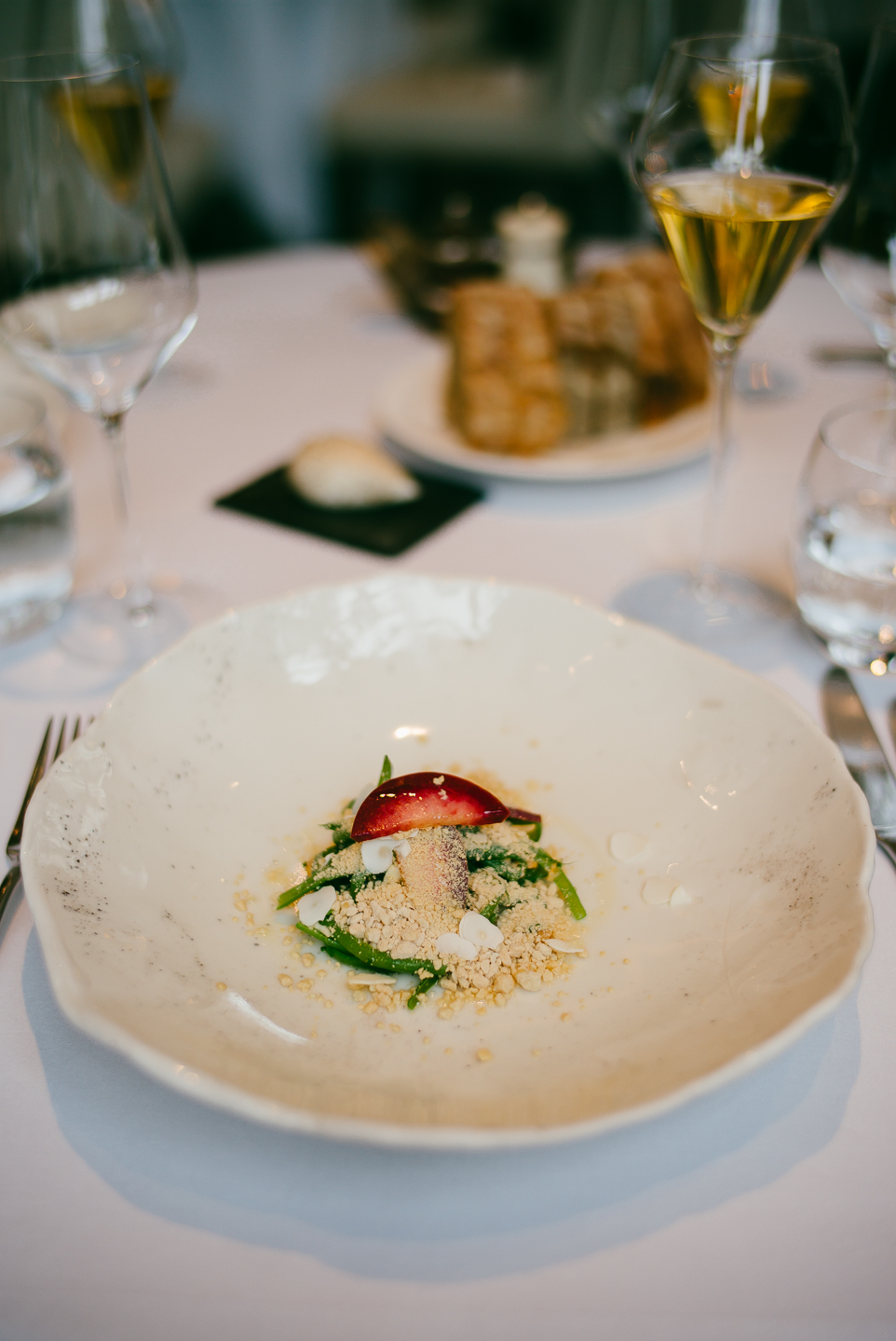 Look at the colour of that peach. It's blood peach alright. It's fab fruit, I had it for my birthday a few weeks ago, paired with native lobster (at Bonhams), and here it's paired with fragrant hazlenuts and green beans, a textured and aromatic salad of summer with shavings of frozen foie parfait, melting as it hits your palate. Good.
Bread : Sourdough with goat's whey and molasses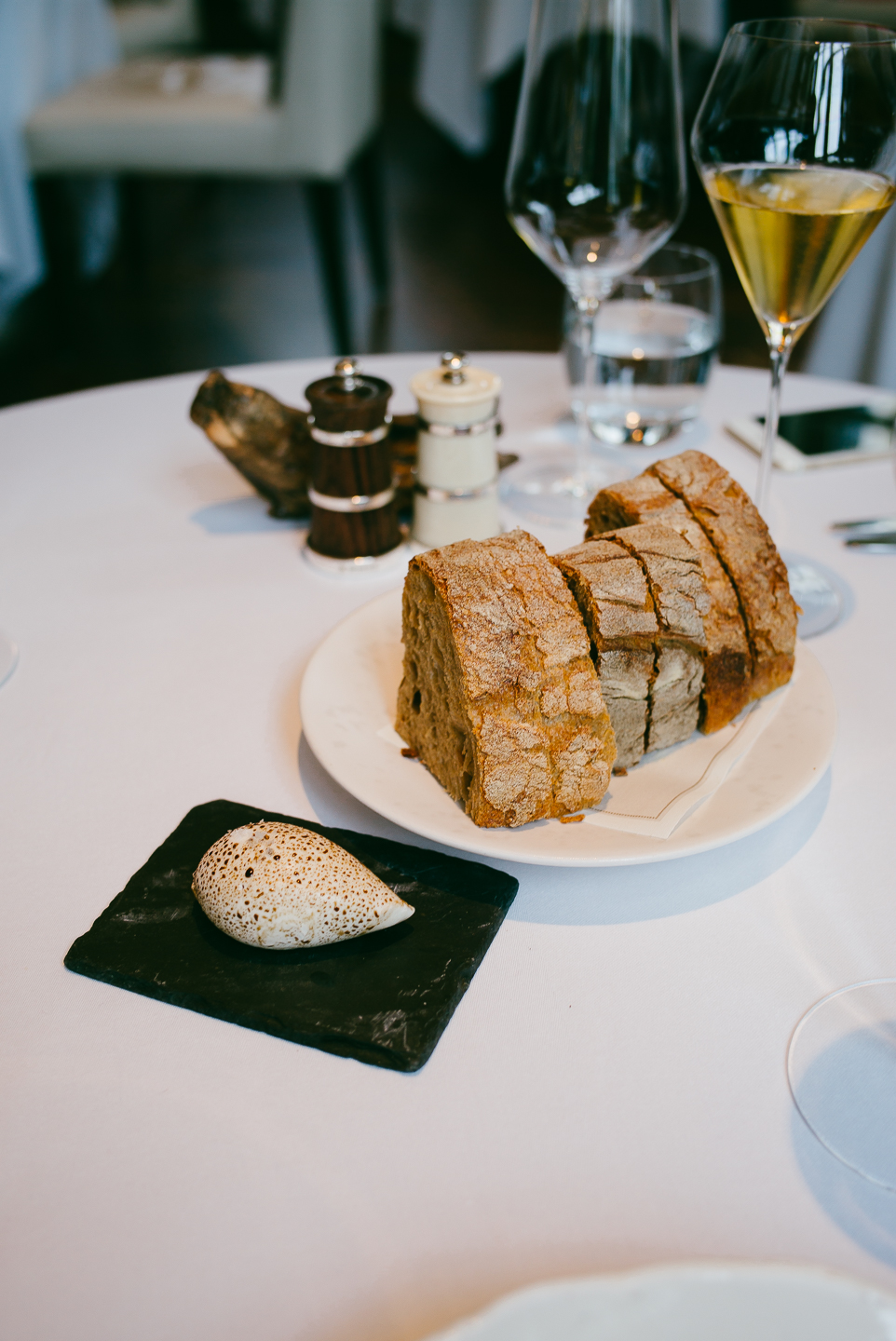 Where's the bacon and onion gone? Apparently bread is no longer made in house, it is decent sourdough to be fair, from The Bread Factory. The crust is nearly the burnt crispy taste, but obviously it's no where near Hedone.
On the other hand, I really quite like this whipped goats whey. Roasted caramel top over it by the looks. It's very light, more akin to whipped cream than butter. It is also slightly sweet and slightly acidic like that of a lively culture. I'm all for brittany unpasteurised butter, but this is a fresh change up. Is Brett signalling that butter doesn't rule his pans in his kitchen? I eat more than I should.
3. White beetroot, baked in clay, caviar salt and smoked eel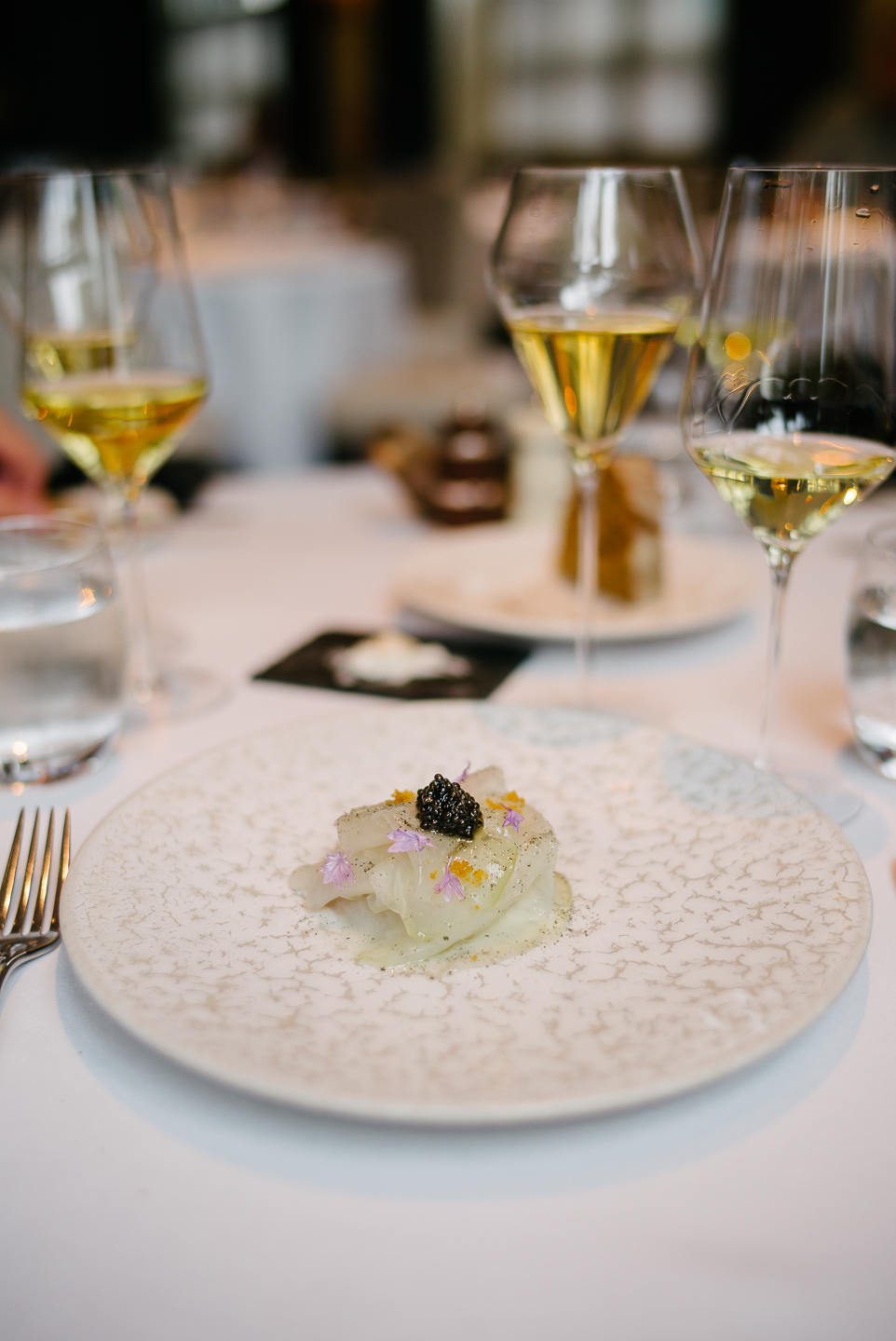 And Exmoor caviar. No doubt you've seen this do the rounds on various media before. The method isn't new, old rotisserie move, you can do this with chicken too right? Now correct me if I'm wrong, so the process of slow roasting the (water rich) root veg in a protective casing, is to allow moisture draw-off in a controlled manner, preserving natural texture and ultimately concentrating flavour.
As is evident, the slices of beetroot are glossy and to me resemble the look and texture of white fish (perhaps sashimi of hirame?) more than a humble root vegetable. These textures plus the sheer depth of earthy flavour is really a joy and absolutely worth the highlight as the main ingredient. Alain Passard has a rival.
Inside are dices of beautifully smoked eel, its smoky flavour plus caviar adding weight and umami to the elevated vegetable. The execution and the eventual balance of flavours is really where Ledbury earns its stripes. Slick cooking.
2007 Blanc Fume de Pouilly, Pur Sang, Didier Dageuneau
Oily yet also quite wild, grassy notes, maybe a touch flabby when it was initially served cold. As it warmed up and sat in the glass, it seemed to unfurl with more fruit, acidity and complexity. Upon reflection, I wasn't totally sold on the style as the wine seemed to be more cerebral than me.
4. Warm Pheasant's Egg, celeriac, arbois, dried ham and truffle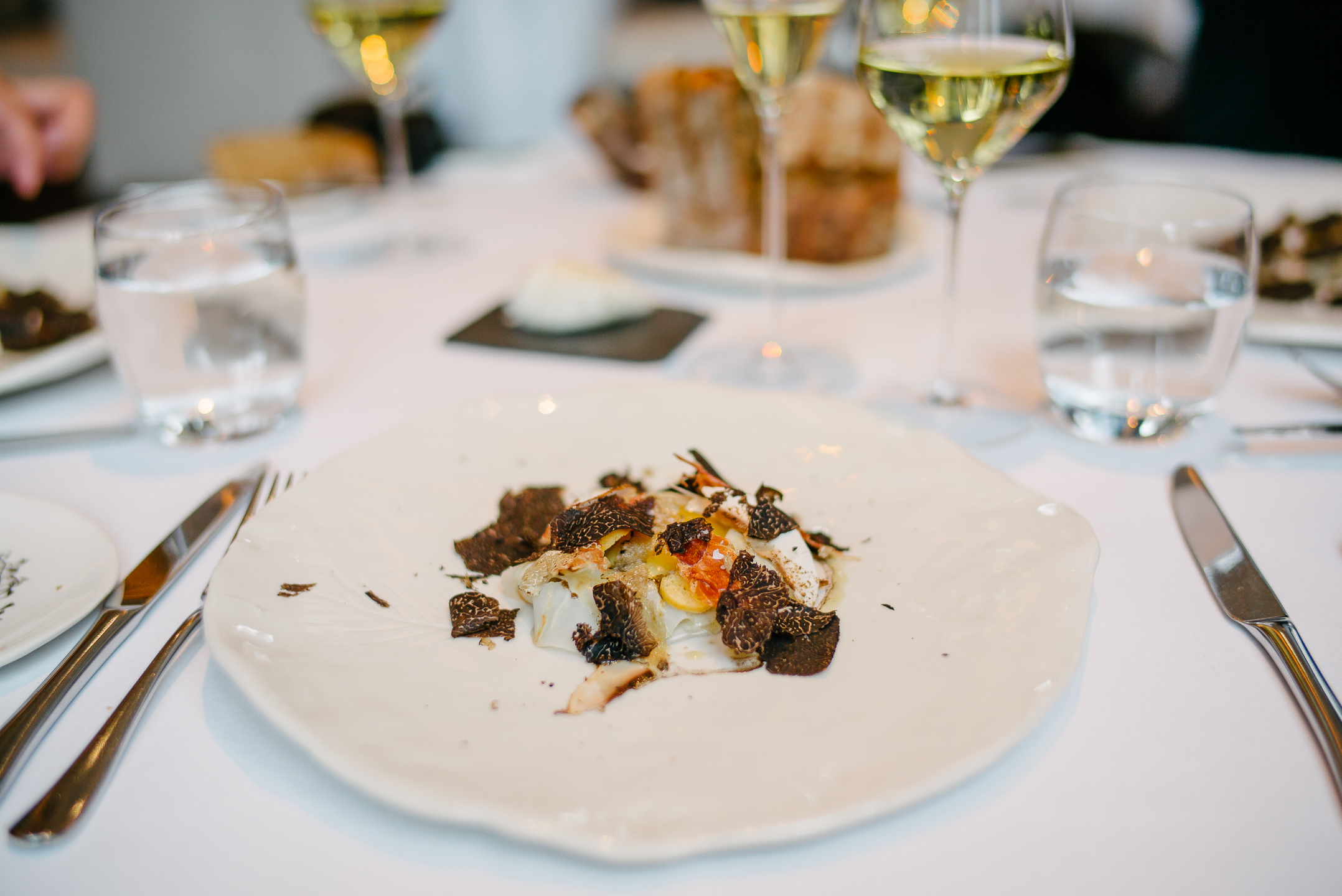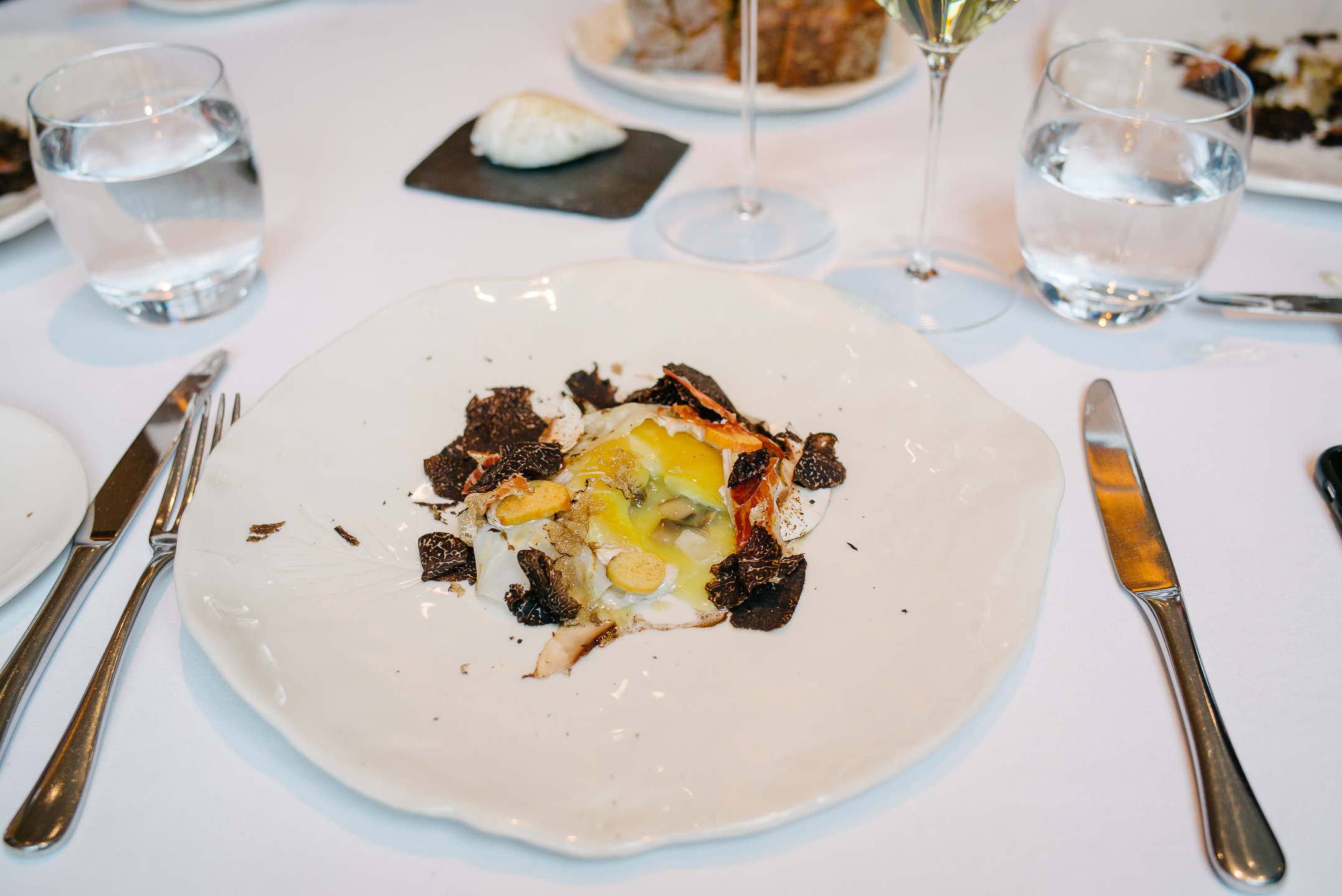 Could be vin jaune but could be a chard too, in any case, a splash of nuttiness complimenting the classic combo of egg and truffle. There's obviously Australian winter blacks, but I also see summer truffle shavings too.
For earth, I see raw mandolin Paris buttons and cooked shimeji. This addition of celeriac really bulks up this department. The dried Parma puts the salt in the dish, plus truffle smells… Boom. Umami to the max, and another display of agile execution, which I think has pushed the complexity up because of sheer balance of flavour. It's not hard to get this wrong, but it takes some skill to get it so, so right. Textbook deliciousness. Somebody's got a palate in that kitchen.
Manjimup is no substitute for Perigords, though I think the quality is even keel now, that you can speak of them as down to preference (or not, since their availability do not overlap in season). Maybe Oz winter blacks are a touch earthier, more pungent, more intense. Cheaper but less so these days…
5. Langoustine, wrapped in shittake with cauliflower and bonito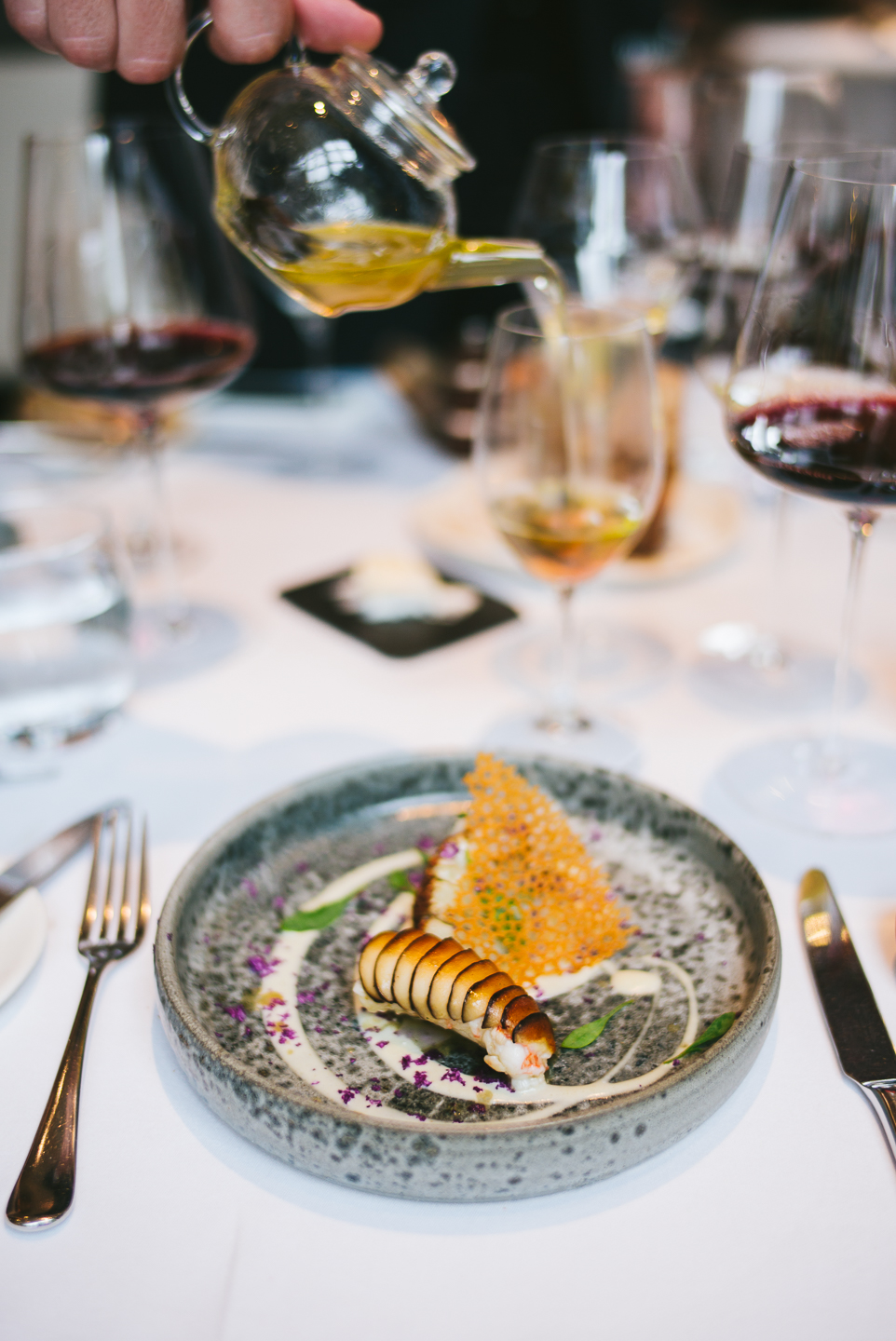 And a beautiful parmesan crisp roasted to a honeycomb lattice. Intricate and beautiful work.
We made a request with our booking and I was initially a little disappointed they could not source native blue lobsters for this dish. I suspect it is because they'd already promised to take a few kilos of langoustine. Or maybe just simply not enough of decent quality. No bother though, because it was still fabulous.
The earth of mushrooms leaking into the tail, the incredible katsuo(bushi?) cream and the deep and meaty character which caramelised cauliflower develops. There's so much flavour everywhere with everything falling perfectly into place. They make these recipes look like no-brainers, when they're anything but.
In a wine glass, they poured a warm consommé of wild mushroom, with julienne of Australian winter black truffle and the delicate claw. Lango umami taken to the max. This was absolutely the best part- it's just totally bursting with flavour. Where did he pick these mushrooms? They are more than excellent and truly things you expect a proper gastronomic meal to feature. The essence of earth and sea. Superb. I'll have two more please.
2003 Clos de Tart, Grand Cru (Monople), Mommessin
From the Ledbury wine list. Still C&B exclusive right? Hot year and it definitely shows. Dark and rich (you can see how dark it is in the Zalto, pic above & below), brooding is not a term I'd generally apply to burgundy, but here it is. Masses of fruit, red fruit turning blue, spicy, cherry perhaps, rich but also sweet and therefore a sexy drink. Nose and palate matches up and still years left before it reaches a level of elegance. On one hand, 2003 is just too hot for most of Burg and Bdx, on the other, its not sickly like Cali was in the last decade, and I do think this will get better when it calms down in 5 years.
6. Glazed white aubergine, black tea and olives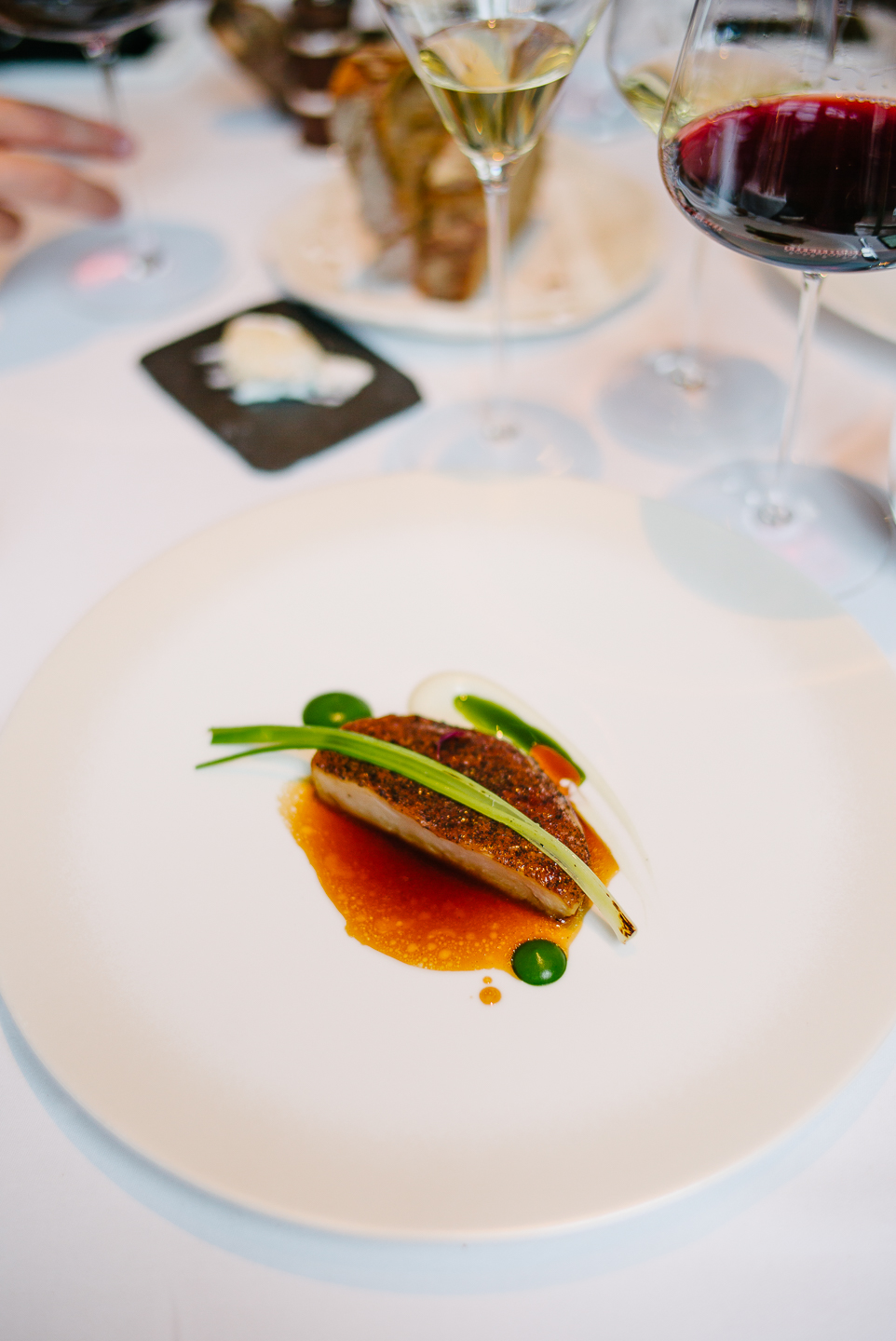 Jeremy dropped a few spoonfuls of beef roasting juices. Oh man, the smell of this. Media can never replace first hand experience.
So this is British nasu dengaku right here, right? The glaze is caramel sweet, but the most exciting part is the texture of the vegetable. Delicate and seamless, if I wasn't told then I'd have thought its marrow or slow cooked tendon. What have they done to keep this texture? Steaming first, then oven right? I do wonder if it's mandolin sliced and pressed, or if it's just cooked whole and then lifted off its skin. With the beef juices, you can't tell its vegetable at all. This is a delicious mind fuck.
Textbook fine. Amazing skills here, proper, proper execution. The kind of dish that will have the Bib knocking three times on the Ledbury's front door. Look out for this dish when you visit.
7. Yorkshire Grouse, sweetcorn, girolles and brioche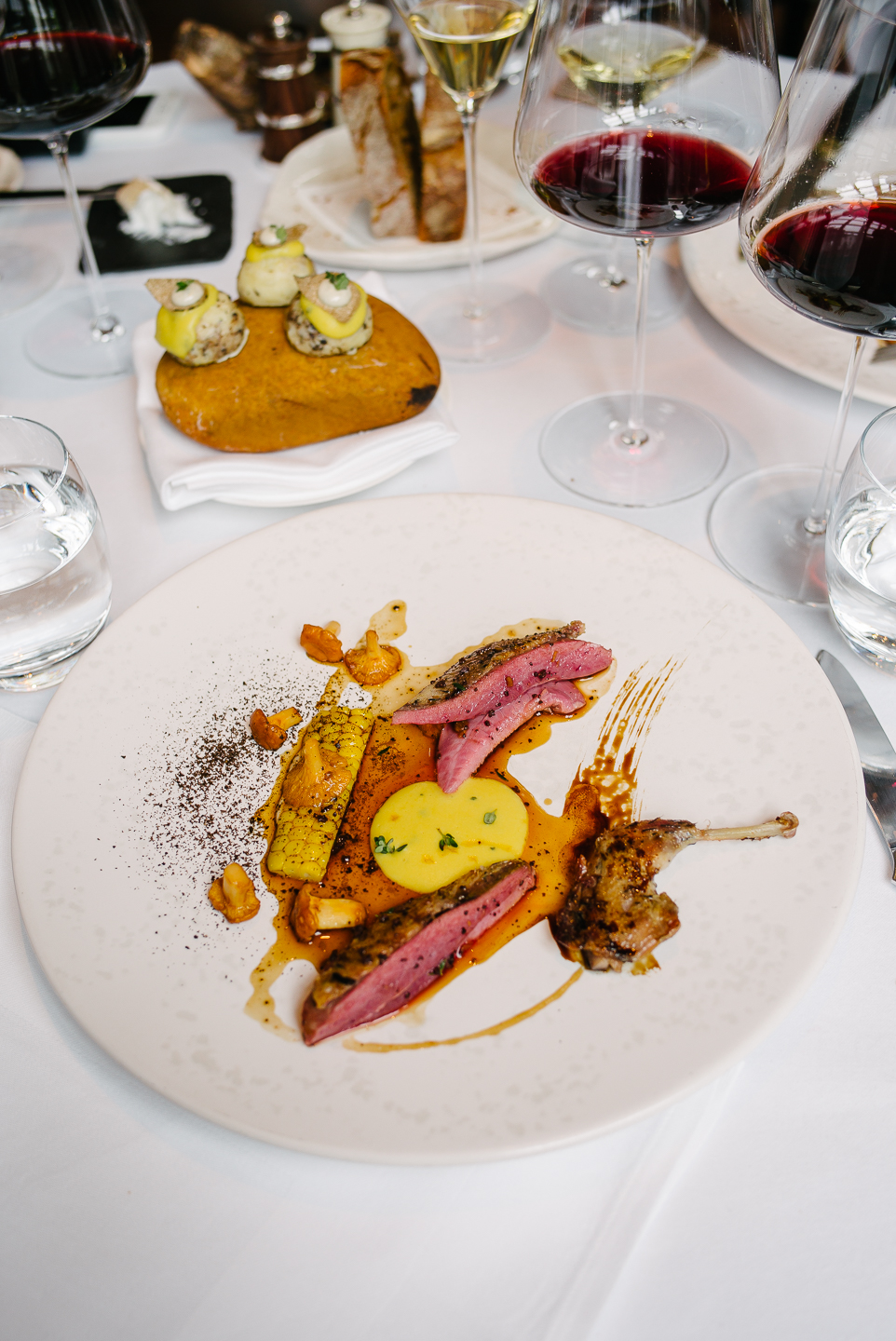 Here we go. British terrior. A week on from the glorious twelfth, shot two days prior to the visit, so I assume means hung for a day. It's perfection, the young bird has such a beautiful flavour, mellow earthy-sweetness, emphasized by the corn and mushrooms.
The crown is poached then roasted until pink and delicately tender, leg is confit (in duck fat I assume) until max seasoning and juicy. Serious execution here, to a tee. Now this really is a supreme. The texture is supple, in the way plums are supple. Bursting when you bite in. It's just so good. The cooking is perfect.
On the side, the brioche makes a cameo return, bite-sized dough appears to have liver mixed in. Topped with a slice of summer truffle. Incredibly delicious things. Not many days left for August grouse so I hope you get some. Certainly Pièce de Résistance and then some.
2004 Cos d'Estournel
I like this 2nd growth, St Estephe, and I prefer this to Montrose because I think generally Cos has more purity than its neighbhour. Hill of pebbles right? The 2004 needs time and the 2.5ish hours of decant, cork popped when we arrived at midday definitely helped to open up the claret. The classic cedar and pencil lead, black fruits, sweet dark mocha, it's all here. I like the mouthfeel, plush like velvet and this is the wine showing its pedigree. Although I think it would benefit from just a couple more years of slumber. It is just missing peak freshness. Only 12 years young afterall. A 'lesser vintage' though it is drinking just fine, good with food nonetheless.
Cheese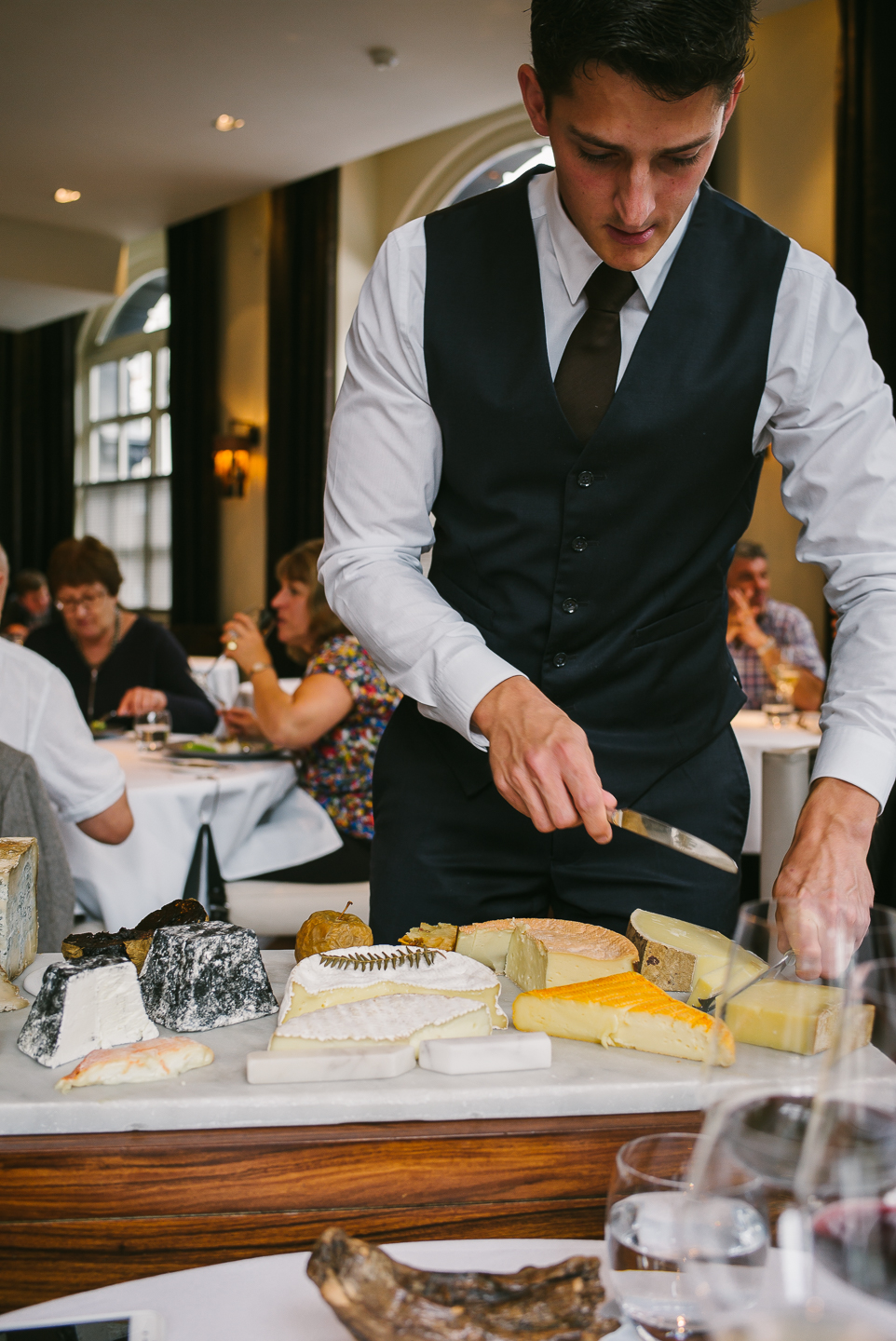 10 in all, one of each and that means 2 plates between us. Presentations by young Javier all done carefully and pleasantly. I didn't take notes because I can hardly sit up straight by this juncture. I did remember the wrapped figs cooked in sugar and the apple cooked in whey.
8. Whipped buttermilk, raspberries and beignet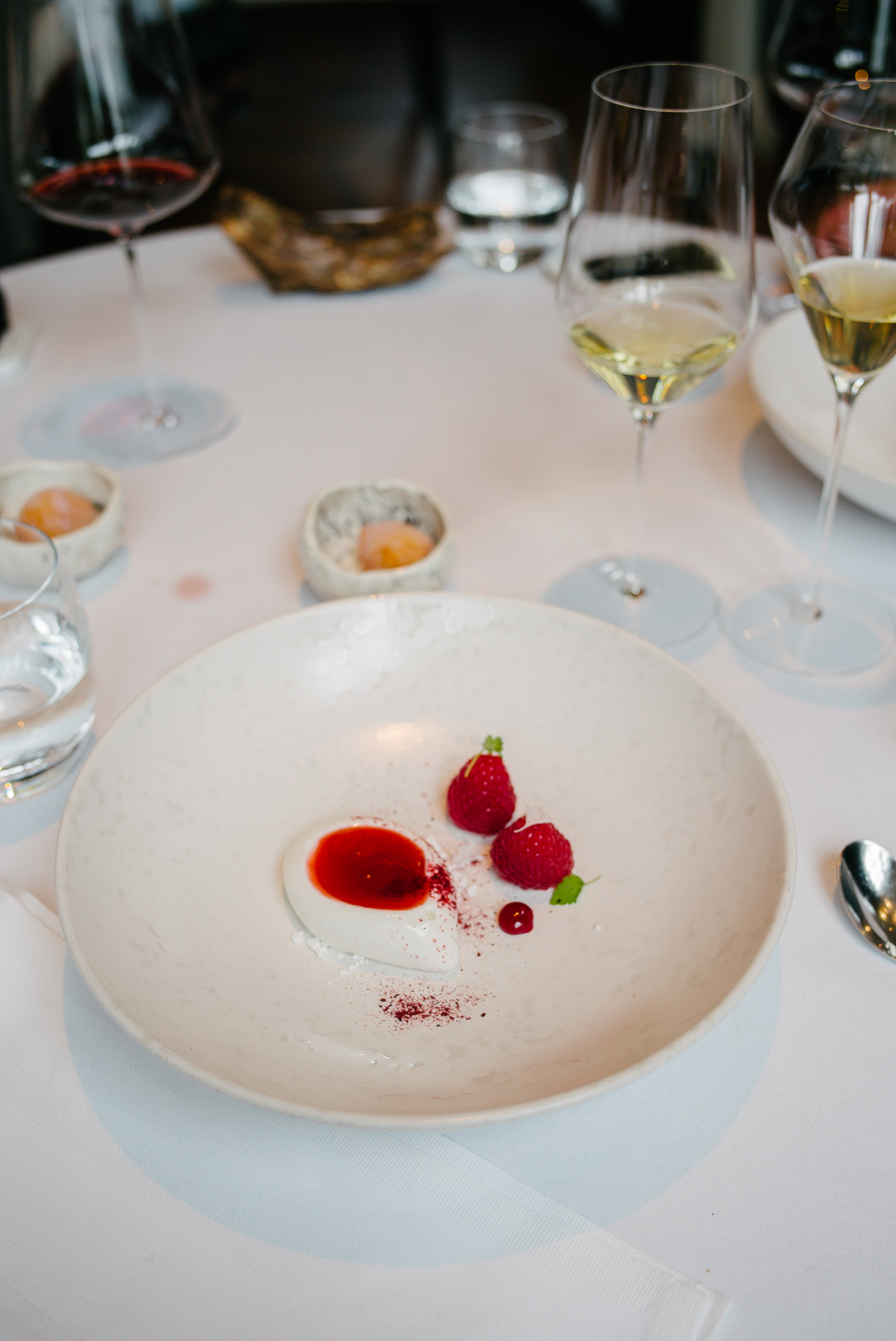 Acidic buttermilk with sweet marshmallows, whipped into a texture that is creamy and just a step away from pannacotta. There's a perfumed juice of hibiscus & verbena and a hot bite of donut served on the side.
9. Olive oil panna cotta, fig leaf ice cream and granita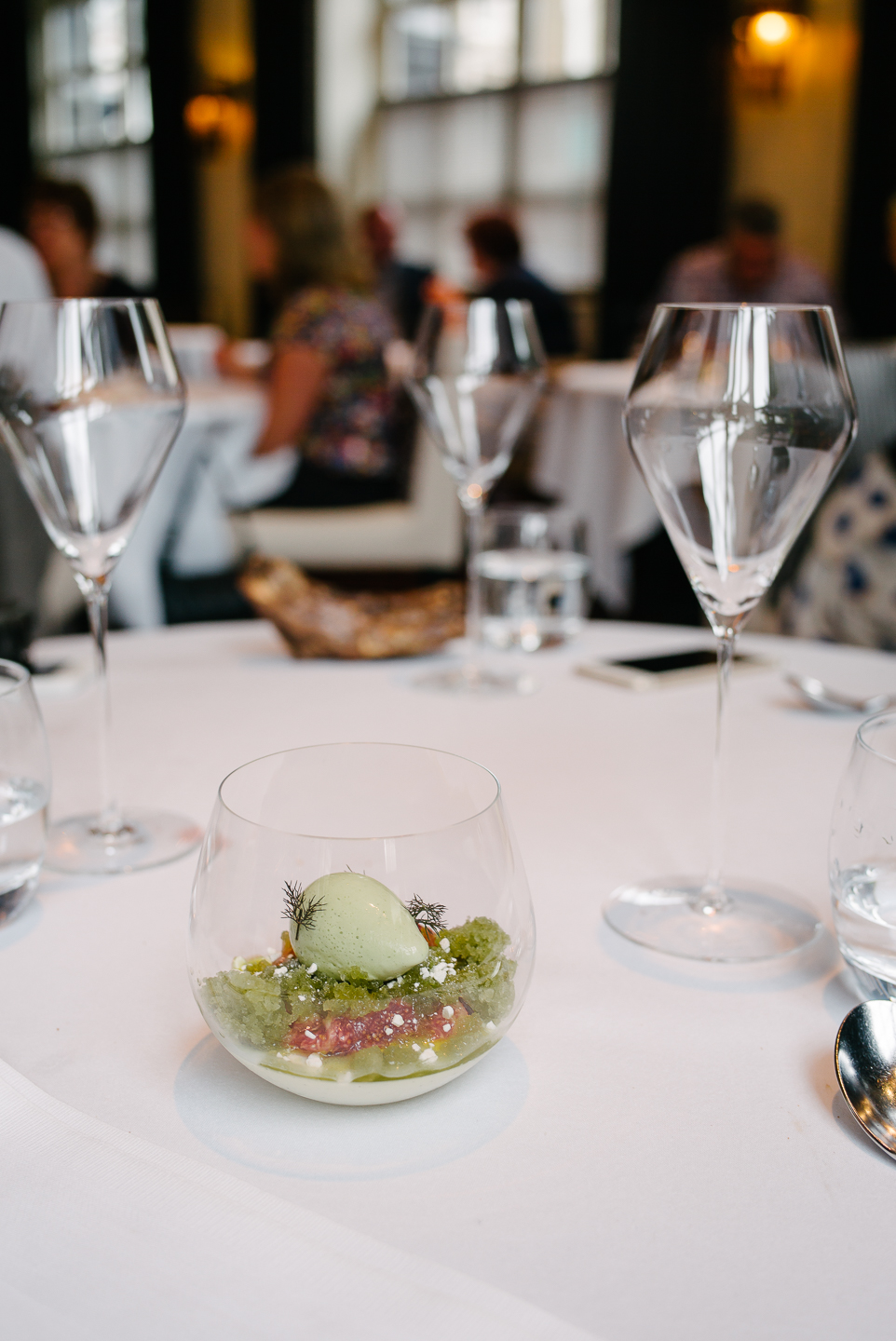 Wow wow wow – this is very good. There's a marine aspect to it, moss-like perhaps, minerality but also not. The ice cream is like figs and tea, without the astringency and without the heaviness of dairy. It's very good. A cold cooling clean finish. Serious work !
10. Dark chocolate chantilly and cherries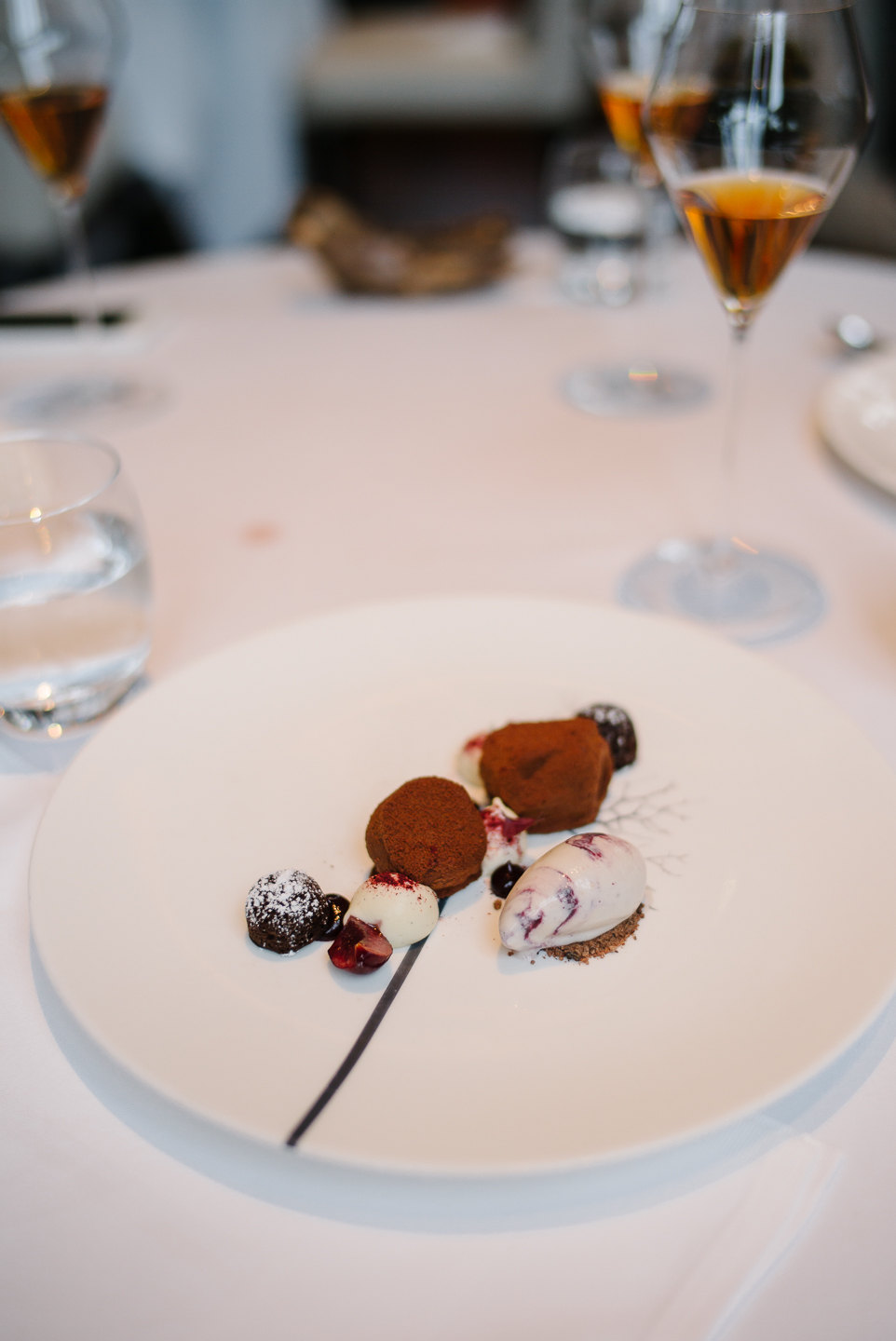 With a quenelle of cherry ripple and vanilla ice cream. A classic combo, but seems disjointed and ordinary. The dusted chocolate casing are piped with whipped chocolate cream which is made well. But the buttery aspect just seems to lose itself with the rest of the dish. Cream and ice cream not playing nice. Don't know. I wish I'd finished on the brown sugar tart instead.
1994 Chateau de Fargues
Sauternes to finish. Age has turned this noble rot into a rusty golden glow. Sweetness is becoming a spectre and it is giving way to tertiary flavours, metallic and nearly approaching sherry. Seems it is entering its last stages of drinkability, but it still is. Hmm. I think I might enjoy Sauternes when it isn't cloying sweet. Good.
We paid £554.63 for three taster menus, 2 cheese (£20), corkage (£50) and 3 glasses sauternes (£78) and service.
—-
Just because I'm greedy, I'd like to have had one fish. JD or turbot, whichever, just to see how this kitchen does with a serious flipper.
Very solid 2 stars, in any city including Paris, and probably even 2.5 stars for London. It's still Ledbury as I remember it, the cooking has always been brilliant, but today it's well-tuned and has moved up a few notches of refinement. On the whole, there seems to be less intervention, flavours come across clearer and more natural. Less but not in the anaemic sense, it's compact and smart dishes, complexity added when needed. It's just well thought out. Lighter on the palate and yet with flavours that announce themselves when needed. I think of that consomme, phew, it's just perfect. The application of modern technique is invisible and the line between classical and modern is a delicious blur.
Zero cock-ups, everywhere you look the execution was consistent and to such a high level.
None of this is possible if not for the ingredient quality however. You really can sense the care taken to preserve natural integrity of their produce. If you think about the offering, the game, the vegetables and the way they are cooked, the execution, the customer-first service, there's a lot of substance here. Maybe the secret to its success is obvious. Hard work.
They let us into the kitchen after the meal and there Brett received us for a quick chat. Top lad. You want to have a couple of pints with this guy. He served us a final little quenelle of ice cream made from leftover sourdough. His guys were prepping their staff meal, meatball subs with cheese, from venison, toasted in the oven. Ledbury does Subway innit. He offered us one, if not for all the tipple, I would've loved to have had it. Next time. I read the OFM piece that this is what Brett does. He's all about the customers. People want to walk away feeling like they had a proper dinner and that's exactly the feeling here. Money well spent.
Even with all the attention he's received, Brett seems humble pie and there's still that flicker of passion for sweating in his kitchen. The things we do for love. Year 11 is a very healthy one for Brett. Good luck to him steering his ship into its second decade of success, and may he pick up that third on the way there.
Details
The Ledbury
Modern French
Tasting £115pp + drinks + service
Dinner ALC 4 for £95pp + drinks + service
Lunch ALC 4 for £85pp + drinks + service
Lunch set 4 for £50 + drinks + service
127 Ledbury Road W11 2AQ
Tel : 020 7792 9090
Tube : Westbourne Park / Royal Oak