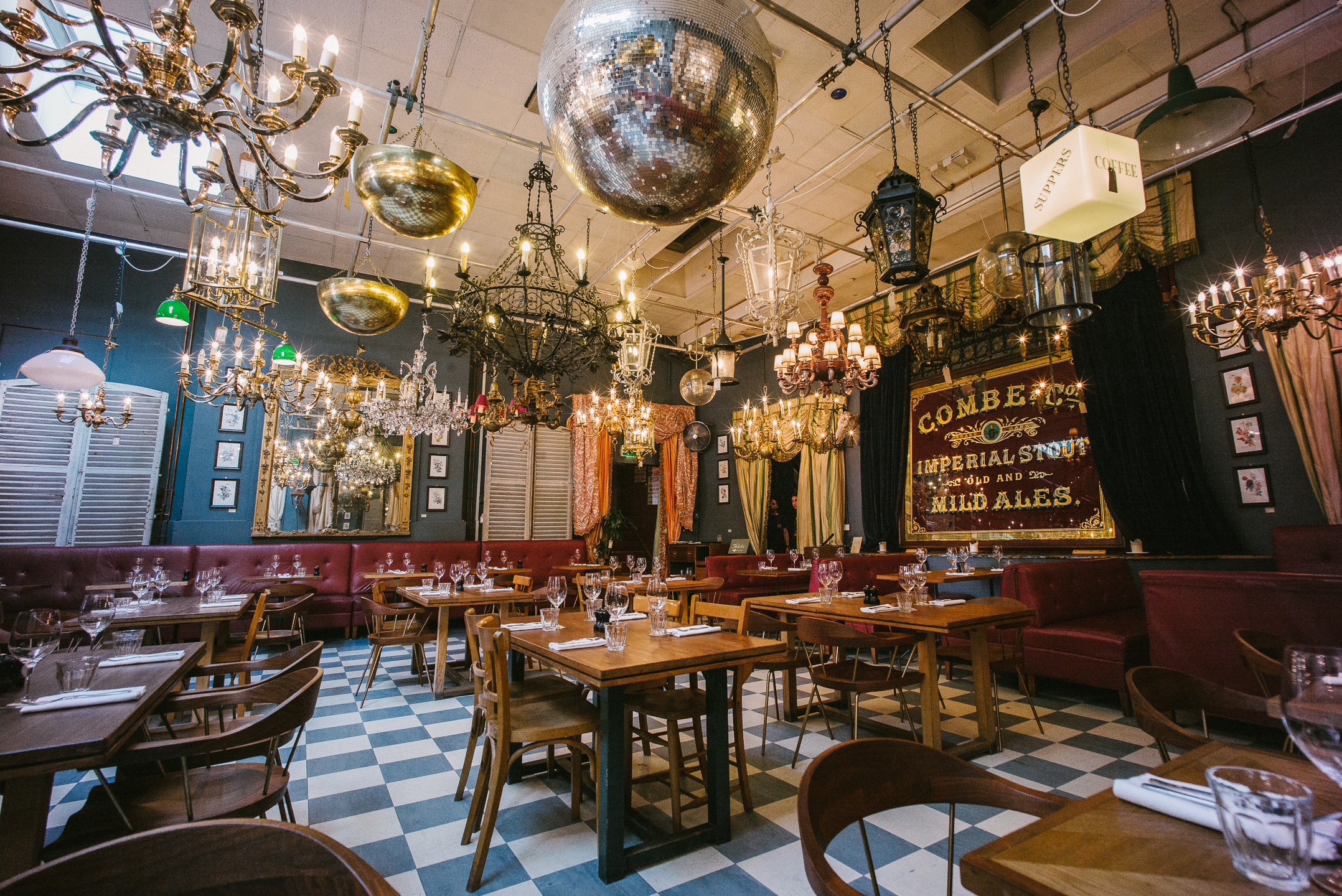 I am certain that I sat on those chairs at Le Chabanais last year. Walnut on brass legs, a modern spin on the classic Windsor Chair by two American designers, they are wonderfully solid things to look at and sit on. Likely the only thing missed when Chabanais eventually shuttered according to general consensus (I am in the minority of those who ate a decent lunch there). What a pick up though, gems, for these architectural salvagers and I think a perfect new home for them this year.
This is quite the vintage mansion, tracing its foundation stones to 1759, an architectural wonder, well-looked after in its grand age and a contrast to the truly ugly developments in Vauxhall. Maybe those ghastly apartment blocks with the butterfly roofs hide the actual offices of MI6.
There have been a string of reviews by our nation's critics earlier this year, coinciding with the arrival of Andrew Clarke (from Rita's and previously Salt Yard) who takes the role of Chef director at Brunswick House. He has been showcasing some fantastic work this year, over at his IG account, where you'll see plenty of evidence such as this aged veal rib. (I also greatly enjoyed following him and Willy Leigh ducking around France)
The other fella who has been running this shop for the last half decade is Jackson Boxer. You will likely have read of his family's storied connection with food and hospitality, though I would like just to mention his beginning days on his way here. He started out with Margot Henderson and latterly landed in the kitchens of Tom Norrington-Davies at 32 Great Queen Street – one of my long time favourites.
Vauxhall is convenient for me as it takes 20mins on the mainline to get here. And I can't believe it's taken so long because the food is absolutely glorious! Apparent simplicity, jolly good craft and interesting recipes. Some un-obvious, some borrowed from around the globe, inventive but not for sake, as every plate is an exercise of balanced flavours and textures. These guys know good food.
We visited for Saturday lunch where the menu is a running list of 10 dishes ranging from £6 to £13 – quite the steal. Dinner is a little more and mains max out at £18.60 for delicious reading specimens such as Roast Swaledale veal, courgette, pinenuts, parmesan. Good value for money.
Bread and butter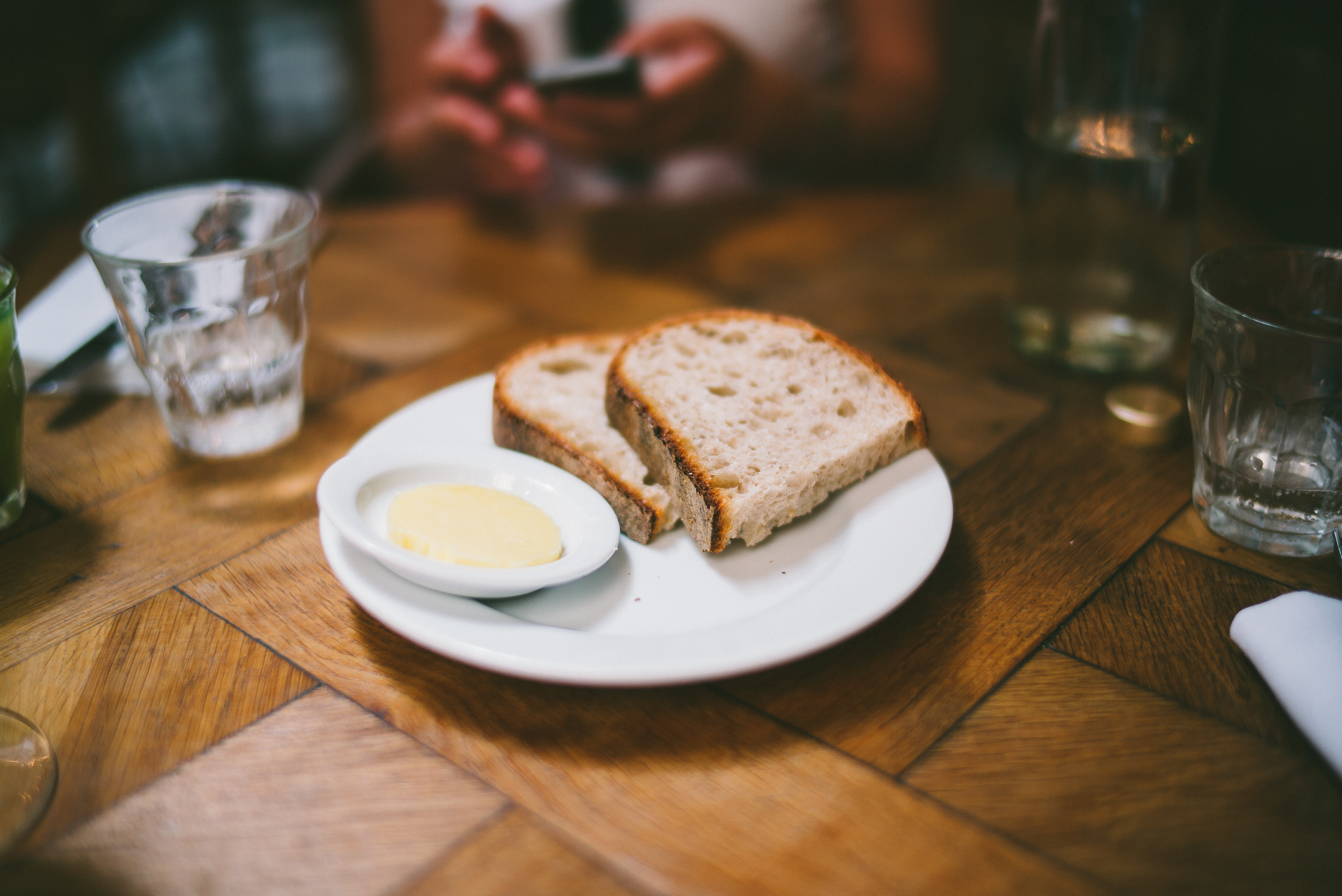 They do not bake in-house, but the sourdough is very good. Fluffy and soft in a satisfyingly smokey caramel crust. Our waiter told us they come from a baker in Stockwell, from what I can work out, this is bread from Brick House.
Clams, broad beans, lardo, ajo blanco £7.80
Fresh in an uplifting way. Lardo as seasoning makes the clams zoom around the palate, broad beans provide texture and these dried red pepper takes off like a rocket. Boom. Balanced. Really good dish.
Bavette tartare, mussels, dripping toast, £8.20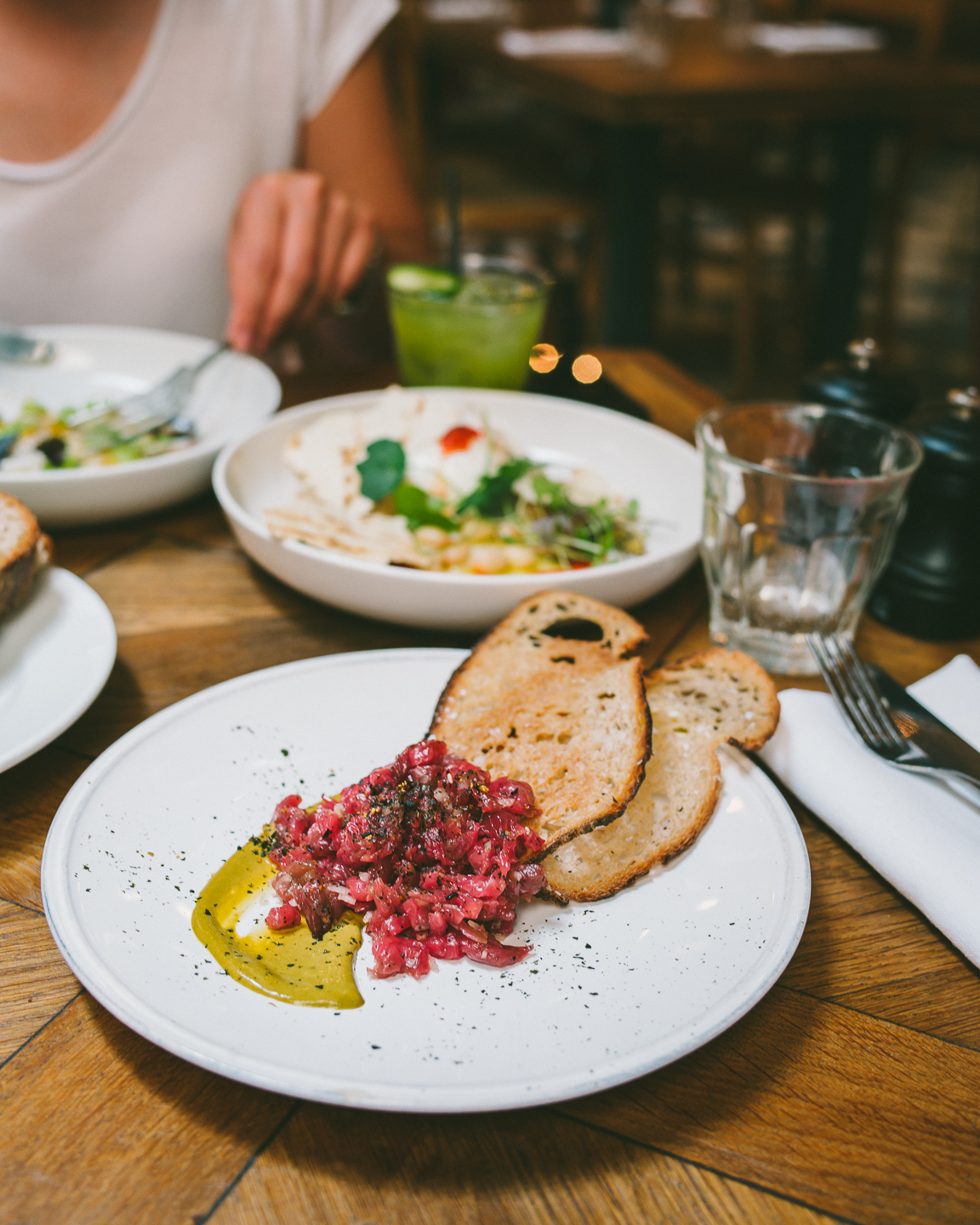 At first I thought the smear might have been a funky mild mustard with a particular saline quality (or sandy carrots and seaweed even), but as it turns out those are the mussels. I asked and they told us that they were cooked in wine and shallot, shelled and blitzed with creme fraiche, it acts like the yolk in a classic recipe. Beef is sprinkled with furikake, the stuff that normally goes on steam rice, but here it's alternative seasoning and works to great effect. Bits of dried nori, sesame, umami powder innit. I love the deep flavour and texture of this cut. Good choice for sure, no browning necessary, just raw and chopped. This is a star dish!
Burratina, coco beans, lavash and chilli, £9.00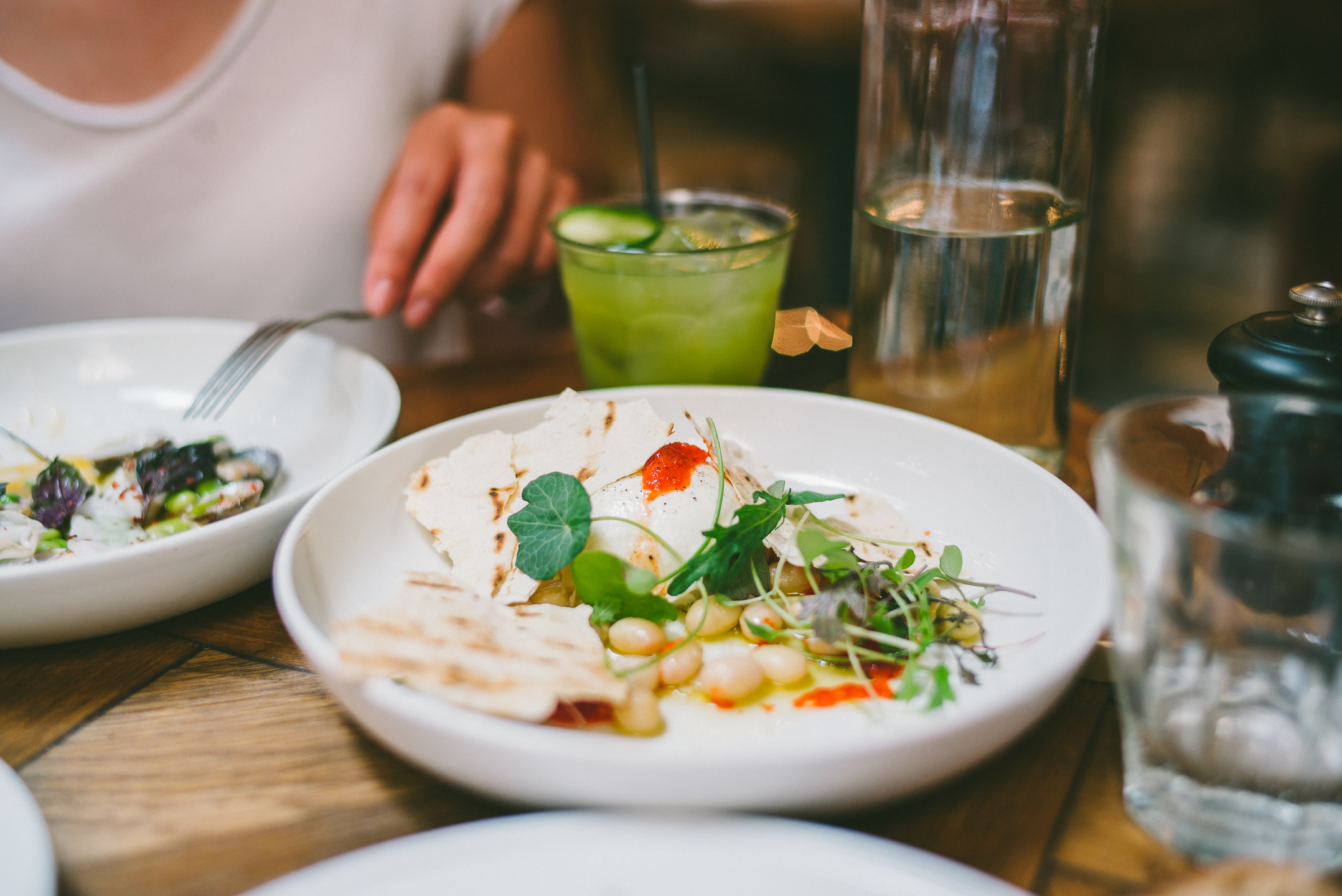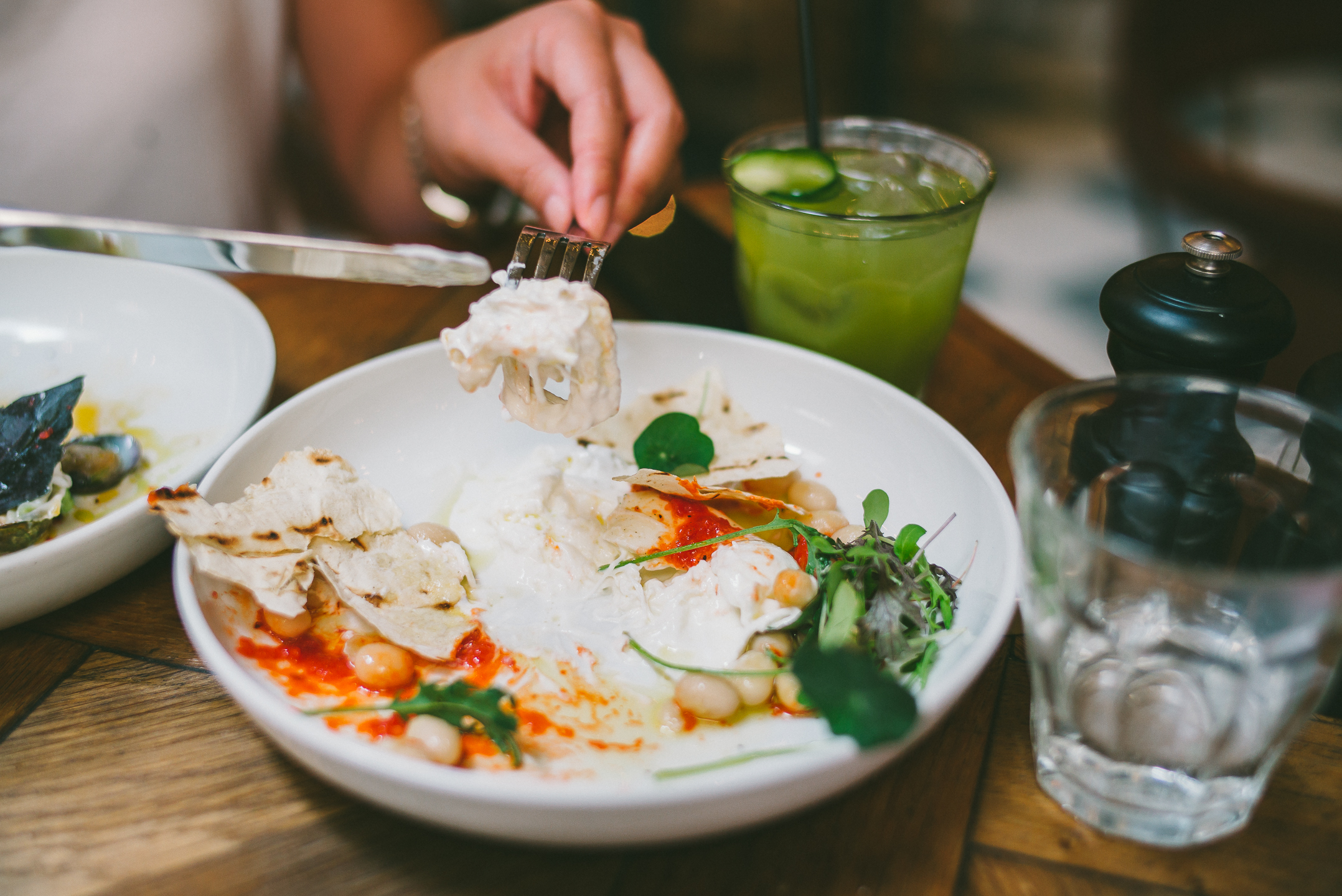 The thin and crispy lavash is very good, but I was most impressed by the chilli. It reminds me of the chilli sauce that usually comes on the side of a plate of Hainanese chicken rice. You know that taste of ginger, garlic and the acidity of it, the same colour too. Who knew it pairs so well fresh creamy cheese, genius. It's simple I hear you, but hot damn, it's good. Apt for the summer and just so well balanced. I love it.
Hake, black lentils, chard, preserved lemon, £13.40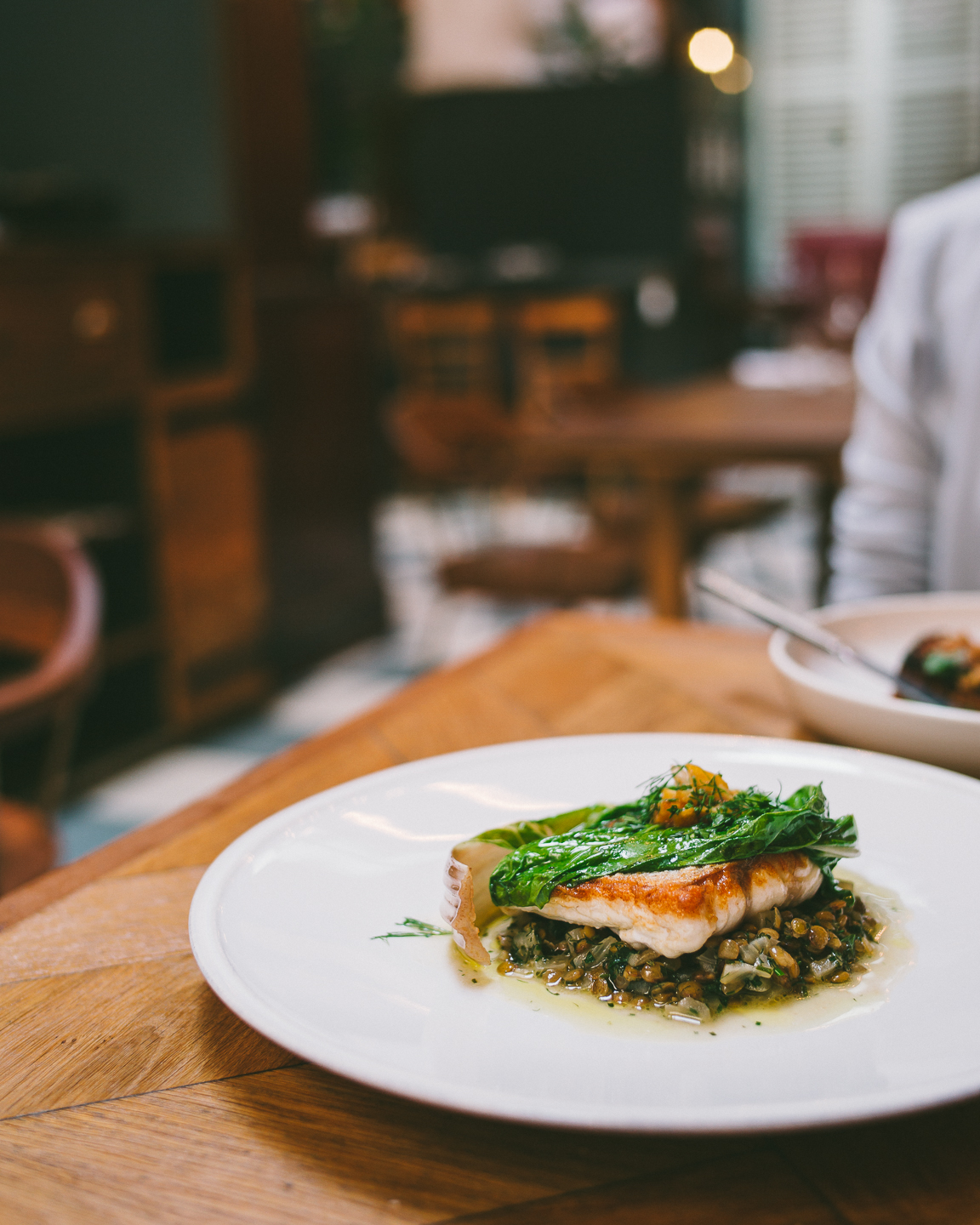 And dill laced lentils I think. Well-seasoned with juices poured all over the fish, that has been pan-fried to a pillow of flaking gorgeousness. The steaming temperature they served this dish at is spot on to enhance the aromatic qualities. And I especially liked the confit lemon peels, bringing sweetness, acidity and a mild numbing effect too. Tasty.
Duck meatloaf, flageolet beans, tomato, mint £13.20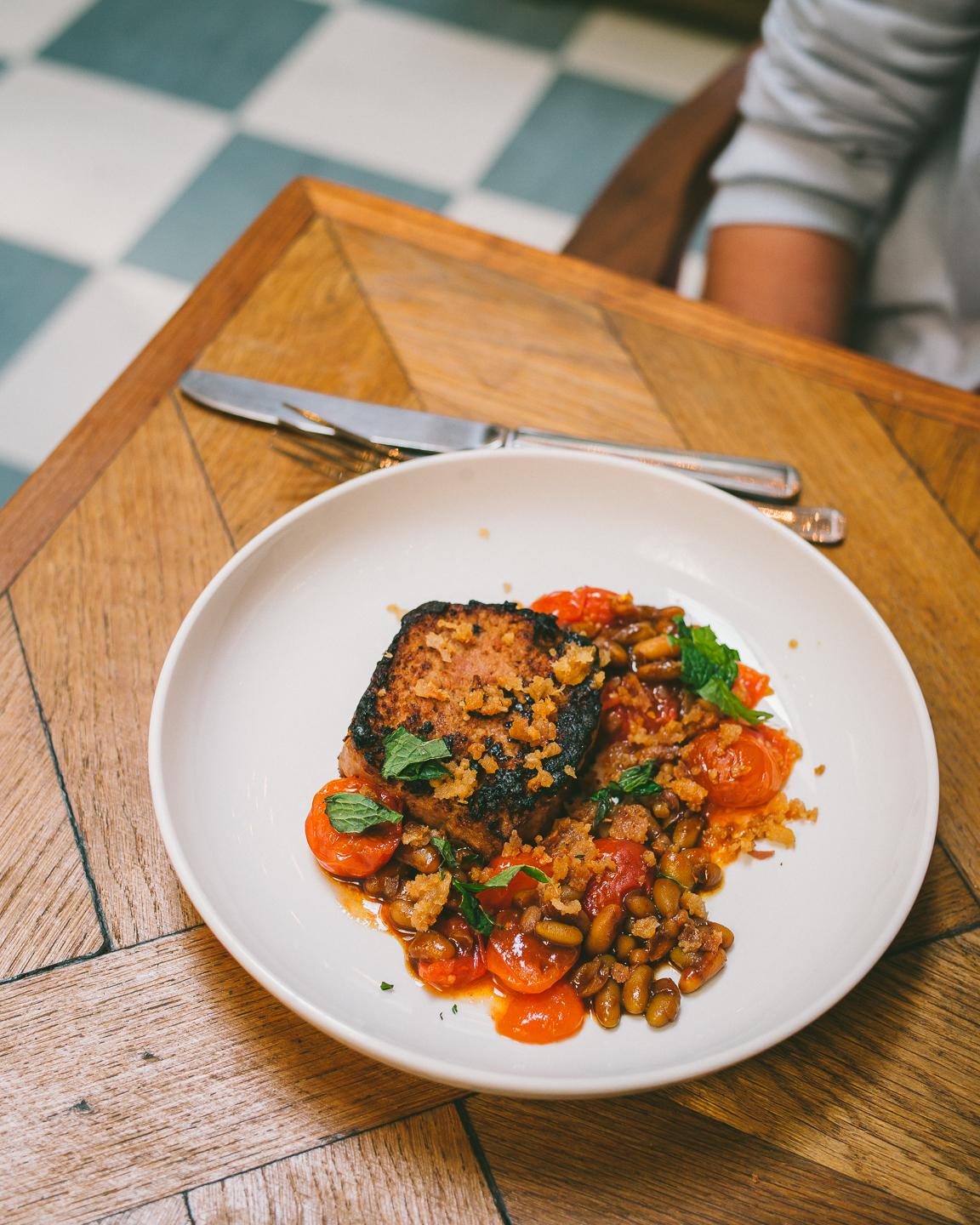 Pan-fried until crispy, insides loosely packed, warm and fluffy. This is comforting stuff. It's acts like sponge to absorb the flavours from the stew of tomatoes and beans. What else has been done to intensify the tomato umami I wonder? There's high levels here that tastes well-seasoned and features sharp acidity. What are those crumbled bits I wonder? Crackling? Skin? They are salty and nearly like anchovy, when eaten with the beans and tomato. Excellent work.
Blood peach, almond and brown butter, £6.40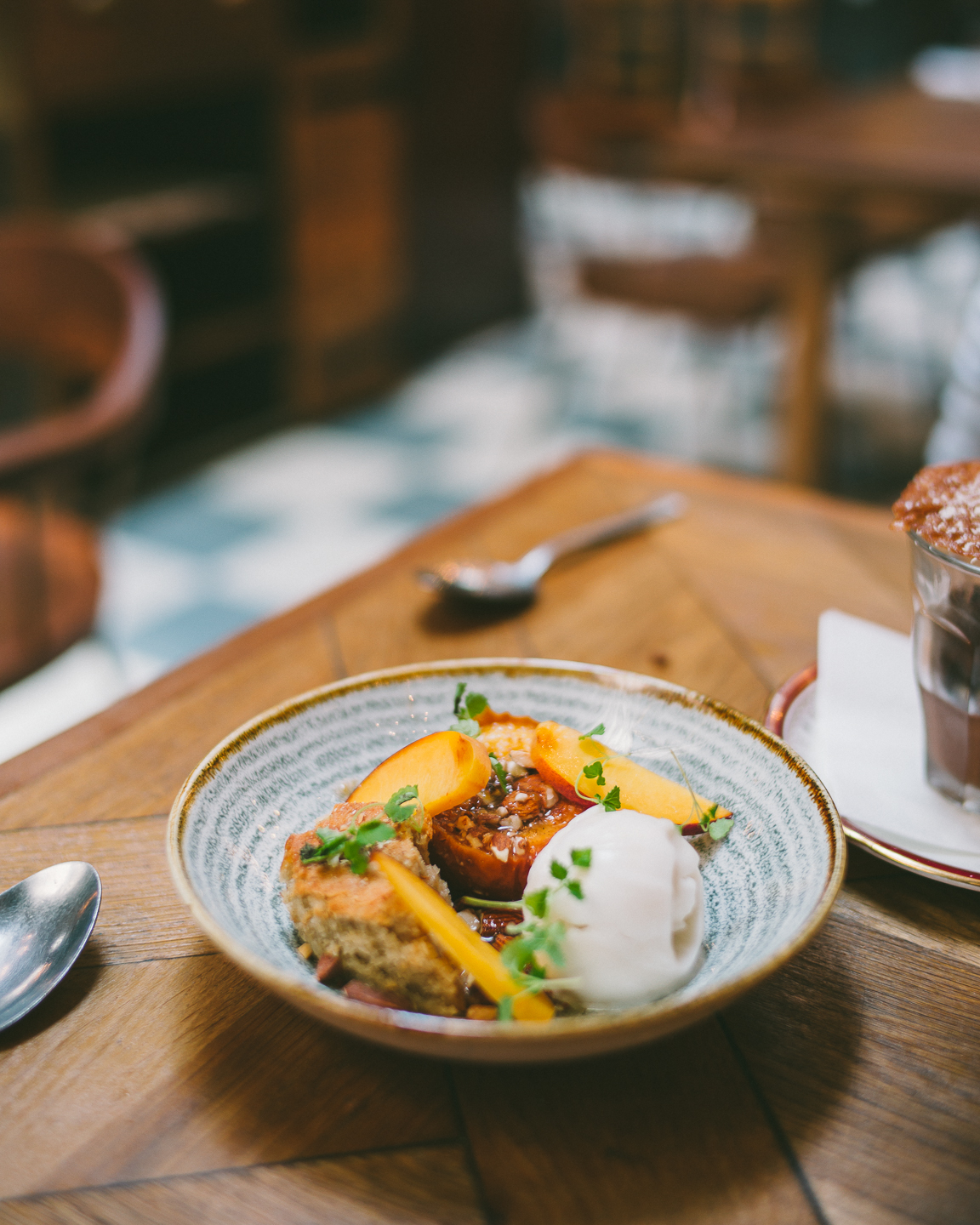 The brown butter financier – nutty flavours, fluffy, this is made well. With almond ice-cream and peach raw and cooked. There may be a misprint on the menu, or they probably just ran out as these look like yellow peaches to us.
Chocolate cremeaux, cumin, caramel, £5.80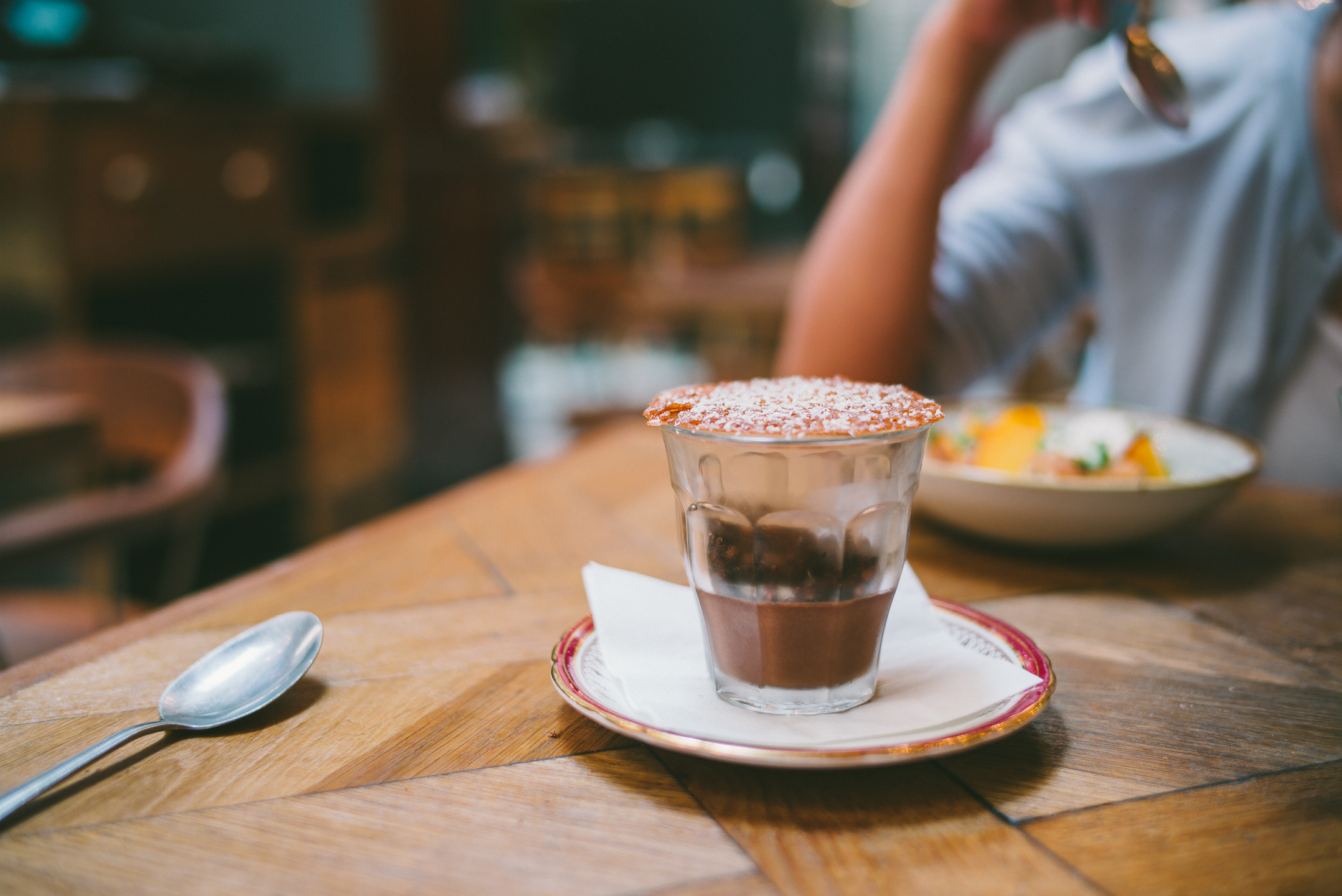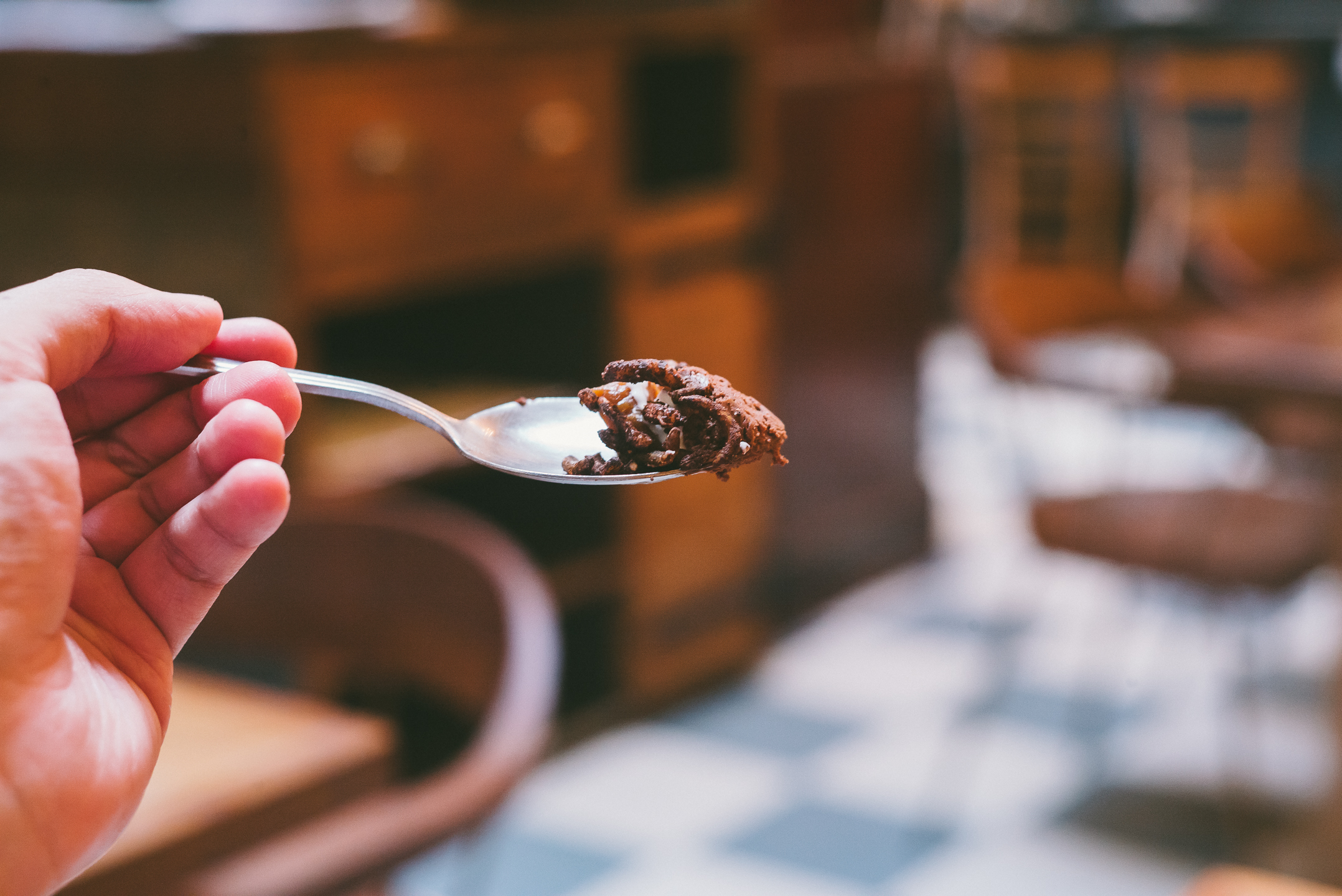 Just a touch of cumin… yes I think it works with the chocolate.
All food, 2 glasses of wine, 1 soft cocktail, 1 double espresso (£1.80 only!) and service came to £90.67 for two. Great value for money.
Service deserves mention. Our receipt says Ugo, if that's you and if you're reading this, you're doing a top job.
I feel the need to mention the excellent BTG choices, which our waiter recommended to us. For white, 2012 Cotes de Gascogne, from Domaine San de Guilhem (£4.7). From the South West of France, crystal clear acidity with some juicy white fruit, maybe melon. Dangerously easy to knock them back. For red, from Tuscany, 2013 Albarese, Fattoria di Samontana (£5.3). There is effervescence, like fermenting raspberries, high tone red fruits and a slight greenness (in a good way). A light red that works well with fish.
Sure is pretty in here, probably quite atmospheric at night. They have skylights way up in the triple storey ceilings. All sorts hang from there, huge mirrors line one side of the wall, well-broken in red leather banquettes all around. It takes an eye to pull off this thrown together look (using antiques no less), equally it takes discerning palates to do the same with food. Easily one of the best meals this year. It's not everyday you come across kitchens putting together food this good, and so you should certainly make time to check this out. As for me, I feel lucky to be close-ish. Already marked out the diary for return visits.
PS: Aged Challandais right? I'm going to make sure I don't miss Bastien when it opens.
Details
Brunswick House
British
Lunch £25pp + drinks + service
Dinner £30pp + drinks + service
30 Wandsworth Road, Vauxhall SW8 2LG
Tube: Vauxhall