AKA …where Kang spent most of his moolah this year.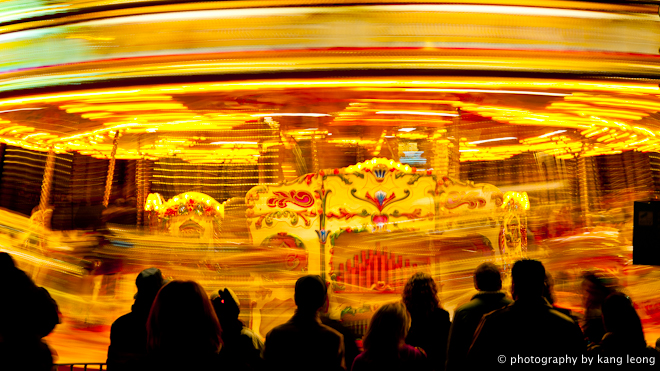 The time has come to reflect on what's been yet another crazy year of restaurant collecting. Just when I thought the burgeoning number of openings in 2010 were overwhelming, 2011 came and smashed 2010 out of the park. There was literally something new to try every week.
There's more diversity than ever from this year's round of openings and non-openings with 'street food' coming of age and the no booking policy becoming the norm. I think eating out is still expected to be a special occasion, but now it's done more regularly, more spontaneously with less formality and with costs spread out across more meals.
With that, I think it's fair to say that 2011 is the year that 'fine dining' died and came back to life as a caricature of itself. This was epitomised with the baffling 2nd update to the Bib in the fall (or I should say, releasing 2012's revision six months ahead of schedule). It has only done damage to the credibility of their vaunted macaroons.
Looking at what's coming in the pipeline, 2012 looks to only build on the momentum of 2011. At this rate, one wonders if there will be a point where we will hit critical mass. Maybe shitty restaurants will become extinct, someday, who knows. I think its safe to say that the general quality of the mid-level restaurant in London has upped in standard tremendously this year. Just look at what the high street holds these days: Byron, Jamie's Italian and soon Union Jacks. Nandos still holding its own however.
We start the 2011 list with the biggest restaurant opening of 2011.
11. Heston Blummenthal's Dinner.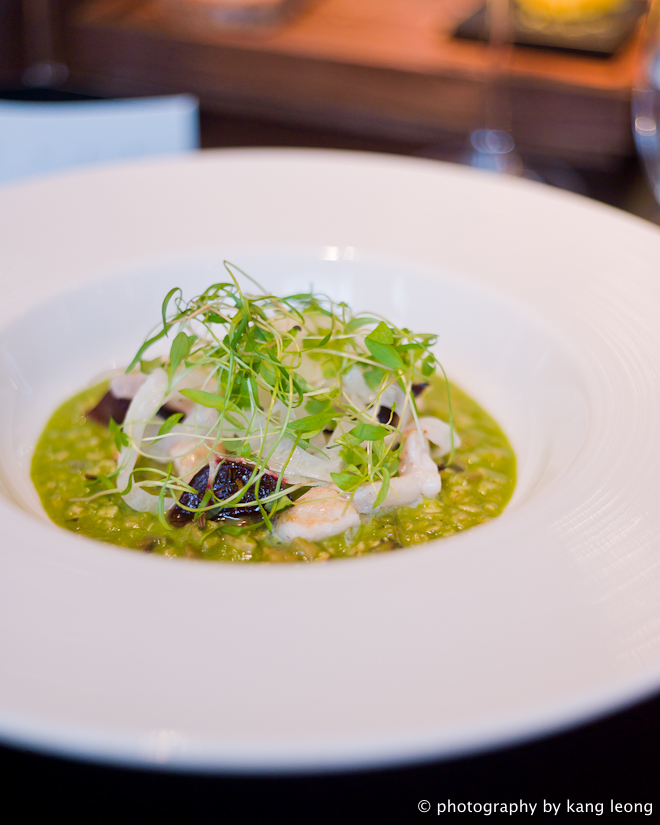 I left 2010 clasping onto a reservation at Heston Blummenthal's much anticipated debut London restaurant, aptly named Dinner. It opened to much fan fare, has garnered glowing critiques and of course scooped up its first michelin star. Ten months on, I still struggle with the return visit. Just like Fat Duck, it is nearly impossible to book a table, there's at least a months lead time and even if you do manage one, you'd be lucky to get one at a sensible time slot.
My meal was nothing short of amazing. It's the best restaurant in London. Potentially. It's grand without being pretentious. It's posh without table cloths. It's three michelin starred cooking applied to century-old recipes. It's wacky, but down to earth hearty, it borrows the best of The Fat Duck and the Hind's Head to create the perfect modern restaurant.
Some have bemoaned the fact that it's not the food theatre of The Fat Duck, but its half the money, and for almost twice the food. I admire Ash and Heston's restaurants for their obsession with getting it right 100% of the time. These guys are not artists, they're mad scientists. It may seem like a rather cold assessment, but the real secret to their success is that their food is always superbly cooked, using techniques that have been thoroughly well researched and experimented upon. I'm sure they could compile whole theses on specific genres of cooking. Rightly so, Heston's books make for intriguing reads. His chapter in searching for the perfect steak and chips taking him across America to NY strip joints is an inspiring account to say the least. His triple cooked chips are still the best fried potatoes in this country. It's Kaizen, it's the strive toward perfection and it is scarily delicious. In 2013, it will carry three stars. If the bib still exists in 2013 that is.
10. The Corner Room.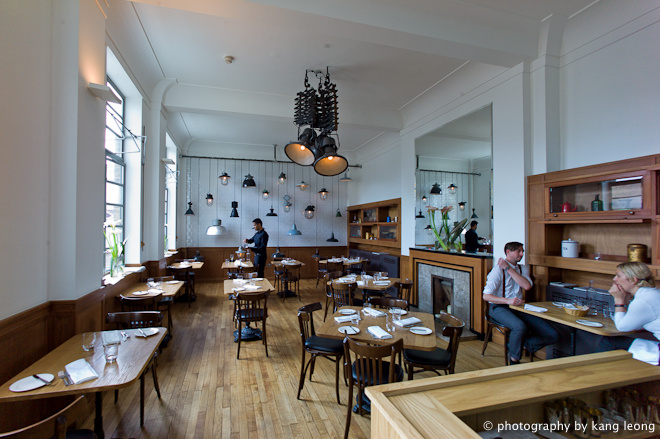 I met Nuno Mendes when Viajante was just a pipedream and he was still cooking at The Loft, before it became a platform for emerging chef-artists. I wish I'm half as cool as he is. "It's Vi-a-JAN-tey, with a J. I'm Portuguese.". Strokes the Jesus beard and a flick of his fringe. He is the antithesis to Heston's nerdy mad scientist, he is the vision of a manic artist revelling in his most creative period of his nomadic career. I am so glad for his michelin star with Viajante, but I am more glad that he has decided to breathe life into The Corner Room. This is a significant restaurant. It was once the breakfast room for the Townhall hotel's guests, but now it is London's worst kept culinary secret.
Sure its no booking policy mean that on weekends food comes out tardy, inconsistent, which can be an absolutely let down after a pain in the arse of a long queue (but not before getting tanked up on martini sours at the downstairs bar). During quieter times however, the corner room really comes into its own. With a bit of breathing space, the young chefs from downstairs Viajante are given the chance to rise to the occasion to turn out stripped-down cooking that is reticent and thoughtful. It really is like a solid B-side which may not be as popular, but that you love it for its uniqueness.
The results are heart warming dishes which are breathtaking, marvellous, simple and freed from the pomposity of Viajante's prerequisite threatrics. The Iberico pork loin with Portuguese bread pudding is a genius dish that you must try – it works equally for brunch or for dinner. This is an unplugged acoustic set of smoother sensations, like Bread & Wine or Rochelle canteen, its the explicitly bare act of nourishment that makes this restaurant such a romantic proposition.
9. Meateasy, Meatliqour and Lucky Chip.
I failed to make it to Honest Burgers in 2011. So we'll reserve that for 2012. If you're still a burger skeptic, come out of your hole – it's time your world felt a step change. But before we talk patty, let me just say this : Meateasy was the best pop-up restaurant in 2011. It set up shop in a still-refurbishing pub in New Cross Gate, it was dusty, shabby and barely standing but this pop-up had the genuine bon vivant spirit which restaurateurs could only dream of imbuing their restaurants with. Just take a look at this: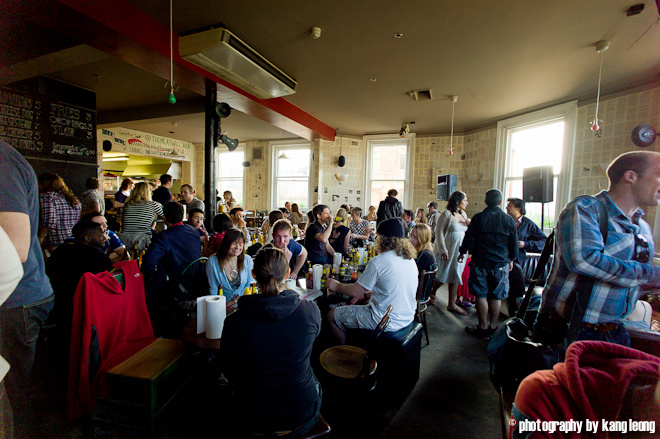 Truly atmospheric, truly wondrous and incredibly beautiful. This is why we pay to eat out. This pop-up encapsulated all the feel-good elements of the business of modern hospitality – this one had everything punters wanted, it was just so dastardly cool. Their connectivity with social media, their democratic burgers, fries and wings, their cocktails served in jam jars, their youthful exuberance, everything about it was compelling, eating here made me forget the world was falling from the sky outside. Truly, a historic moment in London gastronomy no?
And yet, it is so fleeting, it has gone as quickly as it came. I went to Meatliqour which does well enough to recapture much of the darkly shabby crack house ambiance, but unfortunately it feels terribly like nothing more than a good museum reconstruction. The burgers are still classic Meat Wagon, but the rest of it is just too loud, too dark and a bit of a painful mess. Don't take it the wrong way, obviously if you're new to Meatwagon, Meatliqour will still blow you to smithereens. Personally, Meateasy was never meant to be replicated, it was a landmark moment in time. Besides, the back of Debenhams was never ever going to replace New Cross Gate for true atmosphere.
London burger cooking techniques have become so intricate, that if you pool all the blogs together, you would be amazed as to how much goes into making the 'perfect burger'. From the choice of bun, meat to fat ratio, choice of cuts, length of ageing time, fixings, type of cheese, steaming, grilling … I couldn't keep going because I'm no expert. But I can show you what burgers in London look like today:
The Meatwagon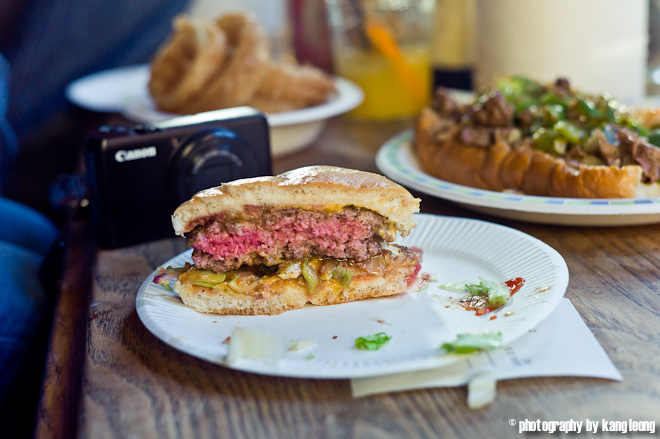 The Meat Wagon Cheese burger: Best fucking cheeseburger in London.
The Lucky Chip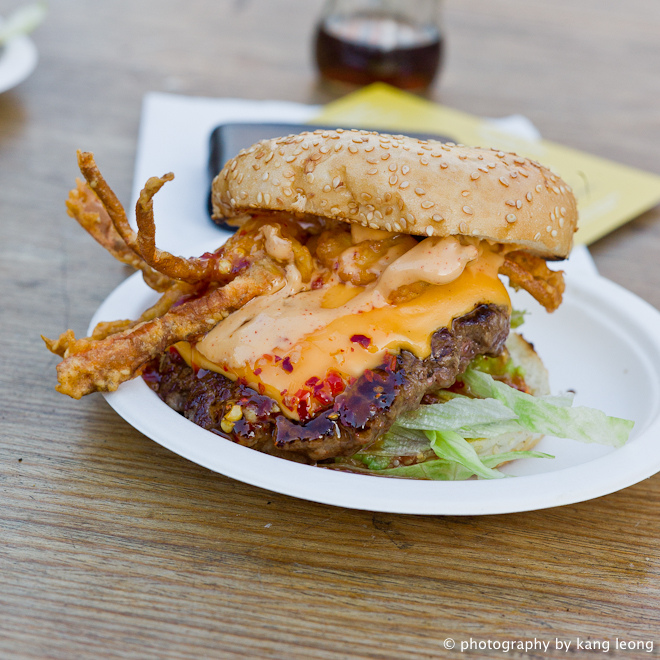 The Lucky Chip Bill Murray's Aquatic Life Surf n Turf Burger: Best fucking burger in London, period.
But you already know that. If you don't, then its time you paid a visit to Meatliqour, The Lucky Chip in Netil Market, or if you want a blow by blow introduction – then you need to speak with Daniel Young on BurgerMondays.
Reviews here: Meateasy , Lucky Chip.
8. Roganic.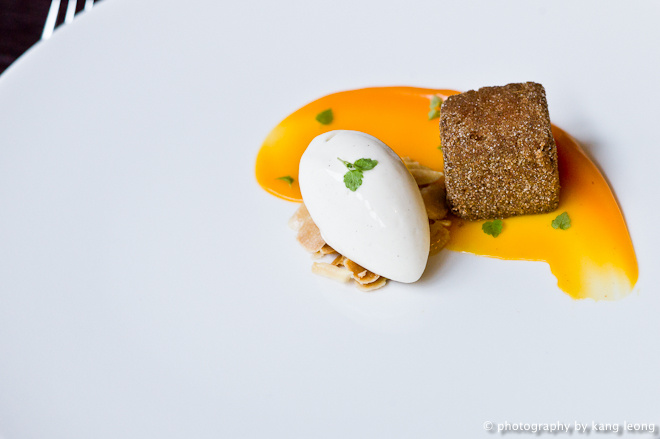 The London arm of Simon Rogan's Northern gastronomic empire is home to a precocious talent, namely Chef Ben Spalding. A brilliant young chef whose CV is as glittering as they come – stints at Per Se, Royal Hospital Road and The Fat Duck. His cooking is creative and exciting. There's a marathon ten course taster, a la L'Enclume. Their signature potato dish is one of the best things I ate all year – a perspective bender considering I never knew potatoes could ever be a main course – and one of the more dazzling long menus I've sat through all year. There's an emphasis on quality of produce here, much of which are sourced directly from Rogan's own farm. This is one restaurant which I would heartily recommend you try the full ten course experience. It will be £80 well spent, believe me.
Ben is probably the best young chef working in the city right now, he is already displaying acute skillz at Roganic, but I think he's still got bags of untapped potential yet. The best thing about these kind of restaurants are that chefs continue to tweak their taster menus to grow and evolve them into fuller experiences over time. Remember when Brett Graham was an up and coming talent? Which reminds me, I am due for a return visit very soon.
He sometimes still hosts supper clubs at The Loft Project, but I think once Roganic runs its two-year pop-up course, you might want to keep an eye out for where Spalding will land next.
7. Copita.
Just when you thought small plates were dead…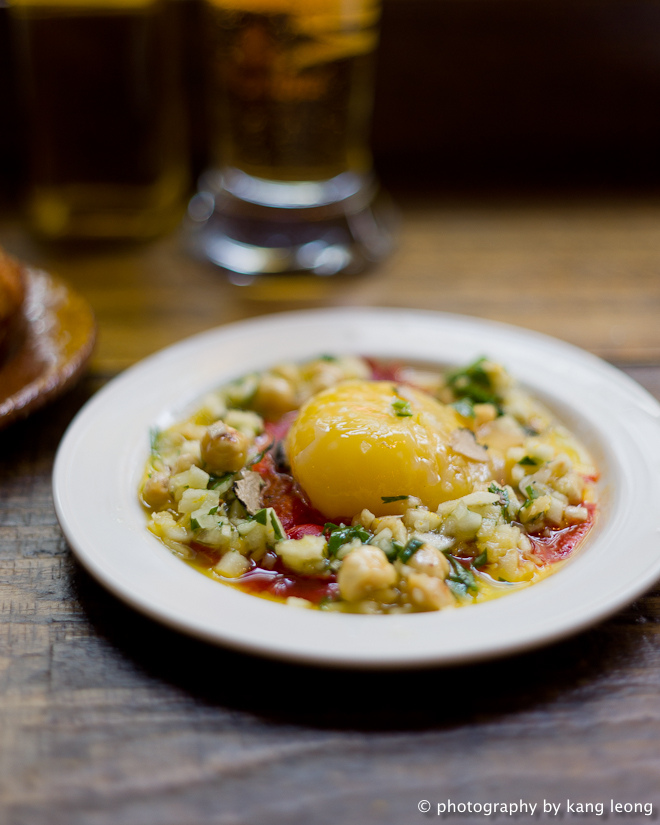 .. this one really took me by surprise. I love this place. Opened by the guys who own Barrica, this little tapas bar is more bar than tapas. Portions are tiny, there aren't even any proper tables to sit down in, aside from stools and bar length table tops, and it doesn't take reservations either. But the cooking is a bold departure from the norm, there is lightness, creativity, nuts, citrus fruits and a whole lotta truffle in their dishes. The slow cooked, custard-like duck egg with a touch of orange (i think) is a dish you only dream about in restaurants, the cod throat and clams were simply euphoric, and their Tom Jones beef tartare hand-chopped with sprinkles of truffle was mince beef heaven. There is a twist in every single recipe, a surprise with every mouthful. This is fantasy cooking, and one of (if not actually) the most exciting (of) openings in 2011.
6. Mishkin's and Spuntino.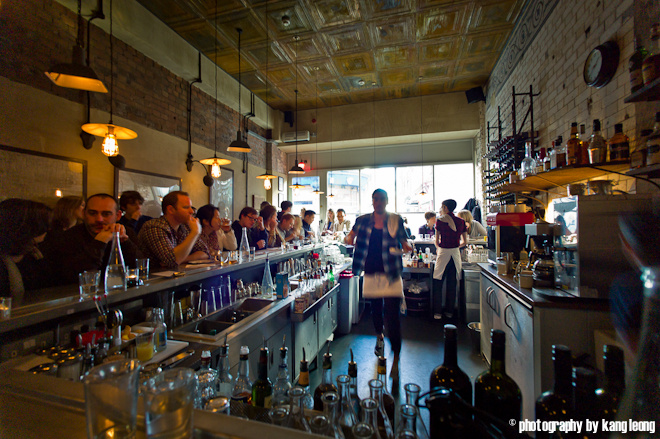 I have spent more money in Russell Norman restaurants this year than anywhere else. We already know that Norman and Beatty had managed to peer into the minds of punters and deliver what they really want with Polpo, but they've taken all the lessons learnt with their Italian bacaro and morphed it into a non-prohibition speakeasy in Spuntino. The combination of universally accessible (greasy) diner grub (grits, egg, cheese and truffle toast, sliders, mac & cheese, filter coffee) and a stonkingly electric vintage ambiance (artificial aging with the decor and vintage depression era folk music) makes it the perfect anti-restaurant to dine in. It's just a really trendy place to eat in, it's a stroke of atmospheric genius which is almost as good as Meateasy.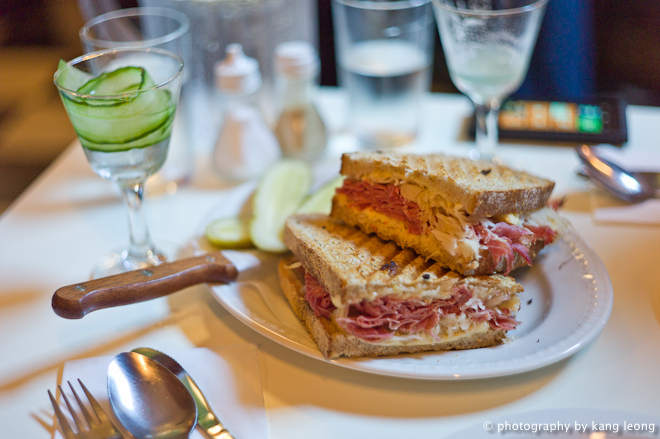 So then they took all the lessons learnt with Spuntino, took the time machine back into fifties America and brought back a tarted up version of a sort of American diner that served diner food, with a Jewish accent. Again more of the same accessible everyman grub which you can pick up with both hands, like their take on the Reubens sandwich (let the debates rage) and their enhanced steamed beef and onion sliders. But therein lies the beauty of Russell Norman restaurants, where he reminds us that ordinary food (like sandwiches, mince meat, soup and fried fish) is still ordinary but it doesn't mean it can't still be delicious. For me, 2011 belongs to Beatty and Norman. I just can't stop spending money at their restaurants. I suspect there is more to come from this duo in 2012. Well at least I want them to re-invent another eatery, I'm hoping they will do a bistro.
Reviews here: Spuntino , Mishkin's
5. Jose / Capote Y Toros
Ah..the sherry bars. Isn't it ironic how things come in and out of fashion?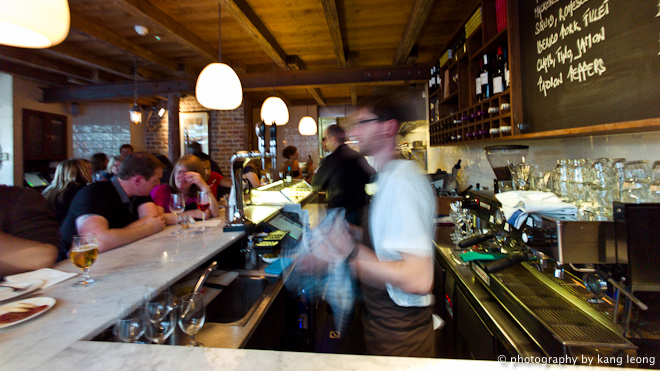 Jose Pizzaro aka Mr Ex-Tapas Brindisa is back with not one but two establishments both in Bermondsey Street and both do not take bookings. Earlier in the year, he opened the tiny alcohol focused sherry bar 'Jose' – which I love – and last week, he opened the more food focused Pizzaro – which I haven't got to yet.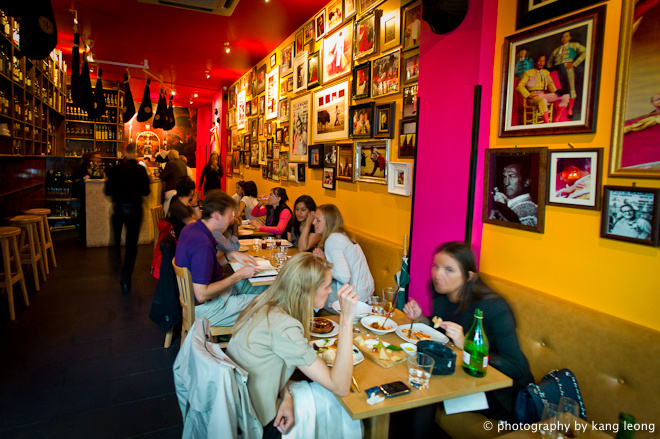 On the other side of town, the other Spaniard with a culinary empire – Abel Lusa – who already owns the fantastic (and my all time fav) Cambio de Tercio, opened his sherry bar, Capote y Toros. Both are classical and rustic, the former has lighter recipes and lets the ingredients speak for themselves, and the latter has most of its food cooked with sherry it serves, which includes a value driven sherry flight for £12.50. Both are great places to unwind.
Reviews here: Capote y Toros , Jose
4. Seoul.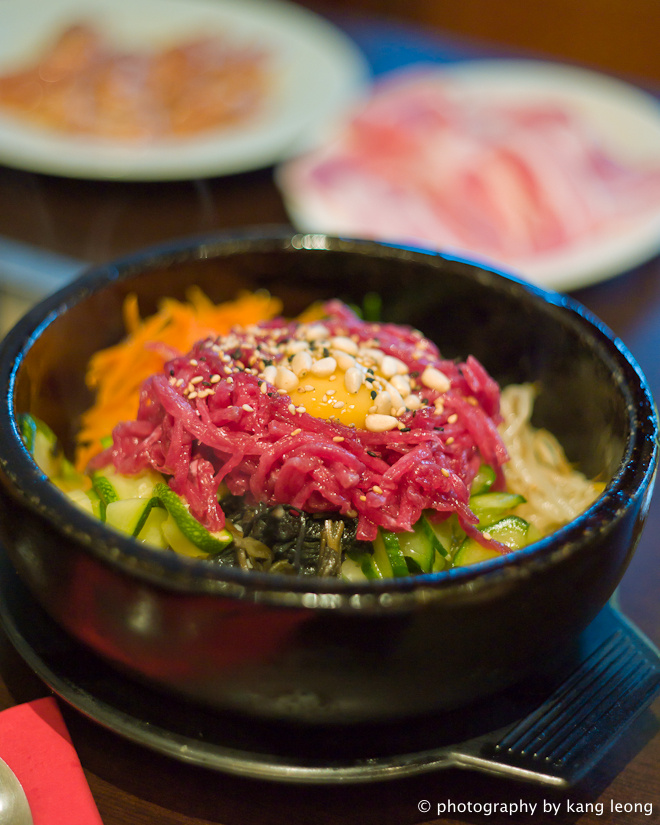 I have to celebrate a local, and this year the local I want everyone to try is Seoul in Finchley Road. It's a Korean BBQ restaurant, but all their meats are available at an indefinite 50% discount. This place is unrelentingly affordable given the quality of their food. I'm happy to see that it is packed during the weekends, which it should be. Take the bibimbap for example – absolutely massive with heavy shavings of raw beef. The quality of food is just about on par with Koba, but it's half the money. If you find yourself stuck in my part of town, don't think twice, just go eat here.
3. The Sportsman.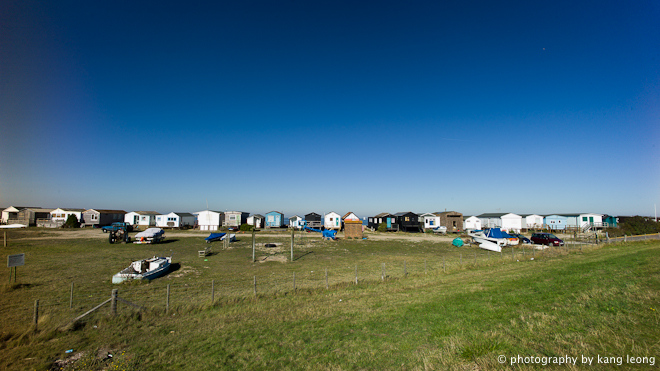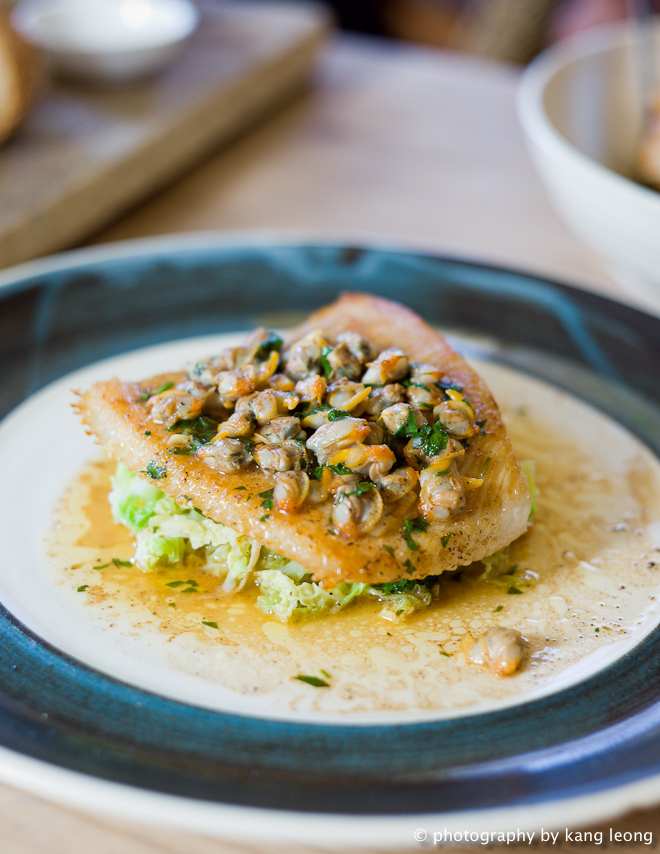 It was the most memorable staycation I had this year. The original gastropub turned destination restaurant located on the fringes of Kent is one of the best loved – and most highly rated – restaurants in this country. The cooking is absolutely first class, vibrant and as wholesome as the sea and greenery that surrounds it. I'm told that everything Chef Harris puts on a plate is either caught from nearby or grown in his garden behind the restaurant. The best egg custard tart I've yet tried, more like egg-mousse than cream. This is a real pilgrimage for food tourists. There's about a 2 to 3 week lead time to book a table, try and grab one on a weekday to catch their taster menus and if you're thinking of a B&B in Whistable, I recommend The Pearl Fisher.
2. Prufrock Coffee, Leather Lane.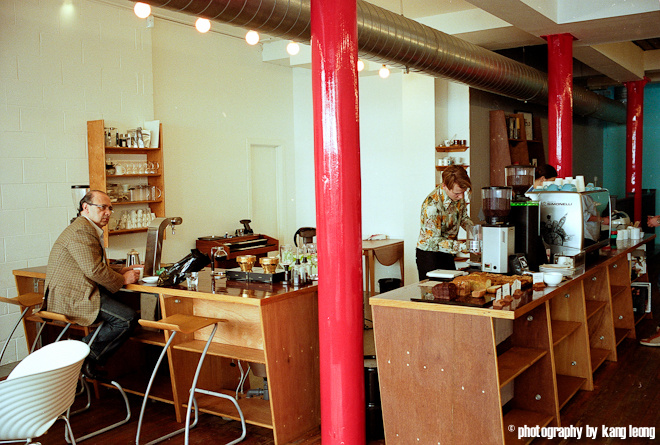 We know about the Prufrock flatwhites, and we know that there is an entire undiscovered universe when you force hot water through grounded coffee beans. And we know Gwilym Davies makes great cofee with milk but more importantly without it. Having a great product, boundless knowledge and skill is one thing. Transferring that talent (and employing people with similar gifts) into a cavernous warehouse-like cafe seems like a great lifestyle commitment to one's craft. For that, I am a total fan of Prufrock.
I cannot tell you how much I love this place. This is my favourite coffee shop in town. I visit nearly every Friday afternoon and I make sure I have at least one brew, one flat white and that I tip at least a flat white's worth. I've seen it go from being virtually empty to virtually full-up every Friday. It's a great place to read, to work on blogs and I've seen creatives conduct successful meetings in here.
The space is just brilliant. There's nothing as expansive as this in the city. It's like a temple for worshiping coffee. Actually scratch that, the baristas here know their beans so well, it is more like a university for coffee. Kinda like a modern day Penny University, yes? Yes, you remember Square Mile's brief but fantastic pop-up with the brew bar too don't you. Prufrock have a brew bar, and fancy water dispensers that can deliver hot water temperatures to the 2nd decimal point.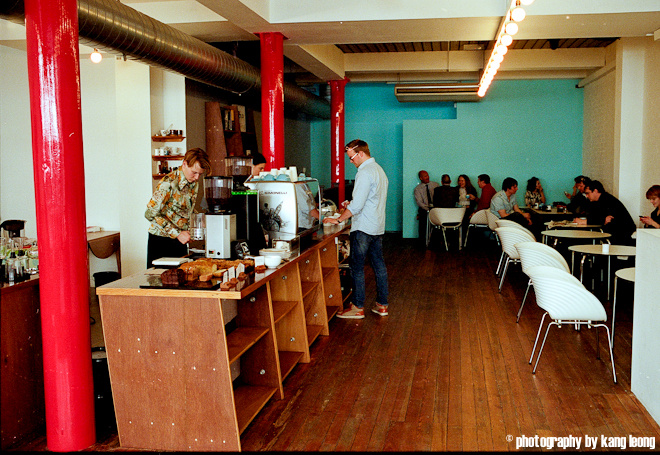 While they can do 'fast' coffee if you need to run with your trendy flat whites, I recommend you clear out an hour of your busy afternoon schedule to sit, relax and appreciate a slow session with brewed coffee. It is fact that coffee needs to be cooled to allow the flavours to manifest properly. Believe me, watching a barista prep a cup of brew is mesmerising stuff. They will weight and then ground fresh coffee, measure the water temperature, time the filtering with a stopwatch, and if you ask for a siphon, you'll witness water appear to defy gravity and magically turn itself into coffee. There are more discernible flavours in coffee than there are in wine, and the buzz you get after a few cups of coffee is …quite a high. They are also one of the few coffee-men experimenting with cold brew coffee, a la stumptown in NYC.
Obviously there are other places to get the brew bar experience, like Tapped & Packed which I included in my round up last year, but while I love T&P, I love Prufrock more. A coffee shop by coffee lovers for coffee lovers, and for others who like hanging out in coffee shops too.
1. Medlar
Every year I take great pleasure putting together these lists, but I can never really pick one as my absolute favourite of the lot. This year is different, I love Medlar. This is my restaurant of the year.
Maybe I like abit of old fashion decadence, but just look at these dishes:
Duck egg tart with red wine sauce, turnip purée, lardons, young sorrel and sautéed duck heart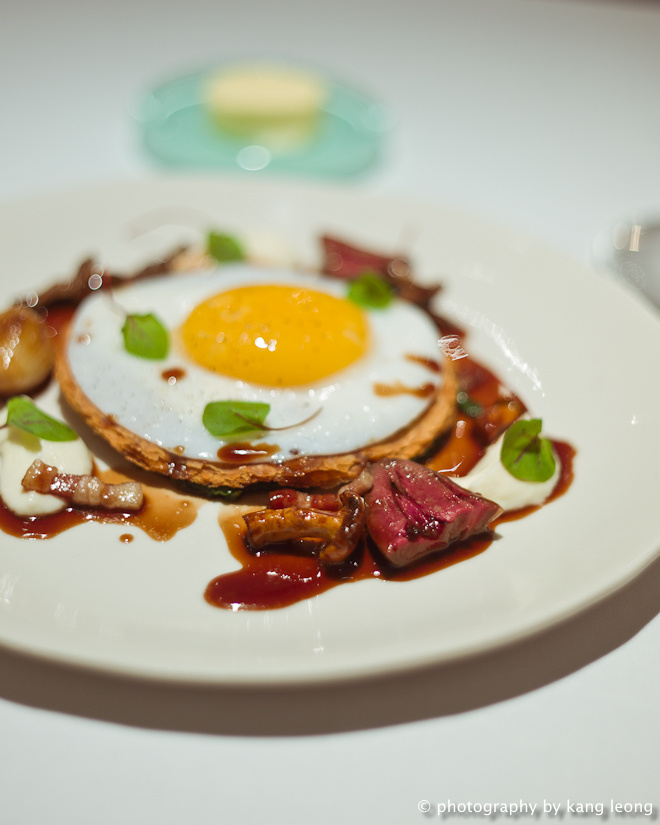 This dish was a revelation! It better still be on the menu, it should be Joe Mercer Nairne's signature dish.
Crab raviolo with samphire, brown shrimp, fondue of leeks and bisque sauce.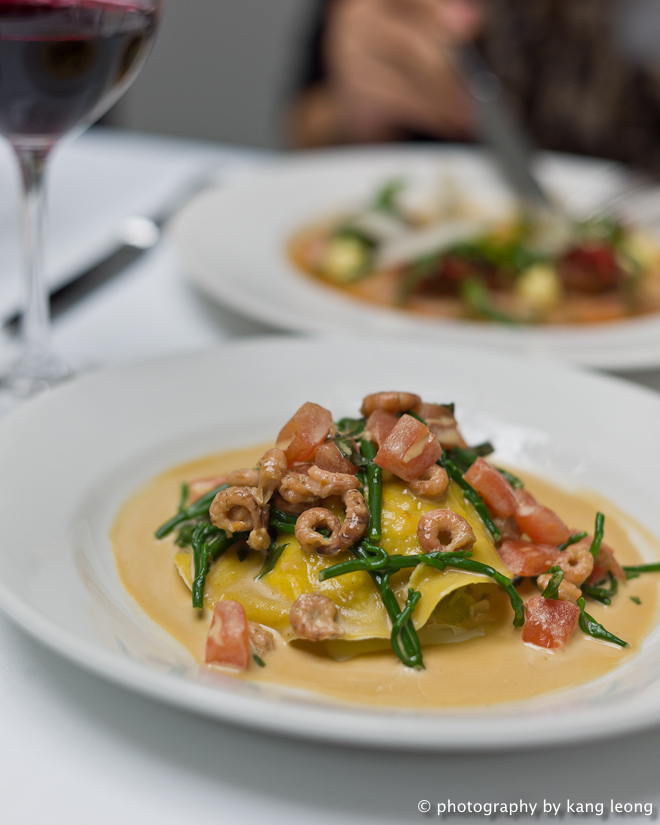 And both are just the starters! Chef Joe is formerly the sous at the venerable Chez Bruce, and the other co-owner, front of house David O'Connors is formerly of The Ledbury. Their restaurant feels distinctly like a Platts-Martin production – Value driven (£25/£40 prix fixe menu) , stunning but classical (and rich) French cooking in a low-profile and comfortable ambiance. I went to Chez Bruce – but the review won't be ready till after this is written – and I think Bruce Poole would be extremely proud of his protege's work. The food is brilliant and the front of house are visibly hardworking and genuinely impassioned about their labour of love. I think they know they're onto something special with Medlar. Dare I say, it may have surpassed Chez Bruce in nearly every department.
…famous last words.
And there you have it – 11 of the most memorable experiences of 2011.
Other places deserving a mention : Brawn, Opera Tavern, Chabrot, Odette's, Galoupet , GELATORINO (great gelato! They do zabione as an ice cream!) and I really need to revisit The Bull & Last.
Things I wanted to, but won't do till next year : The Cut, Delauney, Young Turks, Le Gav and maybe Hedone just so I can prove myself wrong.
I love putting these lists together – its so easy to be gushing and effusive. Don't you just love it when a man uses every adjective in his limited vocabulary to explain how much he loves to eat? I hope you haven't yet seen through the thick of my hot-air & bullshit, and that you see the funny side to our shared past time.
I sincerely think that London (and Great Britain) is becoming a true culinary destination. The identity of the London restaurant may be a curated mish mash of cuisines from around the Europe (and America) , but there is a movement, a spirit, a soul and a serious addiction in spending money to eat better.
As ever, I am always indebted to you folks who continue to read my stuff. I passed 1.5 million hits this month, and I long lost track of how ever many of you subscribe directly to my RSS feed. But really, from the bottom of my heart, thank you. After 3.5 years, I've grown a little weary but it hasn't dented the love for visiting restaurants. I may have slowed down a little this year, but I only keep going knowing that you folks still take my opinion with some weight and a heavy pinch of salt.
To the many restaurant owners and chefs who have had the displeasure of putting up with my candor, my ego and my sometimes misplaced knowledge of cooking – I firstly apologise and then applaud you. You are the entrepreneurs driving the industry forward and at the end of the day, I am merely one of many a salivating fan waiting to take a bite out of your next creation. So please keep up all the great work, and lets all spend our way out of this fucking depression. Onward we march toward the new year, with an ever expanding waistline and merry abandon. Bon appetite folks, and don't hold back on the eggnog.
K.
ps, before I forget..
Number 0, an extra special mention – Made in Camden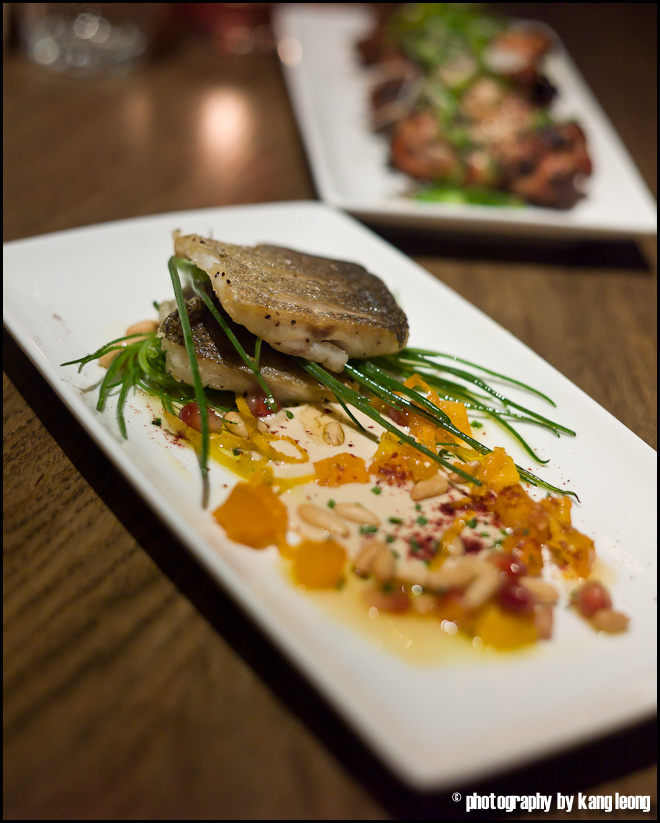 I cannot believe I left out Made in Camden from my initial round-up of 11. I completely forgot about it! A real injustice I have to say, because this is a restaurant that thoroughly deserves London's attention. Essentially, this is a cafe with a mightily over-achieving kitchen.
I have visited at least 7 times since I first wrote about it in February. It's small plate food, but because of its low-key atmosphere (and reasonable pricing) , it is easy to keep going back for solid meals. Josh Katz is the man in charge, he previously trained with Yotam Ottolenghi, so his cooking is a little mediterranean, like NOPI, but it is also Pan-Asian, Japanese, almost Nobu-like (tempuras, miso sauces, chilli). Ultimately his dishes are a dazzling array of world flavours which sound ambitious on paper, but in practice its fusion cooking that work surprisingly well. Good fusion food is a rarity, great fusion is virtually non-existent, Josh manages to tame all these flavours which should't come together on the same menu and it is the kind of talent, I am certain would intrigue Peter Gordon and perhaps make him feel a little jealous. The food at MIC is the level which Kopapa and Nopi ought to be at.
I asked Josh to bring back his version of the Momofoku pork buns, with any luck, we might see it back on the menu again in 2012, just in time for your visit.
It is a little surprising such fabulous cooking is found at the modest cafe/bar/waiting area/departure lounge? at The Roundhouse in Camden, but if you can get past the nonchalant environment (and the wait for some dishes) you will be rewarded with some of the most intriguing cooking in London. Let me put it this way: A kitchen that can churn out perfectly risen, light-as-whiffs-of-cloud souffles (On par with Kerridge's mango souffles in the 2* Hand & Flowers) injected with an intense guava syrup centre is an indication that these guys know how to cook serious food. GO.
Did you enjoy reading this? You can subscribe to the Newsletter. Alternatively, you cansubscribe to the RSS feed.