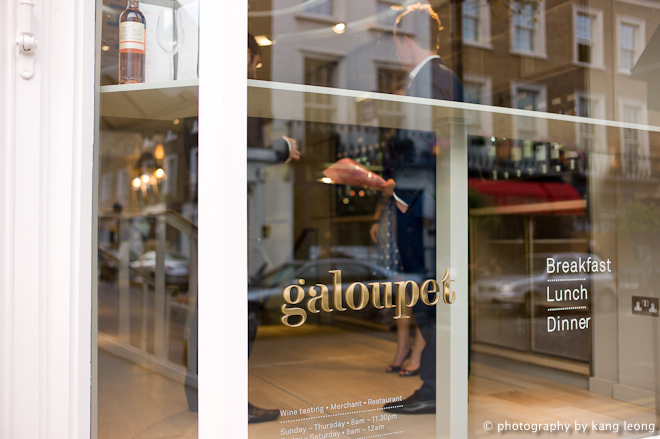 Despite the narrative the web has spun around Galoupet, you should know that this is not a restaurant. Don't come here expecting to be fed, because you will be a little confused. Even the decor strays far from the norm, like the faintly perfumery, sterile ivory walls and beech floors, mirrors on either side and (if memory serves) a skylight. There was so much light coming from all corners of the room, that we could only be here for a spa treatment.
Such words are not usually applied to restaurant copy: 'light, fresh, clean' , 'deep understanding' , 'adapted'. Let's throw sensory in there too. This was as close an experience to having a detox treatment for the tastebuds… not that I've ever been to a detox session for any other bodily part. In practical terms, most of the dishes could pass as salads. There's fruit in nearly every dish, I felt an eerie sense of being cleansed after the meal.
Yes, fella, this is not the usual restaurant, let alone wine bar, there is something of an unorthodox approach going on here. The emphasis on the grapes are a refreshing change, there aren't many wine-led restaurants in town, even though most restaurants will try their bestest to flog matching wines with the food, it often feels second best to the food; and for the case of the wine bar, food tends to take a backseat to the wine. And that's where Galoupet differs from the crowd, supposedly to take on the enviable task of bringing harmony to the disciplines of pleasure.
The owners are a family of winemakers. Naturally it is named after the family business which is based in Provence, Chateau de Galoupet, and quite expectedly, they sell their family wines at this London outpost too. At the front entrance is a long table which I imagine is so patrons can stand around and constantly top up short measures of their 36 wines or so which are in constant rotation from their Enomatic wine preservation machines.
Galoupet may well be the first restaurant/bar to visibly use the pay-per-measure system, but it certainly isn't the first to deploy it in this country. As far as I know, a similar system has been going for years at the wine shop , The Sampler in Islington. I may love my Rieslings and my Spatburgunders, but I'd rather not splash on whole bottles of Gajas or Rothschilds, so the system is useful in a kind of socialist way of purchasing sips of expensive wine, whenever the owners decide to pop something abit special into the enomatics. Like I don't know, how about a 1990 Vauchrains, from Nuits Saint Georges by Robert Chevillon, for example. I've done the impromptu self-led wine sipping at The Sampler many times before… it can be a rather liberating experience. You end up with all kinds of fruit, rust and mineral flavours swirling around your head after four or fiveakers. Naturally it is named aftt of course.
One of the family wines is a 2010 Rose, which costs £4.10 for half a measure (125ml) , and it is a staggering wine. Crispy, fresh, acidic and verging on the fizzy, it evaporates like ether as it goes does, fleetingly young at its core. So shoot me, I like delightful young juices that are shy on the palatte. Like a fizzy white wine with rose petals dropped in. Doing the math, if you expect the majority of the meal to be for tasting different types of wine, with the odd dish of food thrown in for distraction, then Galoupet can be rather fun. This was the first glass.
So let's move to the first dish: Figs, fregola, purple basil, orange, konbu, hazelnut , £8.50, the large portion.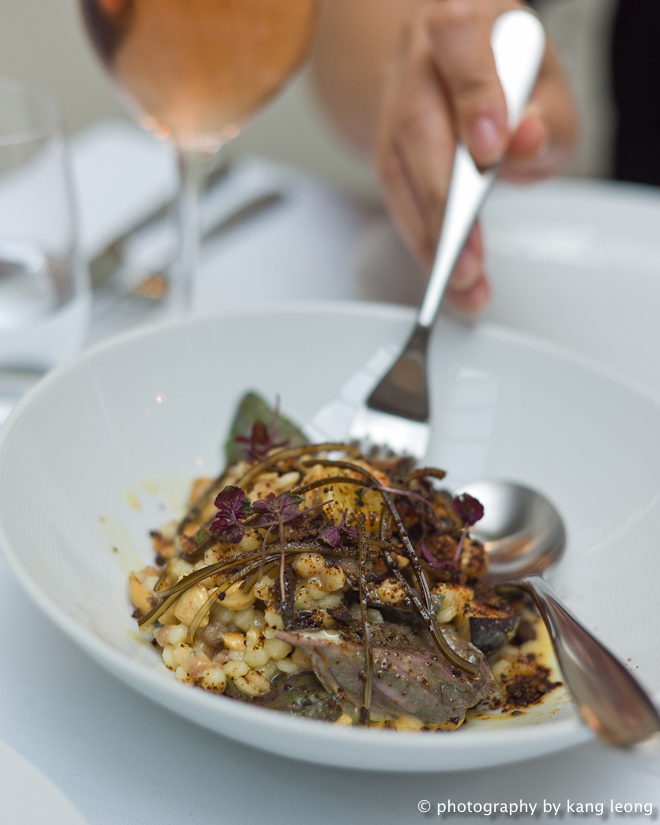 Yes very light, amazingly refreshing honey like figs and crunchy walnuts, acid orange, a rather dainty dish of food to look at in and a faint sense of Japanese cuisine stirred in with Italian. Not too bad, but a mere slice of fig hardly passes as a large.
Octopus, fennel, kohlrabi, miso, £9.50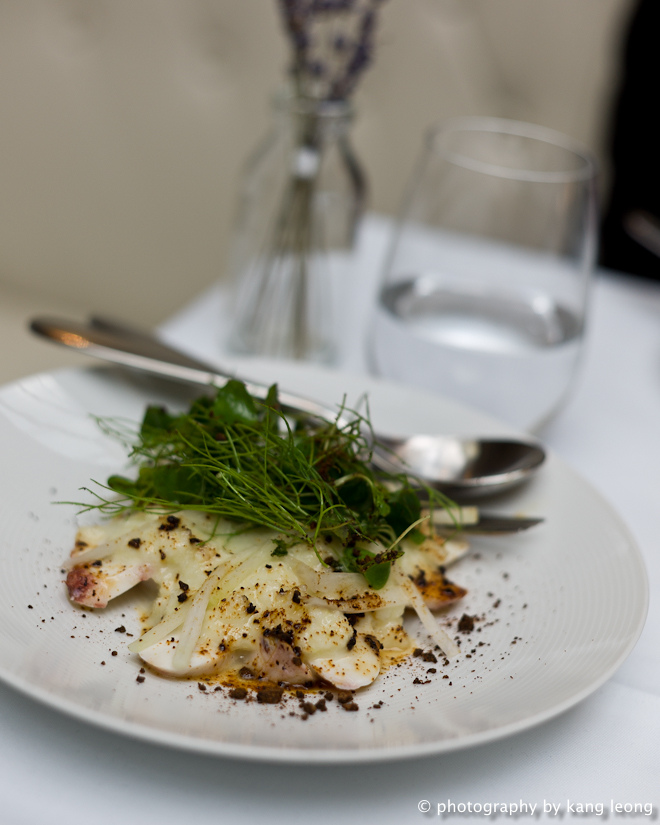 Citrusy, it balanced out nicely with the crispy Galoupet rose, generally clean tasting, nicely cooked but really also rather quite bland.
Stone bass, burnt tomatoes, coriander, £8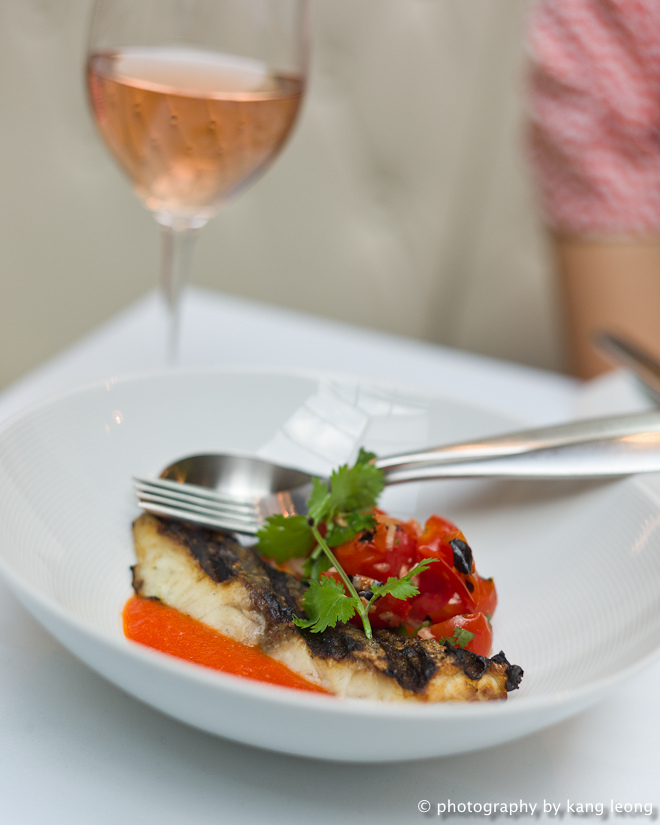 The skin was burnt to a char, so too were the tomatoes, accompanied by a tomato paste, which I hazard a guess that this was a variant of romesco. Who knows.
O'Shea's Onglet Steak, mandarin, peanuts, papaya, £12.50 (large)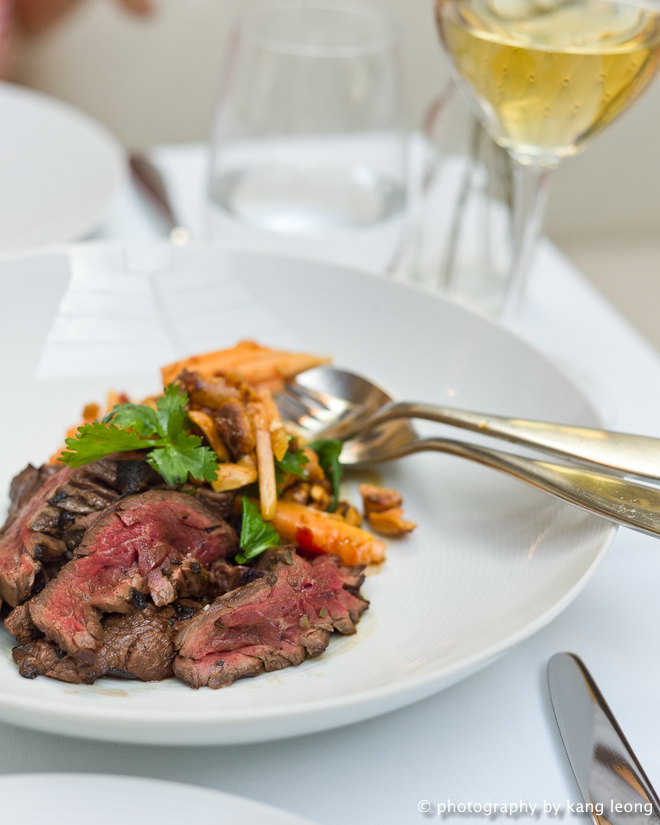 For the meats, I asked for another 125ml, this time a glass of Riesling by Heinz Schmitt. I failed to check the harvest. This came with a mesmerizing hue of amber. Flavours of honey and hints of glue (or petrol, you get the idea) – as you'd expect from Rieslings – but this was a little more complex as the citrus was verging on sour. An interesting wine, wet and heavy, more than muscular enough to match with the meat.
O'Sheas is gold standard beef, from Darragh on the other side of Knightsbridge, and is impossible to muck up. This came properly medium rare, and hard to fault such good meat of course. The little cooking done to it was adequate for it to shine. Perhaps a little unnecessary were the sweet papaya which accompanied the beef – sweet steak was a little alien to me.
Chilli pork 'rib eye', cucumber, coriander, lime, £11.50.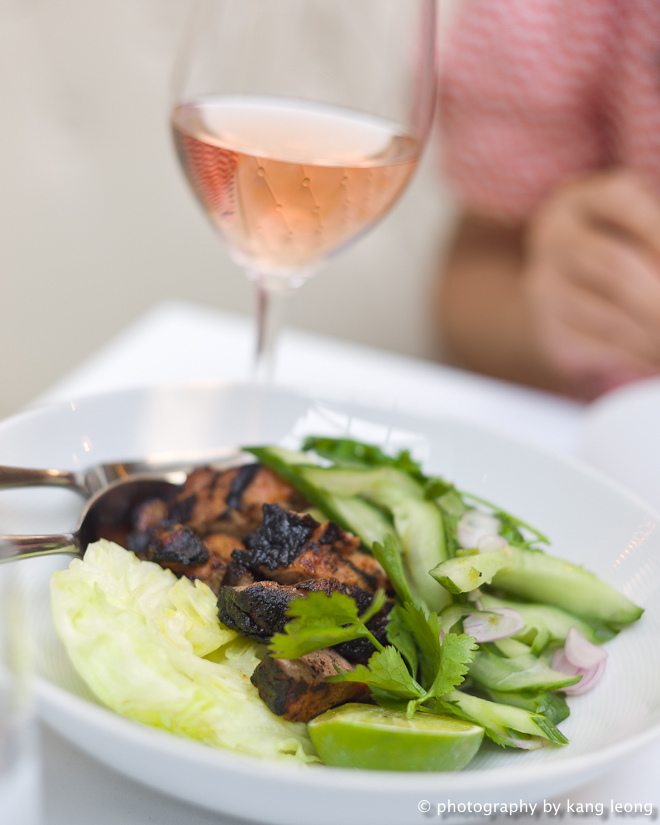 Finally, we ended the brief meal with this Vietnamese style grilled pork. The pork was expertly grilled, juicy but because it tasted so much like something from the pho mile, I thought the meat yearned for some steamed jasmine rice, and perhaps an egg over it. It was just nude, it really needed some carbs. Not to mention the rather steep price, it could have really done with a little covering up.
I ended the meal with a short 50ml measure of a superb dessert Tokaj… beyond that, details of the provenance escapes me. Sweet and citrusy.
Sweet and citrusy pretty much summed up the meal. We paid £57.25. As a restaurant, I thought the kitchen output was irresolute, food certainly came across as second fiddle to the wines. In a way, it was to be expected, this is first and foremost a wine bar, but for the most part, I did think food was well cooked. I did notice that we were bread-free for the entire meal, personally, it was an aberrant sensation altogether. Fibre, protein, nectar, alcohol, fruit, fibre, fruit.
This begs the comparison to the admirable 28-50 (which I like), a wine bar by the Nordic owners of sleeper hit Texture (which I also like) – that restaurant has more of a urban vibe going for it. Galoupet is the complete opposite, this wine bar feels like a retreat, it's a spa treatment, something that belongs in Monocle. A facial.
The edible bits of Galoupet are a little Tinto Brass, it's self indulgent, but the drinking parts are absolutely gorgeous. This type of conceptual, sensory stuff is always going to attract negativity from anti-yuppies who will be quick to write this off as an expensive waste of time, but I ask you to give this a closer look, because this is one of few places where you can go and try alot of different wines, without having to fork out a small fortune. That's relative speak of course, because it's not exactly cheap in real terms, but as you know, wine is a game of try, try try, to expand your mental catalogue of what different varietals are capable of. Or so I think, I'm not really the kind of guy to engage a discussion on wine in this sort of capacity. Come on, be abit adventurous, step away from the chardonnay and try a Vouvray. So for reference, take the opinion of a local wine buff (maybe Andy at Spittoon, Blyde on Intoxicating or Gastro1 the Epicurean ) on Galoupet before making the visit.
The Gist of It
Galoupet
French, Wine Restaurant £40pp
13 Beauchamp Place SW3 1NQ
Tel : 0207 036 3600
Tube : Knightsbridge
Did you enjoy reading this? You can subscribe to the Newsletter. Alternatively, you cansubscribe to the RSS feed.