I think 2010 will be remembered as the year of fabulous openings. It wasn't just the sheer volume, or the startling frequency (at one point, there was a new opening to try every week); rather it was about the sheer quality of the debutants inducted into the class of 2010. Some brought innovation (flaming sushi at Yashin, nitro blasted ice cream at Chin Chin labs, brew coffee bar at short-lived Penny University) , others boasted kitchen pedigree and the refinement of a tried and true philosophy (Koffman, Boulud, Loubet, Antunes), and a few imported foreign staples (slurpy soba at Koya, lobster rolls at Hawksmoor). Mostly, new openings were underscored by an overall theme of being sensible with prices. I think 2010 will also be remembered as the year that UK based food blogs gained 'mainstream' recognition; Especially with so many hyped up openings, the synchronized effect of simultaneous reviews being released, was fully realised with places such as Bar Boulud. All downhill from here, then?
I certainly enjoyed dining out this year… as my belly can attest to it. There is much more diversity amongst restaurants, than at year-end in 2009. Newer places seem to be more accessible than ever, in terms of price points, ambiance and concept. It will be interesting to see how many manage to catch the Bib's eye, but in a way, I feel like perhaps they don't need to. Not to say the Michelin Guide is waning in influence (far from it) , I think it is simply a result of the democratization of food culture in London.
Enough musing. It's time to focus on the real plate heroes, here are my highlights from two thousand and ten, and in no particular order…
1. Trullo, Zucca and the affordable Italian Model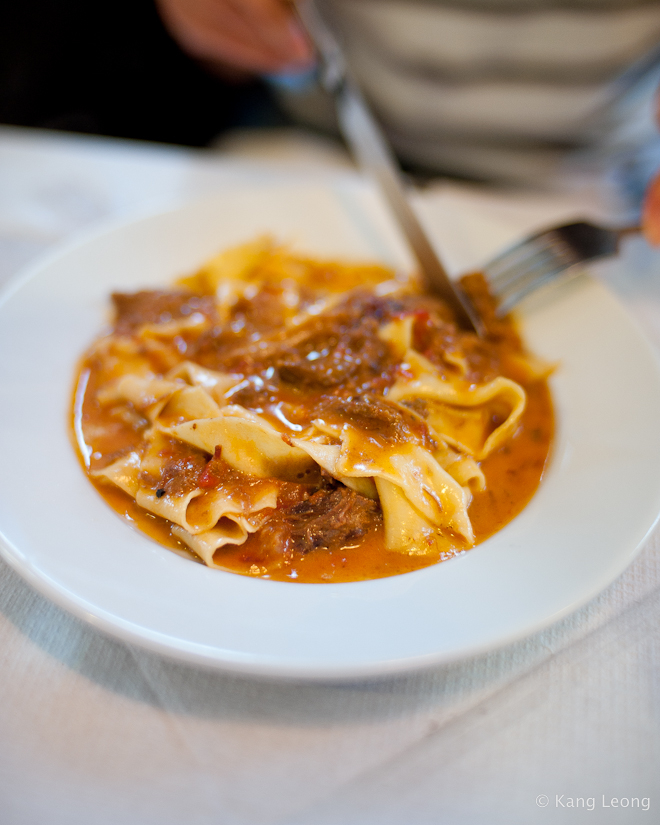 Links to reviews: Trullo, Zucca, Dock Kitchen.
AKA, the baby River Cafes. While London has also experienced a splurge of French bistros in 2010, I think the phenomenon pales in comparison to the stunning debuts of Trullo, Zucca, Tinello and to a certain extent, the reboot of the (now) permanent Dock Kitchen. What I love about these Italian inspired restaurants are that they go back to the essence of what 'good food' means. Invariably it is great ingredients, emphasis on provenance, fresh high quality produce, cooked well, straightforward recipes, no messing about, just wholesome, delicious stuff to put in one's mouth. It's the kind of restaurant, you can keep returning to. But you already know that, grabbing a table at one of these places is difficult, to say the least. I think that evidence shows how much you – Londoners – enjoy this type of restaurant. Will we see more veal chop purveyors coming to town in 2011? I sure hope so.
2. Shiori & Yashin : The coming of age of London sushi.
Links to reviews: Sushi of Shiori, Yashin.
Cast you mind back to 2009 and ask yourself where you would likely get your sushi fix. You might say, Sushi Hiro, or you might have said Kikuchi, but you might also think about the creativity of competitively priced and unashamedly modern sushi bars across Asia, and wonder why Izakaya-style restaurants – something that is dated in comparison – is still king in London.
Well not anymore.
Enter Sushi of Shiori.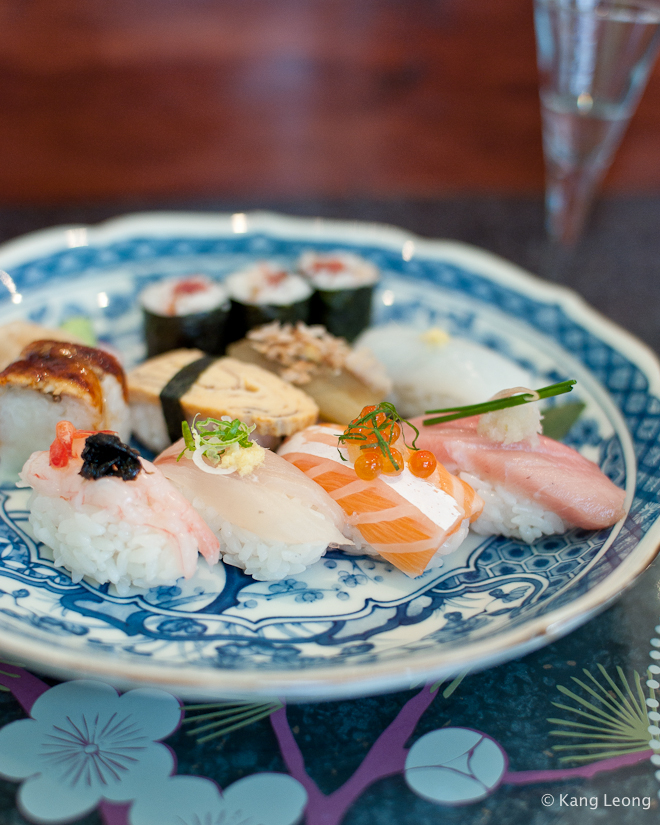 A relative unknown opening in 2009, it was praised by Time Out, but largely went unnoticed by the rest of the zeitgeist, until about summer this year, when it was 'rediscovered'. Since, it has dazzled many, sending blogs, forums and some critics into overdrive. Shiori has certainly become my favourite sushi restaurant this year. So much so I did my birthday meal there. First of all, the idea of the place is pure romance. It is run by a husband & wife team, with the occasional waitress, and the sushi bar is so tiny, it can only accomodate nine at any one time. All sushi passes through the hands of chef Takashi Takagi, loving husband and Umu alumni. His work is about as close to edible art as one can get. Best of all, you witness him construct his masterpiece omakase (chef's menu) piece by piece before it is served, and the whole experience is simply spellbinding.
You would think that such a fantastic sushi bar would remain peerless, at least for a couple of years, but then as recent as September, a new sushi bar has the talent, the concept and the sheer quality to rival and possible better Takagi-san's labour of love. Enter Yashin.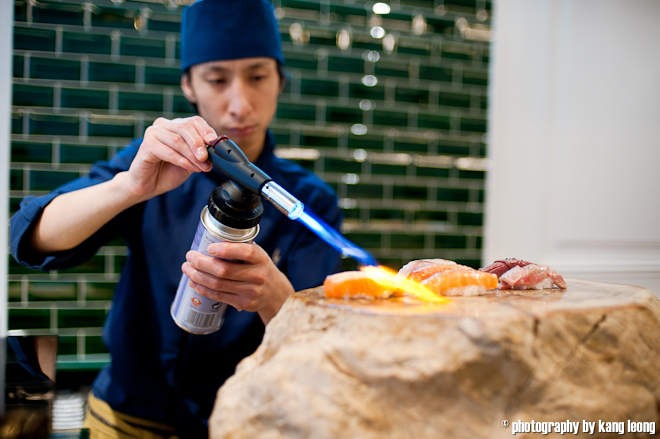 The main men are Yasuhiro Mineno (Ex-Executive Chef at Ubon (of Nobu Group) in Canary Wharf) and Shinya Ikeda (5 years as a senior Chef at Yumi) and their motto "Without Soya Sauce". Without because, they flame, they garnish and they pre-marinate their sushi so you don't have to dunk and dip. Like Takagi-san, sushi at Yashin passes through one hand, Ikeda-san's, before hitting the cold porcelain. It is equally dazzling to watch and it is equally orgasmic to eat.
Do yourself a favour and dump your next wallet busting, woefully dated, butt-clenching, sleb watching reservation at sNobu, Roka and Zuma, and get yourself a front row seat at the two of the tastiest shows in town.
3. Londoners are now steak-aware.
Links to reviews: Hawksmoor and Goodman.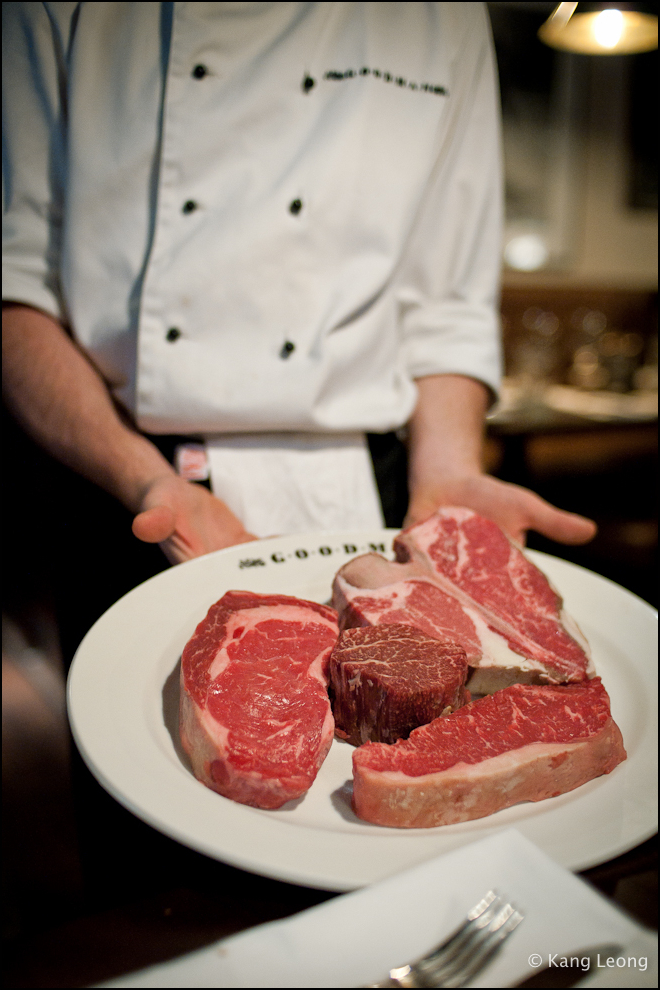 Thanks in part to Hawksmoor and Goodman, we are blessed with great steakhouses that cook steaks the American – the proper – way which result in proper charring, from an expertly handled charcoal-filled Josper. You know I love steaks, and I'm glad we have two amazing restaurants which promote some of the best breeds, from fantastic butchers, in the British Isles. Namely, English Longhorns and Irish Angus.
Since, they have gone on to open their 2nd branches, extending West and East, respectively, with their 2nd efforts being bigger and better. But good steak extends beyond the Hawksmoor/Goodman bubble, there's also the JW Marriot steakhouse, Chapters in Blackheath, even Jamie Oliver has jumped on the meatwagon with Barbacoa (albeit to mixed reactions) and let's not forget Maze and their Prime USDA Creekstones.
Restaurants continue to embrace provenance and some are pushing once ignore gems, such as the onglet, to make them as affordable main stays on menus. There's even good news on the budget end of steak news, such as the L'Entrecote franchise.
And speaking of provenance, personally I think (Jack or Darragh) O'Sheas Angus are tops. But we can't ignore the Donald Russells Scotch, or Ginger Pig Longhorns… and something tells me I should explore the East London Steak Co in 2011.
4. Cambio De Tercio : Still the Best Spanish in London.
Link to review: Cambio De Tercio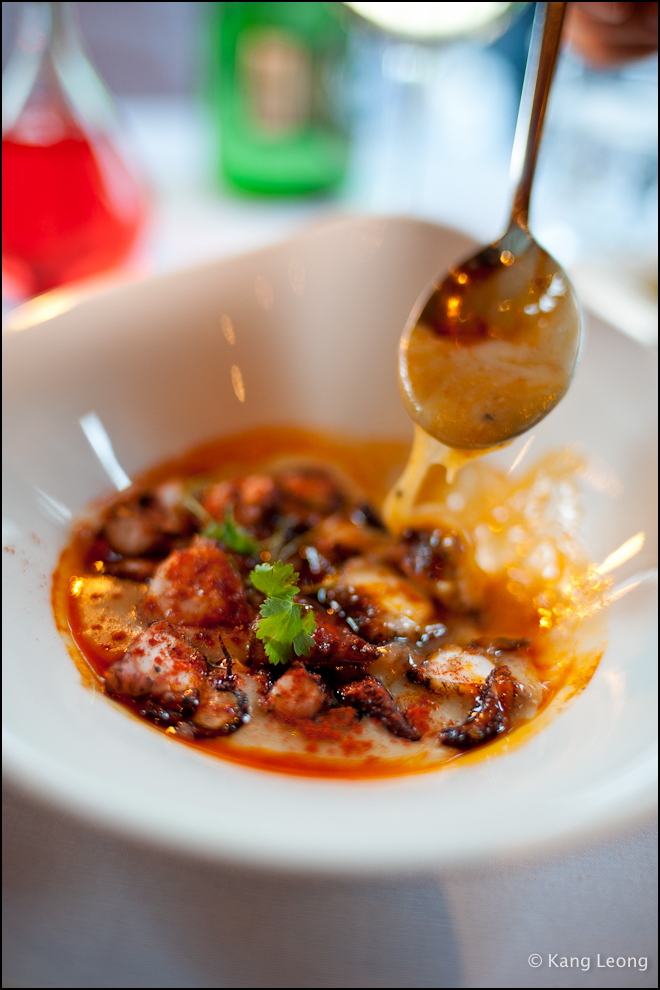 If there is one restaurant that I have visited more than any in London, it's Cambio De Tercio. My first visit was almost 7 years ago, there was a time when I used to go every month, and so I'd like to think I know the menu inside out. While the concept remains largely unchanged at heart, it has slowly evolved over the 7 years, maturing gracefully like fine wine, to a menu that shows flair, a light touch and a mastery of balancing flavours. I don't want to turn into a bad AA Gill impersonator (whose writing, I continue to admire, and idolise, regardless of his critics) but Cambio De Tercio are seriously good. I still believe they are the best Spanish restaurant in London. Monumental cooking. If I had to choose my last meal, this is it. It remains my long time favourite.
5. Alexis Gauthier, and Bjorn van der Horst : The Dream Restaurants
Links to review: Gauthier and Eastside Inn.
Wow. Just seriously… wow. Two meals at Alexis's shrine, Gauthier, and I was floored by how amazing the food was. Technically astonishing. While many claim French cuisine is abit like Cartier-Bresson; brilliant memories of 'yore, but linked to the life of a time gone by nonetheless, it is not dead. Instead, I think it's being rejuvenated, and I think Gauthier is an excellent ambassador of his national cuisine. Gauthier is like Lorca-DiCorcia; A modern interpretation, rooted in history, but conceptually, the ideas have been translated for the 21st century. Many of his Roussilon classic have transferred beatuifully to his new outing, the Louise XV and the truffle risotto… so good.
He even came out to greet us during my 2nd visit – I was tweeting, and so was he – and he is such a nice guy. A bundle of energy. The better half asked where he sourced his cutlery and china from. A vintage shop in Islington he says, they all look a matching set, when in actuality, each are made by a different company. So each piece of china is therefore unique and thus irreplaceable. He said "It is his dream restaurant". We nodded, and to which I replied "I can see why."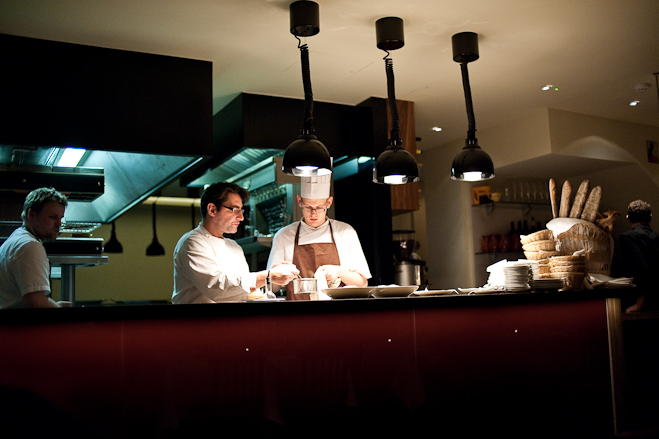 Two meals at Gauthier made me reminisce about my meals at the recently shut Eastside Inn. In many ways, Alexis's enthusiasm reminded me of Bjorn van der Horst, whose ambitious double restaurant/bistro was also his dream. I was sad to see ESI close, but we all know how brilliant Bjorn is in the kitchen. This door may have shut, but I'm sure many more are waiting for him to open. I think we will see him emerge in the near future with another fab project very soon, so I'll be keeping my antenna tuned in to Bjorn's developments.
6. The Dogs: British.
Link to review: The Dogs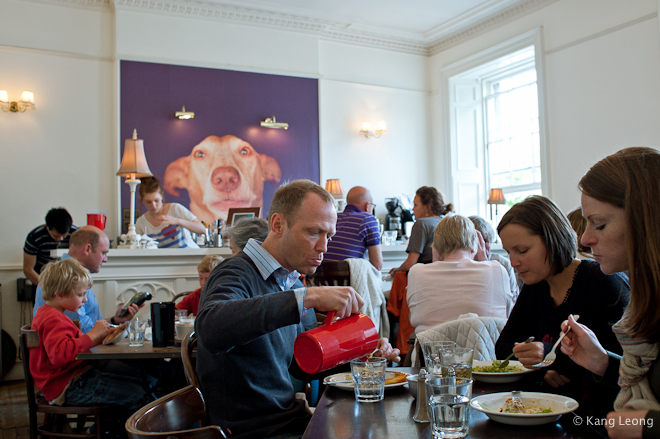 An exception to this list, technically, this eccentrically named restaurant belonging to David Ramsden is not in London, but in Edinburgh. It's great. It's an interpretation of the 'gastropub' culture down here and it shits on all the British wannabes in this town. It has it all. The effective, stripped down interior, the loyal fandom, the cool factor, the patriotic dishes served in white bowls, and it is mind bogglingly affordable. One of the most memorable meals I had this year, and I wonder if David would be tempted to open in London, after he is done expanding his empire in Scotland.
7. Viajante: The Travelling Chef has landed.
Link to review: Viajante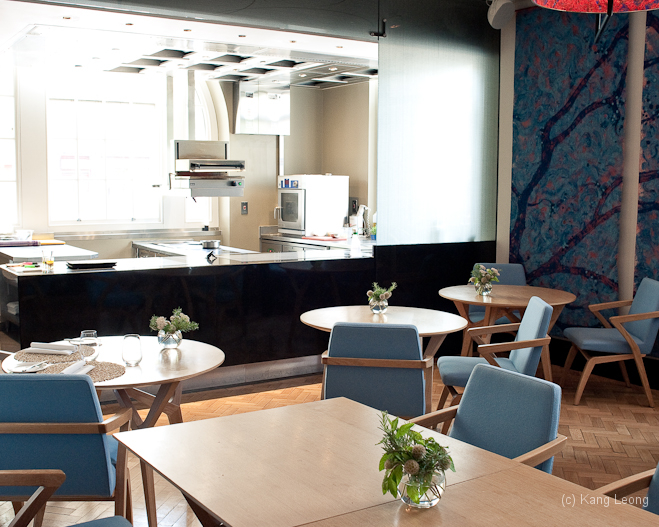 Yes. It is a little pretentious, but don't over look the talent behind it, because I think there is something special about Nuno Mendes's traveler cuisine. On the surface, many dishes look great, but seem a little short on actual cooking, but when it does hit the spot, it's phenomenal. A taster menu at Viajante feels like a journey, you are discovering how textures and flavour combinations work together (or don't), and strangely, you become aware of what your palate is capable of savouring. One of the best dishes I've had all year was his lemon sole, yeast and gnocchi dish, with a complimenting glass of champagne that surprisingly brings out the flavours of the fish. This is a restaurant I am planning to revisit purely because I think Nuno is constantly evolving and bettering his recipes, and I think he has enormous potential, far from his peak. I think Viajante is the wave of the future.
8. Nordic highlights: Texture / 28-50
Links to reviews: Texture, 28-50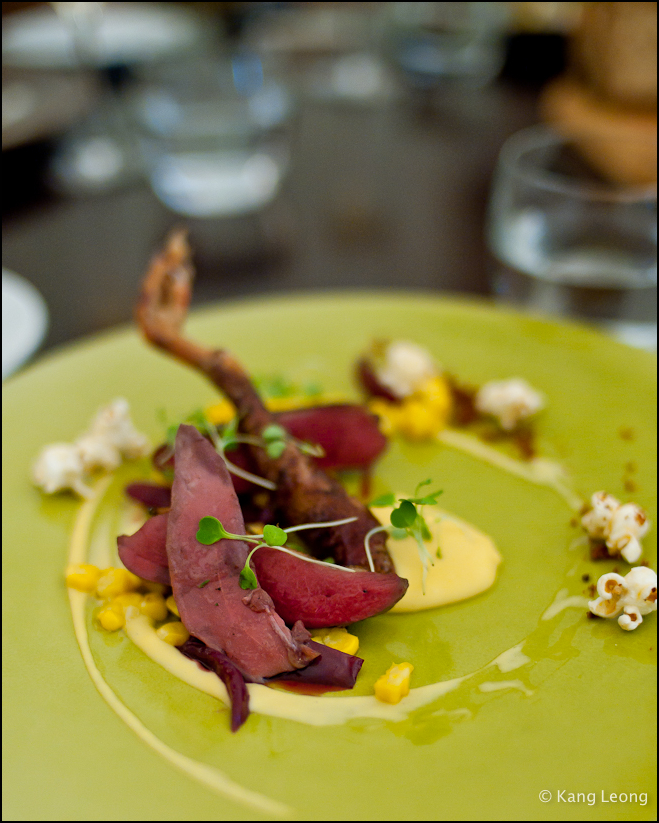 Minted by the Bib this year, the Nordic-themed restaurant was an intriguing experience and a wonderful departure from Central European cuisines. Opened by Icelandic born Chef Agnar Sverrisson and French born sommolier Xavier Rousset, dishes (in a rather clichéd sense) put an emphasis on the interplay of textures, so meat are sous-vide-ed to perfection, and there are edible 'ice' and 'soil' and the avoidance of butter and cream is unique in its own right. In a year when Noma is regarded as the Mecca of culinary zenith, I think Texture deserves the attention of you gluttons. The food is brilliant work.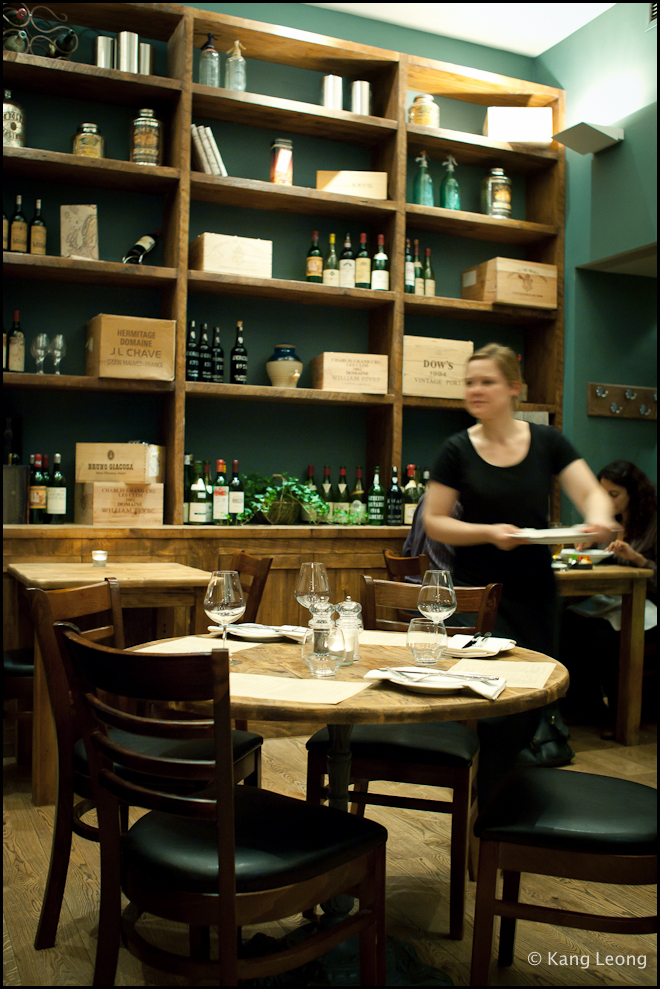 And Texture must be doing well, as Rousset & Sverrisson followed with the opening of a fabulous wine bar called 28-50. Food is prepared by ex-GRH man at Royal Hosptial road, Paul Walsh and definitely share similarities with the style at Texture. The major draw is the extensive wine menu, that allows for quarter glasses of wine measuring 75ml. That means you get to try alot of stuff in one night. Destined to be a sleeper hit, don't ignore this place, I think it's wonderful, it is so under the radar. I think Rousset & Sverrisson are building restaurant brands to watch out for in the coming years.
9. Odette's: Hidden, Genius
Link to review: Odette's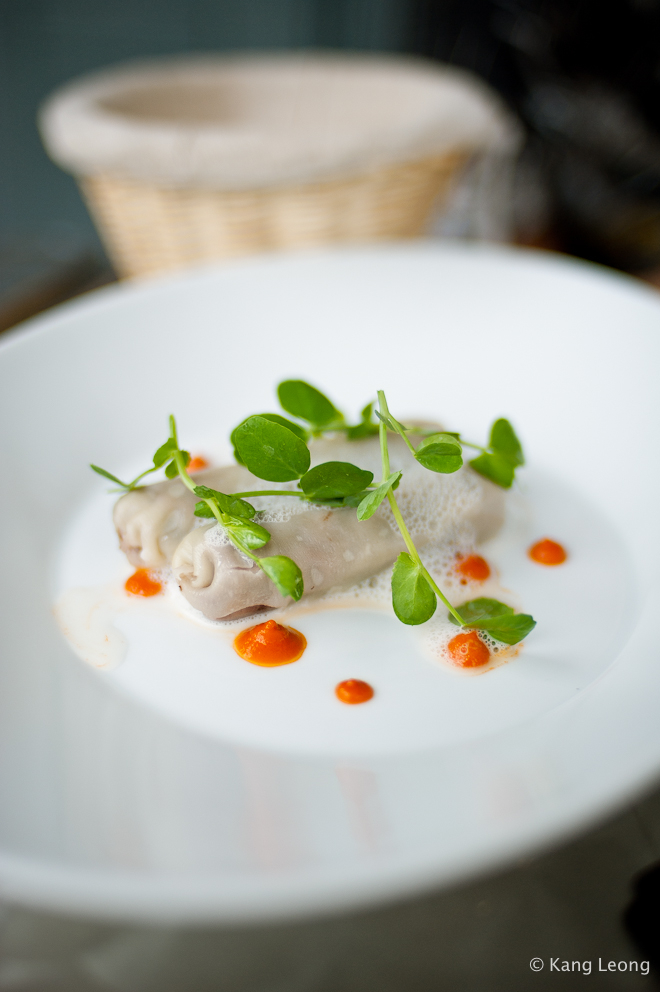 This storied restaurant has changed hands many times over the years, but I think its current chef-owner, Bryn Williams might be here to stay for the long run. Another restaurant that has stayed relatively hidden, which made for an even more enjoyable visit. If the name is familiar, it is probably because you remember his winning Great British Menu dish that was served to the Queen, representing Wales: Turbot, oxtail, samphire and cockles. The dish remains on the Odette's menu, I had it and it was indeed, fit for a Queen. Strong food that is near the one michelin star (if not already there), beautiful decor, cosy and romantic, just abit hidden in a lovely neighbourhood on the cusp of Regent's Park. If you can call it the British entry, then this is my favourite British restaurant this year. You must try it.
10. Black Coffee is Gold.
We started the year drooling over the excellent flat whites at Antipodean mainstays from Flat White to Lantana, but we end the year, refining our taste for the black stuff with brewed coffee. For those fortunate amongst you who had tried the short-lived pop-up by Square Mile Roasters: Penny University , which was a brew bar, You would have really enjoyed the concept of slowing down to sniff your coffee, and got an 'education' in the various techniques of brewing coffee. It's quite a wonder at how utterly simple the process is, with fresh ground coffee, a filter and abit of pressure to force hot water through the ground beans, and to simply wait for the coffee to eek itself out. You have to to check out this excellent photo essay by Brian Ferry regarding Penny U. I hope someone will open a permanent Penny University next year. Brew bars can be an exceptional sensory experience.
But while we wait, I urge you to try Tapped and Packed. You can have your milky coffees and hot chocolates (which is FAB), but its true USP are the brews, made from an ever changing selection of beans from around the world (most probably sourced by Square Mile Roasters). You could your method (Filter, Aeropress, Siphon….but I'm sure they also have other kits like the woodnecks, harios and the traditional French press) and watch the friendly baristas time your brew with his stopwatch. Brewed coffee is awesome, once you've tried the experience properly (aka wait for it to cool down) , you'll never drink coffee quite the same way again.
Footnotes
I still have a Byron burger on a monthly basis, I almost wish Tom would consider opening a 'Premium Byron' that rotates special burgers with other patties (And bring back the Big D), better buns, different cheese, almost like an experimental kitchen you know. I'd go there… Tom are you reading this?
I also think the Hawksmoor lobster roll deserves a mention and so to Rochelle Canteen, the hidden cafe in a former school turned artist collective. And finally and personally, it was an 'achievement' of sorts that I visited Fat Duck, that was a memorable meal, theatrical.
Into the Ether and Beyond..
London is a great culinary destination. It might not have the best of everything, but we do have decent representatives of many world cuisines. I've never been fatter, entering my third year of restaurant collecting and blogging. As ever, I look forward to the year ahead, there are many more exciting openings in the first quarter, chiefly Dinner by Heston at Mandarin Oriental in Knightsbridge, and you can be sure that you will read a review about it here, shortly after its opening.
Well there you have it. That's all I wrote in 2010. I hope you had as much fun reading, and I hope you had some wonderful meals this year. It's been a pleasure writing for you lovely folks, who continue to reward me with pageviews. You are 1000 RSS subscribers and 500 newsletter subscribers and an accumulated 850,000 hits since inception, not long before the millionth mark, and all I can say is thank you, thank you and thank you.
As ever, I look forward to presenting you with many more restaurants in 2011, but till, have a good Christmas, pop your most precious bottles on New Year's eve, and see you again in 2011.
Best Wishes,
Kang.
Did you enjoy reading this? You can subscribe to the Newsletter. Alternatively, you can subscribe to the RSS feed.