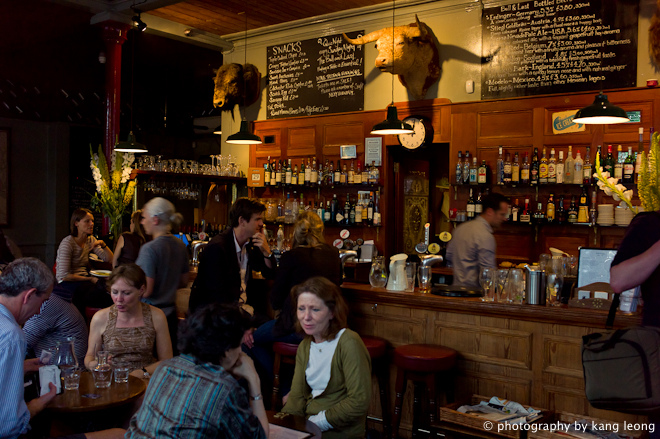 I've no idea why it took me so long to visit The Bull & Last, a pub that falls in the category of one that is gifted with an overachieving kitchen, and incidentally, one which has largely won the praise of those who stalk restaurants as often as they do the interwebs. The pub looks genuinely enough, spacey and woody, with ornamental bull heads, and spread over two floors, I am certain it is fully endorsed by the residents as the designated local.
Service was friendly if a tad lazy, which ain't a bad thing, since you know, it's laid back and all. However, what I really want to focus on is how good I found the meal to be. I thought the cooking was really top of the range stuff. I mean if Harwood Arms has a star, and if Hand & Flowers also has a star, then perhaps B&L deserves one as well, because I think B&L's recipes (and cooking by extension) might be better than the mentioned pubs, by quite a bit.
Homemade Charcuterie Board, £12
(Duck Prosciutto, Chicken Liver Parfait, Game Terrine, Rillettes, Pig's Head, Pickles, Remoulade & Toast)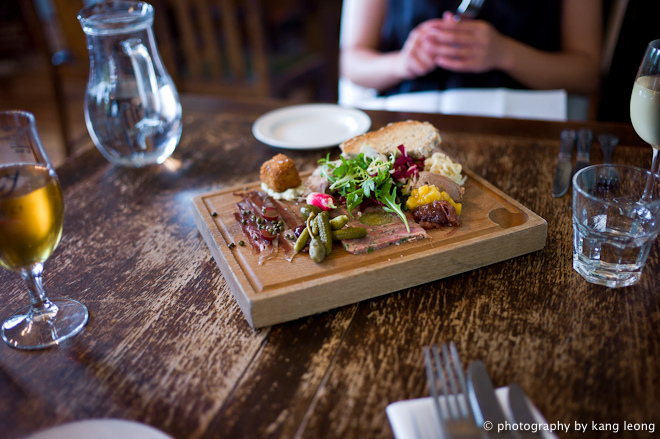 Look at this board of preserved meats, ain't it wonderful? Doesn't it look like a masterpiece? Say what you like about Boulud's in-house charcuterie experts, but I think the Bull & Last team may very well best Gilles Verot's if they were pitted in a head to head. Everything on this platter was fabulous. Deep, rich, salty preserved flavours, mushy, smooth textures, surprisingly, nothing was overly pungent, nor livery, the sweet chutneys, if memory serves, the mango in particular was nothing short of genius. The pigs head fritter was subtle muscle, if memory serves, with a touch of curry powder. Even the warm toast was good, and (again) if memory serves, I think it was a soda bread. It was so good I forgot to take notes. So good, that it probably fooled my brain to thinking there were more flavours than was actually in the food. A joy to eat really, a real joy.
Slow cooked ox cheeks, bone marrow, risotto. £16.50
and
Roast Cod, Tomato Ragu, Queen Scallops. £18.50
Let's get the so-sos out of the way first, the triple cooked chips (£3.75) were no where near Blumenthal crispy cracklingness levels, they were a little too wet and too chunky for me. Good, but not genius.
Right. The rest of the meal, however, was pure fantasy.
The cheeks were magic. Just magic, the bone marrow tasted like it was seasoned or at least treated somehow, and it had this sort of peppery ragu like flavour, with a powdery mince texture. Mixed with the cheeks amped the meaty flavours to the max. It was just bloody brilliant. The risotto was just comfort food central. Soft flavours, smooth textures, porridgey, gloopy, hearty, it embraced all of the ox cheek's volcanic meatiness. Whatever idea of 'gastropub' food we have, the potential of complex yet simple concoctions, modern day interpretations of what grub can taste like, this is everything we talk, hype and dream about.
Oh and the missus' roast cod – fabulous too, silky flaky textures… and well, let's stop the adulation eh.
…Note her body language, the impatience while I took photos, a sign that she couldn't help but dig into these beautiful dishes of food…
We paid £53.75 for food, olives, half a pint of Stiegl and a house white. Well priced for the rather large portions we got, and you know what, I'm going to be back again very soon, and I am relishing the idea of doing a fuller follow-up to this review. The food was beautifully prepared, and so it's a pleasure not only to photograph it, but obviously to eat something that tasted as good as it looked. It is my opinion that B&L is at the very top end of in terms of superpubs in London. I am certainly impressed on first impression. The pub has great neighbourly ambiance, I think the kitchen turns out pitch perfect cooking – I also think it's even better than an old time favourite of mine, Great Queen Street – , overall it ticks alot of boxes, including the one that says 'something special'. Keeper. Highly recommended.
The Gist of It
The Bull & Last
British £35pp.
168 Highgate Road NW5 1QS
Tel : 020 7267 3641
Tube : Gospel Oak
Did you enjoy reading this? You can subscribe to the Newsletter. Alternatively, you can subscribe to the RSS feed.