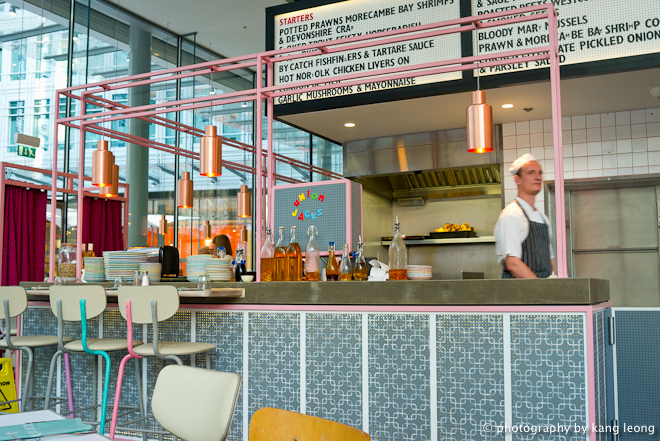 Who comes up with all this fiction just for a restaurant? This is the persuasive language Oliver's people have generated for his latest project:
"Ours is a union of ideas, traditions, and of people."
"Where wood-fired flatbreads meet great British flavours."
Lookintomyeyeslookintomyeyes.
What's with the wonky name – why not just call it Union or Union Jack. Is this meant to be ironic? I don't get it. The ambiguity with the plural form (or misplaced punctuation) is the restaurant equivalent of the 2012 Olympics logo.
In spite of the spin, this really is just a pizzeria. It's billed as some kind of ground breaking bastardisation of the humble Italian pie, by the hand of Jamie's very Bri'ish style and nicknamed as Flatbreads. As if one could reinvent something simply by calling it something else. I do like the 'Gary Baldy' biscuit, however. I'd like to think these concepts were the result of a complicated brain storming session by a think tank of consultants locked in a meeting room and eating nothing but pizza to precipitate ideas.
Back in the real world, this union is a partnership between Jamie Oliver and Pizza Maestro Chris Bianco. This Central St Giles location being the pilot for a upcoming franchise, which (presumably) pending the success of this branch, will spread throughout London and the rest of the country in the next couple of years.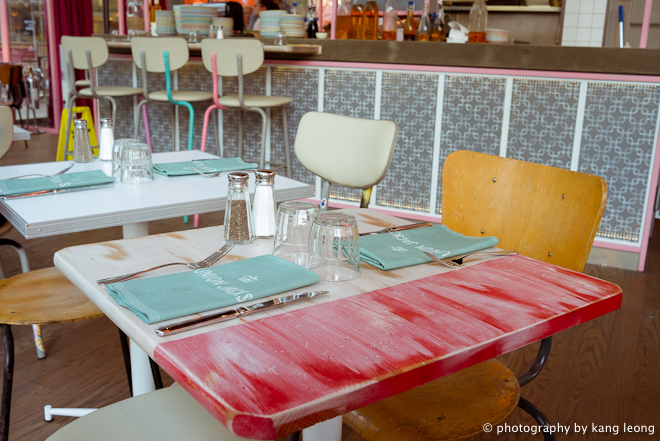 Bad naming aside, I think the rest of this restaurant however is brilliantly conceived. The decor is spot-on. Few restaurants come in pink, this one is so colourfully retro, it feels like a fifities diner which has been lifted out from Archie comics. I especially like the cinema billboard style overhead menus above the open plan kitchen. Speaking of which, you can sit by the bar and watch the chefs stuff the wood-fire ovens with bubbling pizza dough. Picture this : solo dining, malted milkshake, by the bar, reading 1Q84 Part III. And then Betty Draper walks in wearing a neat black and blue pokka dot, body hugging, knee high dress with a big blue bow as a belt. She decides to locks eyes with you, as she undoes her elbow length white gloves. (Huh?)
It's clear that Jamie's people have astutely noted the current trend of un-ceremony and retro flair. This place is so back to the future, so infectiously a happy place, that you can't help but smile when you come in. Service was so terribly friendly and forward that I just wanted to give my waitress a big hug every time she brought me some food. She was blonde, was very nice to me without crossing waiter-customer lines and she may have fooled me into believing it was.. love.
By-Catch Fish Fingers & Tartare Sauce, £5 with Roobarb & Custard, £5.50.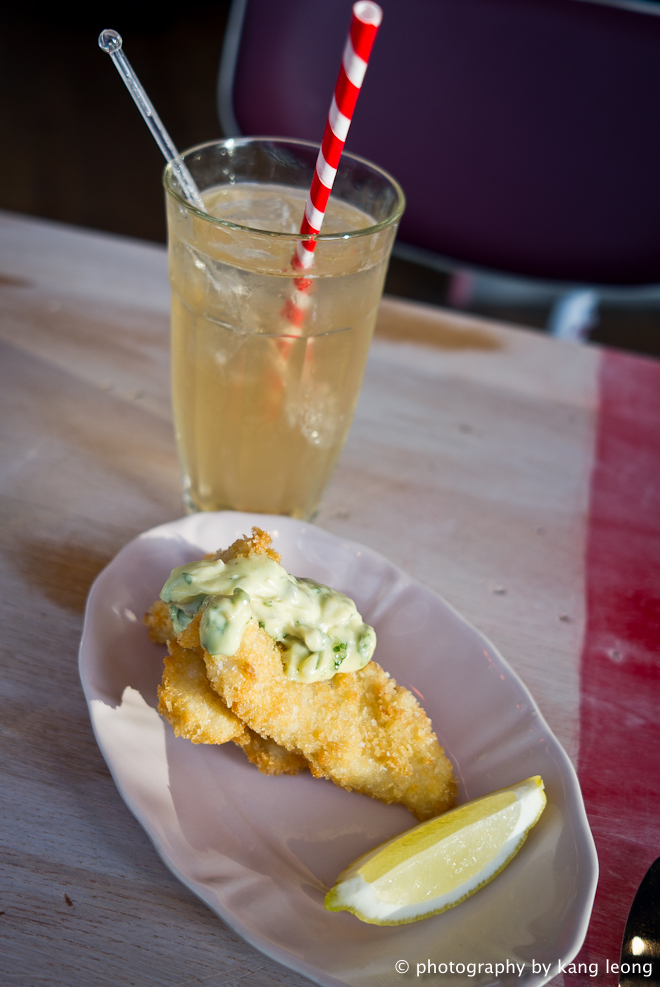 The Captain would've been proud of these fish fingers, flaky, crumbly, can't say they were best but they were nostalgic with gooey batter coating the undersides of the crust.
The real eye-whopper was the roobarb and custard – great drink! I can hardly believe it contains alcohol, but apparently it is made with Chase's Rhubarb Liqueur. That's a distillery in Hereford which makes vodka from potatoes which they grow themselves. An interesting story, they sold their first bottles in 2008. For this liqueur, they laced their vodka with rhubarb from the area. The rest of the drink was finished like a spritzer with Union Jack's in-house apple and cinnamon drink. It's like an apple strudle flavoured cream soda! Addictive.
Flatbread, Oxtail & brisket, slow braised in Worcestershire sauce, Sparkenhoe Red Leicester, watercress & fresh horseradish £12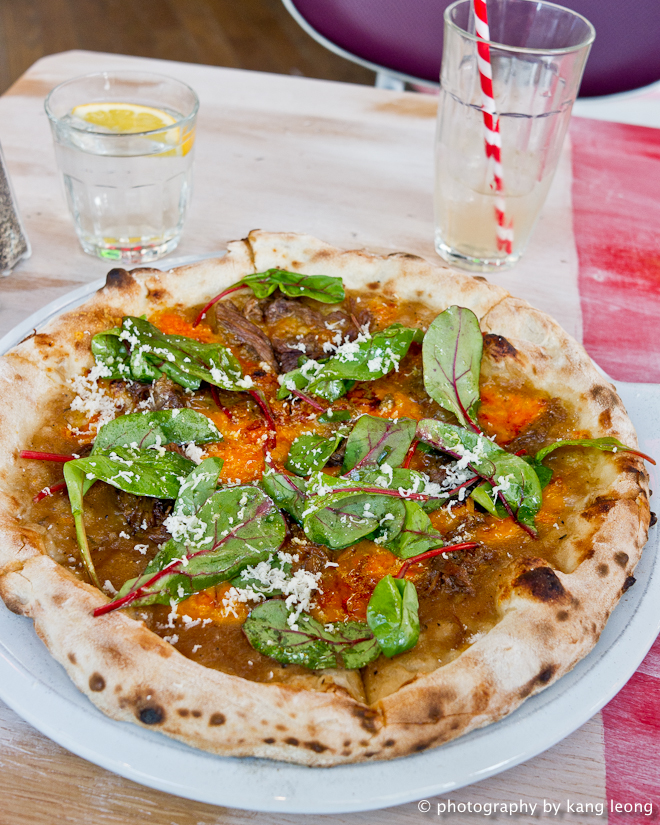 Ah, here we go, the flatbread. Well, well, isn't she a sight for sore eyes. The Betty Draper of pizzas, look at those beautiful burnt spots and the perfect oval shapeliness, the tussled watercress with flaming red stems. Is your blood racing yet? The flatbread was still sizzling when it came. Freshly grated horseradish produced stinging eye-watering fumes and breathing in all the flavours nearly knocked me out. The dough is somewhere between the juicy Franco Manco dough and the powdery Pizza East semolina base, I liked it fine. Generous flosses of tender oxtail and brisket with full bodied winter stew flavour was extremely pleasing. I have to say, the sharpness of the melted red leicester did give the impression that this was not just a pizza, but that it had beenlocalised as an 'English' pizza. I gobbled it up very quickly, and I really wanted to have another one.
Retro Arctic Roll, £4 and Home made Earl Grey Tea Ice Cream, £1.50 per scoop.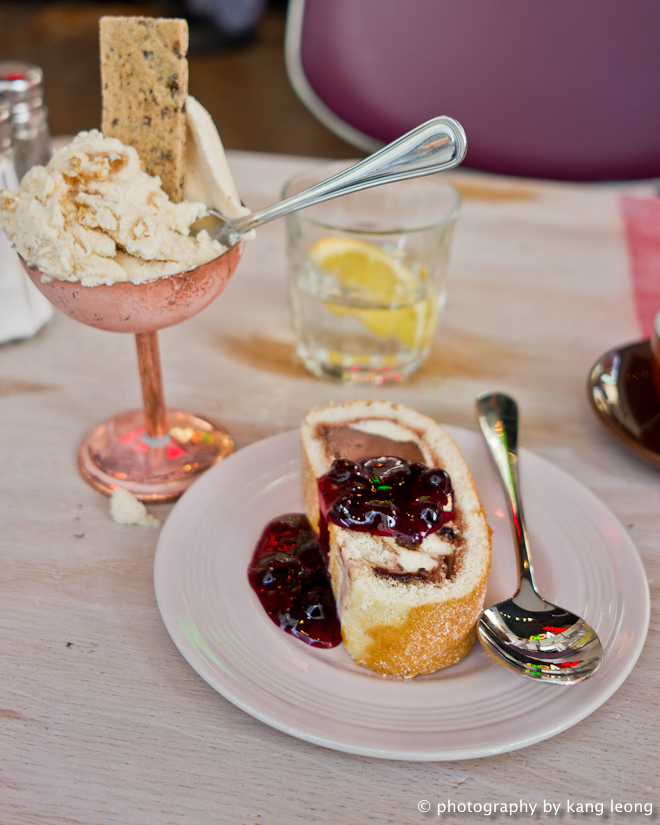 Oh man, pure nostalgia. This was a treat for me when I was growing up. I think my mum bought the Bird Eyes ones which came with this cream flavoured ice cream centre and thin swirls of jam. This version is just as frozen, but has additional swirls of chocolate ice cream. The blackberry jam it came smothered in, with was very good, but the frozen pudding was no where close to replicating my favourite memories.
The home-made earl grey tea and biscuit ice cream, on the other hand, was bloody fantastic. It's frozen cream tea and biscuits! Served in a frosted copper ice cream cup! Also retro! The best £1.50 I've spent all year, this is the dessert of the year for me.
But here's an idea, an alternate version of the artic roll with the excellent earl grey tea ice cream. I recommend they call it "Kang's flamin' tea flavour arctic roll".
I paid exactly £30, plus an espresso. Service was at my discretion so I put in an extra £2.
Ok I admit. The think tank wins. The British theme is a charmer, I'm totally into the Union thing now. The flatbreads are of excellent quality, and the British toppings do work. Oxtail, horseradish work just as well as egg and potatoes on pizza. I think that stronger English hard cheeses when melted produce some game changing flavours, as compared with relatively mild mozzarella. I am intrigued with the potential of the other choices. The Old spot with pork shoulder, quince and stilton sounds like it could be immense. So too the seafood option of cornish sardines with fennel.
His other partnership, Barbecoa was shambles, but this one is going to be a winning franchise. It's very likeable and upbeat, I predict Union Jacks invading the high street, and eventually superseding Pizza Express.
The Gist of It
Union Jacks
The Flatbread formerly known as Pizza. £25pp
4 Central St. Giles Piazza
LONDON
WC2H 8AB
Tel : 0203 597 7888
Tube: Tottenham Court Road
Did you enjoy reading this? You can subscribe to the Newsletter. Alternatively, you can subscribe to the RSS feed.