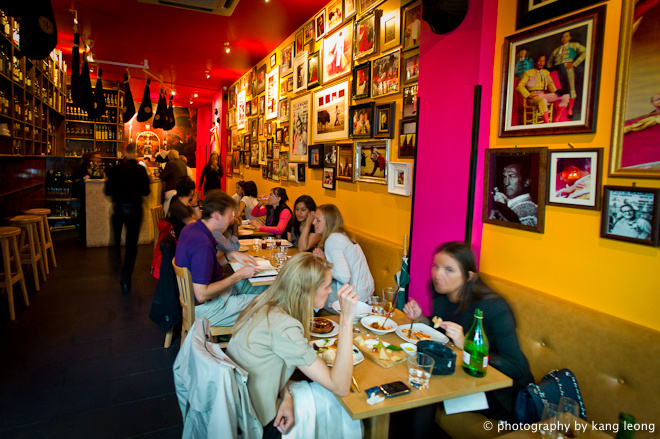 My favourite London restaurant is Cambio de Tercio. I think Abel Lusa's fabulous, often times adventurous and sometimes experimental change of pace to Spanish cooking is the best representative of the cuisine to grace the Big Smoke. This is my most frequented restaurant in London, since my first visit in 2004 (or 05, around then) when I moved to West London. In fact, it was one of the first reviews (the 3rd one if I'm not mistaken) I'd written when I started this blog.
I would like to think that I've eaten pretty much everything on its menu; witnessing some of its mainstay dishes – like the oxtail – evolve over time. I remember the days when I used to visit as frequently as my monthly paychecks. Heck, I even remember the days when Tendido Cero – the tapas bar opposite the street from Cambio – was attractive because it was BYO, and extremely cheap, by Kensington standards anyway.
Since I moved to North London last year, my former neighbourhood restaurant, has now become a pilgrimage, and returning to Old Brompton Road to sample the finest in (London based) Spanish cuisine, is ever more a treat. In the time since my move from West London, Abel had opened Tendido Cuatro in Parsons Green – a tapas bar which I will visit sometime in the coming weeks – but for now, it gives me great pleasure to return to Old Brompton Road to visit Abel's newest venture: Capote y Toros.
This one is a bit of a departure from the serious Spanish cooking, in that the spotlight is shifted to sherries: In the glass, in the cooking and in the pudding. They boast forty or so sherries to choose from by the glass, and even more by the bottle. Sherry bars, appear to be the darling of the town at the moment. A swift google search will return more than a handful of pleasing reports of Capote y Toros. Summer is round the corner after all.
Those of you familiar with Cambio, will have noticed the matador paintings hung on the quirky painted theme of black, orange and pink walls. At Capote y Toros, the owner's apparent passion for the sport is more pronounced than ever. In place of paintings, the walls are adorned with photographs, strong portraits, some in vibrant colour and others in eerie high contrast monochrome. The reference to the sport is even in its name, Capote y Toros is for Cape & Bulls. The ambiance is rockier, unhinged, raw, raunchous and zero ponce is involved. It's about a return to the roots kind of thing.
Sherry time!
Flight of sherries, £12.50 for 5 x 50ml.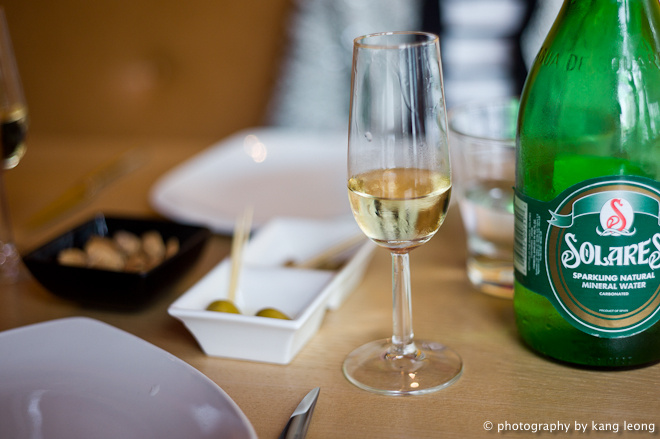 This was a real treat, and an education! My knowledge of sherry is about as deep as a puddle of water in the desert, but thankfully we were given a nicely summarise sheet explaining the five glasses of sherry which were brought out through the evening to match whichever tapas we were eating. I'll try to reference them, as I work through the dish descriptions, but the first couple of glasses we started with were the paper dry, golden hued Manzanilla and the more balanced straw coloured fino. Unsurprisingly, the subsequent sherries would get darker in colour, and also more intense in flavour.
Pickled, preserved & cold
Iberico Sanchez Romero C's '5Js' (£14) and assorted iberico charcuterie & cured cecina from Leon (£12).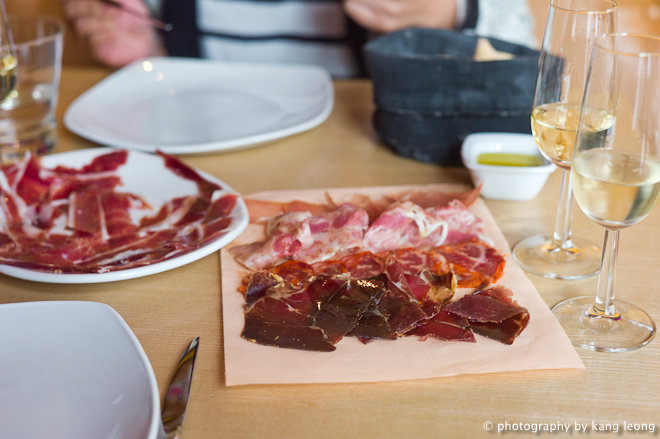 In Abel's own words, the Sanchez Romero 5Js are 'Spanish caviar' , and the pride of Cape & bulls are proudly displayed hanging from the ceilings wrapped in black cloth adorned with the 5J stamp. The jamon had delicate, olive rich flavours, nutty and genuinely addictive. Then again, any Iberico de bellota is guaranteed to be orgasmic anyway. Even more so when had with the two glasses of quickly diminishing fino and manzanilla. In addition, we also had an assortment of other cured cuts (from Iberico pigs of course) including the lomo (shoulder I think) and also slices of cecina (beef).
Baby anchovies marinated with Palo Cortado Vinaigrette , £4.50.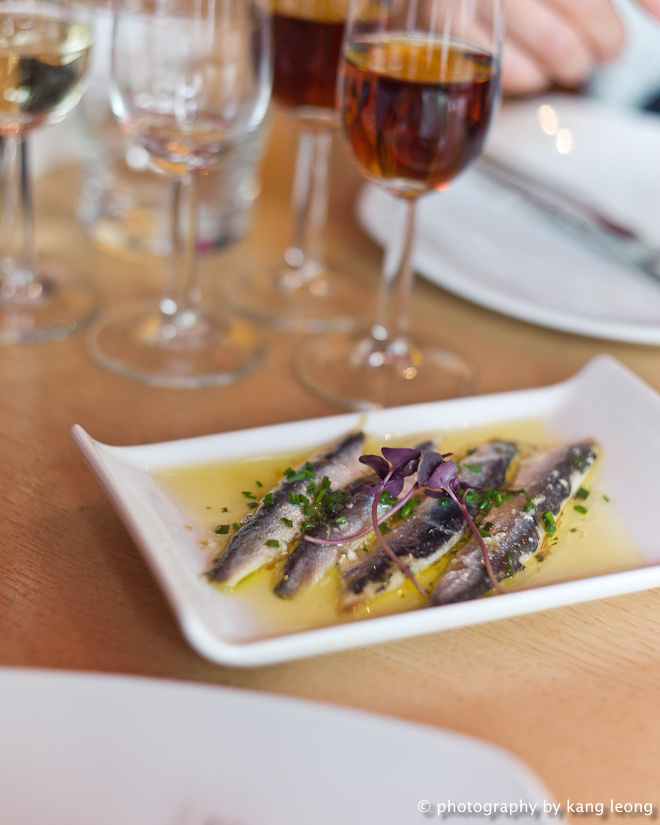 The next couple of dishes – cold – were accompanied by Amontillado; a fino but which was darker and stronger, and fortified with extra alcohol to a whopping 17.5%. This one was juicy and datey and less papery than the preceding sherries. You can kind of tell the colour differences in the photograph above between the fino (on the left) and the Amontillado.
Carpaccio of Duck Liver, reduced Pedro Ximenez, £6.50.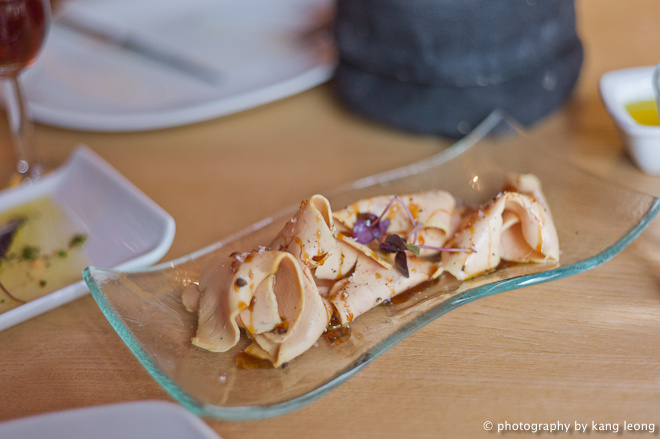 As the meal progressed, it wasn't difficult to notice that most dishes were made with a version of sherry, and also how each of the dishes seemed to pair well with a recommended sherry.
Presented as carpaccio of foie, we thought this was the dish of the night. Sweetened with a reduced sauce of honeyed Pedro Ximenez, crusted in rock salt, and with a buttery smooth texture, like a parfait, a cameo appearance of the masterful skill in execution which is such a trademark of the cooking at Cambio de Tercio.
Chilled Andulucian Gazpacho, £4.00.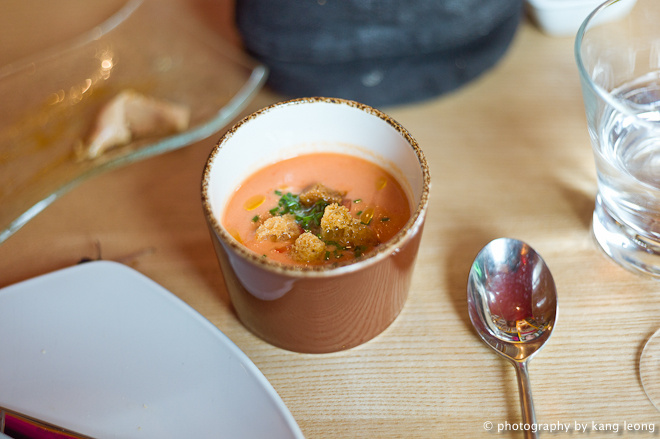 Decadent slices of duck liver mousse were followed by a bright and zesty cup of gazpacho. Mmm… so earthly and fresh..my palate be cleansed!
Fish
Moving on to the fish dishes, the waiter brought out the Oloroso. Even darker in colour and even more bone dry, I think. Truth be told, by now, I could hardly tell the difference.. I was well and truly tipsy by this point.
Garlic Prawns, £6.00.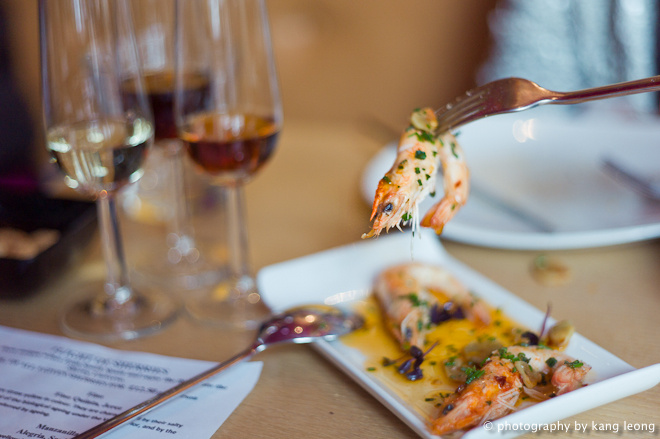 Oh right of course, sweet, garlicky and wet prawns – no Spanish meal is complete without prawns.
Galician Octopus, Potato, Sweet Paprika, £6.75.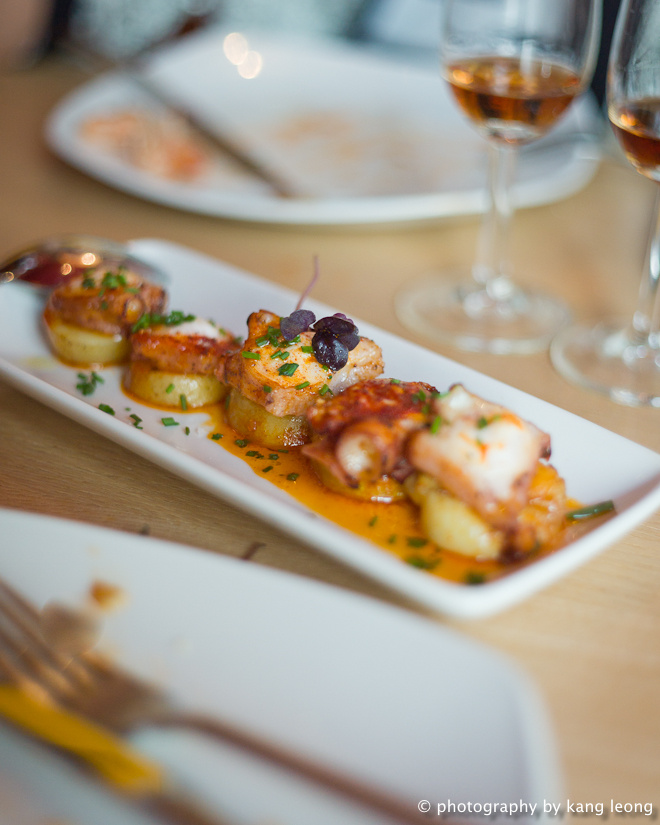 Exactly like Cambio, the bitter goey flavours, the slithery, oily textures, the smell of paprika, all except for the pureed potatoes. This is one of my favourite dishes at Cambio de Tercio, and I'm glad it's on the Capote menu as well.
Roast cod in sobrasada, chorizo crust, courgettes carpaccio, £7.75.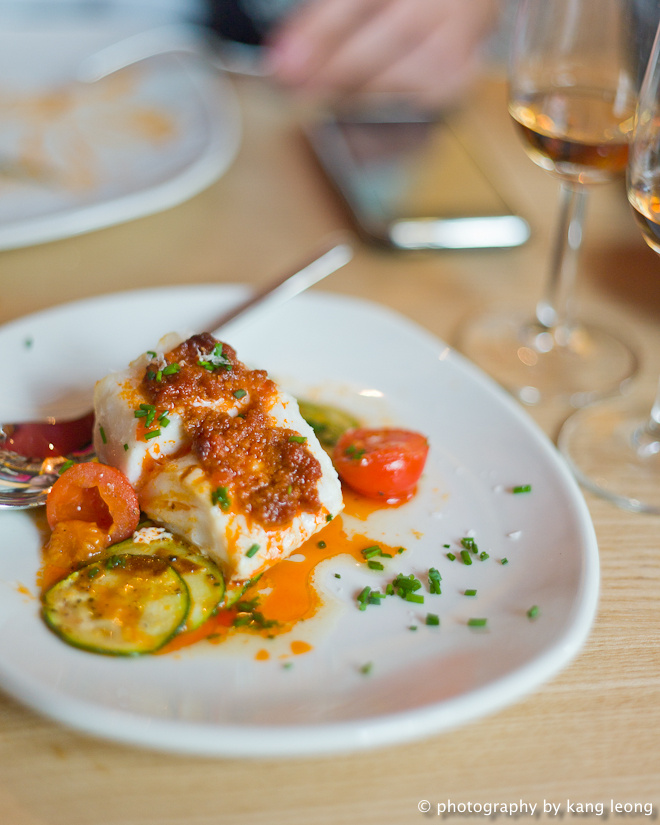 Simply well cooked fish, that is only ever so slightly underdone in the centre. While not as deft in execution as CdT, it was still a remarkable plate of tapas.
Meat
With the meat dishes, came the most prized of the flight – the Palo Cortado. This sherry is a rarity in itself, with fewer than 2% of all Jerez production actually maturing into this wine. Slurp, slurp.
Meatballs "Palo Cortado Fragance" from Jerez, £4.75.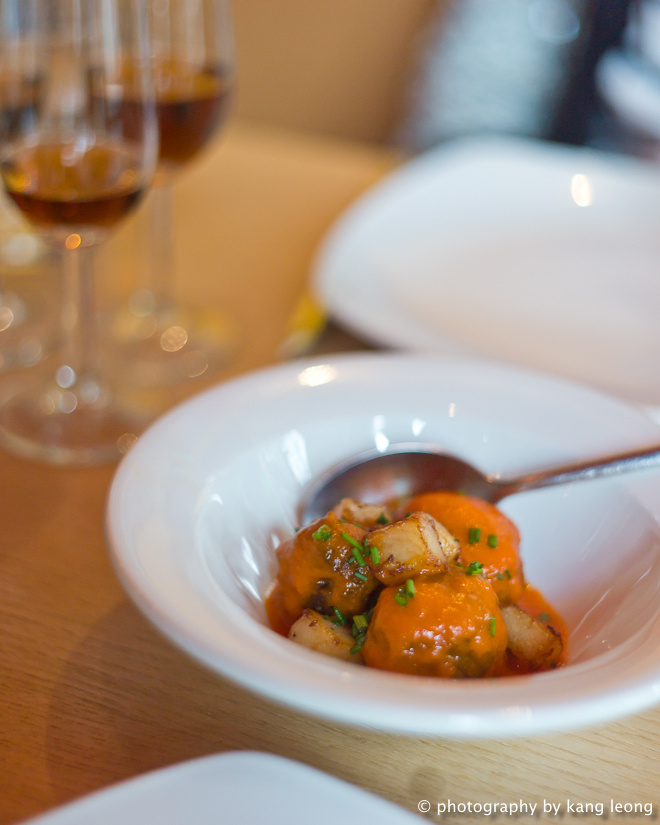 The sauce was dizzying good, tasting of roasted peppers cuddling those meatballs.
Piquillo Peppers stuffed with ox tail "Al Oloroso" , £6.50.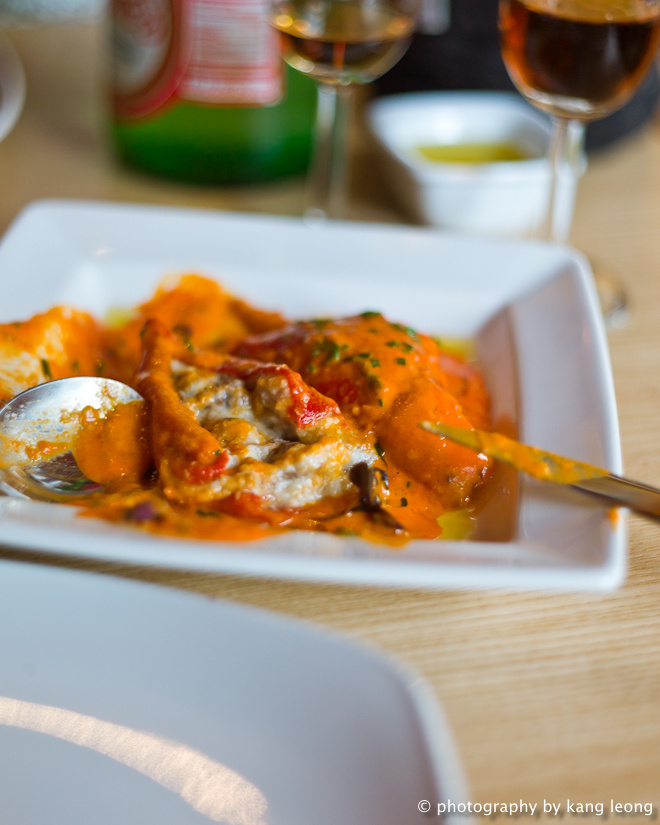 This was classy, babyfood textures of oxtail stuffed inside piquillo peppers. One can only hazard a guess that the sauce in this dish is similar to the meatballs sauce. Nevertheless, I really enjoyed this one, hardly any chewing was involved. I washed down the oxtail with my glass of Palo Cortado.
Iberico Pork Cheeks cooked "Al Oloroso Dulce" Potato Cream, £6.50.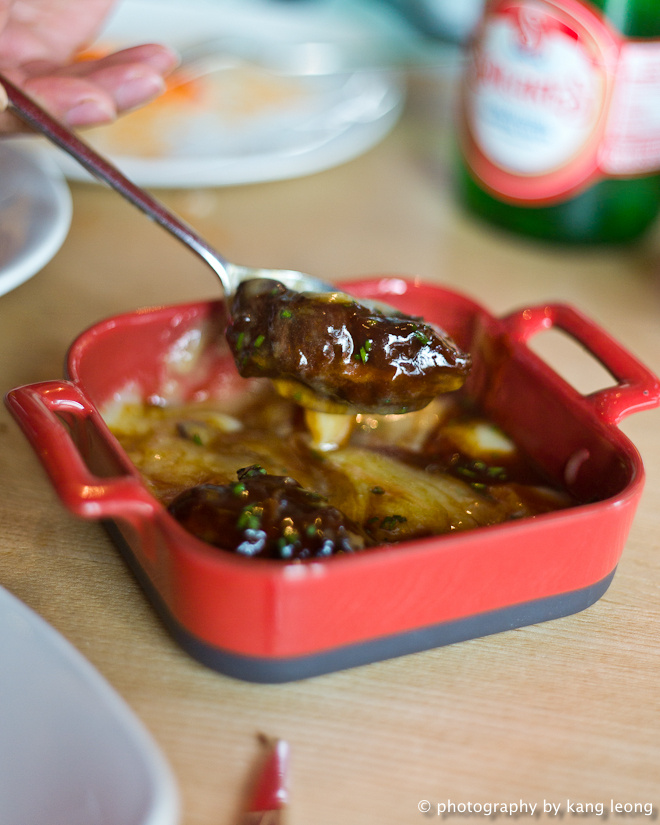 Really salty, and cunningly intense. The cheeks were pillow soft, all this richness cried out for lots of bread and even more sherry to balance out all that flavour.
Sweets
To finish, a glass of Pedro Ximenez, of course.
Mousse of sweet oloroso sherry, caramalised figs, £4.75.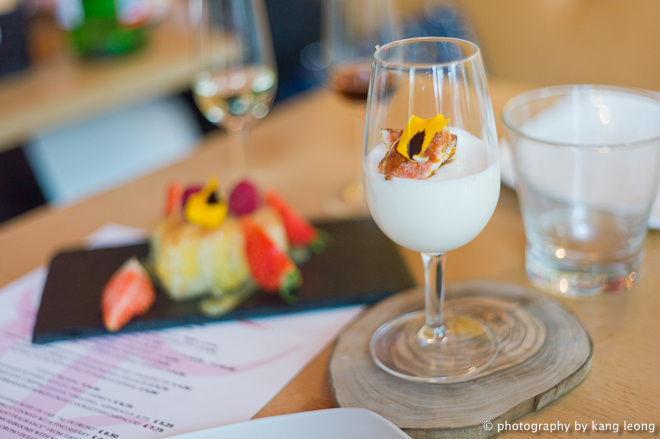 I have always felt that CdT's weakness were in their puddings, but on this showing, it would appear that things have changed. The sherry mousse, light as a feather, and sweet like white chocolate. It was an apt way to end the meal, considering the vibrancy of the dishes that came earlier.
Lemon and Moscatel sweet wine sponge and strawberries, £4.75.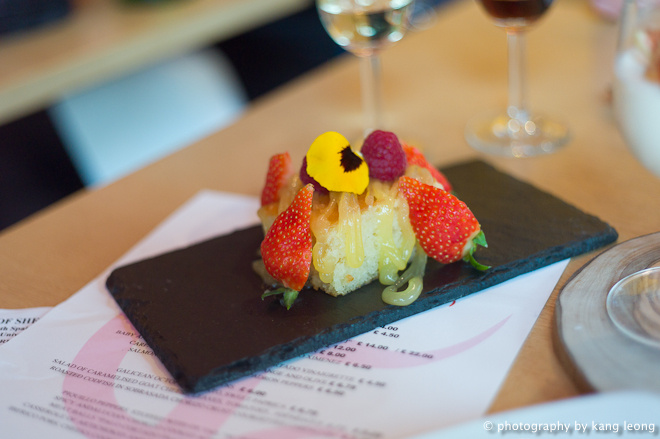 But this was the winner. Sponge cake soaked in sweet wine, sinful.
Cambio de Tercio is still the jewel in Abel Lusa's galaxy of restaurants, but Capote y Toros is an enticing addition to the diffusion of the brand. The quality of cooking is almost as slick as CdT and ultimately gratifying, the atmosphere in this narrow space is gut-bustingly intoxicatingly, and the sherries are deceptively easy to knock back. Picture the kitchen, whiffs of sherry floating in the air, evaporated from the cooking, resulting in merry chefs with opened bottles of the finest Jerez in one hand, and sauce pan in the other, it is no accident then that every other dish is spiked with sherry. How brilliant an idea it is then to use the best of Spanish cuisine as a vehicle to facilitate the appreciation of sherry. Absolutely genius.
The Gist of It
Capote y Toros
Sherry & Tapas & Jamon, £40pp
157 Old Brompton Rd SW5 0LJ
Tel: 020 7373 0567
Tube : Gloucester Road
Sherring: Time Out London ; Metro ; ES ; Jake and Jacki ; Sabrina's Passions ; 12.5% ; Wine and the City
Did you enjoy reading this? You can subscribe to the Newsletter. Alternatively, you cansubscribe to the RSS feed.