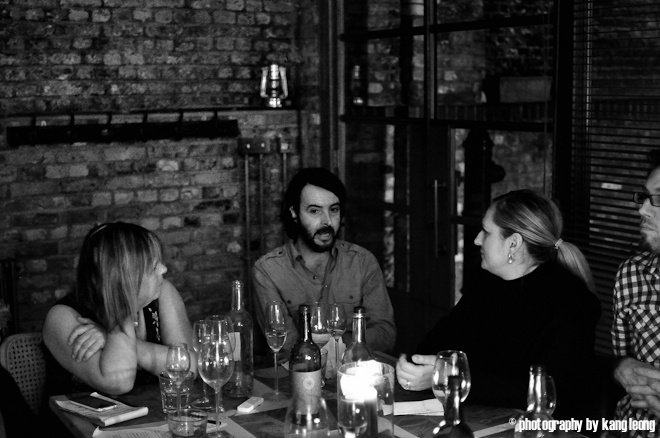 Love it, loathe it, the annual revision to the Michelin guide is still relevant. Widely scrutinised, lambasted and worshipped by restauranteurs and restaurant lovers alike, it is perhaps the most recognisable of all restaurant guides. But, it has probably lost some respect with stakeholders in this edition, which coincidentally, marks the bib's 100 year 'presence' (actually 38th published edition) in GB.
As ever, the red guide's annual selection process polarise opinion. People seem to feel that chosen restaurants are skewered toward larger operations, French food, good capital investment (..the grade of cotton used for hand towels..), popularity of chef. So much so, it appears that savvy restaurateurs have seemingly nailed down a formula for consistently winning the coveted macaroons.
This year, the national tally increases to 140, surpassing the (previously record) 2010 haul. In part, it has helped propel the status of British restaurants to yet another new high…at least if you believe the bib's estimations. There are no *** inductees this year (how long before AD wins another eh) , but two reputed chefs, Helene Darrozze and Nathan Outlaw have made the leap to the ** club, bringing the London total of 2 star restaurants to 8.
I had expected the Galvin brothers to cap their year of expansion with Michelin success. After the (surprise) Windows award last year; they make on the list yet again, this time with their big budget opening: La Chapelle. Gaining a star after only about a year or so in operation. Commercial (and critical) success probably belonged to the Galvin restaurants in 2010. The other master chef behind the rise of London stars is of course Phil Howard. And with W8 gaining a star, his influence on the London guide, spans his own double starred, The Square, and his former protege's The Ledbury and also Harwood Arms.
Of course, as you well know, 2010 was a great year for London restaurants. There were lots of exciting openings, thankfully not all were geared toward the stuffy conventions which the bib apparently gives out its stars on. Nevertheless, it's good to see Alexis Gauthier and Nuno Mendes making the cut, after only being opened for such a short while. Both men already have a good reputation, and I do think their recipes are ace, and they deserved to be recognised.
Gordon Ramsay gained one this year, and didn't lose any. I went to Petrus early last year when it opened and already thought it had nailed a secret formula to winning stars (Gordon does have a closet full of 'em afterall), what with Mark Askew at the helm, it was always in with a shout. But I think therein was the problem I suppose – the quintessential definition of a Michelin restaurant, no longer seems to command allure like it used to anymore.
Just look at the success of places like Polpo, Trullo, Bar Boulud (to a certain extent Bob Bob Ricard and Bruno Loubet) and Koya. Egalitarian, modern, down to earth, completely down with the tweepers. Although to be fair, half the London gastroheads were eating burgers through 2010.
Not to say that old guard, red guide approved institutions are bad; far from it of course. The likes of Zafferano and Le Gav for example – both of which represent the idea of Old World fine dining – are in my opinion, still the best at what they deliver, but I feel that we are now more sensitive to value for money. We also prefer hearty and wholesome. On the other hand, I think some Michelin restaurants are just not worth the attention. It does baffle how the bib favours glamour over quality of cooking…sometimes.
Perhaps, that's why the Bib Gourmand might actually step out of the shadow of the Michelin Guide. In its current state, it is no where near as practical as it could be, but the guideline – "good food at moderate prices" – sounds much more sensible. They list 28-50, Trullo, Zucca and Polpo, which I do agree fit the guideline.
As with any list, it means very little, especially with food being the subjective topic in itself. But that's why so many blogs and critics continue to plow the 'net with their opinion. Something which I still believe that as restaurant goers, we only stand to benefit from the range of opinion out there to help you decide on what to eat and what to avoid.
Commiserations to Francesco Mazzei for missing out yet again, though I do think L'Anima is almost there, if he is still interested in getting there. And to be fair, my favourite restaurant in London, Cambio de Tercio – which in my opinion serves the best Spanish food in the city – has been doing it since the late 90's , and how the bib continues to ignore its brilliance is utterly beyond me.
Who else should I mention ? How about Terroirs/Brawn? the husband & wife outfit that is Sushi of Shiori ? Yashin ? Bryn Williams at Odette's? Or the juicy work Goodman/Hawksmoor are doing? Let's not forget some old school heroes like Andrew Edmunds, innovative openings like Parle's Dock Kitchen, and the always dependable GQS (which is in the Gourmand list). And how can I not mention Uncle Lim's awesome Hainanese chicken rice…pho at Café East…. And for a limited time throughout the month of February, 2011: The Bryon Big D. We know they'll never make the red guide, but we love them, and in my mind, they have become London institutions in their own right. No guide is ever definitive, especially something like the Michelin guide.
And the clock resets itself.
Three Stars
Alain Ducasse at The Dorcester, Mayfair
Restaurant Gordon Ramsay, Royal Hospital Road, London
The Waterside Inn, Bray, Berkshire
Two Stars
Hélène Darroze at The Connaught, Mayfair – 2011 Addition
Restaurant Nathan Outlaw, Cornwall – 2011 Addition
The Ledbury, Westbourne Grove
Le Gavroche, Mayfair
Marcus Wareing at the Berkeley, Berkeley hotel, Knightsbridge
Pied á Terre, Bloomsbury
The Square, Mayfair
Hibiscus, Mayfair
L'Atelier de Joël Robuchon, Covent Garden
One Star
Kitchen W8 , Kensington 2011 Addition
Petersham Nurseries Café , Richmond 2011 Addition
Viajante, Bethnal Green 2011 Addition
Galvin La Chapelle, Spitafields 2011 Addition
Pétrus, Belgravia 2011 Addition
Seven Park Place, at St James's Hotel and Club 2011 Addition

Gauthier, Soho 2011 Addition

The Harwood Arms, Fulham
Bingham Restaurant
Apsleys (at the Lanesborough Hotel), Belgravia
Galvin at Windows (at London Hilton Hotel), Mayfair
Tamarind, Mayfair
Chapter One, Kent
Hakkasan, Soho
Rhodes TwentyFour, City of London
Club Gascon, City of London
River Cafe, Hammersmith
La Trompette, Chiswick
St John, Clerkenwell
Tom Aikens, Chelsea – On my eat list
Rasoi, Chelsea
The Glasshouse, Kew Village
Chez Bruce, Wandsworth List
Amaya, Belgravia
The Greenhouse, Mayfair
Maze, Mayfair
Benares, Mayfair
Umu, Mayfair
Kai, Mayfair
Semplice, Mayfair
Wild Honey, Mayfair
Nobu (at the Metropolitan), Mayfair
Nobu Berkeley, Mayfair
Sketch The Lecture Room and Library, Oxford Circus
L'Autre Pied, Marylebone
Rhodes W1, Marylebone
Locanda Locatelli, Marylebone
Yauatcha, Soho
Arbutus, Soho
Quilion, Victoria

Deleted- Nahm, Belgravia
Deleted – Roussillon, Victoria
Source : GB Michelin Star List 2011 ; GB Michelin Bib List 2011.