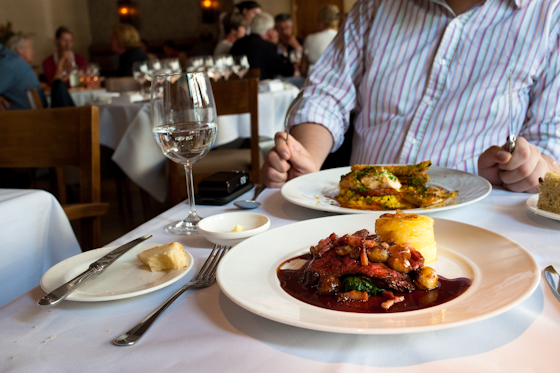 The scene is set against the neighbourly backdrop of Chiswick. Tranquillity seemingly dominating this part of West London, a lazy suburbia far removed from the frenzied cry of the urban jungle. Time for lunch me thinks.
It appears that not all Michelin starred restaurants are blood sucking monsters. I was here to meet with Euwen – also a regular grub lovin' Londoner – who was in the midst of his summer leave and we were giggling like school girls as we saw the prices on the menu – £23.50 for three courses. No this wasn't the set menu, it didn't seem like they had one, so this appears to be the real deal. As much as I love splurging my life savings on Michelin conquests, I was also relieved to see such modest valuations.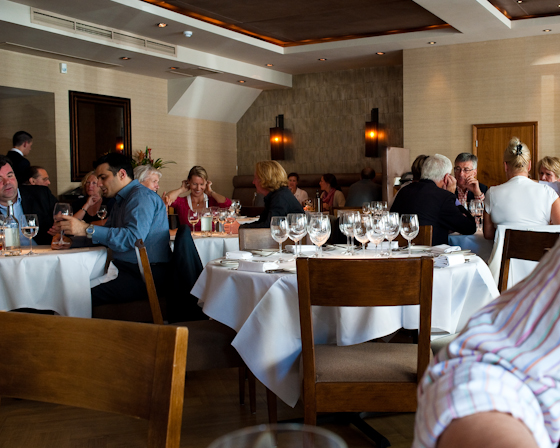 As I tilted my head upward to survey the décor, the charming dining room – small, but an assured space – I noticed how the clientele were a dapper lot. Fitting with the well spoken neighbourhood I guess. I entered the restaurant shamelessly rocking a red Nike tee (with dri-fit technology) and sporting bright red Nike trainers, I felt like a lost child and the Maitre de gave me a look which suggested it too.
Back to the menu then, six items were listed for each of the courses. The menu read like the usual upmarket euro fare with dishes that toured the culinary destinations Italy, France and Spain. Starters included Gazpacho Andaluz, Bresaola and Foie Gras; classic stuff it seemed. Ok let's get the ball rolling then with Euwen's selection of Salad of endive and poached pear with Roquefort, walnuts and sweet mustard dressing.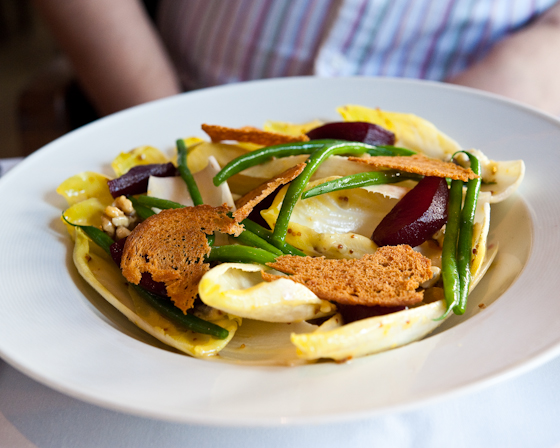 The summery stink of cheese against the sweet juices of the pear; this contrast was the crux of the dish. We were both a little surprised at the size of this salad, and we ended up sharing this starter. Fresh, oily and teeming with an interplay of flavours and textures, it was a salad as well-dressed as the restaurant.
There was only one thing I wanted to try for starters: Ravioli of Cornish crab and scallop with leeks and a shellfish emulsion.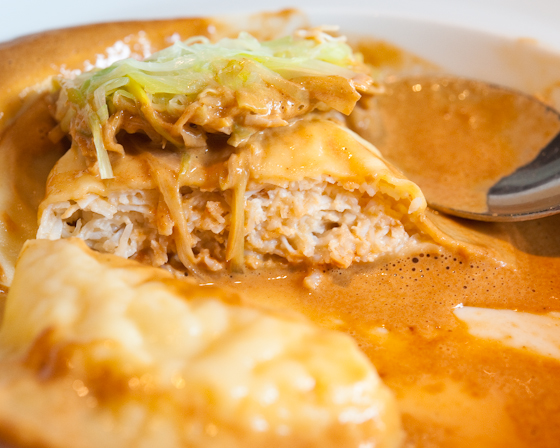 The magnificent sounding dish matched its exquisite presentation, being that it was served as a single oversized ravioli with thick shellfish coloured sauce smothered all over it. Inside the pasta – al dente of course – we see the tightly packed strands of crab and scallop. The sauce was very fragrant, completely infused with seafood equally matching the rich ravioli. Rich, appetising and completely satisfactory.
I did not know what to expect at La Trompette, but at this point I was completely taken by the starters – the kitchen is churning out serious food. Main dishes were an equally regal read: glazed shoulder of lamb with Madeira; Royal seabream, mushroom duxelle samphire and buttered shellfish; it was like making a choice between luxury cars…. at Toyota prices. I'll have the DB9 please: Grilled bavette of beef with gratin dauphinois, baby onions, button mushrooms and lardons.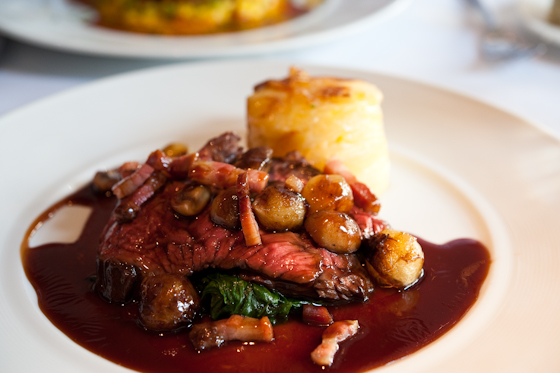 Lardons, what's that? Oh gosh, the beef looked heavenly. Served sliced and bloody, it was a fantastically viscous mouthful. As a tougher cut, the bavette had a chewy texture, but being cooked medium rare, it was a bovine sponge that soaked up the syrupy sauce that carried deep balsamic and saltiness. The roasted whole shallots bursting with flavour and the bacon providing yet more intensity and we had not even started on the excellently buttery dauphinois on the side. A conventional recipe executed perfectly.
Euwen's turn: Roast Breast of Poulet Noir, courgette and chorizo risotto courgette fritters, lemon, garlic and parsley.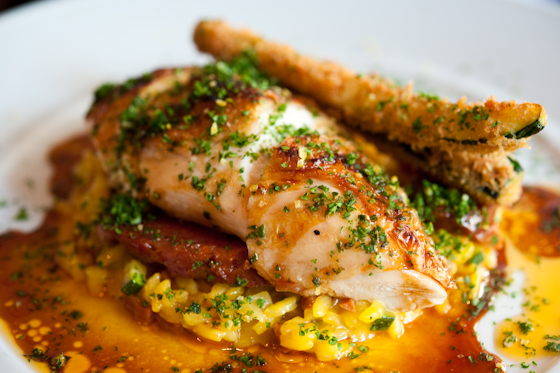 Just when I thought the beef was excellent, the chicken looked equally like a star. Garnished to the teeth, the creamy chorizo risotto was the highlight of this dish for me. The chicken breast was naturally tender, but I thought it lacked abit of juiciness for it to be anything amazing. Euwen noted a gaminess with the chicken. An attractive dish, that just falls short of being truly exciting.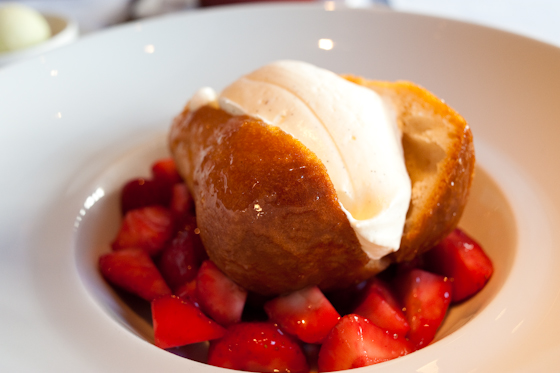 Wow. A thoroughly enjoyable meal, we sampled serious good Michelin star cooking. Portions were astronomical, and we nearly didn't have room for dessert. Very nearly. For pudding, we ordered a crème brulee with an apple compote base which garnered a mixed reaction. We thought the tangy compote diluted the eggy custard. The compote was distracting and the custard was a little lost in it. More successful however was the Rum baba resting on a bed of glazed strawberries and chantilly cream. An airy sponge cake soaked in a lightly spike rum juice, charming but the cream was overkill. I have a feeling I would have enjoyed the £5.50 supplement for the cheese instead.
In the end, La Trompette performed a graceful waltz and dazzled the senses. The cooking erred toward classical robustness, and the results were huge servings of mouth watering wonders. I still cannot believe that this lunch sneaked in under thirty quid. One of the slickest meals I've had, highly commended and highly recommended.
The Gist of It
La Trompette, £30 for Lunch; £45 for dinner Official Site
5 Devonshire Rd Chiswick, W4 2EU
Tel: (020) 8747 1836
Nearest Tube Station: Turnam Green
Like this blog? Why not subscribe to the email newsletter ; alternatively you can subcribe to the RSS feed.