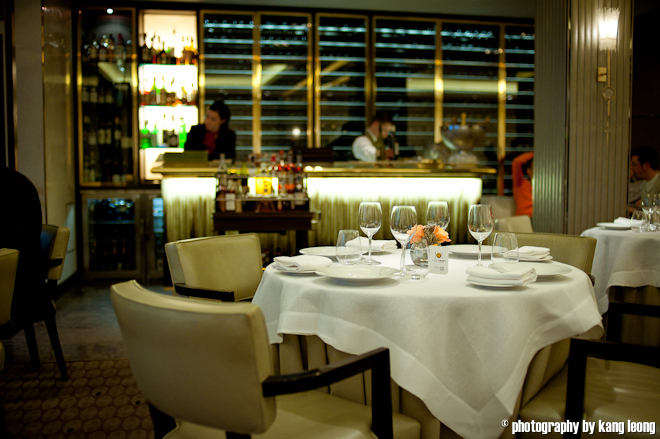 Those of you interested in Angela Hartnett's (MBE) progression as a chef, rejoiced at the news that she has finally left Gordon Ramsay to make her own name, though truth be told, the charismatic chef has already built a formidable reputation over the years. There are very few – if any – negative reviews written about her restaurants, and she's my favourite chef on TV. Her years with GRH had led to critical success where she famously won her first Michelin star while at The Connaught in 2004 and then another after just her first year of stewardship at Murano in 2009. My my, how far she has come, since her waiting days with Hans Schweitzer.
Following in the steps of Wareing and Atherton, Angela joins – what is now – a rather illustrious Gordon Ramsay alumni. She leaves on good terms, buying out El Gordo's stake to take the helm at Murano outright, which as far as we know, is to become her sole restaurant venture, as of writing. Practically however, it is business as usual, Murano is still, by Angela Hartnett. Success also means that there will be difficulty in securing a table at either of her restaurants. I had to wait until the 2nd week to secure a table at Murano; the week before, I managed a very late lunch at the Gordon Ramsay restaurant – which she will soon part company with permanently- she oversees, York & Albany. We loved the meal at York & Albany, so needless to say, we were looking forward to sampling the unhindered rendition of Angela's cuisine.
Murano is nestled within the comfortable environs of Mayfair, and much like Y&A, public transportation will take you close enough, but you'll need to trek to the restaurant on foot for a good 10 minutes. Helps to work up an appetite I suppose.
Like all Gordon Ramsay restaurants, no expenses are spared in the decor, or staff threads, this restaurant swings in the big leagues. The overall theme is green and gold, like a marbled forest in fall, or a little bit like Royal China. To be honest, I found the exuberant design to be a little old fashion what with the mirrored walls and such, catching my own eyes was disconcerting.
As per usual, I sample the ala carte, £60 for 3 courses, and the better half went for the well-priced set lunch at £30 for three…. and advanced apologies for not getting the names of the dishes, I forgot to write them down.
Starters
From the set: Confit Salmon, lentils.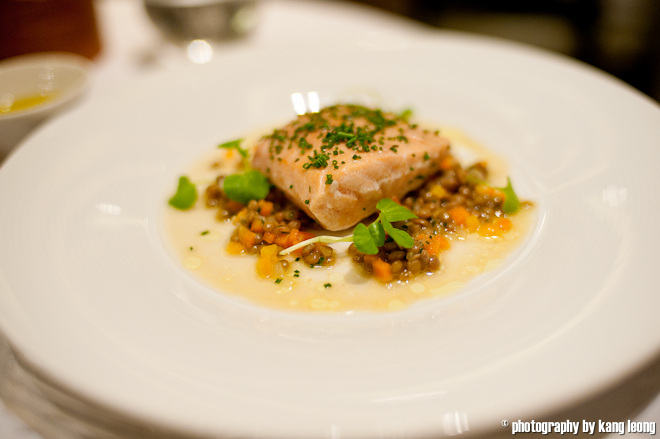 I tasted a sliver of the fish, the insides were pink like it was cooked sous vide, lending a fluffy and delicate texture. The missus seemed to enjoy the straightforward, and substantially sized starter.
A la carte: Lobster linguine, spring onion, chilli and garlic, cherry tomato fondue (supplement £5)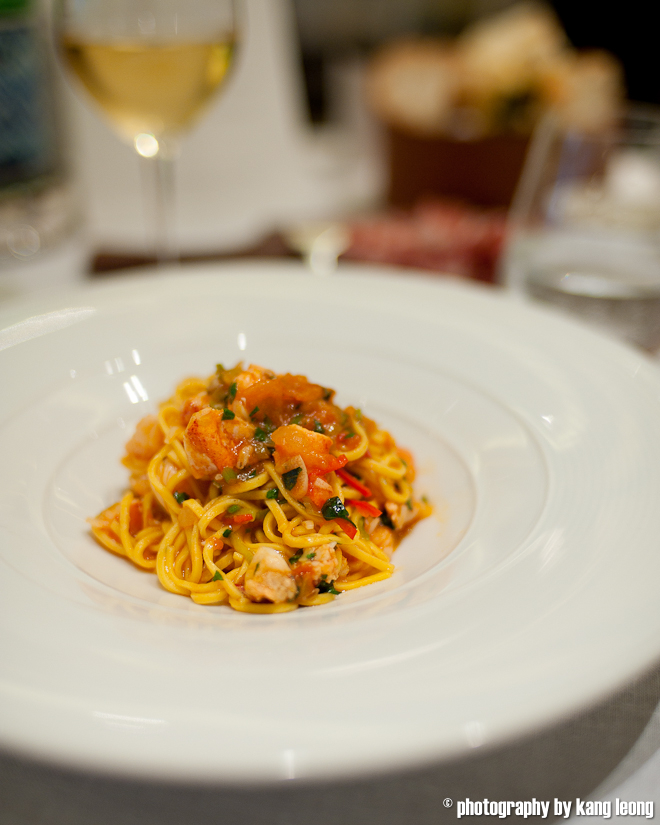 The chances of us visiting Murano again in the short term was slim, so I thought I may as well aim for the priciest dishes on the menu. But not the Autumn specials, a sleuth of Alba truffle-enhanced dishes for a hefty £50 supplement. Hmm, I'm still in recession.
Expectedly, the stringy noodles were cooked on point and al dente, with generous chunks of lobster meat. The recipe may be Italian accented, but it reminded me of Chinese lobster noodles. The dish was simple, well seasoned and cooked well. Boring, but it was delicious.
Mains
From the set: Sea bream.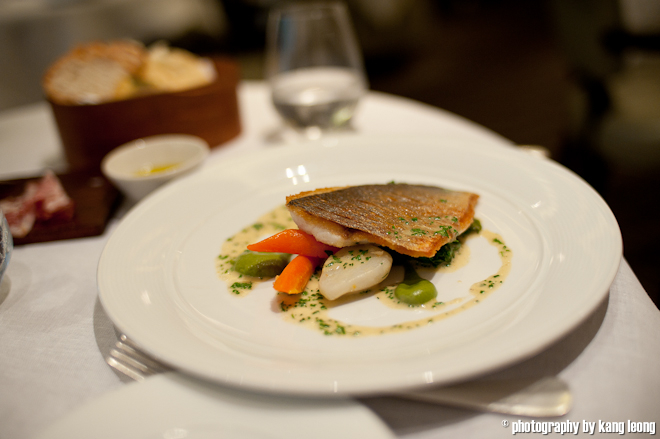 The way the fish had been pan-fried looked interesting – the crusty skin was rigid and eerily flat. Again, it is cooked perfectly, with a mildly interesting green curry puree, but on the whole, the recipe was lost on us. The missus thought this was pedestrian, in comparison to York & Albany meal. Well cooked, but unfortunately, it didn't dazzle.
A la carte: Monkfish tail meuniére, grilled leeks, garlic purée, baby fennel, watercress
The memories of the fabulous baked lemon sole at York & Albany was still fresh in my mind as I received this dish.
But first to digress. I was left feeling lost when we were ordering; Our waitress didn't explain the dishes to us, even when I inquired. About the only thing she said to us were that partridges were in season… yes, I realise this is pedantic of me, and I don't want to come across as an twat, but I do appreciated it if staff take the time to explain the various dishes to diners, especially in a place which has a Michelin star. Surely there are redeeming signature dishes on the menu which deserve a few minutes of exposition to help whet appetites?
As the dish landed, I noted the superb visual impact – the crust was a fried impenetrable armour, a shimmering example of a fillet of fish. Monk fish is a temperamental ingredient, and I was glad to find that the kitchen had cooked this perfectly, just under, muscular tenderness. Aside from the technical quality of cooking, however, I was underwhelmed by the recipe. Truth be told, after three days to reflect on the meal, I can't recall much of the puree, perhaps it was garlic, perhaps it was something else. I was trying to love the dish, trying to decipher some kind of USP about it, some sort of opening of the umami dams, but I just didn't get it.
Amuse and palate cleansers
I almost forgot to mention the excellent amuse bouches (more nibbly than an amuse to be fair) we started with; Truffle infused arancini balls and a mini board of prosciutto, salami and bread, complete with Manni olive oil, a luxury essential (oxymoron surely) that is now used by other Italian accented joints in London, such as the mighty Zucca.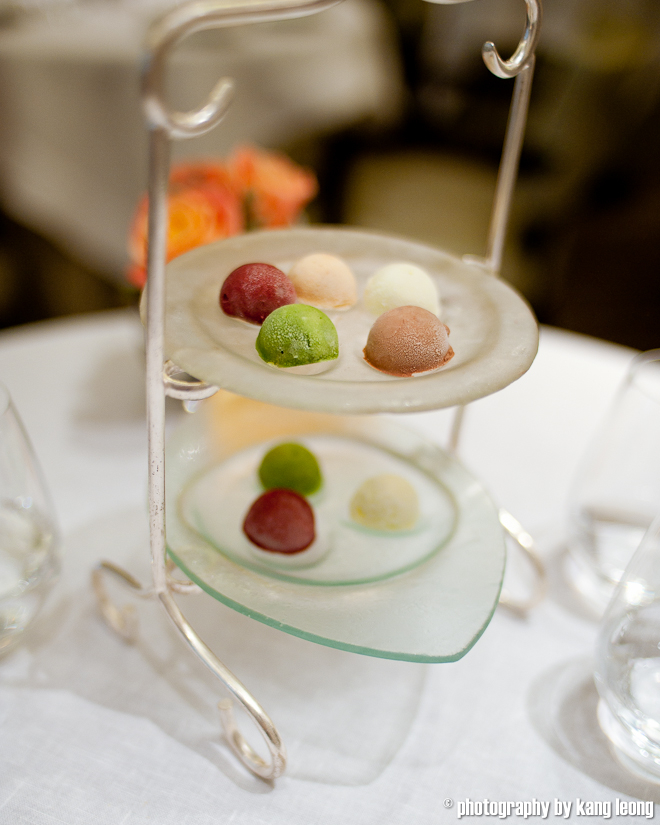 To cleanse the palatte, a visually enticing two-tiered rack of assorted sorbets – I sussed the green coloured, basil flavoured one.
Desserts
From the set: Lemon Cream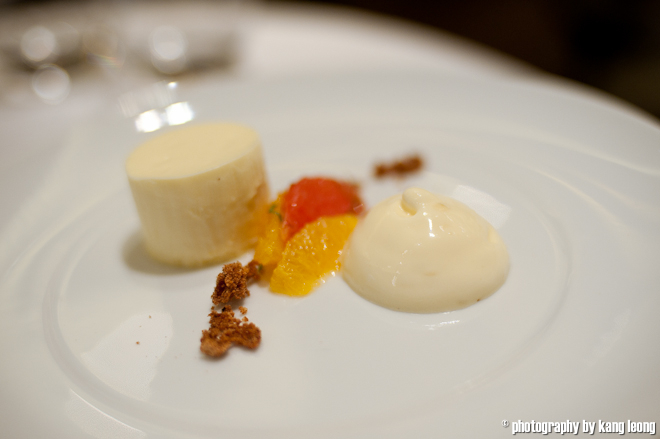 Simplicity, not alot to add to this really. Like a double palate cleanser.
White Chocolate Creme Brulee with White Alba Truffle, £15 supplement.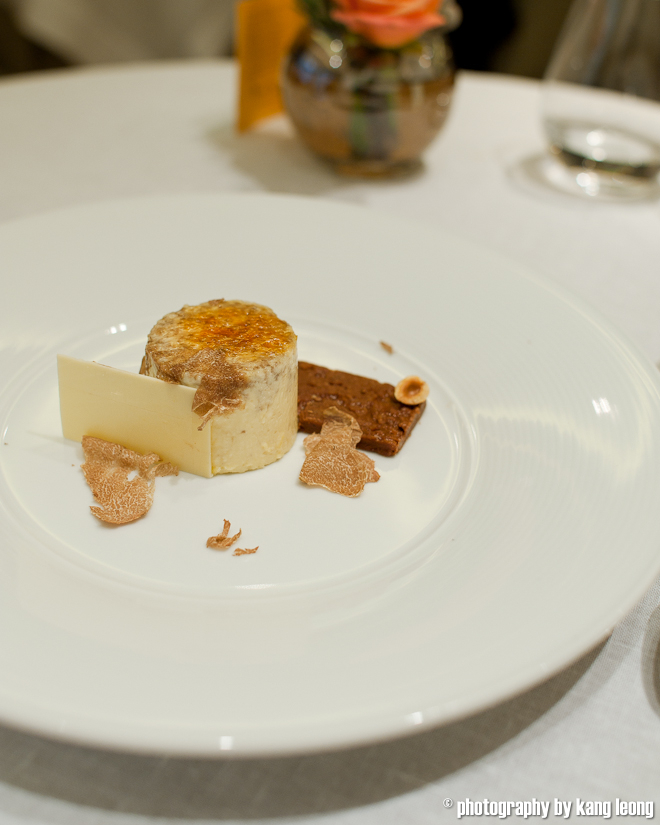 A £15 supplement I can afford! Sadly, the pudding was a trainwreck. The white Alba truffle shavings, on there own, were divine. A potent puff of the distinctive flavours of truffle unravelling in the mouth, very fragrant and pleasing. The brulee had a scrambled eggs texture, but it tasted wrong. Like pungent overnight socks stuffed in between a cheesecake. Or perhaps like a cheesecake that was made with Époisses de Bourgogne… which is to say that custard and truffle do not, and should not mix. At least, not in the way it was presented. I tried to divorce the truffle shavings from the pudding…but alas I couldn't. Upon reflection, I'm bemused as to why I ordered this weirdly indulgent dish, that seemed like a throwback to the excessive years gone by, than something so cutting edge, that is deserved of a star.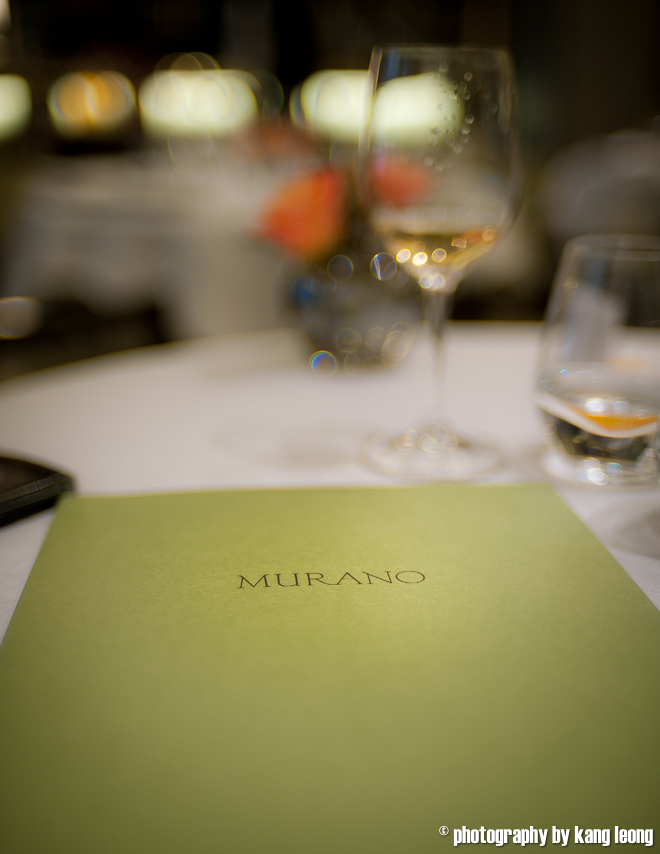 Don't chastise me for this, and it does pain me to have to write this, but I didn't like Murano. There are shades of glory, but I think it misses the boat on the crucial parts of the meal, more glitz than substance, and toward the lower end of the one starred spectrum. You couldn't fault the cooking, it was superb of course, and service was generally top notch (the Maître d' always addressed the lady, and not the bloke) but gosh those recipes, they seemed tried and tired. I loved York & Albany, and I read all the reviews, and I tried to like the meal, but there was no wow factor, in complete contrast to Y&A, I think the problem with this meal was that it felt anonymous to me.
Toward the end of the meal, Angela emerged from the kitchen to speak to some guests, and naturally, I was spellbound, put in a daze that my heroin was merely steps away from me…. I don't really know what etiquette when it comes to these things, but if I had a copy of Cucina, I would have surely mustered the courage to shake her hand, and ask for her hand. I mean her autograph. Seeing as to how it was Angela herself who oversaw the kitchen during our lunch, I can't say this could be chalked up as an off-day. Comparisons are inevitable, and if Murano can manage a star on this form, then perhaps L'anima deserves one too, or even two.
The Gist.
Murano
Italian, £75pp
20 Queen Street W1J 5PP
Tel: 020 7495 1127
Underground : Green Park
The Italian Job : Matt Norman ; AAiL ; A Girl has to Eat ; A forkful of spaghetti ; Andy Hayler
Did you enjoy reading this? You can subscribe to the Newsletter. Alternatively, you can subscribe to the RSS feed.