Pompous pretension or serious contender of applied arts and gastronomy? Based in the 18th century townhouse which once bore the Dior label; we take a trip to the institution where haute cuisine and haute couture meet.
Neo
I must admit, I approached Sketch rather skeptically. I had already been for tea at one of their many tea rooms – the Glade, I believe it was – but I'd yet to dine at their Michelin starred 'The Lecture room and Library' on the first floor. Amazingly, I was offered a £50 voucher to sample the food there (thanks Kate). The twitterati seem quite positive toward Sketch, and armed with some positive feedback, I was rather anticipating a good meal. I just couldn't get my head around the flash heavy website. Is this supposed to be a serious restaurant, or is it an art gallery that serves food on the side, and so many different rooms. Dammit, which room am I at again?
Conduit Street, just round the corner from the Apple Store on Regent Street. I felt the cool arty vibe the moment I stepped through the doors, neon blue and red. The entrance is furnished with a couch that looks unseatable, and a swing that seeminglly fits adults.
I'm a little lost to be honest, just what am I doing here? Downstairs and in the front of the townhouse, is 'The Parlour', a tearoom. Nope, not dining here. I look inward, and there is a lanky gentlemen in a superswish grey suit, with a shimmering blue tie, incredibly well groomed, he extended his hand as I stumbled – like lost sheep – toward him and shook the man's hand.
"Mr Leong, we've been expecting you" How the hell did he know…?
"Your bag and your coat?" Clap, clap. "Margaret, take Mr Leong's belongings please, and now sir, will you follow me up the stairs?"
A Mr Anderson moment. The Matrix reloaded to be exact. As we meander up the stairs, he gives me a breakdown of Sketch's numbers: 5 rossettes, 1 Michelin star, Head Chef Pierre Gagnaire, restaurants all over the glamour cities around the world and one opening in Las Vegas, formerly house of Dior…
And just as he finishes his well rehearsed monologue, we reach the top of the stairs and have stopped in a dark hallway. Staring at us, is an imposing frontdoor, it looks solid and probably about 7 feet high. Gently, he unlocks it.
"Mr Leong, welcome to Sketch." …..Woooosh!
The big black doors swing open to a room filled with majesty. The vivid colours were overwhelming and so much to absorb, I was in absolute exquisiteness, and for the first time, in a long time, I was completely awestruck with the showy entrance. For just a moment, my imagination was completely suspended and I actually thought I was there to meet with the Merovingian…. and maybe give Monica Belluci a quick peck in the posh loos.
Woah. Again. Woah.
Time to eat
I sat very comfortably, and the ambiance was surrealistic. As opposed to the much too drab faux chillout music in most michelin spots, this one pumped out neo-jazz/acoustic which sounded rather like Ray La Montague, or Jason Mraz. Crazy. sexy. cool. Its like discovering what michelin restaurants were trying to emulate in terms of ambiance all the while – Sketch has seemingly made every other restaurant I've been to seem artificial. You've got to hand it to the French, they really know how to put on a show, and the atmosphere at Sketch was slick.
And the slickness continued into the canapes. Before I had even looked at the menu, they layed out three plates of canapes on my table. One was a baby mug, of a chilled tomato gazpacho – a great viscious mouthfeel and a lingering rawness that hung on to my palette. A selection of biscuits and jelly, some sweet, some savoury, some cheesy, all served to grease the appetiser wheels. Finally, what I think are biscuit sticks served with a hummus like dip and in what I think, is cassava powder.
French laverbread
The menu is a thin stip of paper (measuring 2×10 to be exact) and it listed the gourmet rapide lunch. We have three choices here. For £30, two courses with coffee and petit fours; for £35, three courses with coffee and petit fours; And a monster £48 for all of the above plus a glass of sherry (which I swapped for bubbles), half a bottle of wine (went for a slightly chilled red, 06′ Touraine) and a bottle of water (sparkling for yours truly).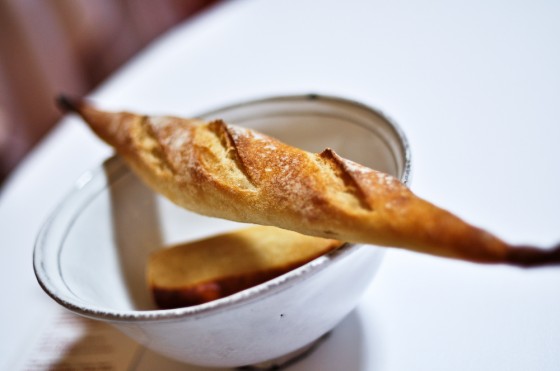 I don't usually dwell on bread and nibbles, but Sketch was utterly amazing in this department. The selection included milkbread, chestnut and of course baguette. What was interesting about it were the butter it came with. An unsalted variety and then a fresh seaweed infused butter. It was like having a French remixed Laverbread (and I have had a proper welsh breakfast in Pembroke), it was so different, the oilyness and chewiness of the seaweed blended well with the butter, giving way to this fishy spread, that was a perfect compliment to bread. Flavours of the sea – could the crackles be grains of sand?
The Four Starters
The menu is a quirky one, it lists four starters, and yet, the waiter only asks for one selection from the mains. I was like, eh? What are you going to do, serve me four starters? That would be just unreal. Yup, it was indeed unreal as they served up four starters. Tapas style, I'm told.
And so we start in the middle, with a Watermelon Soup, Brunoise of Melon, Coriander, Mint and Ginger. My taster notes describe a watermelon foam, puffy and full of bubbles, there was an interesting hit of what tasted like tannic fattiness in texture, like an oil slick in the mouth, I had the same mouthfeel with the gazpacho and I believe its down to the olive oil they were using. The fruity and freshness of the watermelon were sweeten with the presence of honeydew and all was swimming in a sparkling juice of what tasted almost like ginger beer. Was it a soup or was it a veloute, or was it a fruit infused milkshake, or perhaps it was all of it, rolled into one.
Next, we go left to sample Herve this Egg, Rocket Jus and Boutargue Foam. A comfortable and what appears to be a superiorly slow cooked poach. The yolk became almost like a custard, while the egg whites was like a silken quilt gently held together with a slightly running exterior. The foamy rocket just had a sharp and salty intensity, almost like a soya sauce, but damn, this is one amazing poached egg, one that was unlike anything I've had before.
Moving clockwise, we get to the asparagus cream, strawberry coulis and goat's cheese. It's the same viscous olive oil mouthfeel again, and I'd never have thought that a dense melting goat's cheese would go with the intense red fruits of the strawberries, but it did. It was much like having a deconstructed fruitshake, or even a yogurt, it was fresh, clinical and it wiped my palette clean from the smooth eggs, just before it.
So far, I am quite impressed. Each of the three dishes could stand on its own, each a different theme, and to each a kind of build up in flavour intensity, as varied as the changing seasons.
And now the final starter of mackerel tartare, sesame seed and a summer mesclun salad. This must be the golden summer of the four dishes. Subtle flavours of the sea, warming and tantalizing sea saltiness, with a texture so soft, the raw tartare melted in my mouth. It was roughly chopped but came out like chewable pillows. There was hardly any fishiness, as it seemed to be balanced against a balsamic and sesame dressing. Lots of subtle flavours and well executed.
I love raw food and more so, I love tartare. This was the pinnacle of the form; simple, easy to eat and delicious.
I must say, I was thoroughly impressed with my quadruplet of starters, a rapid medley, but a medley that was as colourfully vivid as the ceremony of the restaurant itself.
No Meat here
On this visit, the restaurant was doing a meatless menu. It was a choice between pan-fried salmon, risotto or sea-bream. I chose the latter of the three: Sea Bream, roasted and poached in olive oil, green pea veloute, cuttlefish, red pepper and artichoke.
My compliments to the chef for serving up a warm plate as this really helped to amplify the roasting aromas. The plate was quite abit hot, perhaps close to 60 oC (Chemistry is one of my many traits, believe me.). To taste: a sour acidity on the palette, perhaps due to the roast red peppers, the heat is hearty. The pea veloute was what prompted me to order this dish; The green soup was very delicate, having a sticky mouthfeel and a warming bang with more umaminess offered by the presence of soft cuttlefish cubes, as well as the artichoke.
The fish, by itself, was quite abit fishy, while the creamy pea veloute was dominated by abit of sourness; however, both elements met harmoniously to counter each of their dominating flavours and it gave way to a subtly rich intensity that was well balanced. My only gripe was with the texture of the fish; maybe it's the heat, or perhaps because of the wetness, but it was a tad on the mushy side, where I expected robust flakiness.
The food just wouldn't stop coming. I opted for the trio of desserts, and first to land on the table was a double act. One consisted of a simple red berries sorbet, smartly paired with a powdery biscuit; another was a red berry fruit salad, expertly paired with aloe vera cubes, but it was until the chocolate tart landed was I impressed with the puds. A crunchy base and an airy mousse, it was the anti-chocolate torte one usually expects. In the place of too much rich butterness, was a light crunch best described like a kit kat as opposed to a mars bar. While not as grand as the starters, the trio of desserts was a polite gentlemanly (and lady like) way to end a gourmet express, jazzed up with just a touch of cool.
Ordinary Extraordinaire
Amidst all the pompous showiness, the largely French speaking staff managed to remain calm and friendly. They oozed cool and served with zeal and understated enthusiasm, almost as if they were an extension of the restaurant's choreography.
Needless to say, I was impressed with this visit. My oh my, do the people behind Sketch know how to put on a show, and for once I actually felt comfortable in a slick Michelin restaurant, instead of having to clench my arse and stiffen the upper lip, they took care of things in true fashion. Of course, the restaurant is nothing, if not for good food and Sketch did not disappoint in this department; flavour balancing was spot on, and I was enamoured with their creative use of olive oil and berries. Dishes tasted as they should, and in particular, the mackerel tartare worked like clock work. If I was being critical, I would say that the sea bream – for a mains – was a no-show, in comparison to the other courses; but with this 3 course meal priced at £35, it was adequate nonetheless. The £15 premium for the extra booze is worth shelling out for.
Of course, like all set lunches at Michelin restaurants, one gets the feeling that one is missing out on the big show in the taster menu, so again, this amounts to half of a review, as much (or little) as it compares to the dinner menu. Having said that, it is one of the more memorable set lunches I've had recently. The lecture room and library is a stunning dining space, one which you could just sit there and take in the ambiance and the rays of light penetrating the three storey high skydome from above. Ahh…. Take an afternoon off, turn of the mobile phone and plug into a realm where high fashion and high cooking meet, harmoniously.
The Gist of It
Sketch, The Lecture Room and Library official site
9 Conduit Street W1s 2XG 020 7659 4500
£35 three courses
Verdict: Crazy. Sexy. Cool. The venue alone is a rousing spectacle and the high cuisine matches the high style at Sketch. It ain't cheap, but its worth it.
Your turn: Have you visited Sketch yet? Were your pockets deep enough for the dinner menu, how did it compare to the Lunch menu?
UPDATE: I am indebted to Gourmet Chick for this one, the £50 Sketch Voucher is actually an offer available to everyone if you sign up on their Facebook fanpage, the offer is good until the end of August 2009….. go check it out folks!