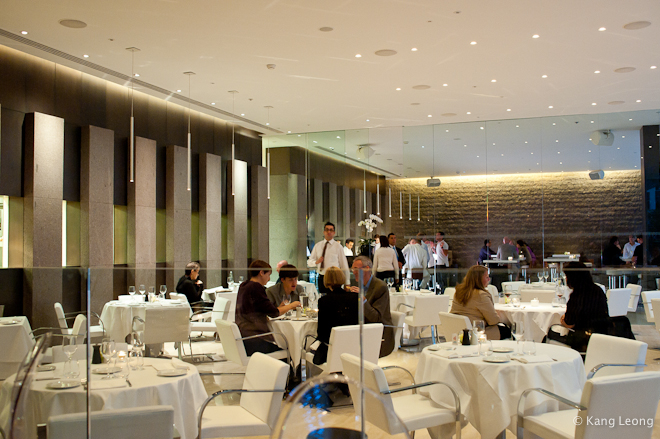 I must confess, I feel pressure writing up my visit to L'Anima, because as you know, Francesco Mazzei's Soul in the city is the gastronomic darling which has had critics, blogs and people who are generally interested in food, cooing in unison. As the consummate restaurant collector living in London, a dinner (or perhaps two or three) at L'Anima is a coveted experience which I couldn't miss. An occasion presented itself, and the visit became necessary.
Mazzei's shrine has received much press over the 2 years or so since it opened. Formerly at Corbin & King's St Alban, the charismatic Italian has carved a name for himself as a culinary god in this city, his restaurant is a must-try for all intents and purposes, and I don't believe there is a food magazine in the UK which has not already profiled the chef. More recently, Mazzei featured heavily in William Sitwell's TV show which dissected the chase for Michelin stardom. Of course, with the reputation and praise Francesco has received from the press so far, L'Anima was probably one amongst the new boys to anticipate macarons. Unfortunately, the Michelin man did not come knocking when it revised the guide in January.
And so it was the better half's turn to celebrate her birthday, we wanted to visit somewhere intriguing, special and memorable, the choice itself was simple enough. L'Anima had just only just emerged to reopen after the summer slumber, and the Southern Italian theme – Sicilan and Calabrian – , the soulful, the emotive cooking that won the hearts of so many, was apt for the occasion.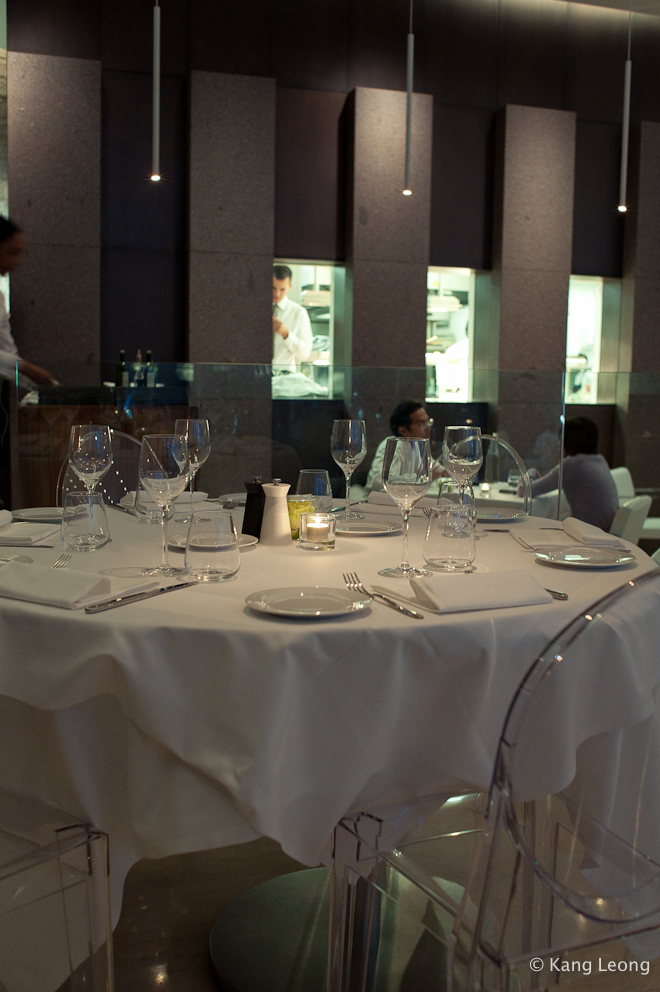 The setting is imposing yet subdued; a reflection of the refined yet rustic style of cooking L'Anima offers. The long gaze skywards to the dizzying ceiling warrants a silent gasp. The room is a very large rectangular shoe box, massive glass panels shield diners from reality outside. On the other side, the kichen is insulated by an impenetrable rock wall, with slits of glass that offer an interrupted glimpse into the inner workings of the kitchen, the heart & soul of Mazzei's operation. I wonder if the intention is for the diner to be in zen and in awe while dining at L'Anima, for all the splendour of such a grand setting, being placed in the middle of the room, is intimidating, and unsettling, not helped with those spotlights glaring at you. I lock my fingers, rest my fists on the table, making sure my elbows do not touch the linens. I'm not here to slay a King, and Kang is on his best behaviour.
The mystique and mystery was sullen by its enormity. So we looked across the room for pockets of seclusion and noticed the far corner which hid a few tables that offered a more private setting. The candle lights didn't seemed to be drowned by the spotlights. So I called our gracious waiter over, and the problem with such a stuffy setting, is that once you sit, it's as if one is nailed to the seat, but he handled it slickly, breaking up the awkward tension with a smile and bouyed us to the new table, swiftly. "No problem!" he bellowed, and off we went. Ah…. much better. Away from the heady lights, this is more like it, much more soulful.
We drank a bottle of Forchir 'Soresere' (Over the evening), a white Sauvignon (£29.50), from an All-Italian wine list.
Cavatelli with homemade sausages £9.00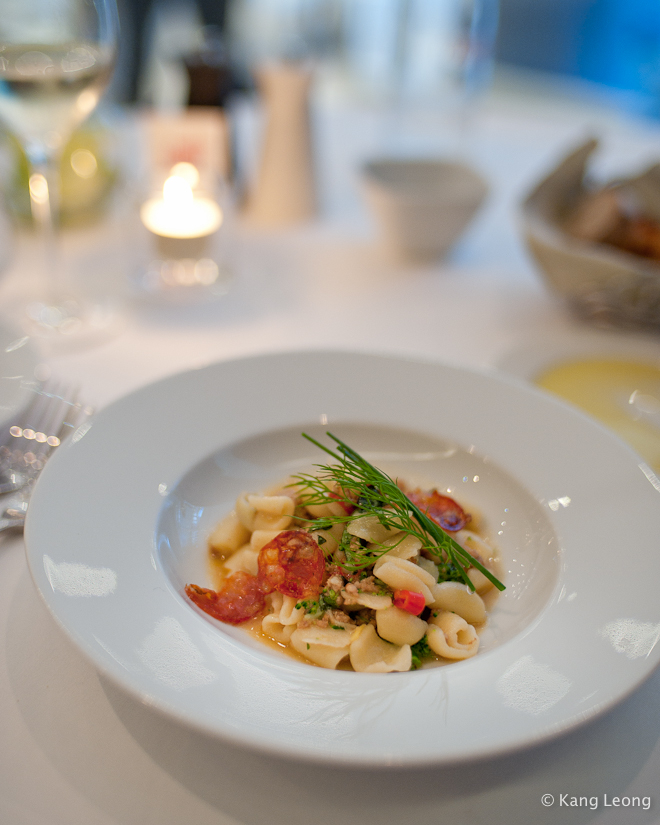 I opted to start with eggless pasta, which I assumed was made from semolina and flour, and the immediacy of the namesake rushed to my head. Soulful. The spongy texture was reminiscent of gnocchi, but this was less punchy and less stodgy, the broccoli, warming, and lending a prairie-like fragrance, the sausages provided seasoning, and the chorizo (I forget its proper name) was mountainous. Most of all, the dish was unrelentingly reticent, it flirted with the palate and tugged at the heart strings, rewiring the brain and inviting me to evoke memories of grassy fields.
Baccalà stuffed courgette flower £13.50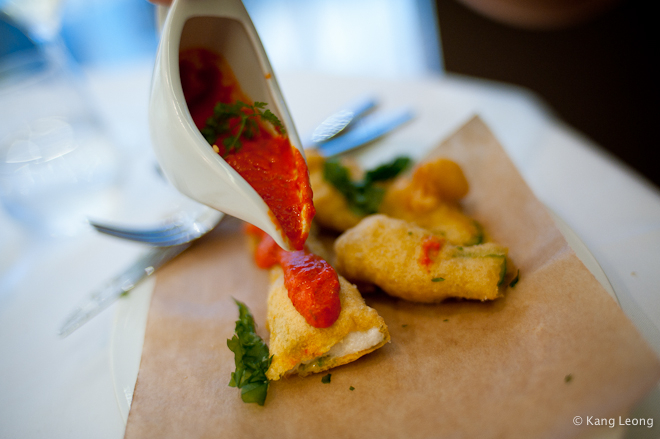 Over on the other side, the birthday girl tucked away a beautiful deep-fried zucchini (As they say down under) flower, stuffed with salt cod, mellow, mushy, and soft like a tempur pillow. The cold sweet sauce, with just a touch of roast, was excellent.
Fish stew with Sardinian fregola £24.50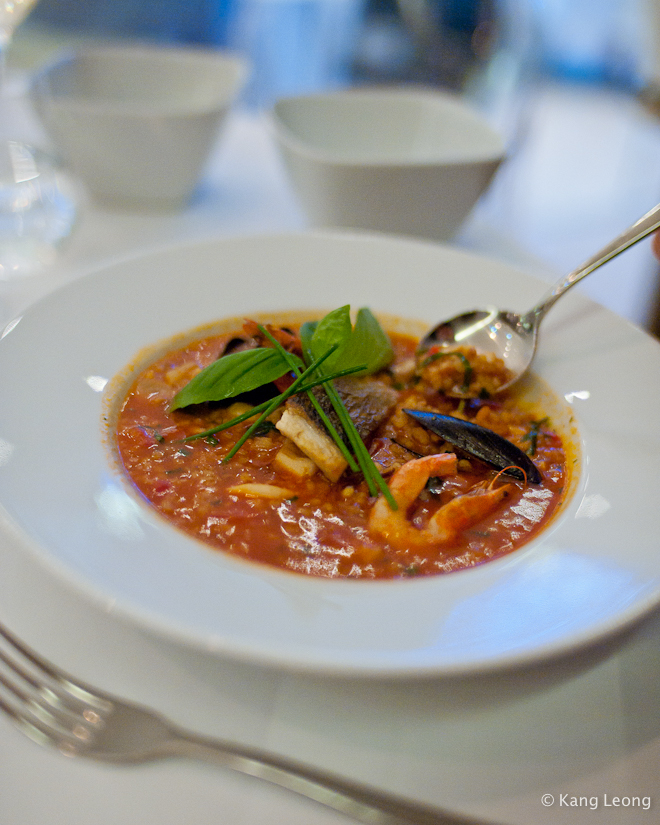 Oh..I think there's saffron in this soup, so hearty and heaty and I suddenly recalled a scene from that Italian film in which Tilda Swinton plays a Russian wife who becomes besotted with a younger man's cooking and then his oeuvre of talent. I am Love. If memory served, she was tucking away a seemingly innocent salad, with prawns, and the movie moved into a surrealistic dream-state of euphoria, ecstasy and orgasmica. The vivid colours amplifying her utter enjoyment of the dish. The romance, the sexual connotations, the contrived coolness, and all the swirling pleasure, a woman's mind can conjure up, it makes you want to make love to this serendipitous sort of food. Bellissimo Francesco.
Roast vegetables, £4.50.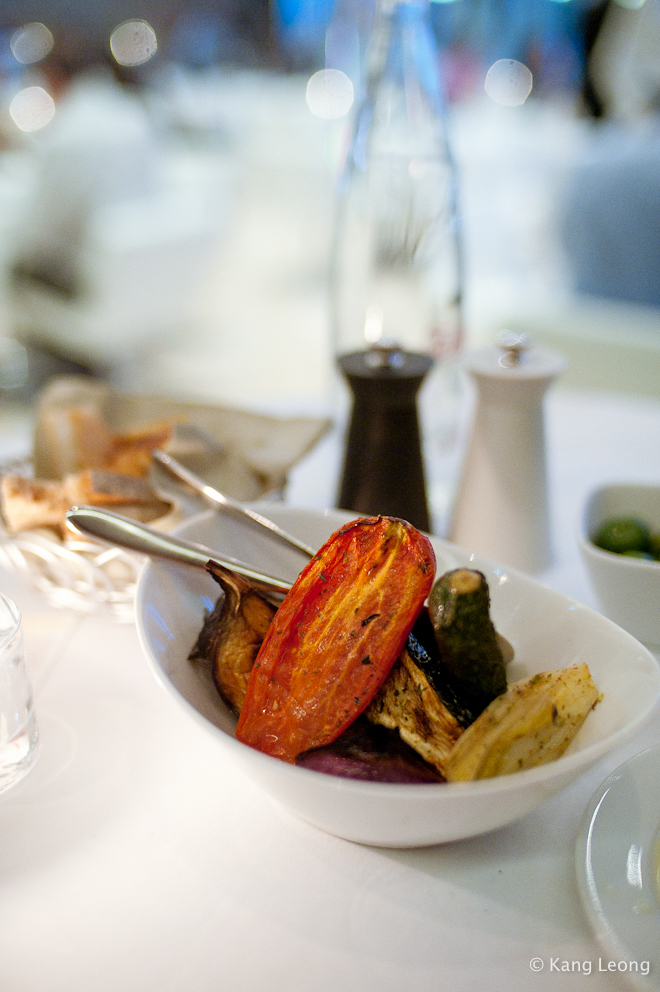 I just wanted to show the bowl roast vegetables that we ordered on the side. I seem to recall seeing pictures of a wood fire oven in his kitchen once, and so was intrigued with what it could do. It works.
Aged Black Scotch Beef Tagliata, Marrow bone, Ovinsardo & Magliocco Sauce £33.00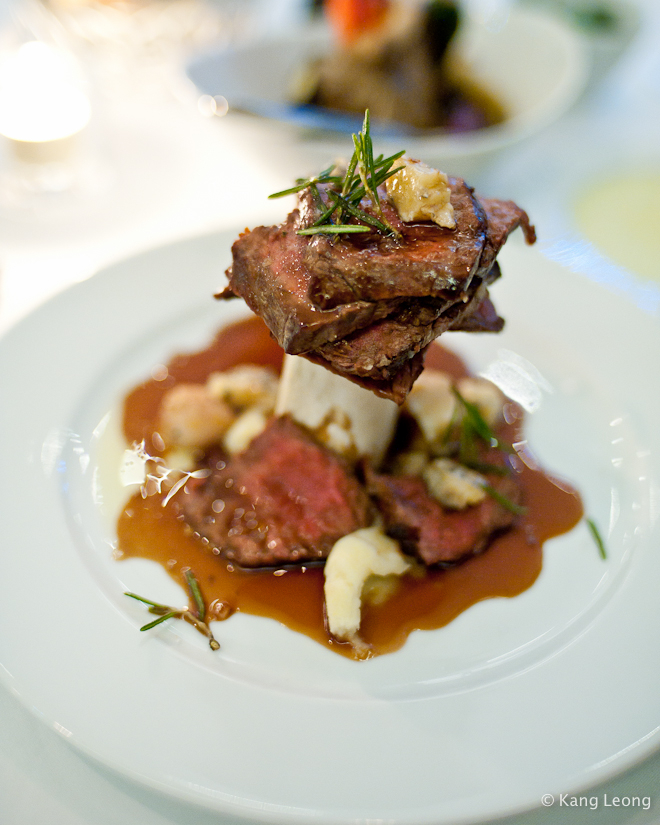 That cheese, oh that cheese. Ovinsardo. What a brilliant little fucker. The gorgeous stink of stilton, the strength of ten gorgonzolas, the hardness of a well-aged parmesan. On its own, the beef was bland but tender (which is why I assumed it was a fillet) , but with that superb Sardinian cheese, it became ethereal. As a steak lover, I feel that the elusive blue cheese notes, are the flavours which best compliments beef, and I felt this was very well illustrated in this dish. It didn't stop there of course, I lashed on sauce, the truffled mash and the marrow. The result was one of pure gluttony, completely sinful and decadent. As I dug out the remainder of the mash from the hollowed bone, I was slightly disappointed Mazzei had decided to mess with mother nature. It seemed as though he hated the idea of marrow on his dish, opting for but a measly penny sized dollop of it on the side. I failed to finish the mash, it absorbed so much of the fantastic juice and sucked all the wonderful flavour that it actually made the dish quite so boring. As I finished, I just kept thinking about how much better this could have been. Personally, I would have preferred a whole roasted marrow, as I feel that it would have added flavour, in my humble opinion, but perhaps my ideas are a little too chophouse, and too bourgeois? So I finished my main course, feeling ambivalent. Kudos and criticism.
Liquourice zabayon with coffee & star anise ice cream £7.50.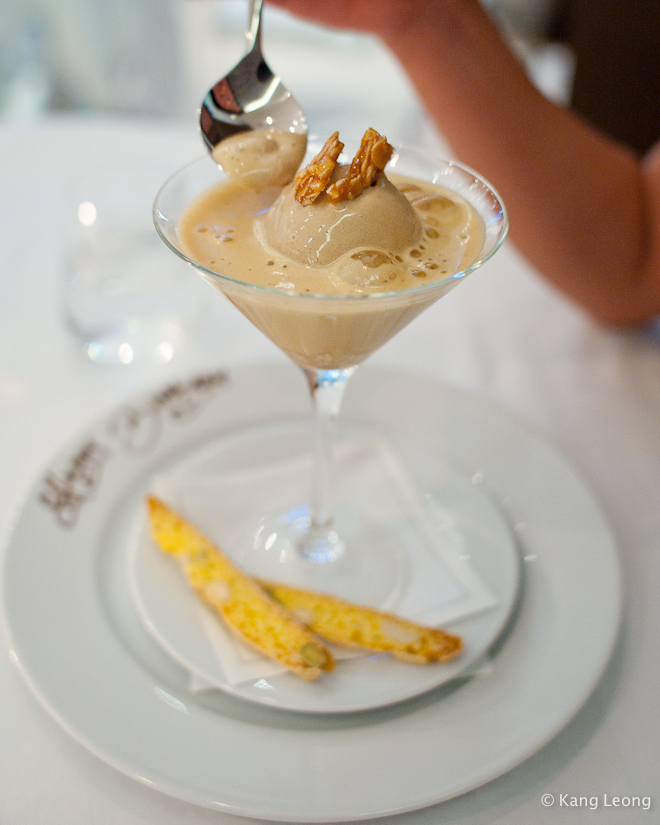 Finally , dessert, but with a touch – the kitchen had inscribed a birthday wish on the plate in chocolate. We appreciated that. Airy, eggy, milky and infused with coffee, the star anise accented ice cream just prickling the palate. Seductive and alluring. Exquisite and accomplished. I'd always assumed sabayon to be French, but I suppose it is also a firm classic in Italian cuisine. Wary of its notorious reputation for liberal pricing, I was quaking in my boots as the bill landed. £136.69. To my surprise, the damage wasn't that bad, I'd seen worse. I gleefully handed over my credit card.
L'Anima is enigmatic. The sum of its constituent parts make for an enticing package and the product, the entire L'Anima experience is simply fabulous. Even the name suggests a deeper movement, is sexy, fascinating and it feels glamorous. It has the sort of majestic atmosphere which is pretty on paper, a little daunting in reality, but in totality, makes for a proposition that is difficult to refuse.
I must mention service, which I thought was impeccable. We didn't feel pressured, they were not overly attentive, at times they oozed a lazy cool quality, and it was in keeping with the beat of the L'Anima drums.
But the problem is not in its setting; whilst I felt that L'Anima ticked a lot of the right boxes, the pricing is just scary. Especially when the likes Zucca, Trullo and (the Mazzei involved) Bella Vista – the aggressively priced Italian inspired eatery – has graced London. If food should command such prices, it better damn well be the miracle of Sardinia, otherwise it will seem a little deflated. And I think that's where L'Anima falls short a little, a victim of its utterly magnificent brand, and what a brand Mazzei has created with himself as its poster boy. It is good, great at times, but not god like. But then again, what is Italian cuisine, if not for its brilliant simplicity. If it were just even slightly cheaper, £29 instead of the £33, that slender change in bottomline would have gone a long way in terms of a psychological barrier in my perspective as a diner. But because, the essence of the cooking is one of such restraint – dare I say ordinary (actually, let's use the word rustic) – it seems at odds with the price point L'Anima is competing in.
In the end, I was impressed with the meal, but I expected a little more. Nevertheless, this is an intriguing restaurant altogether, and I feel that one needs to step back to admire the magic at work here, because the constituent parts aren't exactly out of the ordinary, but like a cog, it fits like clockwork. I think the stars will come, one of these days, I feel the Bib's assessment is just, it is not quite there yet, but it is very close.
As an aside, I picked up Bill Eggleston's Guide last weekend, a pioneer in colour photography as art (as opposed to black and white), this guy makes great pictures out of nothing at times, the democratic eye as he is known and I'll make the parallel of Mazzei's progression to Eggleston's genius. Boring to some, disconcertingly beautiful to others, but something that needs to be experienced first hand, in order to satisfy the curiosity.
The Gist of It
L'Anima
Italian, £75pp
1 Snowden St Broadgate West EC2A 2DQ
Tel: (020) 7422 7000
Tube: Liverpool Street Station
Soul: Rayner , Helen WFG , Food Snob ; AAiL , Gastro1 , Douglas.
Did you enjoy reading this? You can subscribe to the Newsletter. Alternatively, you can subscribe to the RSS feed.
All text and photography on this blogpost is copyright and belongs to Kang Leong, LondonEater.com. If you repost this without my permission, bad things will happen. So please don't do it.