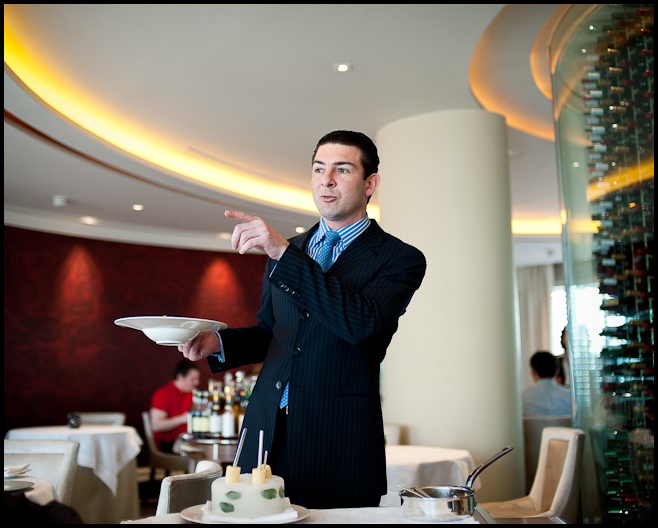 There was a time when Gordon Ramsay was the darling of the nation, the once protege who displaced his mentor, then the king of British gastronomy, Marco Pierre White. Like his mentor, he has achieved three stars and so much more. I remember my first brush with Gordon Ramsay food, albeit indirectly. It was on a Singapore Airlines flight to London, Gordon as a consultant for the airline's menu. I remember being impressed then with his credentials, late thirties and already a qualified genius of his craft. And I still respect Gordon Ramsay for what he has achieved.
Having attained international fame, he went on to build an empire that employes thousands across his multitude of restaurants around the world (12 UK, 2 Oz, 4 US, 5 Europe, 1 Middle East, 1 Asia, 1 Africa). The mind boggles with the commercial rampage, which I guess has contributed to the critical reception today. He has grown to the point where his stars are not a direct result from the flash of his pan per se, least not in the same way as say Francesco Mazzei is vying for one. One wonders if he still cooks in the kitchens of his restaurants. The man's reputation has been dented, resulting in reports of massive losses incurred over the last few years, and perhaps most damagingly, Claridge's losing a star. Ah but at the same time, it is precisely why 2010 should be the most exciting of times to dine at a Gordon Ramsay. What will their response be I wonder? Will it be all guns blazing, career on the line fight to win back the fans by rehashing their corporately tainted clinical cooking with a sense of passion, or would they simply fade into obscurity becoming a tired, overly complex franchise, waiting to be unravelled by Richard Caring? Whatever the case, Team Gordon would need to paddle twice if not thrice as hard to avoid sinking the ship which has taken on more than it should.
This Pétrus is not the old Pétrus because technically speaking, Pétrus still exists today, at the Berkeley hotel. Its chef – Marcus Wareing – still runs the restaurant today (unsurprisingly rechristening it Marcus Wareing at the Berkeley) and about the only change is in name, and maybe Wareing's feelings toward his former mentor. It was a very public separation between master and apprentice, once the dynamic duo spearheading the British gastrocrown, but which turned into bitter rivalry. The name belongs to Gordon Ramsay and he had always vowed to re-open another Pétrus. The day is now. This rebirth of sorts coincides with so many things derailing in Ramsay's empire at the moment, one does wonder if it is indeed the right move to add even more to his plate. He is backed into a corner now, and somehow I get the feeling that he is fighting back, and getting back to the real reason why he is in the business of cooking – to cook great food. As an observer, I view Pétrus as a key battle. A must-win. No surprise then, that all the best members of the Ramsay's council have assembled to re-ignite the brand. Jean-Philippe Susilovic leads the front of house with his recognisable charm, and of course Mark Askew – Executive chef of Ramsay's empire – is in charge of overseeing proceedings in the kitchens.
Saturday lunch in the cordial company of Oliver, Magnus and David. As you would expect from Gordon Ramsay restaurants, a flurry of complimentary amuse bouches were the first order of the day.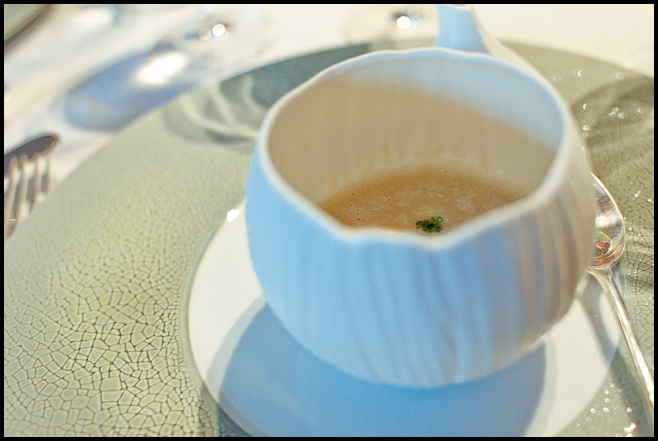 Appetizers came in the form of popcorns, and the amuse bouche was a warm onion veloute to grease the palate. As one would expect, the room has an understated allure. The centre-piece of the restaurant is a tubular glass design which doubles as a wine storage unit. Red velvet is plastered across the walls, reminiscent of the Berkeley restaurant, save for a distinct lack of leather. Large windows on either side pour in heaps of sunshine. For wine, we chose an 2007 Austrian White. Made from a blend of riesling and pinot blanc (if I am not mistaken), a lighter style with citrus hints (which I thought tasted like a fluttery orange zest) and a sizzling acidity that gently massaged the tip of my tongue.
As it was lunch service, my dining companions chose the amazingly affordable set lunch, three courses for £25, the price includes two choices from the set menu, and pudding is picked from the a la carte as well as all the accompanying freebies. I went for the a la carte, £55, because I'm greedy.
Starters : Roasted langoustine tails with watercress soup and confit potato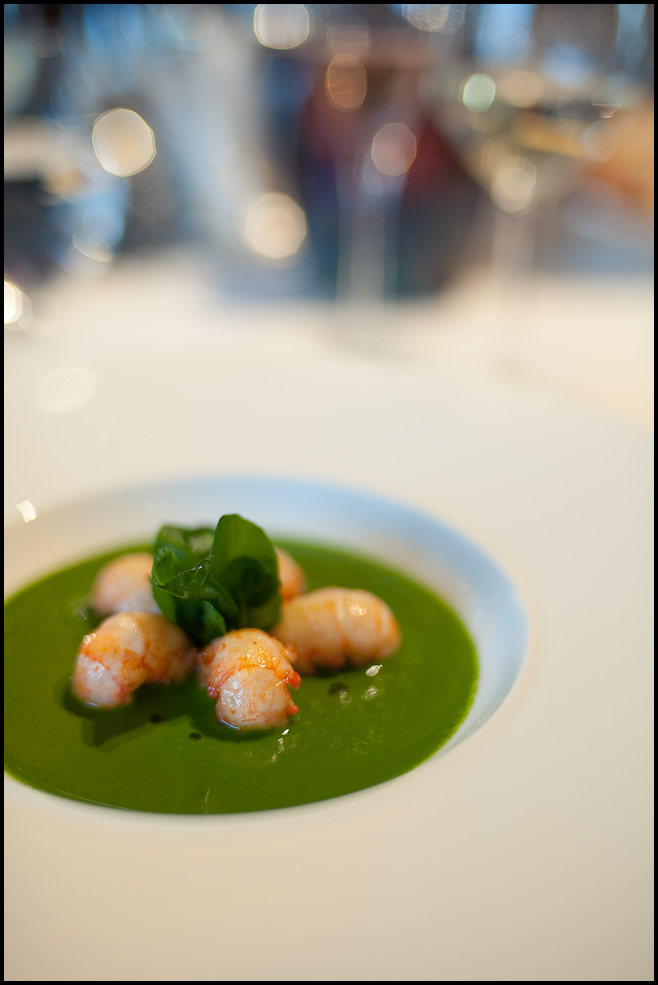 The crustaceans were served naked at first, and I noticed the exquisite bronze colour, as well as it's efficient styling. The waitress then poured out the watercress, masterfully avoiding any drops on the shellfish, just like the old Petrus then. As expected, the soup carried the distinct peppery edge of watercress, herby and spicy as it went down. The langoustines were fresh, juicy and had a muscular bite to it – incredibly sweet, and which balanced well against the lively soup. Effortlessly easy to digest, I liked this.
Main courses : Roasted beef fillet with braised shin, baked celeriac and Barolo sauce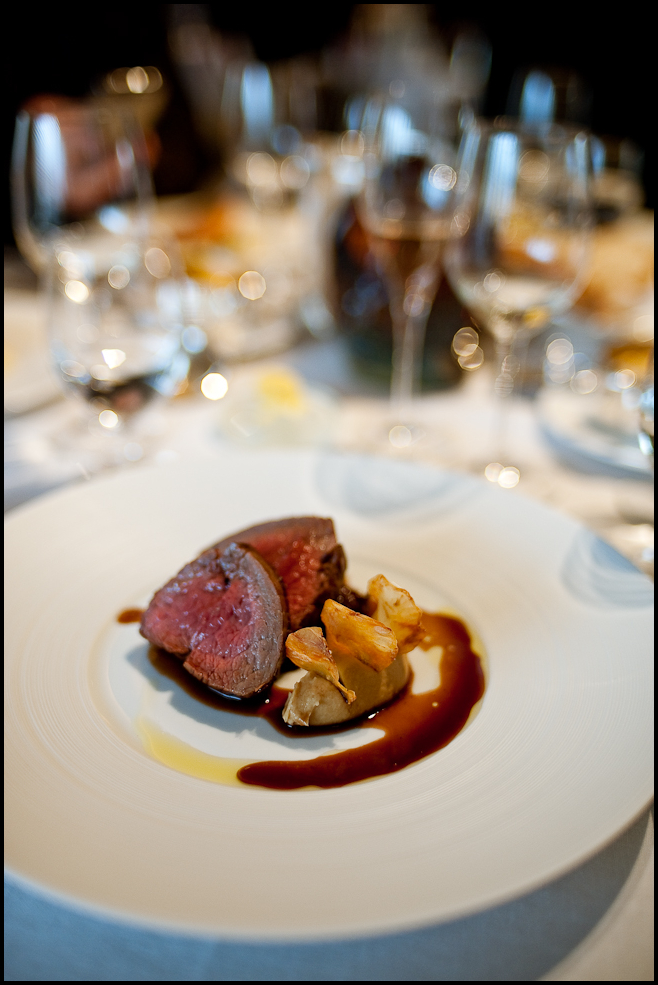 For my mains, it was a toss up between the beef or the baked lobster, but since I had already had a seafood starter, I opted for the bovine. I asked for it medium rare, and it was cooked perfectly so, oh yes, very well cooked piece of meat – the juices well retained as every bite was soaking wet. As it was fillet, what it lacked in natural flavour was made up for with the accompanying components. Firstly, a densely braised shin of beef, delicately soft with a syrupy caramelised sauce, and on the side a well whipped, if slightly blasé choice of celeraic puree. The red wine sauce seemed a little too runny, it looked as if olive oil was left in the mix as well for effect. Well cooked but it was a little boring. Not quite world beating.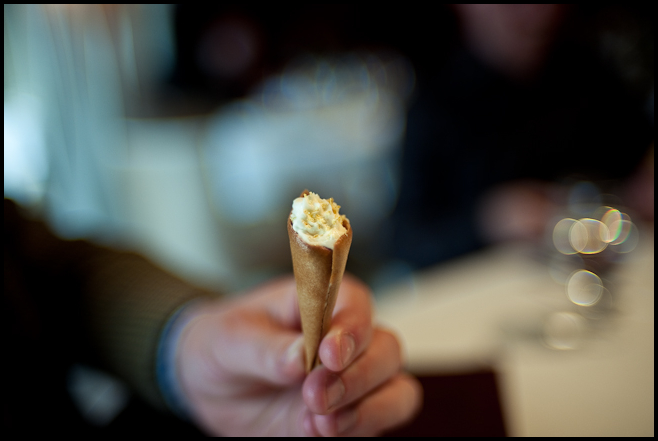 And so that was that, at intermission, much appreciated freebies came our way in the form of a mini faux ice cream cone, with a tiny scoop of lemon and mascarpone – it was amazingly zesty, real palate cleanser this was.
To finish, I went for the coffee soup with a hazelnut financier.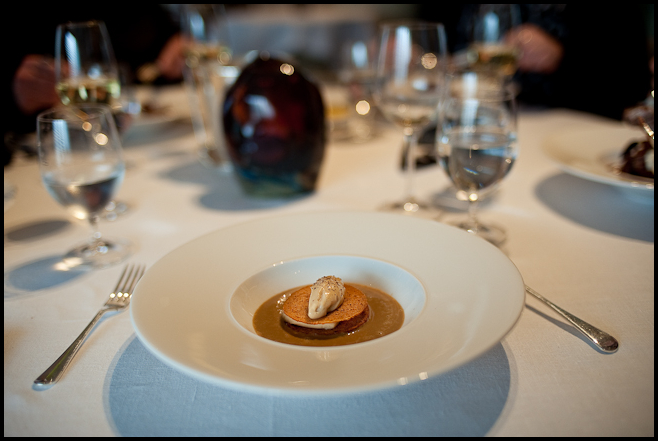 And we have a winner. Warm coffee, richly aromatic, against a beautiful backdrop of superb hazelnut ice cream and the crunch of the wafer. The hazelnut ice cream in particularly was accomplished. I loved this.
Petit fours were a selection of chocolate and almonds, as well as a theatrical frozen lollipop served with sublimating dry ice – a bracing finish.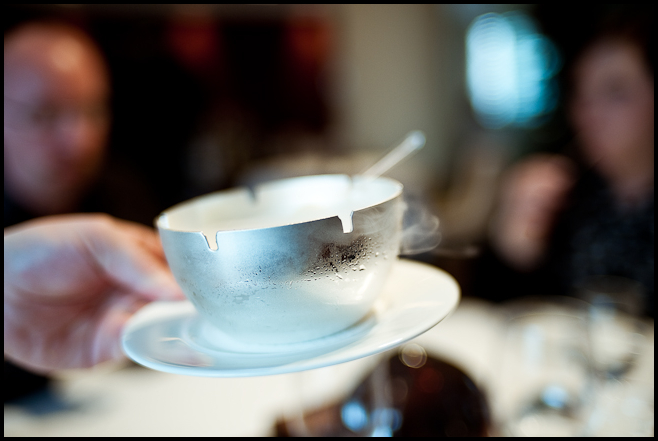 Our bill came to £361, that's four £25 set lunches, two bottles of wine, four glasses of aperitifs, two desert wines, 2 coffees and my £55 ala carte. The full whack would have set me back £65 for five courses. Reasonable if pricy, however not prohibitively so as the £25 set lunch is admittedly affordable. I was under no illusions. As soon as I finished licking the last drops of my coffee soup, I was convinced that Gordon Ramsay was going to win another star. It is the right timing to open after all, nearly ten months for the inspectors to make up their mind. The space was luxurious, the service a finely balanced act of personable professionalism (would you expect otherwise from J-P?), an affordable wine list and food impossibly prepared to the highest order. Mr Susilovic gave us a tour of the kitchen before we left, and while there, we met the head chef Sean Burbidge… as well as Mark Askew, whom I was told would be spending more time at Petrus than at No.68 over the next few months. A three starred chef overseeing the kitchen, no wonder food was so clinical. There could not be a better time to visit Pétrus than in its incubating months.
In spite of this, I still had my reservations about the restaurant, particularly its future. What troubled me was not because there was anything wrong with the food, in fact far from it. As I said, food was exceptionally cooked, if not perfectly so. And therein was the problem : Formula. Let's face it, Michelin restaurants – even if it is a set of hazy criteria – can be hazily identified. Like his mentor, Gordon has perfected this road to stardom, and the question is do we really need yet another? It was the quintessential michelin-standard meal. Unimpressionable, impersonal and dare I say out of date. I'd eaten this several times before, oft replicated style of haute cuisine that at some point, one has to wonder – enough with the ponce man, surprise me won't you. I'm not a hater, I'm just calling it as I see it. With the saturation of food media (and blogs), I fear that the average restaurant collector (that would be me) is a much more enlightened man. I feel that Gordon Ramsay's fluffy French food has lost its competitive sheen, and perhaps this might be the reason for his recent financial woes. In the face of younger, hungrier chefs such as Mazzei, Van de Horst and to a certain extend Loubet sharing the same base of customers in London, I'm not sure Gordon's brand has the power to hold my attention anymore. The aforementioned chefs just seem to deliver with so much more clarity, and for those in the know, the impending arrival of Nuno Mendes' Viajante in the trendier, edgier East End. This was a chance for the Ramsay team to reboot the brand, and take the opportunity to expand their repertoire and to bring a new dynamic to the ever changing landscape of restaurants in London. Instead a safer route was chosen, too much was too familiar. Has Gordon Ramsay still got it? If you like the traditional idea of wining and dining, then yes of course he does, Mark Askew does have three michelin stars after all. Here's the kicker: I would happily spend £25 for the prudent elegance, but I would not be compelled to spend another £55 at Pétrus. Prix Fixe anyone?
Note: Have a look on Magnus' flickr stream to see what the set lunch looks like. There are reports that the price of the set lunch is not going to stay at £25 for long.
The Gist of it
Petrus official site £65 ala carte ; £25 set lunch
1 Kinnerton Street SW1X 8EA
Tel: 020 7592 1609
Tube: Knightsbridge
Did you enjoy reading this post? Why not subscribe to my feed updates for free. Alternatively, You can subscribe via email.