Marcus Wareing at The Berkeley, Official site
Wilton Place SW1X 7RL (0)20 7235 1200  Knightsbridge Tube
£ 75.00 ala carte, £ 35.00 set lunch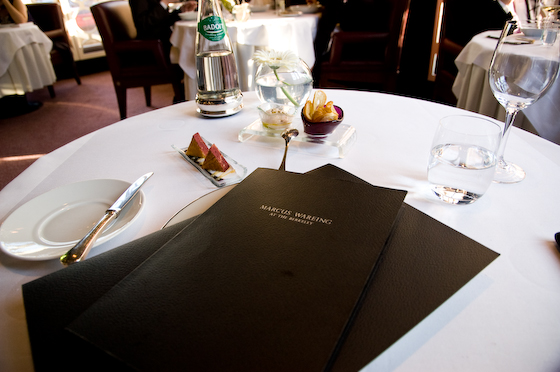 In the searing heat of the 2006 summer, Jennie Bond presented the first episodes of the Great British Menu. The premise was cook-off between some of the best chefs in the country to decide who would cook for the Queen's 80th birthday bash. It doubled as a campaign to promote what was then, a rather low view on British haute cuisine. Back then, I was but a wide eyed boy mesmerised by the unfolding glamorous world of gifted men of sharp tastebuds and in command of ultra fresh ingredients.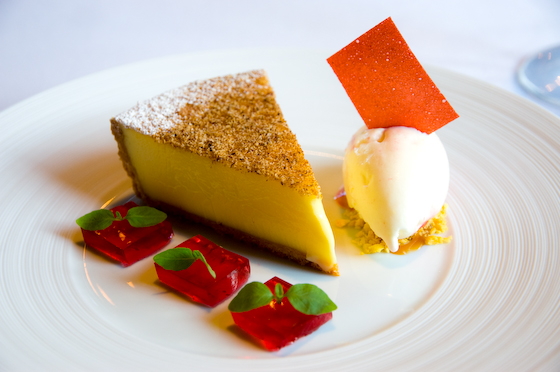 The pudding that made it to the Queen's table wasn't a molecular gastronomical concoction dreamed, instead it was a custard tart Marcus' mum made when he was a child. I watched his intense concentration in baking that tart on TV and just the mere sight of the finished product had me salivating. I have nothing but immense respect for Mr Wareing, the perfectionist, the disciplinarian, the first Ramsay Protégé and abit of a personal cooking god for me. Three years later, with but a grain of sand's worth of gastronomical knowledge, I am upon the footsteps of Wareing temple at Berkeley Hotel, the site formerly of Petrus and I am here to eat a perfect egg custard tart.
Heels on, Ladies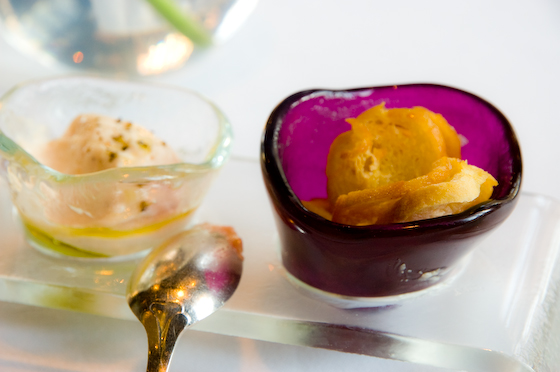 I am shaking as I enter this shrine. Southport's finest export has been abit of a superhero to me and I think the cooking show did nothing but enhance his reputation as a master of his craft. As of writing, the newly revised '09 Red Guide re-confirmed his two stars status.
I landed on a rather busy late Friday Lunch, having just got out of work in time, catch the right train to cross four zones to get to the heart of Knightsbridge. Even though, I actually just live about 15 minutes down the road. Following my pocket busting meal at The Square, I thought I'd be sensible and not blow my load on yet another £ 75.00 a la carte.
£ 35.00 a pop for a set lunch is rather hefty, but given its 2 star status, we'll see how justified that price tag really is.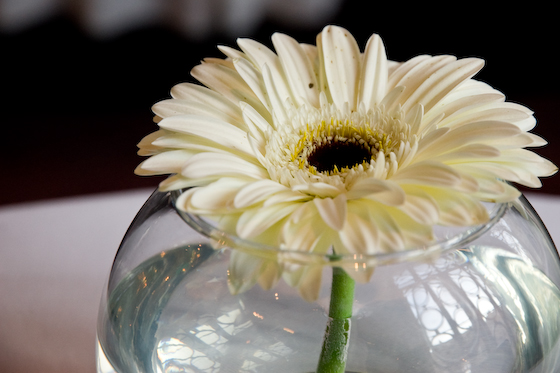 I must say, I felt a little out of place as I was ruffled feathers next to the all too dapper velvet and satin surroundings. Passing through the heavy doors of the Berkerley, I am greeted by a hotel lobby with far too much polished marble and carpets so thick, it feels like you're walking on a bed of garfields. Preceding the restaurant doors is a lounge area whose clientele included the odd Russia's supermodel. Perhaps I should have waited till I dropped my Paul Smiths before making my acquaintance here?
As I reached the restaurant's closed doors -thick frosted glass- I could feel the buzz emanating from behind them. I stole a peek from between the glass and saw shades of silk ties, red nails and the sound of glass chinking. I took a deep breathe and duly practiced my own pretensitivities (clearly, a word invented by me) with the receptionist…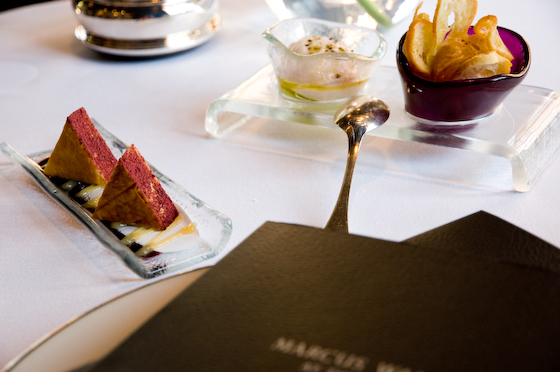 The set menu option means that I can afford myself a nice glass of something-something. Though I must say Mr Wareing, your wine list is not quite recession friendly, £13 for a glass of American pinot? £11 for a Sicilian red, so hollow in the centre of the palette, I could have mistaken it for an Australian Merlot. Surely you can do better than that Marcus? I regretted my decision to go mafia style with my choice of red. Blech.
Before I could even say sparkling, the waiter comes around with a large trolley of bubbly, to which I duly declined citing that my application for a government bail out was still pending approval from Mr Darling's eyebrows. Canapes were then hastily rushed to my table by a team of well dressed men to which this act , one suspects, has been rehearsed too many times. They were in the form of triangular parcels, salty and fishy taramasala paste on a biscuity base; accompanied by crispy dried toast and a garlic cream cheese relish. Oh yeah, it tasted alright, it's free, it's a nice touch and I cant complain.
Rebeginning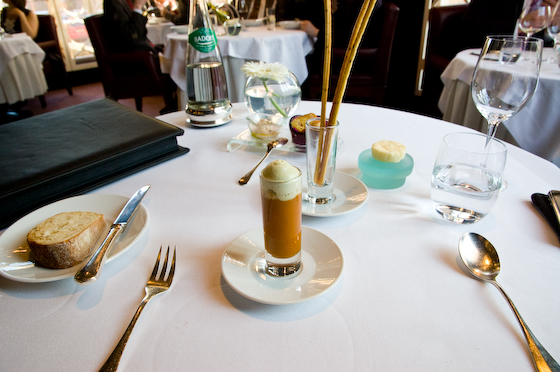 Now is an appropriate time to dwell abit on service. The staff are mindful, chirpy and professional. I might even add, a cut above the industry because it's like they were put through intensive 'The fine art of small talk' seminars because their conversations were friendly and strangely comforting. They made the rather imposing red & black walls, with shimmering chandeliers and 30's glamour seem like a visit to my pou-pou's (Nan's).
In other words, right at home.
My waiter was a Johny Wilko lookalike, all smiles and he brought me a shot of tomato veloute to get things rolling. 'Good for the tummy' He exclaims. Like a savoury espresso, the foamy, creamy and rich soup did indeed warm me up inside and a soup which I could have easily mistaken it to be pumpkin or even carrot for it tasted sweeter and meatier and was more orange than red.
Beginning
I could just say that Petrus is a beautiful restaurant. Or I could say that Marcus Wareing's has an exquisite bar, glowing mirrors, the leather and black woods bouncing off those incandescent reflections. The décor included white grills for windows and also had long wall length mirrors. Leather red seats one with arm rests and the other without, this is gentlemen club circa Sherlock Holmes. The centre piece of the restaurant is a chest of drawers onto which a large glass box sits, exposing the puds. The drawers are functional of course, it's for cutlery.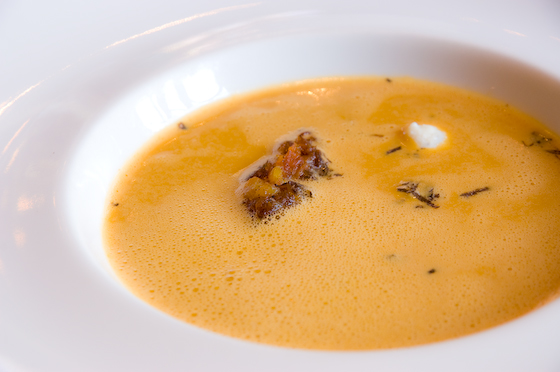 Amidst all the gawking, I somehow forgot to take home a copy of what I ate, so I can't quite remember the exact descriptions of the dishes (you will forgive me won't you?). Starters was a langoustine soup, with parcels of lobster wrapped with tomato and vanilla. Accompanying the lobster were three tiny dollops of ricotta cheese. How did I know these things were hiding in the soup? Well that's because those things were exposed before the waiter poured the soup in.
Aromas, I could smell the langoustine rising from the soup, muddy and salty and all the delights of the sea. The soup had the texture of light single cream and it was full of langoustine flavour. It was also reminiscent of dried shrimps and sea salt. Moving on to the meaty parcels – There was a distinct aftertaste of lobster wrapped with flavours of caramelised sweet onion. You will forgive me for this vague description but, it tasted abit Chinese to me. I'm almost tempted to say that it tasted like sweetened bacon ( I just said it ). Ricotta melted in the mouth with a rather appetising graininess and the together with the sandy and muddy langoustine seafood flavours, it was quite a light way to start a meal. I liked it, but wasn't entirely over the moon, the portion was a little dinky if I do say so and I was feeling emptier than usual after plate one.
A curry infusion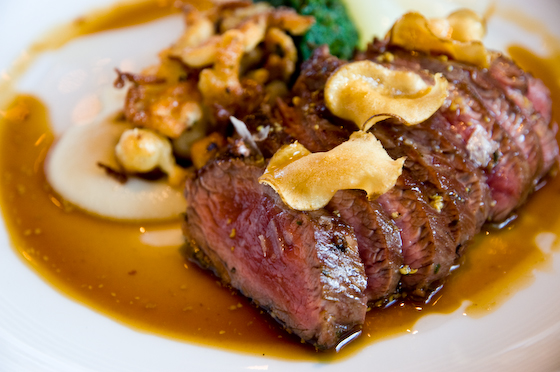 The Berkerley is in a rather odd location. It straddles between Hyde Park Corner and Knightsbridge, they advertise themselves as being in Knightsbridge, but really they are only just within the exclusive post code. I mean, they are so far beyond Harvey Nicks and even further beyond One o One that they are dangerously close to the Wellington Arch.
For mains: slow roasted mutton with mustard sauce, and curly kale on the side.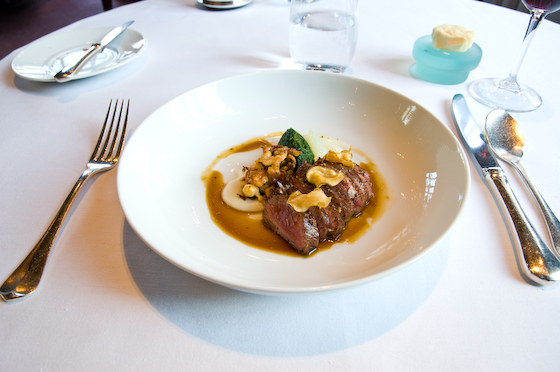 The curly kale is definitely infused with curry powder. The accompanying fried puffs were battered, airy and floury and tasted rather like an Indian roti. This dish would not be out of place in Benares ( I recall having the lamb fillet which is quite close to this one). Murtabak, curry mutton and a lot of Anglo-Indian fusion going on in this dish. I was expecting to taste a lot of mutton flavour sealed in to the slow roast, but it was not the case. It was frankly disappointing in this department. It tasted more like a smoked mutton, the meat was more rare than pink, it did not wow and for a 2 star restaurant, the cooking is abit of a downer – it tasted good, don't get me wrong – but it certainly was not special.
Maybe he was gunning for natural flavours and everything else around the meat to spice the dish – but it just wasn't all that exciting. Perhaps it's the cut of the meat, it did carry the gamey sickly savouriness of mutton, but I can have the same sort of dish for half the price along Edgeware road.
Seriously Indian inspired, small portion and was not filling, this dish was easy to eat, but in the end it did not wow.
I came, I saw, I ate the custard pudding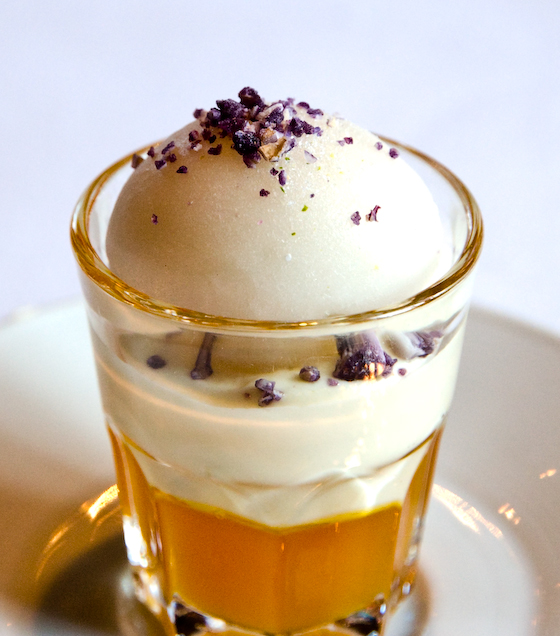 Graduating from the Ramsay entourage after nearly 15 years in Gordon's shadow, I can see why Marcus confidently stepped out of it. This restaurant is far better than the other lauded Ramsay rising star, Maze. The food here is far subtler and the cooking is a cut above Jason's, bearing in mind I'm comparing a set lunch against a full a la carte at Jasons'. Pre-dresser: A passion fruit jelly sorbet, I heard the waiter utter vodka as well. This trifle of a cheesecake in a shot glass had a cold and sharp passion fruit that helped to cleanse the palette and wake me up from zombie lunch daze. I can only assume that a lychee sorbet sits atop the jelly. There it was, after I waived away the cheese trolley ( £10.00 supplement ) , it finally landed on my table, three years of anticipation had ended. Baked Egg custard tart, with strawberry jelly and strawberry swirl ice cream.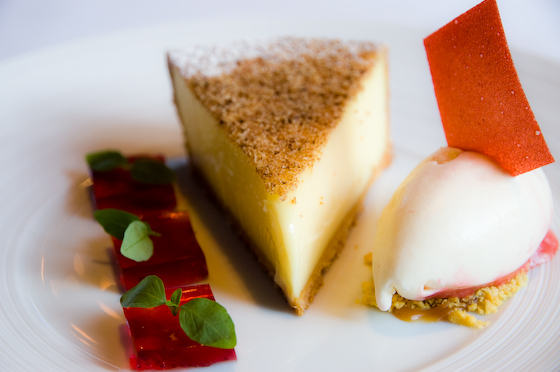 I'm contemplating to take my time with this, to eek out abit of appetite from you, and to just appreciate the way it looks. It is simply beautiful, the surrealistic golden hued triangle of cold custard had refracted red light from the jelly bouncing off it's cinnamon crusted exterior and it glowed like I was staring at the Holy Grail from Indiana Jones. I can wait no longer! I must dive in ….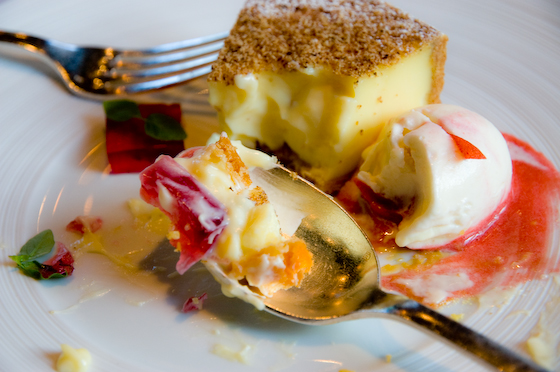 … oh dear, I knew it.
Something this dream-like could only taste like the best damn, custard pudding I have ever had. No, no it's the best damn pudding I have ever had. The custard is cold and the cinnamon providing a herby edge to the vanilla taste. The strawberry is a dream of candied jam and jelly, and gave way to an interesting contrast to the richness of the custard. The custard was a full flavour of eggyness (and I'm Chinese, so I know my egg tarts) this was so good it could rival, if not better the best kept secret Cantonese dim sum recipes in Hong Kong.
This is the best finish I've had in recent memory and the pudding alone is worth the price of entry. I could not hide my appreciation for the pud. The waiter told me that Marcus did not intend this pudding to be as popular, nay, as legendary as it is now. Apparently, he says that they took it off the menu a few months ago, only to find disgruntled returning diners yearning for the sweet finish.
Deliverance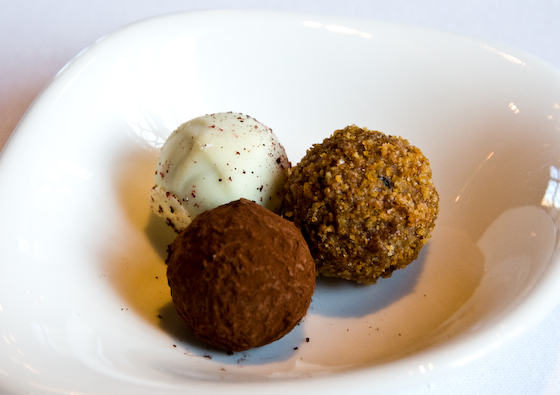 Speaking again on the cooking, I didn't think it was brilliant. Yes, some people might argue that 'it's just a set lunch', so let's isolate that argument and limit it to just the roasting of the mutton. Given the prowess of the kitchen, it was merely ordinary. One needn't special ingredients to make food taste wonderful, you just need to cook it well. A perfect example of which is the set lunch at Hibiscus – now newly recrowned with 2 stars – £25, much cheaper and on my visit, the cooking there was so far beyond Marcus Wareing's that it was out in the stratosphere. There you go, comparing like for like. As for the other 2 star place I went to, The Square – absolutely no comparison, Phil's kitchen is (currently) a lot better than Marcus', in fact if I were to rank them, I'd say Phil and Claude are about a tie, Marcus trailing behind, not far but not close either.
Ah, except Marcus has a trump card you see, and that trump card is called the Baked Egg Custard tart. May Marcus keep it on his menu for as long as he still runs restaurants because I have a feeling it is not just a defining moment in his illustrious career, it may even become a symbol for the re-emergence of British cuisine altogether.
Marcus Wareing at The Berkeley, Official site
Wilton Place SW1X 7RL (0)20 7235 1200 Knightsbridge Tube
£ 75.00 ala carte, £ 35.00 set lunch
Verdict: Good, very good but not great. Except for pudding which was so good, it made me spew all kinds of emotive words.
Did you enjoy reading this post? Why not subscribe to my feed updates for free. Alternatively,  You can subscribe via email.