Arbutus Official Site
63 Frith Street W1D 3JW 020 7734 4545
Set Lunch £16 , Ala Carte £ 40 (3 courses)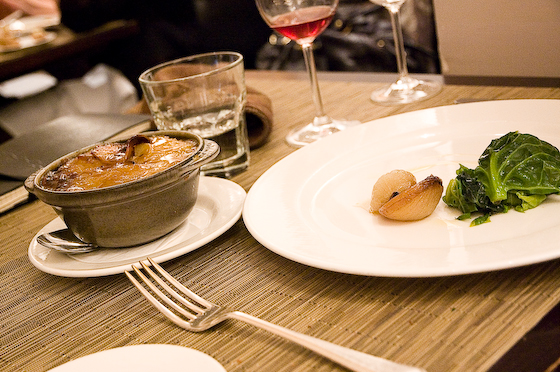 I am a feeble little soul afraid to be shamed in public when discovered that what I preach is but a false pretension. Woe is me.
I am always slightly nervous whenever I meet up with peeps and they send me a message like this: "Friday sounds great – I'd imagine you'd be better than me at picking a place to eat" Gulp. At that moment in time, my mind goes into abit of a freeze and I have to take my own advice and just go with something I would recommend on London Eater.
Do I feel like a fraud? Oh yes. Am I hungry? Yes, too.
I feel like screaming to the chef 'gawd you better be cooking up a storm!' ….ok deep breathe, ah – talk about being a drama queen eh ( but a soppy one, Lizzie ) . I've always loved the idea of Mr Demetre's vision of budget fine dining. Both his establishments use cheaper ingredients – but the cooking is imaginative and the food tastes great. Cheap considering the michelin star. Recession beating, good food and perhaps Soho's shining culinary star. Tim and Candice join me for this one.
Metrotwin is Made by Many
I have only ever met one guy more into the coming web than me and his name is Tim Malbon(ster). Tim can't wait for the day when we can download our minds to web 3.0, he's nudged me for a lunch to catch up on Metrotwin and he can't wait to order a bottle of something, something. Cue for my first suggestion of the day: a carafe ( £14) of German spatburgunder made from late harvest pinot noir grapes from Burgundy, but grown on German soil. If you've never had it go try it, it's vanilla sweet and a mineral hit like a Beajoulais Nouveau but stronger and jammier. If you hate jammy then avoid, otherwise the freshness rocks like creamy silk; I love it and Tim seems happy to be ingesting alcohol and all is well.
What's for Lunch?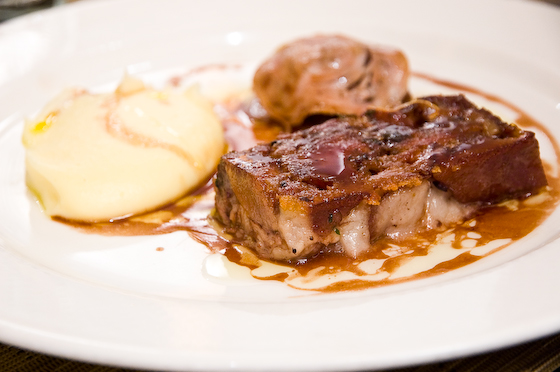 The 'twin is a brand new way of discovering London/New York – it's content – a collection of lists of things to do in London/New York – is totally created by bloggers (like me). The twinning aspect of it being a London – New York exclusive thing and the idea is to showcase how both metropolis are so darn similar. Enter C, Metrotwin editor extraordinaire who keeps the Metrotwin house in order, refuses to put raw things in her mouth and is visibly disgusted by porkheadfat.
Porkheadwhat? The legendary pork head entree which has pretty much won them their michelin star. I urged T and C to go for it (which they did) and T couldnt hide his delight and licked his plate clean while C just didn't get the fatty bits. If my memory serves me right, this thing melts in your mouth with alot of savoury goodness and the crusty outside that tastes rather like a gentle crackling. Oh just staring at the picture again made me wish I ordered it, but I went for the tartare instead.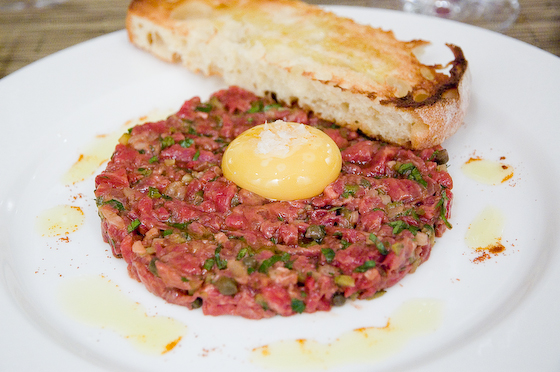 I wonder if I've ever told C that she's one of the nicest people I've met. After about 10 minutes, our conversation somehow directed itself toward food. T described the days when he stuffed himself silly with wine & liver while C described the awesomeness of Tooting curry and how I should carry out a pilgrimage to sample south london spiciness.
By the way, I am glad they put the pigs head back on the menu after it disappeared for a few months. As for my tartare, it was delicately seasoned, while the beef was very fresh – I didn't quite appreciate the chunky chops instead of it being more finely minced. Perhaps it was just a little under seasoned as it didn't quite open up my appetite like the one at St Pancras Grand. Tartare is a great dish even if it's abit unpopular this side of Europe, but in French speaking Europe, its almost a staple. More mincing and more capers required for the Arbutus one unfortunately.
Glory to the Meat ball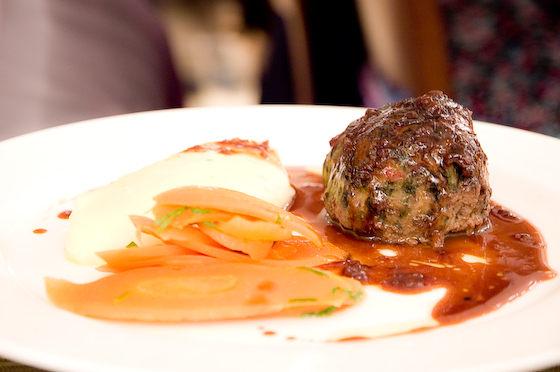 T opted to go pork head to toe for this meal and went abit adventurous with the giant meatball which looked like mince pork stuffed with lots of spinach and then wrapped with the intestines. I can't say for certain how good this was but T was visibly happy with it, grinning cheek to cheek as he cut a small piece for me to taste. It was about now – and after a few whirls of the burgunder – that he started recounting how he's built up a great collection of old photographs of people he didn't know. He didn't go into details of how he managed them , but he did say he found a way to find these guys: stand outside a tube station…. I give the man the benefit of the doubt and blame the alcohol.
Opps, more carafes please, this time is a rather reasonable £13 S.A. Pinotage, oh dear what was I thinking? The pinotage was too oaky and it's spicy finish was unremarkably failed by a palatte so hollow, it matched the worst merlots ever to be bottled.
Harey Business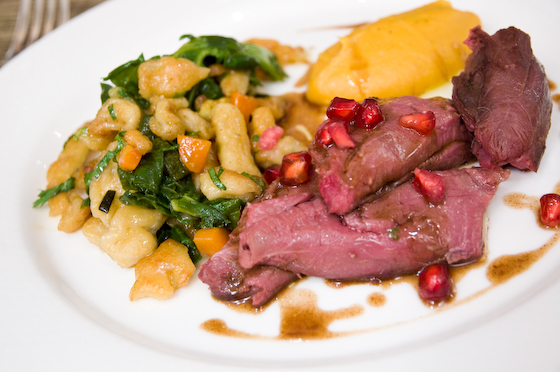 I went for gameyness and my mains was norfolk hare with abit of greens and fried polenta. Starting with the mash which I think is either butternut squash or sweet potato – it tasted appetisingly good being all sweet and nutty. The polenta and the pomegranate were a nice touch, if only I could bring myself to love the hare. I've had rabbit before but this hare had a pretty unique – if slightly strange – texture: it was soft, but not bouncy soft, it was mushy soft, like meat that's been in the fridge for too long. It is well cooked and it's gaminess was like a wild duck or even that of mild mutton. I couldn't quite get past the mushiness of the meat but taste wise, it was good. Perhaps I should have gone with the bavette of beef and the excellent potato dauphinoise.
Plat du Jour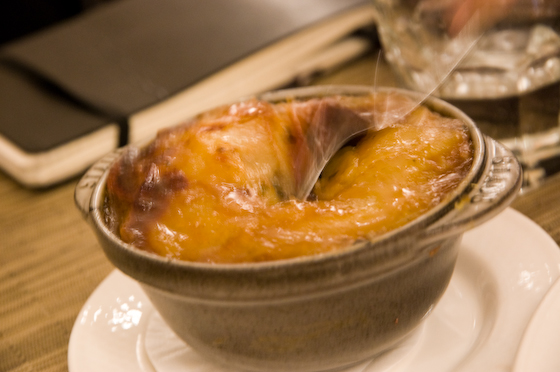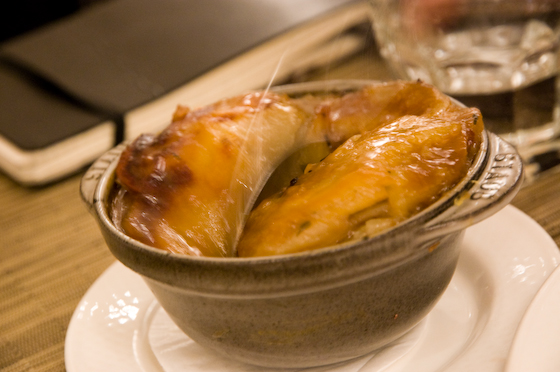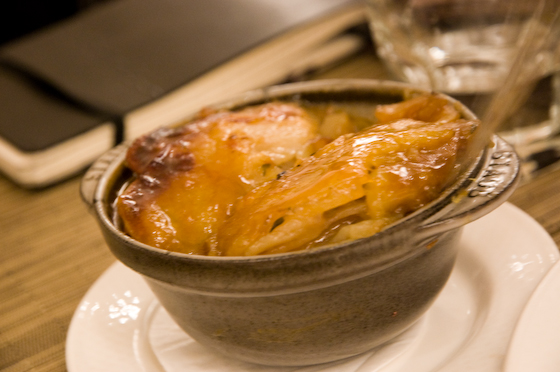 If you hadn't noticed, the cuts of meat are all pretty disgusting stuff and nothing epic and prime involved. That's how Demetre keeps prices down by using cheap cuts. I have to come in with a point here and I will reemphasise that cooking great food does not need superior ingredients and far too many zeroes attached to the bill; if you're a great chef, you can cook anything and make it fit for the queen. Case in point Marcus Wareing's egg custard pudding is so good it's fit for the Queen, key ingredients: egg, sugar and milk.
Food is Passion and while I've been making my point, C has ordered the plat du jour which is a godsend of a lamb pie served in what appears to be a le crouset. She appears to be loving her dish and there were no fatty bits in this pot. I didn't taste so I will not judge. I have a notebook obsession folks, that's a moleskine in the background, the cream paper, the black leather binding, the pouch at the back page, I think everyone should own at least one in their lifetime. Oh, would somebody kindly design me a LE embossed limited moleskine please? I like mine large and will pay through my nose for it. 
This meal was kindly sponsor by the Malbonster (Thanks Tim)
We didn't have time for pudding ( I would have gone for the ginger infused treacle tart with ice cream on the side , really delish ) as T and C had to reassume normal duties while I only work half days on fridays.
Overall, this meal wasn't really my best at Arbutus – some dishes are definite misses if I'm being honest as some of the cuts of meat they use are – how should i put this – very much an acquired taste. Having said that, I still think that wildhoney/arbutus are top notch restaurants and I am glady endorsing the idea of fine cooking on a budget. If you go, you must try the wild duck and the bavette of beef and also the roast cod with fried chicken wings. Forget the poached apple tarte for two ( it's abit too sour ) , but everything else ( especially the pink float ) should be yummy. 
The Gist of It
Arbutus Official Site
63 Frith Street W1D 3JW 020 7734 4545
Set Lunch £16 , Ala Carte £ 40 (3 courses)
Verdict: Still one of the coolest places to lunch in soho, the staff are ever friendly and so down to earth, michelin stars at these prices are a rarity among the elite, be wary of strange cuts of meat though.
Did you enjoy reading this post? Why not subscribe to my feed updates for free. Alternatively,  You can subscribe via email.