Rarely do you come across new openings with a breezier philosophy than Kopapa. The website describes a modest and friendly outlook, also evident from the moment I picked up the phone to book a table, to the eventual visit. Pitched as a cafe & restaurant, this is Peter Gordon's latest project in London; The New Zealander chef, widely respected as the one true genius of fusion cuisine. His double storied Providores & Tapa Room – high end restaurant upstairs, all day diner/cafe downstairs, based in Marylebone High Street – is a stunner. Especially for breakfast. While I'm not the biggest fan of his adaptation of Changa's Turkish eggs recipe (poached, yoghurt and hot chilli butter over it), the rest of the breakfast menu – in my opinion – is award winning stuff, for its sheer variety and edibility. So now that he has expanded his operations to an even more central location, it was only natural for critics and blogs to follow his development closely.
When I saw a copy of the menu, I was only too happy to see that he had brought over the grazing mentality with him to his new all day diner. The menu is filled with reasonably priced sharing plates, platters, hot soup and larger fish & meat dishes, if one should be so obliged. If you've never seen a Peter Gordon menu, be prepared to be overwhelmed with the sheer diversity of his recipes. For example : Three styles of New Zealand Kaipara Harbour oysters; miso gazpacho, wasabi cucumber & sake broth; Smoked magret duck breast, goats curd, beetroot confit & pickled pineapple ; Red lentil, beetroot & pomegranate molasses soup with crème frâiche & Manouri cheese wonton. It's as though he took all his recipe books, curated from the years of travelling around Asia, tore out pages randomly, reshuffled and recompiled into the master Kopapa book of recipe book. A melange of a food menu.
Anyway, we decided to mix and match with this meal, starting with a flurry of tapas as follows…
Grilled Pita with babaganoush & olives, £3.00.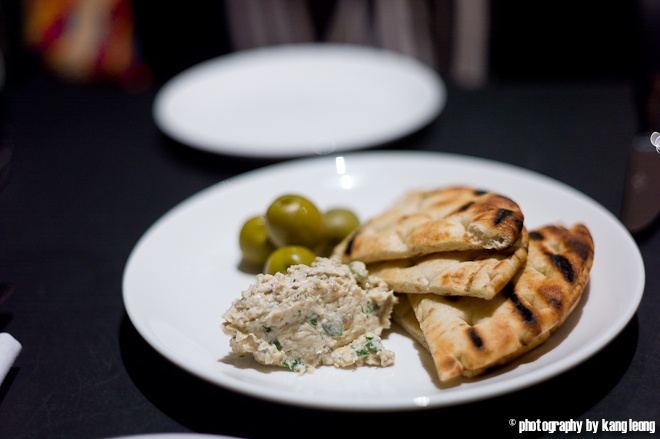 The bread was excellent. Served piping hot, it tasted of hot cast iron, with a punchy, citrusy hummus.
Coconut sticky pork ribs, £6.20.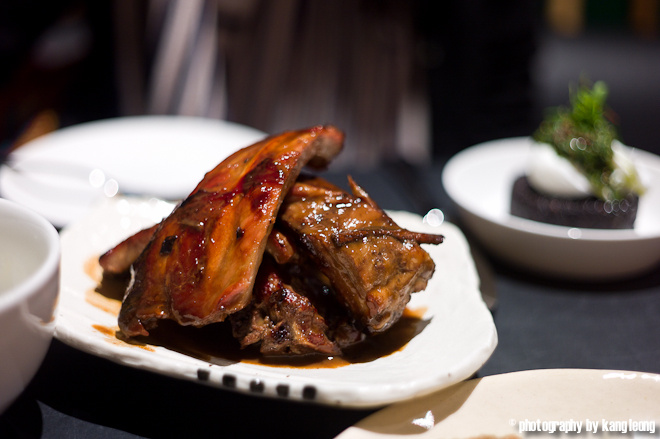 These were deceptively similar to Chinese BBQ pork ribs. Honey-sweet sauce, runny, juicy and messy. Yeah it was alright.
Parmesan & bone marrow sauce on toast with chrain, £5.20.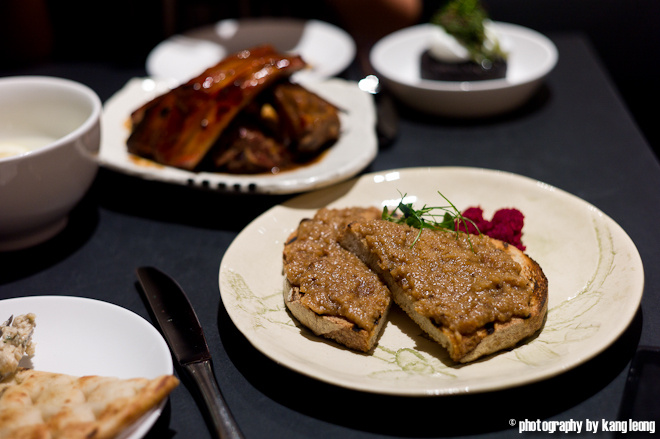 This dish reminded me of parmesan and mushroom toast at The Tapa Room, part of his breakfast menu over there. But this was better. The parmesan and bone marrow blended really well together in this sort of rough chopped paste, like it had been massaged under pestel & mortar. It took a sharp and smokey flavour. Salty too, and appetising. Horseradish and chopped beetroot took some of the edge off. I really liked this. I could easily see myself stumbling into Kopapa at 3pm just to have this with a cup of coffee. Digging through the memory banks, I am certain that this errant mention of horseradish was also part of the smell. Hot, cheesy, horseradishy smell. Mmm. Yes I could easily have one of these right now.
A poached egg on Stornoway black pudding with salsa verde, £5.60.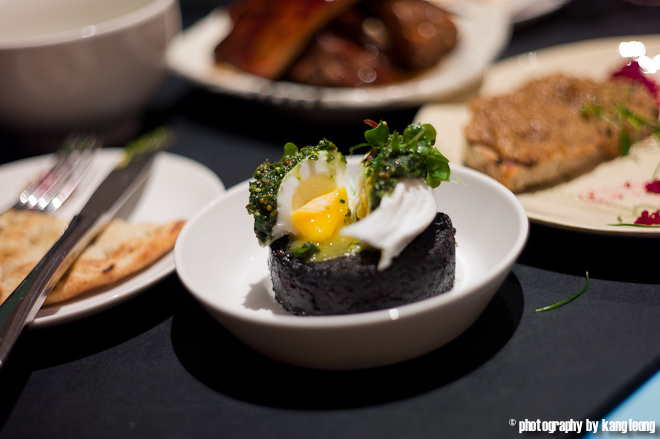 Unfortunately, this paled in comparison to the masterful 'bloodcake with duck egg' at St John Bread & Wine. Where the latter is this densely, packed, mushy, full flavoured sexual onslaught on your palatte; the Kopapa version is dry, shy, nerdy and largely uninteresting, in comparison. Poking into the poached egg did not reveal a runny smothery centre. It was half cooked. So on balance it was distinctly average.
Up to this point, we were really enjoying the meal. Tapas were largely and expectedly good. And so we were looking forward to the main part of the meal with great expectations.
The mains.
Unfortunately, we were quite bitterly disappointed. It was as if someone had switched off the lights in the kitchen whilst the chef prepped the mains. Both dishes sounded great on paper, but it was short on delivery. Fusion gone awry we thought.
Kopapa's hot-smoked salmon on quinoa, avocado & crispy buckwheat salad with passionfruit dressing, £8.30.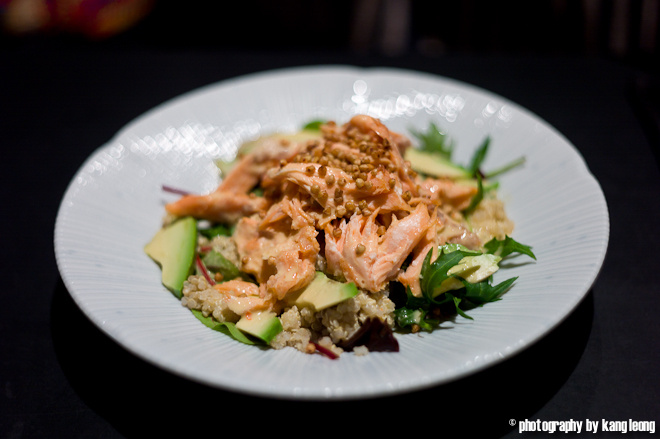 We expected hot-smoked salmon to be some kind of wackily delicious to cook salmon. Little did we know that hot-smoked salmon tasted just like smoked salmon, except with the texture of cooked fish. It was abit like chewing on plastic, and a little like having canned salmon with quinoa. I don't know. Call me a cynic, and I hope this doesn't come across as being rude; but I found very little differences between this and say canned salmon on quinoa with fresh scoops of avocado, which anyone could easily whip up in their free time. I know, it's not quite the same, but I failed to see the validity of this recipe.
Pan-fried glazed smoked Dutch eel on ratte potatoes & mizuna with a soft-boiled egg & miso mustard dressing, £8.00.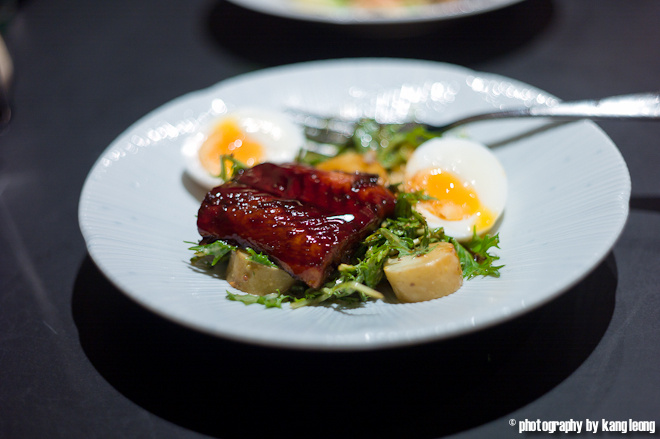 Same difference with the smoked eel really. I thought the smoked eel just clashed with the potatoes, the egg and miso dressing was just plain weird. On a bed of mizuna – aka like rocket leaves – it gave way to this papery mouth feel. It was grotesque.
I think the experience with the innovation of fusion food, was a case of Russian roulette, when I did get lucky, it was great. £40.50 for two, was exceptional value for money.
I'm not going to moan about the decor, it was effective, in that it was adequate for an all day cafe. While it didn't quite have the slickness of say Dishoom (another all day diner in Covent Garden) nearby, it didn't bother us. I think the point of Kopapa is that it does not intimidate, it's a place where you can really just be yourself.
I am thorougly convinced Kopapa is a great cafe, but I think it fails on many counts as a restaurant. I thought the mains were lazy, almost as if they were aspiring toward a healthy fast food franchise, as opposed to something with a more unique outlook, in terms of USP. Please don't take this as a terribly negative review. I think if you do end up in Kopapa, you'll largely enjoy it. However, I feel that you'll have to be quite careful with picking dishes, whilst they are elaborate in description, the end result might not match expectations. How to sift out the bummers from the winners you might ask? Dunno. Go for the elegant ones? Read other reviews I suppose. In the end, I don't think this is the alternative Providores in the city. It does not carry the same glamour, but perhaps that was never the point. This is the pragmatic, do-it-all, cousin in the heart of London, and you're likely to like recharging the batteries in here.
The Gist of It
Kopapa
NZ Fusion, £25pp
32-34 Monmouth Street
Seven Dials WC2H 9HA
tel +44 (0) 20 7240 6076
Tube: Covent Garden
Fused with the internet: London Stuff ; The Catty Life ; Greedy Diva ; Life outside the viewfinder ; AAiL ; Gourmet Chick ; C&B ; The Skinny Bib ; Guy.
Did you enjoy reading this? You can subscribe to the Newsletter. Alternatively, you cansubscribe to the RSS feed.