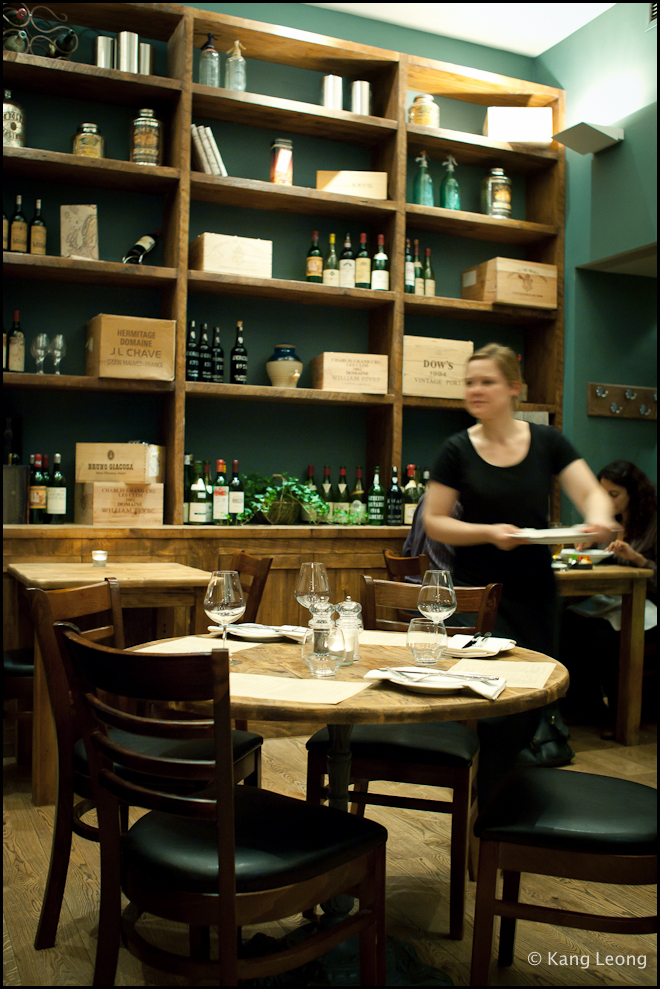 From the creators of the sleeper hit of the century, the Icelandic inspired, macaron-winning, Texture, comes Rousset & Sverrisson's next high octane, vinely-charged collaboration, titled 28-50. The name is a geographical tip of the hat to all the world's vineyards, most of which lie between the latitudes of 28° to the North and 50° to the south, not that I know what that actually means, obviously. Fashioned in a similar way to the hugely successful Terroirs, these are restaurants that lure the serious food addicts in – the proverbial mouse trap – and then throw them off guard with an astounding list of wines, in an vain attempt to convert them to the darkside. To that end, Sverrisson and Rousset have installed Paul Walsh – previously sous chef to Clare @ Royal Hospital Road – in the kitchen to churn out top quality, French inspired dishes. You'll probably recall the gushing remarks I made, when I visited Texture a few months earlier, and so I was naturally perky (and melancholic) when I learnt that Laissez Fare was conducting his official leaving do at this restaurant.
We were a table of twelve (or so), but to be honest, things became a little hazy after I started ingesting alcohol, starting with an awkwardly short measure (75ml) of Picpoul de Pinet (by Domaine Laurier, 2009 for £2.45) which was a little papery, crispy and carried a faint whizz of fizz. There were familiar faces, Gourmet Chick, Mathilde, UN and then there was the we-meet-at-last meeting, pleasantly surprised to have finally shook the hand which writes An American in London. She eventually revealed the riddle – and inspiration – behind her blog's URL (R.W. Apple, Bing it!) and is probably the last blogger in England yet to fall in line with the Twitterati. She's still interested in old fashioned, real-life conversations, you see.
We chose from a party menu, about £30 for 3 courses, and I had done a quick side by side with what's online and twas evident that this was a subset of the main menu, rather than a bespokely limited offering. However, in the spirit of truly never doing things by halves, take this blog post with the heaviest pinch of salt, as I intend to follow-up with a fuller and more representative experience.
Confit trout, fennel, mustard dressing.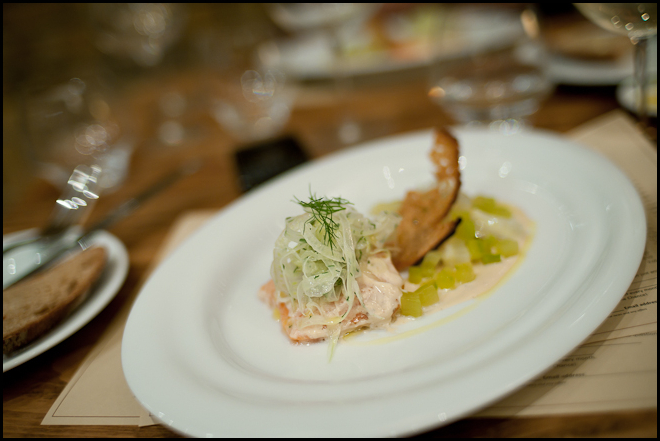 Immediately, I thought this dish had shades of Texture written all over it, the gently cooked fish, the ghastly regurgitate-it food styling, the dash of dill and cubed vegetables. Sweetly, pickly and a cream-like sauce played nicely with the natural oils of the trout – which was gentle, soft but only just lacked the fine sous-vide touch, so perfectly illustrated and gloriously exploited at Texture. I enjoyed this.
The White: Zeleni Silvanec, Marof, '08.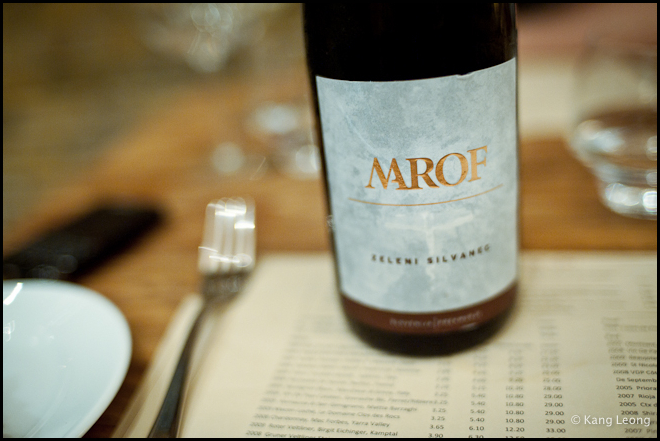 Slovenian wine – a first for me – was paired with our selection of starters, which I have to admit, I wasn't really paying much attention to. The wine hails from Northern Slovenia and the varietal is Zeleni Silvanec or Sylvaner, which again is a first for me. It carried a natural fizz, I detected nuts and zest. Very young, very clean and highly charged as it coursed through my system.
Onglet of beef, chips and sauce choron.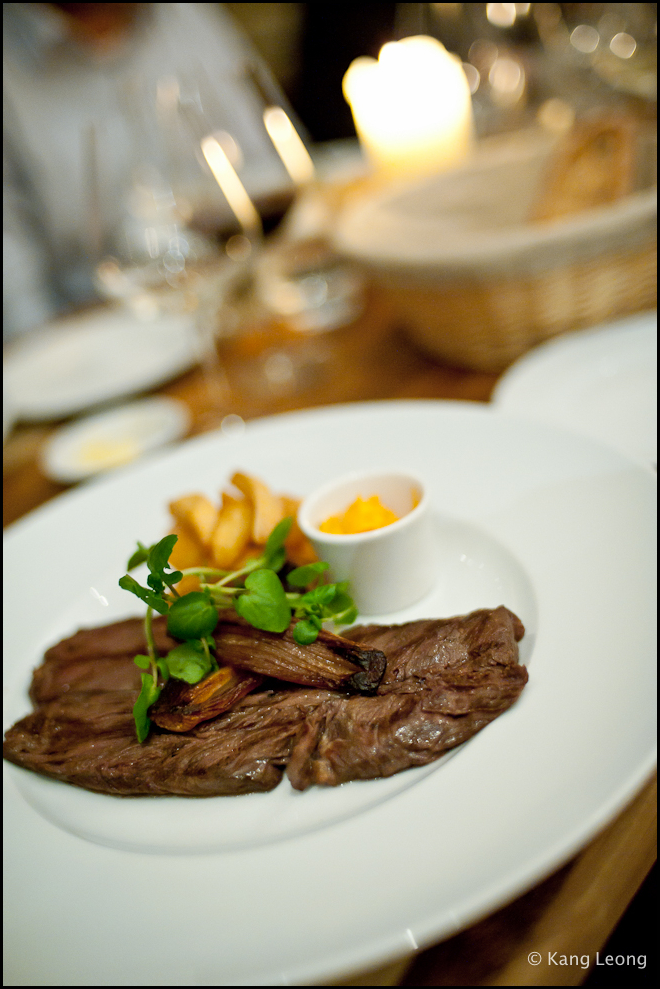 For mains, I opted for the obvious choice of L'onglet. I was a little worried at first, since the waitress didn't ask how we'd like our steaks, the rest assumed it was going to be medium-rare, but I wouldn't mind it a little bloodier, considering the cut.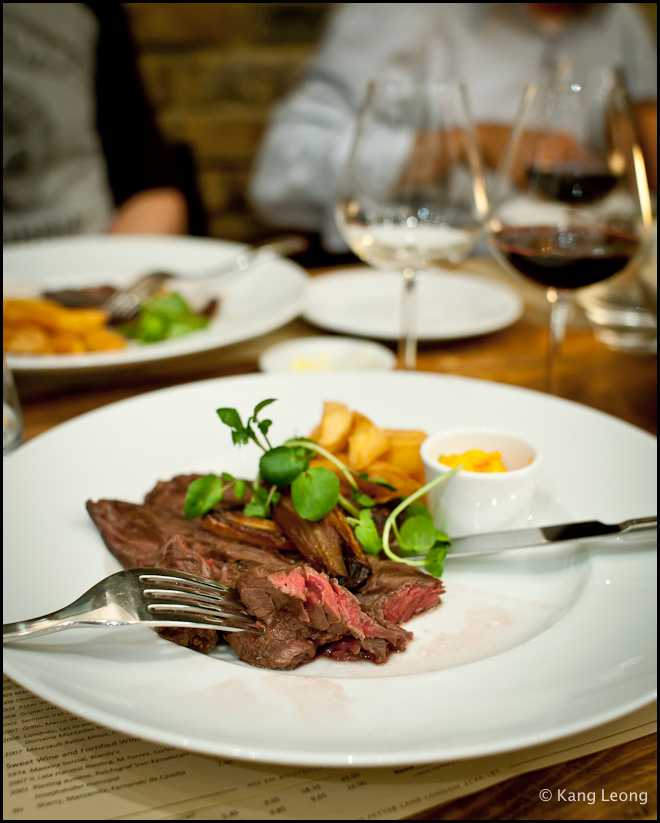 My fears were mostly unfounded, as it arrived perfectly medium rare. I have a feeling the steak had been pre-bashed – it was the flattest onglet I had ever seen, and surprisingly the tenderest I had ever eaten. Grain was unnoticeable, the natural bitterness of onglet was pleasing, and I was hugely enjoying the – now mushy – spongy texture of the steak. It was well-seasoned, but perhaps just a tad too much so, it had me wondering if powdered tenderiser had also been applied. Nevertheless, it was a sterling example of an onglet. Extra points for the extra touches, arranged crispy chips and a sweetly caramelised shallot and props for serving a sauce choron. It tasted like a chilli bearnaise to me, a shade of orange, which I found to be rather intriguing. I had to google this, and as it turns out, sauce Choron is named after Alexandre Étienne Choron, a chef who lived in the late 19th Century, whom had invented his namesake sauce, a variant of the bearnaise, without tarragon or chervil, replacing with an enriched tomato puree instead. Personally, a brand new way to eat steaks.
The Red: Syrah, Mullineux, Swartland, South Africa, 2008.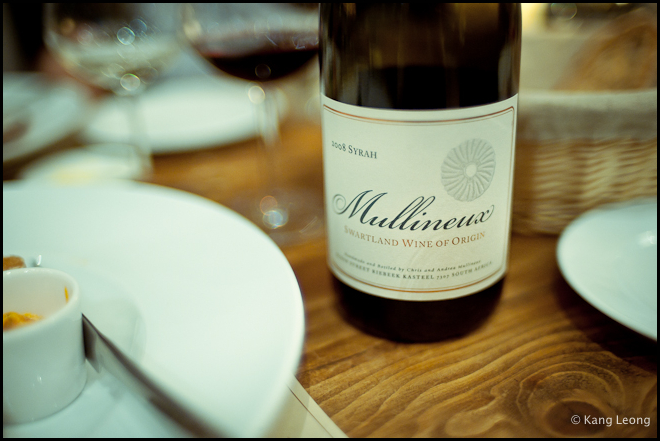 The red was eye-openingly brilliant, this you could stick a straw in and drink it like it was the juice of the gods. Smoky, bitter, creamy and jammy. Very sweet for a Syrah. I pour as much as I could in my glass, to the limits of being considerate to others also sharing the bottle. Or so I thought.
Rum baba.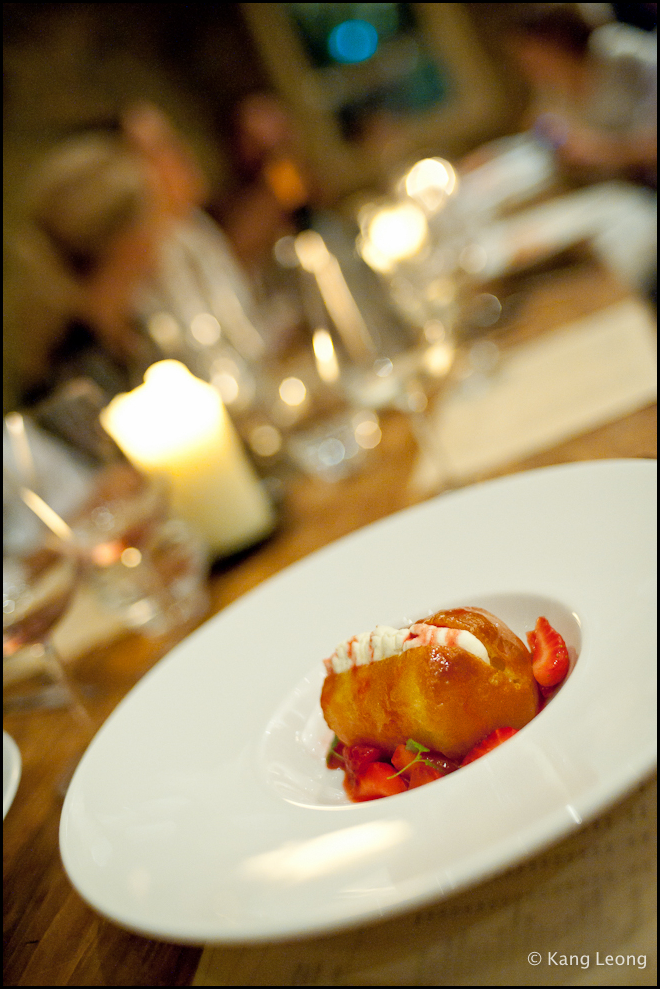 Pudding was fairly standard and traditional, the lightness of the cake was appreciated, but I could have done with the cheese platter (from La Fromagerie) to be honest.
We each paid about £60, £50 for those who ate less, and drank less, and I think everybody had a great time. I think the food is good enough, but the wines were better. Especially since food seemed more like a side show to the fabulous way the wines have been curated and presented. An entertaining side show nonetheless.
Speaking of the list, it features 15 whites and 15 reds which could be had by the glass, measuring conveniently at 75ml, 125ml and at 250ml, the latter of which is probably on the menu for legacy reasons. As I alluded to earlier, I enjoyed 28-50, and I would be interested to return to sample a flight of 75mls; afterall Xavier Rousset is an award-winning sommelier. Xavier also conducts monthly wine workshops for £25 per head, that seems intriguing, as of writing, his sessions appear to be fully booked to October. Also, his 'Collectors List' is put together from private collectors who have agreed to sell their precious stock on consignment. I've seriously gone off the trail in my wine education of late, so this seems an ideal route to get back into it. I do have to entertain relatives visiting London soon. I didn't really take to the cavernous, subterraneo setting at first, but after slapping on the tipple goggles, everything looked woodenly sexy anyway. Maybe it was just a little too bright. The force is strong with this one folks. Good food, good wine, good service, a wine restaurant for wine and restaurant collectors alike.
The Gist of It
28-50 Wine Workshop & Kitchen
Wine bar, £60pp plus tipples
140 Fetter Lane EC4A 1BT
Tel: 020 7242 8877
Tube: Chancery Lane
Gulp: Guy Dimond ; Dos Hermanos ; David Sexton ; Gastro1
Did you enjoy reading this? You can subscribe to the Newsletter. Alternatively, you can subscribe to the RSS feed.
All text and photography on this blogpost is copyright and belongs to Kang Leong, LondonEater.com. If you repost this without my permission, bad things will happen. So please don't do it.