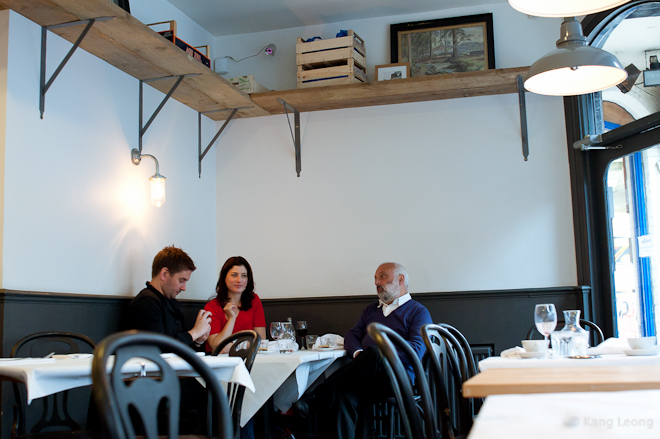 By now you'll have tried and failed to book a table at Trullo, the latest budget conscious, laid-back, Italian inspired restaurant to open and to become over-subscribed, in London. Owned by Jordan Frieda, once the front of house at River Café, and chef Tim Siadatan, formerly of Fifteen, plus stints at St John and Moro. What don't you know about this restaurant which hasn't already been reviewed to death by the Capital's most voracious appetites, eh?
At first, it was the Italian summer 'refurbishment' break that prevented me from visiting in August, and when it re-opened, Trullo had been turning tables like mad, I just couldn't get in. In the short few months since its debut, it sure has gained a cult-like status, I gather amongst North Londoners, and those who are willing to make the journey. It took a cancellation to secure a table for lunch on the first Saturday of October. I'd read all the positive reviews, so I was naturally looking forward to the meal.
It is difficult to speak about the menu, as bits of it changes on a frequent basis, courses by fours, antipasti (£4) , primi (£6), grills/oven (£18) and dolce (£4). The concept is to deliver fresh, well-cooked and comforting food, at tremendously sensible prices, creating the illusion of value, when one might think this sort of food could easily go for more money.
The comparisons with Zucca are all too apparent, and upon entering, it would appear that both restaurants were separated at birth. For all intents, the menus are interchangeable, except the Zucca bread basket is more varied, and Trullo's décor is more amenable.
The speakers squeak pretty old-school stuff, something smoky and jazzy, something that sounds like Nat King Cole. White and greys are wrapped around mature woods, in keeping with protocol these days to make furniture look run down and vintage, it oozed a technicolour vibe. Perhaps most striking was our waiter (the receipt says Tim) with his James Dean-esque, gelled brown hair and – my notes say – green eyes , which add to Trullo's fifties mystique. The square tables, small, barely fit two dishes for two, let alone tuck elbows in.
I began with pumpkin risotto, £5.50.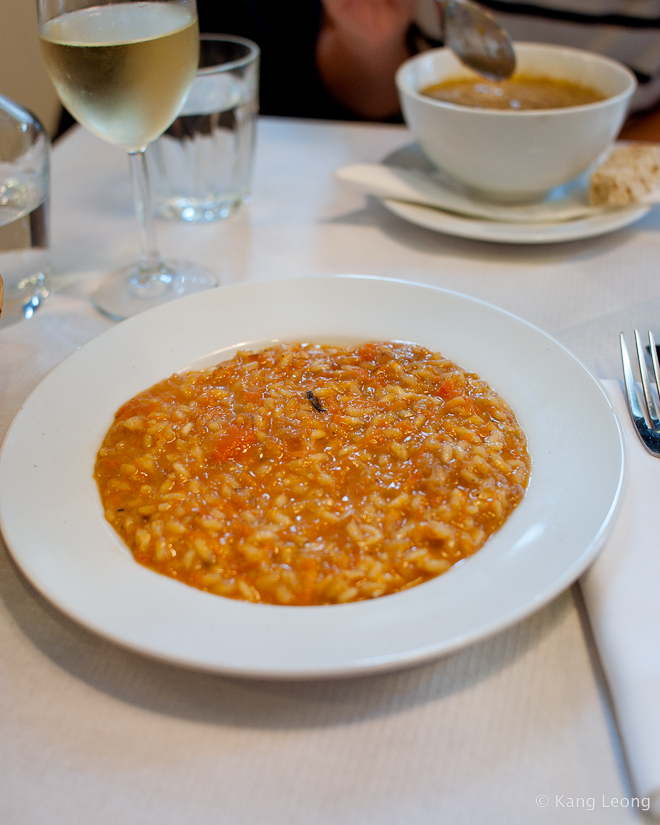 Which was all too brilliant. The sweetness of the pumpkin pulsating through the peppery and hearty dish. The rice was al dente as far as I was concerned, it wasn't too creamy nor was it too grainy, though it erred to being just a tad chewy. Seasoned well, it only threatened to leave my mouth dry. I wash down the rest with a glass of the house white (£3), a Cataratto Chardonnay, ahh…
Wild Porcini Soup, £4.50.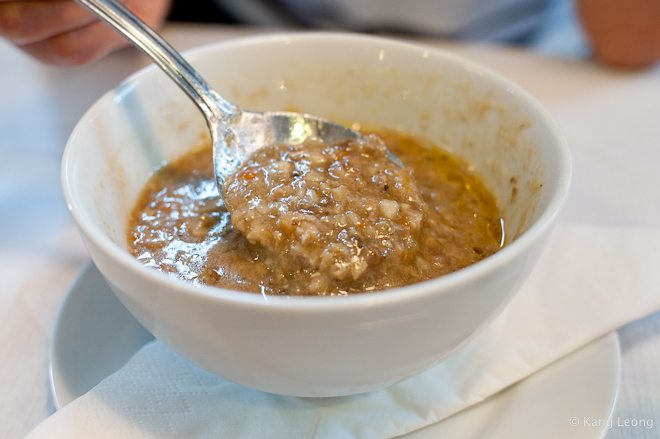 Over at the alternate universe, the better half quietly enjoyed a mushroom soup, roughly but finely chopped that created a slippery, slimy, textured experience. Of course, the soup was beautiful, wonderfully seasoned, but she would have appreciated it more if there were larger pieces of chopped mushrooms. Quite literally, the sensation of chewing out umami juices was lost, with the loss of texture.
Chargrilled quail with liver crostini, £6.00.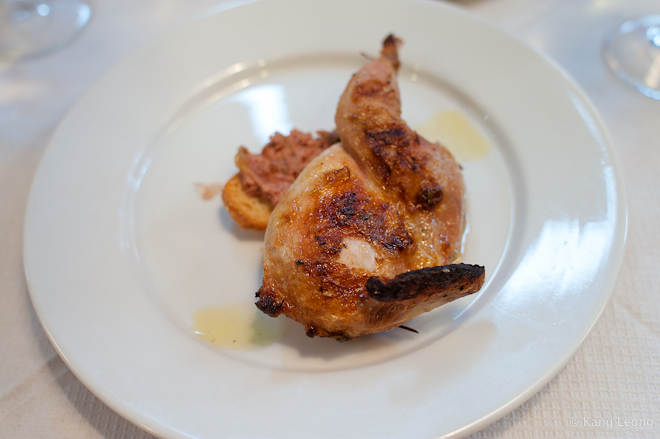 Rich and velvety, full of sweet and saltiness, the liver pate was simply superb, with a tinge of bitterness, and matched well with the grilled quail. It tasted almost like baby chicken, just juicy and springly, I could have done with more bread however.
Marinated Jerusalem artichoke, endive and cobnut salad, £6.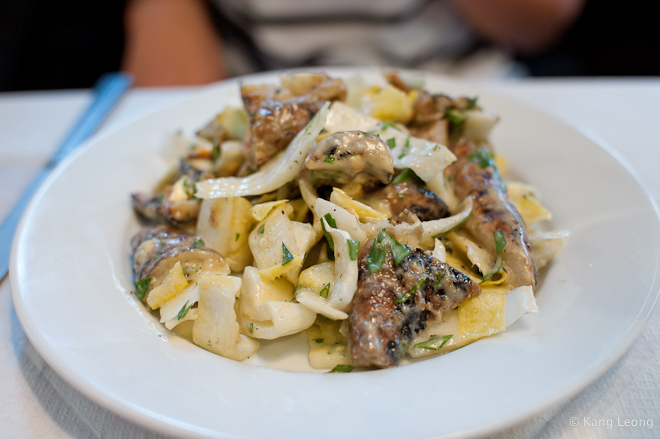 This was exceptional, charming and a showcase of the flair the Trullo kitchen had employed to capture hearts and tongues. A little bit of bitterness from the crunchy endive and cobnuts, plus a whole lot of rooty, nutty flavour with the artichokes. I dub thee, Salad of the Year.
Pappardelle with beef shin ragu, £6.50.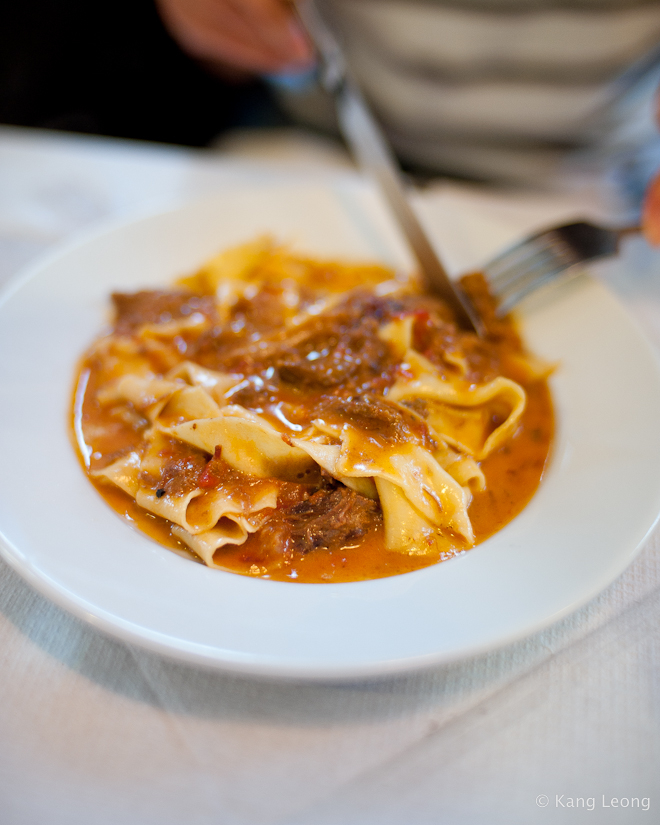 Well, well, well, Chez Tim. Beautiful work again, just look at the homely style, the shimmering ragu strewn across the golden streaks of pasta. All made in house, I gather, and soggily al dente. As per the rest of the dishes, it was well seasoned, it was creamy, but not overly rich and decidedly hearty.
Veal chop T-bone, Rosevale potatoes, radicchio, shallot, caper and anchovy. £20.00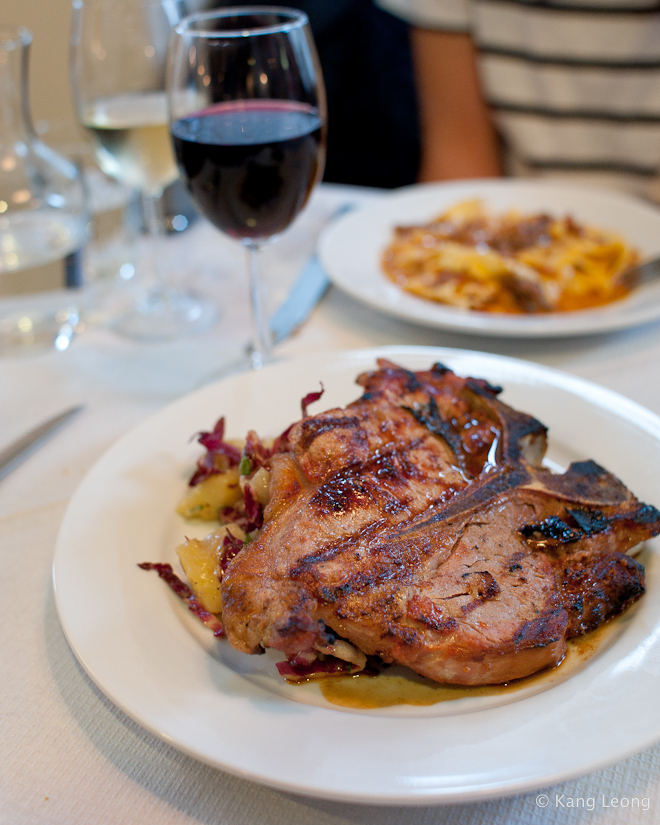 That's a mouthful to describe the potato salad on the side of the priciest dish on the menu. Yeah I thought that too – Not as good as Zucca, and much more expensive in comparison (£20 against £14.50). Not that I don't appreciate a well-tossed salad, I do, and this was zesty and seasoned and oily and was cooked with beautiful potatoes. But it was so good and so vibrant that it killed the meat, clashing with the subtle butter and vanilla flavours of veal, rather than complement them – it was like Chez Tim was telling me to ignore the meat. The T-bone was grilled naked, dry and drizzle-free and looked like the shell of a crab, that you sucked on, but ultimately discarded when done. In fact, this seemed like a classic dish, cooked by someone who hated meat. Speaking of, the veal was a little overdone. I washed it all down with a glass of house red (£3.20), the Borgo…
Green and Black figs with honey, £4.50.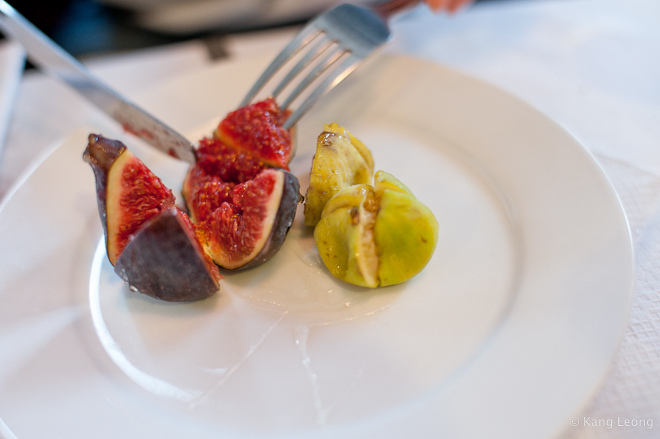 Fresh, and just beautiful, ain't it? If there's one thing I like about Trullo's work, are that dishes are turned out with flair, however simple they may be. It is like the style chefs turn on, when they go on Saturday Morning Kitchen, that becomes drowned with the militant nature of the restaurant trade, but here the love for the good life is served unhindered.
Pannacotta with caramel, £4.50.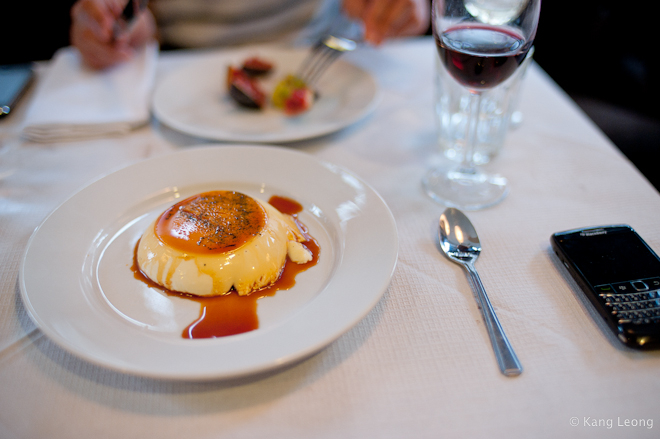 As I usually do, I asked the waiter – who was professional and charming all throughout service – for a recommendation, and apart from cheese (which I didn't fancy for lunch) he couldn't stop praising the pannacotta…
…Oh yeah, that's the stuff. It's more a cross between crème caramel and crème brulee than a straight up pannacotta, as you submerge your spoon into the pool of egg & sugar, you feel it stick and tug, gooey and thick and only a little wobbly. Rich, indulgent and accurately balance in terms of the sweetness – a theme I found with much of the cooking. A melting pot of custard and caramel, completely and utterly indulgent, and one of the best renditions of this pudding I've had yet, albeit much, much richer and more 'French' than Italian. A stunning finish nonetheless.
Here is a glimspe of the hard working waiter… James Dean hair, right?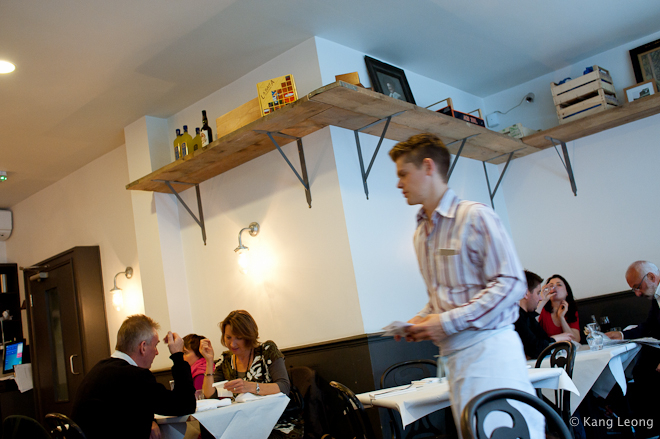 In the end, we paid £70.20, which is exclusive of service and inclusive of a single espresso and an Americano – expectedly, it's great value.
Let me just say that while I think Trullo is fab, we didn't leave the restaurant feeling over the moon. I get the slick concept, the deft execution, the slender bottomline and the River Cafe emulation, but as hype usually has it, expectation has run a little high for what is suppose to be a good valued, quality Italian restaurant, that could've been a very good secret. Not a patch on L'Anima or even the bona-fide River Cafe, however, it is nice to know there is an alternative to Zucca. Or I should say, a clone.
(Mr Ramdsen, I guess I'll have to agree with you on Trullo… but I maintain my reservations on Polpo/Polpetto.)
Framing it in the sense of a review, I can understand why Trullo is so agreeable. It retains all the crucial elements that make restaurants shine. The true benefactors are probably the Islingtoners (erm..), like AAiL, now blessed with this lovely neighbourhood haunt that turns out such fabulous food, who will be keeping the seats warm on a frequent basis, I'm sure. It does not pretend to be anything other than a restaurant that produces good food, judging by the bouyant mood during this visit, I'd say Tim & Jordan have succeeded at what they had set out to create.
The Gist of It
Trullo
Italian, £40pp
300-302 St Paul's Road
Tel: 020 7226 2733
Overground: Highbury & Islington
Truly, madly, deeply : Food Fight , Dos Hermanos , Cheese and Biscuits ,Twelvepointfivepercent , An American in London , Jay Rayner , Metro , Guy Dimond
Did you enjoy reading this? You can subscribe to the Newsletter. Alternatively, you can subscribe to the RSS feed.