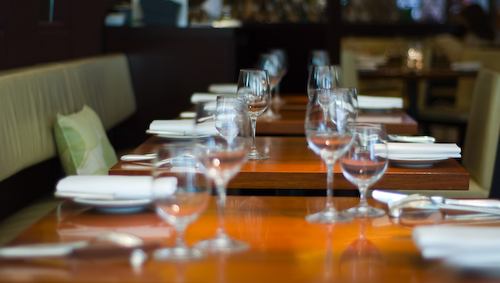 Gordon Ramsay looms over British cooking like a big bad shadow. He owns no less than ten restaurants (in the UK) under his label and his formidable marketing machine is used extensively to turn those restaurants into brand names in their own right. All that gloss is seemingly a way of guaranteeing a quality fine dining experience, albeit one that feels manufactured (aren't they all to some extent?) . My visit to Maze was not based on Gordon's merit alone, rather I was drawn to the man in the kitchen, Jason Atherton. He has gained a cult status since opening Maze and I had to find out just how creative his unique taster menu really was.
Will the real Gordon Ramsay please stand up?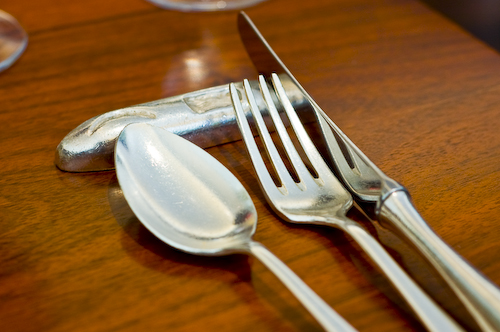 When Maze launched a few years ago, it quickly became the darling of the culinary elite, bagging several awards and winning a Michelin star along the way. Much of the credit is attributed to the skill of chef Jason Atherton. Having become the first British chef to complete a stint in the kitchen of El Bulli (only one of the best in the world) , he has since worked magic at Maze in which his food is described as a mix of french inspiration seasoned with flashes of asian brilliance.
Credentials aside, what really attracted me to this place ( no, I do not randomly show up to michelin star restaurants ) is his taster menu, almost (dare I say it) tapas style mini-courses which let you sample more stuff in one sitting. I think that makes me sound a greedy bugger but I just love variety.
Souled out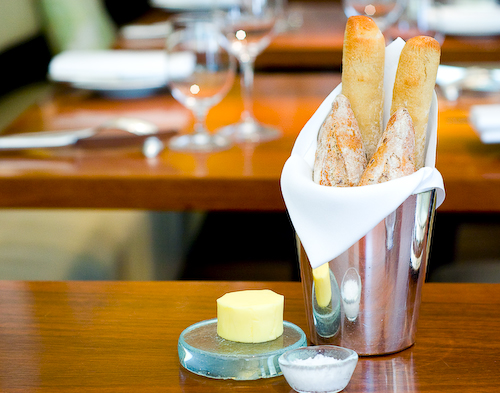 Whizzing past the stone & brick exterior in the heart of the old Bond Street, Maze feels rather like an ultra chic 80's style posh hotel lounge. Ok, maybe that's abit harsh. The decor is squeaky clean with robust woods for furniture & floors and a clientele of business types in fine-cut bespokes, the odd honeymooning couple and a number of tables filled by trophy wives settling for a 'quick lunch' possibly after an exhaustive morning of shopping and manicure…. on second thought, it is a 80's style hotel lounge.
Not that this is criticism (maybe it is) but that's the problem when you put big budget advertising vehicles behind a restaurant; everything feels as if it's a cog in the larger corporate wheel, that the chef's personality is very much suppressed. The result of which, is a robotic and soulless dining space. Yes it's admirable watching the well-choreographed staff ( they have a dedicated card machine handler, whose job is to 'take payment'. Did I mention she's a leggy blonde who can easily pass for a Karen Mulder lookalike? ) put in the hard work to ensure the smallest details are not missed but this is also the result of growing too big. Rustic ,passion & colour is replaced with refined, robust & dependability.
At the end of the day, it's food we're talking about here and its suppose to be full of life & vigour and most importantly, enjoyable. My hope is that the industry does not forget why one loves food and is passionate about cooking, don't let pretention kill it. Good food is a harmony of flavours , if you overdo it, its no longer good.
Four recommended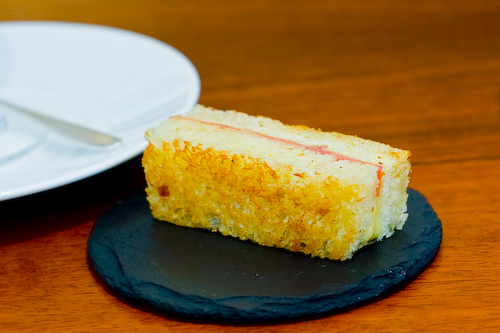 Alright, so pretention killed the cat, but we haven't touched on the subject matter yet: Is the food any good? Well, let's elaborate on how the menu works. The waitress advised me to pick two dishes from the light (starter) section and another two from the heavier (mains) section. It's quite clear the starter section is meant to be a light start being that it is a selection of veloutes , foie gras, the odd seafood and veges. The mains consists of a recognisable cast: cod paired with iberico, a rather interesting sounding venison in chocolate sauce and a seemingly wintery rack of lamb with shepherd's pie ( I am delighted to see British cooking on the menu) . Have a look at the menu here.
I'll point out the excellent service, I will expect no less from a Gordon Ramsay establishment, my waiter was forward, friendly, professional and unpretentious. She had a breezy charm and was excellent in fueling my appetite while explaining what each dish was all about. I have to say, at first, I was expecting an attitude to match it's intimidating atmosphere, but I was pleasantly surprised. She actually got me excited about the food and you could clearly tell, she believed in the food and what the kitchen produced. So top marks on service and character. Am I excited so far? Yes.
Jellied Bread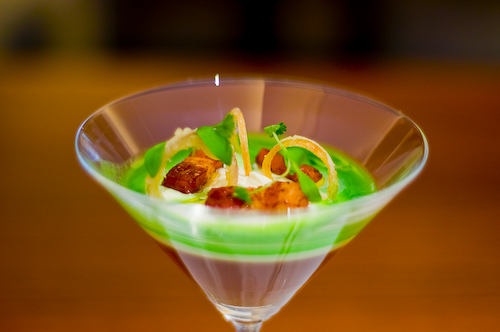 The first course is assiette of sandwiches, 'BLT' and croque monsieur. Ok, translation it's a sandwich which has been turned into a jelly. The Bacon, in the form of large chunks afloat a creme fraiche-like mousse, all sits on top of a savoury onion jelly foundation, which is suppose to represent the bread. The Lettuce is pureed and poured over it, all of which is served in a cocktail glass ( yes, its a sarnie in a glass). Oh, it's fresh. The first hit of the mousse & the jelly produced a tangy edge in which I suspect that's where the Tomato hides. The lettuce soup is very appetising and the varying degrees of sour from the different layers is balanced by the saltiness of the bacon. This gave way to a heady sensation which left my taste buds tingling. The cool crispness of the jelly really made this one special and the lettuce puree was a star. It's certainly unique and a gamble that's worked.
So that's one part of the 'assiette'. The other part of the set is the croque monsieur. Yup, the ham tasted spot on, the melting cheese was great and the grilled bread, crunchy exterior and buttery soft interior was umami rich. It was just a damn good ham and cheese finger. But is it world shaking? No. I've had better on the streets of Paris for significantly less money and five times the portion. Having said that, it worked well as a dish.
Bread Soup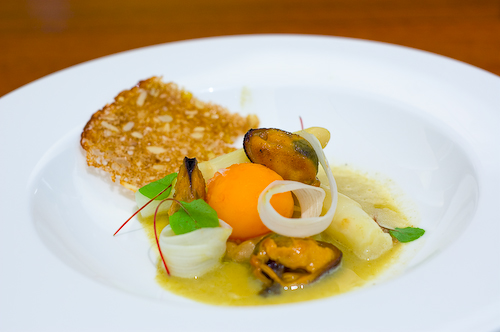 I changed my mind last minute for my other starter. I initially wanted scallops ( its a michelin establish, gotta have great ingredients) , but I'm a sucker for gimmicks and unique selling points. Instead I settled for the two texture white asparagus, 'two hour egg', smoked mussels and brown bread velouté . Ok so I had jellied bread at first, now the bread's been made into a sauce. Cool. I was more interested in the two hour egg as I'm told the egg white turns into something mystical after being cooked for two hours.
The bread veloute had a distinctly sour flavour (perhaps it was sour dough… too obvious?) , the highlight was definitely the smoked mussels which were beautifully smoky and of great texture. I was utterly disappointed with the egg though. I had high expectations of this dish being a kind of nirvanic slow cooked flavourful adventure, but it was abit of an anticlimax. The egg yolk, just tastes like boiled egg apart from it being powdery. The egg white was reduced to a brownish mushy paste which was a little on the bitter side, but mostly it drowned in comparison to the rather strong bread veloute. The crunchy asparagus was bland. Not much more that I can say to that.
Overall, this dish was delicate. All the flavours were subtle and felt as if it had been matured for a long time. However, I did notice a very good aftertaste, it was a strange after-eating goodness, perhaps because of the combo of egg, mussels and bread finally coming together. Maybe I should have chewed my food longer, but it was too little too late when the fireworks came on.
Even if it was mild fireworks.
Frozen ham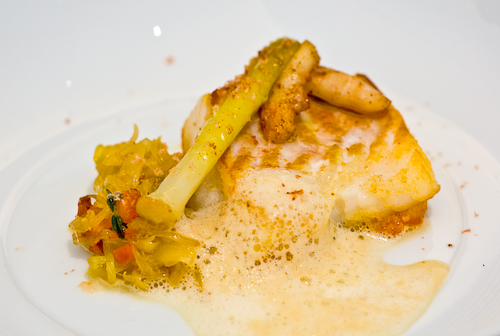 Roasted organic Shetland cod with onion soubise, confit cod tongue, French onion velouté and frozen Iberico. This was the one dish which I thought stood out from the menu, the frozen ham in particular. Cod and Iberico, both of which are ingredients that I love, wrapped around an onion soup, made for an excellent marriage of flavours and topped off with an asparagus stem and two small pieces of cod tongue.
As expected, the fish is just on the right side of cooked and the specks of shavings on the plate are actually the frozen iberico. Granted its abit gimmicky, but a nice subtle touch. The fish depends on the onion reduction as well as the sweet onion soubise for flavour; It works well and there are also subtle hints of white pepper which lifts the entire flavour profile. The cod tongues had a firm texture, but was easily chewable and tasted abit more dominant that the fish itself. So far so great.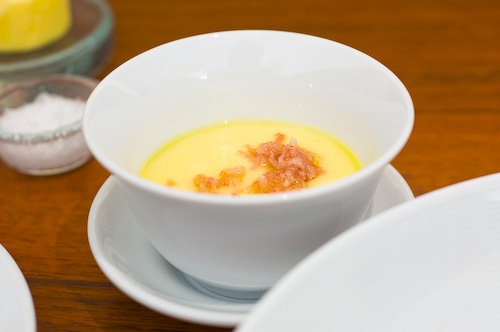 Just on its own, the fish and onions are delicate. Coupled with the potato puree with ham shavings, served on the side, it made this dish an absolute godsend. I suspect the mash is heavily seasoned in order to compliment the delicate fish, spooning up all the individual parts gave rise to a forward flavour, appetising due to the mash, fragrant because of the fish and colourfully enhanced by the onions and white pepper. The ham rounded everything off perfectly. In summation, this dish was gracefully mellow and just like the two hour egg, it too had an excellent aftertaste, which I think, was a consequence of the ham. I was really impressed by this. Good solid cooking.
I tell porkies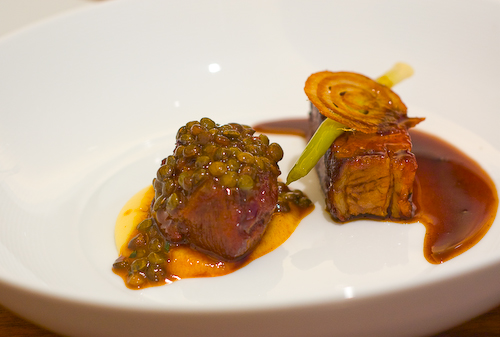 Rare breed Sussex pork 'Head to Toe'. This came highly recommended. She told me I had to try this, and so I did. There are three elements to this dish, two of them come on the first plate. On the left are the pork cheeks resting on top of a whipped apple puree and topped with lentils. I'm not a big fan of lentils, I feel as if they were used to cover up natural flavours, as it's done so in this case. However, having said that (and having pushed the lentils to one side) , the cheeks were fantastic, supremely soft and matched beautifully with the rich apple puree it sat on. Lovely. The fruitiness of the puree played a good contrast to the flavour of the cheeks.
On the right is pork belly in gravy. This was again very good, nicely roasted, pork belly can be quite a strong taste & smell ( verging on stinky to some) , and this was no exception. However, the gravy mellowed it out but honestly speaking it didnt blow my mind. Good, but so is my mum's pork belly roast.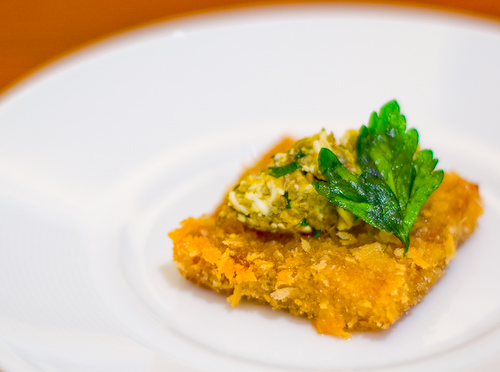 The third element are the 'toes'. At first, I couldn't quite place this. It tasted of a fried cake consisting of a floury filling. It's very smooth and easy to eat, yet there's this strange texture, bouncy but then cakey all at the same time (What is that I wonder?) . The topping tasted of a cheesy, slighty salty concoction of sorts which worked well with the flavour of the cake.
Gosh it was really bugging me so I turned to the ever so helpful waitress who told me that the cake were the trotters. Ah! Hence, the cakey and bouncy texture. The topping was indeed a concoction of sorts being capers, pepper, cheese and a host of other ingredients. Think tartare but without the raw beef. I was really surprised by this dish. I felt that it was an interesting mix of ingredients coming together to produce one consistent taste and it managed to achieve a kind of simplistic balance. Very good indeed.
When the battery in your camera runs out, do you still eat pudding?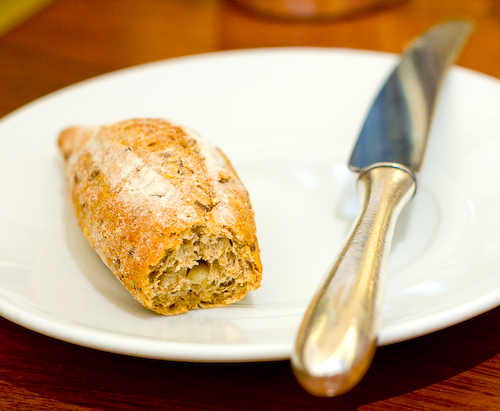 Crapola! I knew I should have charged my camera the night before. Although in hindsight, I think it was a good thing I didnt. I ended my meal with a pannacotta and popcorn sorbet. It came served in a maxi shot glass and was, very simply just good. The popcorn sorbet was rather nice I thought, it tasted like iced pop-corn with a good dollop of cream smothered over it. Heartily good and a cheerful way to end the meal.
You know, these days I step into restaurants with the mindset that I have to write it up later on and I have (almost) forgotten the joy of just eating good food. When my camera died on me, I kind of put my blogging hat away and just enjoyed my pudding, no pressure, no notes and no photographs. It reminded me why I loved food and I came away from the meal feeling uplifted.
Now if you're wondering why I've been a little harsher than my usual self, it's because the media and marketing filled me with expectations of greatness. The sole michelin star, in my opinion is correctly awarded, the food is interestingly unique, some dishes are must-tries and overall, Atherton's cooking is subtle and delicate. No doubt, the menu looks great on paper, but I'm afraid on this occasion, some dishes while good, weren't signature good.
Having said that, four courses for about £45 is not bad ( if we ignore the recent economic turmoils ) and for the price class, Maze is formidable. But is the best in class? No. Would I go back again? Yes. There is definitely depth in the menu and I suspect there are a few gems I've yet to sink my teeth into. But that is for another meal on another day and another post.
Did you enjoy reading this post? Why not subscribe to my feed updates for free. Alternatively,  You can subscribe via email.

Basics
Maze 10 – 13 Grosvenor Square W1K 6JP | 020 7107 0000 How to get there: bond street How much: OK-Pricy. £10 per dish, four recommended.
http://www.gordonramsay.com/maze/