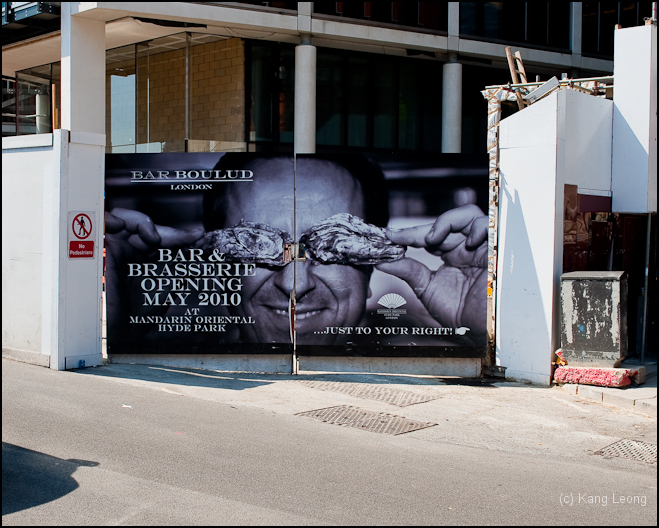 Daniel Boulud. Three Michelin Stars. Twelve restaurants. French. Celebrated. Now in London. We were all witnesses when the internet welcomed the meritable chef's European debut with open arms. Time for us to consider Bar Boulud.
No doubt you are currently sick to the teeth with the media saturation that has followed Bar Boulud's opening in Knightsbridge. So far, it has amassed nearly as many reviews (scroll to the end to see a list) for each of the days it has been open. We are so full of hot air, no? I wonder if Chef Daniel is the sort of guy who collects clippings of what people say. Perhaps not. Given his apparent popularity Stateside, Daniel Boulud is a superstar, or so I've read. With this being his first British and European venture (and with me being the last man to never have visited New York, or American for that matter) his name isn't one that is impressionable to me at all, save for his picture perfect smiles seen from his PR headshots and his video interviews. He seems a mirthful character, somebody I could have a drink with.
Initially, I was going to spare you the agony of having to read about Daniel's history all over again, but I'd already written it, I'll be brief. Reputation is partly the reason so many food lovers have been seduced. Critics and Bloggers included. Born in Lyon, Boulud trained under the old masters of another time such as Roger Vergé amd Michel Guérard. Since, he had spent the last 25 years crafting his now vast restaurant empire across America, though mostly in New York where it is also home to his three-michelin-starred fortress simply called Daniel. His range of derivative restaurants that bear his name are all well-regarded in their own right.
I called it first. 2010 is going to be the Year of the Bistro. The stripped-down splendour, fine dining with the illusion of a more rustic setting, is a little like the world adjusting to this 'age of austerity', bombastic splurging replaced with sensible splurging, and everybody loves that idea right now. Remember tapas bars? So 2008. Bar Boulud is riding the fad train at the moment, hitting London squarely between the eyes, and at just the right time. A fanciful fusion of the urgent bustle of New York with the sensibilities of Burgundian and Lyonnais traditions. Speciality sausages, a Gilles Verot charcutier operated in-house and his famed gourmet burgers too.
I had opted for Friday lunch with Marcus yet again (on this occasion, he's in a patriotic England shirt, exposing his ripping sixteen inch hammers and loafers appropriate for the weather) arriving to a briskly chatty darkly space. It does kind of look like a cellar in here, low ceilings, the rose coloured wood and overall Adam Tihany design make it so eighties. Could it be the perfect venue for a reception to launch Wall Street 2 in the UK? We should seek the wisdom of Gordon Gekko.
Boudin blanc, truffled white sausage and mashed potato £11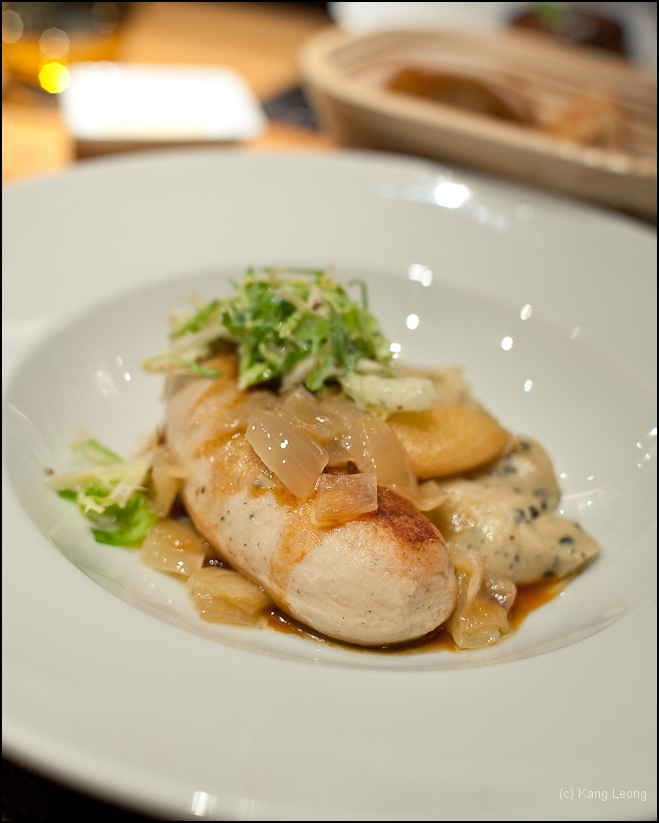 I chose to start with one of Daniel's signature takes on a classic Lyon recipe. The Boudin Blanc, a white sausage recipe which uses pork, eggs and milk…. and I'd imagine no breadcrumbs for tradition. Smell the truffles as the dish arrives, gently browned and fabulously cloud-like in texture. Regal truffle flavours balanced well against the fragrant pork meat, as if the Chef had picked cotton balls, soaked in a meaty jus. I had assumed mushrooms and chopped black truffle was used in the smooth mash, finished with sautéed onions, caramelised pear (or apple) and citrusy salad. Warming and wholesome. Elegant stuff.
Saffron Bouillabaisse, £7.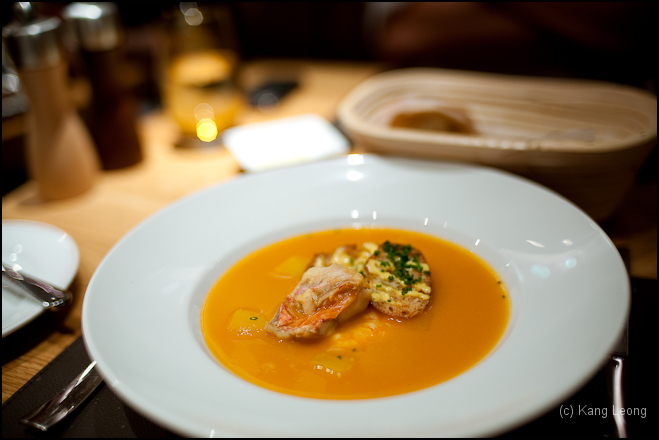 I couldn't resist indulging in a fish soup, after all, the all-day dining nature of BB seemingly a direct competitor to the Grand-cafe inspired Wolseley, where they had poached their general manager Stephen Macintosh from. This version of an ancient recipe seemed authentic enough, what with its use of saffron as well as its glowing orange colour. Distincly different to the Anglo-style fish soups that are much more raw, more pungent and fishy.
A quote from a protracted article on Bouillabaisse from CliffordAWright for you to consider:
The most distinguishing characteristic of a bouillabaisse is not the fish, because all fish stews and soups have fish, but the unique flavoring derived from saffron, fennel seeds, and orange zest. A famous Provençal food writer, Jean-Noël Escudier, called bouillabaisse the "magical synthesis." Another famous French epicure, Curnonsky, called it soupe d'or, soup of gold. The origin of the word bouillabaisse has been attributed to the abbess of a Marseilles convent (a pun on bouille-abbesse, the abbess' boil?) and, most credibly, to bouillon abaissé "to reduce by evaporation."
I couldn't confirm the orange zest, but the soup was beautifully mellow, redolent of a pumpkin soup (nearly). Greatly balanced flavours of the creamy versus the fishy. Leek, swede, juicy jumbo prawn, slices of razor clam, red mullet and rouille basted croutons. Stupendously hearty. I loved this.
And then time stood still for oh a good half hour, bearing in mind Bar Boulud's obsession with kicking diners out when their two hour slot is up, the wait was torturous, especially since we were merely waiting for sandwiches.
Croque Madame £11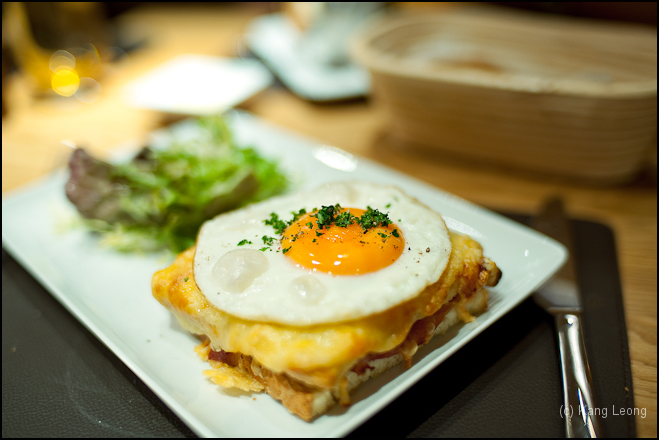 It was rubbish. Overpriced, dry, tepid, bechamel sauce missing, I don't know why I ordered this, I suppose I had Paris on my mind. I tell you what, in hindsight, I rather regret not having swapped this out for a small charcuterie board (£14) which would have enabled me to sample the Gilles Verot terrines such as Provençal pulled rabbit carrot, courgette and herbs; Coarse country pate with foie gras, truffle juice and port; Shredded slow-braised beef cheek onion confit and pistachio. So when you eventually visit (and you will), do go for the charcuterie.
Finally and ceremoniously then: The Frenchie. £13.50 Grilled beef patty, confit pork belly rocket, tomato-onion compote, morbier cheese, peppered brioche bun and pommes frites.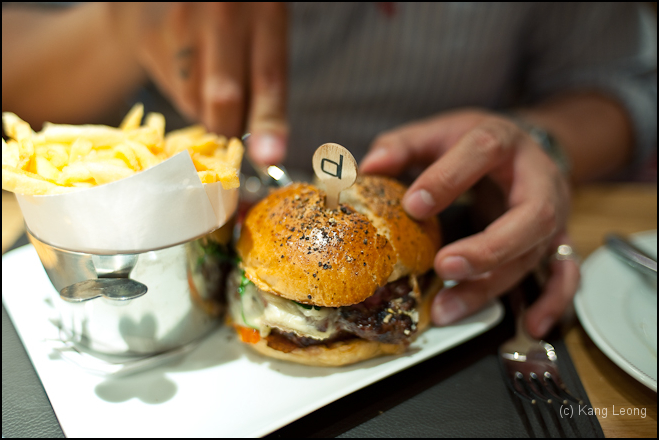 Everybody has an opinion on what the perfect burger is meant to be, critics, blogs and chefs included. Daniel Boulud was one of the leading chefs to re-invent the American hamburger as an upmarket dish, as opposed to simply being fast food. Actually if our waiting times were anything to go by, a hamburger at BB is anything but fast. Some were disappointed that Daniel did not import his original gourmet burger "The DB Burger" from the Bistro Moderne branch in Manhattan that he introduced nearly eight years ago. Featuring chopped Sirloin Burger Filled with Red Wine Braised Short Ribs, Black Truffle, served on a Parmesan Bun with Pommes Frites or Pommes Soufflées (that's lifted from his website). I wonder how the humble Germans who migrated to America (along with their Hamburg-style burgers) would feel about the evolution of their dish over the ages. What's next in the quest for the ultimate burger I wonder – burger mousse?
As an aside, I've actually been to Hamburg to try the 'original' hamburger, the frikadelle (some with say a cousin rather than direct predecessor to the American hamburger), schnitzels sandwiches, as as well as Labskaus, and so it appears there is life outside of Anglicised American burgers…
On to the pseudo reviewing then. Using Marcus as my handmodel, this gives you an idea of the size of the burger, it will fit perfectly into your hand – the ability to be able to cup a burger in your hand comfortably is an important consideration… so the burger experts tell me, which I am far from.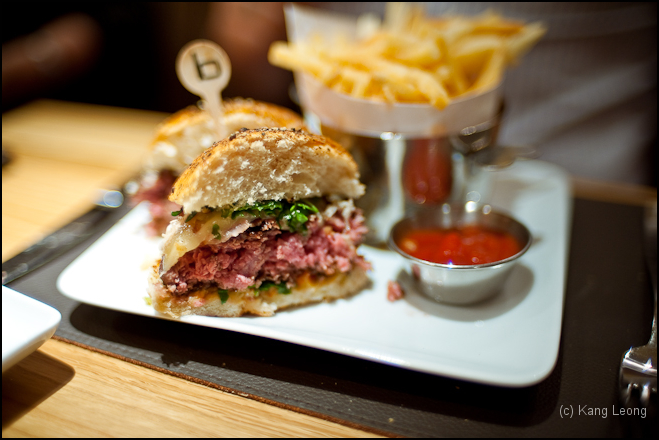 Regretfully, this did not meet either Mark's or my own expectations. Personally, I'm a simpleton when it comes to burgers, so long as it is beefy, oily and juicy, has a sharp cheese to accompany, bit of mayonnaise, everything holds together, I'm a happy camper. KISS no? I prefer Byrons for exactly this reason, and I also think Byron patties tend to come infused with this wonderful charcoal, intensely bovine, fatty, starchy flavour that is just – for want of a better term – perfect. Explains why they are popping up all over London.
The BB version had a great bun in the slightly sweet brioche. Frites were excellent, a fluffy centre, crispy exterior, but that's about it. The patty itself lacked flavour, and if we were comparing steaks, it was as if it were too lean, a fillet as opposed to a ribeye. Bland and dull was the assessment. Cooked to a perfect medium rare, mildly juicy, but for £13.50 ? Bring back the Big D.
The Byron Big D that is, although, we swiftly popped into O'Sheas which was a ten minute walk from BB after our meal to check out the patties there, that Gastro1 – the hugely respected restaurant collector – tells me is indeed the Big D patty supplied to Byron earlier this year.
Actually speaking of the burger craze gripping the capital , I wonder if now is the perfect time to relaunch Burger King's 2008 £95 'Bling Burger' (still stands as the World's most expensive in the Guinness record books) that features Wagyu beef, with white truffles, onion tempura prepared in Cristal champagne and Italy's finest Pata Negra prosciutto. Hey I remember popping over to my local BK at Gloucester Road and asked for a flyer (which I have misplaced) and it required a 24 hour notice to prepare it. I don't remember any burger fanatics writing about it though.
Hawkmoor? Byron? Goodman? Anybody want to bring this back? You know there is a market for it, you've read the reviews.
In the end, I was nearly fuming when the surly waiter requested the table back five minutes before our allocated two hours were up. Ironically, he came just as another waiter handed us the dessert menu. I had only started browsing as he told me "Time is up.". Keeping in mind, we waited half an hour after the starters to get our main course as well. Sadly then, I decided not to give any more money away, what sorrid service indeed.
I agree with Marina. I'd much rather be wishing for takeaway as the room was simply too chaotic as it got busy. But it's not all bad, there is a lounge-bar area (separated from the dining room and away from the kitchen and closer to the windows) which is quite a refreshing space. BB is ideal for power lunches, maybe even a small gathering, basically something a little less formal. I'd ask for a double slot for four hours for a grazing lunch, if possible. It might not be the ideal dinner venue, but maybe it was never meant to be, being a sort of half-way house of fine fast food dining. Food-wise there is alot to love, I would come here again, the next time it will have to be a charcuterie board, more sausages and more soup. Until Daniel brings over the genuine article, the truffle-stuffed sirloin "The DB Burger", we will never really know what Boulud's best burgers are really like.
Finally I think there must be some sort of case study to be drawn from the amount of media (both old and new) around BB's opening. That's not including twitter chatter, forums, comments, the general reach of social media. I can see the positives. This new world of food media (or not-so-secret policing as some call it) has always been the future of restaurant critiquing. At least from the point of view of the reader. In this regard, the synchronized nature of a wider network, a loosely affiliated 'restaurant-going club' encompassing critics and bloggers who routinely prepare targeted, well-informed, entertaining and most of all critical commentary about the latest restaurants can only be a plus for the reader such as yourself. A treasure trove of information available to you to make an informed decision when choosing to eat out. With food being subjective as it is, all opinion, positive and negative, count. A democratic view. So it appears, critics and bloggers can co-exist afterall.
The Gist of It
Bar Boulud
French, £45pp
66 Knightsbridge SW1X 7
Tel:020 7201 3899
Tube: Knightsbridge
And these are just the ones I know about..
Jay Rayner ; Greedy Diva ; Gastro1 ; Fay Maschler ; Hot-Dinners ; Guy Dimond ; Tehbus ; The Grumbling Gourmet ; TwelvePointFivePercent ; Chris Pople ; Gourmet Traveller ; The Independent ; Matt Norman ; AA Gill ; No Expert ; Essex Eating ; The Hardens ; Food and Drink in London ; The Travel Editor ; Will Eat For Money ; City AM ; Dos Hermanos ; Nick Harman ; View London ; Parla Food ; GlazeonFood ; Urban Junkies ; A Luxury Travel Blog ; Andy Hayler ; Fiona Beckett ; Richard Vines ; Good for Lunch ; DeplacementPros …. and of course the elusive Marina.
Did you enjoy reading this? You can subscribe to the Newsletter. Alternatively, you can subscribe to the RSS feed.