The River Cafe official site
Rainville road W6 9HA 020 7386 4200
Set Lunch £24 for 3cs £32 for 4cs ; Antipasti £10 Primi £15 Secondi £28 Dolci £7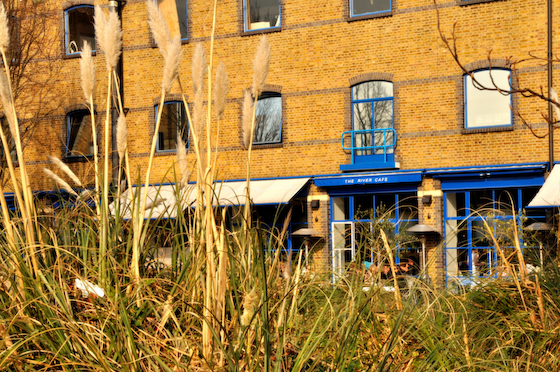 The tides were low and the shallow waters were shimmering. The oddly perfect spring weather was blindingly surreal as I made my way toward the riverside in Hammersmith. There really couldn't be a more remote location to house the legendary restaurant –  lovingly restored after it's incident last year – that once trained Jamie Oliver. I was quivering a little as I negotiated the challenging upside down door handle at the entrance. 'Turn left' it says. Turned.
Folks, I'm going in.
Ruth Rogers rocks.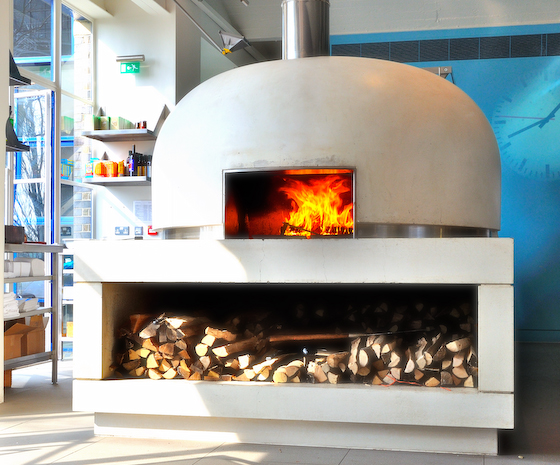 The dining space is both inspiring and intimidating. Everything is but one big, open plan space, the exposed kitchens, the exposed wood fire oven, the huge windows, the exposed tables, and right at the very end of the room, just in front of the kitchen, one bears witness to a powerful head chef at her helm. Enter Ruth Rogers, her american accent and her curious counter/podium sort of thing, on which I can see bowls holding various garnishes and a big bottle of olive oil. All cooked dishes are brought to her where she then authoritatively gives her kiss of approval before it finally gets sent out to the guinea pigs guests. She was like a captain stewarding her mighty ship, and I even spotted the odd lesser known TV food personality going up to her to pay their respects.
A truly awesome woman who would put Marlon Brando to shame. Yup I need some booze. Two glasses of that crispy dry Pinot B, please.
When reputation exceeds expectation.
The ala carte is a tad more expensive than it's michelin contemporaries. If my calculations are correct, it's about sixty quid for four full courses. I think the going rate for one michelin star taster menus is about £55 in today's climate; In any case, I plonked for the winter set menu. Four courses at £32.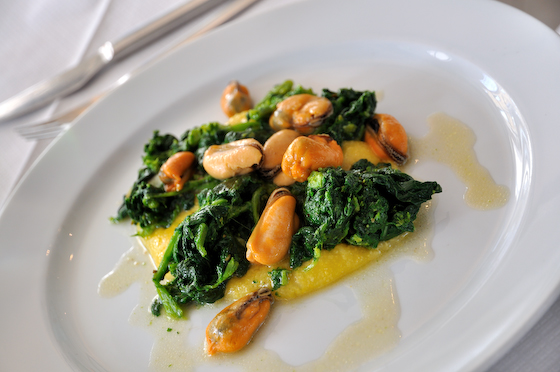 Soft polenta with mussels, braised cima di rape and pinot grigio hofstatter
Jumping straight into the food: the polenta gently sizzled with warm sweetcorn sensations. The smooth brothy consistency was only occasionally interupted by the grainy sweetcorns and it gelled nicely with the moist cima di rape leaves – bit like a spinach –  leaving me with a very comforting feeling. The guesteater usually finds her dishes underwhelming (to say the least) but gosh she was smiling with every bite of the mussels.
Smiling. It was pretty good.
Something is fishy
I should point out that the guesteater only took down two dishes on this visit, a primi and a secondi, while I did full whack.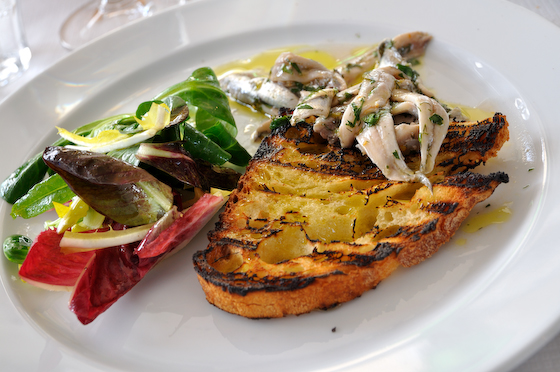 Marinated anchovies with chilli, lemon and olive oil with bruschetta
What is it with blowtorches or grills and why do restaurants feel the need to make me eat burnt carbon? Sure it looks cool with the grill lines but you may as well throw in a block of charcoal instead of taking the trouble to burn the toast. Thankfully, the cool anchovies were silky and the surprisingly mild flavours had me fantasizing about the Sicilian sea…. and then I came back to reality and somehow regretted my decision to go with the anchovies. A little underwhelming being that this was a rather simple dish. They were good anchovies, but there wasn't much else to get excited about.
I didn't know pasta could taste this good
Pasta is one of those things which is impossible to mess up. You boil water, chuck it in and add sauce for flavour. Does my world famous cury fish spag (yes, my curry fish spaghetti) taste awesome, sure.  Will it blow tastebuds to smitherings, doubt it. That was my vector of approach with this pappardelle with rabbit.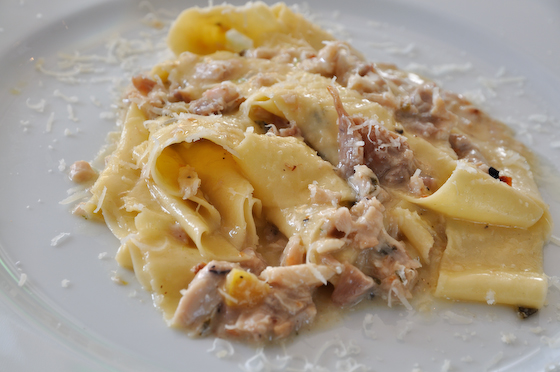 [Hand cut pasta with roasted rabbit, porcini, i sistri chardonnay and thyme]
I took a glance at Ruth first and all the while thinking to myself 'Blow my mind, Chef, I dare you.' before I stuck my fork into my mouth. If I was a sentimental guy, tears would be flowing as this dish just took my breathe away. Just the strength of the parmesan was enough to evoke a pulsating fragrance that was matched by an umami rich sauce that was like a cream without the cream. The tender chicken chunk-like rabbit was a heavenly bite and the intensity of the sauce was balanced by what tastes like lemon zest. As for criticism, I thought the pasta was a little overcooked, or perhaps made a little soggy with the wine. It was mushy on the bite, but at least it had a refreshingly resistant bounce as I chewed on it. I'm not sure if the pasta was designed to be chewy soggy, I mean it was pappardelle at the end day, hmm, don't know, can any Italian London eaters confirm this?
Pasta grumblings aside, formidable. I can still smell the parmesan as I finish the dish, and loved it.
Monkfish tales.
You know there's a tipping point (not the one with the glasses) during a meal when you just think this is going to be a wonderful meal and then you realise that it really is and several days after the fact, the memory of the meal is a good one. Of course one might argue that could also be due to the company of the person you're with, who in my case, chose the monkfish as her main.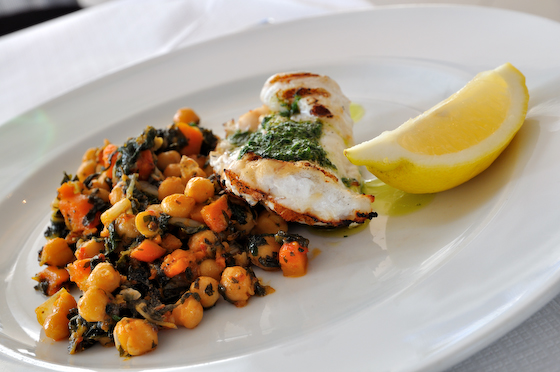 Chargrilled cornish monkfish with 'inzimino' of chickpeas, chard, chilli, carrots and lemon
I have very fond memories of this favourite Italian ingredient when I spent last summer in the very sunny port town of Milford Haven in Wales. This seared goodness from the sea was a robust recipe. The herby fragrance of lemon and (what appears to be) fresh oregano was welcomingly paired with the springy fish. Personally, I would have preferred it with fifteen seconds less charring as the fish was on the verge of being dangerously dry, though I thought the shallots, chick peas and carrots which accompanied the fish were comfort food central.
Parma ham should never be cooked.
I tore my hair out as the waiters brought out the seared scallops and wondered why I didn't order it. Instead my main course was a pork leg.  I have my reasons for going with this dish.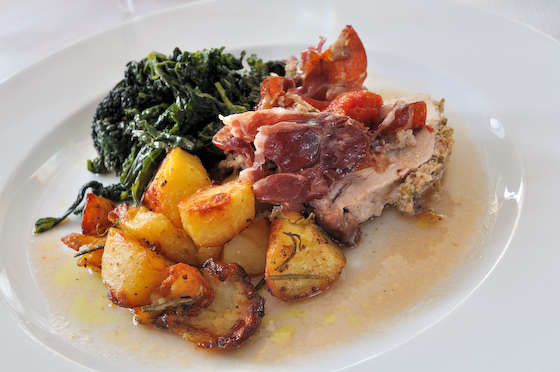 Pork leg wrapped in coppa di parma with rosemary & fennel and roasted in Chianti le Fonti with tuscan roast potatoes
A few moons ago, I was at this Italian place called In canto in Harrow and had pork leg too. While everything about that dish was horribly wrong (from the honey to the saurkraut); the pork leg was, indeed like the man in the suit said: 'cooked to silky perfection'. I genuinely thought the moist meat was heavenly and wanted to see how it compared withthe river cafe's michelin kitchen  …. and I'm sad to report that the River cafe didn't deliver on this one.
There should be a rule somewhere which bans cooking parma ham whatsoever. All the sweet, nutty flavours and silky softness – when cooked – becomes this denatured pile of dried jerky that just smells wrong. Small matter, I'll just scrape it aside.
Yes, the roast pork was hearty, the stuffing was well seasoned but the meat was bonedry and tough, it just tasted overcooked. Where was the silky, falling off the bone texture? It was just a shame about the meat, because everything around it tasted good; the potatoes were crispy, the cabbage was tasty, the ham… (let's not go there again) oh just that dry pork, I just wanted it to work but it didnt. It just didnt.
(man, am I sentimental.)
You, my nemesis.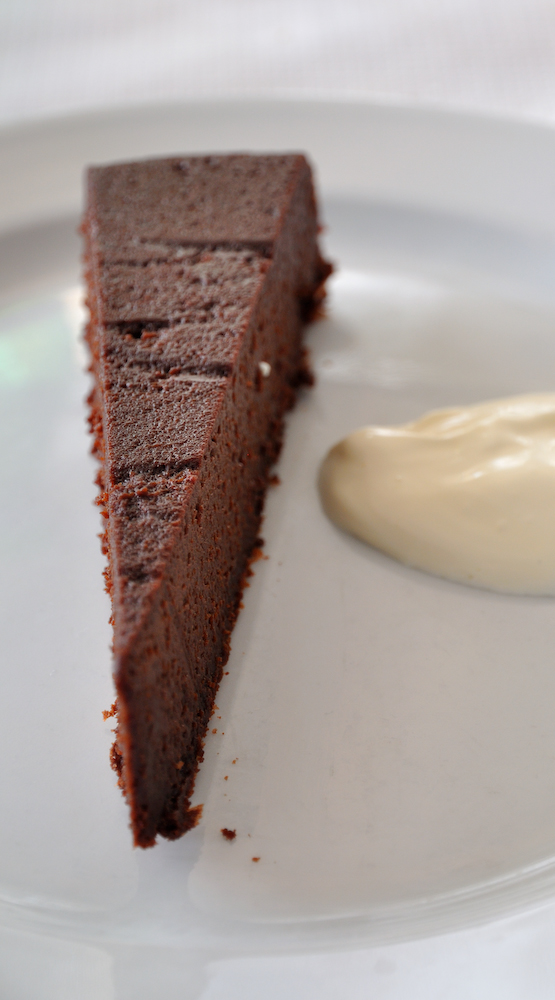 Gazing deeply into the wood fire oven, I see pizza.
Is it really over? Time really does fly by when you're having fun and there's just the small matter of pudding left in my way. There was a choice of going with the ricotta, hazelnut and lemon pie ; the caramel ice cream or the Nemesis. Small wonder which one I went for as I couldn't pass up the chance to eat a chocolate mousse with a name designed to challenge my tummy. As I neck the last drips of my blanco and chip away at the reformed block of rich chocolate with bubbles, I couldn't help but recount the dishes I just had. Save for the dry pork, every dish was a mini gastro trip to foodie heaven.
Was the food truly authentic Italian? Gawd knows. I think it's more Italian inspired than strictly Italian, there is some genius in the cooking, though I'm still abit miffed about the dry meat and soggy pasta, not sure they are quite worthy of a michelin star. I know it's just a set lunch menu, but I keep the view that if one cannot get a set lunch to rock, then one will have a hard time convincing diners to rock the dinner menu. 
Still, I think that the river cafe's rockstar status is secure, my set lunch rocked, a little. Niggling as it were, I still enjoyed my meal. We noted how this place looked abit too much like it was designed for a business luncheon and for retiring couples. We weren't half wrong when we turned round to have a look see at the clientele; Afterall it's original design was intended as a company cafe in it's early days. Not quite my best £32 set lunch in London but close enough.
The Gist of It.
The River Cafe official site
Rainville road W6 9HA 020 7386 4200
Set Lunch £24 for 3cs £32 for 4cs ; Antipasti £10 Primi £15 Secondi £28 Dolci £7
Verdict: The river cafe is a bit of a landmark in the city; some loathe it but many still worship it. I enjoyed my lunch, but I do wonder about some of my dishes being a tad overcooked….

Did you enjoy reading this post? Why not subscribe to my feed updates for free. Alternatively, You can subscribe via email.