The Square official website
6-10 Bruton Street, Mayfair W1J 6PU 44 (0) 20 7495 7100
£ 35.00 set menu , £ 75.00 a la carte three courses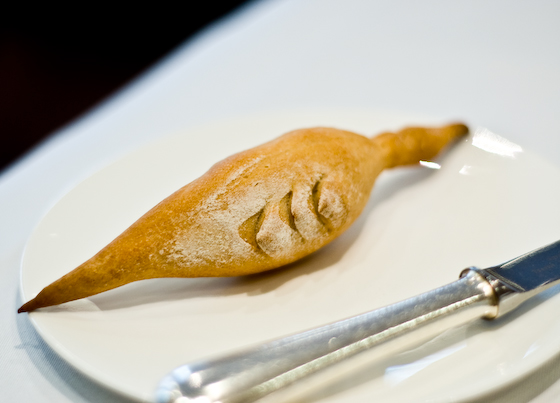 There is cause for abit of celebration because this is my 100th post. With that, it is only appropriate that I mark this momentous occasion with a write-up on one of London's pre-eminent restaurants; Philip Howard's The Square. A two Michelin star establishment, I duly avoided the set menu and blew my load on the a la menu.
The Square is not quite in the world top 50 (yet) – but in London, it's quite highly revered. The man in the hot seat -a certain Mr Howard- was once a former apprentice of the mighty Roux Empire and he also served under the temperamental genius of Marco Pierre White. As of 2009, Philip has achieved dizzy heights in culinary terms – an artist seasoning his works with shades of French sophistication, everything about Philip and The Square screams glamour. Including the location of the restaurant in Bruton Street, tucked away in Berkerley ( 'Bar'-ker-ly) Street which is home to luminaries such as Nobu B. and Benares.
Folks, I'm expecting fireworks from this one, you better pull up a chair.
An entry worth a century of posts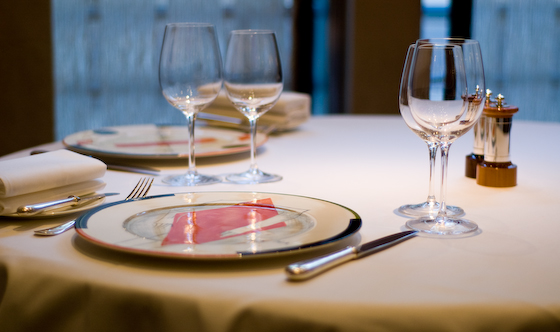 You know what the hardest part about writing a review is?
The first couple of paragraphs. I never really know how to strike the right balance between rambling on too long about background versus grabbing your attention against the backdrop of setting the scene. I tell you now, the bigger the reputation of the restaurant, the harder it is to begin. Because it's so bloody posh, I feel the need to at least pay the chef respect in his attention to detail ( and his massive spending ) in making sure everything looks the part and that gaining entry to the restaurant is almost going to guarantee a silent gasp from guests.
Gasp.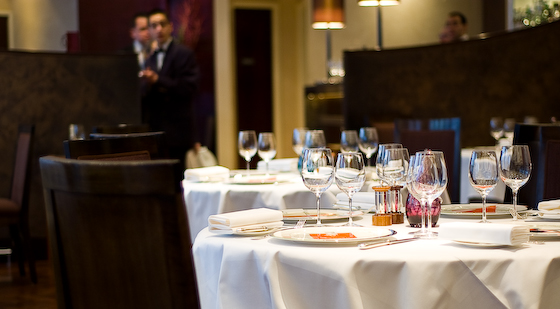 It is the first work-day of the new year as I write this and I'm still feeling my way back into the swing of things. So far I still feel like I'm just getting to know you again and we are both being rather polite to one another, as if we haven't spoken for a while. So let's start with:
"How was your break? Did you have a good time away from your nagging co-workers? I bet you were quite glad to see them again today weren't you?"
Alright, we're making progress, the restaurant has high ceilings, that's the first thing I noticed and an open-plan eating area reveals a mess-hall style dining space with glowing marble walls and smooth dark wooden floors, this meant that all eyes could see new guests enter the restaurant, like a debutant making her entrance. I for one am no debutant and I just want all eyes to look the other way.
( Except for the rather beautiful English rose sitting with the gentlemen who looks like Martin Johnson in a shirt, hmm, I really should stop staring. )
Menu nu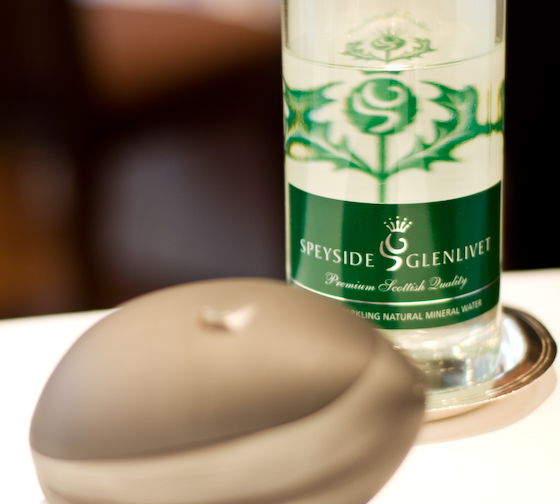 The two pages of large format (A1) feature a rather short list of starters and mains ( I counted about 7 ) and the descriptions are decidedly succinct. Sandwiched in between the a la carte, are A4 prints of the £35.00 set lunch. (£30.00 sans pudding)
Very good value considering the number of stars. But today is not a day to be fiddling with child's play. I went for the jugular with this one. £75.00 for three courses… and a big bottle of sparkling.
Ouch, this better be good.
Pre-starters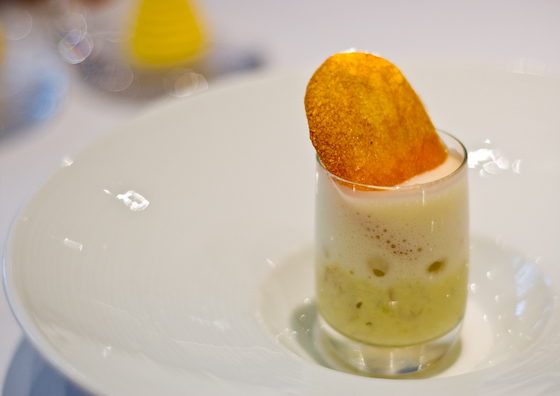 Or freebies.
This one came in a tiny shot glass. My waiter was a red-blooded Frenchman with an all too authentic French accent too. Though I couldn't exactly make out all he was saying (a good thing, this is a French restaurant afterall) , I did get the gist of it, a salted cod veloute (of sorts) with the slimmest slither of potato crisps. Ok, what the hell am I suppose to do with the slanted crisp? Am I suppose to pick it up or dunk it in?
No such thing as a free lunch eh.
I cracked the crisp into the soup and tasted a big spoonful of it. Intense flavours of very salty cod and potato. I can taste the flakes of cod, a good measure of cream, this tasted like fish and potato chowder, heavily salted.
Good, but nothing out of the ordinary, chunky and salty false start. More water please.
Starters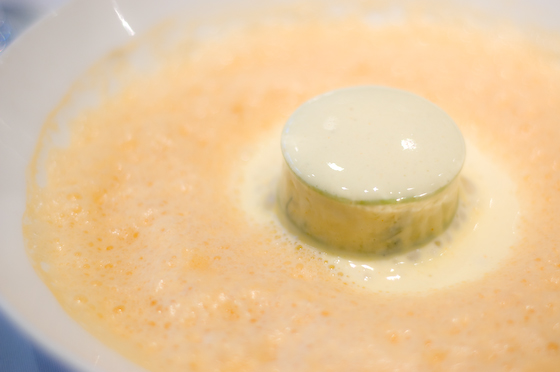 Lasagne of Dorset Crab with a Cappuccino of Shellfish and a Champagne Foam
Finally, my real starter arrives. You'll notice this is one of the rare occasions where I didn't get a glass of something something, to go with the food. While all looks well and good on the wine list ( healthy prices from £6.50 to £13.00 per glass ) , I felt I had already dumped my entire life savings into the meal itself. We are in a recession after all.
( What's that now? Gordy Brown said he's learnt from recessions of the past?! This from the man who vowed he'd done away with boom and bust. You're shameful Gordy, that's 25% of my annual take-home and I'm poorer than ever. )
Sniff, sniff. Oh. Fragrant aromas of creamy crab rising from the dish, very mellow and faint though. The dish is very colourful and seemingly glowed with Elven brilliance.
The foam is bubbly in my mouth (you can even hear the crackles) and it feels like it was cooked with lots of crab exoskeleton giving it a concentrated and super infused crab taste. The foam slowly morphs into a soup as I move toward the centre of the dish. It carried a milky texture soothingly smooth – like a good cappuccino – even though I could not detect hints of coffee. (not a bad thing)
In the middle sits hearty chucks of mellow crab and claw meat nestled between soft and chewy layers of pasta. The intensity of the crab flavour set my throat burning a little, though not a bad thing, because my mouth is absolutely bursting with flavours of the dorset sea and salt.
This was a lovely start to the meal, I felt a kind of serene calm as I finished the soup.
Look see in between the courses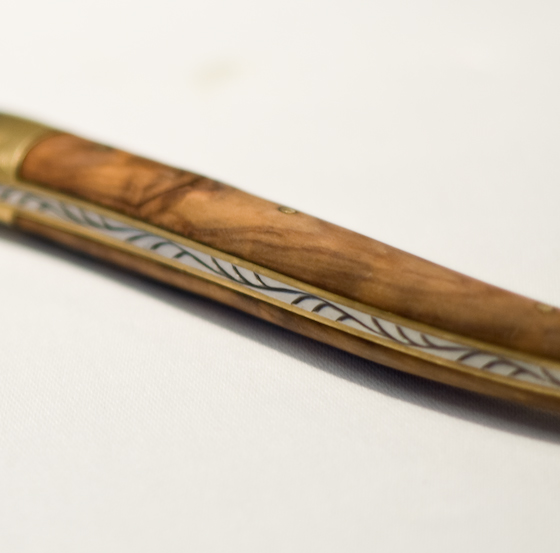 I counted about twenty tables, smooth dark wood floors in a zigzag pattern. The open space enough had enough spot lights for brightness, the chairs were sturdy and comfy, spotless white table cloths on top of grey woollen sheets which act like a sort of under-dressing to hide your legs and keep your tushy warm.
Most of the walls are of a creamy marble giving a neutral warm feel, though the 'main' wall, behind where the kitchen sits (I'm guessing) is a bold claret red, almost dark pink, seemingly indicating something hot is cooking on the other side.
Mains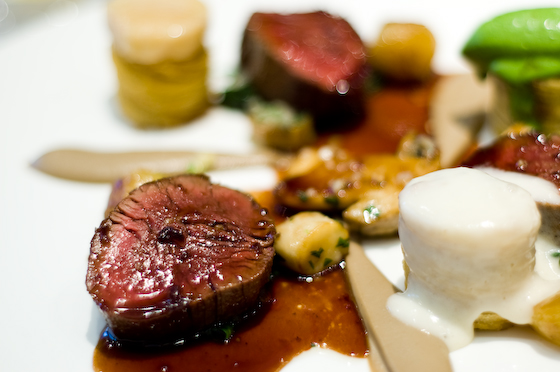 Fillet and Croustillant of Aged Ayrshire Beef with Cepes, Shallots, Bone Marrow and Red Wine
I love my red meat, I am normally a rib-eye sort of guy, I prefer abit more marbling and flavour in my steak as oppose to a skinny fillet. But on this occasion, I sprung for the most luxurious pick from the menu.
The rising steam carried hints of mushroom, sweet shallots and fragrant red wine. I couldn't help but cut into the beautifully prepared beef. I asked for it to be medium rare (as per usual) and it was indeed a beautifully medium rare. I should say perfectly medium rare. The beef was not just tender, it was soft (yes, there is a difference). The taste of the beef was not overpowering but instead paired perfectly with the main ingredients of mushroom, red wine and spinach in balletic harmony.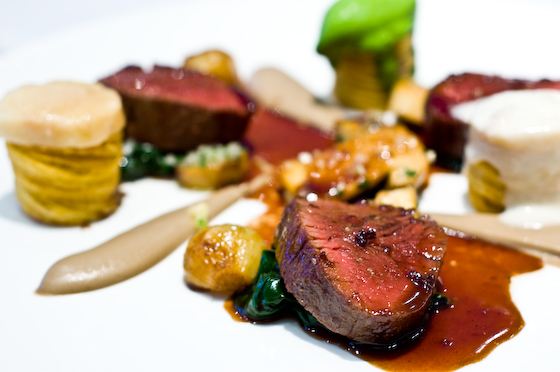 Just the beef and spinach alone was a winner – this was a perfectly cooked steak with classic flavour pairings. In addition to the beef was an interesting axis in the form of these three parcels shaped like a kind of shot-gun shell with a potato & beef hash filling. The outer shell looks as if it is made from fried batter. Inside the shell, is a concoction of shredded beef with carrot and potatoes. I can taste the white pepper and there is abit of smokiness suggesting it was pan-fried.
On top of each of these three parcels are three different toppings. The first, was bone marrow. On it's own, it tastes abit weird – like oddly flavoured murky water reformed into a kind of gelatin, but with the shotgun shell, it was creamy and dreamy. The next parcel had a light and foamy parsley cream mouse. It added a sort of fresh elegance to the flavour profile. I don't know, I didn't quite have enough adjectives to describe this. Finally, the one with a kind of white sauce smothered over it was balanced and brimming with flavours of garlic & vanilla bouncing about threatening my tongue with mini bombs.
Everything tastes as good as it looks. All was very well cooked, all flavours on plate are masterfully matched together, albeit they were classic combinations and were no brainers to pair, but the attention was on it being masterfully prepared.
I can see why The Square is a 2 star establishment. I don't think I've ever tasted something quite so perfectly cooked before.
More look see
Adorned with abstract art, The Square has rectangular paintings. Hm. Makes you think doesn't it? Staff are lovely, French with French accents and all of them are rather charming, quietly and unintrusive. How do you say in France – formidable?
Pudding!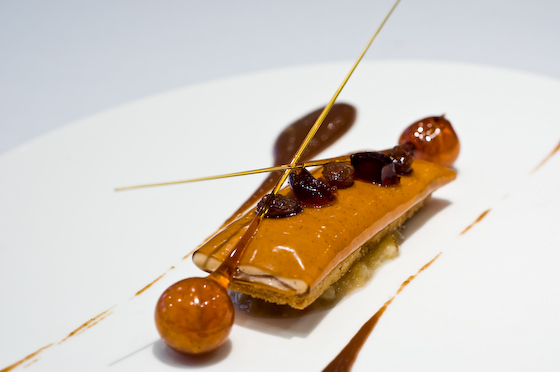 Praline Mousseline with a Macadamia Sablé, Crushed Banana, Pedro Ximenez Jelly and Steeped Raisins
The banana is refreshingly cold against the crusty shortbread. The flavours marry nicely with the praline, nutty hints of alcohol in there and the jelly is bordering chewy giving it much needed body. The jelly is abit like a dark herby caramel sugar. Those candied macadamias were like jaw breakers and felt rather like I just ate the decoration. Ouch.
Date sauce was a godsend, it's light and creamy texture took the dessert into the moon. Liftoff! Sweet flavours but not overly sweet, well done, balanced, light and surprisingly good.
My waiter was hesitant to recommend this to me citing that 'it's abit different' , he pushed for safer choices and hinted that their cheesecake is a signature dish. Like Mr Powers, I too, like to live dangerously… and it paid off.
Valedictorian, Class of 2009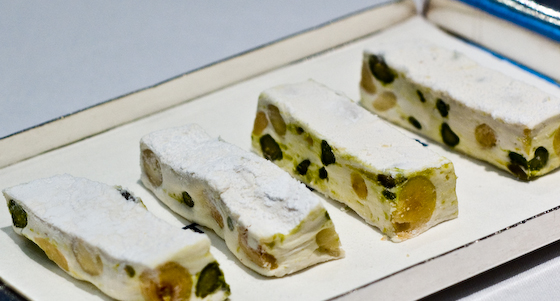 I can safely say that this is the best meal I've had in the new year. This is the benchmark. Is it going to be beaten? I don't know, maybe Le café e anglais or St Johns perhaps? This is my 1st experience of a 2-star establishment, and I can see that the cooking is a cut above the rest. There are only 5 of these 2-stars in London. Like a virgin, I can't say I have anything to compare it against, the closest is probably the 1-star places I've eaten at, but L'autre or Hibiscus have got nothing on the high cooking here, the gap between 1 and 2 stars is very wide it seems.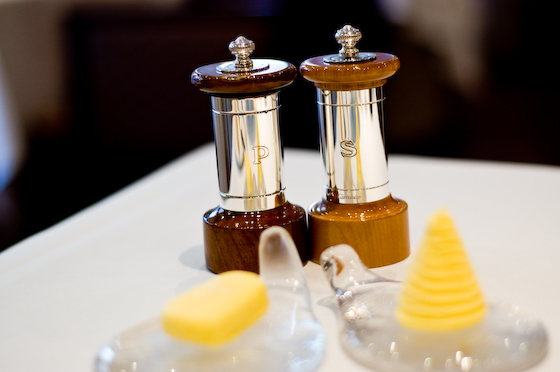 I'm still abit miffed as to whether these salt and pepper shakers actually contain anything or if it's just table decoration, because you need none of that here, food is perfect.
I'm curious to see how something like the Fat Duck –only one of the most highly regarded in the world- compares against this one. My birthday is in July, do you think a seven month advance booking is enough time for a July three-star dinner?
Let's hope so.
The Gist of it
The Square official website
6-10 Bruton Street, Mayfair W1J 6PU 44 (0) 20 7495 7100
£ 35.00 set menu , £ 75.00 a la carte three courses
Verdict: If your pockets are still that deep in 2009, then you can do no wrong here, otherwise set menu is £35pp.
Did you enjoy reading this post? Why not subscribe to my feed updates for free. Alternatively,  You can subscribe via email.