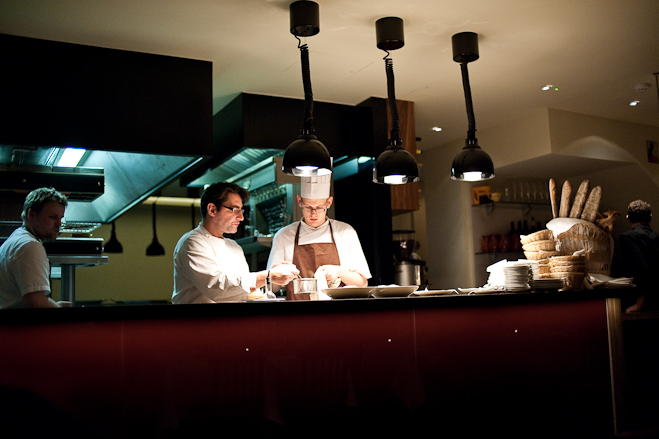 Having to update my list of favourites is the least of my worries, and this is probably the only time, in my time as a blogger, that I feel devastated enough to compel me to write a few words about the closing of a restaurant, and the factors which surround it, considering the strong blog presence, it did not lead to conversion.
First wind of the sad news came through the twitterwire, rumors of a fire which had broke out in the night, and in the morning Bjorn annouced he was shutting his restaurant because "It was the melange of too much in a very difficult time".
Those who follow my mad ramblings will know how much I loved Eastside Inn. Bjorn van der Horst is a meritoriously talented chef, who emerged from successful stints at The Greenhouse and Gordo's La Noisette to open ESI with his wife Justine in late 2008.
I remember how ESI opened, knee-deep at the height of the recession, with not one, but the concept of back to back eateries; on one side, was a bistro, with the fantastic open kitchen, that had become its signature; and the other side was a super fine dining room that served an off-the-cuff taster menu, which was fucking brilliant. And also ingloriously expensive to the tune of £70 for three courses, but simply amazing. So much so I thought it was my best meal in 2009 and that Bjorn's future was to be filled with stars and become a future institution in London.
I can still quite vividly remember one of the best dishes I've had: Sweetbreads, lobster, cepes.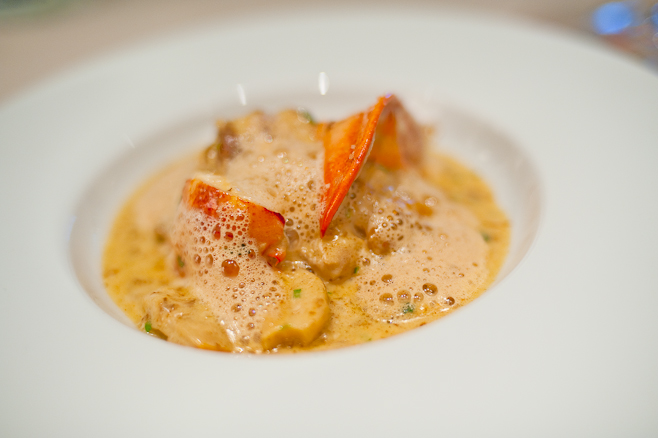 My word it was good.
On my return visit to try the ESI Bistro, the menu was decidedly cheaper, lighter weight, but no less remarkable in terms of cooking.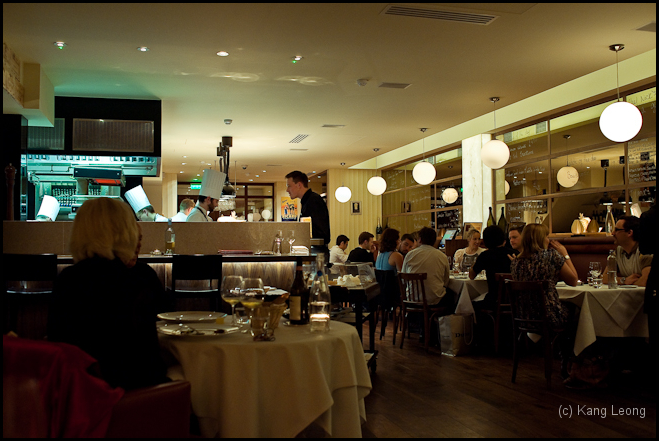 One of the great things about ESI is the team spirit, the heartwarming service and you know, a feel like those who work at ESI are like one massive family. As a diner, I definitely felt the love.
On my most recent and final visit in May 2010, Bjorn had rejigged the restaurant formula a little, converting the fine dining bit into a bar/lounge and turning the bistro into the main dining space, I'd imagine to adapt to the difficult market conditions. Nevertheless, The quality of the fantastic French cooking stayed high, fabulously warm service and now a complimentary glass of champagne for every diner.
If I could just post one more picture, of the onglet and frites.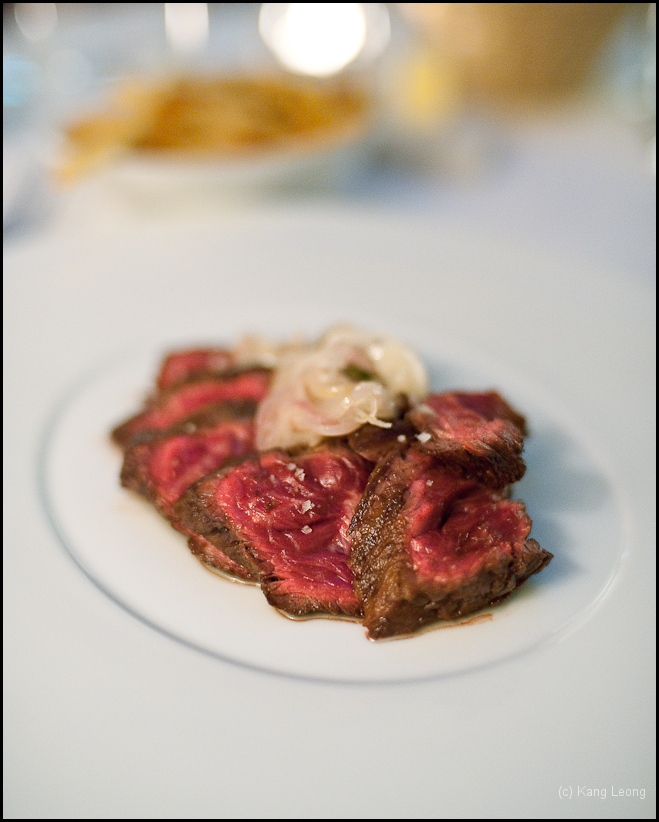 Of course it was amazing.
Really to echo what Aaron has said on his blog, we will miss the superb service, the welcoming ambiance, the breathtaking cooking and the amazing team which Bjorn and Justine had assembled.
I'm not entirely certain why ESI had shut, at least I don't want to speculate for the exact issues Bjorn & Justine had, because I feel that the restaurant business is a hugely complicated industry. It is sustained hard work, long hours and there is always the threat of know-nothing-bloggers such as myself wandering into the room adjudicating as if I know the difference between sous-vide and broiling. And I should know this, since it was the endearing piece of advice my dad gave me that is "to never go into the restaurant business" , as his father was left with pennies after they shut our family restaurant.
But I'll entertain the self-appreciating theory that coverage over multiple blogs might have saved ESI, even though our influence could be more limited than I imagine it to be. Many in the blogosphere share my sentiments for Eastside Inn equally, if perhaps not more so, for all the perceived exposure blogs have, it does not seem like it has the power to compel people to converts.
Leading me to wonder really, that if blogs are simply read by others bloggers (and food writers), and for those who read reviews, do they take it with a great pinch of salt and largely not act on it? If so, are reviews more entertaiment and commentary, as opposed to being something more useful? As one would appreciate, blogs write reviews for all sorts of reasons, but ultimately, the goal has to be the ability to form a guiding voice. Surely that's the endgame, at least it's mine. That or proper shouting to the wind.
On the other hand, bloggers are – by definition – the frontline restaurant goers, so to speak. They get to the all the places which are 'hot', right? But with the enthusiasm to seek unique meals (to blog about) , in turn, it limits return visits. In the two years ESI has been operating, I've only been three times. Whereas before I started blogging, I frequented Cambio de Tercio nearly once a month. So here is this group of 20-30-ish with all that juicy disposable income, but they can't really support the trade because they spread themselves too thin. Double edge sword innit?
Gasp, are blogs detrimental to the trade… ?
Who knows? We need numbers.
Perhaps the restaurant PRs who have successfully corroborated with blogs and consequently measured the impact and effectiveness of marketing restaurants on the internet, could shed more light on this topic. To my knowledge, ESI's blogging events were limited to one reception in July, and it clearly didn't work for them. But as we know, there are equally restaurants out there who have masterfully instrumented internet campaigns with great success.
I think the keyword here is 'conversion'. And conversion as applied to the non-blogging, general public, and not limited to the gastrophilic bloggerati.
I think the internet is merely a small link in much larger pool of communication sources. Lets address the perceived notion that blogs have reach. I wonder if we really do. My humble little outfit only pulls in 50k hits a month; let's assume the heavyweight foodblogs do 100k or 200k a month, if we multiple that by say ten (average number of blog posts per restaurant), that's say 500,000 eyeballs reading said review. Give or take.
Reach is one thing, but the other, probably most crucial aspect of opinion is the trust a reader forms with the author/publication. Credibility and reputation is probably something blogs – as a whole – do not yet begin to compete with old media. It will take time for the public to firstly accept new media, before trusting it. Whose word do you trust more? Guy Dimond's or mine?
My my, did I digress. Getting back to what's important then, what's the way forward for Bjorn's cooking? Obviously, he will bounce back from this stronger than ever, and I know his next restaurant is going to be amazing. But before that, I wonder if he might consider a guest appearance at Nuno's permanent pop-up project The Loft?
Only time will tell. Till then, your greatest fan patiently awaits your return, Bjorn.
Did you enjoy reading this? You can subscribe to the Newsletter. Alternatively, you can subscribe to the RSS feed.
All text and photography on this blogpost is copyright and belongs to Kang Leong, LondonEater.com. If you repost this without my permission, bad things will happen. So please don't do it.