For a neighbourhood restaurant, this place sure has a history, not all of the good kind. While there are those of you who reminisce about the good old times, others have only scathing words to say about this Primrose Hill establishment, especially since Mark Powers took control of the reigns in 2006. I never had the pleasure of dining in its former mirror-walled iteration. Ownership however has since transferred to Bryn Williams, the Welsh prodigy who took the first season of GBM by storm with his winning turbot course for the Queen's 80th. Floral patterns remain as wallpaper, the chairs are still of a yellow shade, and the carpets keep their garish green.
This is one restaurant which I didn't pick because of recommendations, since few recommend it. Instead I was reminded of Bryn Williams' talent after I had a quick sampling of his minty lamb & peas at Taste of London earlier this year. What I wanted to try was his winning turbot dish, but that sold out within minutes of his stall starting to take orders for it. Inception. The seed of the idea had been planted and plans to visit his restaurant were readied. Bryn's career has been a glittering one, having worked for MPW, Le Gav, the Orrery and Galvin at Windows in its early days, before joining Mark Powers for his tenure. On a rather peaceful Saturday afternoon in July, we wandered down this particularly serene part of North London, leading toward Primrose Hill, taking to the neighbourhood, and we noticed how a good proportion of the local community were of a furry kind. It was only as we settled at one of the tables outdoors, did we realised that Odette's was next to Primrose Hill Pets.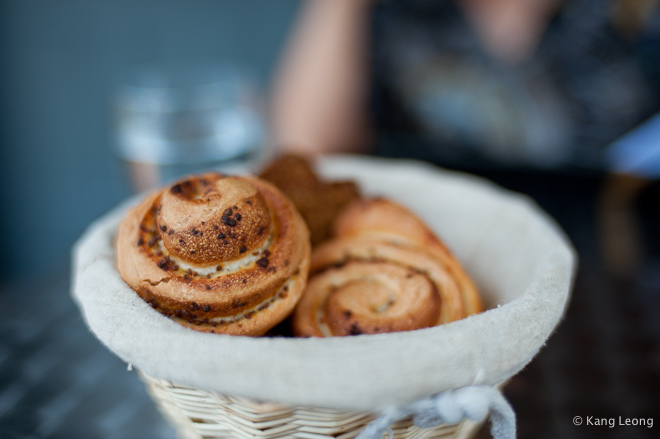 Service seemed to move in the bus lane, minutes pass before a menu arrived, and more minutes pass before the bread basket and yet more minutes before cutlery was laid out on the table. By then, we had already finished the bread, forgoing etiquette by tearing the bread off and brushing it directly against the knob of butter. The bread was excellent, soft and warm, I hazard a guess that it was like a brioche, with mustard seeds. The set menu was an attractive proposal, at the asking price of £14 for two, and £18 for three courses – surely a steal, even by North London standards. The a la carte was much less forgiving, three courses hovering too close to the £40 mark (£10/£20/£10). The taster is 7 courses for £60…. just a little much for lunch. The better half opted for the set, and I went ala carte. Oh we did inquire, and was glad to know that Bryn was in the house during our visit.
Starters.
Oxtail Cannelloni with Tomato Fondue. (Set Lunch)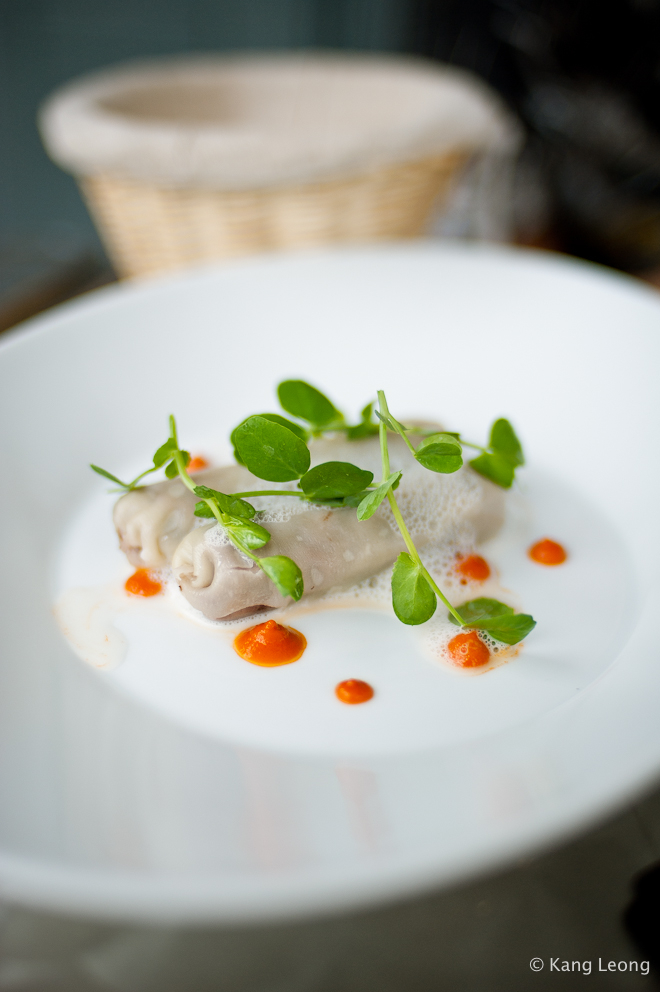 …. and tasty washing-up froth, and here I thought foam had long gone the way of the dinosaurs. Flavours of red wine and shallots, with silken and sticky pieces of oxtail stuffed inside the (questionably coloured) pasta, but which tasted absolutely delicious. The tomato fondue, a concentrated paste which helped to brighten up the palate. The missus liked this one, it was simple, well cooked food that was thoughtfully presented. The foam is pardoned.
Roast wood pigeon with vanilla foie gras, £10.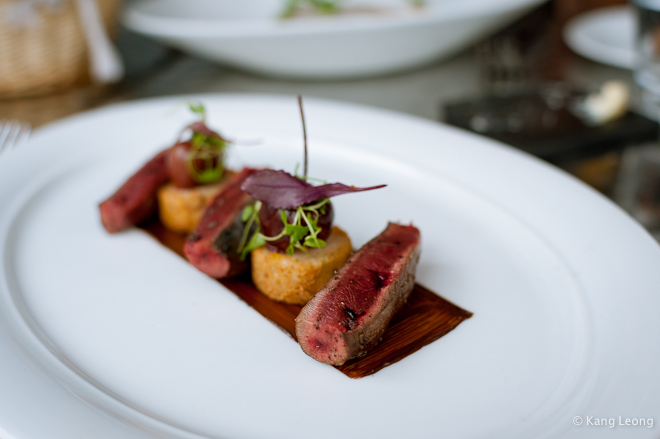 And cherries, with a chocolate paste. The pigeon was beautifully rare, served at room temperature which for me equated to being well rested. A crackle of pepper, and surprisingly sweet foie gras, mousse-like and whippy. Cherries and a dark chocolate sauce had me confused with it being a blackforest gâteau for a split second, although I thought the tarty pigeon worked well overall. It was satisfying, I enjoyed the textures of this dish, neatly executed.
Confit of haddock, pakchoi, shellfish bisque, horseradish fishcake. (Set Lunch)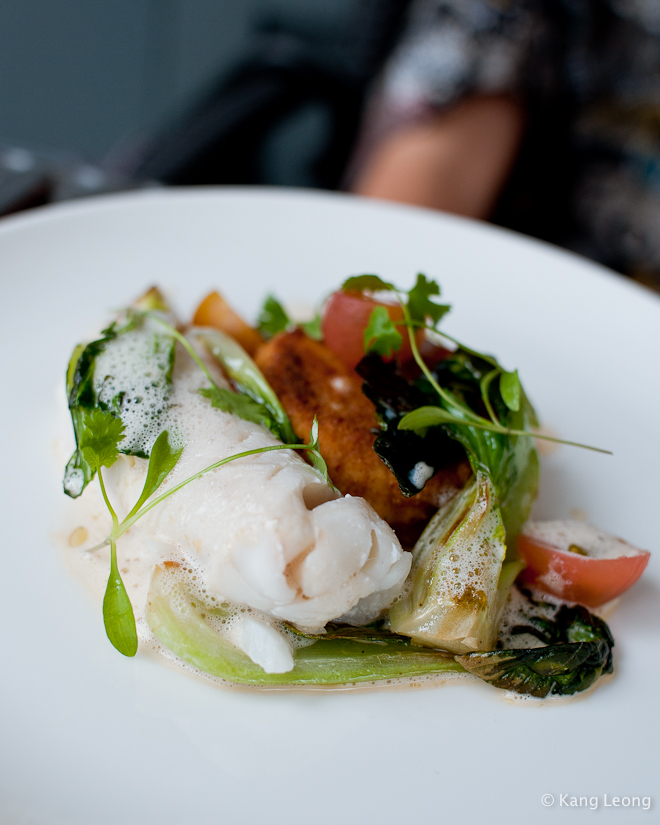 The better half is a massive fish lover, which also means that she is hardly impressed when eating out, as fish is so easily (and often) overcooked. However, she cooed as took her first bite of this – it was seriously flaky. I followed with my fork and it raised my eyebrows too. Pillowy, silken and wet, what lovely texture. The juicy pakchoi was a nice touch, the wetness adding to to the dish, but we thought the real winner on the plate was the fishcake. It had great flavour, a stinging herbiness, perhaps of parsley and chives with subtle flavours of the sea, complete with a grainy chowder-like texture. It was another well executed dish, harmonising elements.
Turbot, oxtail, samphire and cockles. £21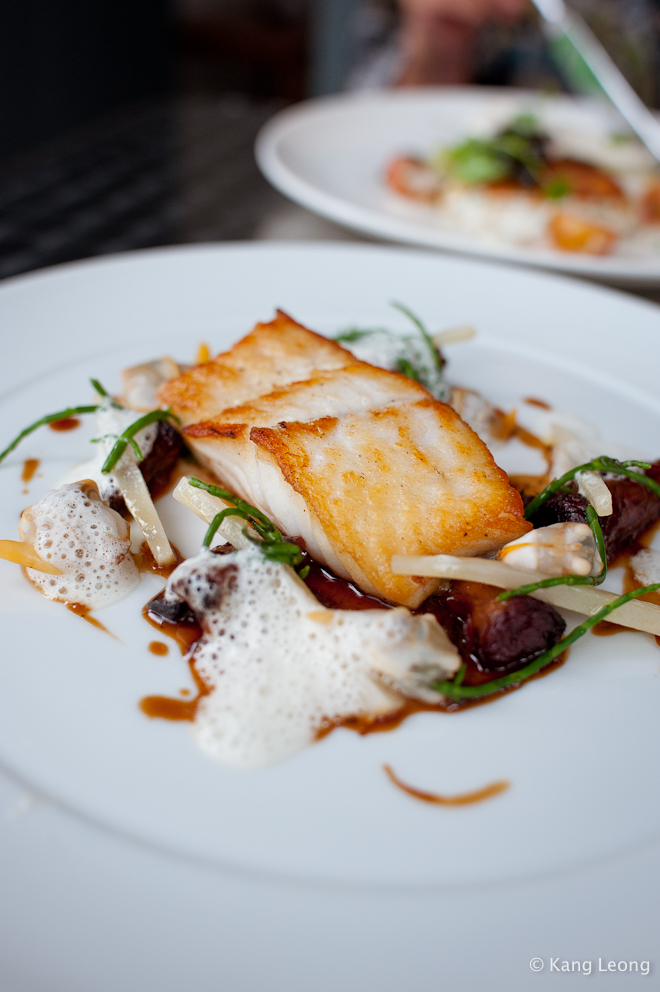 It looks just as I remember it when I first saw it on TV five years ago. The froth had flavours of garlic – functional if superfluous – that paired well enough with the crisply crusted turbot. It wasn't overcooked (turbot is a tricky fish afterall), just a tad under, and taking on a spongy chewiness. I enjoyed the interplay of textures, the flossy oxtail, the straw-like samphire, the rubbery cockles, and another crunchy root vegetable which we couldn't identify. White asparagus perhaps? Celeriac? I don't know. There was a foraged feel to this dish, it felt like it belonged in an indiscriminate seaside restaurant, the individual elements clicking to make a balanced dish. It was very easy to eat this, and I think the simplicity was probably what made it charming.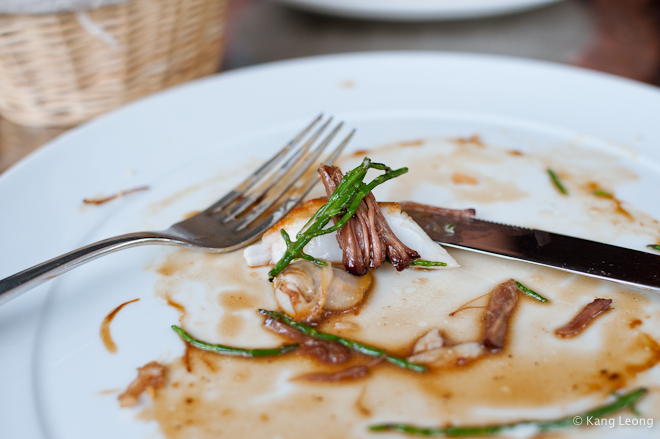 Let's strip away the pretension for a moment. Nicely cooked piece of fish, fresh cockles with its natural saltiness, a brawny sauce accompanied by the oxtail with which it was (probably made from), and samphire, crunchy and also natural seasoned. That's good food.
Walnut and carrot cake with carrot sorbet (set lunch)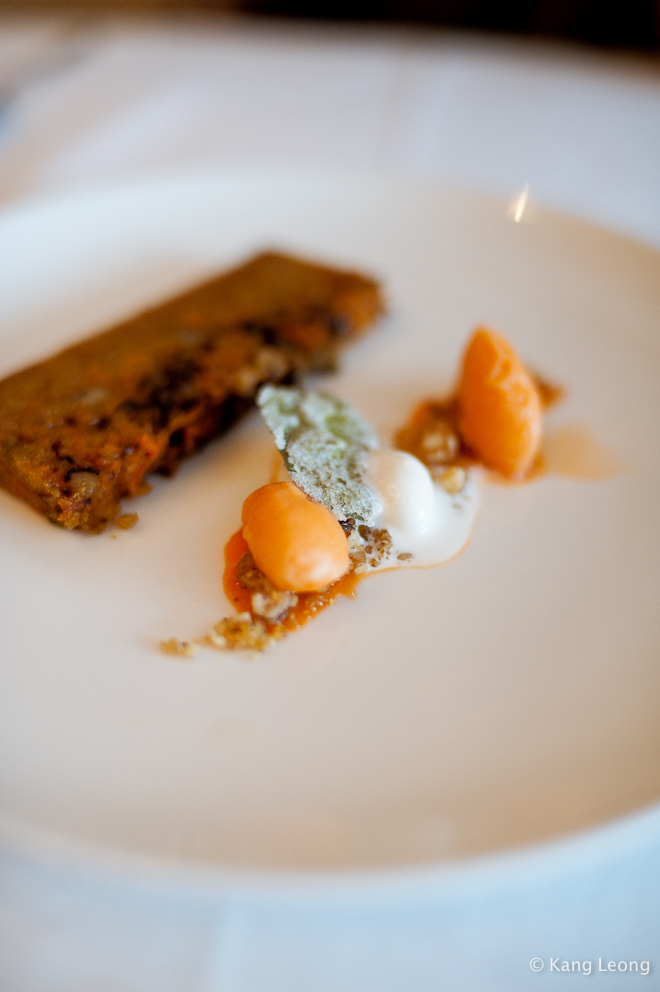 As we approached pudding, it started getting breezy, so we asked to move inside. Between our starters and our mains, we had waited long enough for the weather to change its mood. Luckily desserts were great. The candied bayleaf was interesting, I noted mintiness, the slushy carrot sorbet was a god send, not unlike frozen carrot juice. The walnut and carrot cake was served warm, moist and hearty.
Lemon curd arctic roll with raspberries, £8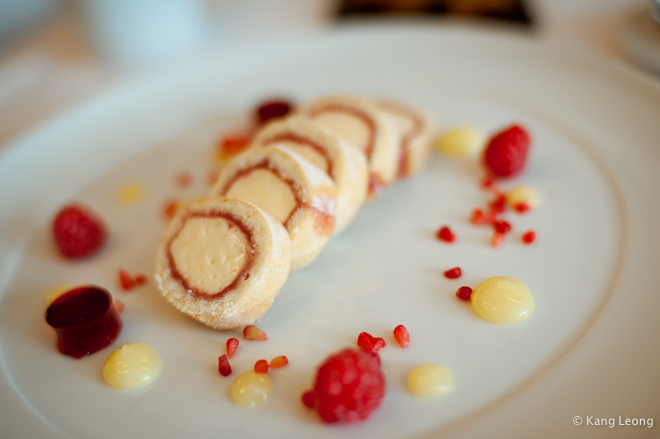 Oh baby…bring back Bird eye's arctic rolls. Apparently they brought it back, albeit with new packaging, even though I hadn't had a slice since I was 14. And Wall's rainbow paddle pops.
I really enjoyed this one, even though I'm not much of a fan of lemon. The lemon curd ice cream was …really sour. Part of me was expecting dairy ice cream rather than so much zest, but I enjoyed it nonetheless. The jammy raspberries took most the edge off the lemon.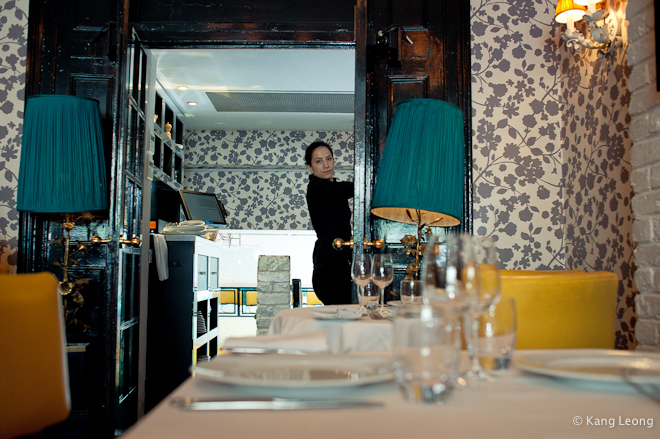 It had only just occurred to me, why the waitress looked so familiar…. she was at Taste of London too. Two coffees, sparkling water and service amounted to £76.50, which doesn't seem neighbourly at all. The heftiness is mostly down to the ala carte, which was nearly £50. I think Odette's major weakness is down to the snail-speed service. For most of the two and half hours, we were enjoying each other's company over an empty table. Although, when we were eating, we were rewarded with joyously cooked and elegantly presented food (aside from the foam). There is little doubt that Bryn is nothing but pure talent, his cooking really shines through, and I suppose it helps that he was in the kitchen during our visit. There is something very zen-like about the recipes, it has a retro slickness about it, never did it veer to the bombastic, rather it was an exercise of flavours and textures well under control. And so the end result was food that was pleasurable, and easy to digest. We were really surprised with the set menu, all three courses were comparable in quality to the pricier a la carte equivalents, a steal at £18. I think it would make for an excellent detour if you so happen to be visiting Primrose Hill, and I happily recommend Odette's for Bryn's accomplished cooking.
The Gist of It
Odette's
British, £40pp ; Set Lunch £18 for 3.
130 Regent's Park Road NW1 8XL
Tel: 020 7586 5486
Tube: Chalk Farm
More views on Odette's: Giles Coren ; Thomas Sutcliffe ; The Hardens ; A girl has to eat ; Time Out ; London-Eating
Did you enjoy reading this? You can subscribe to the Newsletter. Alternatively, you can subscribe to the RSS feed.
All text and photography on this blogpost is copyright and belongs to Kang Leong, LondonEater.com. If you repost this without my permission, bad things will happen. So please don't do it.