Sam Harris must be the merriest restaurateur in town right now. Zucca is enjoying near universal adulation; Critics and blogs are raving about his fresh take on Italian food and it has even been compared to River Cafe, The Quintessential Institution that launched a billion Italian restaurants. Aside from being named after a wrinkly skinned fruit, I went to Zucca last week to find out what exactly makes this restaurant so enticing.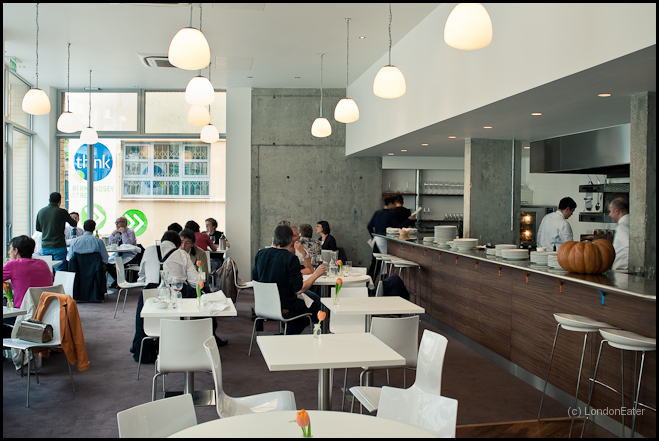 It was my first time wandering down the long and narrow that is Bermondsey Street. I passed sexy looking small restaurants, chic design offices and a rainbow coloured building which, as it turns out, is the Fashion and Textiles Museum. At the end of this never ending walk from London Bridge, we eventually reached the thick glass panel front door at Zucca. The owner is a certain Mr Sam Harris, Sam also owns Maltings Cafe which caters to Mediterranean grazings a stone's throw away at Tower Bridge Road. His CV boasts training at Leith's, a short stint at River Cafe, Bibendum and has also served as an Egon Ronay inspector. Much of the scrutiny into his illustrious past will be on the six months he spent at Ruth Rogers' institution. One does wonder about the inspiration he had taken from his once mentor, including absorbing the name of her restaurant designer perhaps. Even though his stint with the River Cafe was well over 10 years ago, Zucca shares a striking resemblance to the rebuilt River Café of today. Stepping into Zucca was not dissimilar to crossing into an alternative universe, for one Zucca shares similar pristine white furnishings, large glass walls let in heaps of natural light and an entirely exposed kitchen which filled the room with nourishing aromas. Strips of blue paint replaced with beige brown and a carpeted floor and Hammersmith Bridge in the West swapped for London Bridge in the East.
Oh how I love an aromatic open kitchen, as we sat down, we could hear the harmonious sizzling behind the counter just high enough to shield it from our view. Our waiters – an all Italian line-up – very carefully floated us to our table exuding a laid back, 21st century warmth, inviting us in like guests to their home rather than mere customers to a restaurant. The open space is unabashedly modern, a breathe of fresh air but no Sam Harris in sight. We fell in love with Zucca instantly of course. The daily menus are ever changing, and is described in four very clear and very short sections. Antipasti of polenta, carpaccios and zucca fritti (fried pumpkin strips); Pastas include linguine with clams and samphire, tagliatelle and artichokes; The Fish section features grilled John Dory's and Halibut with chilli, tomato, swiss chard; And among the Meats choices are Lamb leg with berlotti beans and braised pork shoulder, sage. The K.I.S.S. concept extended to its equally slender bottom line as we were pleasantly flabbergasted with the prices – Carpaccios for £4, Veal Chop for £12.50 and Halibut for £12.95? Get out of town, that's nearly a third of the price at River Cafe, ten years ago. We were recommended by the glass, and chose two reds – Barbera D'Alba (£5.50) – a grape varietal (Barbera) and a wine region (Alba in Piedmont) which I am unfamiliar with, but which I found to be easy drinking if a tad oaky.
And away we go with the food, antipasti firstly : Speck with pigeon crostini £4.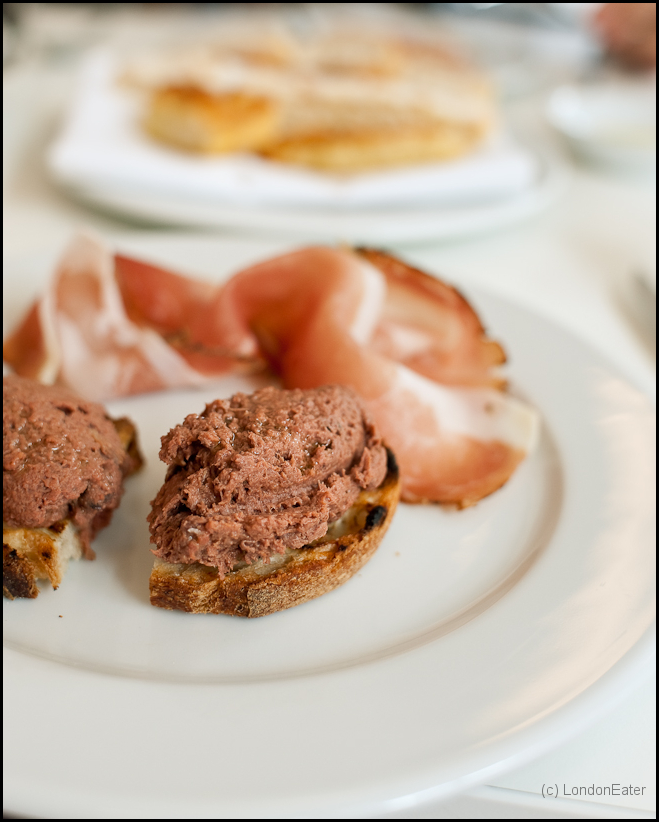 A livery pigeon pate that was not unlike chewing on brain – not that I've had brain before – was a pleasurable start to the day. Ah, I almost forget to mention their excellent selection of home-made bread, especially the heavily salted crisply crusted foccacia. The waiters also seemed very proud of their choice of Planeta olive oil, introducing it to us and other tables around us as he poured out a sample as dipping for bread. I liked it so much, I asked for another serving of bread, which by the way is about as expensive as a large jug of tap water.
Carpaccio of Sea Bream £4, yes four quid!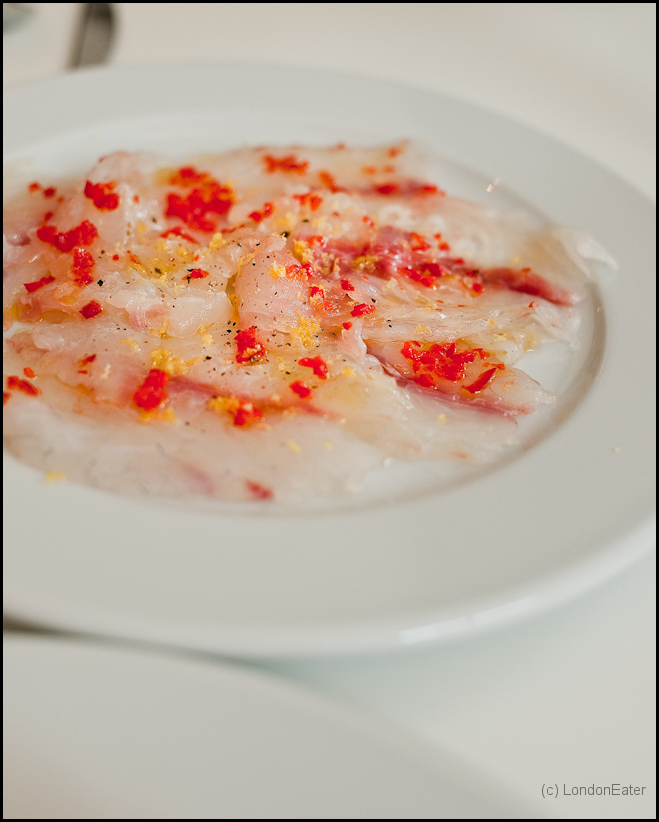 Gargantuan portions, so much so that we felt as if we were ripping the restaurant off, something which I rarely chance upon in London restaurants. Super fresh, superiorly fluffly with a zesty and spicy hit that (I am guessing) is attributed to capsicum, perhaps red peppers. Soaked in a juicy and oily glory, we were cooing with delight at this perfectly executed dish, after all, with a recipe so simple, there was little that could go wrong. You know how much I enjoy raw squidgy things, cured or untreated and I loved every bite of this.
Pasta – Pappardelle with Spicy Sausage and Parmesan (£6.25)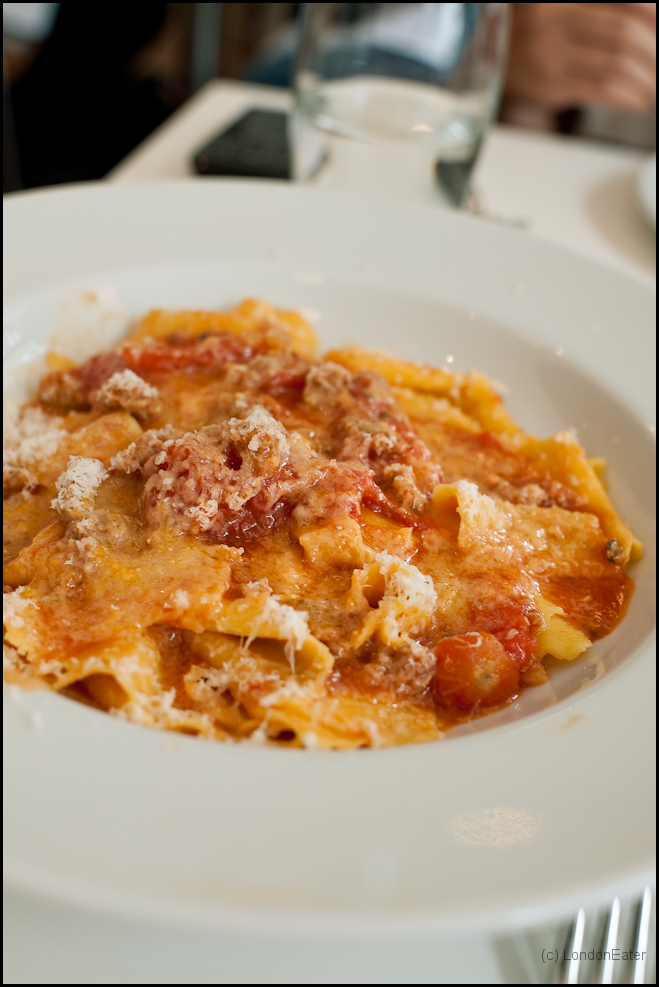 The truly post recession pricing continues with the pappardelle, which by all accounts are made in-house like the bread and the gelato. Fresh, wet and extremely juicy, cherry tomato skins still visible. I remembered my experience with the rabbit pasta dish at River Cafe which was just a tad soggy, if juicy. I certainly experience a case of deja vu as I would describe the pappardelle to be just a little past al dente. The ragu was quite mellow considering the usage of spicy sausage, probably over shadowed by the sweetness of the tomatoes. I also detected a hint of the peppery, perhaps from fennel. The sogginess didn't detract from the overall experience, in fact I rather enjoyed the juiciness. Slurp.
Time for mains, starting with the fish: Halibut, samphire with new potatoes (£12.95)
I dipped my nose into my partner's dish straight away – awesomely hearty. The potatoes were fluffy and powdery, halibut swimming in a potent citrus parsley soup. The fish was beautifully pan-fried, a pacific golden crust that barely hid the gloriously flaky white fish. The citrus heavy sauce balanced well against a slimy halibut skin both fishy and oily and wonderfully rustic. I've always said that samphire is a robust ingredient that is often underused, here I was all too happy to see it so triumphantly deployed.
Ah, and finally the show piece of the meal : Grilled Veal Chop (£12.50)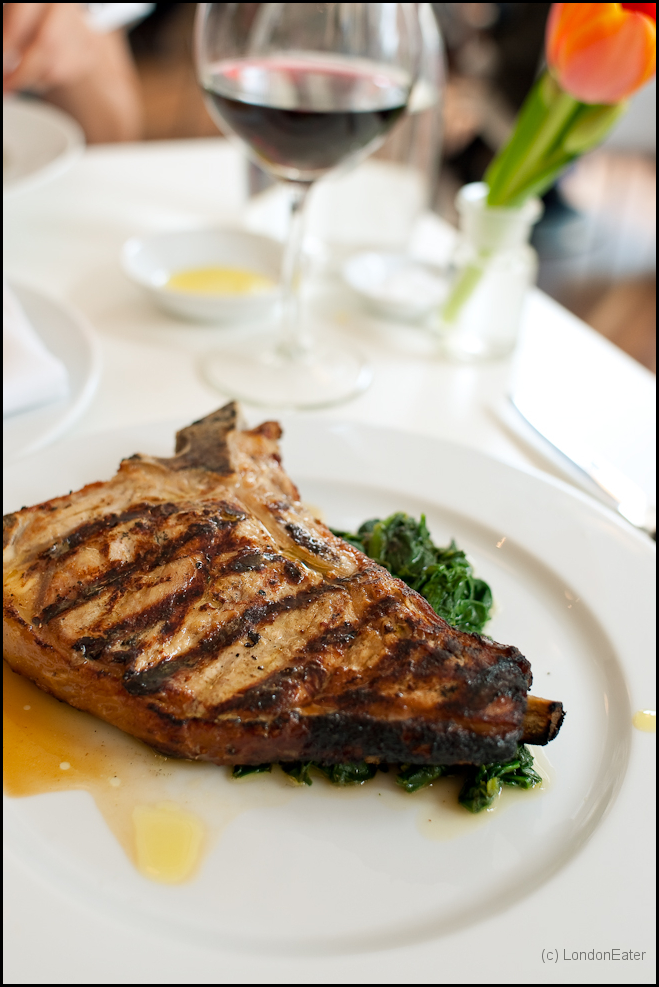 Ladies and Gents. This is the one. A resplendently golden exterior with picture perfect griddle lines – a mark of excellent execution I gather. Only slightly pink, a delicately mellow texture, a wonderful charcoal flavour and replete with its own juices. The rim of fat was not unlike crispy triple cooked chips, full flavoured and completely buttery. The veal sat atop blanched spinach spiked with zest, balancing well against the juicy chop. Refreshing…. so refreshing. My better half usually steers clear of calves, pigeons, anything remotely game-like and even lamb but she was irrepressibly seduced by this magnificent piece of meat. As she tried some, it suddenly reminded her of a similar experience in Florence – at that time, the language barrier convinced her it was beef. She savoured it as did I. We failed to check the circumstances with regards to how the veal was farmed, but if I pushed ethics aside for pure epicuriousness – this was a stunning dish.
Dessert: Pannacotta with Poached Plums (£3.95) and one scoop of vannila ice cream (£0.75)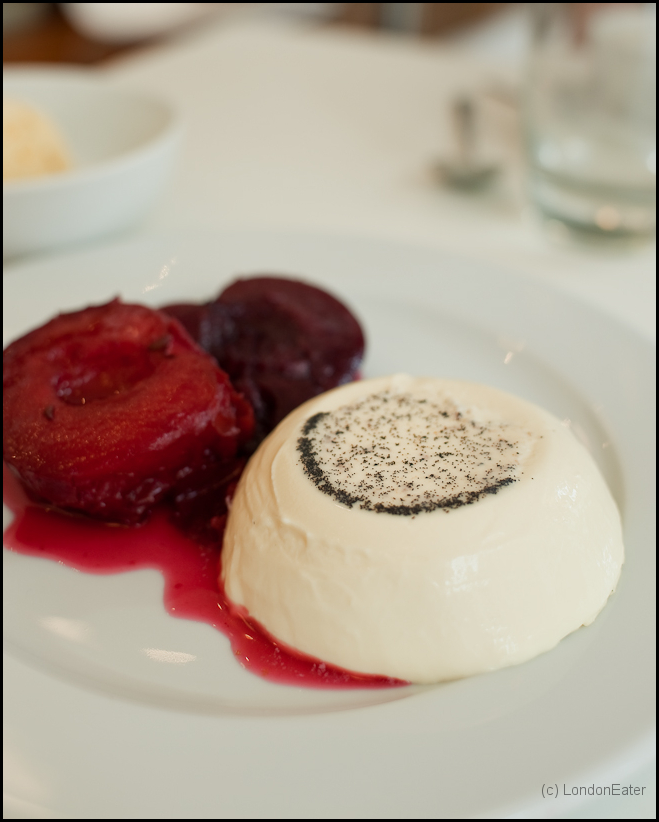 As our meal drew to a close, we were treated to an exquisite ending, the wizards at Zucca could do no wrong pumping out a sweetened silken wobbly pudding that carried toasted vanilla flavours. The texture was masterful akin to spreadable processed cheese rather than tofu, the sweetness clinging on to my palate as I finished up.
They even fold your napkins up as you visit the little boys room. For all this food, plus two coffees (£1.50 each) and exemplary service, the final bill came to a mere £57 for two. They did not charge for service, so I emptied all the change I was carrying with on me. I have not met with such a light weight receipt in a very long time. This is what we have all been clamouring for. This is the reason why we eat out. Refreshingly rustic recipes expertly cooked, a modern room with industrial design sensibilities, friendly but not over-bearing service and an affordable bottom line. The quintessential restaurant for the twenty-tens has arrived. There is so much to love about Zucca, I can barely find fault – if any – with this establishment. I'm more than happy to hop on the Zucca-express and I have even made my next reservations with them, the next time it will be for dinner. We were assured that the dinner menu was the same as lunch, but presumably with more of an ambiance. I highly recommend this restaurant to anyone and everyone who has even a remote interest in food and eating out, and pending ethical reasons, you should order the veal chop, twice if not thrice not only because you can afford it, but because it is a landmark accomplishment. Long live the Pumpkin.
The Gist of It
Zucca Official Site
£30pp Italian.
184 Bermondsey Street SE1 3TQ
Tel: (020) 7378 6809
Tube: London Bridge
Other glowing words showered upon Zucca: Guy at Timeout London ; Fay Maschler ; Andy Lynes for Metro ; Will Eat for Money ; Made by the Chef.
Did you enjoy reading this? You can subscribe to the Newsletter. Alternatively, you can subscribe to the RSS feed. Free, free free.