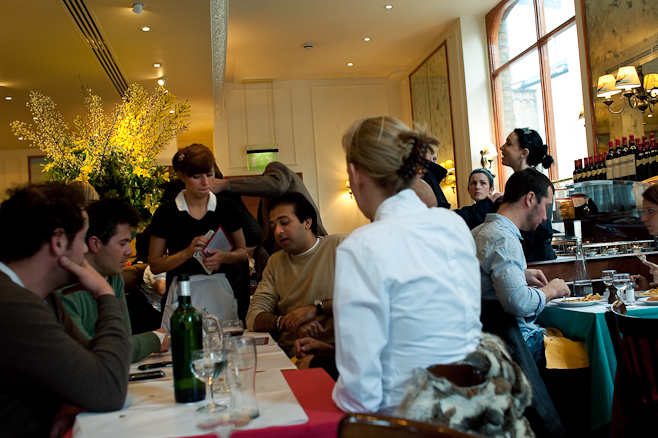 Only the most romantic of cities could have given birth to the L'Entrecote restaurants. It has remained firmly a family business for the better half of the 20th century. The legacy belongs to the family of Paul Gineste de Saurs, the founder, who was then searching for an outlet to sell wine from his family château. He had bought out an Italian restaurant known as the Le Relais de Venise in Porte Maillot, Paris. The Venice Inn. Instead of offering pasta and pizza, Paul's grand idea was based on an entirely menu-less concept of serving the bistro classic of steak-frites. The entrecote cut was used, sometimes known in France as the contre-fillet, which in this case refers to the sirloin. All diners start their meal with a lettuce and walnut salad, bathed in a mustard vinaigrette. And then, the two servings of steak-frites would follow, the second half kept warm while you ate the first. The formula would be completed with their special butter based sauce smothered all over the steak – a secret recipe.
The Venice Inn still stands today at Porte Maillot, with Paul's grand children as the current custodians of the L'Entrecote brand. Masses still queue up for their famed steak and chips and the Parisian institution is ever as popular as its inception in 1959. Elsewhere, there is a branch in New York and another in Barcelona. Here in London, we have two. One in the Square Mile, and another in Marylebone. Of course, these are just the ones which had spawned from the original site. Since Paul Gineste de Saurs death in '66, his children had begun their own chains, operating under slightly different names, Le Relais de L'Entrecote for example. Though all of which stick to the same concept of offering bistro standard steak-frites. Affectionately perhaps, people have come to refer to this chain of restaurants simply as 'L'Entrecote', ignoring formal nomenclature. As it turns out, its history has little to do with anything remotely Venetian. Instead, Mr Gineste de Saurs modeled his creation after a dish served in a French restaurant in Geneva. The entrecote and it's secret butter sauce had been a feature in Cafe de Paris since the forties and remains its signature dish till today. The pièce de résistance is supposedly the special butter based sauce. Its conception credited to Mr Bourbier, the father in law of the then owner of Cafe de Paris, Arthur-Francois Dumont. Today, the secret sauce is so sought after that batches made in the kitchens of the Geneva restaurant are shipped to derivative franchises around the world including Lisbon, Dubai and Riyadh.
We arrived for lunch on Easter Friday, the restaurant suitably busy, families mostly. My dinner partner for the day was Food. By Mark. No reservations, no mayonnaise nor ketchup. I asked for the latter two, to which our French waitress, brunette, hair up in her conforming white apron-ed, black mini dress rebuffed me with her mesmeric French accent : "Non. Only mustard, salt and pepper. Monsiuer.". It was not the first time I was rejected by a smoky French accent I suppose.
Let's dig in. Lettuce salad, walnuts, sliced baguette.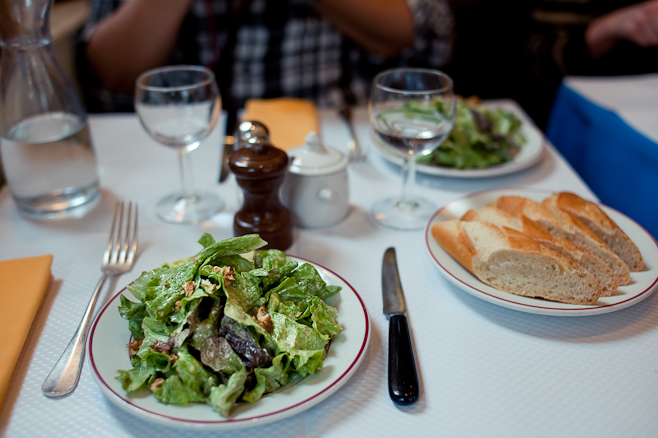 There was just a little too much mustard in the salad as every crunch was followed by a hammering of steel pins piercing the surface of my tongue. I mop up the mess with bread. I had only noted this post-meal that the Marylebone branch did not feature any of the family wines. Chateau de Saurs is located in the Gaillac region in the South of France. In it's place however was a Le Relais de Venise branded house red which appeared to be a Bordeaux.
I asked for my steak rare.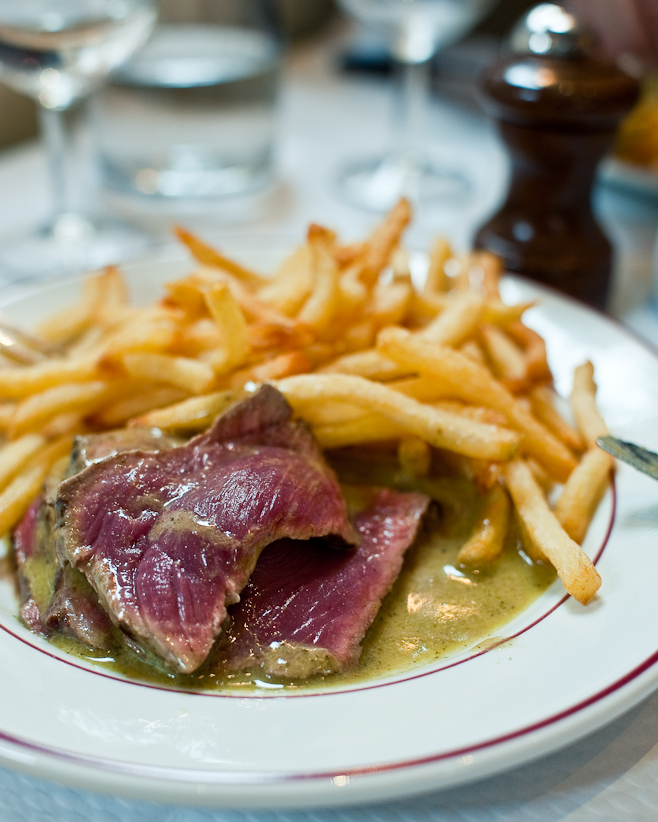 So this is the first of the two servings, the dimensions of the plate equivalently halved in line with portions. Ahh I see, the smell of French butter in the air is due to this sauce. Indeed, it is as many have suggested: a pea-soup, dirty green coloured liquid. The steaks are Scotch, supplied by Donald Russell. It was perfectly rare, if a distinct lack of marbling. As it was still bloody, the texture was chewy but soft, and there were no sizzling bbq flavours from the meat. A piece in the Le Monde suggested that the Cafe de Paris sauce is butter based with chicken liver, fresh thyme , white dijon mustard, salt and pepper. To my untrained palate, I had tasted herbs, citrus and garlic in a buttery broth not unlike the fragrance of say a Thai green curry, sans coriander. My brain was also indicating that mushrooms might be involved, which I suppose meant that this sauce was probably an umami cocktail. Mark couldn't put his finger on it either, suggesting a familiar, comforting if common taste – perhaps the sauce invoked lost childhood memories… such was its powers then. The frites are prepped on location, they were crispy and golden and it had brought back memories of meals in Paris.
Few places in town will afford you a full meal for twenty pounds, and you would be wrong to assume the two servings of entrecote would do so. Plenty of chips were offered, but I found the eight slices of meat wanting. You know what, this is gourmet fast food. There is an equivalent chain of American restaurants – Lawry's – which offer a similar concept, though at a steeper premium and in a slightly pompous setting. A caesar salad 'spun in a large bowl' by the waitress, followed by large chunks of rib roast sliced by a uniformed chef embellished with a large medallion around his neck to emphasise his carving skills. Both are executed by the table, theatrical and comical, I've been twice. But Le Relais de Venise is French and rigidity is their stamp of authenticity. So paper table coverings would be a symbol for romanticism, one could expect Sur les quais du vieux Paris to play in the background and the bite-sized portions would be a foregone conclusion in the presence of pleasurable company. There are fortunately better restaurants that serve much better steaks, but probably not with the same mystique as a L'Entrecote or with such a slender bottomline. And if I'm being honest, I wouldn't mind getting my hands on more frites soaked in the mystery sauce again. A slice of Paris.
The Gist of It
Le Relais de Venise L'Entrecote £22 for steak, frites, salad and service.
Official Site
120 Marylebone Lane W1U 2QG
Tube: Bond Street
Tel : +44 (0)20 7486 0878
Links Galore :
Graham Cooper's take on the original Porte Maillot restaurant.
The New Yorker's take on the midtown branch
BahrainPoise.com covering the Bahrain version of L'entrocote.
Did you enjoy reading this post? Why not subscribe to my feed updates for free. Alternatively, You can subscribe via email.