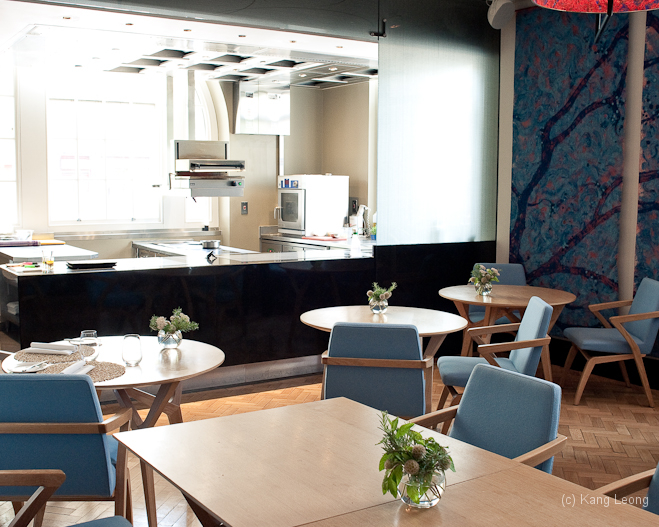 Viajante has been on every foodie's lips lately. Critics and bloggers collectively crashed the new restaurant during its soft launch and consequently rushed elaborate reviews of their experience to the intertubes. I waited. So far, the innovative brainchild of Nuno Mendes has split opinion. Some herald it as a revelation, while others simply found it superfluous. Whatever the case, Viajante has captivated and it has intrigued, it has been compared to the Fat Duck and elBulli, arguably the best restaurants in the world and there is no opening with more hype than this. We travel to Nuno Mendes' latest shrine to discover its offerings.
I first met Nuno Mendes well over a year ago when I was photographing a Rachel Khoo event which had utilised Nuno's private kitchen and home, "The Loft" as a venue. I remembered his jet-black beard and his Jesus-like mane. The Loft Project was his experimental kitchen,a space for his highly bespoke and highly successful supper club. It wowed. Nuno gained a kind of cult status for his Loft dinners, partly because we were obsessed with supper clubs in 2009 but also because his experimental food was so unique to the average Londoner's palate. I guess you could say his cooking belonged to the molecular gastronomy discipline, after all, he did train in the elBulli kitchens briefly before he took up the reigns at Bacchus, both of which preceded his Loft project. His track record gave us a glimpse into the highly meticulous, highly artistic world of his personal approach to food. The seeds of anticipation had long been sowed, it was only natural that in the days and weeks leading up to Viajante's opening, coinciding with the World Top 50 awards in April, that London and indeed the world would gladly receive this new chapter in the gastro-arena.
Nuno had used much of his 'time-off' at the Loft to go foraging around the world in search of inspiration, in the last two or so years, to create the concept of his new restaurant. Viajante translates to 'Traveller' and it refers to both Nuno and his cuisine. I say his cuisine, because there isn't a way to pigeon hole his cooking, it's not quite Portuguese (where Nuno hails), nor is it fusion, rather it is like a deeply refined recipe book strung together with its ideas inspired and curated from the various cuisines he had sampled on his worldly journey.
A dapperly dressed man sits at the reception of the glass encased entrance to the Grade-II listed old Town Hall in Bethnal Green. I had arrived for Friday lunch. I noted the calming silence, before being taken on through to the slick if understated restaurant. I spotted Nuno straight away, perched on the kitchen counter applying the finer details to one of his creations. He was visibly older now, his jet black beard beginning to grey, he looked every bit the well-travelled man. I likened the open-ended design to a theatre, the kitchen being the stage where Nuno and his team performed for the audience. There was a zen-like ambiance, I felt at ease in Nuno's shrine, intricately patterned blue walls and light-brown tables that reminded me of an organic marriage of something both humanly and natural. It is almost too bare, too exposed, it was antithesis to pretension, like a modern art exhibit, stripped, its style was its function.
You can tell I have been hotly anticipating Nuno's latest project, his is a highly orchestrated PR success story afterall, the idea of Viajante is sexy, but potential and execution are of course two very separate things.
As we sat down, our waiter surreptitious queried our dietary concerns, my dining companion, Marcus (this time with turquoise eyes and washboard abs) and I had none. Our meal begins before we knew it, the amuse-bouches land before we were shown a menu. Freebies I suppose.
Anyway, because of the nature of this meal, I am augmenting my style to make this part of the picture essay flow better. This is obviously inspired by the original first-person-shooter that is effulgent foodsnob.
Flurry of Amuse Bouches.
Amuse One: Crostini de romesco and gordal olives, almonds and Jerez.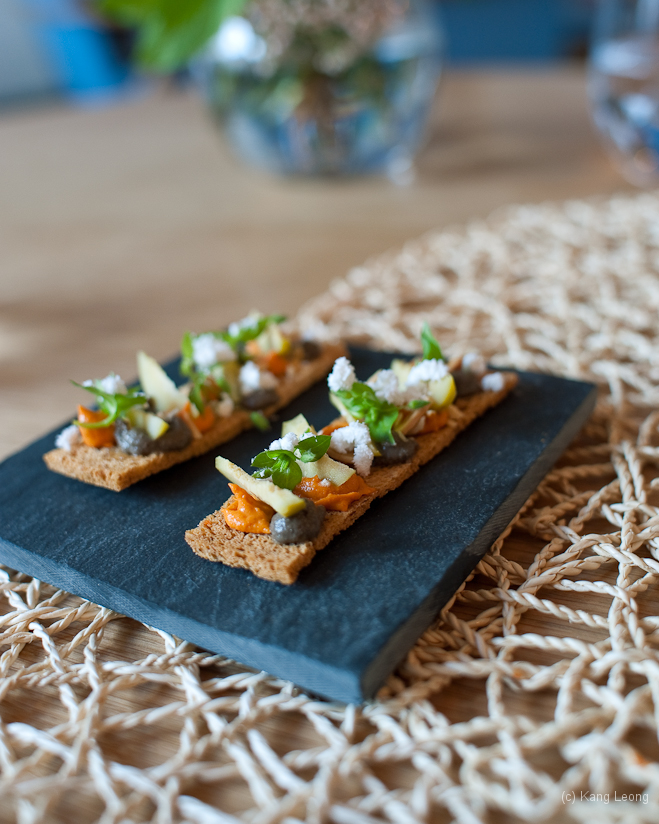 The first of the amuses was a wafer thin toast with a black olive paste and an orange-coloured romesco sauce, a Catalonian recipe of almonds, pine nuts, hazelnuts, garlic and peppers. A salty, nutty and olive-like paste to whet the palate, I noted the micro styling on the fragile toast.
Amuse Two: Smokey Aubergine with soy milk.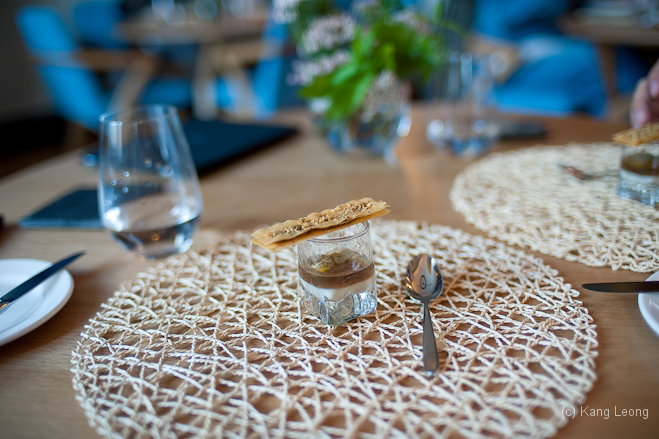 This was really interesting, the smokey aubergine was set in a cold jelly that tasted of smoked oysters, smoked scallops, abalone, and perhaps even shark's fin. The taste was reminiscent of abalone sauce, a delicacy of sorts in Chinese cooking. Caviar is involved somehow, a sweet and salty baklava-like pastry accompanied the jelly.
Amuse Three: Thai Explosion.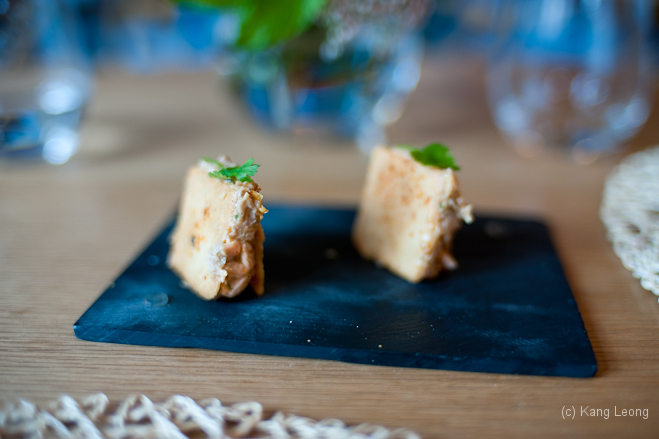 The last of the trio of mouth-amusers was a chicken confit sandwiched between a powdery, biscuit-like bread. This was fun, cold, viscous, with fragrant aromas of coriander and a filling not unlike a green Thai curry with lithe bursts of spice punctuating my palate …Dare I say, this was a very posh coronation chicken sandwich…
Bread, with brown butter, chicken skin, purple potato powder.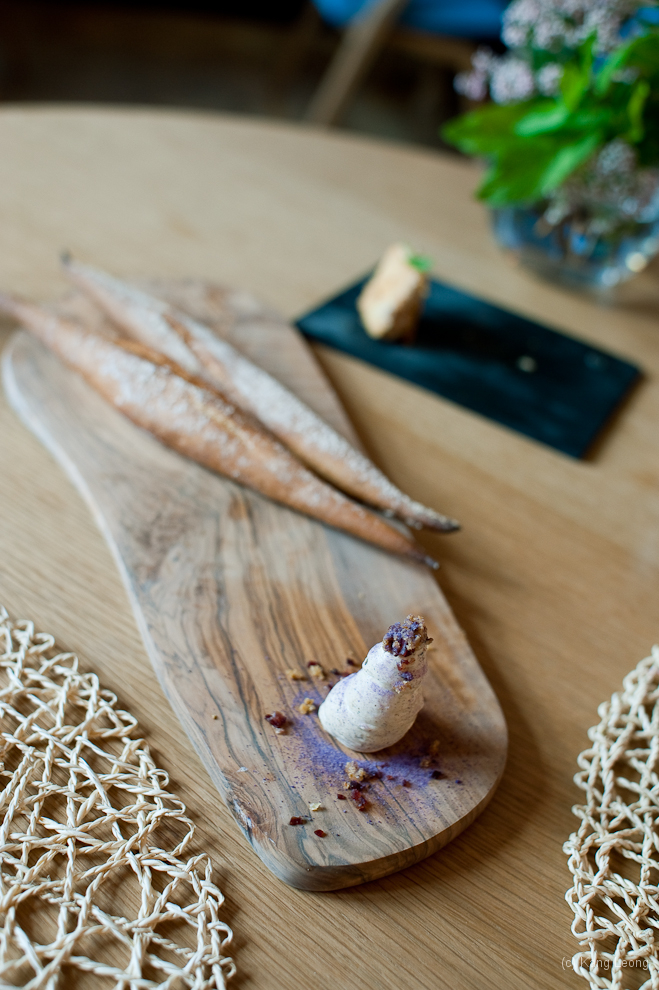 This bread was masterful, it was crusty, yet it was so brittle, it broke away with the slightest of touches. The purple potato powder was probably for effect, though the chopped dehydrated chicken skin gave the whippy brown butter an extra texture of savouriness.
It was only now that they landed a menu in front of us, what must have been a good half hour into the sitting, and we managed to forget we hadn't ordered yet. It's a largely redundant menu which literally only lists the prices of the two lunch options – £25 for three courses or £60 for six. I would imagine the amuse bouches are all complimentary regardless of the length of the menu. Like the amuses, we didn't know what was headed our way.
The six courses start here.
Plate One: Squid tartare and pickled radishes, samphire and frozen squid ink jus.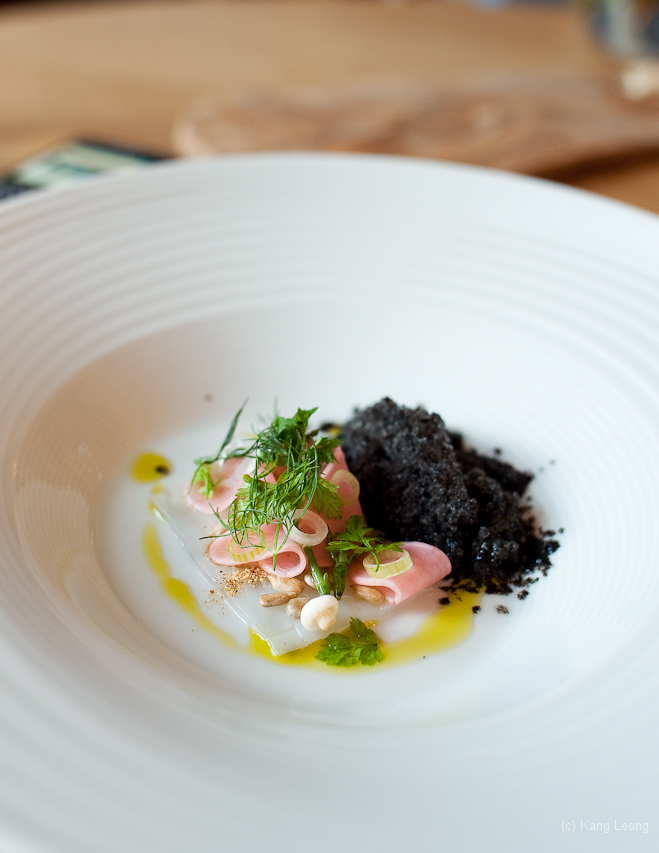 The dish is largely elemental and the individual ingredients are clearly distinguishable. I admired the respledent styling, the micro-sized placement of mini samphires, mushrooms and nano-sliced radishes. Too pretty to eat? The flat piece of squid – raw I gather – was cut into small cubed bits, not dissimilar to the way squid sashimi is served in sushi restaurants. There are lovely nutty and oily flavours, a pinch of citrus tickling the palate and flavours of the cold, cold sea. Temperature is often a neglected, if effective element of cooking, here it is persuasively applied, the ice numbing the natural pungency of the squid.
Plate Two: Textures of beetroot and crab, whipped goats curd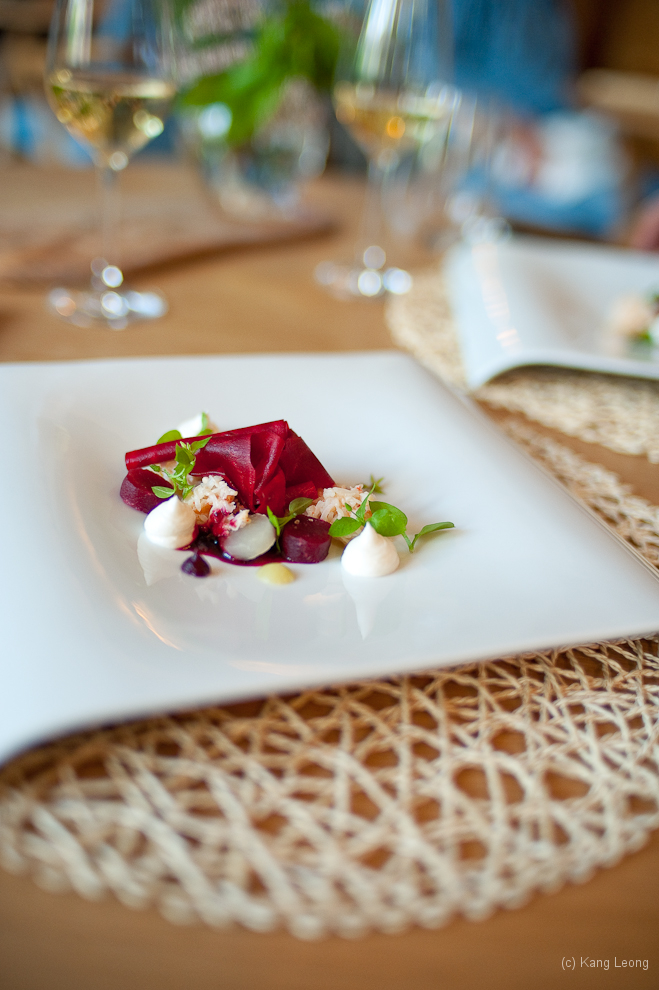 Another cold starter, this immediately struck me as a deconstructed dish, which reforms on your palate. Visually striking, the vividness of the beetroot drew me in like a moth to a flame. The 'textures' of blanched root vegetables acted as a platform for the rest of the flavours to congeal. A soured creaminess from the goats cheese, a concentrated jamminess from what I assume was raspberry jam and a thumping of salty chopped crab. My notes suggested a tumultuous spring in a dish, with subtly balanced flavours that flirt with the palate rather than attack it head on. I'm smitten.
Plate Three: Roasted Celeriac, tapioca and S. Jorge Cheese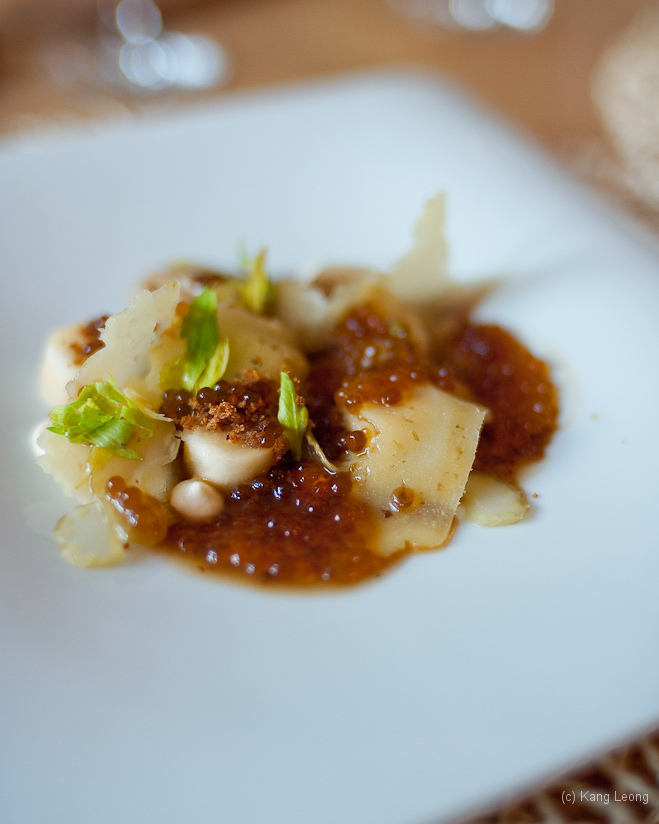 This is where things get interesting, we had already noticed Nuno serving some of the dishes personally at the neighbouring tables, the hands-on approach is something I really admire, Bjorn van der Horst at Eastside Inn does it too, and I think it illustrates the chef's passion and dedication to his work. As he arrived to present his celeraic dish, cooked several ways, I could see Nuno was brimming with pride and enthusiasm, his love for cooking is only a good thing surely. There is raw, pickled and (I believe) roasted celeraic on the plate. A brief exposition ensued before he laid on a wonderfully aromatic tapioca jus from his saucepan in hand – warmly of onions, wow. I dipped my nose into the mixture, taking in as much of the aromas as I could, it reminded me of a French onion soup and tasted just as accurately so. The Sao Jorge cheese thickly sliced, emulated a cheese cruton. The smooth pebbles of onion flavoured tapioca gave this dish much needed texture, not dissimilar to the addictive sensation of chewing on 'Pearls' in Taiwanese bubble tea.
Plate Four: Lemon Sole, Gnocchi, Yeast.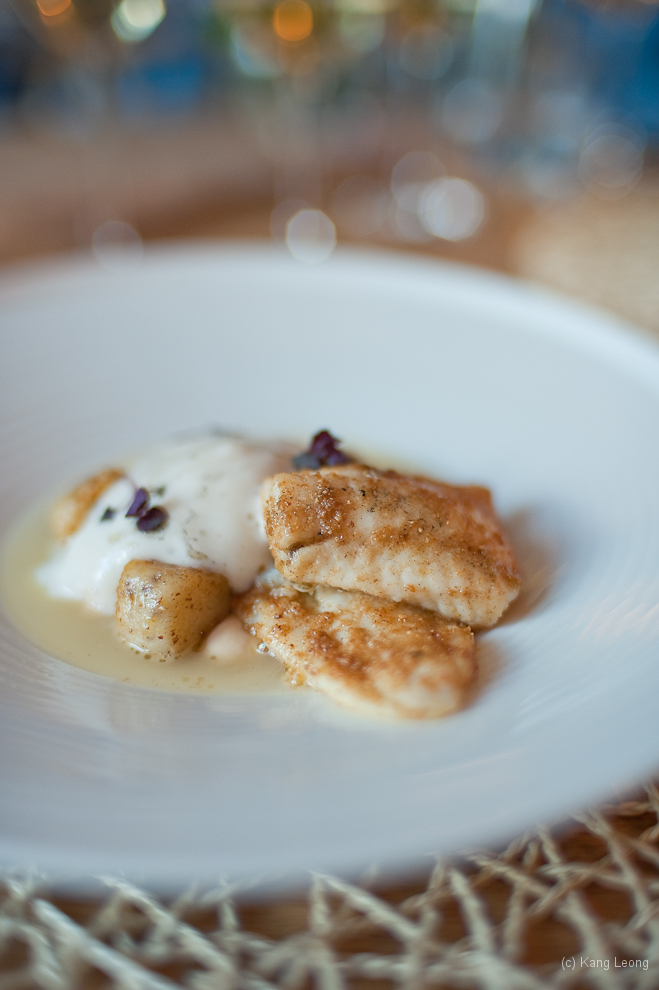 Up to this point, the meal felt largely like a protracted prologue, the build-up excellent as it was, was beginning to bore me. The first three dishes felt like merely extended amuse-bouches, no dish had grabbed me by the scruff of the neck, while flavours were matched and well-balance, it was dozy, it didn't imprint itself upon my memory.
Until now.
Nuno asked if we had ordered the wine pairing with our six courses, we didn't, but he strongly recommended we have a glass of the champagne – La Chapelle, but I'm not sure which bottle – which he said this dish was designed with this apple-flavoured bubbly in mind. Yeah why not right?
As the dish lands, the aromas were overwhelming, I'm not sure if it was the yeast or the fish itself, but the roastiness was majestic. The fish was beautifully cooked, the texture silken, soft and melted as one cut into it. It had robust flavour, grainy crustiness, a sort of malty starchiness covered the fish, oh but the smell, it was simply fantastic. A sip of the champagne amplified the sweet starchiness of the yeast. The crispness and the fruitiness of the champagne cutting straight through the dish. The fish took away the bitterness of the champagne, and the champagne – seemingly – took away the fishiness of the lemon sole. There was apple, there was cream, there was starch. Lovely silken gnocchi, perfumed somehow, and a sauce that was equally so… I find it hard to describe how good this dish was, I also didn't spend much time analysing it because I had sat back to marvel at the immensity of this dish. This was utterly fantastic, it was the epitome of the elegant style Nuno had created, and based on this dish alone, I believed it was bound for Michelin stardom.
Plate Five: Iberian Pork Snack. Pigs Neck, Savoy cabbage and anchovies, fried capers and grated egg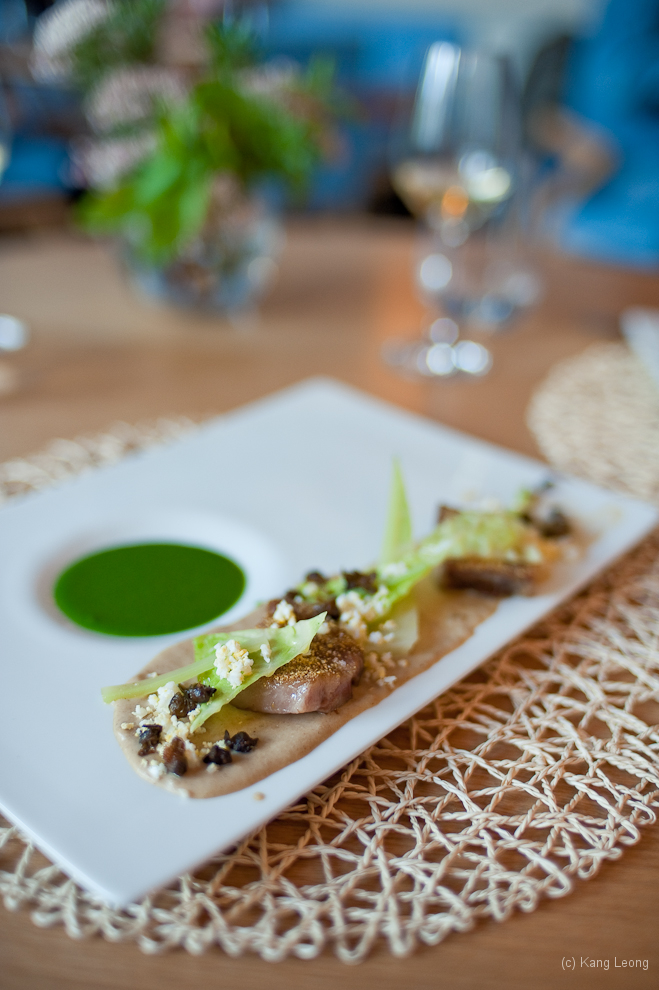 Sadly, the momentum could not be sustained, the superb fish course was nullified with a confusingly lacklustre meat course. The pork was cooked well enough, only ever so slightly pink in the centre, juicy and soft, though the over-fried capers were so salty and burnt that they had tasted of bitter sardines. Dipping the pork into the watercress soup didn't effect any noticeable change, while it looked great, there just wasn't any pizazz, pedestrian and devoid of aroma. We had reverted to the baffling minimalist mode, when I was bracing for a bombastic finish.
Palate Cleanser: Lemon and Thai basil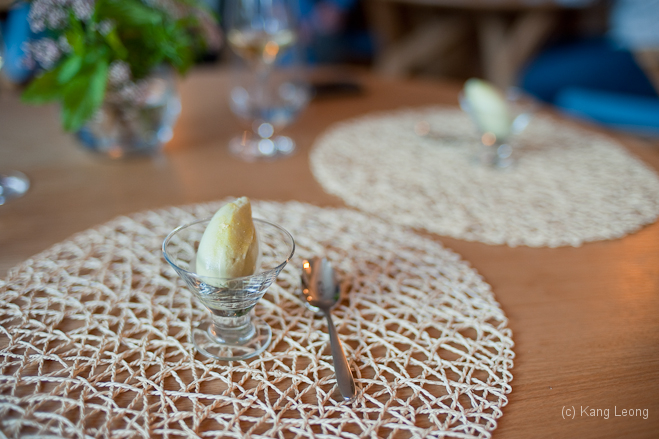 Like an iced yoghurt, sticky, tannic, medicinal, there is little to add to this really.
Dessert: Chocolate moire.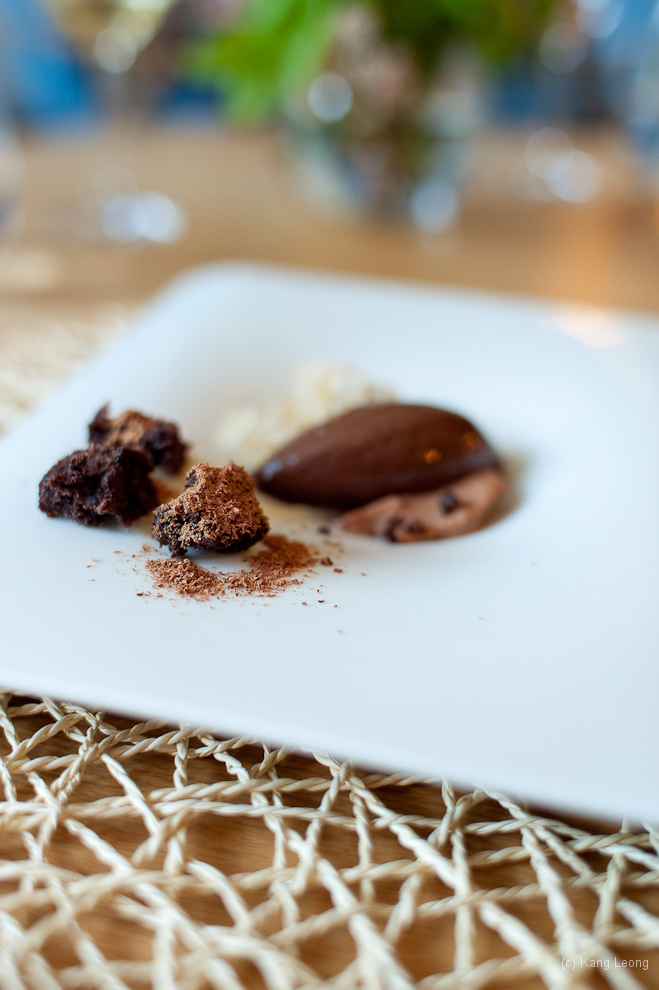 This was a little like a frozen hot chocolate, broken down into elemental bits… if that makes any sense. While the chocolate ice cream was good, the frozen salt water was tepid. I didn't enjoy this if I'm being honest, it was boring.
Petit Fours: Cream Catalan, set mushroom truffle.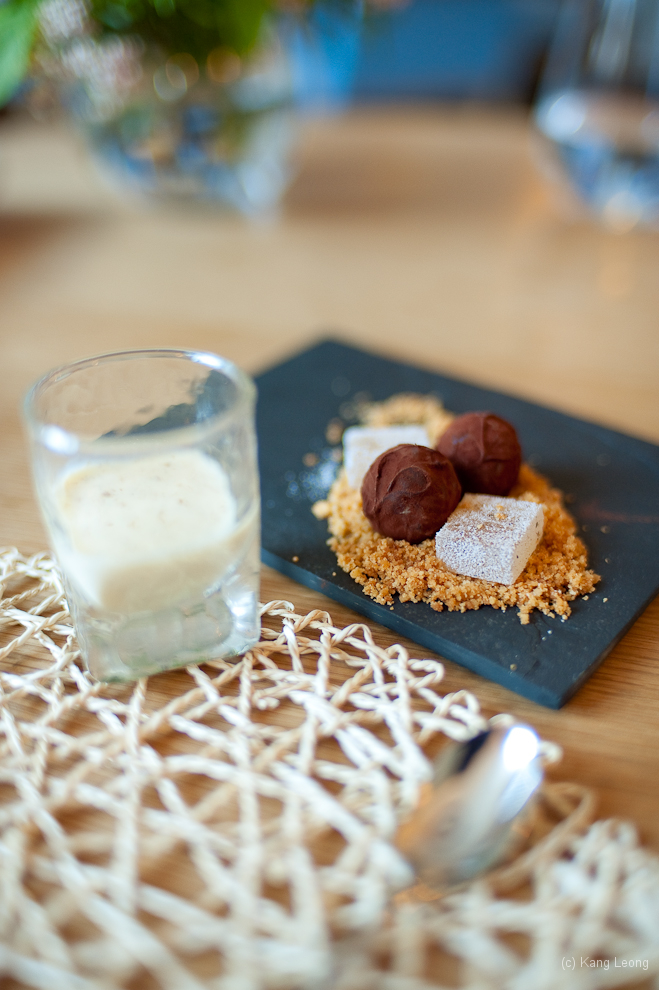 This was much better, a classic vanilla-infused catalan creme with chocolate truffles that actually tasted of mushrooms. However, it failed to raise my eyebrows, the desserts could have been a risky high-wire experiment, but instead they felt too safe, lacking flair and ceremony, anti-climatic as it were.
The bill came to just over £130 for two, plus glasses of Austrian white. Nuno Mendes is the artist to Heston Blumenthal's scientist. Where Big Blu's cooking is QC-ed via rigorous experimentation, Nuno's food feels more organic, poetic rather than exacting. To some, this style of food is bafflingly beautiful while others might find that it is simply baffling. I likened Viajante to the opening of the Tate Modern (which turned 10 recently), the cutting edge and the redefinition of eating out divides opinion. I don't think this is an over-elaborate experiment, rather I thought this was a measured, well-thought out body of art, in which you will need to step back to appreciate the oeuvre in its totality. Nuno applies the gentlest of brush-strokes to continually perfect his masterpiece.
I don't think this masterpiece is complete yet. I am at two minds about his cuisine. There is little doubt that Nuno has a great palate, he knows how to compliment and balance flavours, and where food is cooked, it is delicately so. But the refinement at times comes at the price of heartiness, wholesomeness and tradition. Having said that, there is absolute genius in his cooking, for instance, the yeast lemon sole matched with the apple-flavoured champagne, that seared itself into my memory banks. I likened Nuno's creation to Andreas Gursky's expansively epic (if a tad clinical) works of wall-sized photography. Perhaps in culinary terms, Nuno's cooking is comparable to the layered, textured style of Pierre Gagnaire's cooking. Some dishes just had me stumped. This was definitely not just a meal, it was a journey.
Upon reflection and viewing his cuisine as a whole, I can safely say that it is unique. This style is his and his alone, breaking new ground is so very difficult to do these days. It is clear that he has been inspired by certain world cuisines (both East and West), what he has done is to absorb part and parcel of his travels to create a signature style which has a fingerprint that is immeasurably his own. I guess you could say that Nuno has invented "Viajante" cuisine.
"He is definitely on to something" to quote Mark, and I totally agree. I can understand the sentiment about it being misunderstood, but this is the alternative, this is the one restaurant doing something different, against the grain, and this pure passion surely has to be commended. As a Londoner, I welcome Nuno with open arms because I think Viajante will continue to elevate its game. At the moment, Viajante feels like a preview, an opening act. The next couple of years ahead should be exciting times for Nuno, as the stars roll in, so he should continue to challenge himself, and I do feel that he has the potential to go on to create something truly world-beating.
Nuno is softly spoken, charming, humble as he ushered us out of his beloved restaurant. We shook hands, I thanked him for cooking for me and I had to ask him if it was 'Jante' or 'Hante' (such was my ignorance). With a coy smile, he answered "Via-Jan-te, it is Portuguese.". However well-travelled his tired eyes may seem, he maintains his identity, and that is what makes his food special.
The Gist of It
Viajante
Well Travelled Portuguese, £25 for 3, £60 for 6, £85 for 12.
Patriot Square E2 9NF
Tel: 020 7871 0461
Tube: Bethnal Green
In case you skipped the wordy essay, here is the short version:
I don't think Viajante is the finished article as yet, some dishes are baffling, but at the same time some are utterly genius. As Nuno Mendes continues to develop and evolve his food, I feel that Viajante can only become more distinctive than it already is. A meal at Viajante does not come cheap, though there is a £25 set lunch menu which might be a good fit for first-timers. A strong 8 out of 10.
(PS: hahaha… oh dear, I'm full of hot air innit? 2688 words)
The Yin and the Yang of the Zeitgeist – Douglas for The Glass Magazine ; Fay Maschler for Evening Standard ; Tom for TomEatsJenCooks ; Luiz for The London Foodie ; Charmaine for Time Out London
Did you enjoy reading this? You can subscribe to the Newsletter. Alternatively, you can subscribe to the RSS feed.