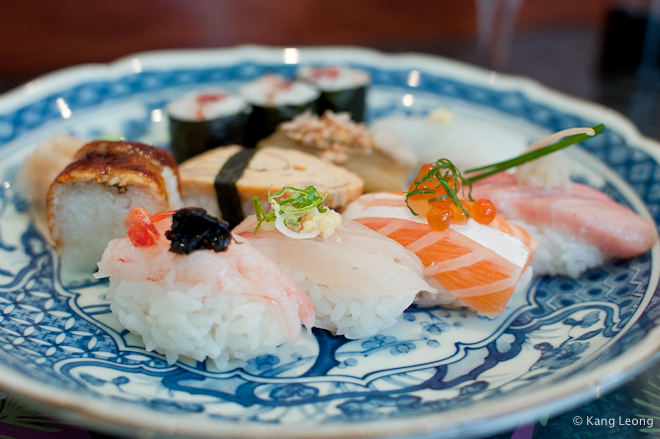 Sushi bingeing. The final frontier. The unquestionably orgasmic delight of popping dollop after dollop of a food of an unrelentingly elegant design; low in fat, high in umami, arguably, an invention born of perfection. Some say the combination of raw fish and rice is an acquired taste, but for the converted, sushi is nothing but the zenith of simple, unadulterated pleasure. The unmistakable taste of vinegar, the glutinous rice, the texture of silken sliced fish, one could crave sushi, as easily as a hamburger.
The history of sushi reaches as far back as 8th century Japan. The name – literally for 'its sour' – references its early iteration of preserving fish using fermented rice called Nare-zushi. It was not until the 19th century that the modern form of Nigirizushi – sliced fish on a parcel of rice – was popularised in Tokyo, as a form of fast food sold from mobile food stalls. The method of preservation differs from today, where traditional methods equated to fermenting fish with soya sauce, salt or vinegar. It would quickly change with the invention of the mighty refrigerator.
These days, I refrain from using the word 'fresh' to define well-prepared and well-selected sashimi grade fish because we know that sashimi grade fish implies that it is pre-frozen (mainly to kill nasties) to -20C either at source or in-house by the restaurant. Although freezing is merely a small step in a long chain of activities from boat to plate, to ensure 'the highest grade' of sashimi for the end customer. To make purely uneducated guesses, I would suppose location, method (eg: long-lining) and the experience of a successful fisherman all count toward ensuring the best catch.
Let's take tuna as an example being that otoro or tuna belly is most prized in the sushi world. There are a plethora of strategies to consider. For example, there is the issue of preserving the carcass once fish is caught and killed, such as bleeding it rapidly to storing just above freezing (to slow the decaying process). And then there is also the skill of the middlemen, be it a sushi chef or a fish monger to cherry pick from the daily catch.
There is also a key element in the sushi equation, and that is the all-important rice. You can identify good sushi rice almost straight away: creamy, puffy, viscous, it threatens to melt, but it holds firm with you seize it with the chopsticks, it carries the warmth of a human touch, it stings ever so slightly with a touch of rice vinegar, it smells like a fragrant sakura. Even so, rice differs depending on what style of sushi it is. For nigiri, the hand-formed stuff is noticeably softer, warmer and organic, whereas temarizushi, or ball sushi, is densely packed, prepared by compressing the ball of rice under cling film lending to a more impenetrable texture.
The gold standard is Koshihikari which means the 'Light of Koshi', and it is a type of rice originally grown in Nigatta Japan, but has American variants which also carry the premium reputation. The rolls-royce of sushi rice as far as I am concerned, and is unique for it has just the right balance of attributes to qualify as sushi rice; it bounces, sticks, is milky, and because of this, it is naturally a lot pricier than lesser grains.
I have been frequenting Japanese restaurants for the past few months in order to put this newsletter together, some places are just my old haunts, others are new discoveries for me, but generally speaking, the list consists of the more rationally priced Japanese restaurants in town. I have not considered the glitterati such as Nobu, Zuma, Umu and Sake no Hana in this issue. Even though there are a few more on my little hit list I would have like to have included in the round-up, my self-imposed time limit prevented me from doing so.. I wish to follow-up this issue with more visits, whenever I get there in the next few weeks. Maybe by issue No.8.
Without further ado, here are my London sushi finds…
Sushi of Shiori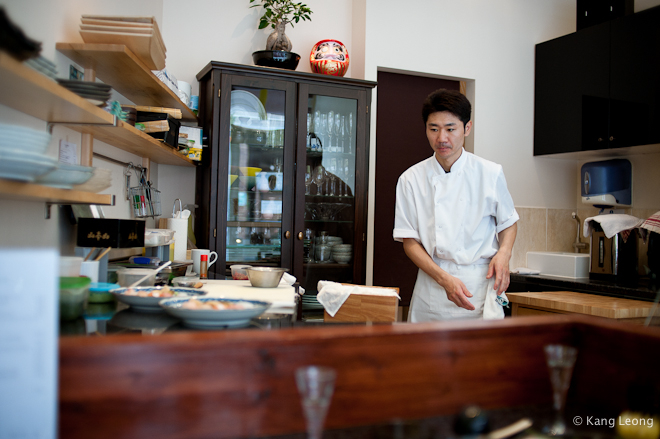 If you go to one sushi restaurant this year, or are a sushi virgin, then please, please pay a visit to this modest little shop in Warren Street. It is manned, operated and maintained by Husband Takashi Takagi, Wife Hitomi and occassionally a third helping hand, but that's about it. The restaurant lots like half a takeaway shop, can only accomodate nine people at most, but the experience is one of the most dazzling, accomplished and ever inspiring in the London sushi scene. Takagi doesn't just cook for his diners, he puts on a show for his audience. Watching him create his meticulous inventions, layer upon layer, slice upon slice, is like watching an artist at work on his masterpiece. He has brought the best of his time in Umu with him to his labour of love. Fish is supplied from Atari-ya so quality is ensured, and you have to pre-book your menu before hand. I recommend the £50 Omakase (which is the chef's menu) which goes on for about six to seven courses encompassing his entire repertoire. The omakase starts at £30, but the differences are in quality of ingredients (better as you spend more) rather than in quantity. Also, the temarizushi or canape sushi as it is called is also worth a try at £25. Shiori stands for bookmark and this is sushi deserved of it. After 3 visits, it is solidly my favourite sushi restaurant in the city. Read visit 1 and visit 2.
Atari-Ya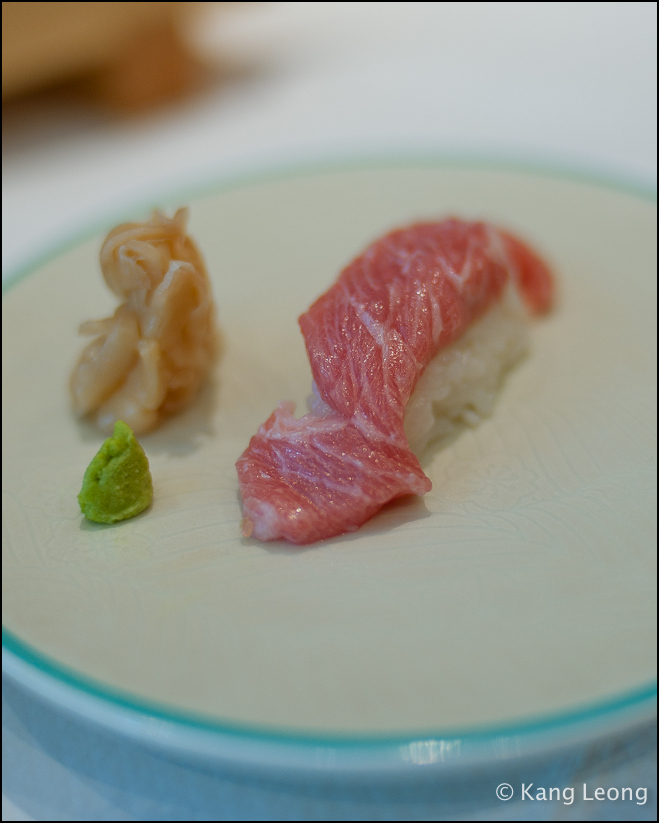 Atari-Ya is important, if not instrumental to the sushi trade in London. The name is synonymous with quality sushi fish. Their primary business is as fishmongers, they import sashimi grade (read: frozen) fish, and they supply the likes of Nobu, Umu and probably half the restaurants on this list. They also operate a chain of sushi bars dotted across London, and they serve their prized premium stock at said locations. Needless to say, if you are not fussed about preparation and finesse, and want affordable, quick, take-away sushi of the higest available quality, you need to hit Atari-ya, however, be mindful of the price differentials. The Bond Street one is the most expensive, followed by the Swiss Cottage and finally the Golders Green branch.
Using the price of full fat tuna belly (otoro) as a guide, it varies from £3.00 per nigiri to £2.30. If you want sheer value, the Golders Green branch is it; However it a pretty tiny sushi bar inside what is a pretty small Japanese grocery shop, hence the cheapness. It's perfect for takeaway really, I once bought 158g of Otoro for about a tenner, that's £6.50/100g. They also sell Japanese grown Koshihikari (5kg / £37.50) and American ones (significantly cheaper) for those interested. If you need something with a more atmosphere and resembling a restaurant, the Swiss Cottage branch is your best bet. There is also another, the soon-to-be unveiled location in Ealing Common, the former site of the (defunct) mighty Sushi Hiro…. Read more here.
Kikuchi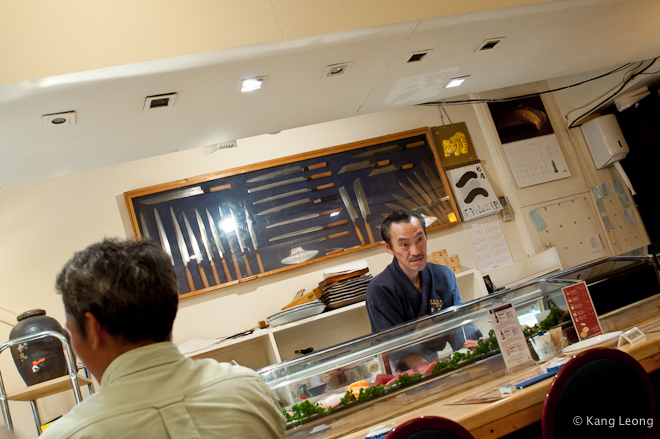 Beautiful work here, ebbs toward the traditional stuff with the atmosphere of something old, woody and Seventies. Deftly cut and neatly presented sushi, great fluffiness in the rice, and the quality of the seafood is generally excellent. It is a tad pricy for my liking, but they do offer £5 vouchers when you spend more than £50, but don't order the 'market price' otoro nigiri. They charged me a ball-ripping £8 for one piece, and it didn't taste any better than Atari-ya. It's raw afterall. Do order the unagi, the exterior has a thinly crispy layer that tastes of flames, perhaps from the Itamae's blowtorch. Accomplished stuff altogether. Read more
Dinings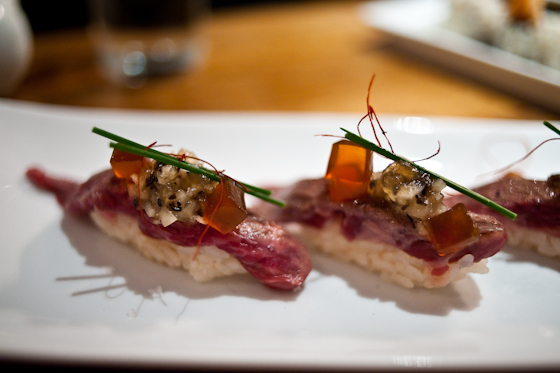 Chef Chiba, formerly of Nobu, owns this lovely little outfit in Edgware Road. Adored by many for its baby-Nobu style of cooking encompassing a range of 'Japanese inspired tapas' dishes along with Western-infused sushi recipes. Honestly, I found contention with some of his Nobu-esque creations, some are simply bad copies of the original, done at half the price with seemingly half the effort. However, the good news is that Chiba's signature dishes are brilliantly conceived, especially the Wagyu Sushi with Truffle Salsa and Ponzu Jelly. The zesty, truffle flavoured, buttery beefiness is the perfect marriage in many more ways than one. Costs about £4 each, I would order ten of these, it is seriously good enough to warrant such a binge. No I haven't yet, but yes I do plan to. Booking is essential for it has a cult-like following. Read more.
Asakusa & Sakura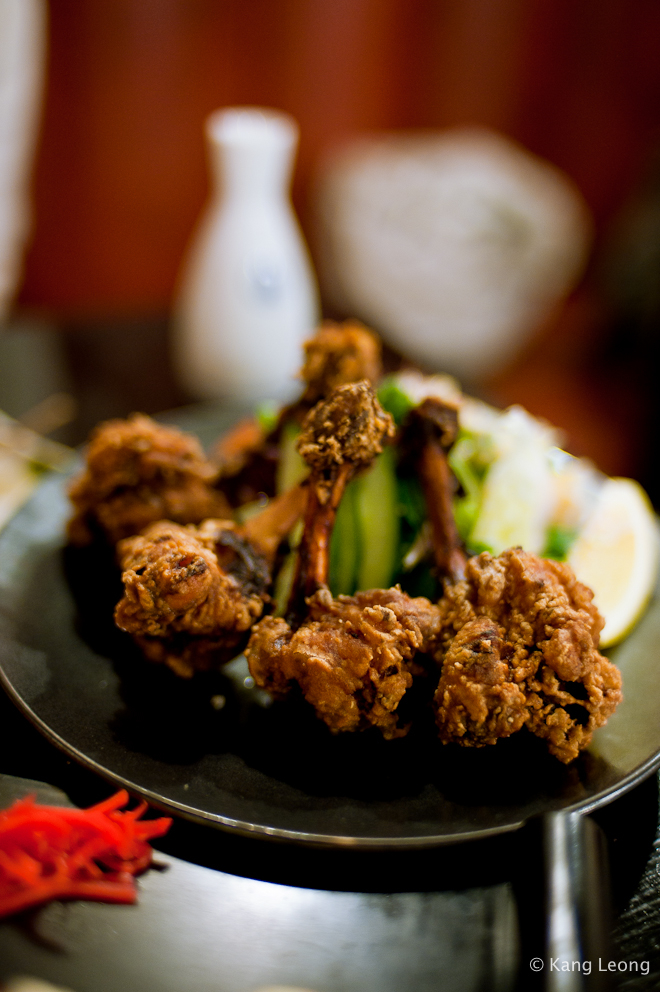 Asakusa is in Camden, Sakura is off Regent Street. Both – in my opinion – fall into the same category of the everyman, well-cooked, comfortable Japanese food. Both feature an Izakaya-esque atmosphere and menu, albeit Asukasa is a little well-worn, and Sakura has ruder waiters; Food wise, both are equal and nearly as good at delivering affordable, classic Japanese fare. I really enjoyed the Tori Karaage and the Umaki Tamago (Omelette with unagi folded in) in Asakusa; On the other hand, the Oyako-don (£6.50) at Sakura is probably best in class for its portion-price ratio. Sushi-wise, both are good enough, if you do not stray from salmon or tamago, you'll like both. If you arrive for dinner at Sakura, I recommend the spicy sashimi salad (£5) which is made with fish normally discarded from and not useable when preparing sashimi and sushi. They are usually very generous with the raw fish, fish roe, seaweed and the spicy ponzu based drizzle is excellent. Represents fabulous value.
Read Asakusa review & Sakura review.
Kappa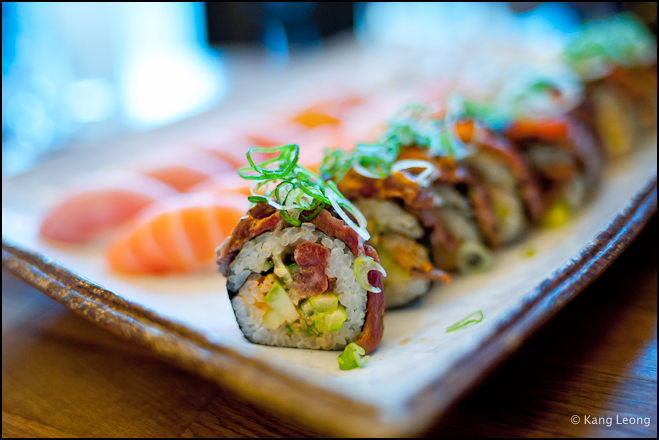 Ahem, Kappa is my local, a nice little hideaway in this corner of West London. The chef (Korean) is ex-Zuma, and like many of his contemporaries who exited famous Japanese kitchens, serves his own signature sushi at his restaurant. In this case, the Kappa 'house special' roll (£8.90) is an oversized maki roll stuffed with avocado, cucumber, raw beef and their secret spicy creamy sauce. On the outside of the roll are slices of blow-torched beef (I think fillet) smothered with more of the superb zesty creamy spicy sauce and spring onion. Like the Wagyu roll in Dinings, this I could order five rolls of, and binge on. Tastebud-blow. I've done it before, as I use Kappa as a 'motivator' to go running after work. The quality of sushi is generally excellent at Kappa, the rice is notable, and the otoro exhibits the buttery melt-in-your-mouth intensity. Read more.
Roka & Bincho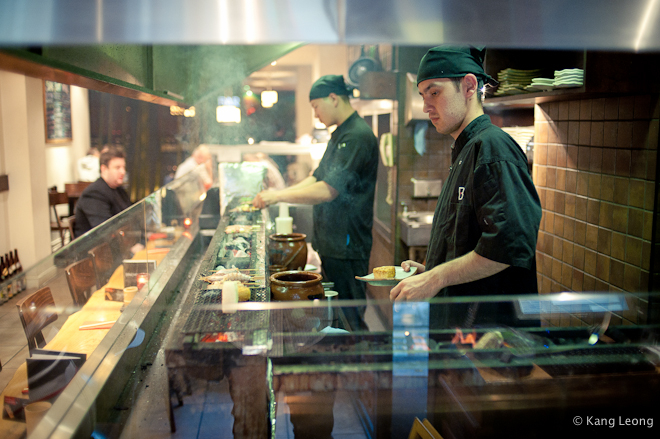 We are veering off the track with Roka and Bincho now, the former features a robata grill and the latter is a yakitori. Roka is the litter sister to Zuma, so you can imagine the imaginatively creative sushi rolls are of the highest order of umami at Roka, but being that it is so upmarket, expect to fork out the shillings for the pleasure. Butterfish sashimi with ponzu-infused drizzle, chopped tuna roll with battered nori and chopped otoro with caviar – all very slick and very accomplished. The robata grilled meat and veges are generally spectacular, especially the spiced lamb cutlets. Ommph…and it had better be at the asking price.
On the other hand, if you are feeling skint, lonely and want a quiet meal, all the while watching the chefs turn meat on skewers in front of you, I highly recommend Bincho. Skewers start at £1.50 each and you can have all parts of the bird to be cooked. Chicken oysters, chicken skin, unagi are the ones I recommend. Sake is served in masu, a square cedar box which is meant to subtly impart abit of its woody elegance into the drink as it sits on your table. No sushi at Bincho however.
Read Roka review and Bincho review.
Mitsukoshi & Matsuri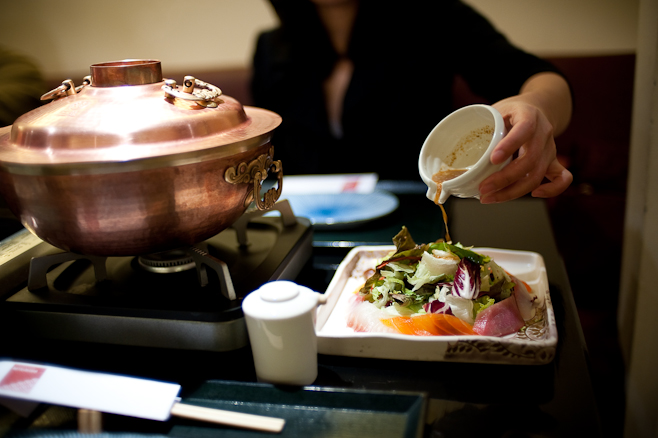 The former is the namesake restaurant belonging to a premier name in the Japanese department store business and is located in the basement of the operations in Piccadilly Circus. Matsuri on the other hand, is a premier brand in the world of Japanese dining and is known for its Teppanyaki. Both represent – in my view – the old guard of premier Japanese restaurant in London and because of that, it means your bill is likely to balloon if you want a complete experience at either restaurant. Stil worth a mention, I believe, but it's way, way down the list of priorities. Read more
Koya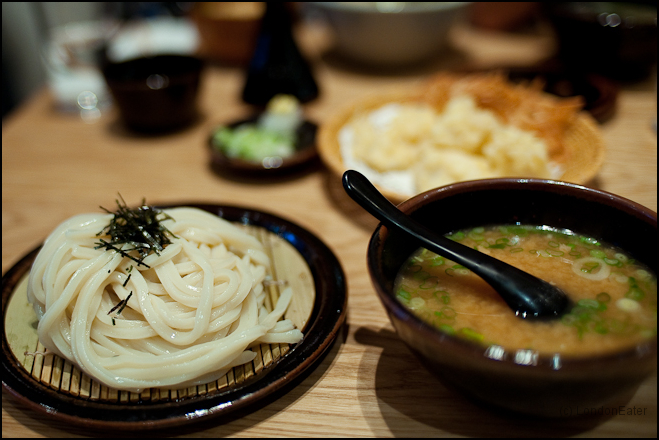 Finally, London's preeminent sanuki udon specialist, freshly made (by foot) daily on premises with super dashi made from imported katsuo-arabushi (Fermented and dried Japanese skipjack tuna), souda-bushi (another type of smoked and dried fish) and iriko (dried anchovy). No sushi here either, but worth the mention. We need more of these specialist noodle shops in London. Slurp your noodles with Echigo beer (£8.50 for a large bottle) made with using Koshihikari. Read more.
Anything Else
Unfortunately, I couldn't visit all the places I wanted to make a more complete list, but as I said, I'll follow up with another edition in the coming months. For the time being, this gives me the opportunity to link out to sushi-otaku brethren on the interwebs.
Bellaphon on Chisou
Meemalee on Sakana Tei
Gourmet Traveller on Sushi tour in London
Time Out London's best Sushi Bars
….. but what about to Sushi Hiro …?
Well, don't tell anyone you read it here, but the word is Sushi Hiro's chef/owner has retired, returned to his homeland and sold the business to Atari-Ya. End of an era I feel, but all the more reason to revisit Shiori.
Further resources
Just a quick selection of articles, blogposts which I've used to help me write this post. Worth a quick flick if you want to delve further into the wonderful world of sushi.
Sushi Glossary
Tsukiji Fish Market
Sushi FAQ : What is sushi grade fish?
SPC guidelines for preparing tuna on-board for to be sashimi-grade
NY Times article on freezing fish in sushi restaurants
Koshihikari Rice – The ultimate sushi rice
Issue no.6.
It's a tricky one, I'm planning to plunge into an Italian theme for the next issue, as the capital's Italian restaurants emerge from their summer slumber, but it depends on how deep my pockets go, and at the moment, my arms are a little too long for my appetite. I will try in any case … see you here again in (roughly) 30 days.
This post is also available as a monthly email newsletter, you can subscribe here.
All text and photography on this blogpost is copyright and belongs to Kang Leong, LondonEater.com. If you repost this without my permission, bad things will happen. So please don't do it.