Happy Chinese New Year folks. The year of the majestic fire breathing dragon. If you're thinking about children, good luck with your dragon babies. My wishes to you are: 龙马精神, 阖家欢乐, 万事如意.
To kick off the new lunar year, we take the hidden path into the mountains of Xizhi, Taipei. Where gravity defying monks tend to visiting tourists, in between meditations and wu-gung practice. This is no mere restaurant review. This is a retelling of the legend know as Shi Yang Culture Restaurant.
(warning, an overly long prologue below. Scroll to middle-ish for food)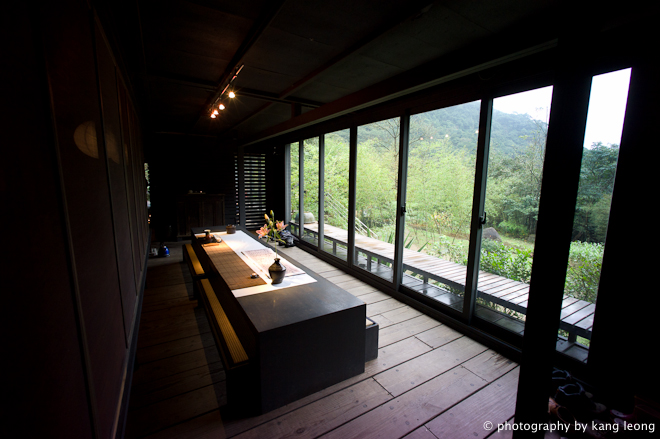 Whuppa. No seriously, we had to drive up a mountain to get here, here being Taipei. It was one of the more illuminating meals I've had, a kind of a mountain-top cuisine in zen-like surroundings. Take a look at outside: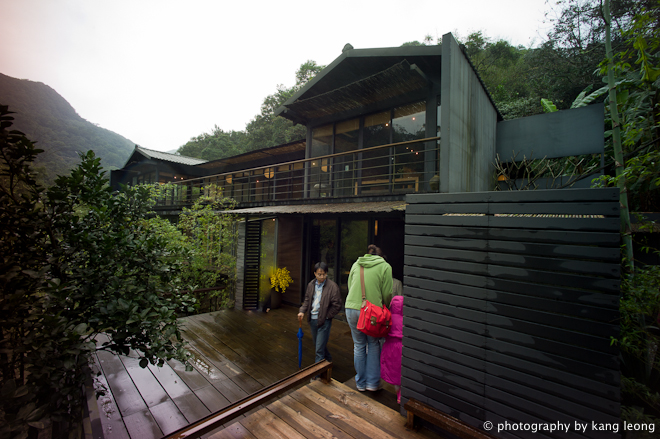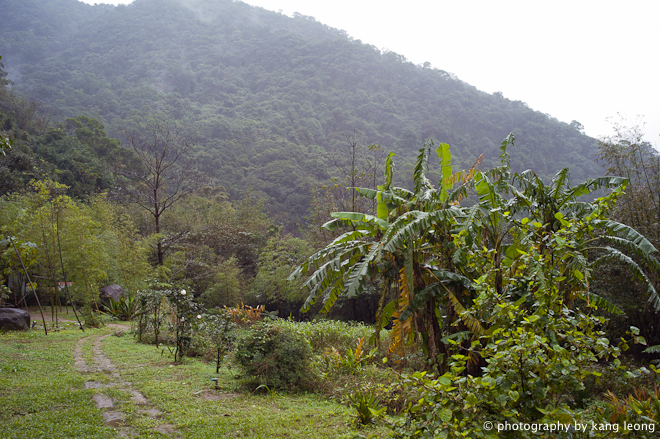 Talk about restaurants with a view. Forget about those which oversee some of the worlds greatest city harbours, or the world's greatest city parks, or even those which will overlook our beloved Ol' Smoke. A birds eye view on human progress may be breathtaking but it is also a reminder of the way man has levelled and desecrated mother nature with our heretical obsession in forcing our electrical wizardry upon the world.
In Shi Yang, it couldn't be further away from the modernity of life as we know it. Here you eat under the motherly gaze of nature's original skyscrapers. Surrounded by these hulking mountains with puffs of clouds brushing by its summits as they whiff past – It is humbling.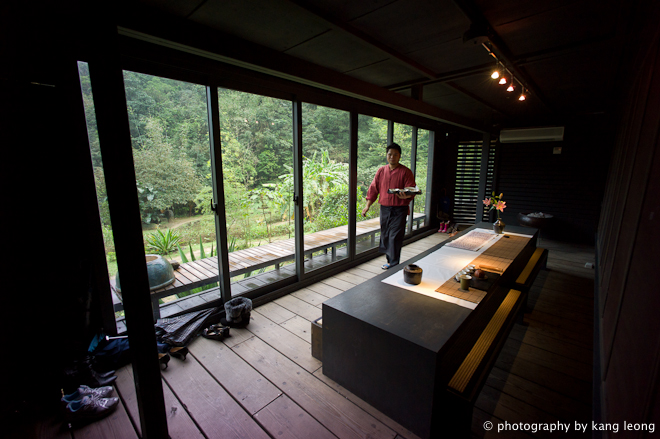 The restaurant looks like it was built by hand, with steel beams holding up solid timber planks, all painted black. It's inspired by real ancient China. Song Dynasty, 10th century China. So wonderfully organic, humanistic, much harmony. As if the 21st century had forgotten to touch this part of the world, or more accurately, as if this place had deliberately stayed away from the march of technology. Ironic considering Taiwan's economic awakening was built on the silicon boom. The restaurant is essentially made up of conjoining private quarters, there is no communal area, and each table is located in its own private room. As we made our way into our allocated room, I peeked into the others, and saw that they were filled predominantly with large groups of tourists from the Mainland, armed with their cameras hovering over the food.
The cobbled narrow walkway lit by bamboo lamp shades and flickering candles on the ground was cinematic. We took our shoes off before entering, and sat down at a low long table, made of cold steel allowed to age to a natural rust, and held up by solid wooden legs. Sturdy, permanent and long lasting – a feeling in total contrast to my hectic, vacuous and fast paced world. For background music, chinese mandolins sent every mitochondria in my cells into a resonant sway.
The Force I feel, is strong with this restaurant. I feel at peace with myself, I feel I could move the mountains I was communing with. I felt hugely replenished. A large pot of extinguished charcoal letting out residual heat kept us warm. Only the sight of a kettle attached to an electrical socket, prevented a glimpse of the parallel brane universe.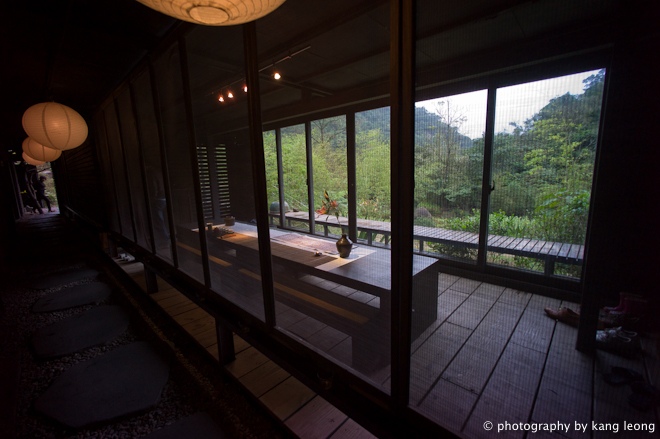 The Taiwanese think of this restaurant's cuisine as 'creative and traditional'. It may be much more than that, perhaps also very much less. You could say it's a minimalist kind of high mountain food, leaner and far removed from the rest of the world below. There is much clarity, analogous to a spiritual stripping away of the burden of materialistic life, a rebirth to a purer version of self.
Or you could say this cuisine is a direct reflection of Taiwan's mixed heritage. The island nation of flaming mountains, valleys of terrible beauty and a people who identify with sweet potato. It is a sort of cultural melting pot where the best of the Chinese and Japanese is found. From its original influx of Chinese migrants from the Fujian province to its eventual legacy rule of law left over after centuries of association with its (former) Japanese imperial master. For the foreigner (that's me) whose had the fortunate pleasure of learning about Taiwanese culture first hand through my better half, it really strikes me as one of the most uniquely distinct cuisines/cultures in the world. It is both Chinese and Japanese, but neither at the very same time.
The man behind Shi Yang is a rather elusive character, which I think translates loosely to 'Nourishing Eating Culture retreat, on a Mountain'. The restaurant has moved from mountain to mountain in its roughly 16 year history, from its original Xindian City location, to Yang Ming Mountain and eventually to Xizhi. The owner is Lin Pin-Hui, a former architect; The story goes that he packed in his successful city career to move to the mountains to lead a more spiritual life and to indulge in his true life passion of building a space to appreciate Chinese Tea.
Occasionally, he would entertain his buddies by cooking this purified lifestyle food, eventually it became a kind of underground restaurant. On those foundations, it grew to become a sort of transcendent purveyor of modern Taiwanese cooking and a tea house, famous not so much in guide books, but more so by word of mouth. I suppose the story is paralleled by Stephen Harris and The Sportmans in Britain. Move closer to nature, cook what you find around you, live a more enriched lifestyle. Yeah I'd like to do that once I'm done writing for you folks.
There is a more romantic report of his origins, his kitchen ethics (Culinary 'partners' as opposed to sous chefs) here.
No menus, the food is completely seasonal, and think of it as a vegetarian based (think monks' food again) with the odd injection of the freshest seafood delivered from Keelung harbour, and some pork and chicken thrown in. Yeah that's right, local provenance, no imported truffle or foie gras here. Tick, tick, tick.
The menu-less menu costs NTD1100 per person. NT what? That works out to be £26 each. That's INCLUSIVE of service. And that's for 9 to 10 courses, irrespective of lunch or dins. Yeah I hear you, £26 is actually cheap(ish) in Taipei terms too, but really it's amazing how affordable it really is. I went with the family, 6 adults and two 3 year olds. Everybody eats the same thing, that's to say, every item was times 6 (kids picked off their parents).
Ok, ok no more hot air, food below.
Course 1 : Vegetable soup with flying fish roe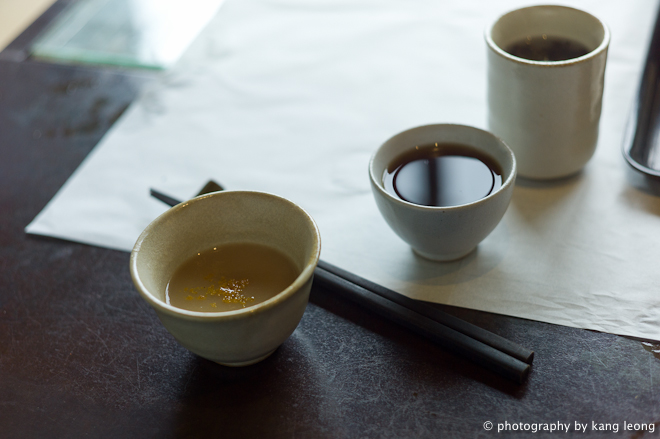 Almost veloute like in texture, a root vegetable with rich umami flavours, perhaps akin to celeriac. I was completely sold on the first sip. The fish roe adding extra textural layers. We also drank this with a herbal tea, you know, I forgot to write it down, but it was medicinal, like a sort of strong ginger tea.. or something. Detoxing, different, cleansing.
Course 2: (L-R) Mochi with flying fish roe ; Pomegranate with wood ear ; Peanut tofu with olive tapenade.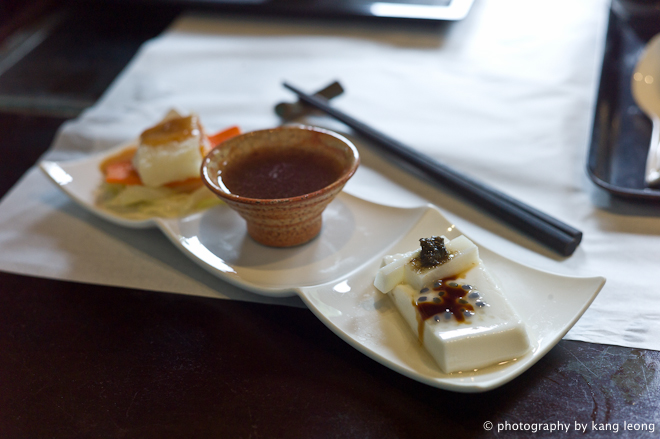 This trio was like a kind of appetizer, uniquely and quite strangely cleansing.
There was a sequence in which I had to eat this in, but I forget the order.
My notes indicate that I started from the middle with the cold pomegranate juice with wood ear. A jolt to the soul. Then I moved on to the crisply fried and gooey mochi with a centre filled with a flying fish roe paste. I remember the crunch of the mochi, and thought how peaceful the cooking was. Did they use some kind of clean vegetable oil as opposed to lard?
Finally, I moved on to the peanut tofu. Great wobbly pannacotta textures, also served cold, it was fabulously dense and silken, as good as the best and freshest tofu I'd ever had in Asia, but with the surprise of peanut as opposed to that of pure water. Paired with perfectly boiled rectagular blocks of squid, an olive tapenade for flavour and some sort of mucus-like seeds – this was immensely brilliant cooking. I could honestly say I'd never had anything like this before. Seriously, this would change your mind about what tofu could taste like.
Course 3: Chawanmushi or "Chawan Steam" with scallop.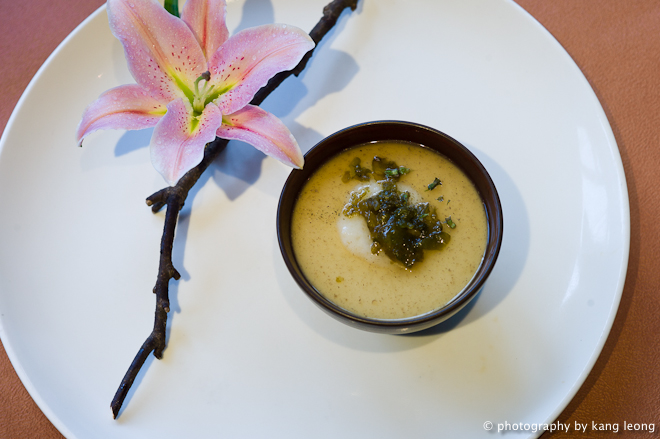 Or steamed egg in a tea cup. I was amazed at how the entire table (of my extended Taiwanese family) gestured "Chawanmushi!" as this arrived. To me, this wasn't Chinese food, this was completely Japanese. But to them, it was completely Taiwanese. It occurred to me how different their culture was to my own 'Nanyang' ideology of Chinese culture. This was the Japanese part of their Taiwanese upbringing.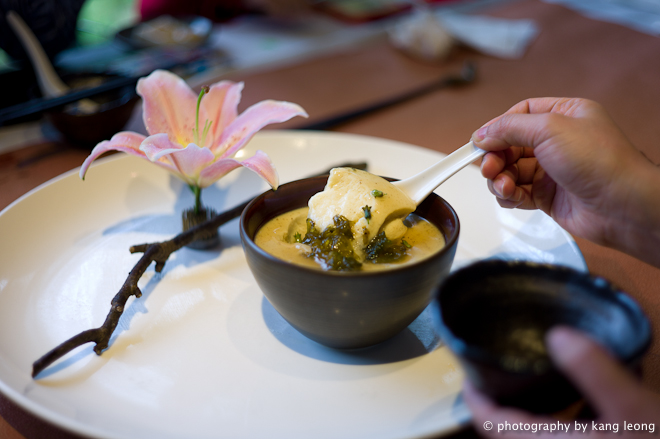 Anyway, look at that savoury egg custard. Look at the texture.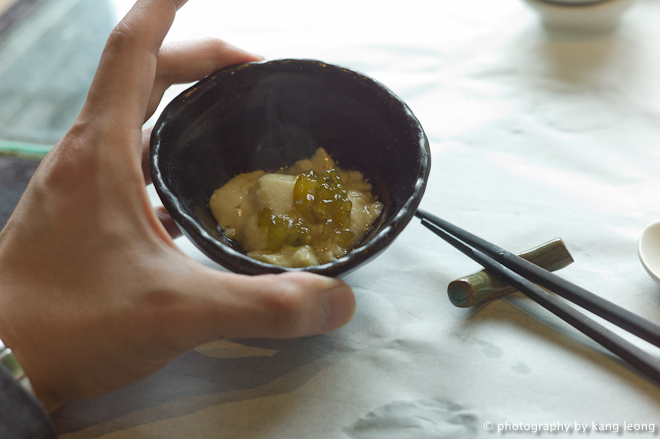 That's zen cooking right there. Beautiful unbroken blobs of cooked protein. Seeping in the gorgeous flavour of intense dried scallop with some kind of pickled mountain vegetable. I get it now, chawanmushi is suppose to nourish the soul, this nourished my nuts alright. Energising stuff.
Course 4: The seafood and vegetable platter.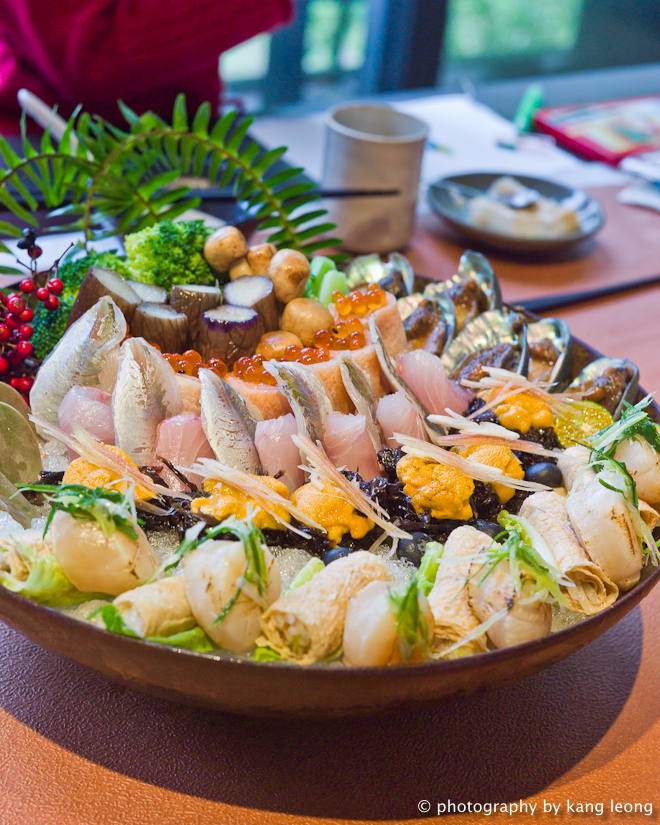 Or the sashimi platter, whichever way you want to look at it. My parents are still averse to raw food, it's just so unthinkable to have raw food (generally speaking obviously) in Chinese cooking. But in Taiwan, again, it's that Japanese side of their culture – raw fish was part of a healthy diet.
Flamed scallops, dried beadcurd, aubergines, sea urchin (these were gorgeously creamy), sea bass (maybe?) or mackerel, local mushrooms, lotus leaves, baby abalone, smoked salmon maki with fish roe.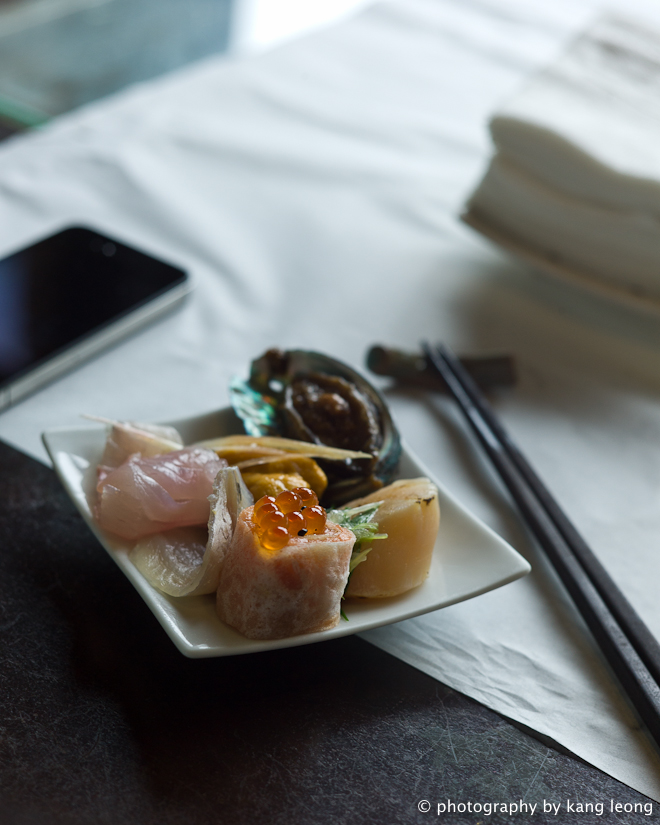 Here's my little selection I picked out for myself. It was the most beautiful sashimi platter I'd ever seen assembled. It was the very crux of Taiwanese culture, a perfect fusion of China and Japan. (Mindful of history, I mean no disrespect with that last statement.)
Course 5: Lavander, Guava juice with Passionfruit.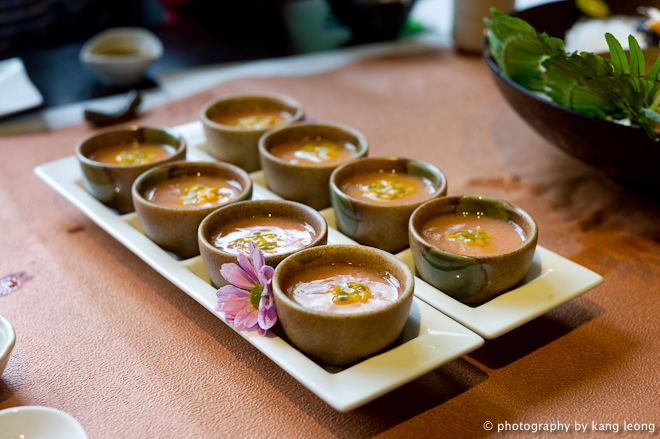 A mid-meal palate cleanser of guava juice. At this point I thought to myself, that I never realised detoxing could ever be so delicious. And entertaining.
Course 6: Grilled prawn with pumpkin and inari sushi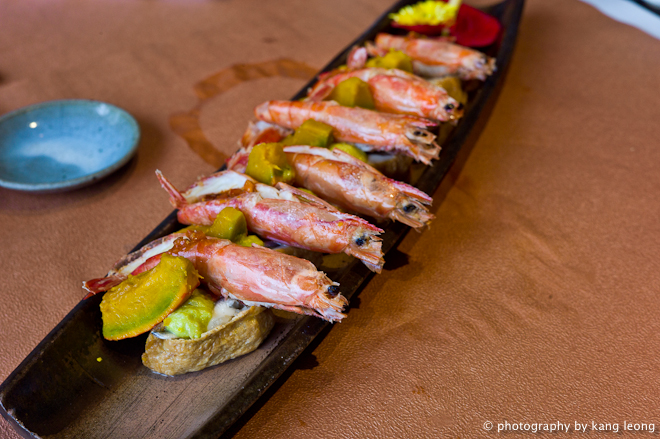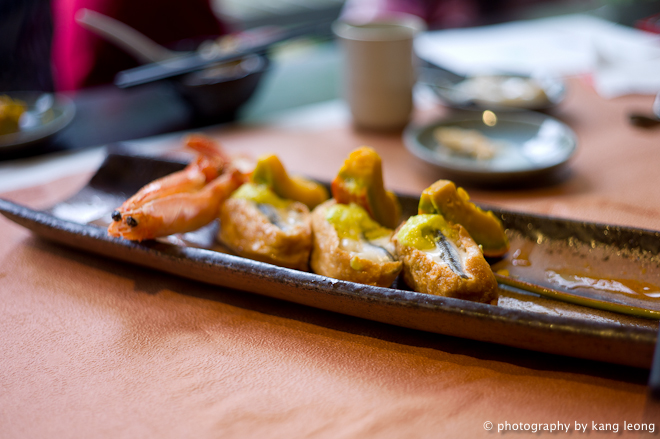 A sweet beancurd skin wrapped rice ball with anchovy and a giant grilled prawn. Alright, nothing too much to write about, aside from the fact that it was a juicy prawn. Delish.
Course 7: Glutinous rice with Italian salami, wood ear and some kind of local mushroom.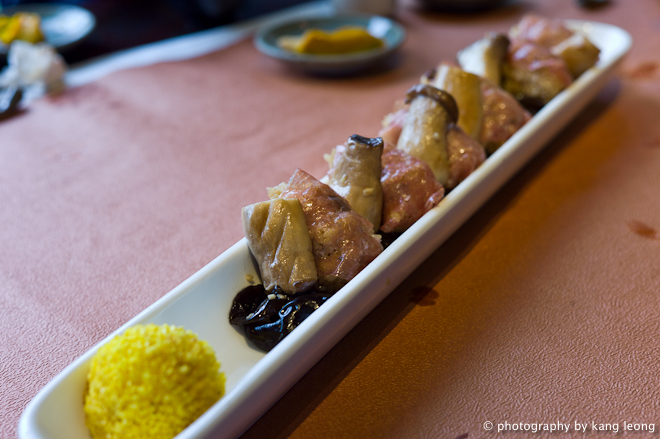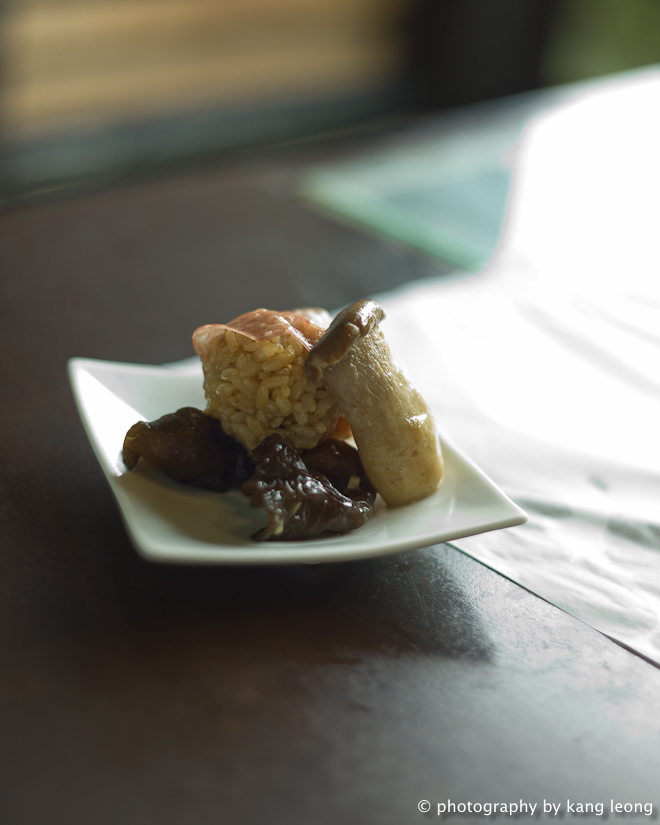 Dressed up like a cooked salami nigiri, but really it's a classic steamed glutinous rice which could have easily been made with Chinese salami too. But this was nice too. The mushroom and the woodear were of exceptional quality, needless to say the rice was redolent of homey memories.
Course 8: Boiled chicken soup with 'blossoming' lotus flower.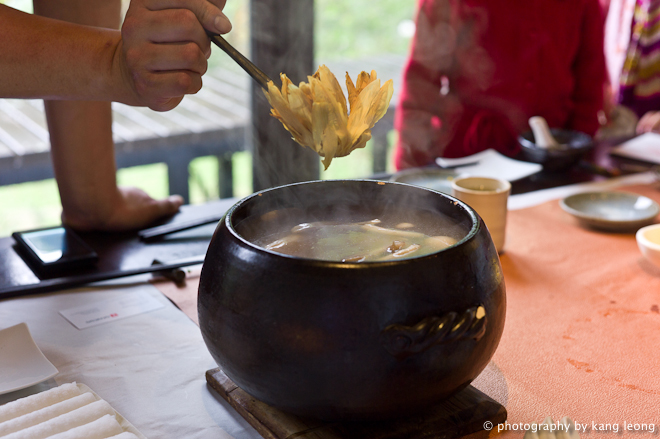 The pièce de résistance. The kids were mesmerised by the blossoming flower.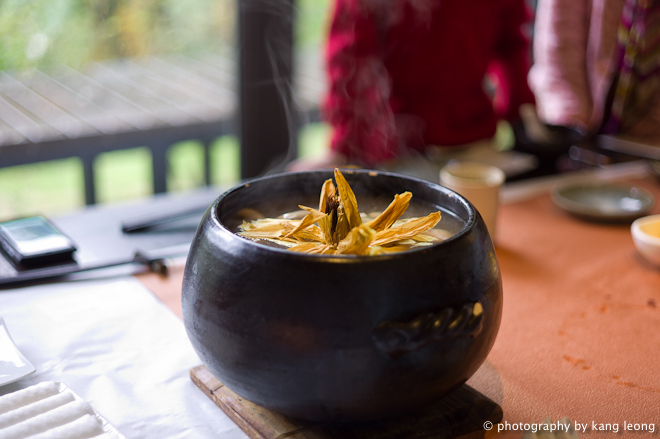 Hah. And so was I.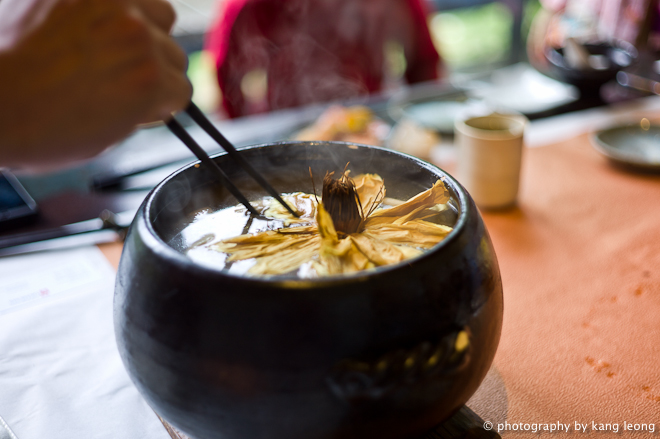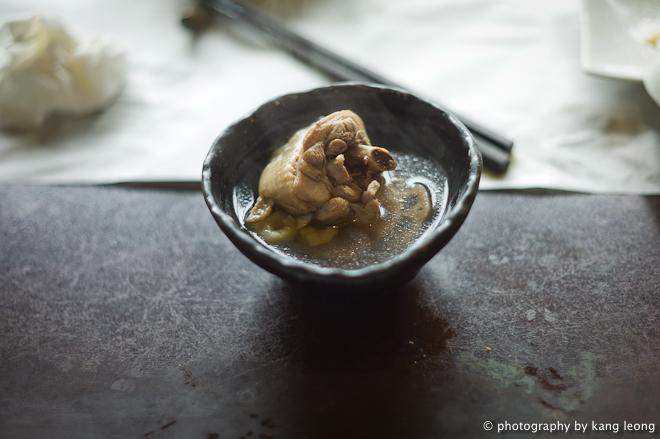 I forget what the boiled broth was cooked with, but it's a mystical blend of Chinese herbs, lotus root and probably ginger. (There's almost always ginger in Chinese boiled broths).
Like most of these Chinese boiled broths, I hazard a guess that it's been slow cooking for at least half a day. Yup, soothing chicken soup for the soul indeed. For me, double boiled Chinese soup is a family thing, it's the love of a wife, mother and grandmother re-condensing in the pot, and ready to energise her family after hours on the hob. For me, I could only ever love my mum's double boiled black chicken soup (I always used to choke on shark's fin and fish maw anyway) , but this was cooked with spiritual zen (and a blossoming lotus flower!), I applauded its heartiness. This was the very essence of Chinese cooking.
Course 9: Yuni, oatmeal (or barley), longan, red date syrup.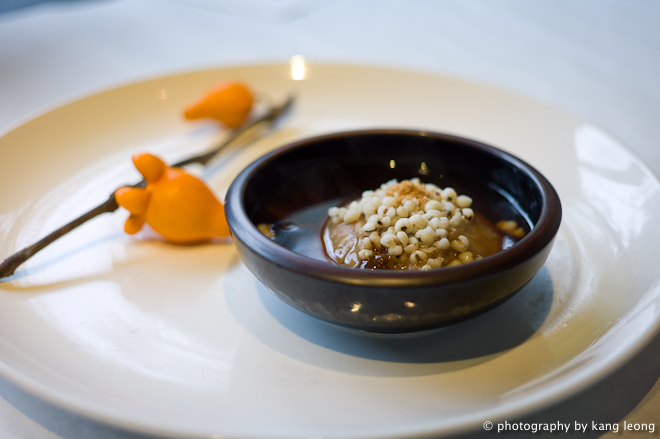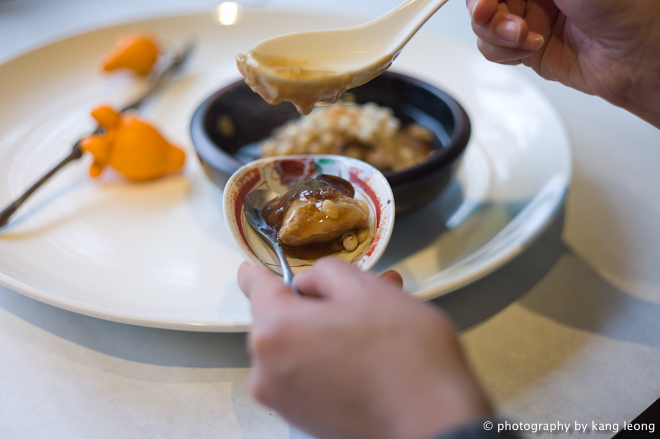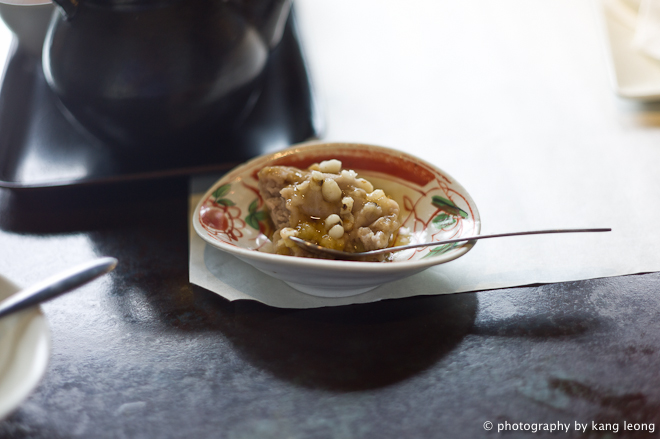 Yuni, or mashed yam (taro) served piping hot with a thick caramel-like syrup was incredulously decadent stuff, a bona-fide pudding, but perhaps a rare one that could actually be good for your health.
We also ate sliced kiwifruit and bellfruit, the latter being quite symbolic of Taiwan.
I still can't believe how ridiculously cheap the meal was. It was my turn to buy everybody lunch, so I paid NTD7260 or £159.59, for six adults and two kids.
Amazing. Just amazing. Beard stroking zen masters would eat here and grow to an old age, gain amazing human wisdom, and glide from tree to tree until David Carradine sends Uma Thurman to become an apprentice.
Shi Yang is an exceptionally unique culinary experience. But it can't win a star (yet) because there is no Taipei version of the red guide. (There is a green one).
It's absolutely one of a kind, culturally aware, modern yet traditional, it's on the side of a mountain. It's a destination restaurant. The waiters meditate in between service.
What's that I hear? Noma? How much do they charge for making you cook an egg on your table? Surely more than £26.
If the bib has a 'social responsibility' in its power to enhance the reputations of whole national cuisines, then they should cast wider nets. Let's not even take the Top 50 guys into consideration – that is no more than a back patting exercise amongst the power brokers of the food industry.
But you, Mr Punter, if you are searching for a holistic culinary journey that isn't inflated with ridiculously materialistic awards – This is the ticket.
Let's revisit the Lung King Heen (world's first 3 starred chinese restaurant) dilemma. The Michelinism of the repackaged cha chan teng. But really, be honest now, LKH is exactly that. Aside from that view on HK harbour, tell me, what exactly is so ground breaking about LKH's food? The innovative use of truffle? How about the burning of my wallet with the double charged bottled water. It is no surprise that I came out of LKH feeling so drained.
Did I mention Shi Yang rolled in all the cost of tea/water for free?
Luxe chinese cooking CAN be special. I am not saying that the traditional hotel banquet Canton restaurant shouldn't be celebrated, it should and rightly so it is already. But I also think that the culinary world needs to look closer at 'outcasts' of Chinese cooking like Shi Yang which is creating something truly different. It changed my ideas of what Chinese cooking could be.
Call me a hopeless romantic but I just love the idea of this place: A remote getaway location wrapped within nature, cooking that is not only nourishing, but healthy, seasonal and entirely local. You have to travel to experience it, Shi Yang cannot come to you on a plane to Harrods.
So if you ask me about luxury Chinese food, and who to pat on the back, then I would very much like to put my paws on Mr Lin. This is a clean slate, purer beginnings, and it is not the tired old design of those dripping in the indulgence of excesses where haute cuisine is a place to broker the next depression. Of course, high cooking is inexorably linked to money, after all no matter how puritanical we all aspire to be, in the end, money makes the world go around. Especially in the restaurant business which depends on it. It's business after all. Not to say money moves all intentions, but really we need to be realistic, and where lots of money is generated, great restaurants follow closely behind. Having said that, there are the outliers, and those are ones which really intrigue. (Also discounting the obvious exceptions to every stereotype)
All things considered, Shi Yang is a gem, it's just fantastic. This is a gastronomic experience like none other, it is nearly spiritual, and – to borrow an oft abused word to describe destination restaurants – a genuine pilgrimage. Most importantly I would go back, partly because I can afford to. This is the reason why people like us collect restaurant experiences. This is what I aspire to write about. This is why restaurant blogs really exist. Now book a flight to Taiwan.
The Gist of It
Shi Yang Culture Restaurant
Taiwanese, £30pp
No. 7, Ln.350, Sec.3, XiWan Rd
XiZhi City, Taipei County, Taiwan
Tel : +886-2-2646-2266
There are others : Andre in Taiwan ; My Several Worlds ; Taipei Times ; Pace J Miller ;
Did you enjoy reading this? You can subscribe to the RSS feed.