Sushi is sometimes misunderstood as the culinary delight of raw fish when it actually refers to vinegar-ed rice and roughly translates to meaning sour.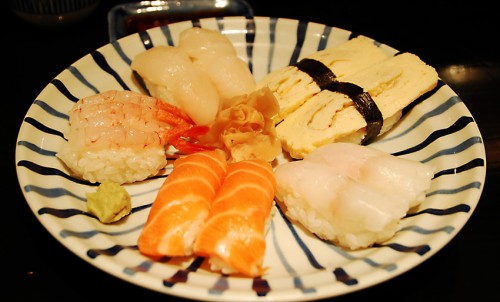 Definitions aside, sushi is one of my favourite types of food, its healthy (only 3% fat apparently), simple and tastes great.
fish, rice, wasabi & soya sauce
I must admit I don't know enough about Japanese cuisine as a whole, but I do have a pretty clear idea of 'London sushi'. I am always curious about authenticity and I am sure that 'real' sushi will taste different from the anglicised versions. I'll say now the best sushi I've ever had was in Sydney. If I remember correctly, it was a place called Makoto. Australia being Australia, they have the freshest fish and produce stunning sushi. 
old school versus nu-tro
New-style sushi, in general, are a variation of the classic california roll (which was interestingly created in the 60's by a sushi chef working in LA), some examples are stuff like tempura stuffed sushi with unagi (grilled eel) on the outside and cream cheese sushi sandwiches. 
In Sakura you won't find this new-style sushi as it features the more traditional offerings that highlight the freshness and natural flavours. Classic never goes out of fashion … because it's just timelessly good.
buy a mac, have a salmon nigiri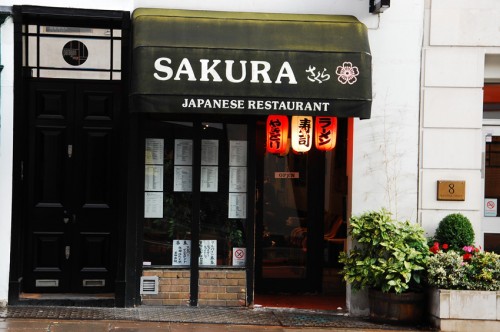 Sakura is on handover street which is the next street down from the Apple store on Regent Street. Its in a great location and has a reputation of being the best Japanese restaurant in London, that nobody seems to talks about.
Then again, if your restaurant was packed out almost every night, I guess you don't really need to advertise that aggressively. Unless you sit at the sushi bar, waiting times are usually about half an hour, maybe a little bit longer on the weekends. A quick glance at the clientele and you can be assured that food will be great. Why? Because there are lots of Japanese diners. 
tell me about the food already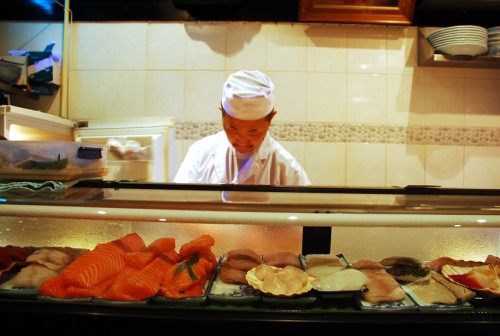 I love coming here for a saturday lunch, my usual spot is the sushi bar. The guy in the picture is the lunchtime sushi chef (lets call him Master T). He's made me a happy diner, many a times. (hmm..) I dont know what it is about sitting at the sushi bar, its just such a city thing to do you know, sip tea (or sake), read a book, or soduku while you wait for your food, people brushing past you because of the tight space, its just so atmospheric and an experience in itself.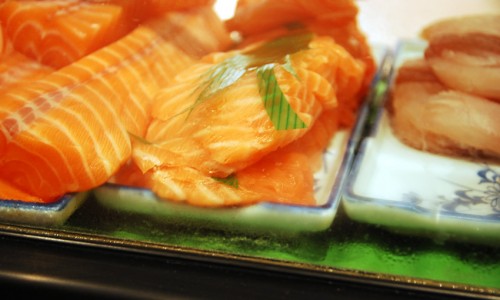 Just look at the colour of the salmon, wow, I'm salivating already.
raw fish = colour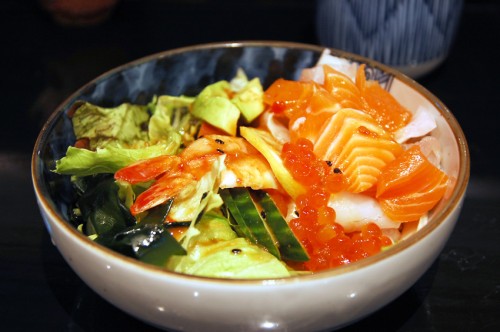 I started with one of my all time favourites – the spicy sashimi salad. For 5 quid, you get a medley of sashimi. I found the following in mine: salmon, prawns, fish roe, sea bass, turbot, abit of scallop, squid and white fish. The greens included: raw seaweed, some lettuce, cucumber and a really nice spicy sauce to give the salad much needed moist and flavour.
Now you might think that this is too good to be true, as a couple of dainty pieces of salmon would easily set you back 4 pounds..clearly something is amiss.
Well, here's the catch, the sashimi pieces in the salad are not the premium fish portions. What usually happens when they prepare sashimi, is that they cut away alot of the chewy bits until they get to the core of the meat (which is smooth and tender). Its part of the reason why sashimi is so pricy because there's alot of wastage. Smart restaurants repackage the wastage into their salads.
Ok, its not as silky smooth, some is too chewy, but its still very edible, especially with that killer spicy sauce. Great value.
nigiri, the thinking man's choice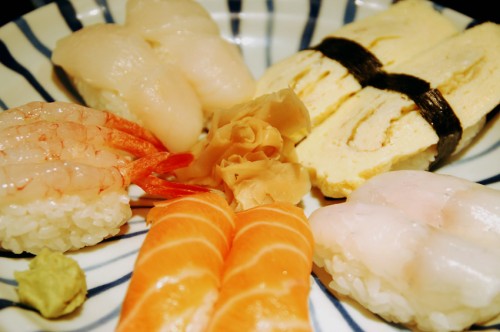 Don't get me wrong, I do enjoy sushi rolls, but there's something about nigiri sushi. The simplicity of the cooking (er, non-cooking?) really emphasizes the ingredients. Its like the chef's skills have been stripped to the core and he needs to prove himself with only two ingredients, the rice and the topping.
I ordered my 'benchmark' selection of salmon, tamago and scallop. I would have ordered toro (belly tuna) but they were completely sold out when I got there (those lunchtime diners really know their fish). Substitutes were turbot and sweet prawn.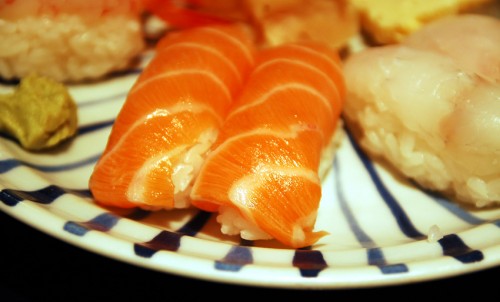 The first thing you will notice is the temperature of the sushi. Its warm, like 37C warm. Temperature is important with sushi. Too cold, the flavour will be subdued and the rice will be too tough. Too hot, the rice breaks apart and the fish starts smelling funny. That's where the skill of the sushi master comes in – the amount of time the sushi spends in his loving hands as he is making it.
The salmon melts in my mouth, the rice, perfectly vinegar-ed and its flavour accentuated with soya sauce is very appetising. The tamago is the best Ive ever had. I mean, its really just eggs on rice, but its just so perfect. Its so simple that I don't know how else to say this, other than, its perfect nigiri.
Prices are actually quite affordable here, £2.60 for 2 pieces of salmon is pretty unbeatable, especially when it tastes this good.
Japanese do cooked food too
The menu also features a pretty impressive list of cooked dishes. They have the basics such as prawn tempura (which are excellent), teriyaki chicken/beef/salmon, chicken kaarage (deep fried), una-don (eel on rice) , tonkatsu (pork in breadcrumbs) and oyako-don (chicken on rice).
However, the highlights are other lesser advertised Japanese small dishes. Examples include grilled octupus, miso cod, deep fried oysters, steamed egg tofu, natto tuna, just to name a few. If raw fish doesnt appeal to you, then maybe come for the cooked stuff. 
I spotted something rather unique on the menu, deep fried shuimai, and really wanted to try it. It is served with tonkatsu sauce as well as finely chopped chillies and chives. The crust was very crisp and surprisingly light. Inside, chopped mushrooms and pork, chillies give it an edge and the tonkatsu sauce rounds out the flavours. Actually, this could easily be a great party starter. I like the fact that each dumpling is a self-contained parcel of joy.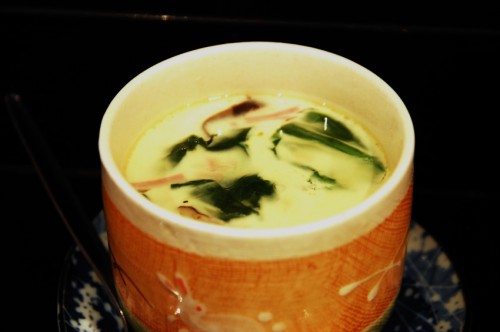 The last dish was steamed egg tofu made with seaweed and chicken pieces. Off the bat, its abit too bland for me. However, the tofu was very smooth and the warmth did make me feel all fuzzy inside. Its a great winter dish I feel and its very much Japanese comfort food.
ice cream and lasting impressions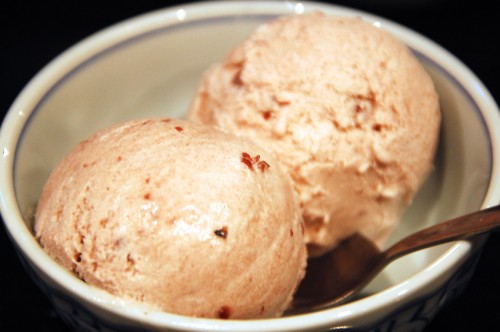 I finish my meal with azuki bean ice cream. Made from small red beans (think kidney beans but half the size), which in itself is a type of pudding. It has a distinct perfumery flavour, alittle rose like, but the sweetness is clean like rock sugar. Japanese ice cream is the complete opposite of its western counterparts. In the place of creamy, smooth sugary sweetness, we have grainy, coarse and delicate sweetness. It'll still melt in your mouth but a little different from what you would be used to.
If red beans sound too exotic (as compared to bacon ice cream at the fat duck?), then go for the green tea ice cream. Its a classic.
I think my first ever visit to Sakura was four years ago now, eversince then, I've never had a bad meal and the warm melt-in-your-mouth nigiri still blows my mind everytime. I just have to go mmmmmmm……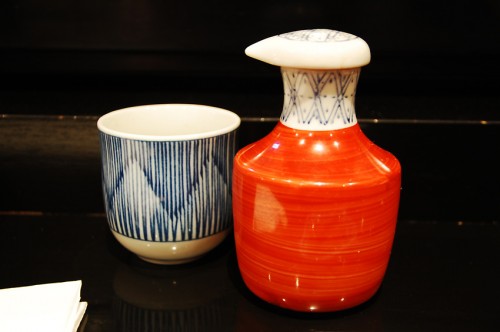 Prices here are very reasonable, considering its Japanese in London, where in my humble opinion, charge way too much. This is one of the best Japanese places I've tried and has yet to be unhinged from the top of my list. Why it doesnt receive more media attention is really beyond me, its not even in the time out guide. Oh well, media propping starts here I guess, highly recommended folks.
Did I find 'that' dish? Definitely, I found the dish four years ago and its still just as good today. Warm sushi artfully created, I love simple food that just works. The salmon and tamago nigiri is close to perfection.       Should you bother? If you enjoy the more traditional Japanese food, cooked or raw, then you can't go wrong. Popular with Londoners, if you haven't tried it, then join the crowd and find out what you're missing out. Have the spicy sashimi salad, the tempura, shabu-shabu, teriyaki chicken and the deep fried oysters.      Basics Sakura 9 handover st w1s 1yf | 0207 6292961 service: lunch noon – 2pm | dinner 6.30pm – 10.30pm everyday how to get there: oxford circus tube station how much: affordable, hearty meal for £20-£25 per person credit cards only for £10 and above