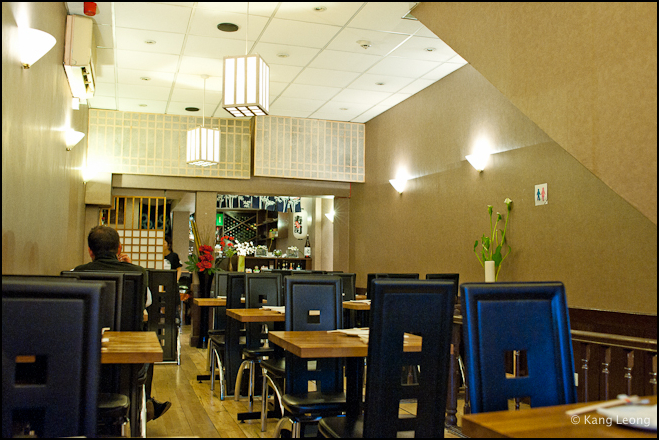 Paul the octopus was right all along, Spain are now World Cup winners, and I should have put some money behind his choices. Sorry to have been away from the blog for so long, I've been out in the sun you see, chasing sushi dreams. Here's the first report, a few more to follow in the weeks to come.
Good ol' Time Out, they're always on the ball when uncovering the modest little neighbourhood gems across town. With Kappa having been opened for over three years now, theirs remain one of the few reviews floating about the intertubes. I consider this my local sushi dive, situated on the main drag on Earls Court Road, it is about a five minute jog from my place in Kensington. Yes…. my plans for a washboard summer are still hidden behind reams of love handles. The restaurant is operated by a Korean chef whose name eludes, and whose resume boasts stints in Zuma and Nobu. I like this place, I used to come here alot, but had lost interest in the last couple of years. Until very recently, I started using it as a carrot to my exercise routine (It was either this, or Byron, a case of the lesser of evils), and had rediscovered the good things Kappa was churning out, and I thought it worth letting you sushi-heads know about this.
From L to R, the nigiris are two arkshell clams (£4.20) , four otoros (full fat tuna belly) (£13.80) , two sweet prawns (£4.40) and four salmon (£7.00). In the far back, the negitoro & avocado maki (£6.90) and far right are two 'House Special' rolls (£17.80 for both).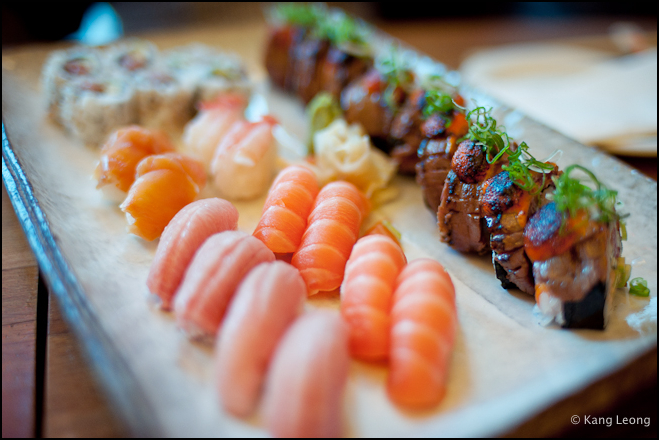 On the whole, the nigiri is excellent and well priced. It isn't the cheapest sushi in town, however, it isn't pricy either. £3.50 for one otoro nigiri is not too bad (…Kikuchi charges £8, Sake no Hana £5…).
The otoro was buttery, however marbling was not quite on par as the sheer melt-away-creaminess at Atari-ya, though the latter is a raw fish supplier. I felt the chef made the most of the ingredients, masterfully butterflying the otoro and the salmon such that it hugs the rice tight, but dissolves as it hits your mouth. Rice maintained a sticky mushiness, well seasoned with just the right balance of vinegar. I don't think it was koshihikari in case you wondered. On the whole however, it is every bit the disintegrates-in-your-mouth experience one comes to expect of good sushi.
House Special Roll, £8.90.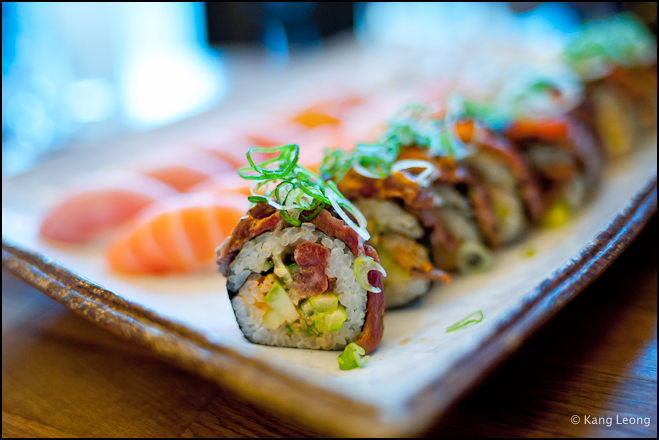 You've been to Dinings to try their truffle ponzu wagyu nigiri right? Well, the Kappa house special roll is along similar lines, albeit cheaper and made with less glitzy garnishing. Inside, the roll was stuffed with asparagus, cucumber, avocado and some beef fillet. Resting on the nori, a thinly sliced beef fillet smothered with their secret creamy chilli sauce. As it landed on our table, we could smell something burning – this we assumed, was from the beef having been blow-torched.
As it hit the lips, the monstrous roll was umami personified. Everything stuck so well together, the spicy creamy sauce was a godsend, it brought out the natural beefiness of the meat, with just a hint of zest which I assume was a dash of ponzu amongst a raft of other ingredients. The beef was only charred on the outside, giving it a flamed flavour, and the rareness of the meat ensures supreme tenderness. If the chef had told me this was Wagyu, I'd have believed it. It is the best thing on the menu.
Negitoro and Avocado Roll, £6.90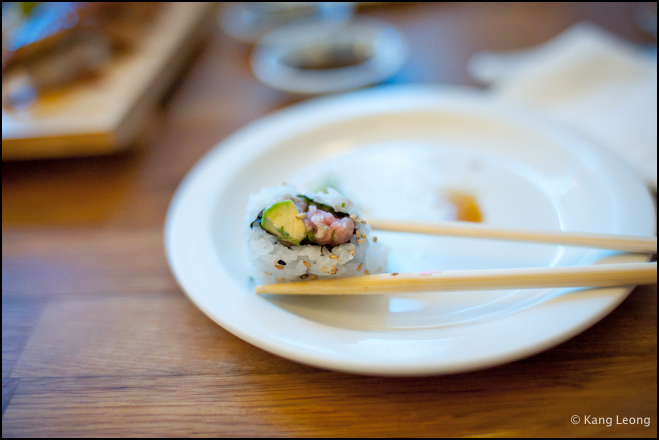 I'm a toro fanatic, and I just love the minced marrow-like texture of a toro maki. It seems this roll was made with otoro as opposed to chutoro (half fat belly) which I appreciated. Could have done with some shiso leaves.
Unagi (£11 for four) and Scallop (£4.90 for two) nigiri.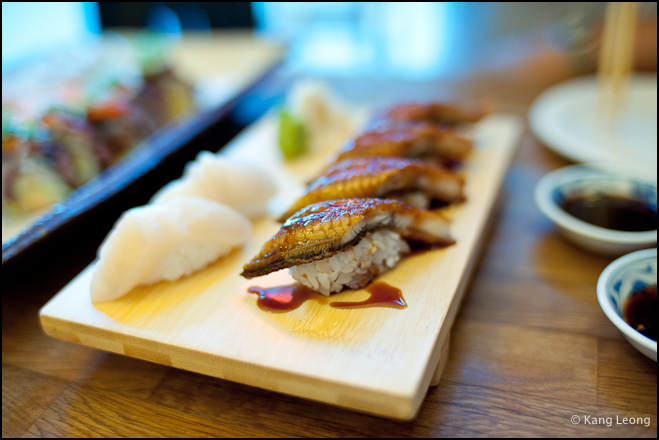 The unagi at Kappa was excellent. Honeyed, really meaty and juicy, plus flavour of flames which I believed was the chef's blowtorch making another round. I'm always a little sceptical about unagi in restaurants, I'm never really certain if they are the frozen variety (which tastes so good, it's hard to tell them apart at times) or if they are freshly grilled in house. Whatever the case, the unagi at Kappa is of a high standard.
Crispy Pork Belly, £7.90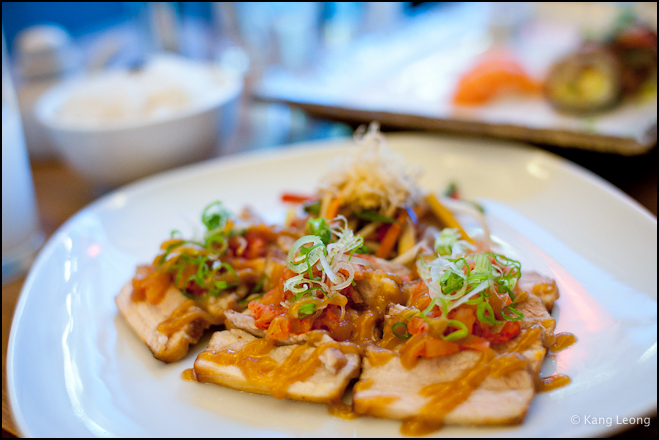 One from the main dishes. Personally I feel that this dish epitomises the rather drab quality of the cooked dishes (when compared to my previous meals here) in general. The pork lacked any depth in flavour, or any particular speciality in its texture. The overly sweet salsa, coupled with the tepid temperature at which the meat was served at, made the fatty bits taste weird. Cold fat. It just wasn't very appetising.
Kappa cake with Green Tea ice cream , £4.70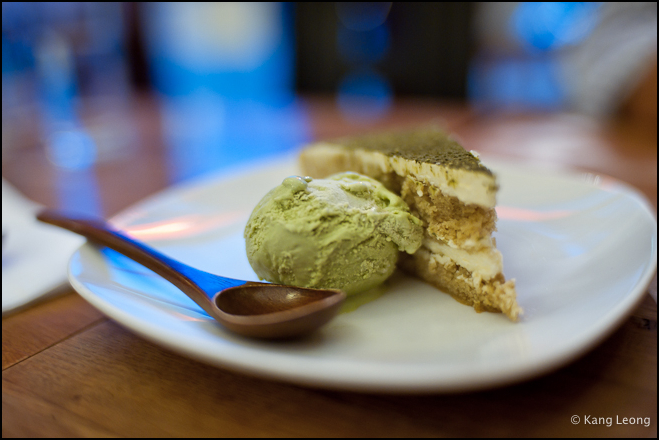 The sponge was green tea flavoured, the mousse was made from white chocolate. Light and airy, like a typical Japanese sponge cake really. Great with ice cream, it reminds me of an Arctic roll.
Me and Mark ordered just a bit too much food on this visit, the bill for two was £103.40. I usually get away with £35 by myself however.
There isn't much to look at in terms of decor, the place is reticent (even by sushi-bar standards) but the sushi chef is dedicated, he really takes his time to prepare sushi by hand, and most days, it's the same fella behind the counter and to me, that is Kappa's greatest attraction. The sushi is great, the cooked food is so-so, prices are reasonable, and they do cold sake (Junmai no less…at £1.30 each!) by the shot. If you so happen to be searching for a relatively lightweight meal in my neck of the woods, I think you'll be reasonably impressed with Kappa.
The Gist of It
Kappa Restaurant
Japanese, £35pp
139 Earls Court Road SW5 9RH
Tel: 0207 244 9196
Tube: Earls Court
The Word Out There: Time Out London
Did you enjoy reading this? You can subscribe to the Newsletter. Alternatively, you can subscribe to the RSS feed.
All text and photography on this blogpost is copyright and belongs to Kang Leong, LondonEater.com. If you repost this without my permission, bad things will happen. So please don't do it.