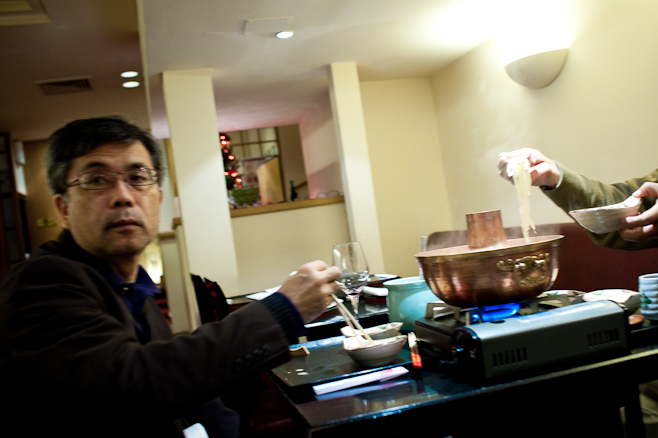 Winter has well and truly arrived. As I write this on a bitterly cold Friday morning, there is but a shallow layer of snow building outside, not quite enough for me to stab my feet into it with heavy boots, but enough for me to feel Christmassy. I'm usually averse to boiling hot and soupy things (my tongue bruises very easily with heat), but my numbing senses needed some thawing, and what better way to do so, than to snuggle up next to my special half and dip our heads into a pot of boiling water. Blub, blub.
Mitsukoshi is a Japanese department store – a huge one – and it's origins can be traced as far back as the 17th century. Talk about staying power. It has a small outpost right here in Piccadilly Circus. It's small inside, and personally I find the space just a tad claustrophobic. I've always found it abit puzzling as to why Japanese tourist choose to shop in a Japanese store when they could splash their cash on more 'local' goods and services which otherwise cannot be found in their homeland. I'm convinced there's a good reason for it.
Anyway, in the basement lies Mitsukoshi restaurant, which I didn't know about until I was taken there – what a surprise, and I thought I knew my Japanese restaurants in London. The space really feels like Asia, or more accurately, it felt like I had just boarded Singapore Airlines. Red carpets, red wooden tables, elevator music…, I mean lift music. It was like watching a US hit TV show in which the main characters had to fly to an exotic location, like say Hong Kong. As the audience, you play along with it, and the producers make the setting look believable enough, but not enough to convince you that its actually on foreign soil. You thinking about the same show as me? Yuppers, I'm thinking about the midseason Flash Forward cliffclanger which went down in 'Hong Kong'. (Wedeck's killer filofax that murdered his 40″ LCD was pretty hilarious with a ninja throw.) Oh how I do digress.
We kicked off proceedings with a fresh sashimi salad, finished with a spicy sauce.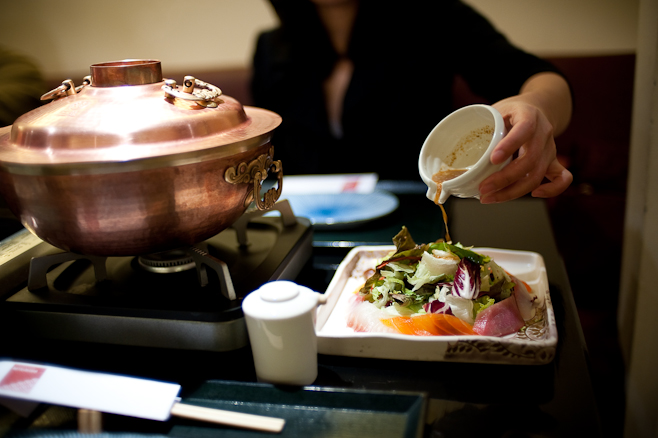 Oily, odourless, smooth and silky – the fish were all fresh, and the spicy tangy wasabi drizzle complimented this salad well, our palattes suitably cleanse, we could now move on to the shabu-shabu.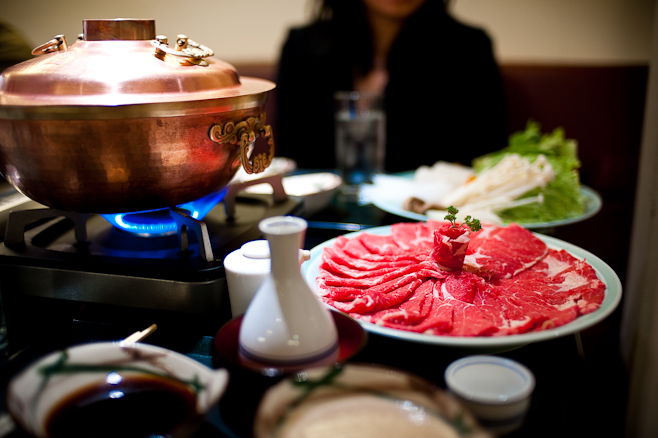 We were bemused when the waitress uncovered the lid on the pot – it was just boiling water – no soup base, no stock… huh? We didn't find out till after the meal, that this is how proper shabu-shabu is meant to be presented. Boiling water, sukiyaki beef (very thinly sliced) and vegetables, which in this case included tofu and enoki mushrooms. Each of us also had two personal bowls of dipping sauce – one was a citrusy soya sauce, and the other was a sort of thick sesame sauce. I googled this and my findings led me to believe that the shabu-shabu is a variation of the Nabemono (Nabe – "Cooking Pot" Mono – "things") , which is similar (in spirit) to the steamboat, or the hotpot in other cuisines. As I am intimately connected to Taiwan; the Taiwanese version is also served along side personal bowls of dipping sauce but instead it is made with a spicy sauce known as shacha sauce and also with raw egg – a stellar combo if you should ever try it. (The raw egg yolk is the secret to the dipping sauce)
Anyway, I'm used to dipping my sukiyaki into flavoured soup bases instead of just plain hot water, so I ate this meal mostly feeling as if something was missing. The sesame dip while good, wasn't quite as satisfying as the shacha+raw egg combo that I had been exposed to either. So the shabu-shabu (which literally means swish swish) was abit wishy washy for me, at best – too plain.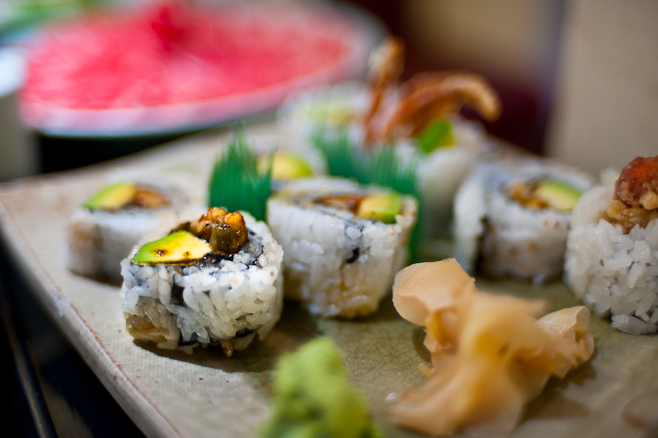 We also ordered two sushi rolls – one was unagi with avocado and the other was a spider roll, which was crisply fried soft shell crab – both of which went down well. After wolfing down the meat and veges; udon was brought to our table and we ended our meal slurping (at least I did, where are my table manners, eh) noodles into the night… The restaurant was filled with Japanese families and what appeared to be silver haired exec types in jeans enjoying a quiet one away from the family. As I left the restaurant, I also stole a peek into the sushi bar, to which I noticed a Japanese dude in a suit (probably after work) entertaining a lady (also) in a suit (also probably after work) tucking away nigiri and a couple of cans of Kirin. Atmospheric, I'm convinced I was transported to Japan for just that fleeting moment in time.
More photographs from the meal on my flickr account here.
The Gist of It
Mitsukoshi Restaurant official site
14-20 Lower Regent Street SW1Y 4PH
Tel : 020 7930 0317
Tube: Piccadilly Circus
Did you enjoy reading this post? Why not subscribe to my feed updates for free. Alternatively, You can subscribe via email.