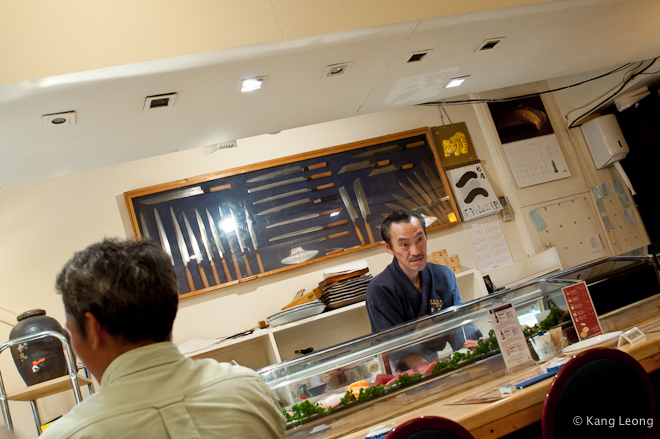 Food history is always an interesting read. Most of the evolution of modern day food has been esoterically documented, parts of it excitingly shrouded in folklore, but always, food is something inextricable linked to the life of the times. In the case of sushi, we know it's been around since the 8th century, though its very earliest form probably unrecognisable in the 21st century sushi bar. In those days, fish were fermented[1. Digital Sushi – a plausible origin of sushi] as opposed to eaten raw, the millennia-old style is probably survived by narezushi, a style still served in restaurants near Lake Biwa. Salted then pressed fresh water carp (from the same lake, with ovaries intact) fermented for up to a year is said to taste of fishy blue cheese[2. Funazushi in Shiga]. The original sushi was quite literally rotting fish. Oh how far we have come.
There is nothing rotting away behind the glass counter of this conveniently tucked away Japanese restaurant whose name translates very beautifully to chrysanthemum pond. It could also refer to a city of the same name in Southern Japan[3. Kikuchi City]. The cosy restaurant decor is largely anonymous and modest, white paint and wooden furnishings, not dissimilar to many of the sushi bars across London really. All the eye candy appears to be behind the sushi counter, the itamae in blue uniform with jet slicked back hair, sporting a fully formed moustache. Throughout service, we noted his bustling filleting, hand-forming and occasional grunting. Behind him is a large panel of framed sushi knives. I wondered about the whereabouts of this decorative collection – could they be a prized trophies from his winning days in the various sushi competitions spanning his career; Perhaps it was curated from when he apprenticed under famous Itamaes, or maybe the steel are forged from the fires of Shiretoko by a master katana maker… how my imagination runs amok. For some reason, I found the Japanese paper tear-away daily calendar (it reads 二, for the 2nd of July) hanging side by side with a 'Western' monthly calendar ironic, and wildly amusing. There we are then, ambiance.
The menu seems to go on forever, but is clearly sectioned into small dishes, sushi & sashimi and cooked main dishes. We started out with a potato ball dipped in a sweet soya sauce – a complimentary appetizer we assumed – and then grazed on a refreshing small plate of diced unagi and cucumber, garnished with sesame seeds and yet more sweetish soya sauce. Dinner was with the leading ladies of the digital dining scene, Catty the delicious and Chazza the delectable.
Scallops with Japanese ginger and citrus dressing.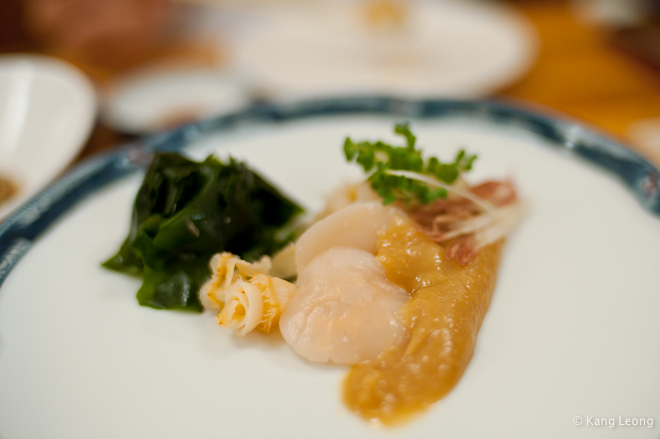 Fishy and fleshy with a concentrated miso paste that carried a light touch of zing, a capable representative of the refined virtues of Japanese cuisine…
Tuna with grated yam potato.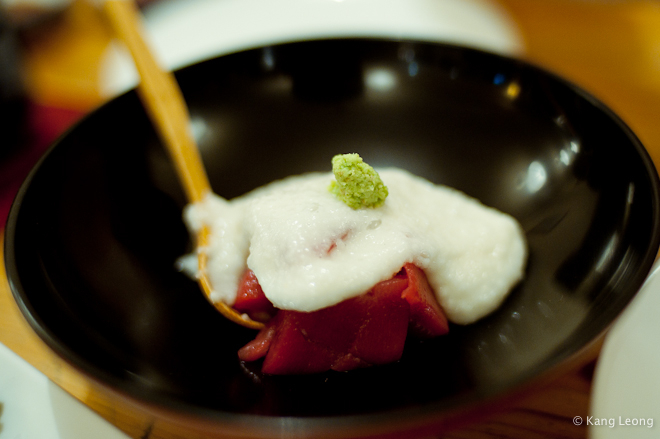 The grated yam was a slimy and sticky jam, slightly sweet, still identifiable with the starchy flavour of the root vegetable, dare I say like cold 'creamed' tuna.
Sashimi Platter, 8 pieces £18.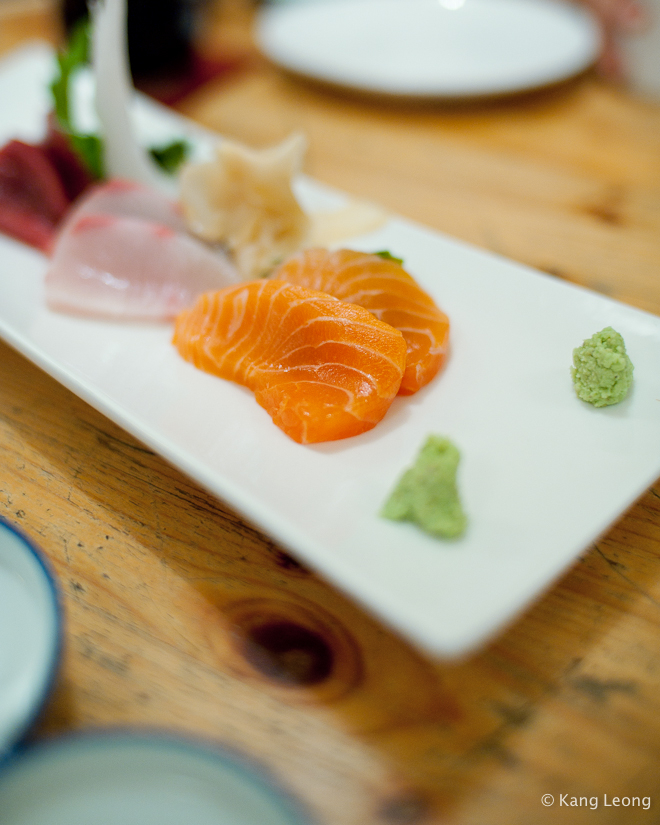 With the necessary starting dishes going down positively, we were then greeted with silk-cut sashimi, palatially presented on white porcelain. Inviting. The quality of the fish was high, and with fish as skilfully sliced as this, it was only natural for it to go down just as smoothly. Two slices of four (salmon, yellowtail, tuna and mackerel) priced at £18, seems just a little steep.
Selection of Nigiri, 12 pieces £24.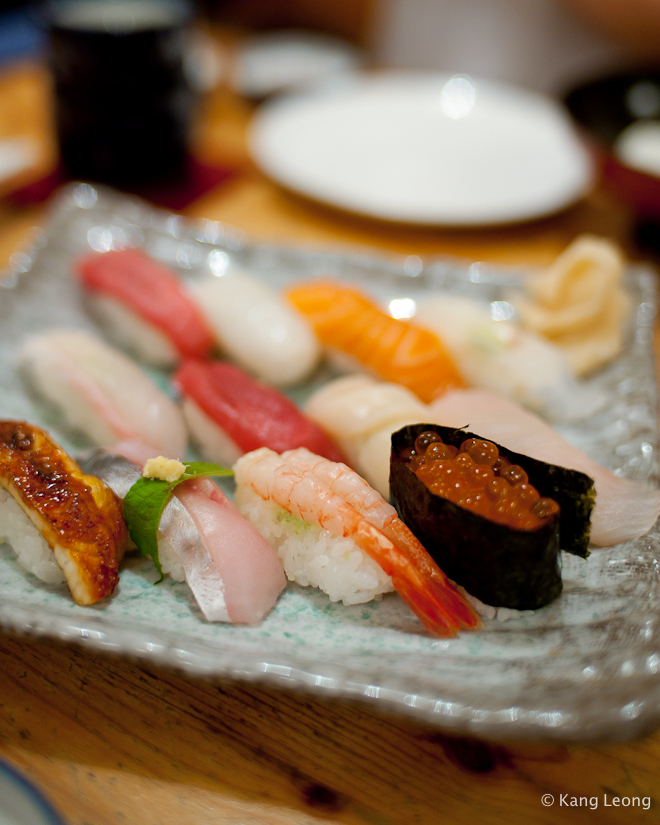 I found the rice to be a little hard, perhaps the word I'm looking for is glutinous. The vinegar punch is on the mild side, but generally speaking it's good. As with the sashimi, I appreciated the itamae's super-knives skills, striking the right thin-but-not-overly-so, rice-hugging thickness of sliced fish on rice. With sushi I do feel that it is a case of if it looks good, it is likely to taste good. The selection included all the good stuff, salmon, unagi, ikura, (sweet sweet) scallops, turbot, tuna, yellowtail, squid and mackerel, at an average of £2 per nigiri, it is better priced, but still for a set selection, seems expensive since I didn't feel the illusion of making a saving.
Ala carte, nigirizushi and makizushi.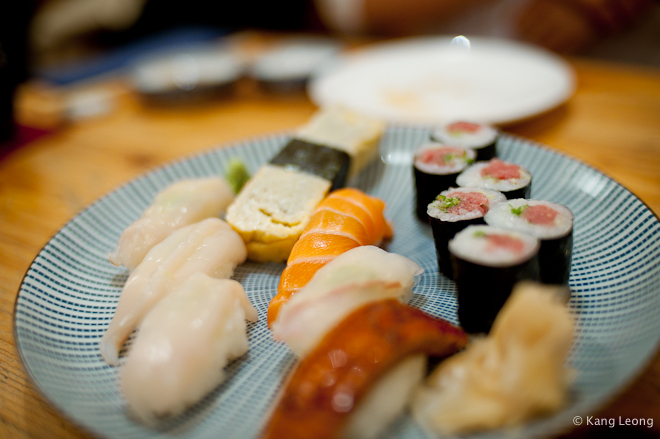 Of course we had to order more. Negitoro with spring onion maki was benchmark stuff, the razor clam nigiri particularly fantastic being squidgy and fleshy. The unagi carried a flamed taste, perhaps from the itamae's blowtorch, a pillowy soft texture and which I thought was brilliant. Surprisingly, I really enjoyed the tamago (egg) nigiri. It was cut thick, perhaps a half an inch and it had a lovely egg custard texture about it, wet and spongy, just a dabble of soya sauce, just a hint of vinegar in the rice, just right. On average, an ala carte nigiri was priced at £2.60 per piece.
Otoro Nigiri, market price… £8 in July 2010, yikes!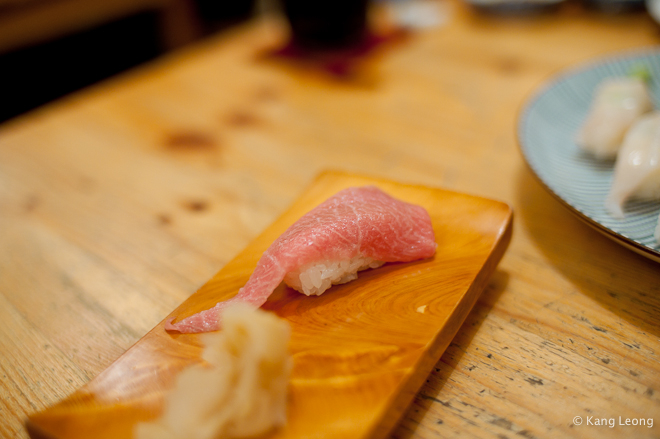 Hah! This would be the first time I've been served otoro nigiri on its own platter. At £8 for one piece, it is the most expensive piece of otoro I've ever had. I hadn't a clue where they get their stock from, but I was very recently at Atari-ya's retail outpost in Golder's Green and actually bought 158g of otoro for just over £10, that's £6.50/100g. Atari-ya[4. My report of the Atari-ya sushi bar in Swiss Cottage] being the pre-eminent supplier of pre-frozen sashimi grade fish in London. Granted this slice of otoro was larger than normal, perhaps even a personal selected choice cut by the Itamae, filleted perfectly with no sinewy bits, a buttery melt with the characteristic oily fragrance of otoro. But then I think about the fact that I could have three of these at the sushi bar at Golder's Green (£2.30 each) for nearly the same amount of money, and also characteristically buttery too, and I feel that the pricing at Kikuchi is a touch indulgent. This is the most money I've paid for otoro in London, and to be honest, I felt ripped off.
The bill was a whopper. £120.50 for three, including the cost for three beers. We were offered two £5 vouchers, a reward for twice spending more than £50 which helped to ease the pain of having to pay for the £8 otoro I suppose. Kikuchi isn't cheap, but that goes for the bulk of Japanese restaurants in London. The restaurant seems popular enough, as we sat down, we were told of the time they needed the table back. Overall, I thought the fish was of good quality, however I feel that the greatest attraction of Kikuchi is largely the Itamae's preparation and presentation. He's a star, clearly, and his sushi looks fantastic. If you're looking for a hidden sushi bar in central London, you should add this to your list. It is a little pricy however, and you'd have to choose carefully if you are out for a sushi binge. On the other hand, you do get what you pay for. I would avoid anything with its pricetag judged by 'current conditions' on the menu, that's just bullshit. Otherwise, Kikuchi is as inviting as a blooming chrysanthemum.
The Gist of It
Kikuchi
Japanese, £45pp
14 Hanway Street W1P 9DD
Tel: 020 7637 7720
Tube: Oxford Circus/Tottenham Court Road
Esther Said : Randonmess Guide to London ; Jay Rayner ; The Catty Life ; Londonelicious ; Gourmet Traveller ; Greedy Diva
Did you enjoy reading this? You can subscribe to the Newsletter. Alternatively, you can subscribe to the RSS feed.
All text and photography on this blogpost is copyright and belongs to Kang Leong, LondonEater.com. If you repost this without my permission, bad things will happen. So please don't do it.