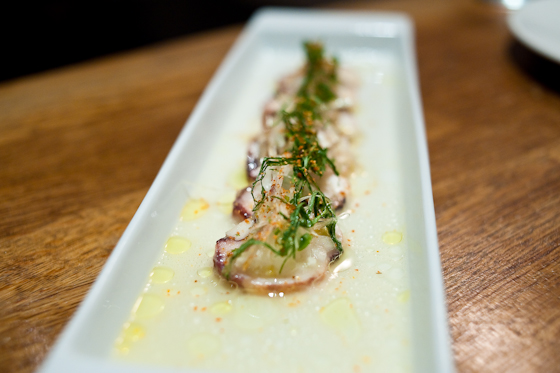 The first visit to Dinings left me spellbound, everything about it ticked the boxes for me. This was a genuine, independent and cosy neighbourhood restaurant with a kitchen that had pedigree which churned out delicious food. I was really keen to return, and so it became the venue to meet up with Helen the World Foodie Guide (her review here). But on this 2nd visit, the experience was dramatically murdered by my own hype.
Post mortem as follows.
To make matters worse, I tipped over a bottle of water which wet the trousers of my neighbouring diner (Sorry sir, I was that tit), but thankfully it didn't happen till the end of the meal, because I ran away after apologising like a tommy gun. In my defense, it was an extremely tight basement dining space. Anyway, I was building on months upon months of anticipation to return, anxious to re-experience whatever magic I felt the first time around. This meal was a while ago – sometime in August – the height of our Indian summer. We kicked things off with an octopus carpaccio (£7.85), garnished with scallion, garlic and pepper. The texture was chewy but soft – tasted slightly cooked – with a light lemon yuzu glaze, it was a pleasant start to the meal.
I insisted on ordering one of the highlights from my 1st visit – the Wagyu Tataki (£12.95).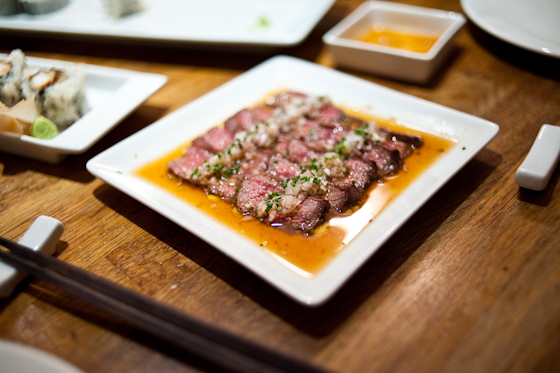 The strength of this dish was the delicately smoky seared beef slices – still bloody in the middle – interacting very well with the citrus heavy soya sauce base. So I had a picture of what perfection was suppose to taste like. With crunchy shallots providing the illusion of a sizzling sensation, the flavour profile was good, but I felt the beef slices were completely overcooked (they were cut razor thin, but no longer bloody) and the buttery texture that left me cooing before was now altogether absent. The outside was so charred that the rough texture was leaving scratch marks on the roof of my mouth. Everything else tasted great but it didn't matter, it just wasn't the same.
We did well to shun the foie gras topped sushi rolls after the lukewarm reports from those who tried it at Taste of London. Instead, we plonked for the ultra pricy seared wagyu beef sushi with truffle salsa & ponzu jelly (£8.90 for 2 pieces, extra pieces at £4 a pop)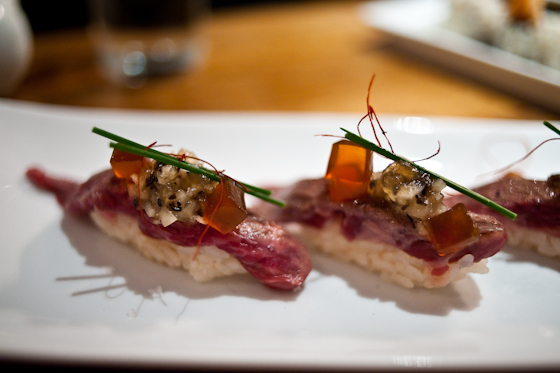 I had read the various reviews praising the mythical qualities of this Dinings signature dish … well, signature bites I should say. There were three of us for dinner, so we ordered three pieces, and each piece seemingly designed to be eaten in one mouthful. And just when I thought I was out, this dish pulled me back in. This bite sized dish was phenomenally good. The fragrance of the truffle instantly rushed in and filled my mouth. Acidic bombs were going off with the citrus heavy ponzu jelly, scallions started tickling my tongue and the slightly seared (I am guessing with a small blowtorch) wagyu was like a butter gracefully holding the elements together. There was an interesting aroma-rich flavour with a sort of contrast being created between the muscular truffle against the zesty ponzu jelly. Umami personified.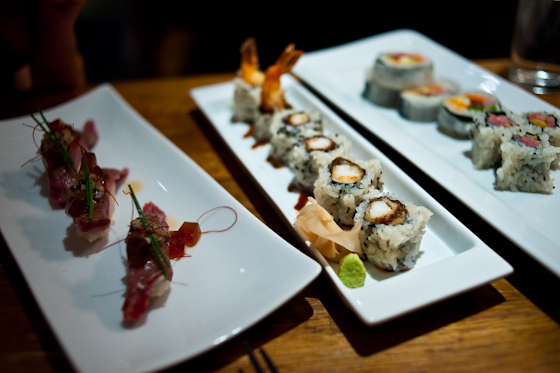 In hindsight, we should have just skipped all the other dishes, and ordered more of these seared wagyu pieces. Instead we tried a selection of sushi rolls: Prawn tempura roll and the toro & takuwan roll. Both rolls were alright, better than average but nothing really spectacular. The sushi rice was well seasoned but it didn't bind too well as the individual rice pieces were falling apart like a house of cards. I did note that the toro was fresh and buttery.
Onto some cooked food now – braised pork belly 'kakuni' with sweet soy (£6.95)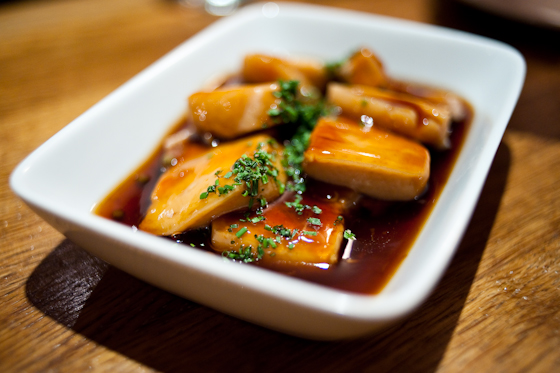 Ah this is better, the belly is fatty and creamy and the viscous sauce was sweet and hearty. Perhaps the most interesting aspect of this dish however, were the sancho peppers it was made with. They look like miniature green peppercorns which carry a citrusy flavour that firstly sizzles before leaving the tip of your tongue completely numb.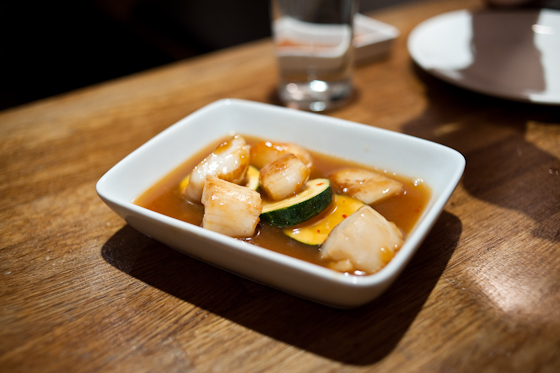 While it was served in a similar sauce as the pork belly, the seared scallops were absolutely torrid, they tasted like they were flash fried after being in the freezer for months. Utterly forgettable, and one dish I wish we had avoided.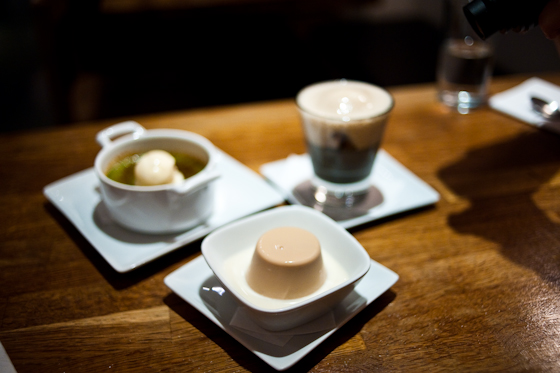 The puddings were still as inspired as the first time I had them, but the sum of this meal was a lot less than the individual dishes. The meal was altogether underwhelming and I was mindful that my hype had indeed killed the experience. The inherent problem with restaurant reviews, opinions not only vary from person to person depending on dishes ordered, expectations, consistency on the night, and lots of other factors my puny brain had yet to process and all of it can affect a meal. Reflecting on both visits, I still think that Dinings is a brilliant small-scale neighbourhood restaurant. There are fantastic offerings such as the seared wagyu pieces, seemingly in a different league to the rest of the menu of duds, especially the cooked food which are mostly forgettable. One really shouldn't expect the sea to split open dining at Dinings, maybe a mild volcano erupting. In the end, my love affair with Dinings is like many of my love affairs – a classic case of hit and miss.
The Gist of It
Dinings, £35 to 50 per person depending on what you order
22 Harcourt Street W1H 4HH
Tel: 020 7723 0666
Tube: Edgware Road
Did you enjoy reading this post? Why not subscribe to my feed updates for free. Alternatively, You can subscribe via email.