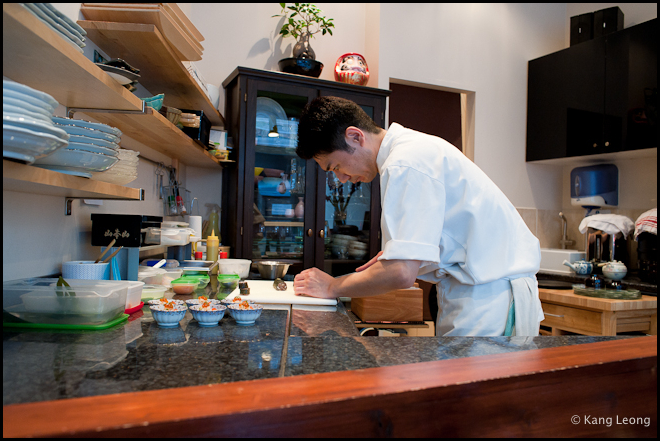 Good sushi is as much about skill as it is about availability and accessibility to ingredients. We've read about the supremacy of the few top-end Japanese restaurants in London, inaccessibly pricy to most of us, but I think they have played a crucial part in establishing an import route for premium fish to come into the UK, to mostly service the premium clientele,who pay through the nose for it. It is not that good sushi is elusive in London, it's just the very best, most imaginative stuff can only be eaten in restaurants far outside the normal price range. Even I quiver at the thought of a triple figure (possible four) bill at a Zuma or an Umu. I love my sushi binge, I can't do two dinky rolls and a carafe of sake, I need more, but I can't always afford it. And hence began the thinly veiled quest for better (and cheaper) sushi to satiate the cravings. The initial findings are positive, where the basic expectation of warm rice, slithery fish and a cosy ambiance are mostly met. However, most sushi restaurants are a case of the same-old, same-old, a capable sushi bar was generic.
Until I stumbled upon Sushi of Shiori.
It's true. This lilliputian sushi bar can only accodomate nine warm bodies, three can sit facing the bar, behind it, a long marble table which can take (barely) take six people by the glass window front. It felt like half a shop rather than a restaurant. As if someone went to the sushi bar at Umu with a scalpel and craved it out. It's even smaller than Dinings. Elegance cascaded down, if high end sushi restaurants ever did pop-ups, Shiori would be it.
I love these modest labour of love type projects; fleeting, fragile and hidden, it was a case of love at first sight as I set foot past the white-painted shop front, and into the decidedly family-feel interior. You know what it also felt like? It felt like my parent's office, which is run out from a modest 12×12 space, my parents who have been a two-person family business for a quarter of a century. Reports[1. Read Chowhound's thread on husband and wife team and more diner pictures on SoS] suggest the chef (ex-Umu hence the incessant name-checking) and the waitress, are a husband and wife team, and the warmth of this tight unit was instantly identifiable as we sat by the bar.
"Mr Kang?"
"Yup."
"Welcome, have a seat, we're making your preorders now."
There was a lone diner next to me, and the table of six filled by a family of six, and that was the restaurant full up. I was immediately impressed with how personal the waitress was with all of us, addressing us by our names as she served us. Wonderful warmth.
Canape (Temarizushi) sushi, 12 pieces, £23.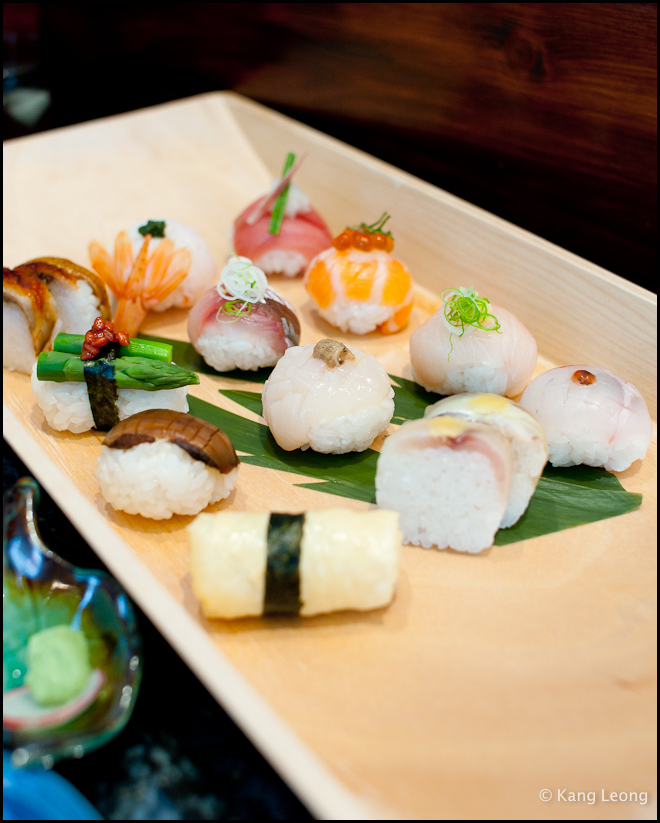 Legend has it that temarizushi were popular with Geishas since the ball-shape was easier to eat, as they needn't open their mouths too wide… I heard it on Twitter…
Te-Mari, literally Hand-Ball, a kind of decorative sushi reserved for celebratory occasions, called Canape sushi at Shiori, this would be their signature dish.
Let's just take a moment to appreciate the recherché quality of this box of goodies, what a visual tour de force. The view to the chef's prep area is unhindered, and so it was spellbinding watching him meticulously build plates of sushi, layer upon layer, to finally being brought to us by his wife. She didn't lose attention to detail, explaining each rice dollop to us. At first I didn't think raw fish on rice warranted exposition, but my preconceptions altered as I listened in on the minute touches the chef had created for his masterpiece.
As I expected, the riceballs tasted well, like thick, densely packed riceballs. I noted how the Itamae had previously wrapped them tightly in cling-film being plating up. Rice at Shiori was a clear break from the zeitgeist. There was pickled sugary quality abound, the rice, delicate and smooth, almost – dare I say – risotto-like.
Sweet prawn temari was served with a dabble of shiso leaves pesto, seemingly the essential fragrance grinded down and harmoniously melding with the buttery saccharine prawn. Next I tried the unagi… oh my gorgeous. It carried with it a hint of vanilla, a gluey mouthful, enticing and it disintegrated as soon as I ate it. Then to the shime-saba, a sort of fermented and vinegared mackerel with a tinge of ginger, it epitomised the experience at SoS so far, that it had so much more to offer than than simply raw fish and rice. Aspagarus, mushroom, Aji (scad fish) and salmon (with inari) as well as a mini rice roll wrapped with what I assumed was dried beadcurd. Everything was fantastic.
The star of this sushi set was by far the scallop which had been scored with a criss-cross pattern (to tenderise I imagine) and finished with a dabble of truffle paste. To borrow from Catty's vernacular, the scallop temari was orgasmic. The sweet scallop melted like a snowflake, the burst of truffle flavours was a little like watching a magic trick unravel itself, that particular sense of wonder and amazement. Perfectly beautiful execution.
Miso soup, part of the special chirashi don.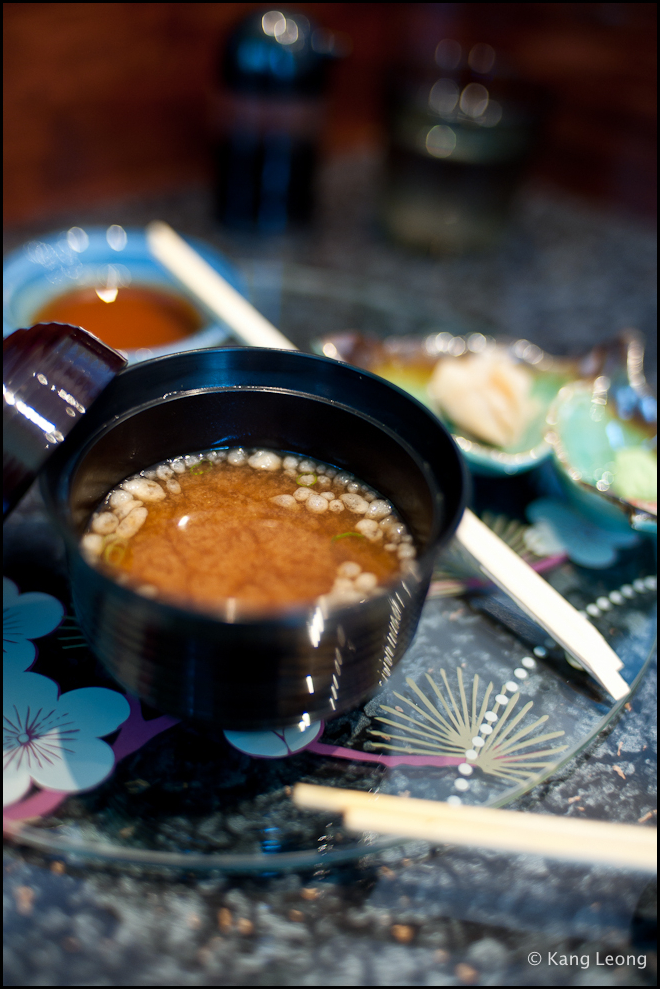 As we finished the marvellous canape platter, our waitress started preparing the miso soup, while the chef starting work on the chirashi set. Our senses were fully engaged really, a feeling of being mezmerised inspiration. The miso soup had toasted rice bits which were a welcomed addition, as the better half sipped, I was drawn to the glass placemats and the painted porcelain.
Special Don (Chirashi), £15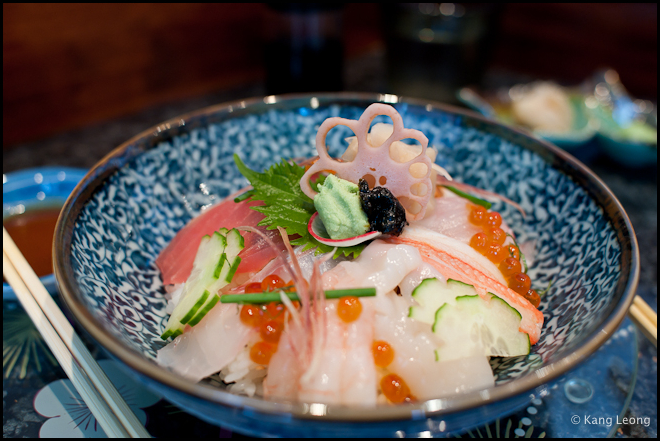 In this regard, a photograph does not tell the entire story, as half of which unfolded as we watched the chef very carefully arrange every single piece of daintiness to create his chirashi. The quality of fish was assured with supplies coming from Atari-ya, but what Atari-ya does not supply is talent. In this case, perhaps a gift from the culinary gods. Too beautiful to eat?
It's form was its function, Jonny Ive would appreciate this, surely. Everything is cut deftly, scallops, zuwai (tanner) crab, sweet prawns, tuna, salmon, aji, cucumber slices and even to a piece of boiled lotus root. Talk about a finishing touch. Here, the sweetly vinegary rice was most apparent, the wetness of it seemed to marry well with the raw seafood, plus fermented chopped mushrooms giving it an extra dimension in terms of flavour, and the purity of the arrangement made me forget about the 'rawness' of the dish. If a beautifully arranged bouquet of flowers could be consumed, this would appear to be it.
Wagyu Nigiri, 2 for £7.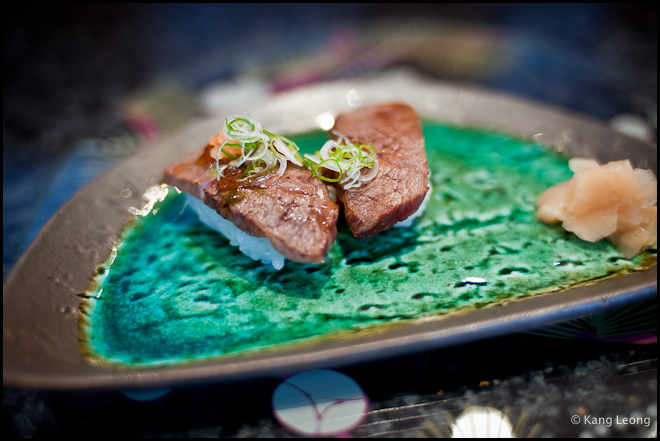 The Wagyu sushi was topped with spring onion and a quickly melting ponzu jelly, and we were told that we could eat it as it was, without soya sauce. I didn't ask what kind of Wagyu (In the UK, we have Chilean, Oz and NZ.. and Welsh in the near future, I've seen it..), it looks as if it had been blowtorched briefly to char the exterior, whilst inside it was still blood red and juicy. As a whole, there was a wetness (from the melting ponzu jelly) that seemed to enhance the delicate nature of the beef.
As expected the beef was superiorly fragile, with a natural fragrance, the ponzu jelly elevated it to the stratosphere. An inviting citrus edge was more than a match to the bovine. The closest comparison is Dining's wagyu sushi, also made with a similar truffle-ponzu jelly, both are equally amazing, a bona-fide exercise of umami.
Negi-toro Gunkan, 2 for 7.50.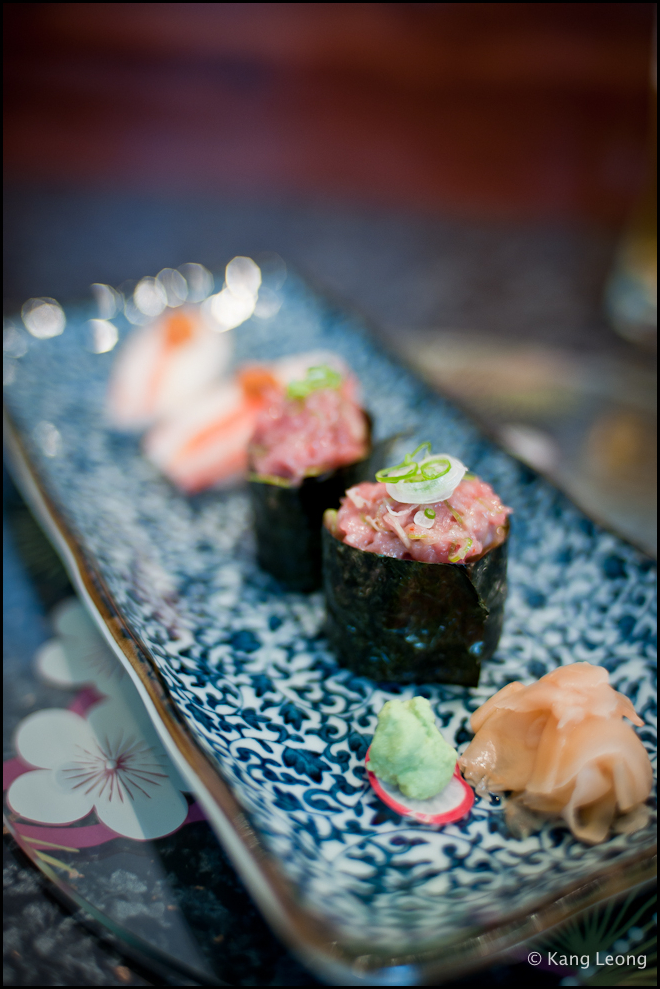 Never have I seen so much negi-toro (chopped tuna) stuffed in a roll before, the name was apt, 'Gunkan' as in battleship, The battleship of chopped tuna. Oily chopped tuna, and spring onions. Notice the sliver of radish holding up the wasabi. More attention to detail.
Surf Clam (2 for £4) and Scallop (2 for £4.40)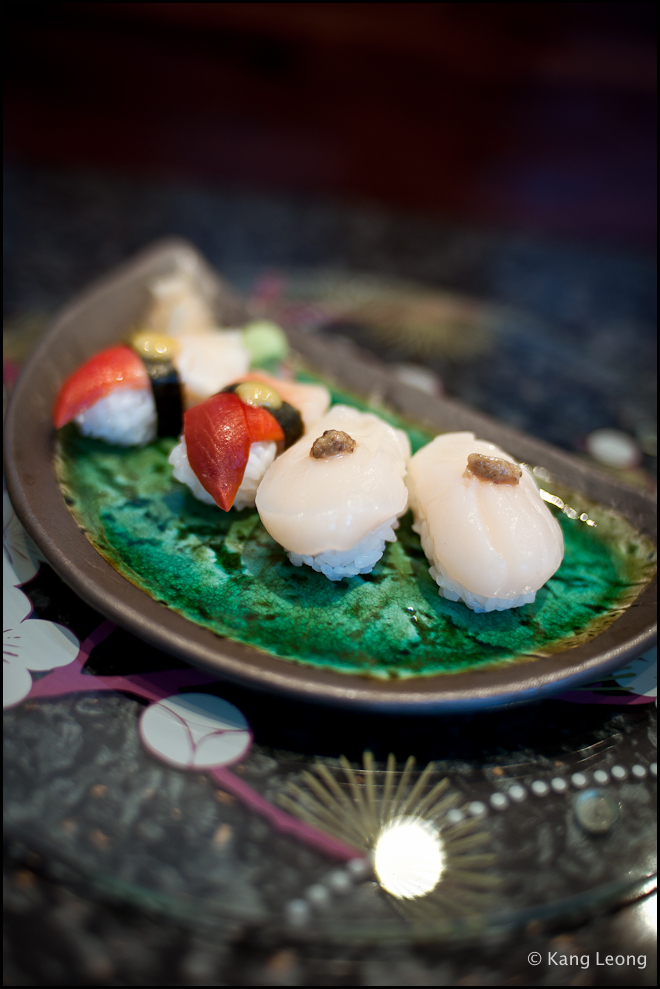 The truffled-scallop were so good, we ordered more, this time as nigiri, at £2 a piece, it was very competitively priced, but in culinary terms, few peers will match it. I was still amazed at how the creaminess of the scallop combined so well with the truffle paste, it was as close to sushi heaven as one to get.
Plum wine sorbet, £3.50.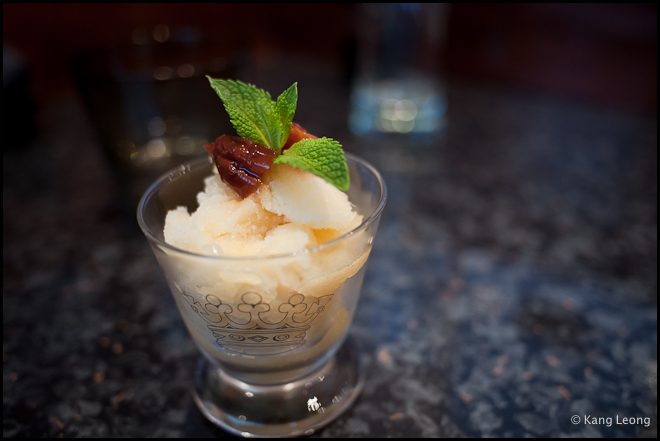 All the ice-creams (chestnut, pumpkin, green tea and azuki bean) are home-made, and I'd imagine so is this. An intoxicating finish to cleanse the palate, and to conclude what was a thoroughly engaging meal.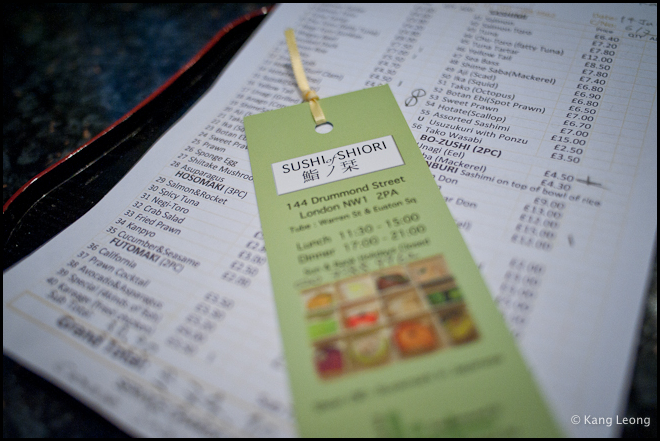 Shiori means bookmark, and as we got the bill, I was happy to receive their business card in the form of a bookmark. The final bill was £77, including a Kirin beer, that's under £40 per person… what fantastic value considering the amount of food, as well as the sheer quality of ingredients we had.
Stunning. Beautiful. Inspired. There was so much to love about Sushi of Shiori, the attention to detail, the cosy surroundings, the visual engagement of the experience, exciting and ultimately satisfying. I tell you what, I've not been moved by a restaurant meal for quite a while now, this one was so uplifting.
So far, the best sushi experience I've had in London, I'm amazed it's in London, it really brought back shades of brilliant sushi meals in Singapore, Taiwan and even in Sydney, and I think the visual flair and fanciful attention to detail illustrates the spectacle associated with all the best aspects of this Japanese delicacy.
OK, on to the practical bits then, because the sushi bar only caters to nine, you must book in advance. Also if you're going to have the Canape box, you need to 'pre-order' it when you reserve your table. There is another pre-order choice of Omakase, which is basically the chef's choice of a set menu, it costs £30, and it's something I would recommend highly too. If you're undecided about ala carte sushi, or if you are waiting for the right restaurant to be introduced to sushi, then the sushi platter (17 pieces for £25) and the sashimi platter (£25 for 18 pieces) would be excellent no-brainers.
I loved it and recommend this highly. My birthday is coming up next week, and I think this is the place to celebrate it. Personable, tireless attention to detail, flamboyant presentation, a charming husband and wife team, modest, unpretentious, legitimate and above all, unique.
Sushi of Shiori comes with my ultimate gushes of approval, make the call.
PS: I took lots of photos because it was so pretty. The full set on flickr.
The Gist of It
Sushi of Shiori
Japanese, £35pp
144 Drummond Street, Off Hamstead Road, NW1 2PA
Tel: 020 7388 9962
Tube: Warren Street
Like-minded Temari worshippers: eGullet thread ; Time Out London ; Gourmet Traveller ; Yelp! ; Chowhound Thread ; Sharmila on Food
Did you enjoy reading this? You can subscribe to the Newsletter. Alternatively, you can subscribe to the RSS feed.
All text and photography on this blogpost is copyright and belongs to Kang Leong, LondonEater.com. If you repost this without my permission, bad things will happen. So please don't do it.