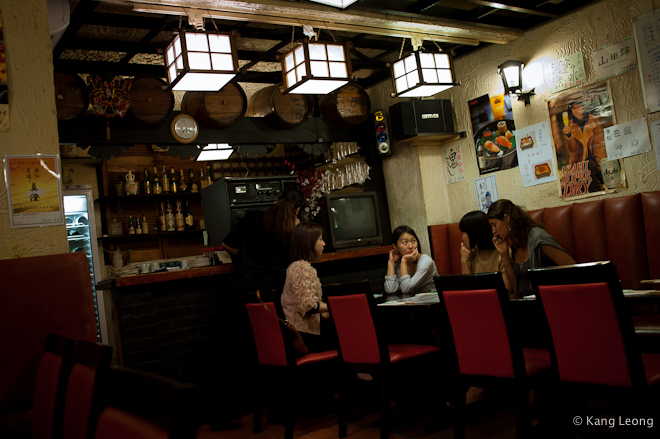 A firm, yet genteel voice answered the phone. The line was horribly muffled as I struggled to pick out the vowels through the low, low bass. Fum.Fum.Sa.Sa. I think she said, in a deceptively Japanese accent. An awkward silence befell.
"Aka …ka…" I said.
"ZZZassss… ka" she said, with a quickened pace.
I gave up. And simply assumed it was indeed Asakusa I had got through to. This was the third call in as many weeks as I'd been trying to visit this rather popular Japanese restaurant in Camden. They only do dinner Monday to Saturday, no lunch is ever served at this Izakaya-like eatery. I asked if I could get a table for two in two hours, on a Thursday night.
"Yes. See you Mr Kang…" click… didn't even ask for my number.
As I arrived on scene, the better half and I barely squeezed into the musky, rather well-worn and grimy interior. It looked like it was gonna come down like a house of cards any time now. The restaurant was full, with a couple of reserved empty tables, which we walked past. Not everyone were Japanese expats, I observed. Past the front room of decrepit carpeting, and past the sushi counter, we were directed downstairs to the basement, but not before negotiating a creaky wooden staircase, gingerly, I measure my steps, any heavier and my foot might go through it.
The smell… what is that? Bleach? Detergent? We march toward the end of the dungeon, lit by cube-shaped lamps, plastered walls, music courtesy of an eighties style stereo with a CD player, and a black box TV. Switched off. Could be a Sony. Could also be made in Japan. Maybe JVC. Maybe the staff do karaoke during breaks. Why is it off?
The menu is divided by cooking style, indiscriminate in terms of portion size, and very much in the vein of an Izakaya. There's almost too much to choose from, but I instinctually pointed to a short measure of cold Junmai, while the other half reached for biru. We managed to cull a selection of our favourite comfort dishes to graze on and to share.
We braced for a heartwarming meal.
Asakusa Salad £7.90.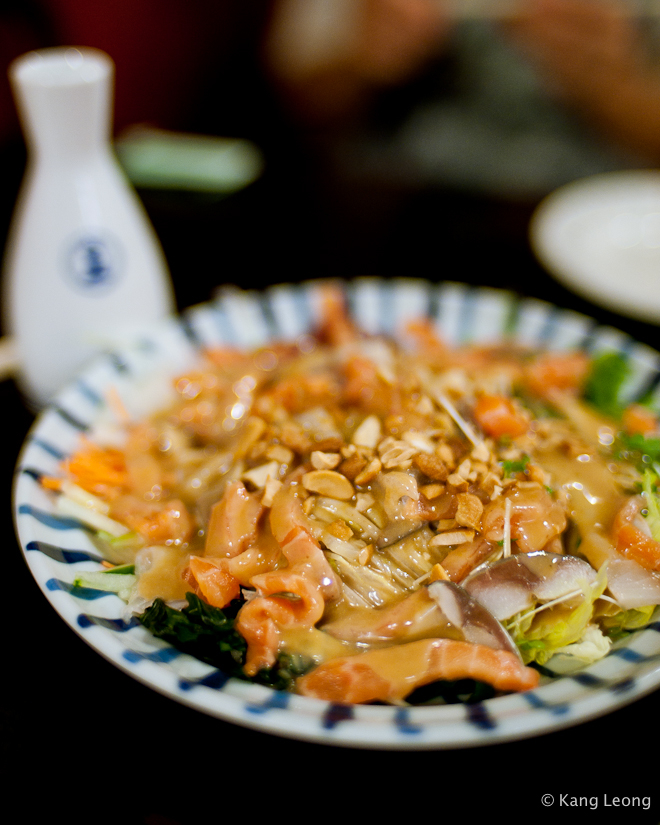 A large plate. There are slices of raw salmon, and what looks like raw yellowtail or mackerel in the salad. Walnuts, seaweed and lettuce give the dish a slimy, nutty flavour. Copious amounts of a gummy sweet and salty miso sauce was poured over the dish. Initially the rush of concentrated saltiness was appealing, but alas, it quickly became too decadent, too sharp and difficult to stomach, it was like tipping bottle after bottel of honey into the system, and there was only so much one could take before too much became too much.
Tori Kaarage, £4.90.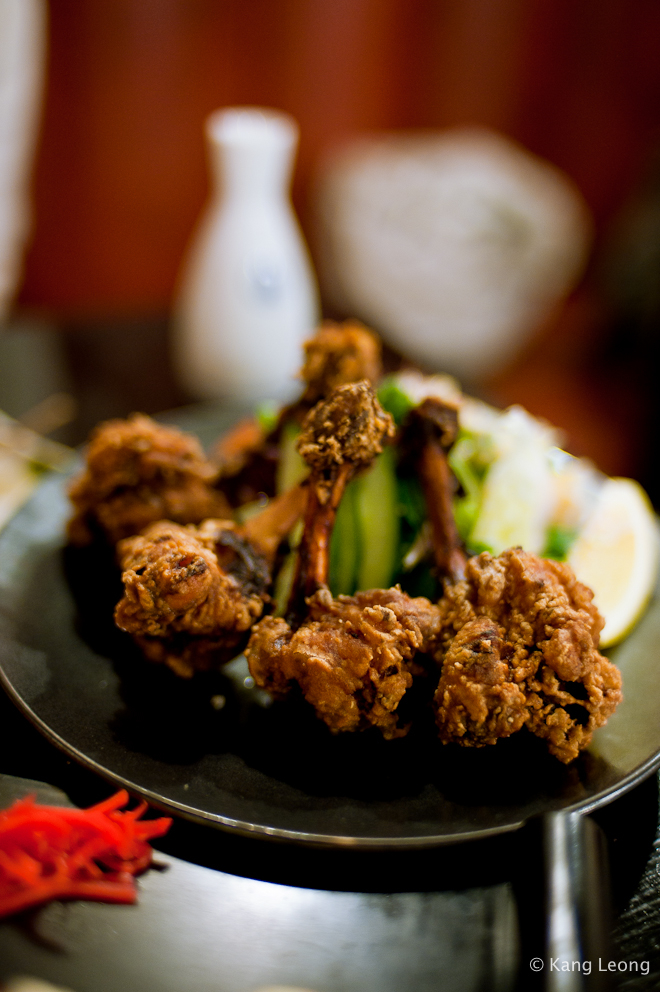 I waited for my bowl of steamed rice before I tucked in. Even fried chicken need recipes, and one was superb. Well seasoned, it had a fragrance, like oyster sauce, or mushrooms, or something full of umami chemicals. Fried to a crunchy puff, whilst the chicken maintains its juicy bounce. What utter heartiness. I sank my head into my bowl of rice.
Umaki Tamago, £5.30.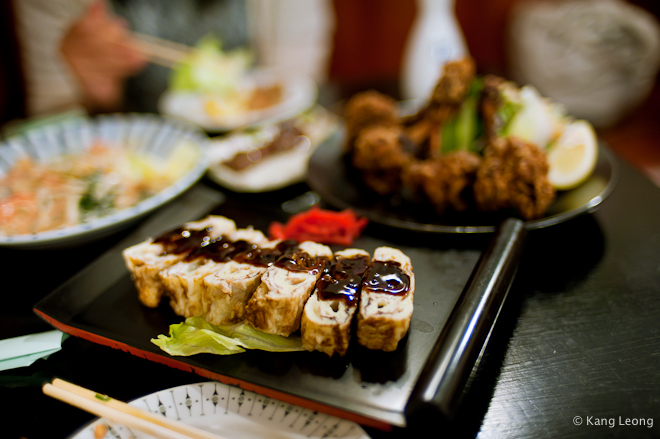 Even better were the eggs, mirin sweet, with slithers of unagi folded into the omelette. A potent teriyaki-like sauce was poured over it. It was brilliant, the marriage of fishy eel with a custard-like egg and lots of rice. I sank my head further into the bowl.
Chicken Skin Skewer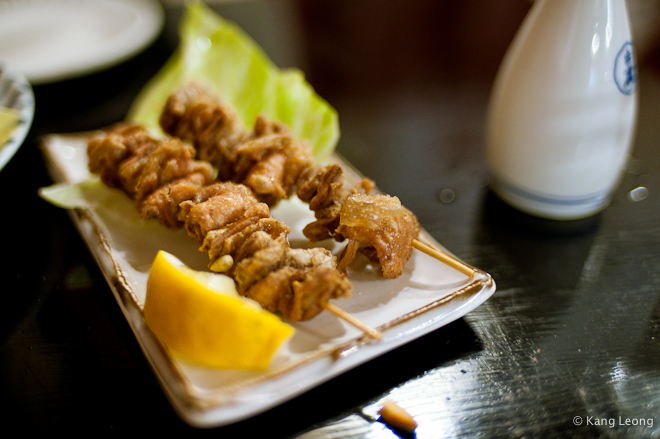 Chicken heart skewers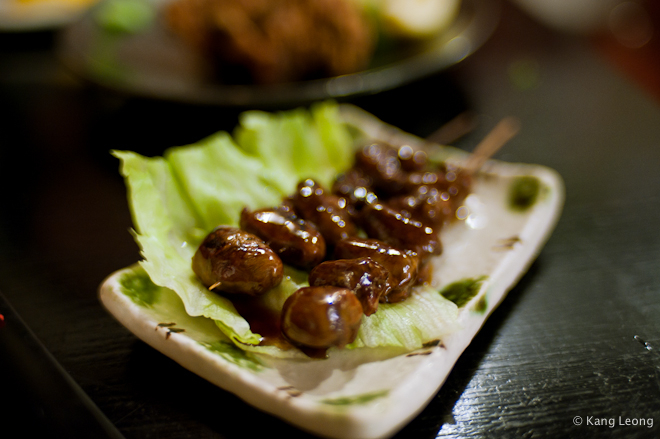 Next came the Yakitori, skin and hearts, but rather tepidly flat. It lacked the character of being smoked over binchō-tan , and both were a little dry and a tad overcooked.
Ox tongue skewer.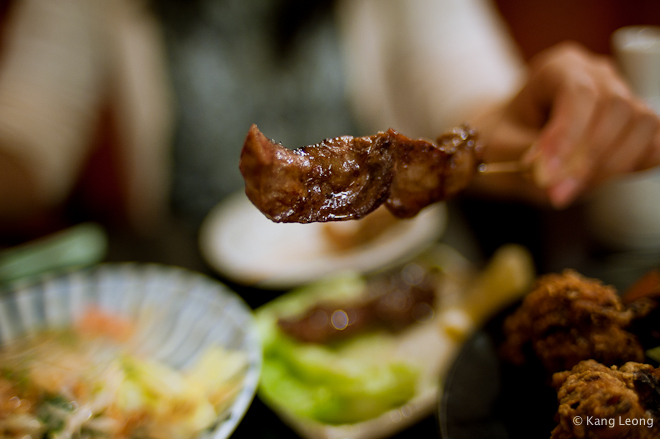 Similarly, the tongue failed to lift the senses, it was tough, rubbery, overcooked, bovine but boring
Grilled baby squid 'legs'.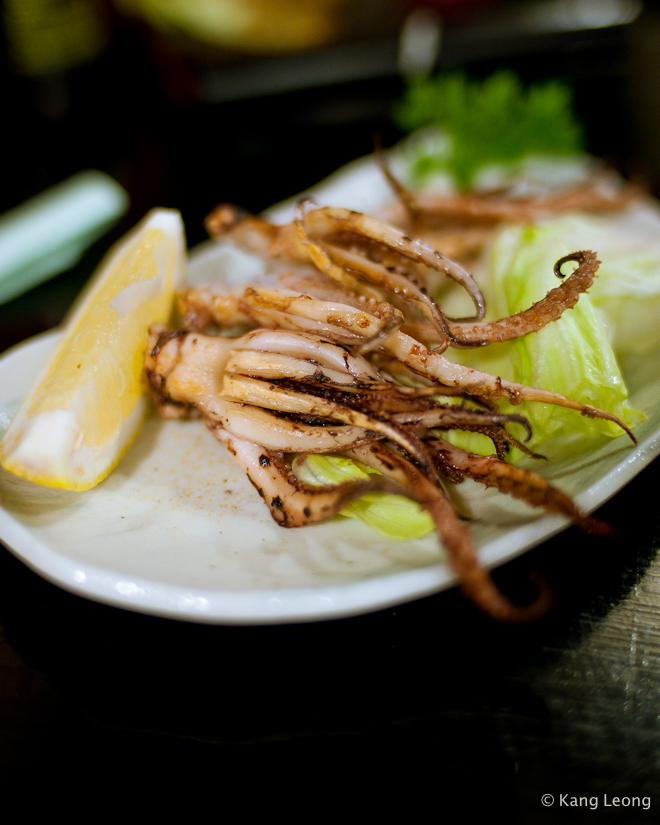 Aside from the visual splendour, a little arresting at first, the squid was a yawn, underseasoned, dry and overcooked. Not even a squidge of lemon could save these tentacles.
Mixed tempura udon.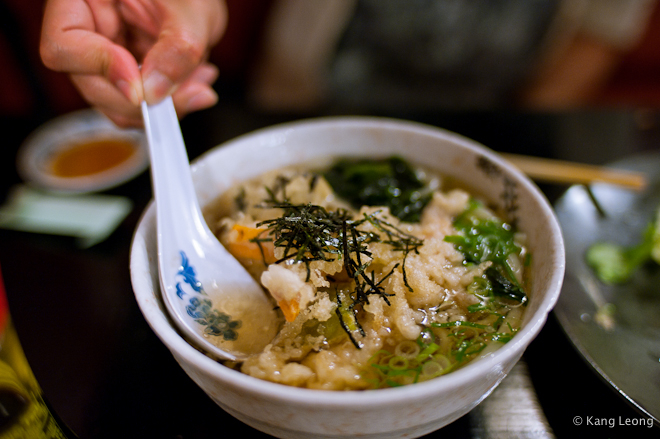 And the initially promise and hype had quickly fizzled out by the time the bowl of noodles were brought to us. Good tempura, but a forgettable stock and uninspired, tired udon (Sanuki I believe), I blocked out the smell of bleach, but it was knocking on the back of my back.
A la Carte Sushi, about a tenner, I think.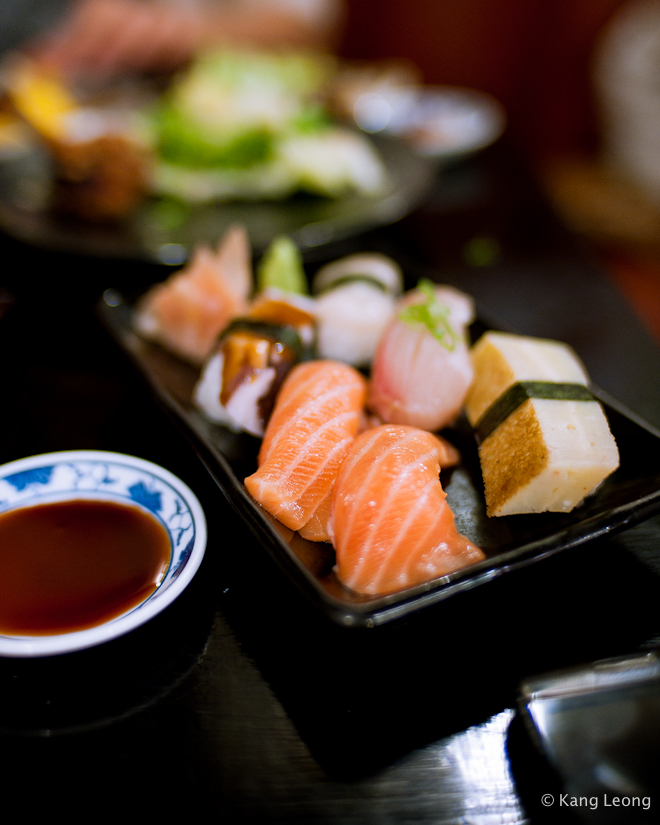 The last hurrah was an obligatory plate of nigiri. I ordered salmon, tamago, scallop, unagi and sea bream. A spike of wasabi nestled between fish and rice, I noted the beauty of the filleted salmon, of how it cuddled the dollop of rice it came it – the mark of a skilled Itamae. Oh, the fish is good, it disperses like a whiff of cold air, on my tongue. The rice – the all important rice – melty, sticky, slightly warm, but it tasted too mild. Even with my enthusiastic oversoaking in the soya sauce (fish face first), I just couldn't taste the bite of vinegar.
We paid £54.99…. for all that food and booze? Not too shabby at all, and cheap by the usual measures of Japanese food in the capital. All the while, we were very well looked after by the sweetest Japanese waitress we've ever met. She deserves some kind of reward. Gold star. In the end, I felt ambivalent about Asakusa, the better half felt worse, she vowed never to return to this restaurant again. Despite the reservations, I think Asakusa has a homey feel about it, food feels like it had been prepared by a kitchen run by an army of housewives, imbuing every dish with a dollop of love as it flies out of the kitchen. Not that it is a bad thing, because I can see how some would fall for these kind of neighbourly restaurants. But for me Asakusa felt complacent, if honest, and that torrid decor is not particularly enticing. The bottomline however, was that food was only just passable. You know, I used to love going to Sakura (ruder, cleaner and central) and I think Asakusa falls in the same genre of affordable, simple, well-cooked, comforting Japanese food, but with a trump card: Perhaps the best Oyakodon, £6.50 can buy in London. And it's available for lunch.
The Gist of It
Asakusa
£25pp Japanese, Dinner only.
265 Eversholt Street NW1 1BA
Tube: Mornington Crescent
Tel: (020) 7388 8533
Where the wind blows: Chris Pople ; TimeOut London ; Culinary Hags ; Cooking and Dining ; Delightful Eggtarts.
Did you enjoy reading this? You can subscribe to the Newsletter. Alternatively, you can subscribe to the RSS feed.
All text and photography on this blogpost is copyright and belongs to Kang Leong, LondonEater.com. If you repost this without my permission, bad things will happen. So please don't do it.