QGTW now reading    intro | one | two | part three | four | five | six | seven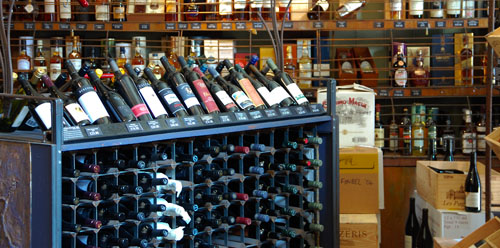 Did you manage to put your new tasting skills to good use? Cool, we are about the half-way point in this series and I hope that you're finding this helpful. If there's anything you'd like to have included, or have any questions, please do leave a comment at the end of this post, I'll happily incorporate your needs!
In part three, lets turn our attention to buying those special bottles and a few simple tips to turn your home into the pefect short term wine cellar.
Here's an index of what is included in this post:
Where to buy wine
The alcoholic criteria
Storing the precious ones
Where to buy wine
There are broadly two ways to access wine, the easiest is t. pop into a wine merchants; the other is to subscribe to a wine club. A wine club is basically a subscription service which will then send you about a dozen hand picked bottles every month. Personally, I prefer going to a shop and picking out a bottle, but if you want to avoid the hassle of having too much choice (trust me, there really is too much out there) , you can leave it to a wine club to make the choices for you.
The five essential london wine shops
You've probably already seen my full write-ups on a couple of wine shops in and around London. Apologies to my international readers, although these are some places you might want to visit when you are next in London:
For the budget concious beginner, Oddbins Chances are you will have seen one of the many Oddbins dotted around London. It is an excellent place for those just starting their adventure into the world of wine and for anyone who is drinking on a budget. Shops are independently run, so expect varying degrees of biasness, but they will all share a passion and knowledge of their selection. Affordable Chilean and South African bottles are good starts, however pay a visit to their fine wine stores in Notting Hill for full effect.
For the serious wino and deep pockets, Berry Bros & Rudd Primarily purveyors of the very best french varietals, they also carry an excellent selection of other old-world wines, such as German rieslings and some interesting Italian barolos from 2000. Selections fit all kinds of budgets and their shop has largely remained unchanged since it first started selling wine to Londoners some 300 years ago! Staff are passionate and very knowledgeble, you can tell they love their vino. Shopping here is an experience in itself. Definitely a gem in the city.
For the serious wino in west london, Robersons Their selection of fine Bordeauxs and Burgundies are eye-candy to potential buyers, while they also carry a large cross-section of international wines from Spain, America and Australia. Interesting features include a Lebanese bottle from Chateau Musar which is a must try just based on novelty factor. Fiercely independent, passionate about wine and one of the few places where the bold staff will recommend some exciting bottles to dare you to venture into the unknown. Viva la vino!
For the wino who wants to try stuff in the shop, the Sampler Here's how it works. Go to the store, get a pre-paid card and slot it into one of the wine 'vending machines' which have between 6 to 8 bottles showcasing a style such as Pinot Noir/Burgundy or Pinot Grigio/Chardonnay. Take a glass and simply press the button for the selection you wish to try. You can spit or swallow and then move to the next machine and repeat the steps all over again. This wine shop has a great concept and is a perfect way for beginners and aficionados alike to enjoy wine.
For the new world aficionado, Cavas de Gaucho The wine supplying arm of the Gaucho grill franchise has opened it's wine boutique to the public offering the same selection of over 150 bottles of the best Argentinian it supplies to its restaurant chain. The reds are particularly interesting being characteristically big wines which are fruit driven. Stunning examples of Tempranillos and Malbec are recommended. The wines are fresh, very smooth and goes down well with red meats. The boutique is small, but really it is all about quality.
Some better known wine clubs
There are a few wine clubs which not only offer a subscription service of sorts, but is also a member-based society which sends regular updates too. Here are a few which might interest you:
The Wine Society Perhaps the world's largest and oldest wine society, membership allows you to literally join the world's largest wine fan base, lots of events and all kinds of wine plans catering to differing styles and pocket deepness.
Stone, Vine and Sun They do a delivery dozen which comes straight to your doorstep starting at £72.50 for the stone case and £100 for the sun case. Mixed and varied, if you don't know what you want, try this one.
Berry Bros & Rudd In addition to an excellent wine shop, they also do a cracking wine club as well. Prices are high starting at £120 for their essential reds range and £180 for the Reserve ranges. Well worth it though as they carry all kinds of rarities. If you can afford it, then you definitely need to try this.
The alcoholic criteria
Im not going to attempt to cover all the bases, but when deciding what to buy, there should be a few criteria you need to adhere to while narrowing down the choices:
Budget Probably the most important ( and obvious ) one. For beginners, always go for the something under a tenner. If you want to push it a little then upgrade to £20, but not much more than that. Of course, you will generally notice increasing quality as you scale up the price range, it's not across the board, because wine's abit strange in a sense that sometimes you can get a £5 bottle tasting alot better than one that's ten times it's value. So to be on the safe side, trying ten bottles each a fiver ( of all sorts of styles ) is probably a better way to start drinking than taking the plunge with a £50 Latour.
Style This one is another rather obvious one, I'm going to cover matching food & wine in more detail in part four, but for a quick and fast rule of thumb, if you are going to drink with red meats then go for fleshy reds like a shiraz or a cab sav. If you are going for fish, then any of the whites will do just fine, particularly a nice chablis. If you are going to drink it on its own, then go for something of a lighter & sweeter variety. For a red, try a silky pinot noir, for a white, try a late harvest riesling or even a dessert wine such as a Sauternes.
Lay or Now This may not be too obvious but wines either drink well now or they need abit of time to mature in a cellar. If you want to buy a bottle for immediate drinking ( ie: within the month ) , then just pop into a shop and get one that's drinking well. Simple really. Unless there is a particular bottle which I love, I won't buy bottles to lay down. Purely because of the fact that I don't have a proper cellar to store the wine such that it can mature properly in a couple years' time. Which is why I favour shops with good cellars. Though having said that, if its a really good bottle which has been cellared for years in the shop, by the time it's ready to drink, it could also be several times what it was worth when it first came out. So if you are thinking long-term, then investing in a cellaring system maybe a good idea.
Storing your precious ones

Which leads perfectly into this section.
Now that you've bought your bottles, you really want to store it in decent conditions and not risk altering the content of the wine. I appreciate that not everyone has cellaring capabilities ready in their home, so I'm presenting a few easy work around tips which will work just as well in the short term.
The main enemies of wine are light, heat and vibration. When three of these elements combine and change dynamically and rapidly in the environment that your bottles are in, it can lead to pretty disastrous results, so you'd want to be able to understand their effects so that you can control them.
The golden triangle of storing wine

Light is kept to a minimum, zero light is best, but otherwise, 'dark' is fine. UV rays, or just light of any kind will destroy your wine over time.
Heat or more precisely temperature. This is contentious, though I think it's widely agreed that 13C is the best temperature to store wine. Too high it'll go off, too low and you are limiting its chances of maturing properly and if you approach 3C or 4C, then you run the risk of the alcohol freezing and separating out of  the wine. Fluctuations can kill wine as it expands and contracts with the ups and downs in temperature, so a constant temperature landscape is very, very important.
Vibration. The less the better. In fact, no vibration is the best. Believe it or not, if your bottle is constantly in shock & awe, it will do something really funky to the chemicals in the wine and severely disrupt the balance leading to all kinds of weird flavours. Always ensure that your storage space is free from vibrations.
Your location in the world. Depending on where you live, the temperature, humidity and all kinds of other factors will come into play as well. Of course, I can't really cover everything, so do keep in mind your average room temperatures.
Impromptu home wine storage

So you dont have underground space and you can't be bothered to renovate your basement into a professional class cellar. You just want to make sure the few bottles you bought won't go off. Here's a few quick and easy tips for storing your bottles, depending on the length of time it will spend after being bought and then being opened.
Within the month, which is considered short term, your wine is not really going to change that much, as long as the golden triangle of heat/light/vibration is observed. For wine storage anywhere from a few days up to a month, the fridge is fine ( both for whites & reds ). Temperatures are relatively constant in a fridge and the light ( which is a low lamp ) only comes on when you open it. Provided you don't open and shut your fridge too often in a day, vibrations will be minimal.
Up to six months For something stored in the medium term, you'd want somewhere that is more dependable and less accessible so you give the wine ample peace and quiet to 'sleep'. If you have a storage room which is dusty and murky, look for the lowest spot and lay your wine down horizontally. Ensure that once it's layed down (sleeping), you don't wake it until you are absolutely sure you want to drink it. Wine that is layed doesn't like to wake up unless if it's for drinking. If you don't have a storage room, then you can tuck your wine away comfortably in a cupboard which you're not going to access to often. Temperatures are usually around 15C in a cupboard I reckon, but then again, this depends on your room temperature, so do make sure your house isn't too warm. Otherwise, a cupboard is dark, vibration will be low and temperatures are constant. It's perfect for the medium term.
Six months to infinity If you want to store wine in the long term, ie: years, then cupboards and fridges aren't going to cut it. You need a storage area that meets the criteria for storing wine and be sure that the environment stays consistent over the entire period. Thankfully these days, there are a multitude of specialised wine storage fridges on sale which feature tinted glass doors which cut out harmful UV lights and are able to consistently maintain a constant and at the correct temperature. I'm not going to recommend any brands but shop around for these wine coolers, for example. OK, these ones are actually quite expensive, but think about it, if you have hundreds of pounds worth of wine which you expect to become ethereal over the years, it would be a lot of wasted time if the wine cooler doesn't do it's job correctly. Get a really good wine cooler or don't get one at all.
In the next post
Phew, so hopefully you found that useful. Buying & storing are two essential steps in the preserving the overall experience. In the following post, we're going to talk about matching food and wine. A big topic in itself, I'll try my best to keep things interesting of course!
See you in seven.
Did you enjoy reading this post? Why not subscribe to my feed updates for free. You can also subscribe via email too, and for free.