You are now reading   intro | one | two | three | part four | five | six | seven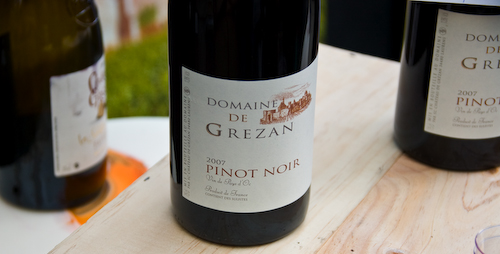 Last week we talked about buying & storing wine. Hopefully you would have found the tips useful. Today, it's going to be a relatively breezy ( though fairly contentious ) post as we move to talk about pairing food with wine.
You will appreciate that  different styles of wine work best when paired with particular foods. When paired correctly, the flavours can bounce off each other and help accentuate the overall profile swirling in your mouth. It's abit like dunking donuts into coffee, or scones & tea or hot chocolate fudge sauce on vanilla ice cream. When complimenting flavours come together, it can explode.
Boom.
I'll state now that it's difficult for me to recommend specific bottles of wine, instead I'm going to suggest the grape varietal which best fits the food. For more information on grape varietals, read part one here.

As usual, an index of what's covered in this post:
Meat
Fish
Dessert & aperitifs
On its own, a good book or a long conversation
Meat
Lets get the obvious ones out of the way first: Red meats. This will apply to lamb and particularly steak. As it were, red meats have quite dominant flavours and so its only logical to match it with meaty red wines. Purists will suggest that the peppery, fleshy and very full bodied shiraz will meet all your red meat needs, especially if you have ordered your steak medium rare, bloody and with a peppercorn sauce. I tend to find that australian shirazs work perfectly well for red meats, if shiraz is too big of a wine , then go for the smoother & fruitier option of an argentinian tempranillo or even a spanish rioja. I almost never drink white wine with red meat and frankly I don't think there's a white wine which can match up to a red. Although, I could be wrong, do let me know if I am (comments!) otherwise, unchallenged always order a full bodied red with red meat.
Poultry & pork , which I'll lump together as white meat and appropriately, are best paired with white wines. Chablis pops into my mine straight away, which is both refreshing but creamy enough to compare against the texture of the meat. However, it's not quite as straight forward as red meats, because there are quite alot of ways to marinate white meats and that means that it can get abit complicated when choosing wines. Let me try this then, if it's a creamy, 'wine' sauce, then a Chablis or a chardonnay is really fine. If it's a thai green curry or an red indian curry or even a heavy chinese sweet & sour sauce, maybe you want to try a cleaner & fruity wine to cut through all that thick and heavy sauce. Fruity italian pinot grigios and lychee flavoured austrain gwerztraminer are good bets. Generally, I wouldnt drink reds with white meat, however lighter body reds such as pinot noirs or merlots can be rather good choices to pair with white meat.
Ok, if all else fails, or if you want a wine which can match up with both white and red meats ie, you're having more than three courses (you greedy bugger) , or more appropriately serving this at a party then plonk for a cabernet sauvignon. It's softer than shirazs, it's fruit driven but it's not too light that it disappears behind the meat.
fish
Fish is very easy. Stick with white wine, almost any white and you will be quite safe. Of course, there are 'bigger' fishes, such as salmon or tuna and then the softer ones like cod or plaice. For the bigger ones, find a chablis ( you can probably tell I like it ) , one that has abit of age to it (perhaps a '96) so it's creamy and buttery, otherwise a light red such as a pinot noir is perfect.
With fish, I think it's a chance to explore the different types of white wines which you haven't tried before. I think you'll be surprised with semillons and fish, do give it a try.
Dessert & aperitifs
Oh I love this part, I have a sweet tooth for sweet wines. Now, most restaurants offer pretty robust dessert wine options these days , but if you are searching for a couple of choices, then what you want are muscat grapes. The golden hued french sauternes is rich decadent and tastes of honey. If you want something a little less sweet and less heavy, then go for spanish sweet wines such as Pedro Ximenez. Personally, I would find a formidable German Riesling spatlese, which are late harvest rieslings. They are quite well balanced, smooth & rather light compared to most sweet wines. For something with tastes of nuts & dates, then you can do no wrong with tawny port. Anything 10 years old , or older will do just fine.
On its own, a good book or a long conversation
Am I the only one who unwinds in the evening to a cool glass of sauvignon blanc or a silky and perfumery beaujolais? I love a bottle for long conversations and it's great way ( well, maybe not the best way ) to fall asleep while settling into a good book. When having wine on it's own, always go for the lighter bodies ones, so that it's easier drinking and less dominating. I find that abit of brie always goes well , but do prep a bowl of grapes, it tends to bring out the fruit in the wine and if you are drinking a pinot ( especially new world pinot ) then do have them with strawberries… you will be surprised, believe me.
Part five.

Officially passed the half way mark! In part five, I'm going to focus on getting the most out of ordering wine in a restaurant. See you again in seven day folks.
Did you enjoy reading this post? Why not subscribe to my feed updates for free. You can also subscribe via email too, and for free.