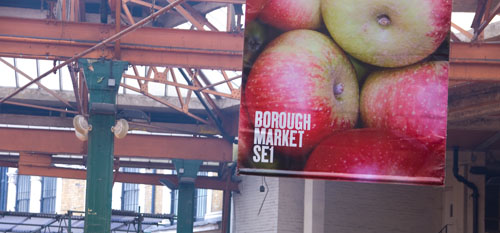 I love going to markets. I love independent producers who passionately pour their heart into their stock. In a world of mass-market consumerism with pre-packaged food manufactured with questionable methods; food is the last thing you want homogenised. Last weekend, I paid a visit to the 'award-winning' ( closer to opinion winning) Borough Market in the London Bridge area. They are widely regarded as fine food producer central, even surpassing the famed portebello market in recent years. The market's board of trustees believe that everyone has the right to eat well. Sounds like my kind of guys.
The unusual suspects
I managed to drag Yenni out to this trip with me. The weather was looking ok albeit alittle cold. Borough market sells all kinds of food from fresh veges, poultry & meat to cooked food and even spirits & wines. I've been wanting to check out borough market for a long time coming and now I've got the chance to do it. I've done this post photo essay style. Ready to take a walk around the market buddy?
Custards of Portugal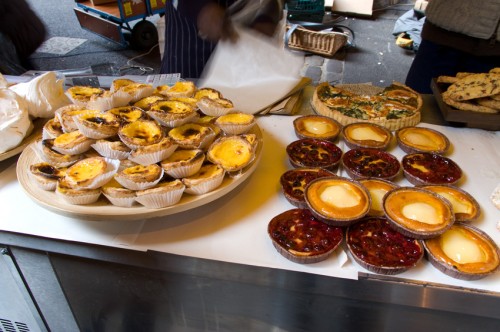 We started our trip early (11 am on a sunday!) and on an empty stomach. One of the first stalls we passed did pastry. Specifically, portuguese egg tarts (the ones on the left) , 'pastel de nata'. These are a portuguese favourite and is a type of egg custard with sprinklings of cinnamon over them. I used to live with a housemate who hailed from Macau and absolutely adored these delights. Im told that these egg tarts are quite popular in Macau as well. Yenni bought me one and I scoffed it in seconds. No joke, I really can eat fast when Im hungry.
Melt my cheese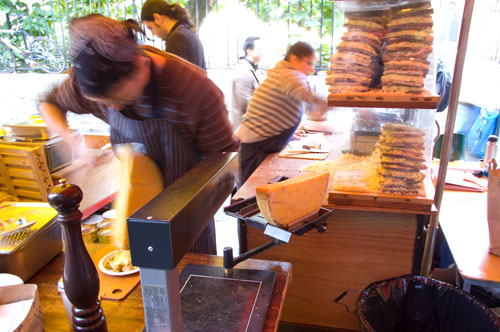 There are lots of cheese stalls in Borough market, all kinds too. This one in particular, filled the market with its stink from miles away. Note the guy cutting the cheese. That hot cutter melts cheese and then it is served with gherkins. They also make these hot flat cheese sandwiches which you can see stacked up in the background. I didn't try this, but the smell was really great (or stinky depending on your stance on cheese) and I will definitely have to come back for this.
Apologies because I forgot the name of the cheese, anybody tried this and loved it please do leave a comment.
How to get a baker to smile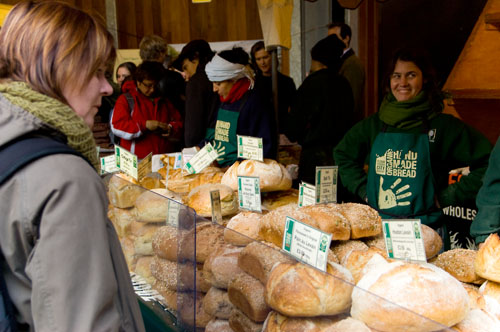 See the lady in the green apron selling the breads? I took about ten shots and this is the only one where I got her smiling. In all the other shots, she gave me this strange 'why am I in the shot?' look. For the first nine shots, I was focusing on the breads and didn't realise she was feeling uncomfortable, so for the last shot, I peeked up from my camera and smiled, and she gave me one back.
Can't beat fresh bread, the smell of the dough is always so homely you know. I have a friend who is a really great 'home-baker'. I remember this one time I paid her a visit in the morning, she was busy prepping the cookie & bread dough so instead, I came back again to see her in the afternoon. Oh the air was just so fragrantly filled with the wonderful sweet, cinnamon and olive breads. She's going to be such a great mum some day.
Olivia
I really like this picture. It just captures the essence of markets, the warmth of the merchants, the chatter & atmosphere created by the crowds, everything is full of life. Just look the big pots of olives, that's what food is all about, its a medley of colours and variation. Though I'll admit now, I do my groceries at the local sainsbury because it's convenient, but given the chance (and time) , I would gladly go to a market everyday.
Fruiting it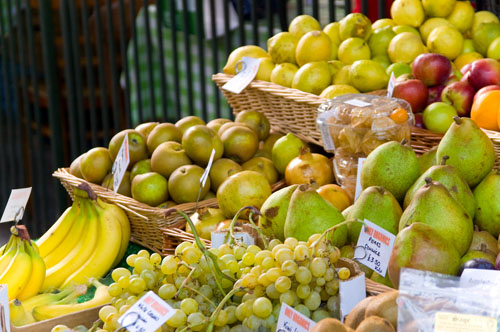 My market claim is not a hollow one. I come from a little town which puts up a local market every weekend. Baby Kang used to tag along with his mum every weekend, pushing a little trolley and carrying fresh veges, live chicken ( my mum 'slaughered' it in front of my innocent eyes.. ) and huge fresh oranges. As I look up to my mum buying her groceries, I remember the friendly haggling, rather its more accurately described as the merchant's chivalric discounts for a young mother and his wide-eyed boy.
Do truffles smell?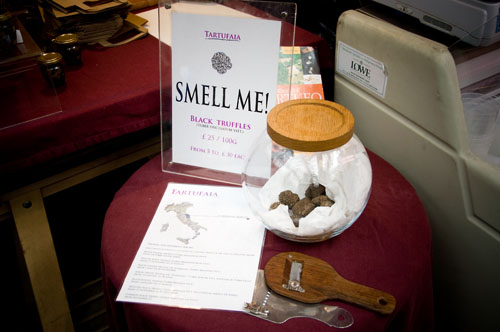 Honestly, I didn't really get truffles at first. When I saw this 'exhibit' I just didn't understand why this little black nugget is worth so much money. I mean, with a smell that isn't particularly attractive, how can it taste any good?
If I wrote this two nights ago, I would have stopped there. But then, I went to Nobu Berkerley last night with the parents and had their cabbage steak with truffles shavings. It changed my mind completely. The cabbage has an intense smokey taste since it was baked in a wood-fire oven, but the shaved truffles really brought the flavour into a dimension. I can only describe it as being very savoury and of a very rich mushroom taste. It was great, It's abit like foie gras where when used correctly, it can be such a wonderful ingredient.
Attack of the super terrines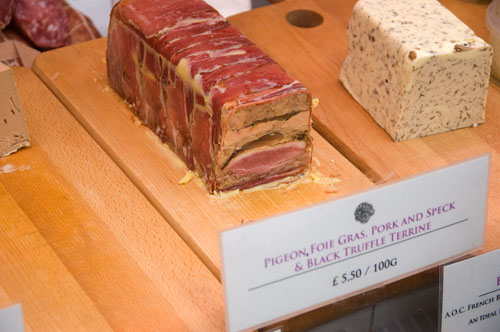 This is one heck of a terrine. I need to talk about this. It's made from pretty formidable ingredients, pigeon, foie gras and speck with black truffles. I was so busy taking pictures that I didnt manage to get a portion… I now live in eternal regret.
Until my next visit of course.
Did you mean Dulce de luche?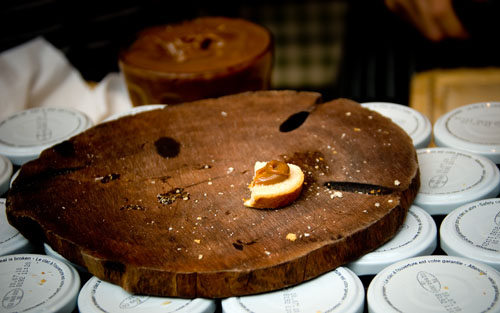 The sensation of sweet is a godsend. They were giving these samplers out, dulce de luche on a piece of white bread. Dulce roughly translates to 'milk candy' and is made by simmering sweet milk until it's a concentrated syrup and taste rather close to caramel. You can probably tell by now, I like sweet stuff.
More to come…
On that sweet note, I'll take a short break and continue this series in part two which I'll released sometime in the next few days. Hope you enjoyed this, do come back for part two!
Did you enjoy reading this post? Why not subscribe to my feed updates for free. You can also subscribe via email too, and for free.