Wine shops in London are cool. The Sampler is particularly cool. Why? Because you get to try 80 bottles all at once.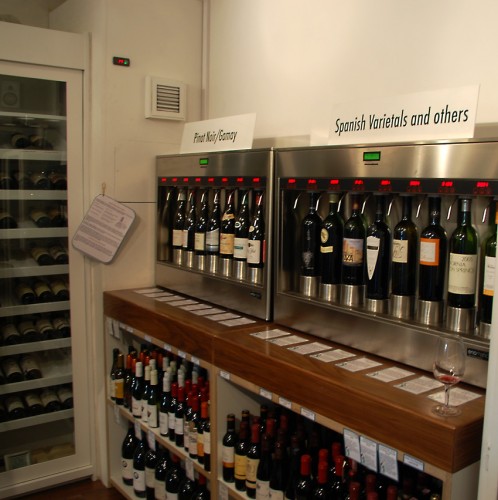 A very interesting concept that is the first ever to be implemented in this country. Yes, you are looking at the concept right now. The little metal tubes sticking out from the top of the machine are where your glass goes for a 'sip'.



So here's how it works:
Get a pre-paid card (in-store) and top up with cash. 
Go to one of the machines, each focusing on a style or region (featuring a total of 80 wines at any one time) and make your selection.
Press for either one sip, a double sip or a triple sip. Each 'sip' is roughly a shot glass, or 25ml.
Sniff, swirl, whirl.
Spit or swallow.
Repeat again and again until pre-paid card is empty.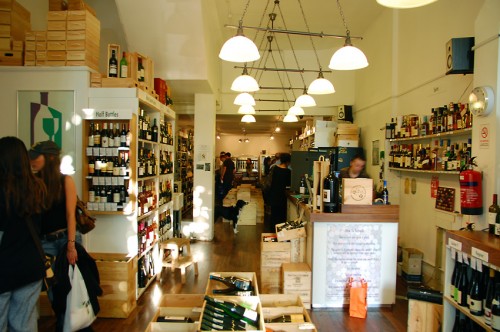 The Sampler is located in the Angel/Islington area of North London. The high street is rather eclectic and almost feels as if you're in a suburb in Sydney, especially on a sunny summers day. This shop is a really nice visit in itself. Run by a charming couple and their shop dog, Ivy (whom you can kind of make out in the picture). 
Talking vending machines
Wine is a high maintenance baby. It doesn't travel well, doesn't like temperature extremes and deteriorates as it gets exposed to air. That's why wine shops can't just store opened bottles in the fridge, it'll just go off after about 3 days.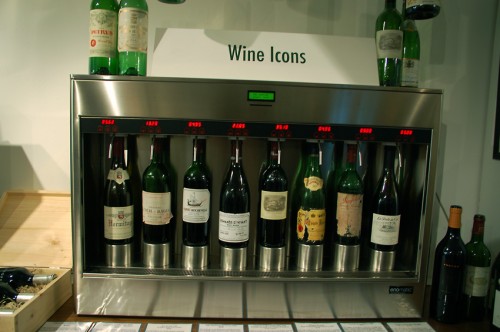 Except when some genius invented a way to keep lots of opened bottles from oxidation and preserve them for up to 3 weeks. I didn't look up who invented this technology, but I think it's originated from Europe (our euro cousins are sharper winos than we are). All this means is that there are 80 wines on hand for me to savour.
Forgive me for all the slanted images, obviously I was feeling a little worse for wear while doing this write-up. 
What did you drink Kang?
I topped up my card to 20 pounds and tried as much as I could! This is like wine tasting taken to the max, I feel like a wine-child in a candy shop. I counted 8 machines in the shop, each featuring a region or a style. So I stick my card into the machine, the prices for 1 sip shows up at the top of each wine. The prices are all very reasonable. For a bottle costing around 15 quid, a sip is only about 50p. Obviously for more expensive bottles, the prices go up accordingly.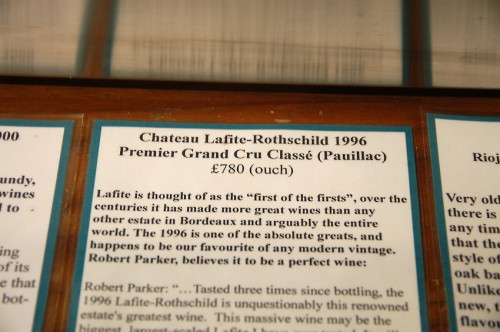 The most expensive bottle was a '96 Rothschild that costs a cool £780. A sip, however, weights in a hefty 38 quid. That's not bad really. If you've always wanted to know what people with super deep pockets drink, then that experience can be had for significantly less.
Ok, so as expected, some wines are awesome, some are so-so and others are just bad. The best one in the shop in my opinion, was the Meulenhof 2002 Riesling Spatlese.
It was sweet, as Rieslings usually are, really fruity and carries a natural fizz to it. Tastes of lychees, honey and sweet apples and just very nicely balanced flavours. Not too sweet but not too dry. At 18 quid a bottle, superb.
The most expensive sip I had costed me a fiver. It was a '97 'Le Meal' Ermitage by M.Chapoutier. The bottle costs £110.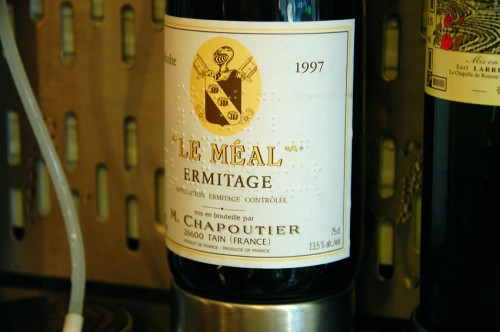 Super smooth and very peaceful going down. It's a dry palate, very clean and pure. However, this white is big and creamy, like a well-aged champagne and has fruity elements to it too. It's a good match with thai food and will stand up to big flavours. I suppose one should expect no less from a bottle that costs over a hundred quid.
Wine on an oyster
They also had a £200 bottle of 1983 Penfolds Grange, I really wanted to try it (about £10 per sip) but by the time I'd a few sips in, I was out of cash on my card already. I resisted topping up, because if I did, I would just keep trying stuff till my bank broke.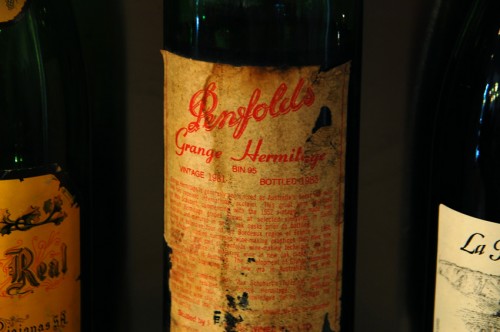 By the time I left the store, I was a really happy man. It's really such an interesting shop to visit and I recommend it anyone to try it. There are lots of nice bottles featured on the machines and you basically try everything until you find one that really catches your palette. Great idea and really nice little activity to fill up those lazy sunday afternoons.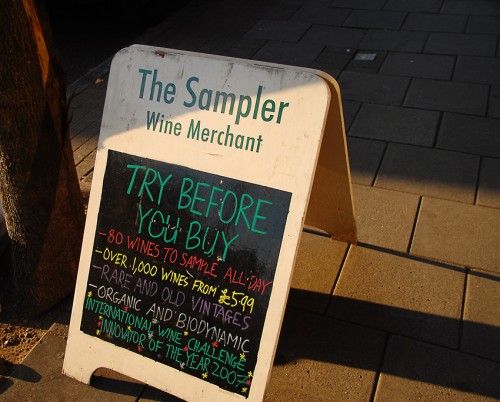 In addition to their excellent shop, they also hold various wine tasting events throughout the year. If you are catching this on Sunday (27th Sept), then do check it out today as they are doing a free Bordeaux tasting from 1pm to 6pm plus discounts on the bottles being featured. No need to book so just show up and taste great stuff.
One final thing I forgot to mention, at the end of the session, my mouth was just alive with all kinds of fruity flavours and after-fizz from all the different wines. Sensational.  
Details
The Sampler 266 Upper Street Islington N1 2UQ | +44 207 226 9500 Closest tube: angel or highbury station Opening Times: mon-sat 1130 am to 9pm; sun 1pm to 8pm  http://thesampler.co.uk/